Warm and Cozy Fall Home Tour
As we head into the full fall season and begin to enjoy some cooler weather, our home is dressed and ready for the coming holidays. I have shared bits and pieces of my fall decor over the past several weeks, but today I wanted to pull it all together for you and give you our complete warm and cozy fall home tour!
I am also joined today by several very talented friends who showcasing their homes for fall, so make sure to scroll down to the bottom of this post so you can see their posts!
WELCOME! COME ON IN!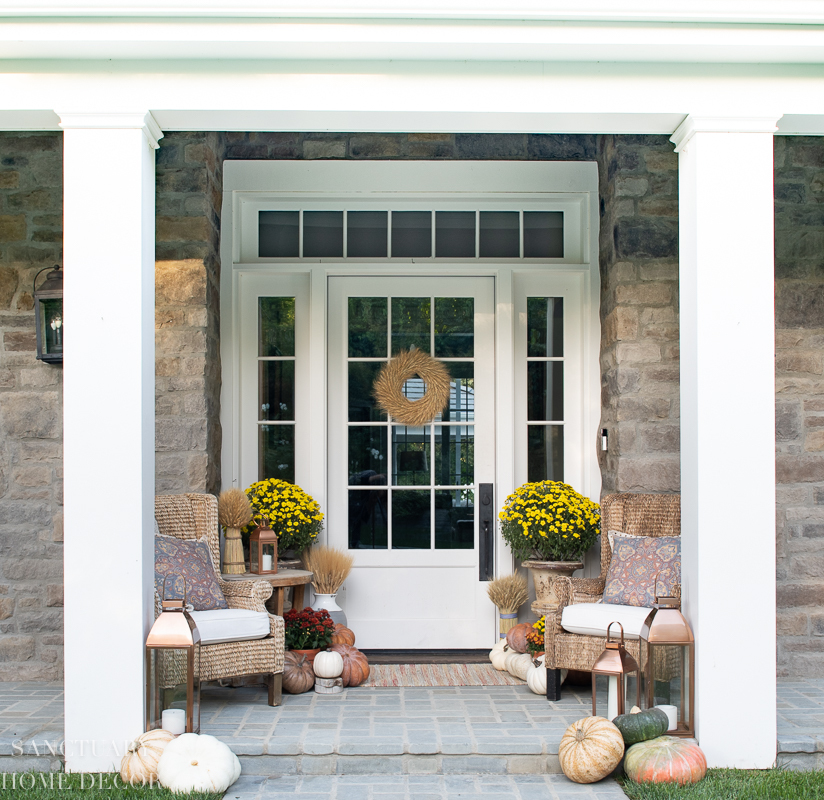 Our front porch got a warm and cozy update this year with the addition of two seagrass chairs and a whole lot of heirloom pumpkins.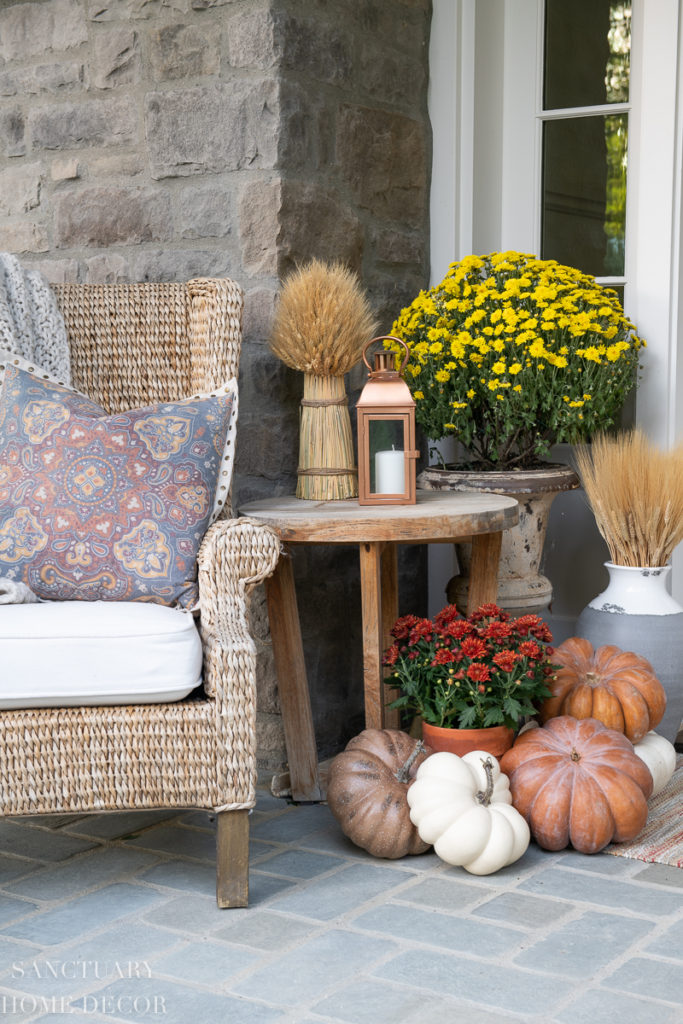 I stacked pumpkins and potted mums next to the chairs and added two large yellow mums to the urns beside the door.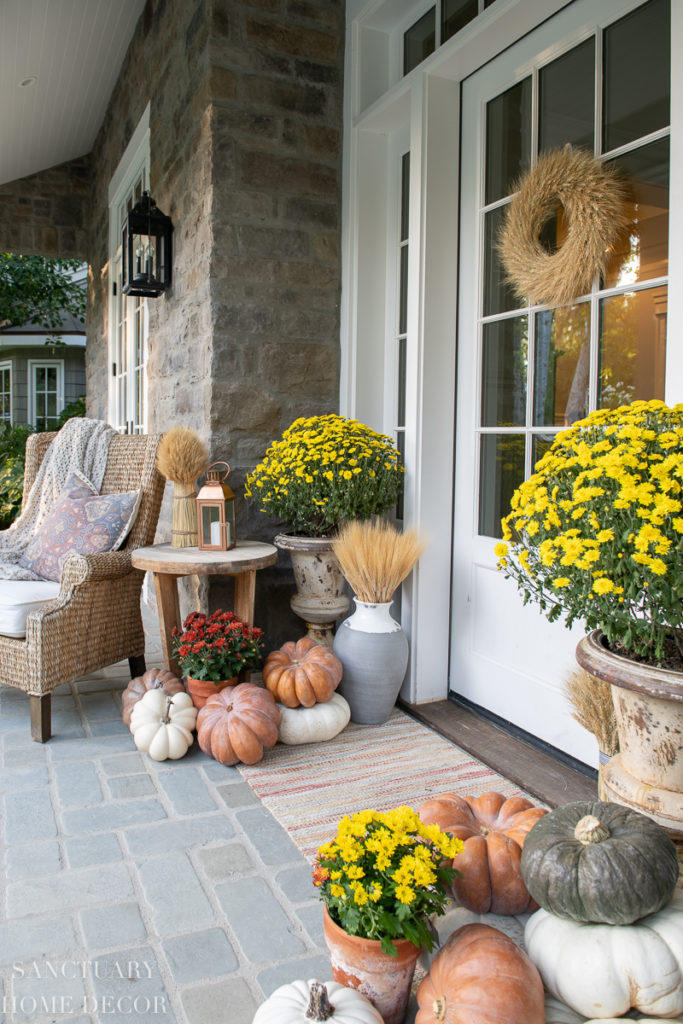 I also added several wheat elements to my front porch decor including the wreath on the door.
You can see all of the details of my fall front porch by clicking HERE.
FALL IN THE LIVING ROOM
Our living room was warmed up for the season with the addition of some cozy knit blankets, a few fall pillows, and an oversized vignette behind the couch.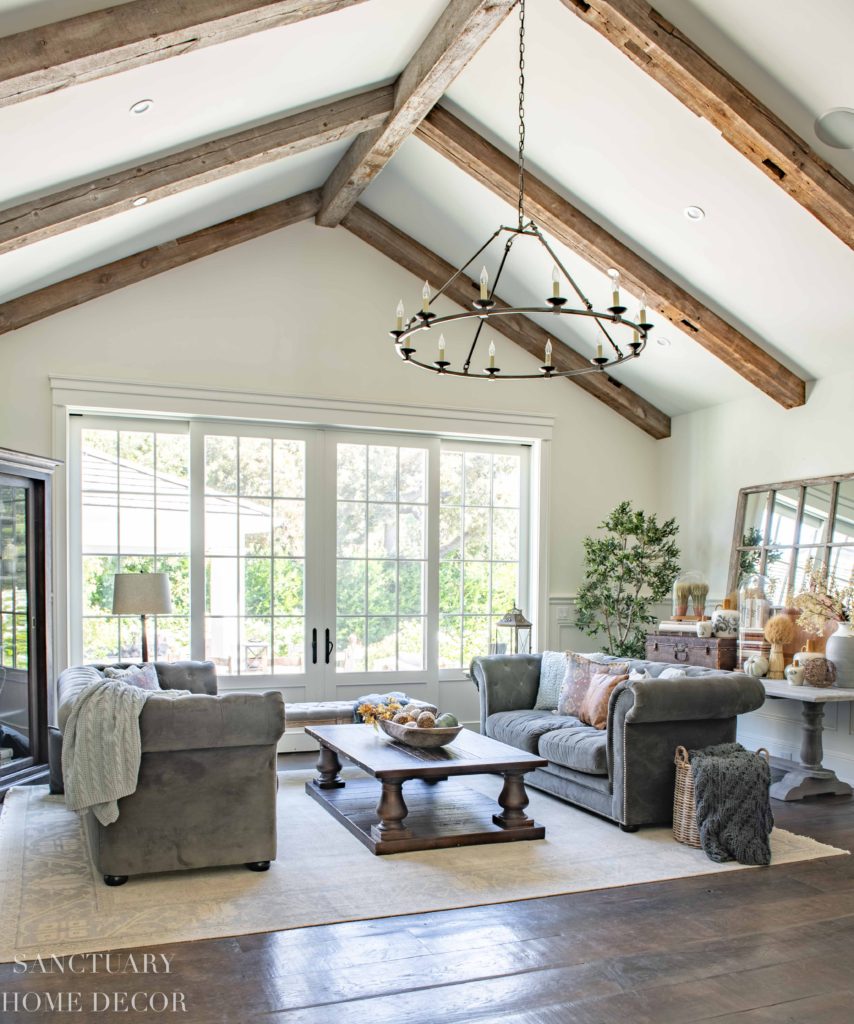 I changed a few of the elements on the large table behind our couch to give it a fall refresh. I chose warm colors and wheat tones to add that cozy look I wanted to achieve.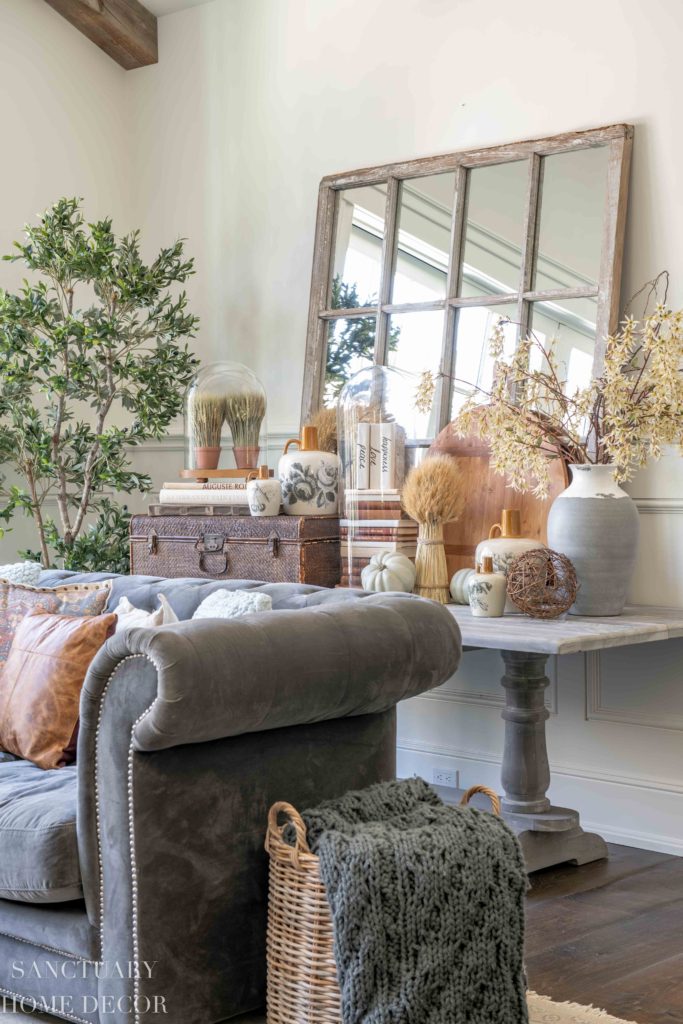 I filled the dough bowl that sits on our coffee table with willow and ceramic spheres and added a few pumpkins into the mix.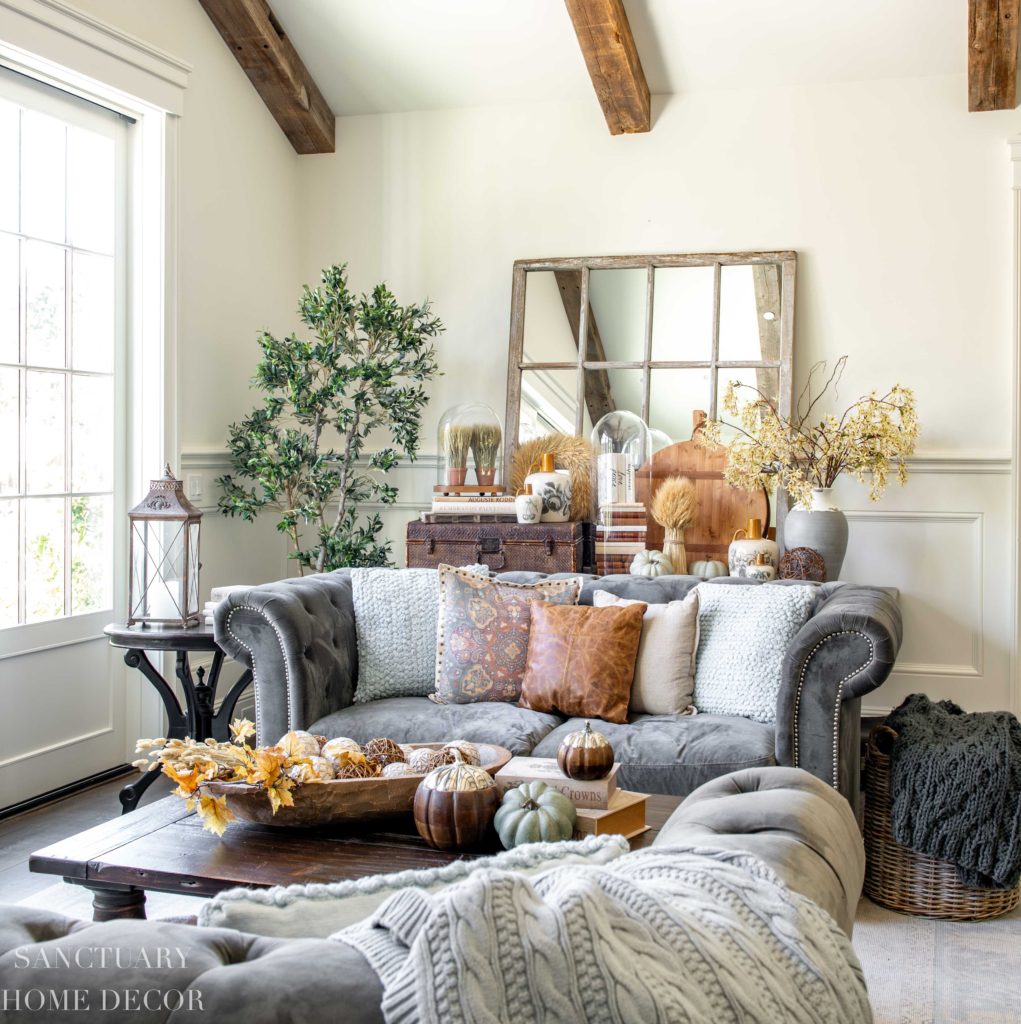 You can see all of the details of our fall living room by clicking HERE.
FALL AROUND THE FIREPLACE
Our family room fireplace is one of my favorite places to decorate for the holidays. Despite the fact that there is a huge TV above the mantel, I fully decorate the hearth for the season.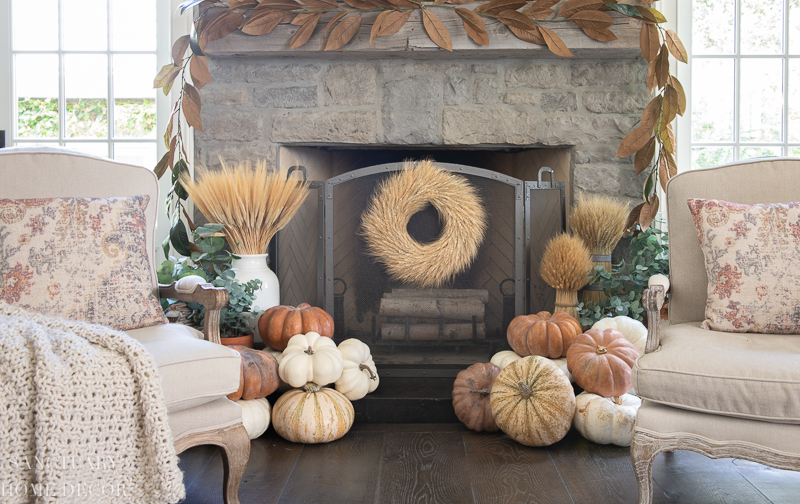 As I did on the front porch, I used piles of heirloom pumpkins and elements of wheat to decorate our fireplace for fall. I also added a bit of faux eucalyptus to bring in a fresh look.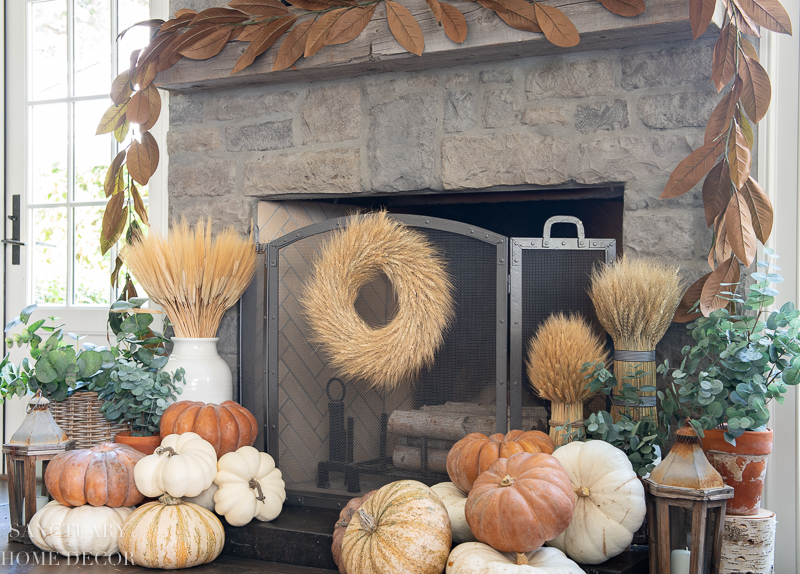 You can see all of the details of our fall fireplace by clicking HERE.
FALL IN THE KITCHEN
This year I wanted our kitchen to have a warm and cozy look, so I used copper and soft orange tones to bring in the feeling of fall.
Faux fall branches work great in the oversized pitcher on our center island and the addition of a dried hops wreath brings in the copper tones I love so much.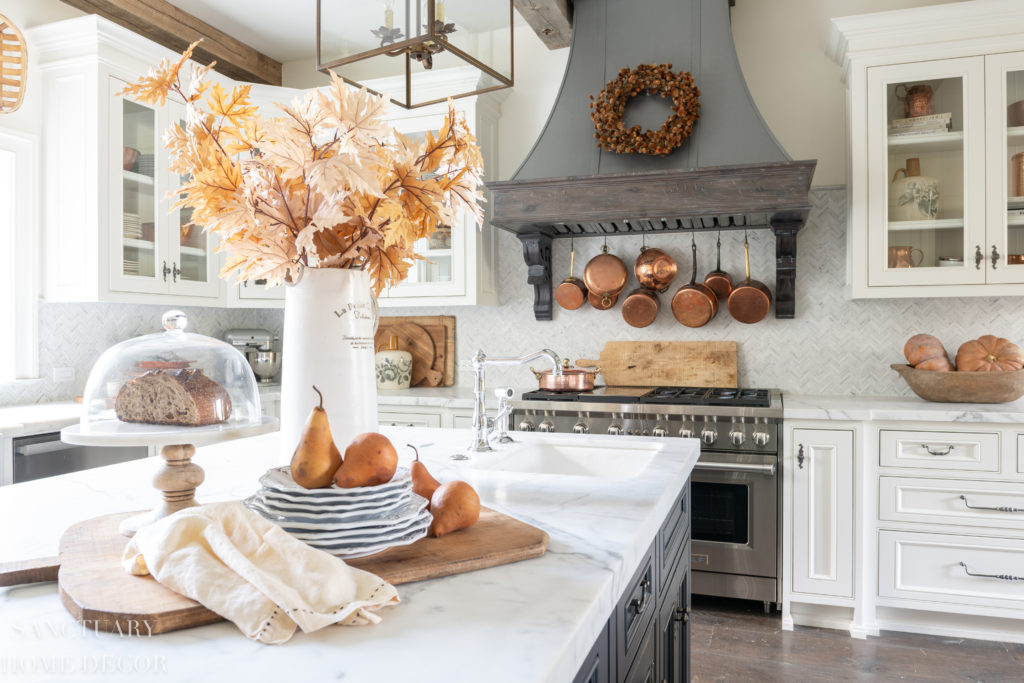 I changed out the white ceramic dishware in my glass front cabinets with some shiny copper accents.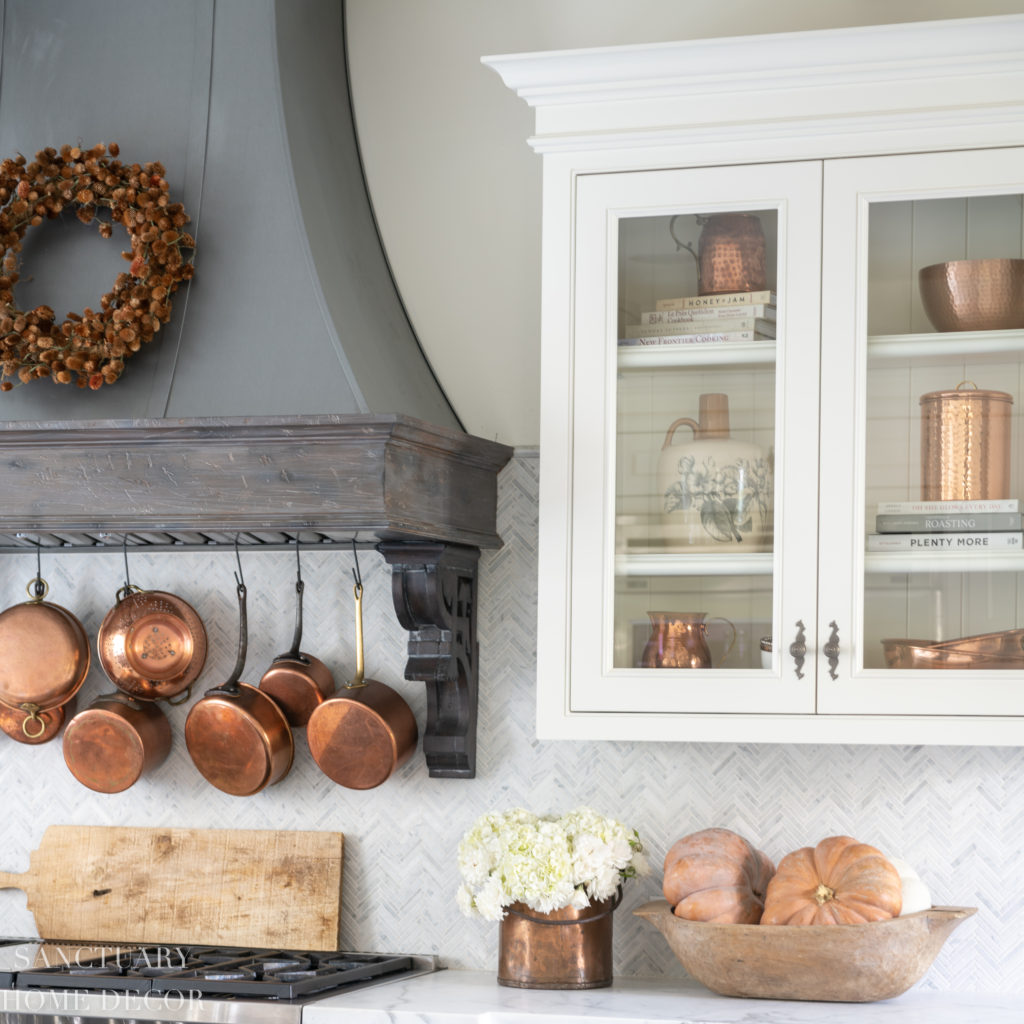 The tone of our pendant lights works perfectly with the warm and cozy fall colors.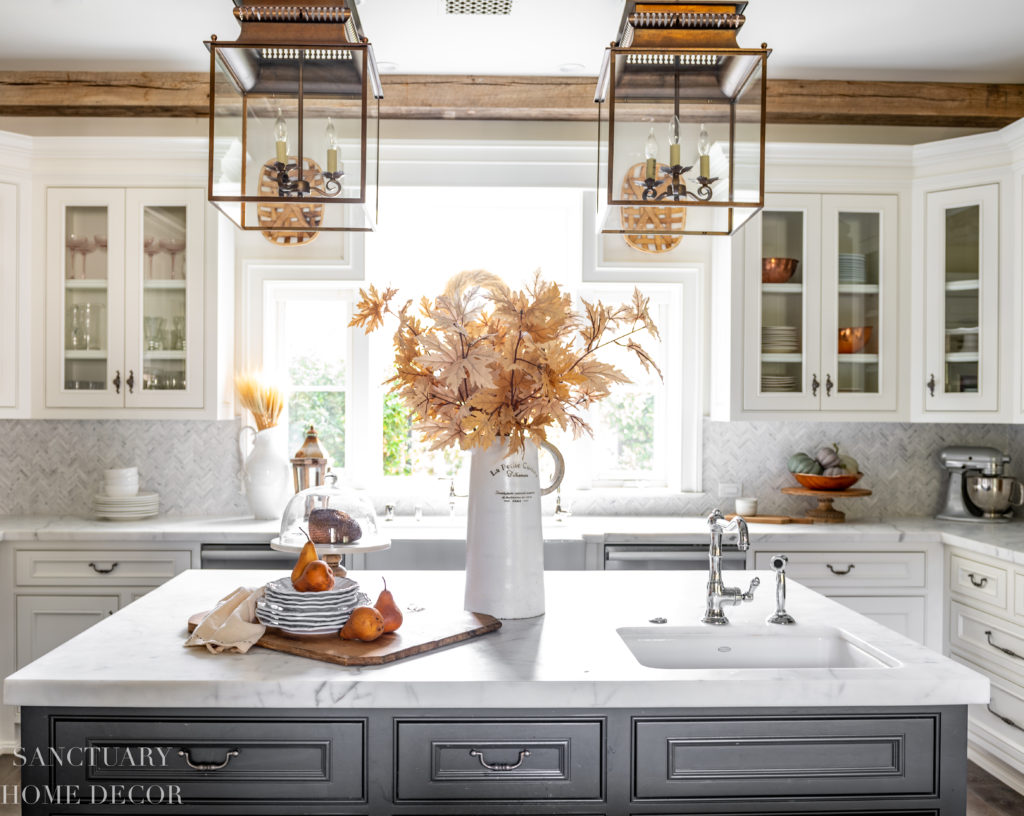 I added a wheat wreath to the window above the sink, and a couple of tobacco baskets on the wall.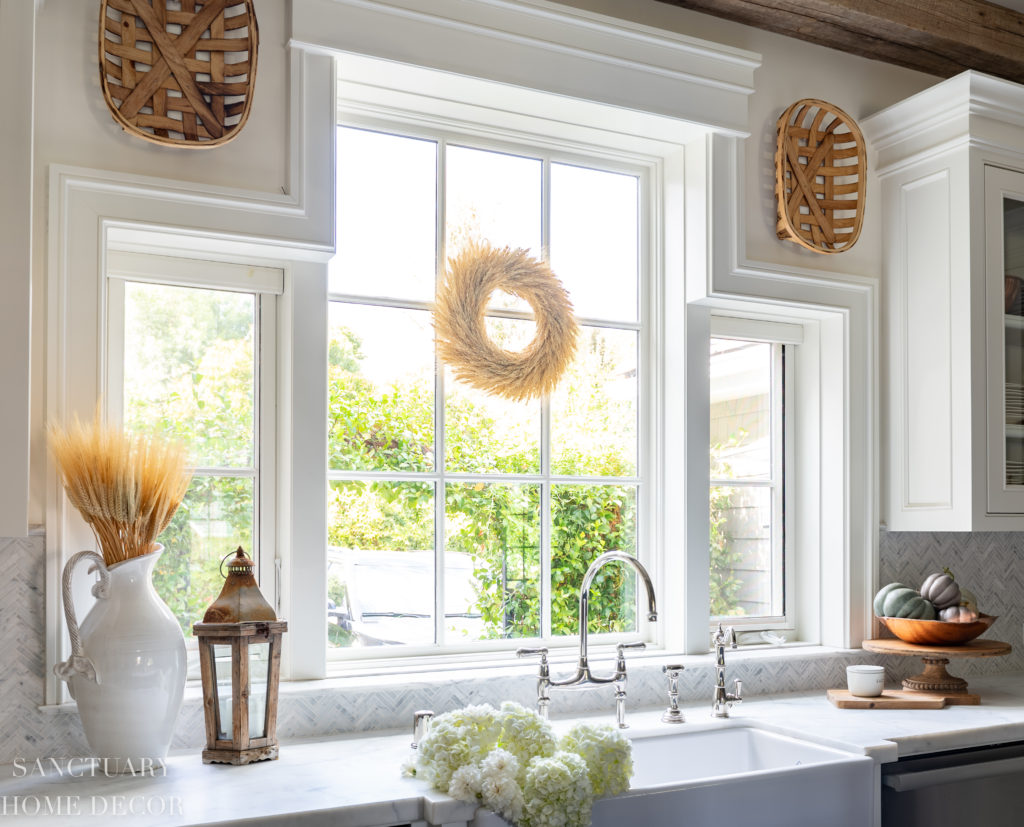 You can see all of the details of our fall kitchen by clicking HERE.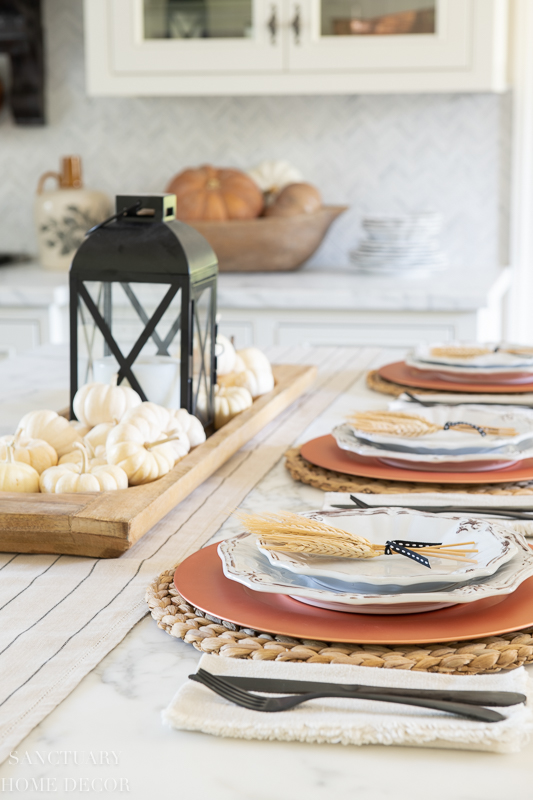 I also shared an easy and casual fall table setting on the kitchen island that accentuated the colors I love for this season.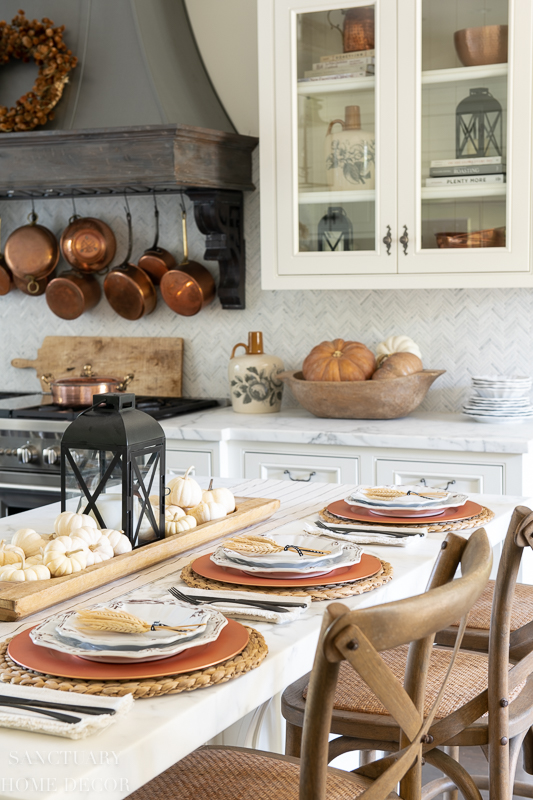 The overall look in our kitchen is warm and inviting and definitely feels like fall!
You can see all of the details of this table setting by clicking HERE.
FALL IN THE BREAKFAST NOOK
Our breakfast nook got a simple fall refresh with some copper accents on the shelves and a simple floral centerpiece in a copper pumpkin.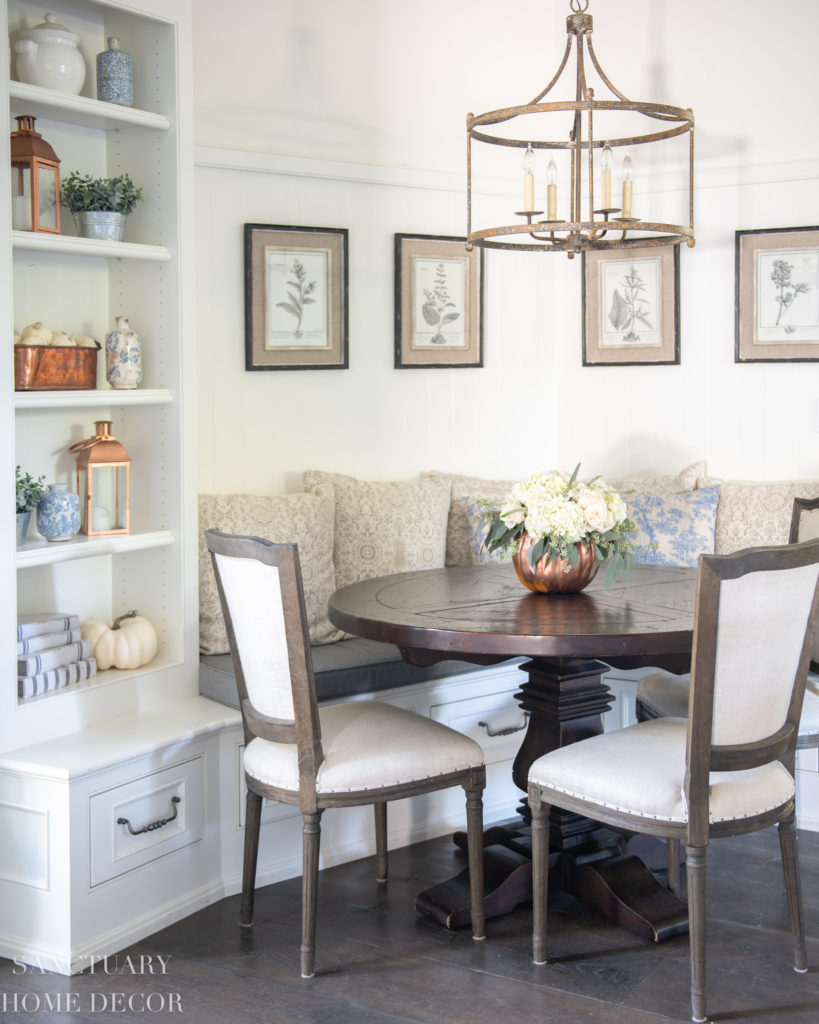 You can get a complete tutorial on how to make this centerpiece in 15 minutes by clicking HERE.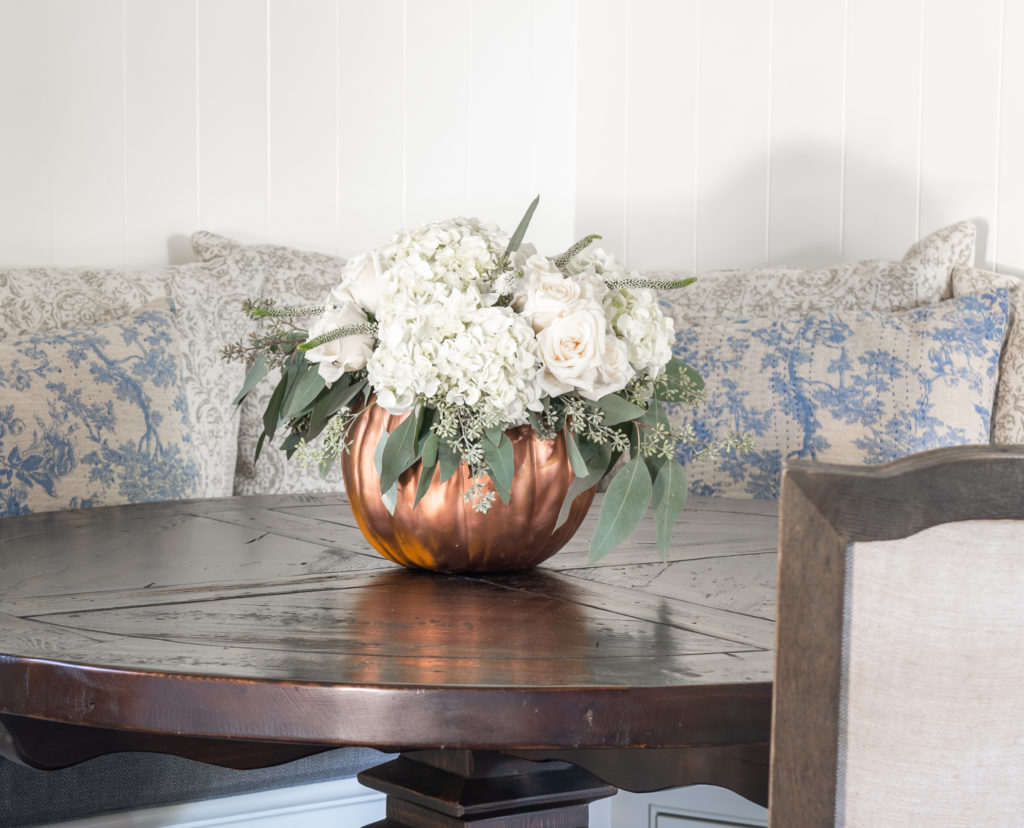 FALL IN THE DINING ROOM
Our dining room goes through several transitions during the fall and holiday seasons, but the first always includes a long-lasting tablescape that is the perfect transition from summer to fall.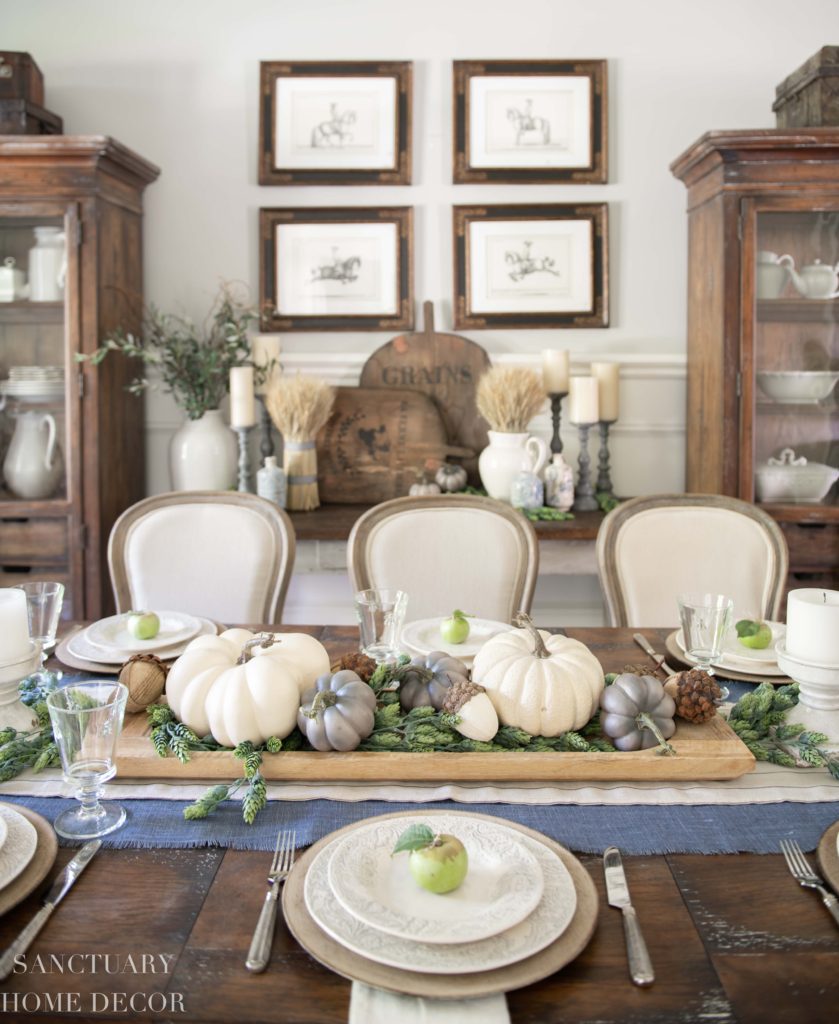 This year I used faux pumpkins and greenery to create a simple centerpiece that can stay on my table throughout the season. Layered table runners, a shallow wooden trug and some adorable oversized acorns are the perfect combinations for this transitional look.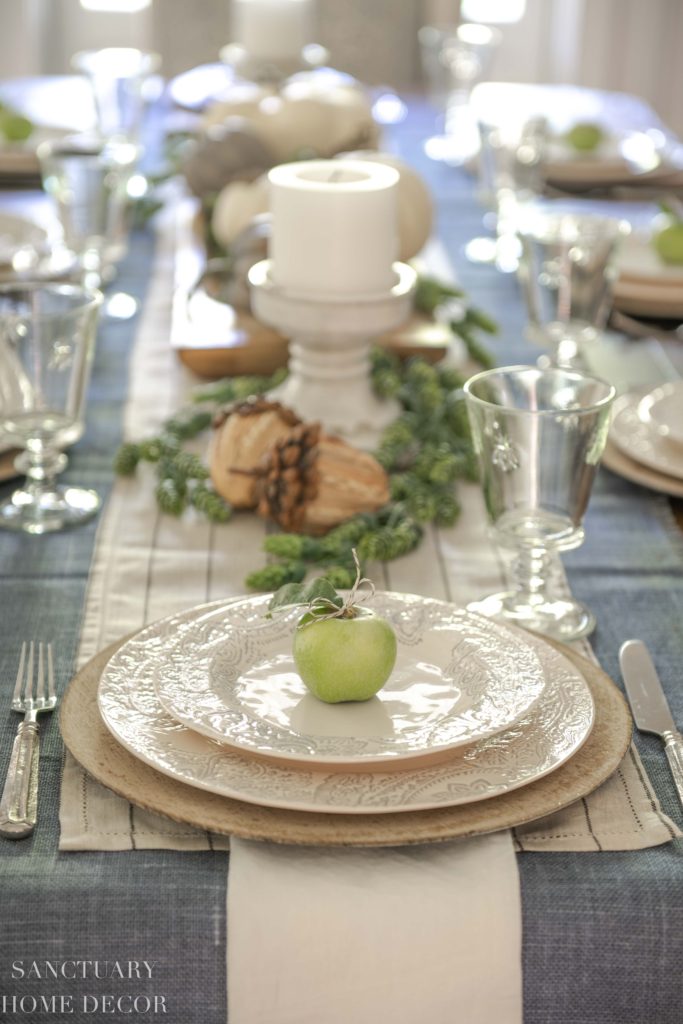 A green apple at each place is a beautiful, edible favor.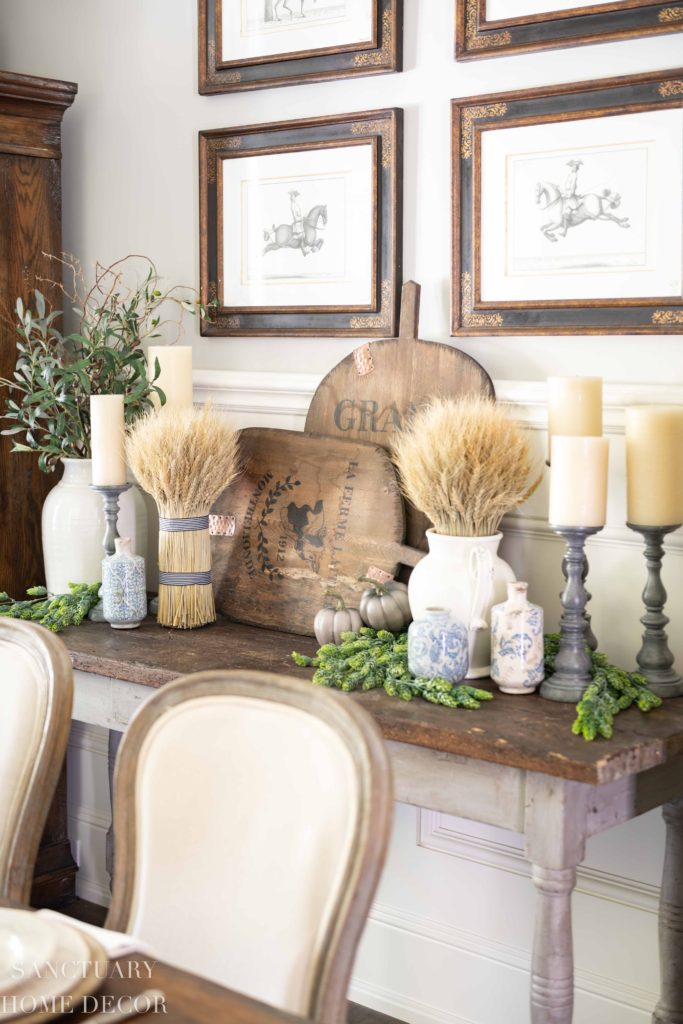 I added some simple fall accent decor to the console table in the dining room that compliments the tablescape.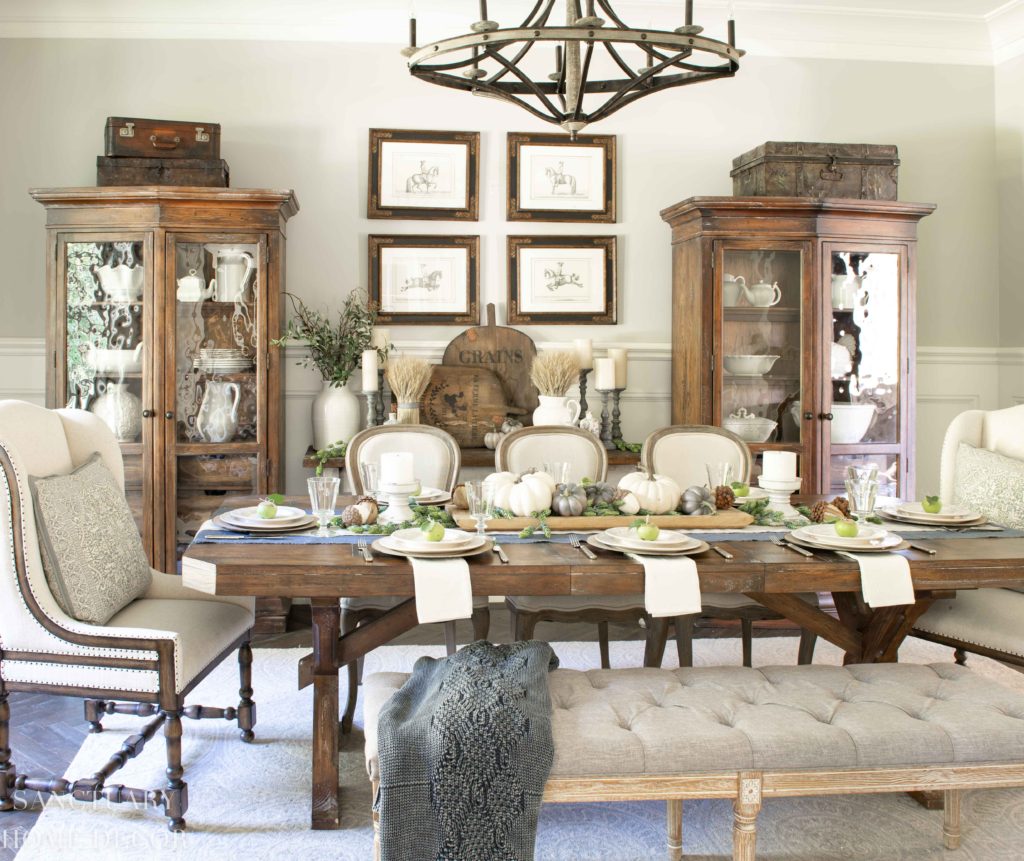 I love the warm and cozy look in our dining room and know that we will be enjoying many meals here, with friends and family, in the coming months.
You can see all of the details of our fall dining room by clicking HERE.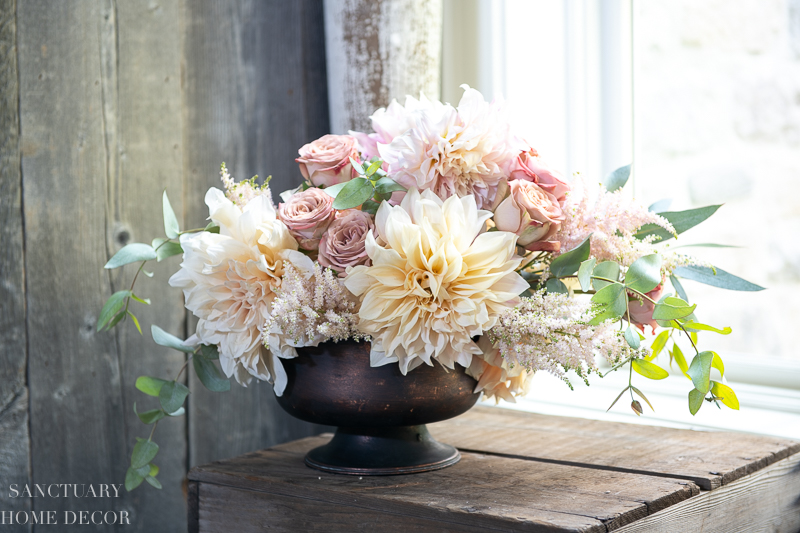 I hope you enjoyed our warm and cozy fall home tour! Now scroll down to see what my talented friends are sharing for fall!
Check out all the amazing fall decor in our cozy fall home tours!

Twelve On Main | Unskinny Boppy | A Blue Nest | Red Brick on the Lake
Sanctuary Home Decor | Saw Nail and Paint | Noting Grace | Honeycomb Home
The Little By Little Home | Postcards from the Ridge | Grace In My Space | Cribb Style | Finding Lovely