Tour Our California Farmhouse
Our rustic elegant farmhouse in Southern California represents our love of country living mixed with just a touch of elegance to better suit "city life". We chose a palette of soft whites with accents of gray and blue throughout. We imported beams and weathered barn wood from Montana to infuse a bit of rustic charm into our home and to remind us of the slow living we enjoy during our summers on our ranch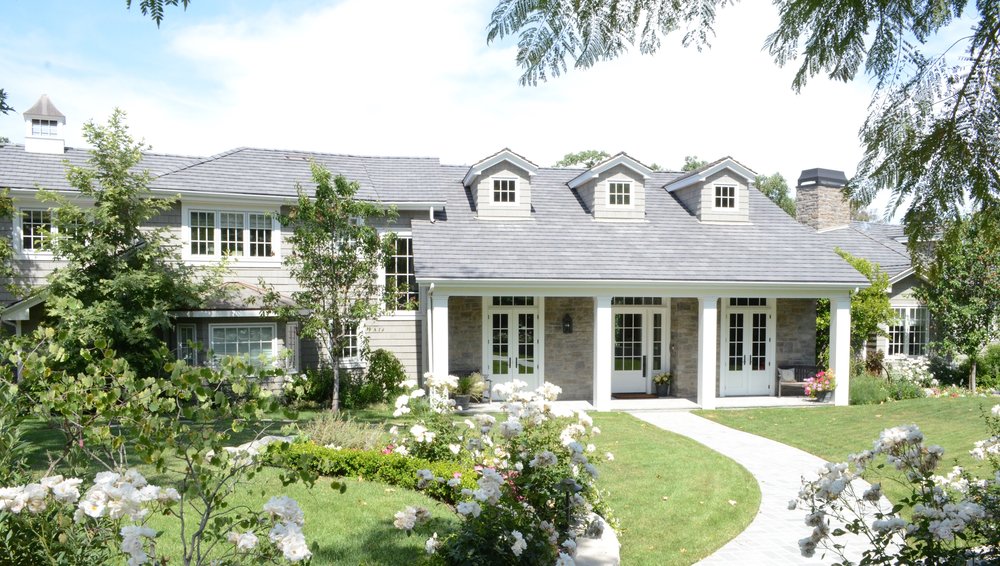 YOU CAN SHOP THE LOOKS YOU SEE IN MY HOME BY CLICKING HERE.
The exterior elevation of our home was designed with a sensitivity to the surrounding area and property features. We wanted the house to feel as if it had always been nestled among the oak trees that surround the property.
We added planter boxes and shutters to the exterior last year and it really transformed the look of our home. You can read more about those details HERE.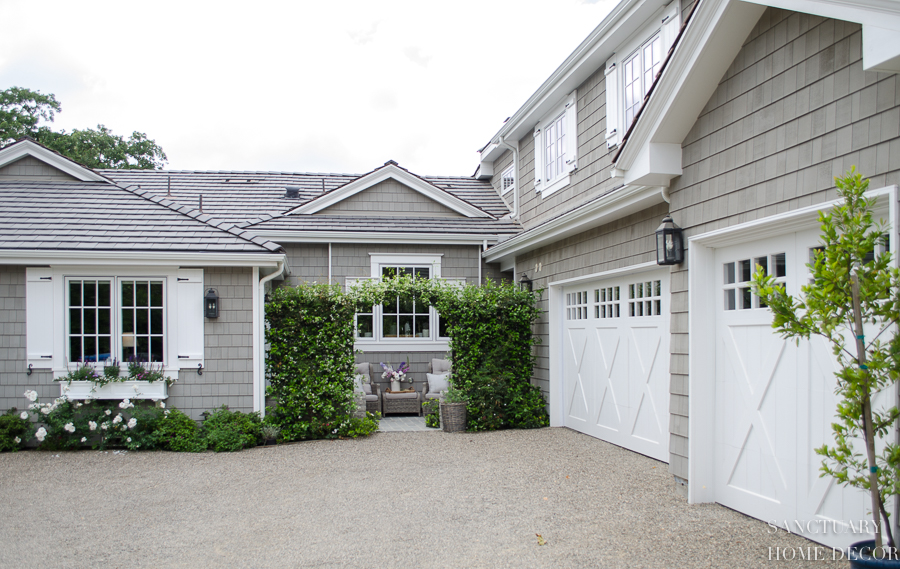 We chose a gravel driveway to keep the country look cohesive from front to back.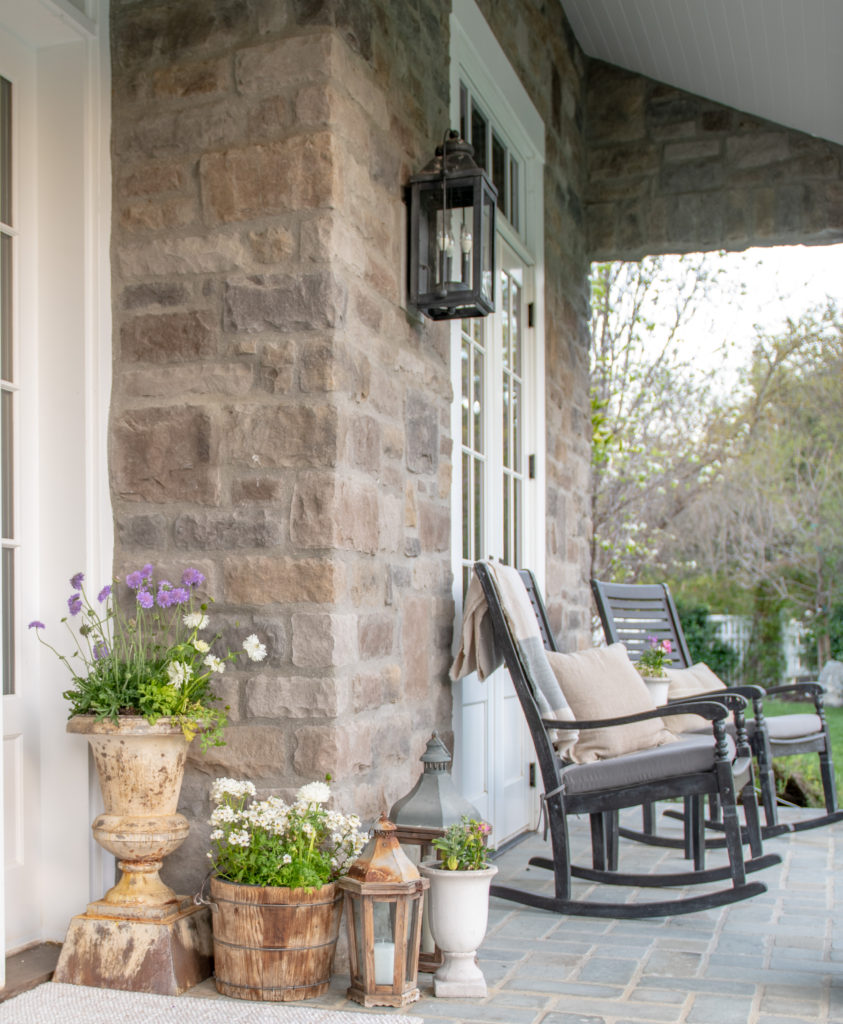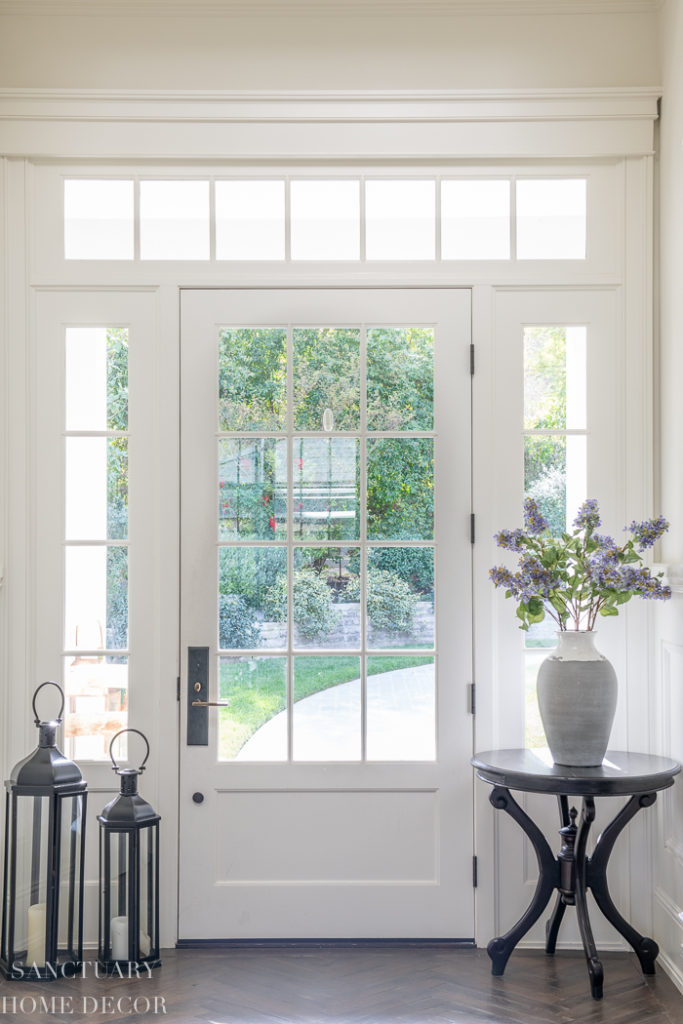 Our living room is a blend of rustic elements with an elegant farmhouse feel.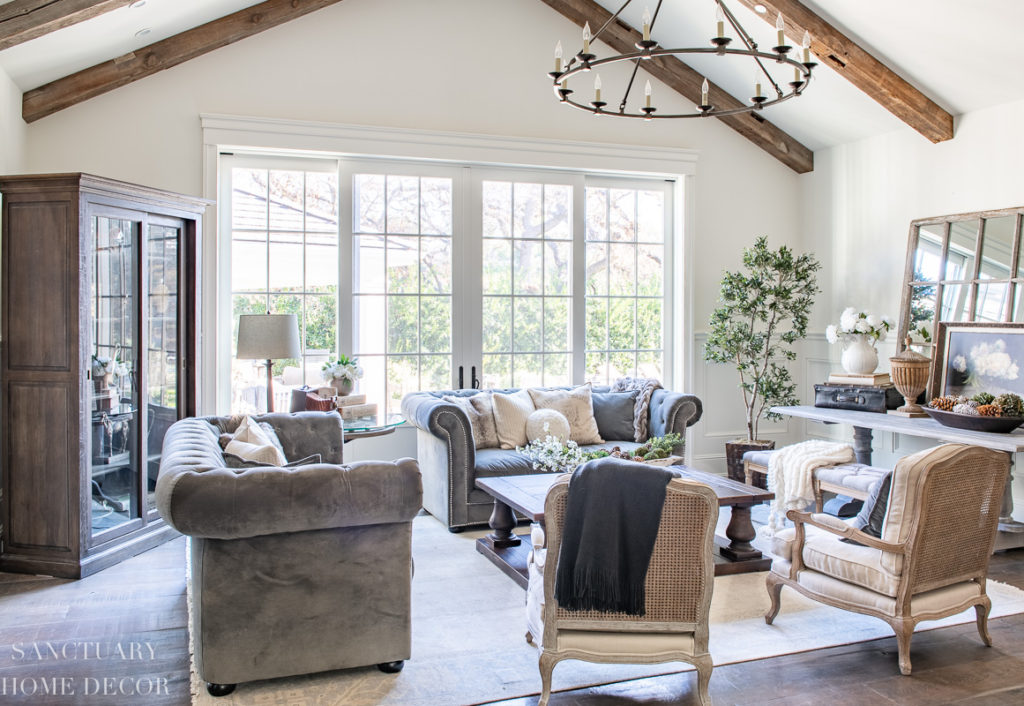 We used wide plank, French oak flooring, and rustic hand-hewn beams to incorporate a farmhouse style while the furniture and decor add a comfortable, yet elegant look.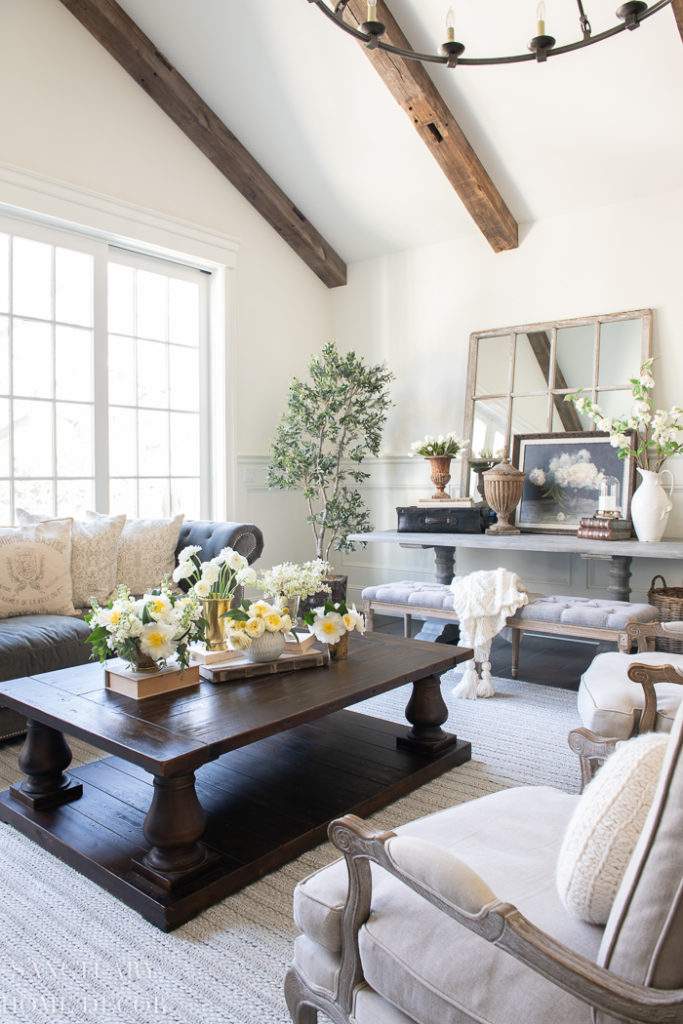 You can shop this look by clicking HERE.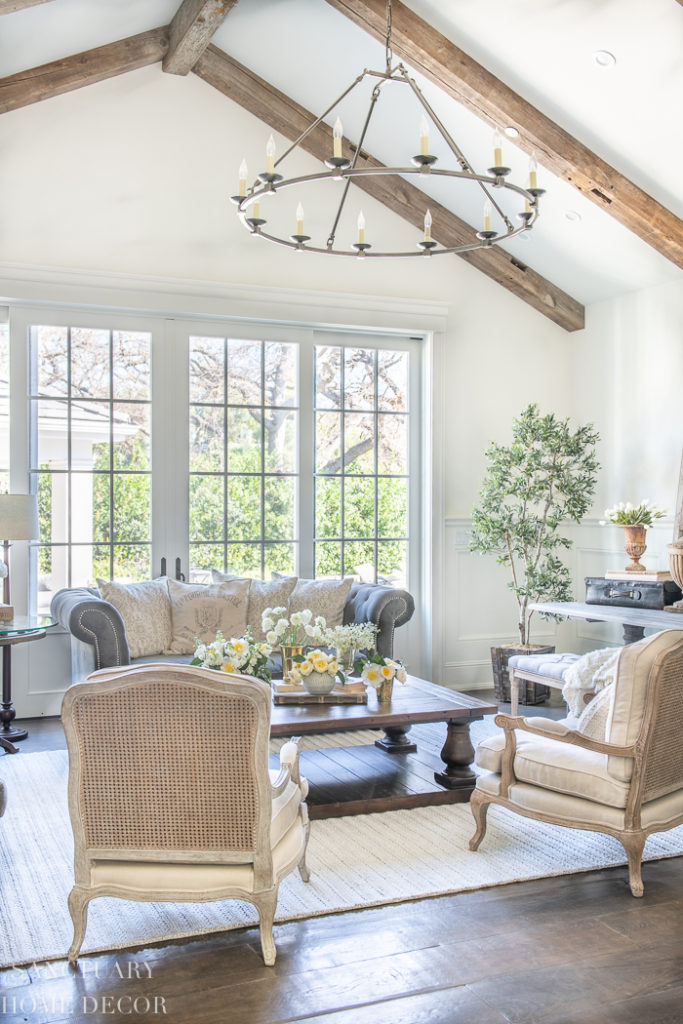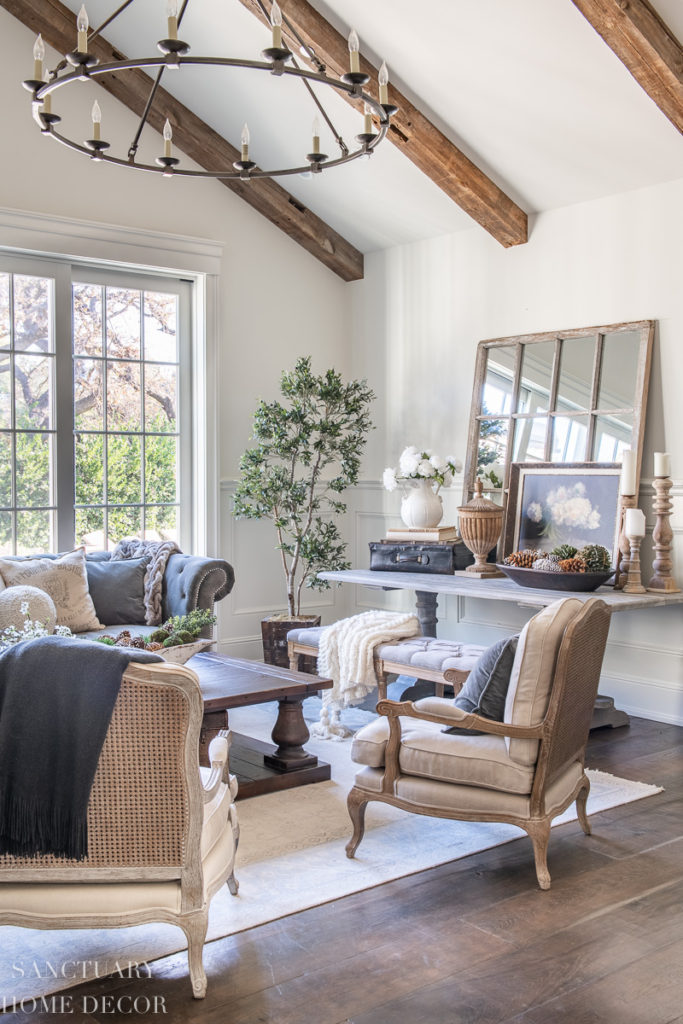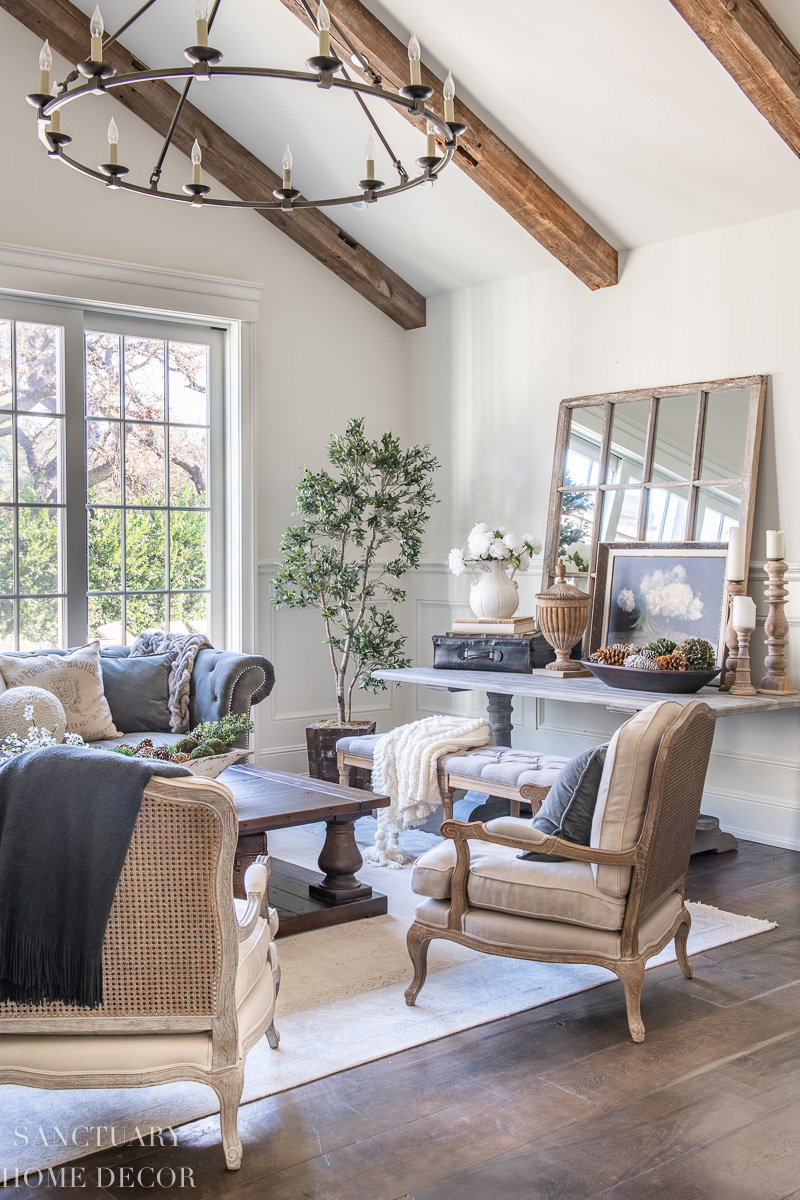 I hung framed sheet music above piano in the living room.
See details about how to create a beautiful gallery wall HERE.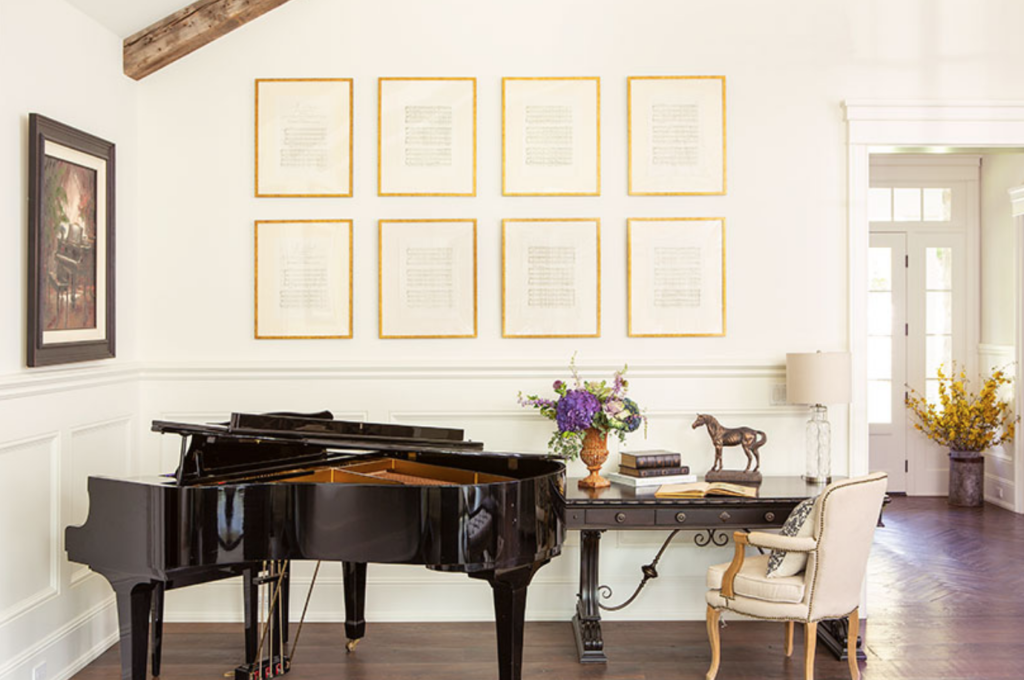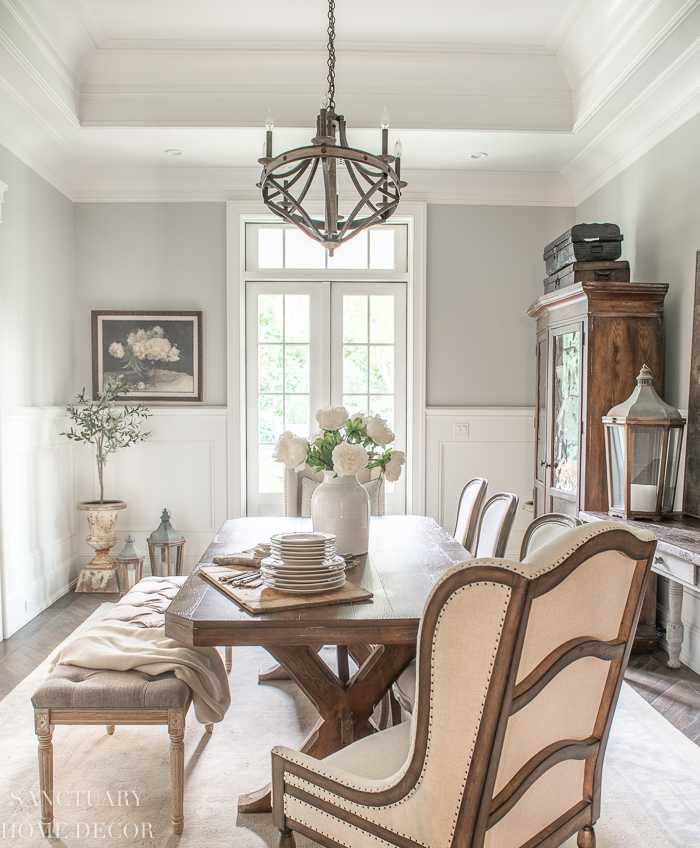 Our dining room blends elegant details with wide crown moldings and French oak herringbone floors, yet the furniture is comfortable with an easy farmhouse style.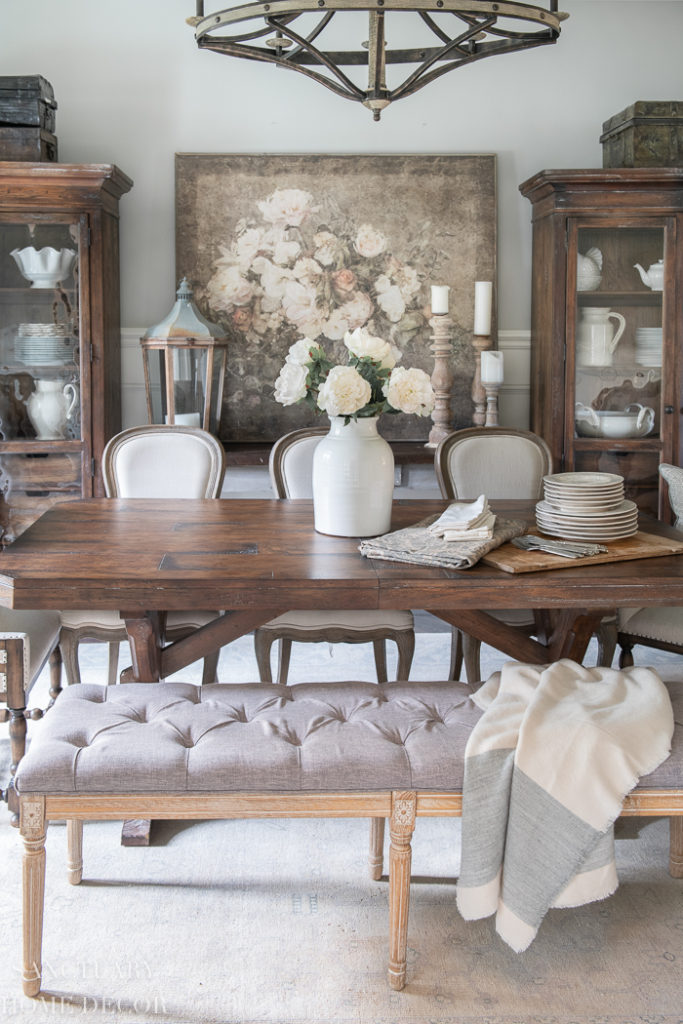 Decorated for a gathering, the dining room maintains a comfortable, easy style.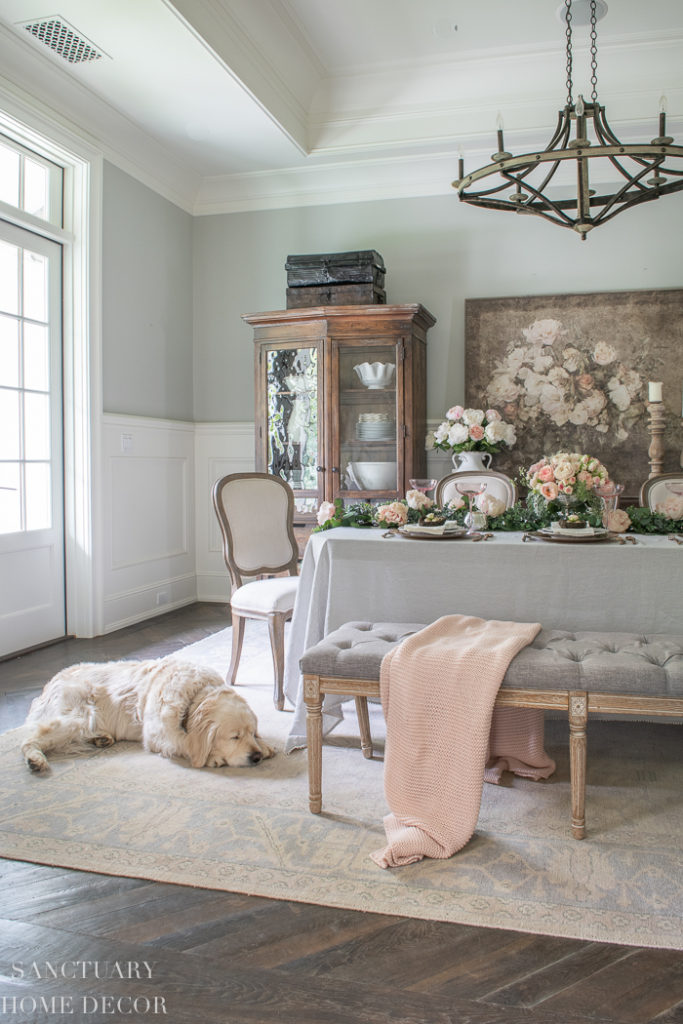 See details of this table setting HERE.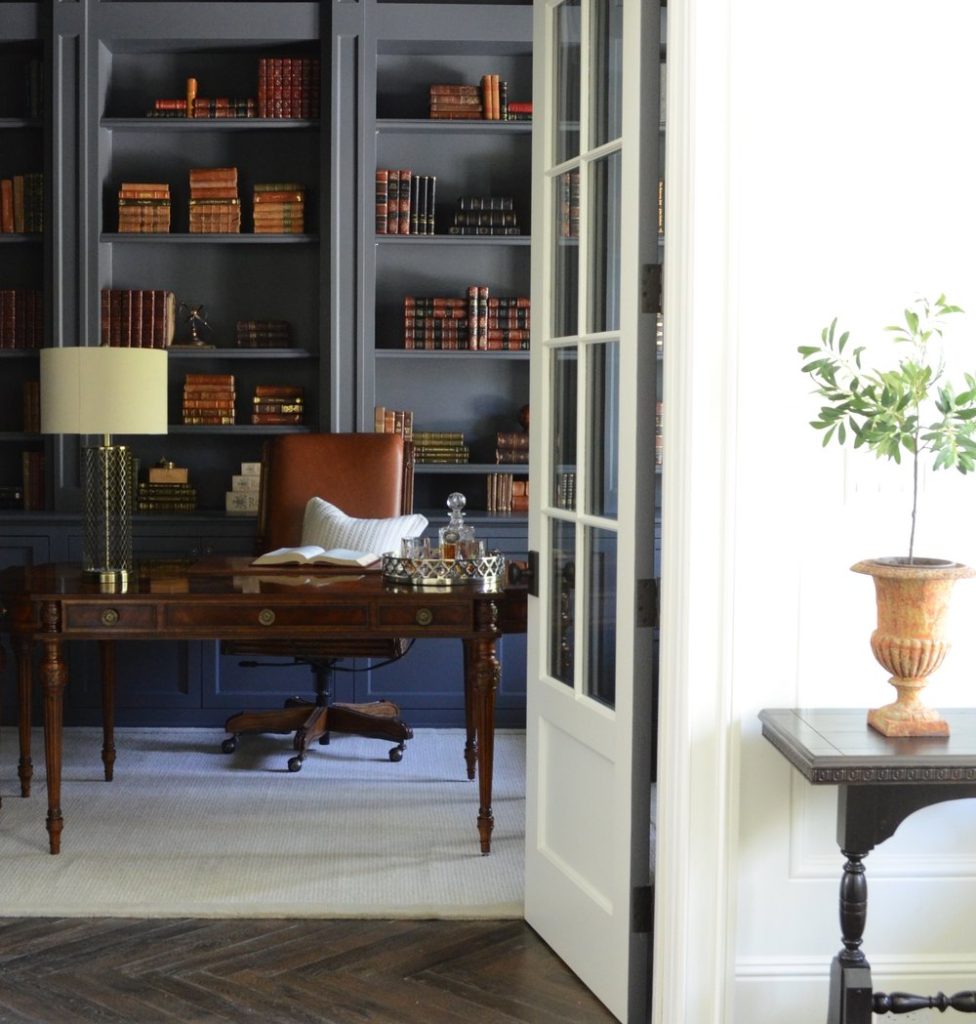 The "library" also serves as my husbands home office. The French doors allow light into the room while still providing privacy and quiet.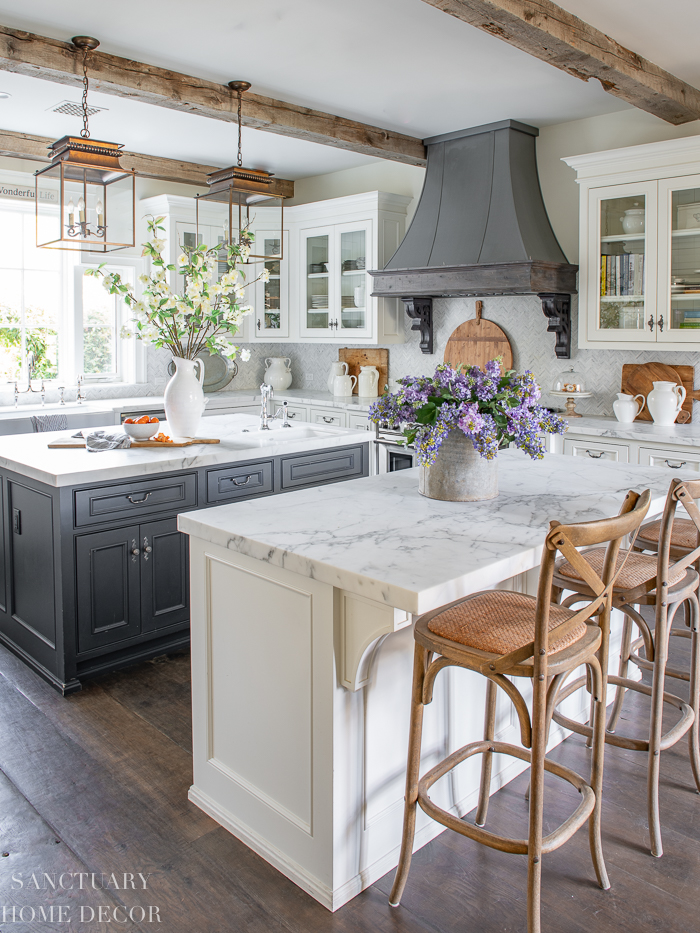 The kitchen is truly the heart of our home and was designed to be beautiful yet comfortable and easy to use.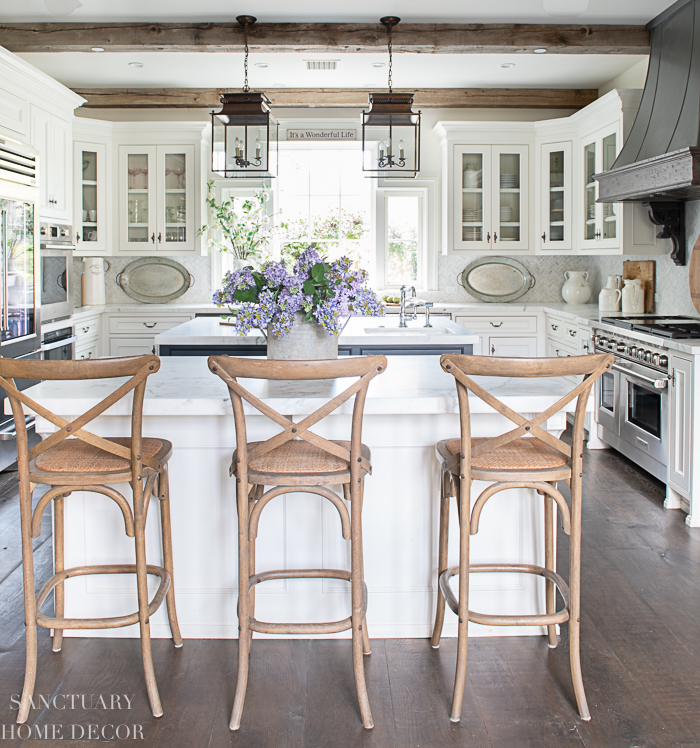 The range hood is the centerpiece feature in our kitchen and creates a warm and inviting look, while the double islands add the functionality we wanted to achieve.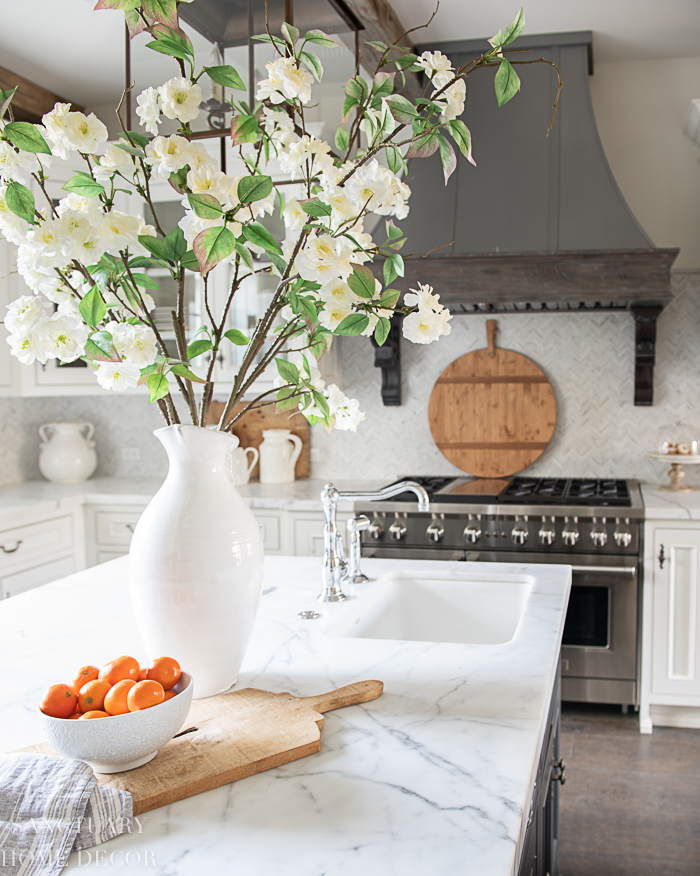 The oversized farmhouse sink is flanked by two dishwashers, which always seem to be in use. There is a second sink in the center island that is often used as a prep sink when we are cooking.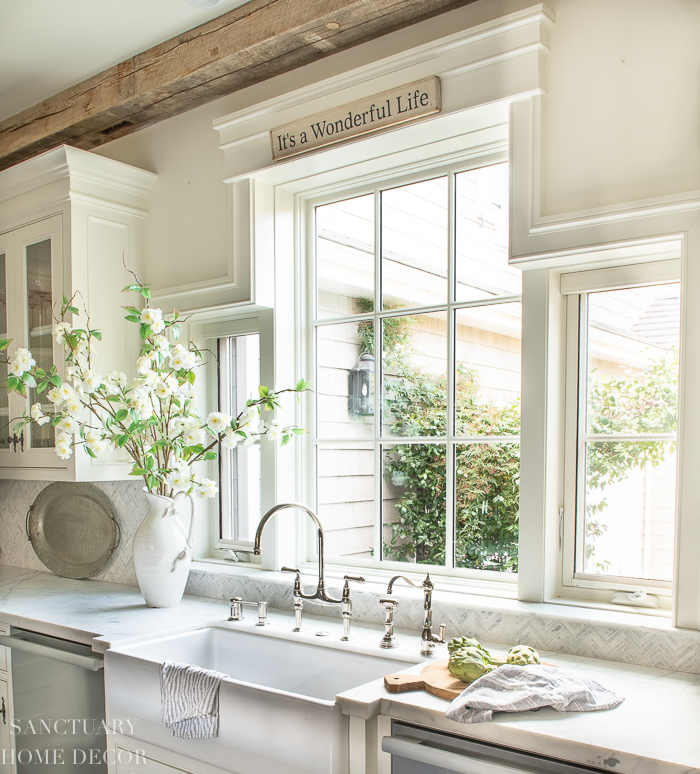 We chose bronze-toned double pendant lanterns over the prep island, which we painted a dark charcoal/blue. The darker center island alongside the all white kitchen provides a pretty contrast.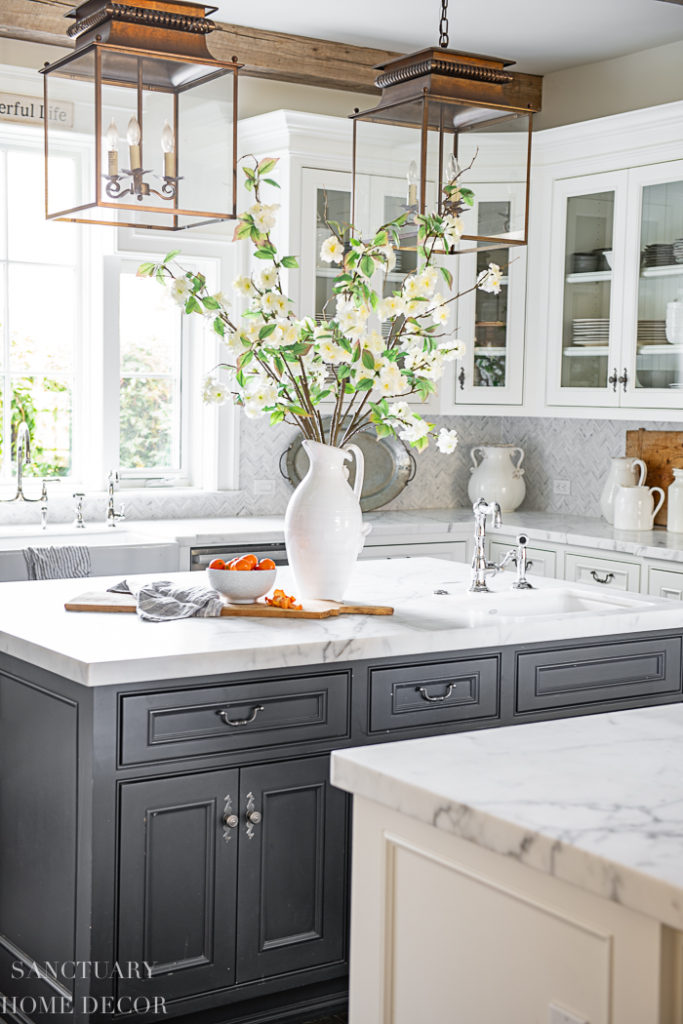 All sources, paint colors, and design elements can be found by clicking HERE.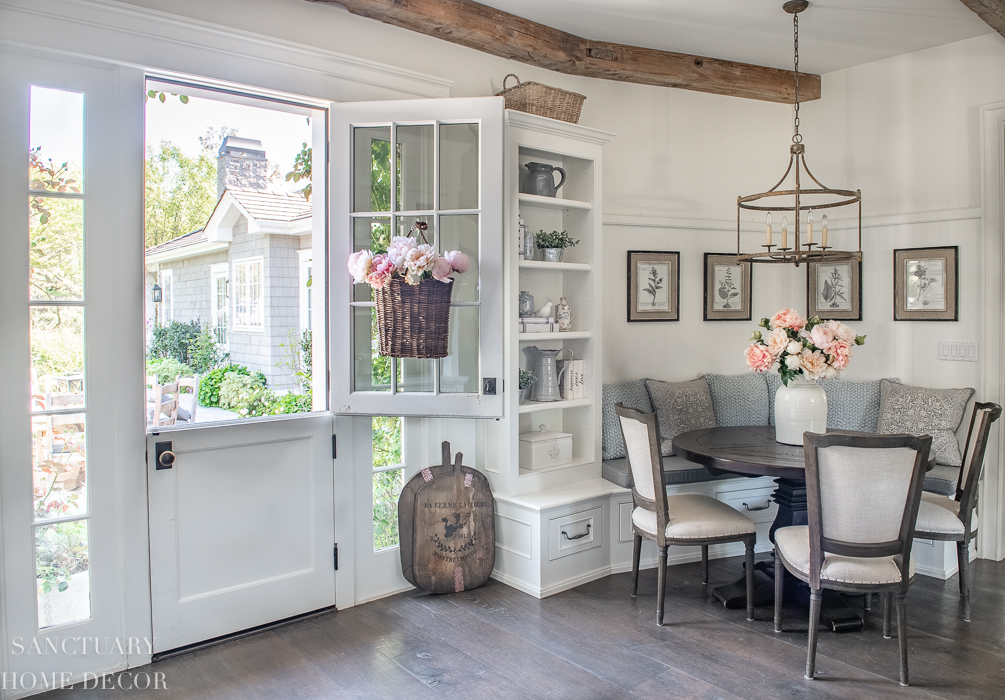 Our breakfast nook is on the other side of the kitchen and because of the odd shape of that corner, we decided to be creative and included some bookshelves and a bench seat. It turned out to be very cozy as well as practical.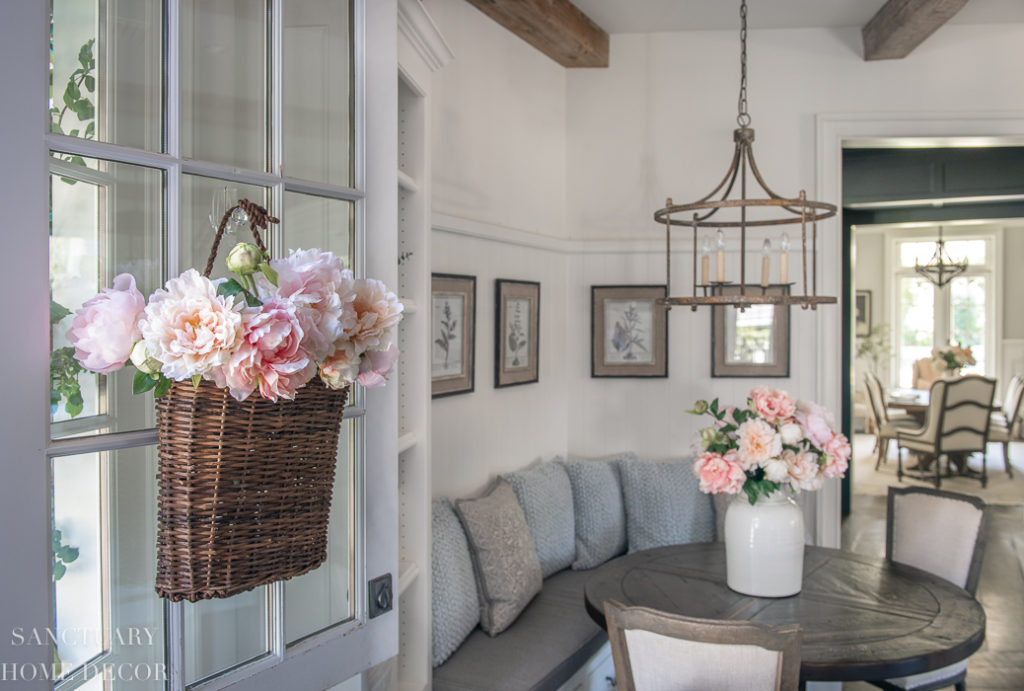 The Dutch door in the kitchen is often open in the mornings to let in the fresh air.

The family room is the most used and least clean room in our home. It is a rare occasion that I am able to snap a photo without someone on the couch!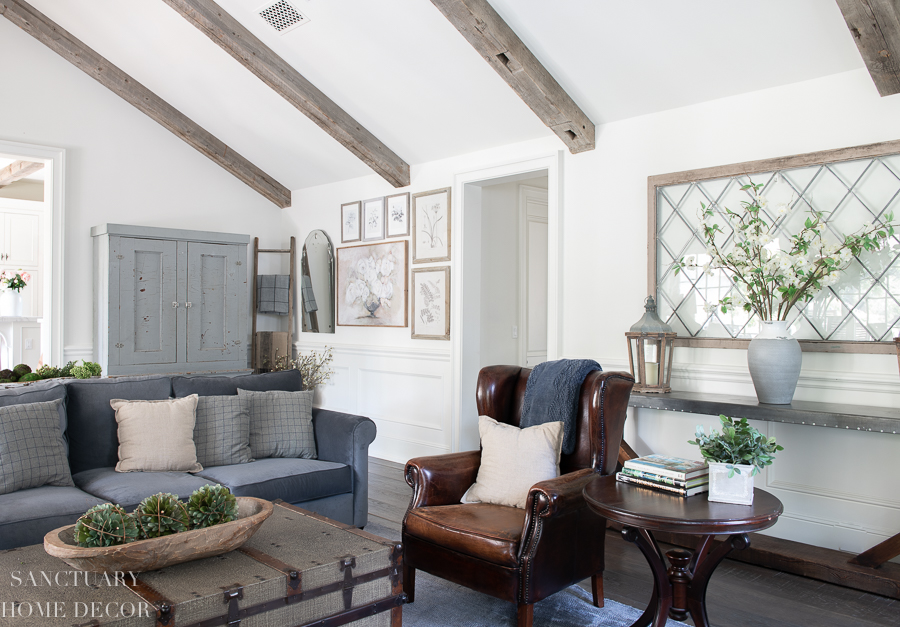 There is a built-in bar in one corner that is often used for parties and entertaining.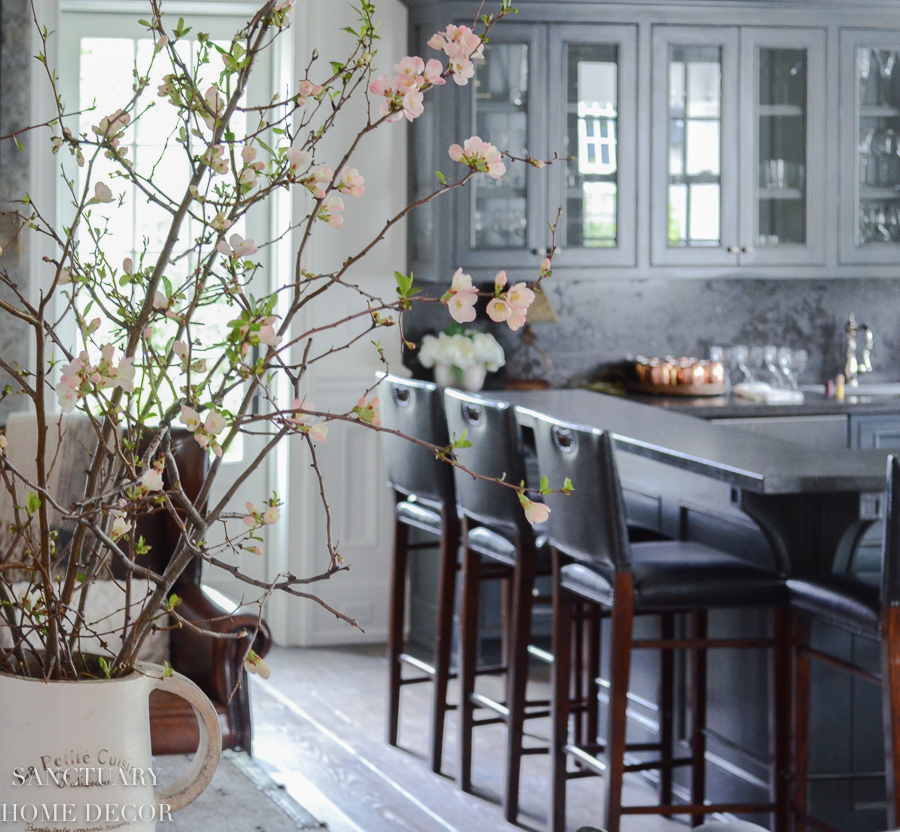 One of my favorite corners in the house is where this old chippy cabinet sits.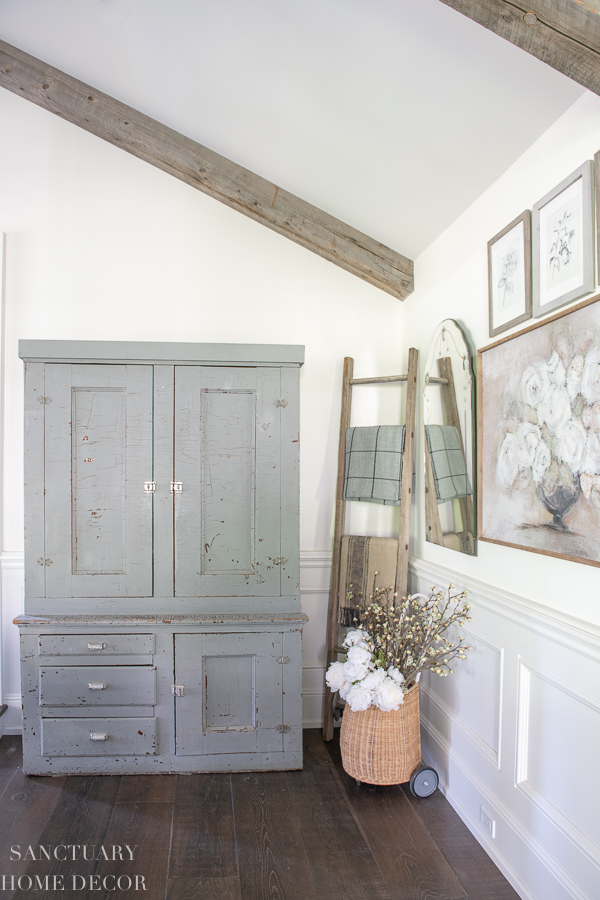 I use it to store table linens and napkins and find that I rarely have enough room for all of the pretty tablecloths I collect.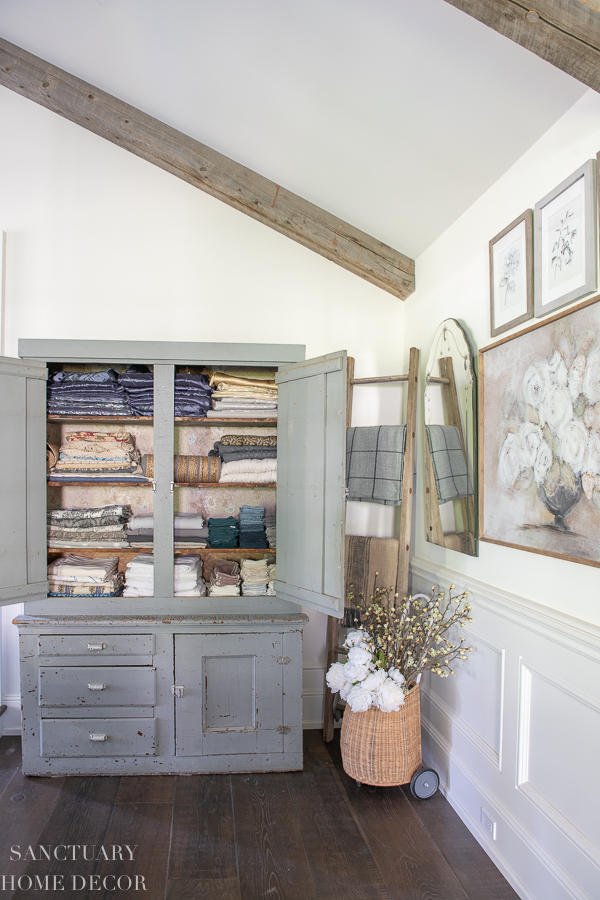 Our master bedroom is the cozy space I dreamed of when we built this home. With the vaulted ceiling and rustic wood beams, it has a warm yet spacious feel.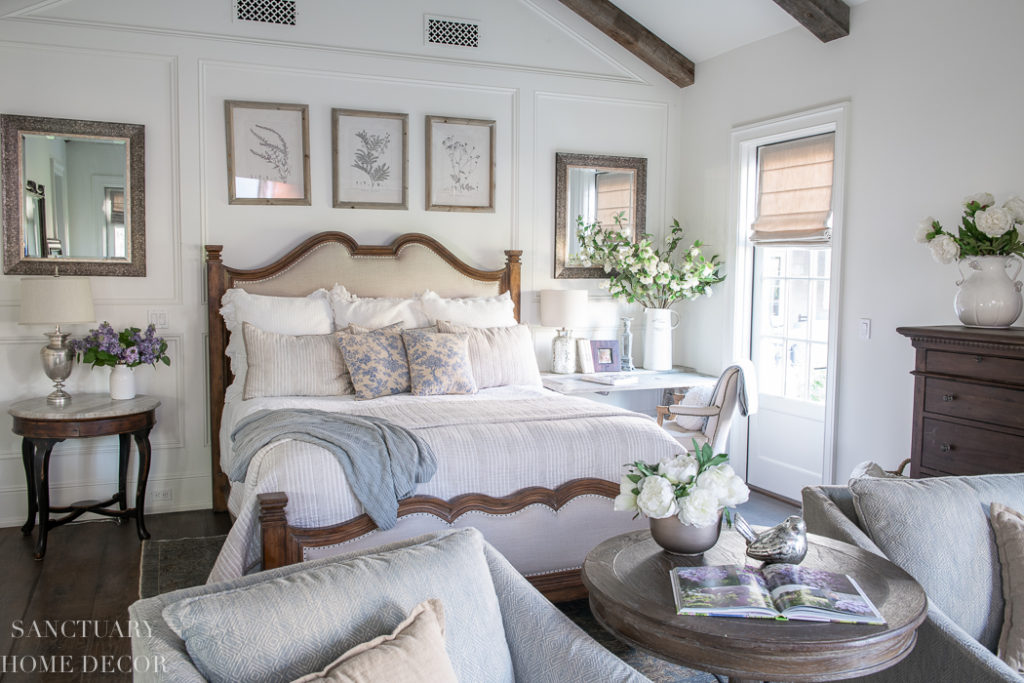 French doors let light in throughout the day and a small desk, next to the bed is a favorite place to work or read.
A simple vintage table with a marble top serves as a nightstand on one side of the bed.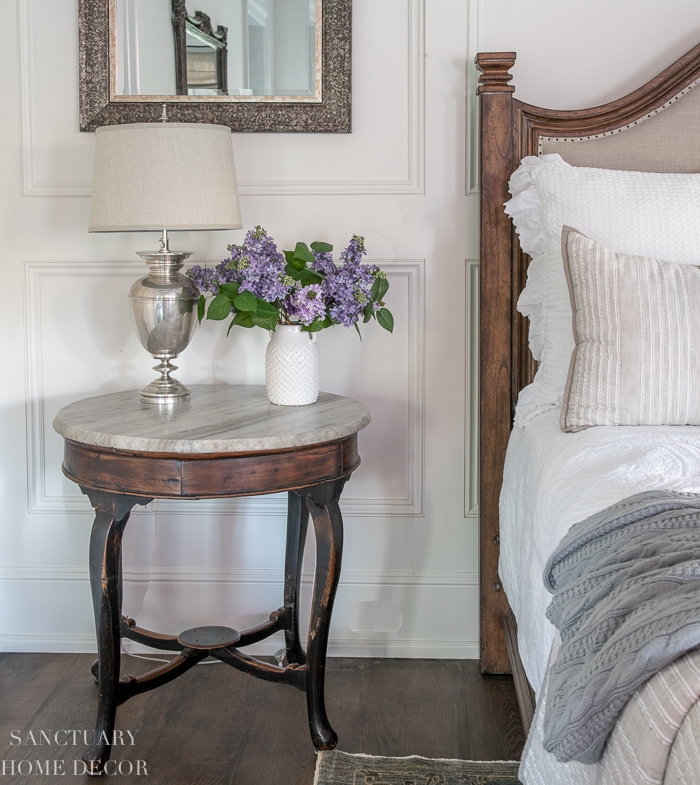 The master bath features paneled walls and wood floors which give the space a warm but clean feel.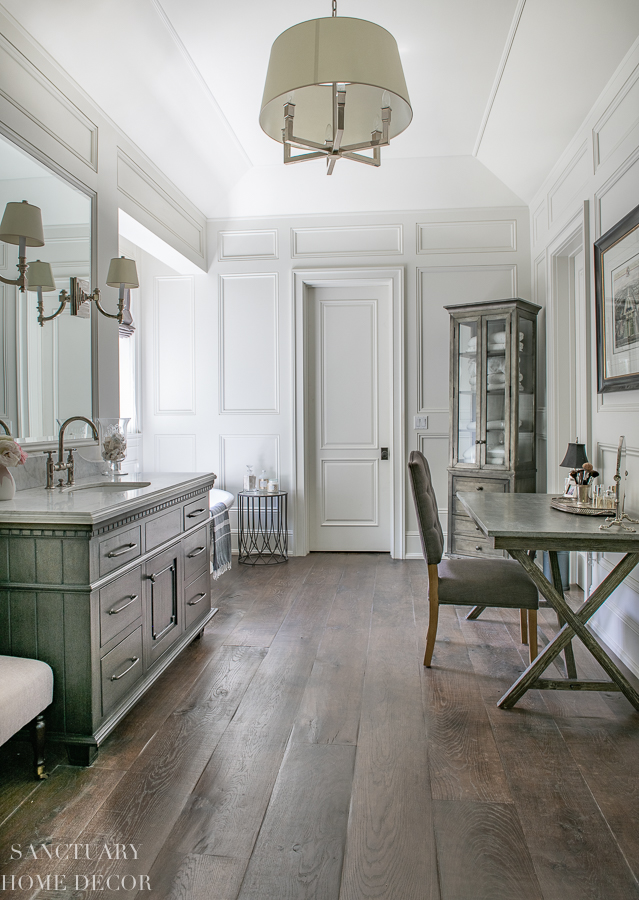 Custom his and hers vanities with a charcoal gray finish were designed to look like furniture pieces.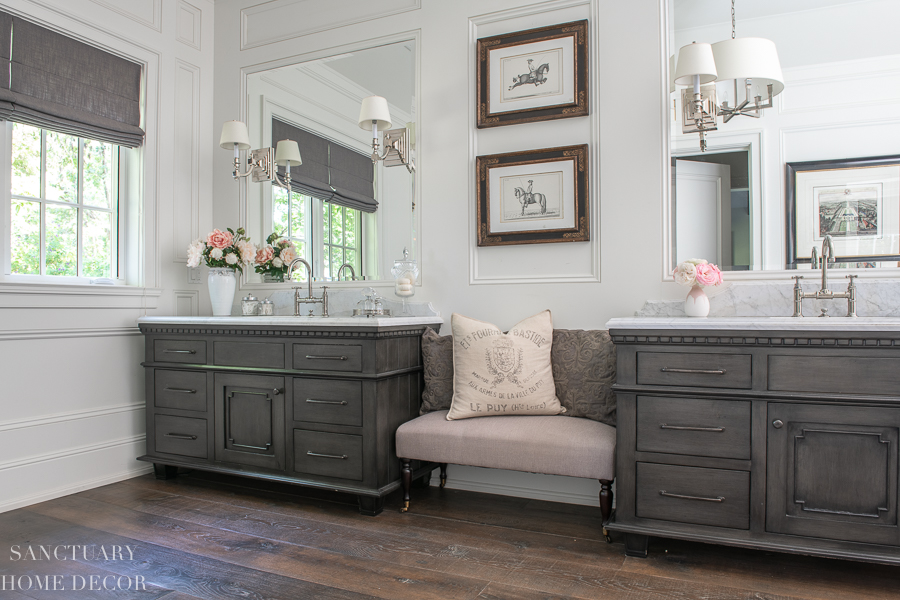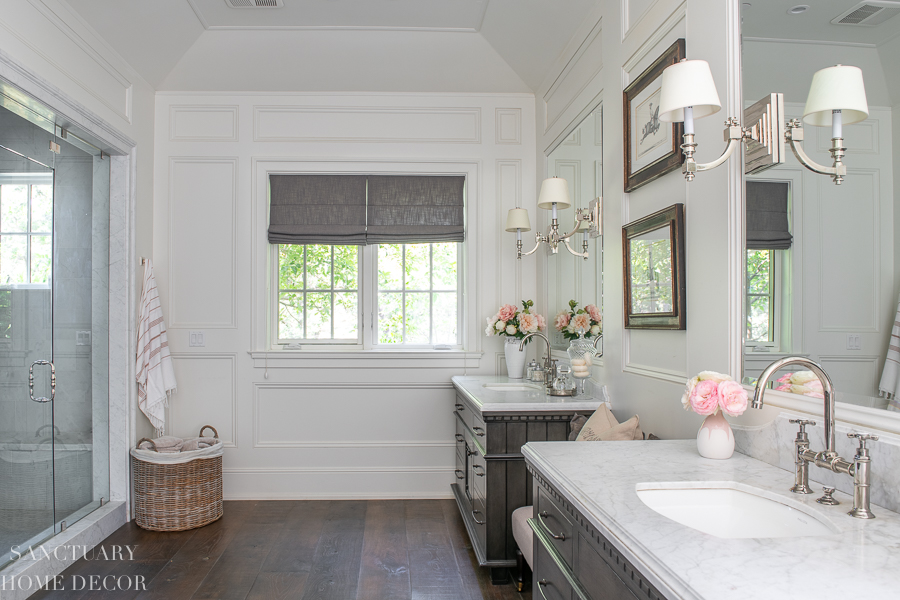 The free-standing tub was tucked into an alcove under a window and is the perfect place to unwind after a busy day.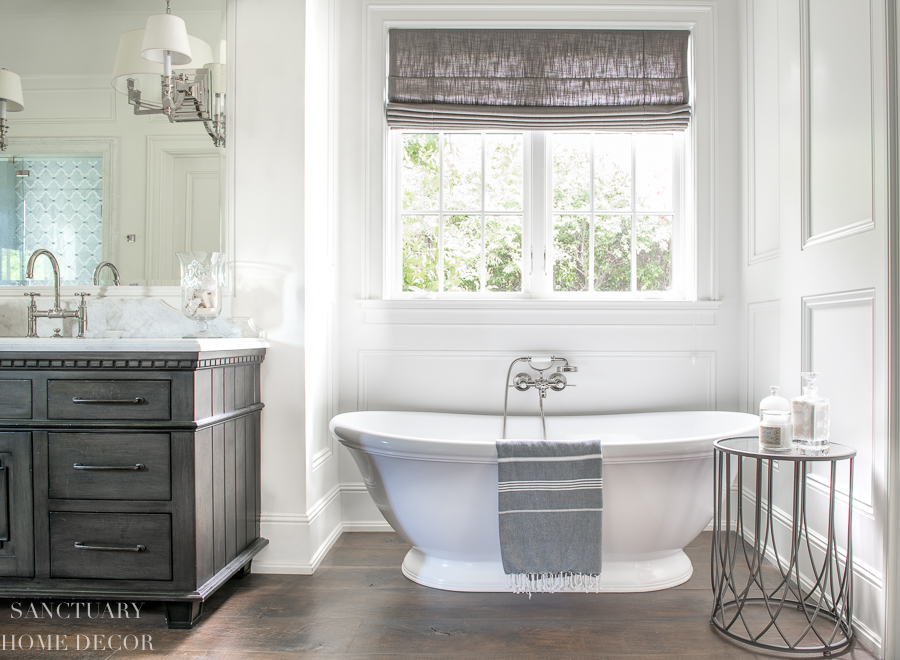 The vanity mirrors were built-in to the paneled wall with double sconces flanking the sink.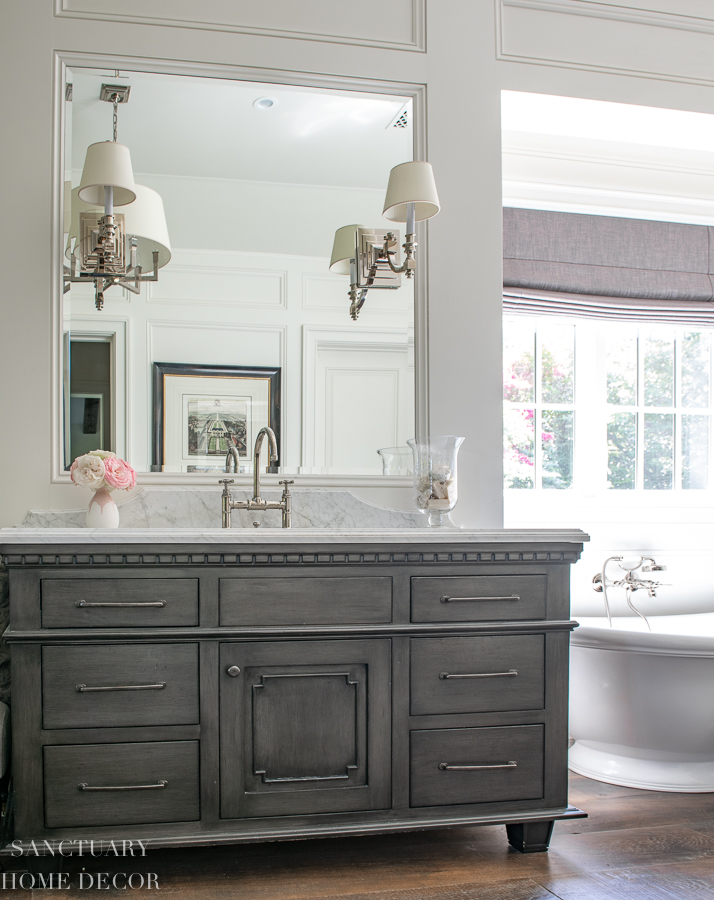 Rather than add additional built in cabinets, we chose to use furniture pieces to create a vanity table and towel storage cabinet

The master closet is not oversized but has every element necessary for organization and storage.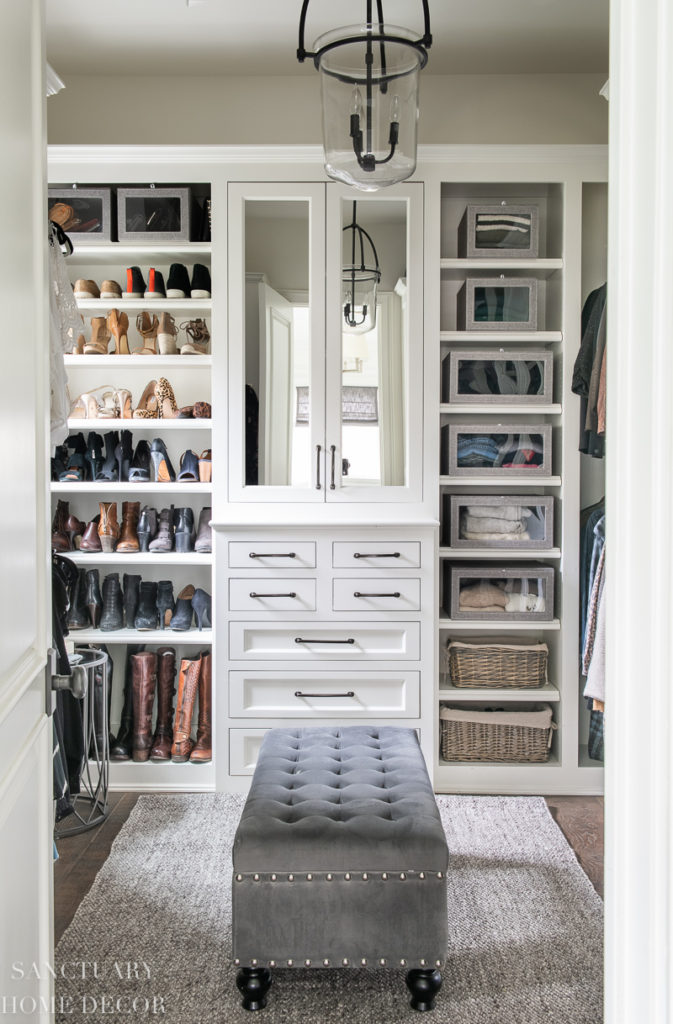 Built-in dresser drawers, shoe shelves and mirrored doors create a functional but efficient space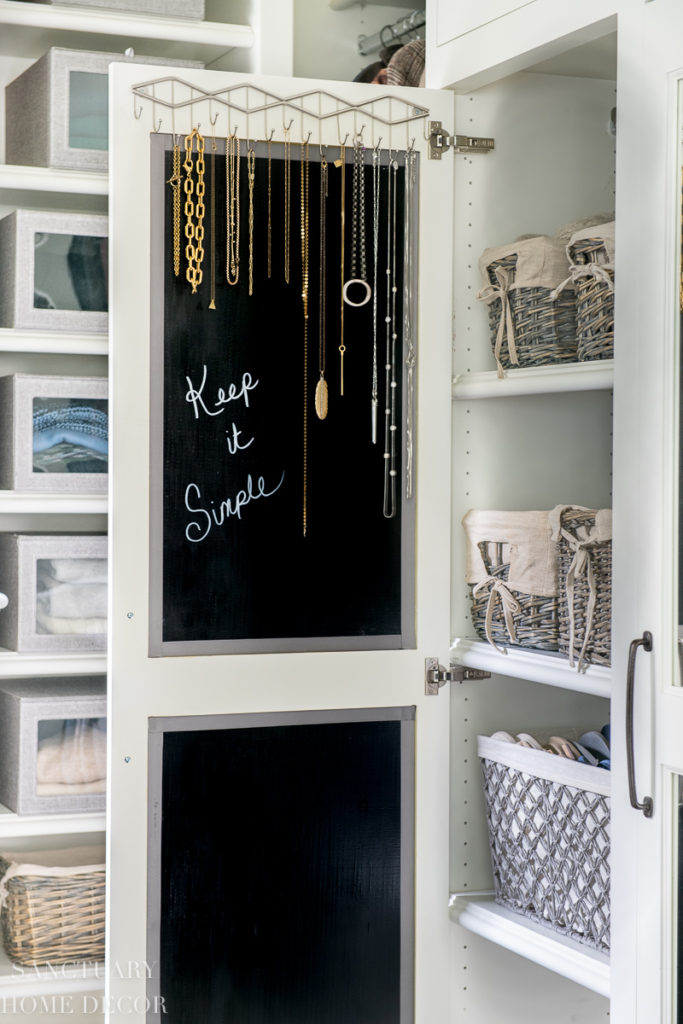 The terraced lot provided an opportunity to create a rambling garden with a rustic barn across the lawn for our horses.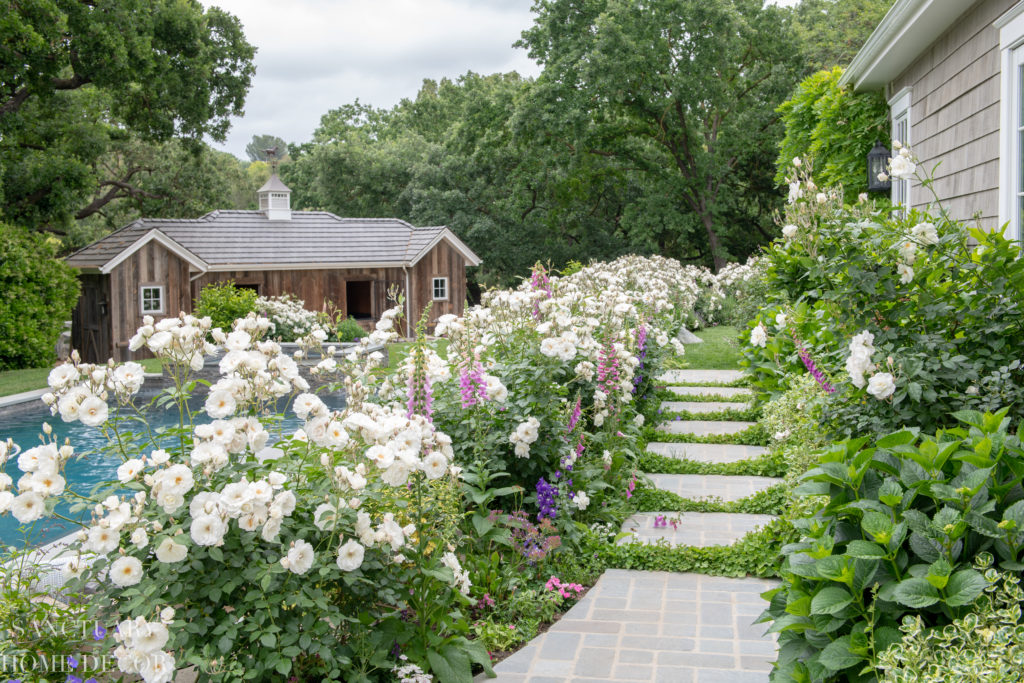 This garden is the fulfillment of a dream for us. We started with a dirt lot in the back yard and envisioned a beautiful English garden.
See a behind the scenes look of the Country Gardens Magazine Photoshoot in our yard HERE.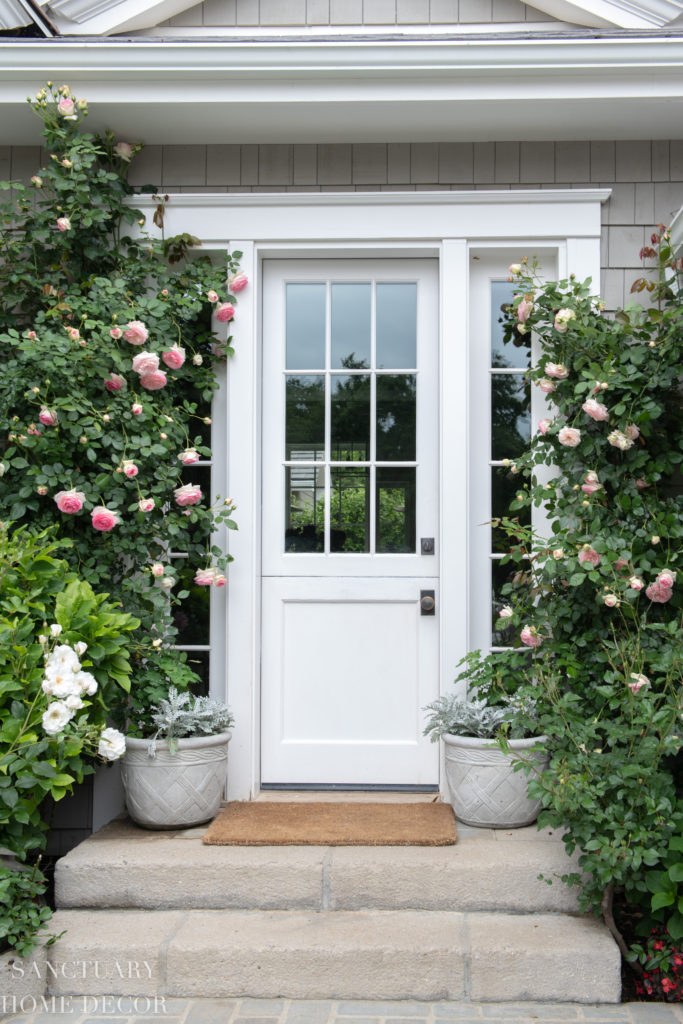 Surrounded by garden roses, this Dutch door leads in the kitchen.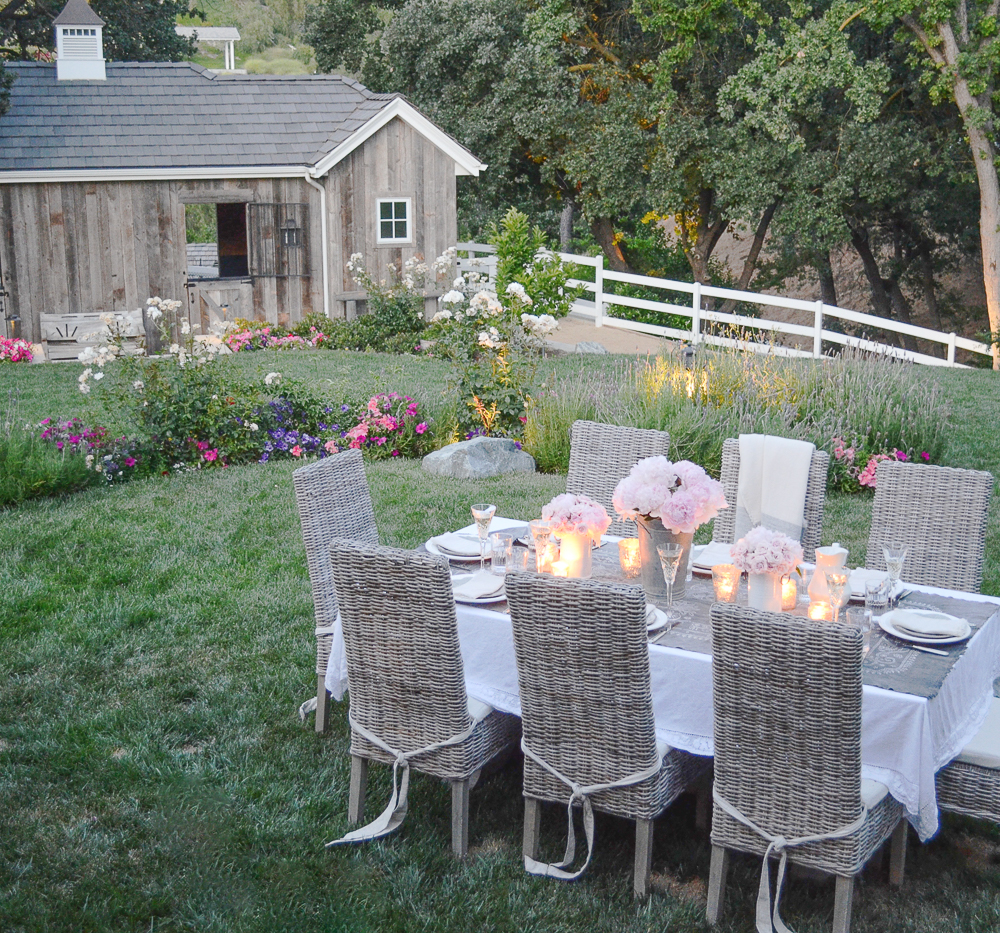 We often eat alfresco on the lawn overlooking the barn.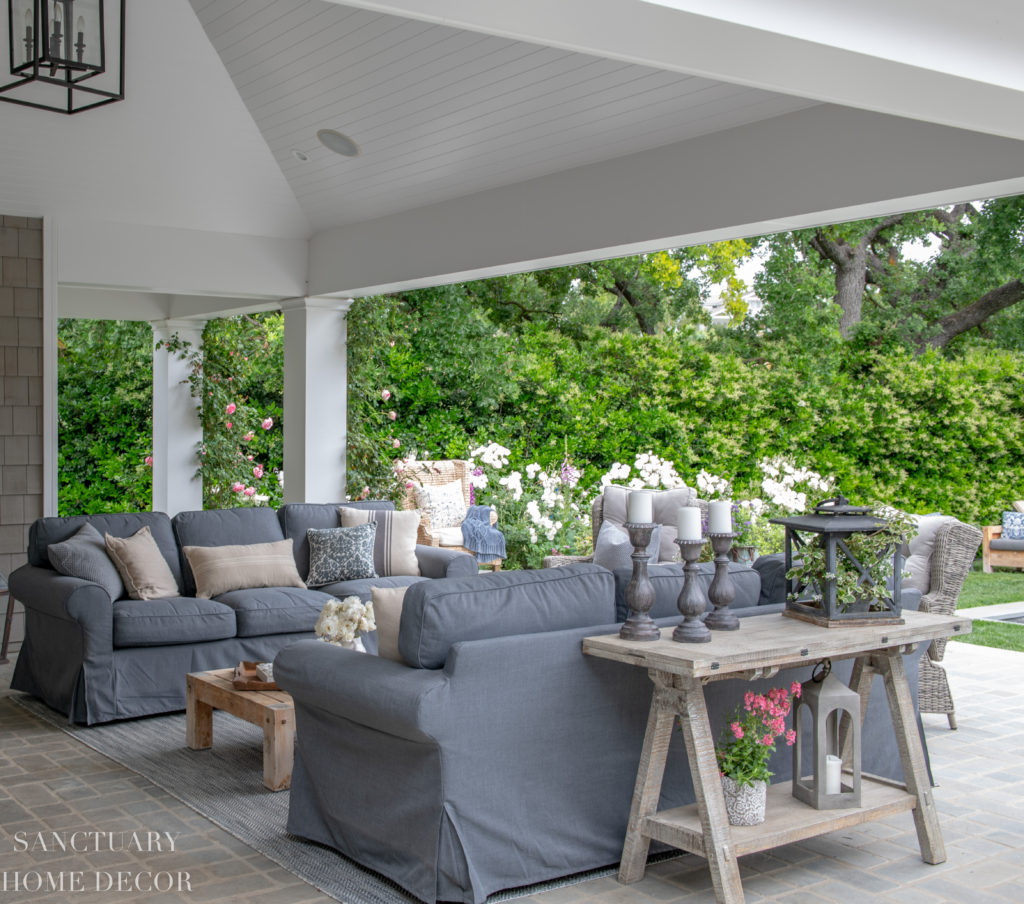 The covered patio, outside the family room is a favorite gathering spot for family and friends,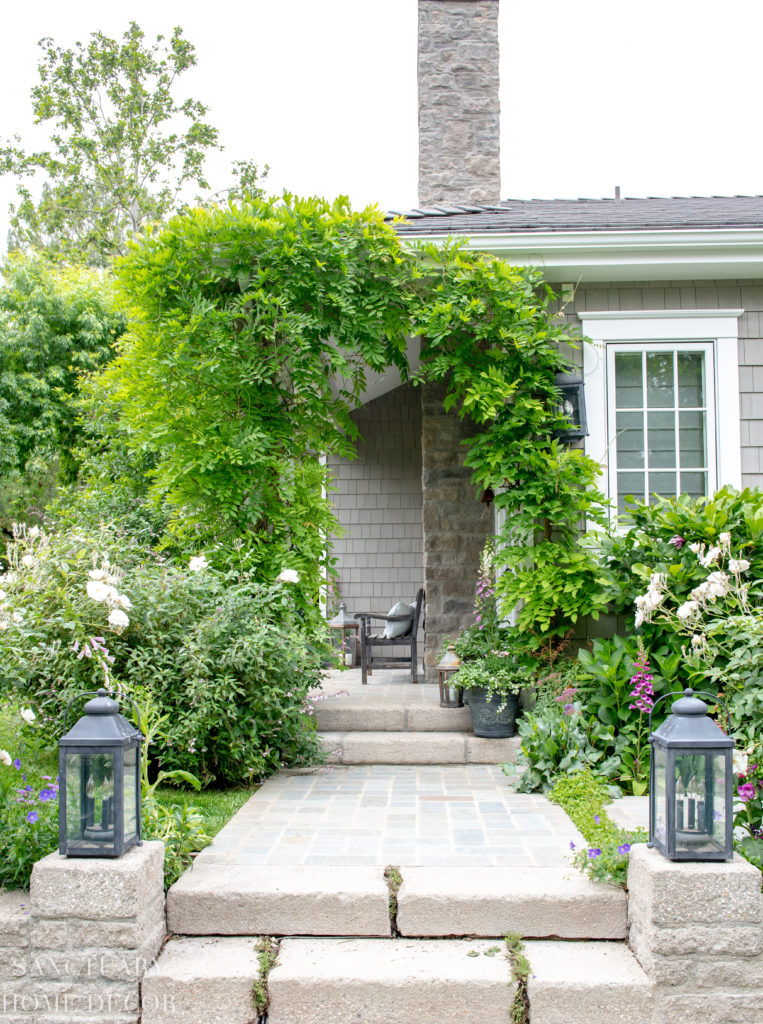 A wisteria arch leads to the patio outside the master bedroom.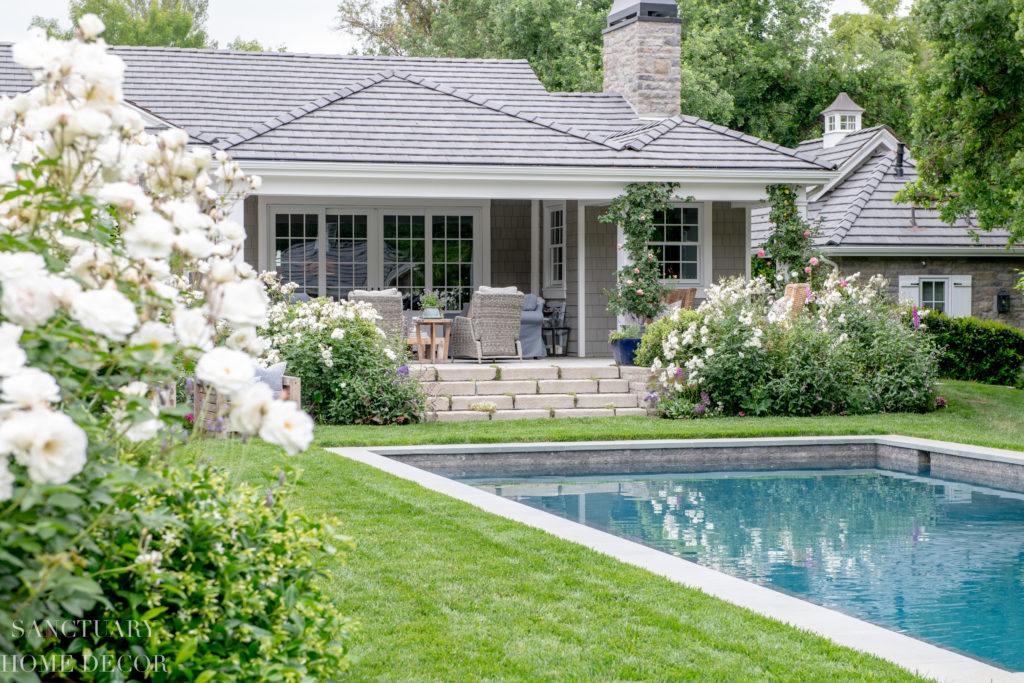 The pool was designed to be surrounded by grass and complete the English garden design.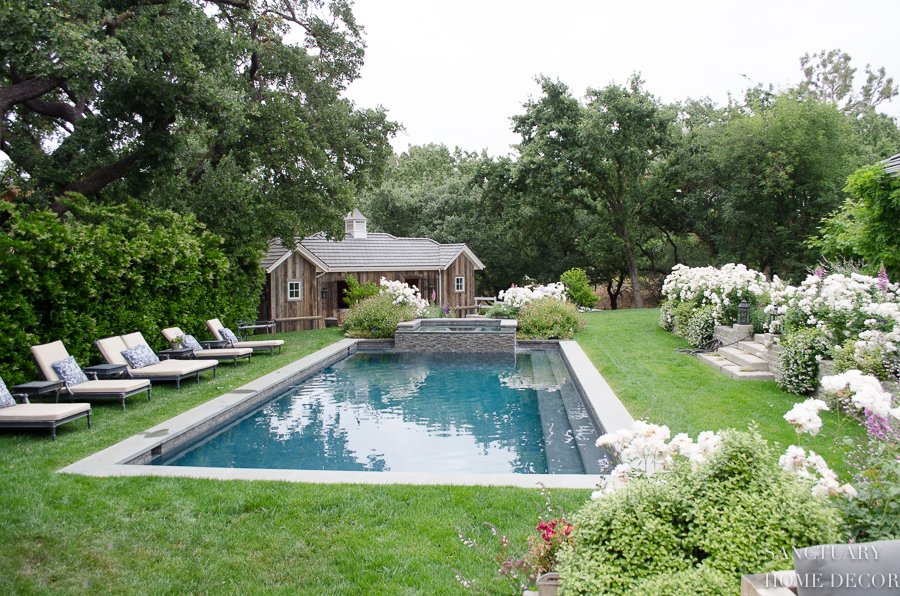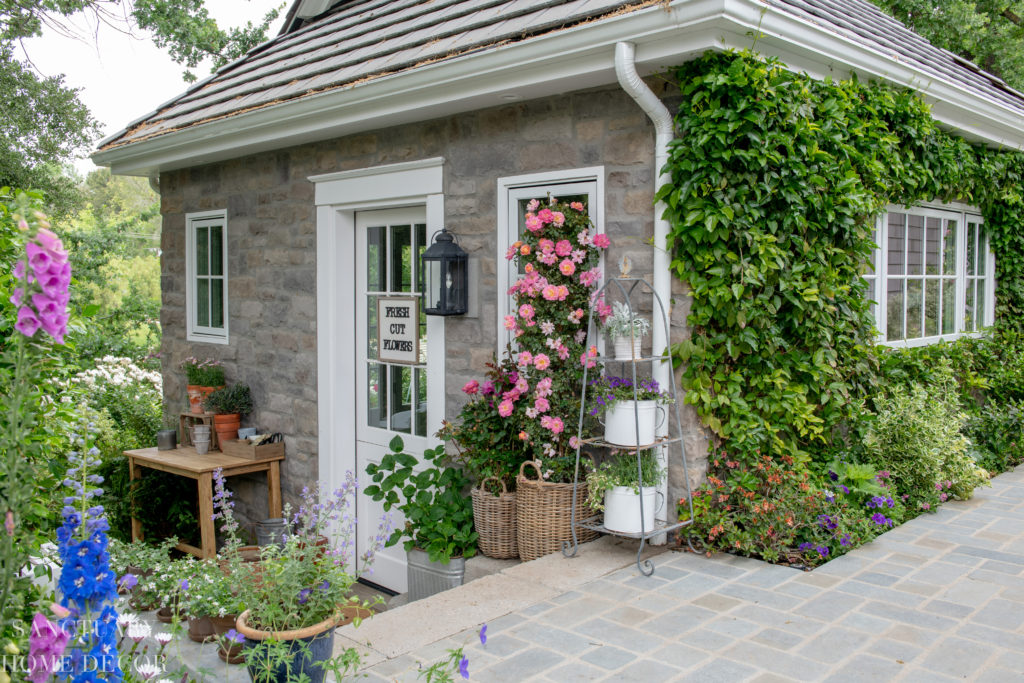 The stone cottage became my flower studio a couple of years ago. This is one of my favorite spots in our home.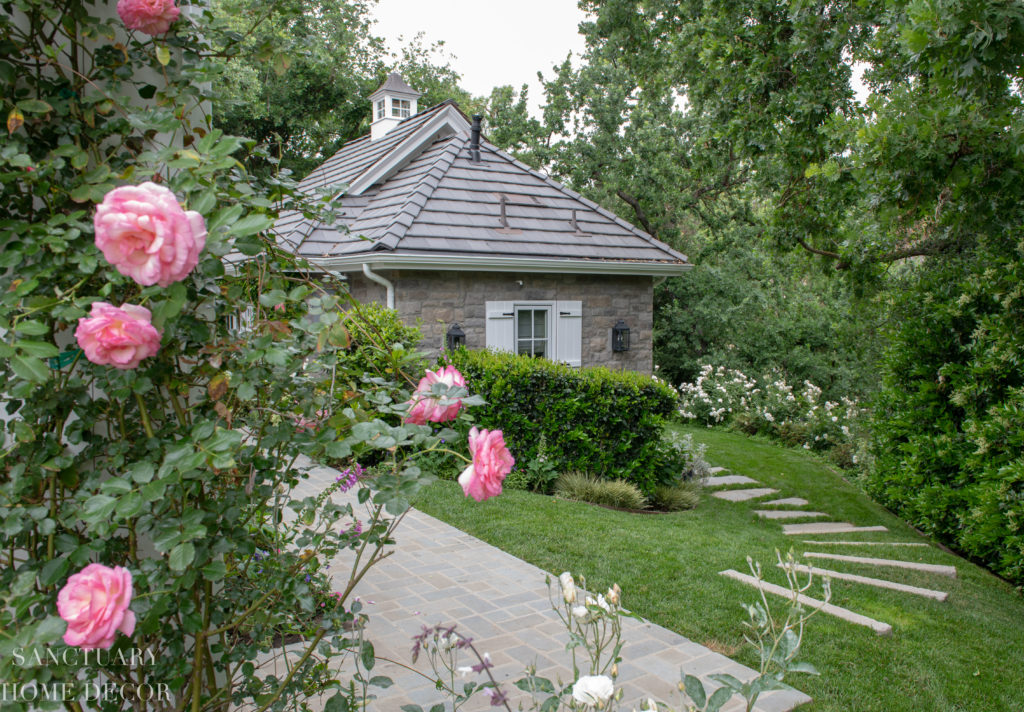 I use this space as my workshop and a place to create floral arrangements, my favorite pastime and hobby.
Romantic Homes Magazine featured my little cottage in a recent issue.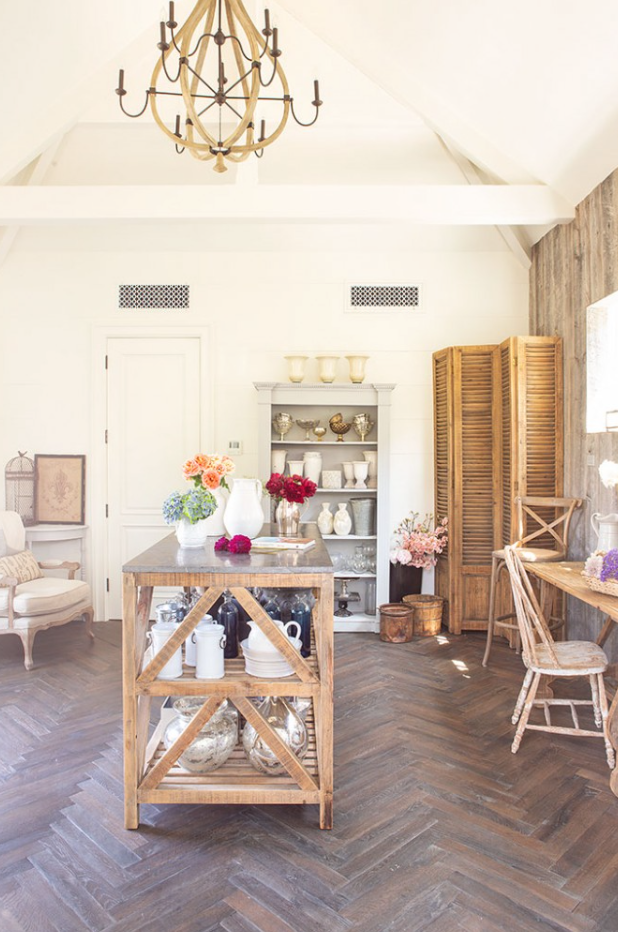 The reclaimed wood walls add a warmth to the room while the rustic herringbone floors add an eclectic style.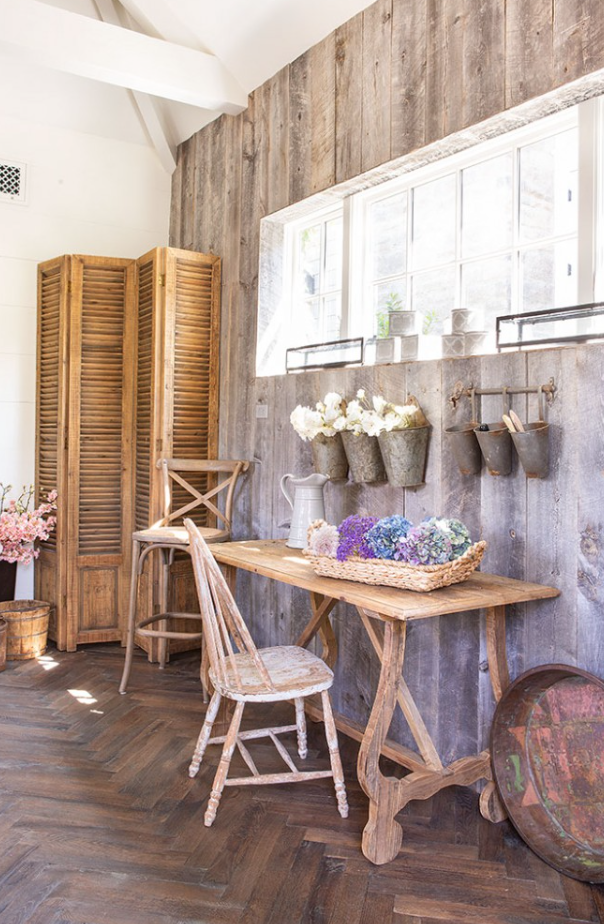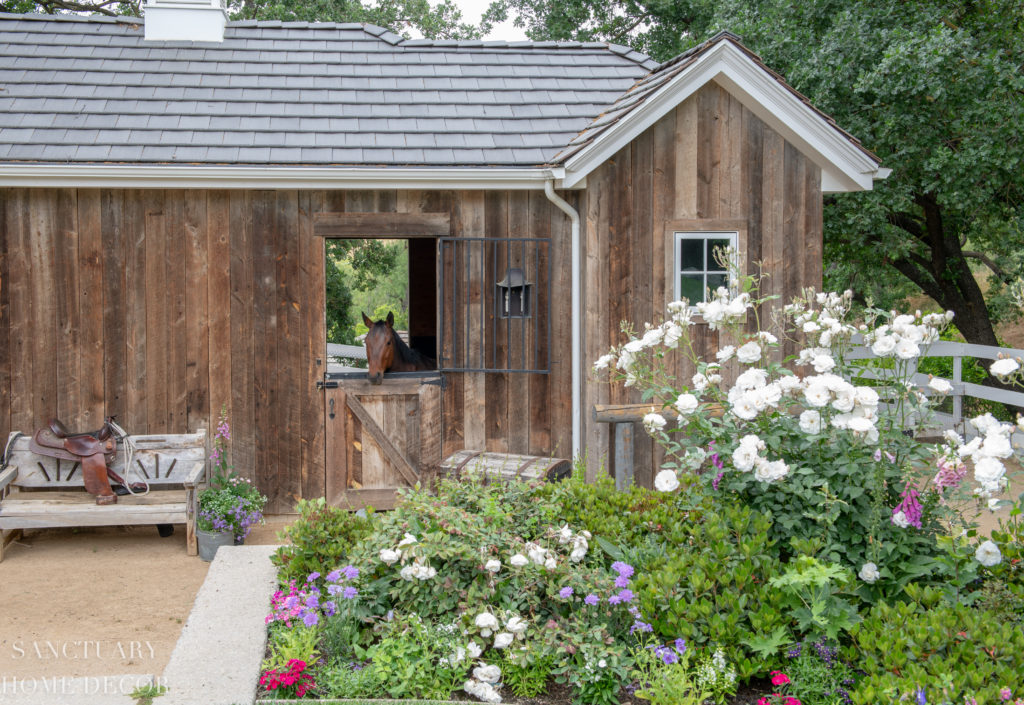 We live in a small equestrian community and can ride our horses just out the back gate, so we added a rustic barn at the back of our property.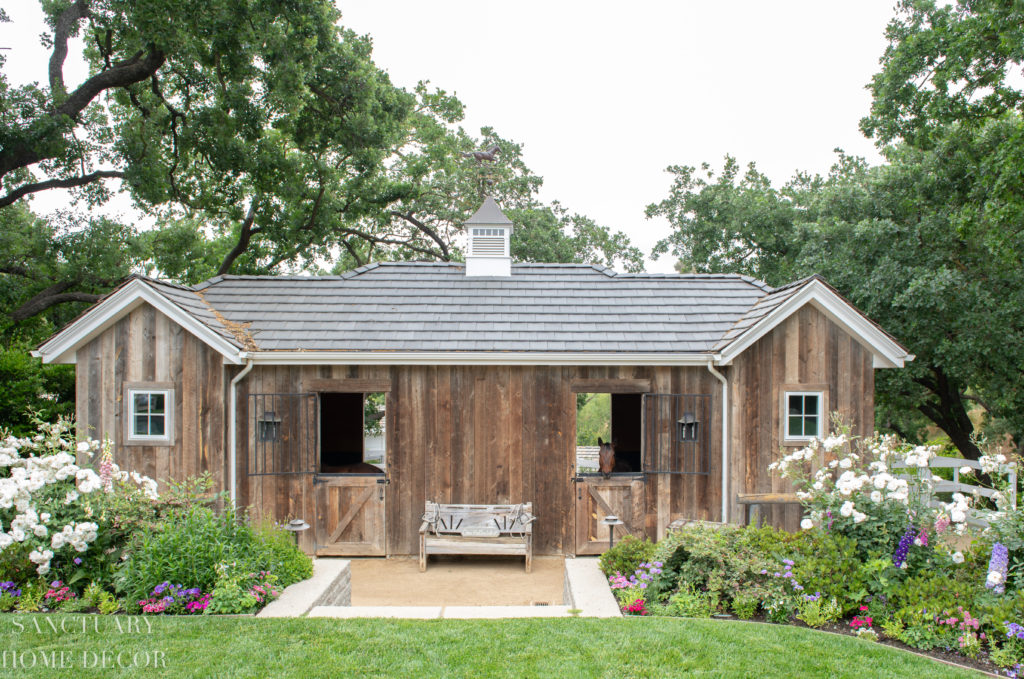 Meet Whiskey, my husband's sweet horse.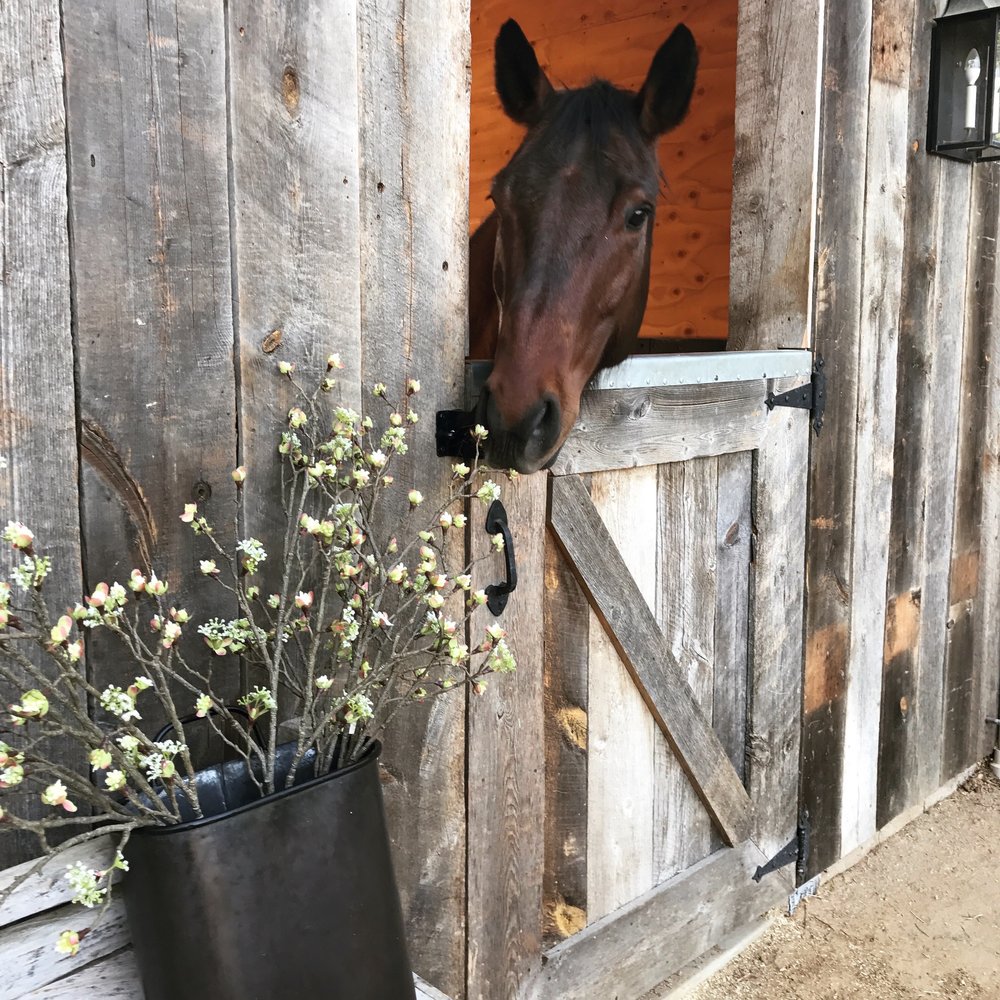 I hope you enjoyed this little tour of our California Farmhouse! It is always a work in progress, but this home has truly become our sanctuary and a place where our family finds peace and joy.