How to Create a Gallery Wall Using Art Prints
I think that one of the hardest parts of decorating may be deciding on where to add wall art to your home. I always struggle with finding art that I love and then determining how to place it so that it looks just right. One solution I have found is to purchase art print sets to create gallery walls in different areas of my home. I absolutely love this look and the way I can fill different size walls with beautiful art. Toady I am sharing how to create a gallery wall using art prints, and I'm also sharing lots of sources to buy beautiful art print sets at every price point!
A BOTANICAL GALLERY IN THE OFFICE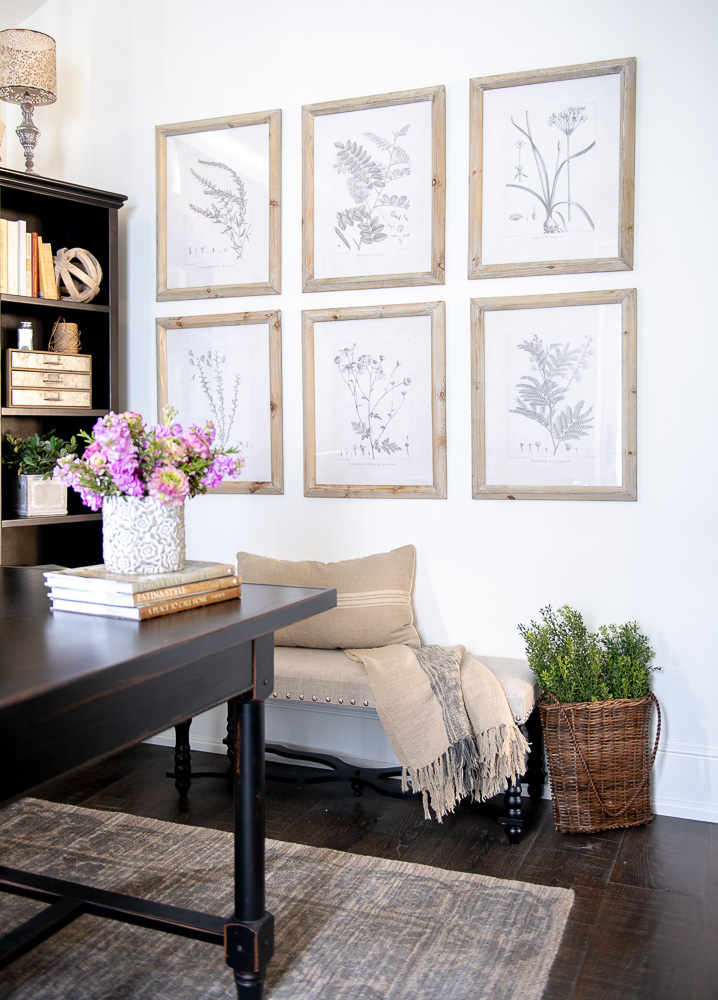 This post contains affiliate links.
Botanical art prints are by far my favorites! I love the way they look when grouped together and as you know, I love flowers…so win-win!
I recently found this set of six black and white botanical art prints and knew I had to have them. They were actually a set of nine, but the shop was selling them separately. Yay!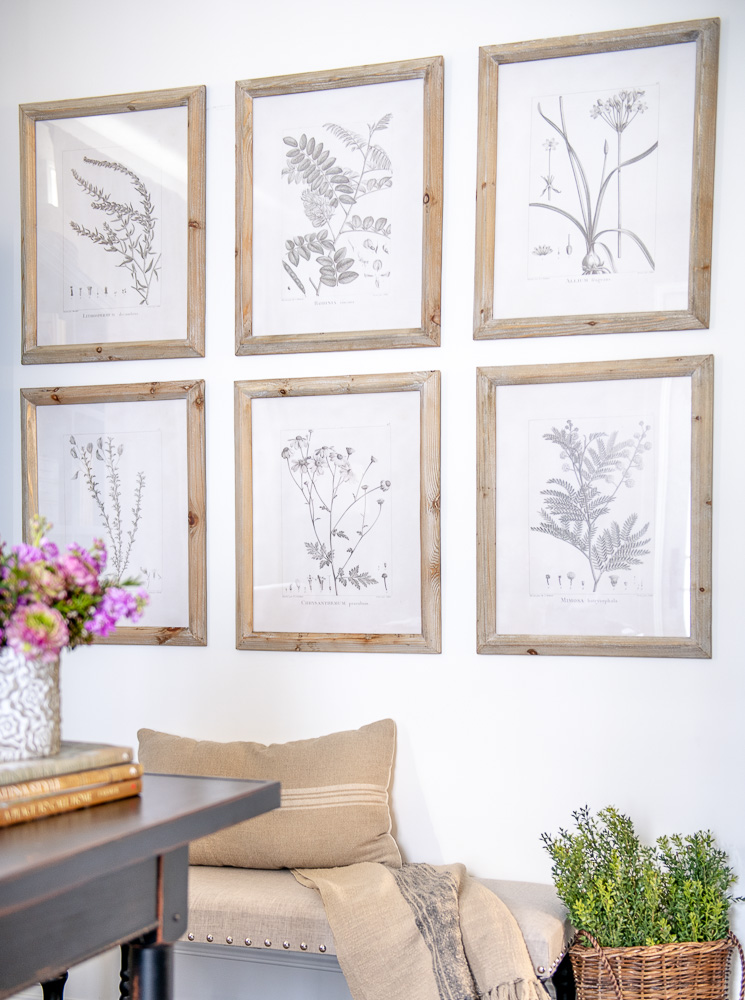 As you may remember, I have been working on a Home Office Makeover (reveal coming soon!) and was searching for something I loved to add to this very tall wall in my office. These prints were the perfect solution.
They are 20″ x 25″ so they cover a large area, but the fact that they are black and white with reclaimed wood frames makes them super neutral and not overpowering in this small room. I placed them 3 inches apart and they filled in this wall beautifully.


EQUESTRIAN PRINTS IN THE DINING ROOM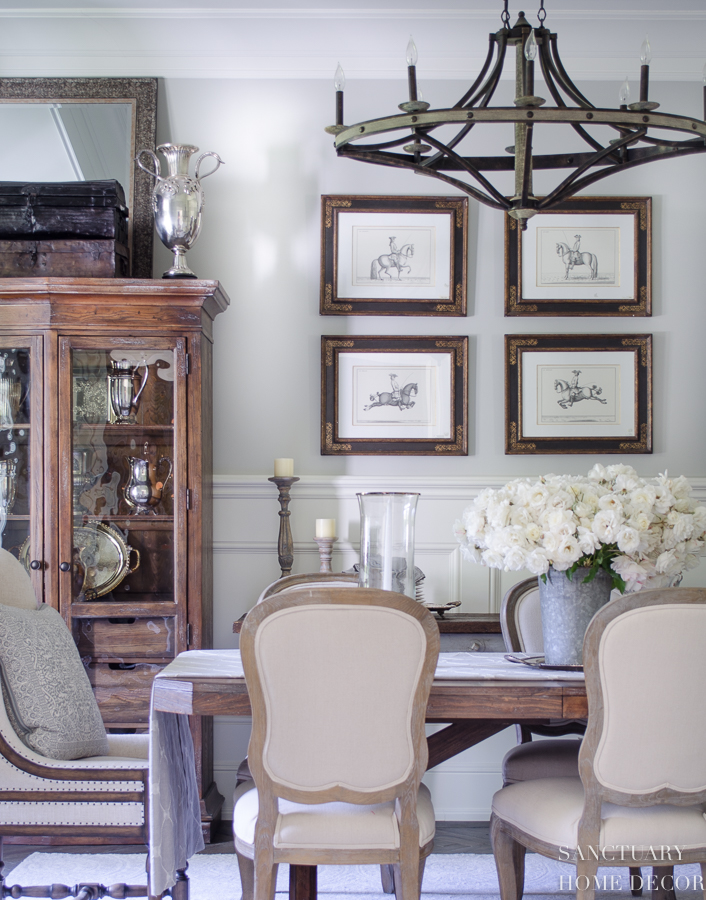 Our dining room is another area where I created a smaller gallery of vintage equestrian prints. I found these many years back at an antique store and they have been well loved and used in many rooms of our homes.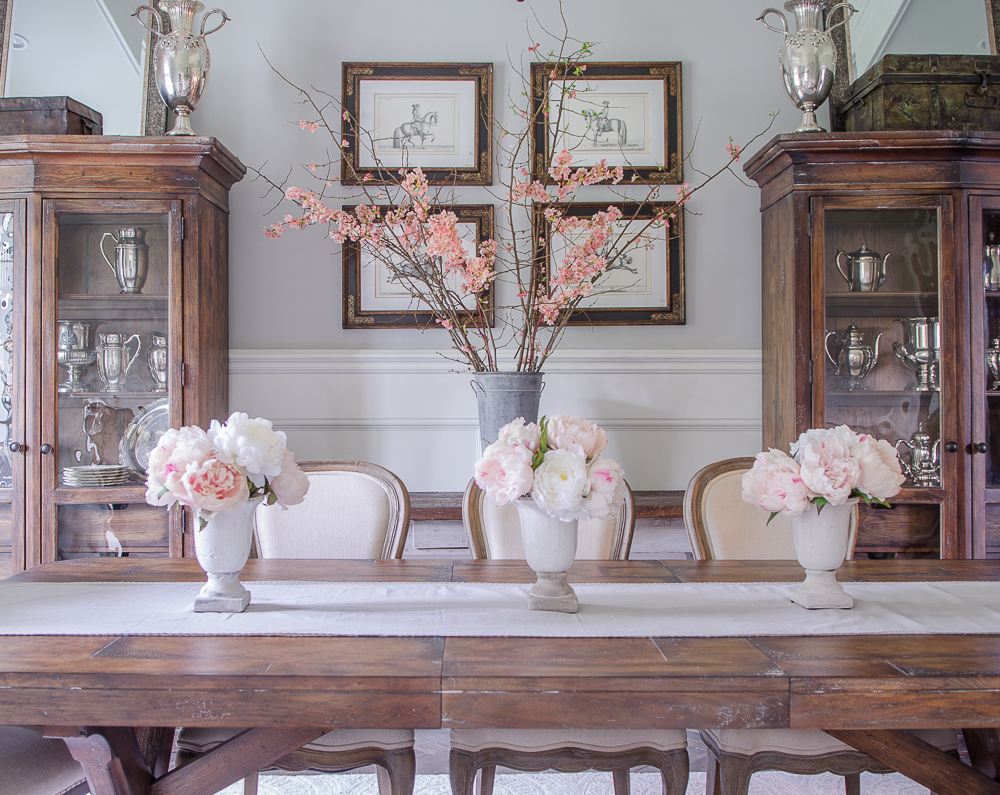 I think these work well in this room because I like to seasonally change my accent colors, and the neutral tone in these prints allow me to do that easily.
What also makes them work in the dining room, is that the frames blend in with the furniture, but the graphics are soft and subtle so even some large cherry branches placed in from of them does not look out of place.


BOTANICAL PRINTS IN THE BREAKFAST NOOK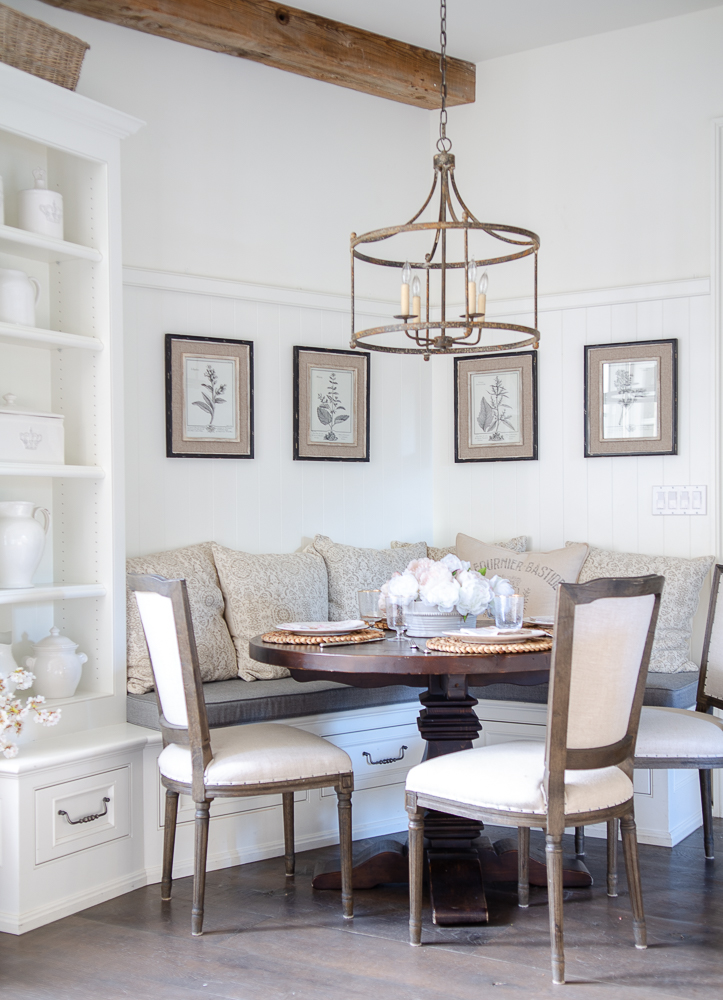 Not all art print sets have to be hung gallery style. The set of botanical prints in my breakfast nook work well placed horizontally on the banquette wall.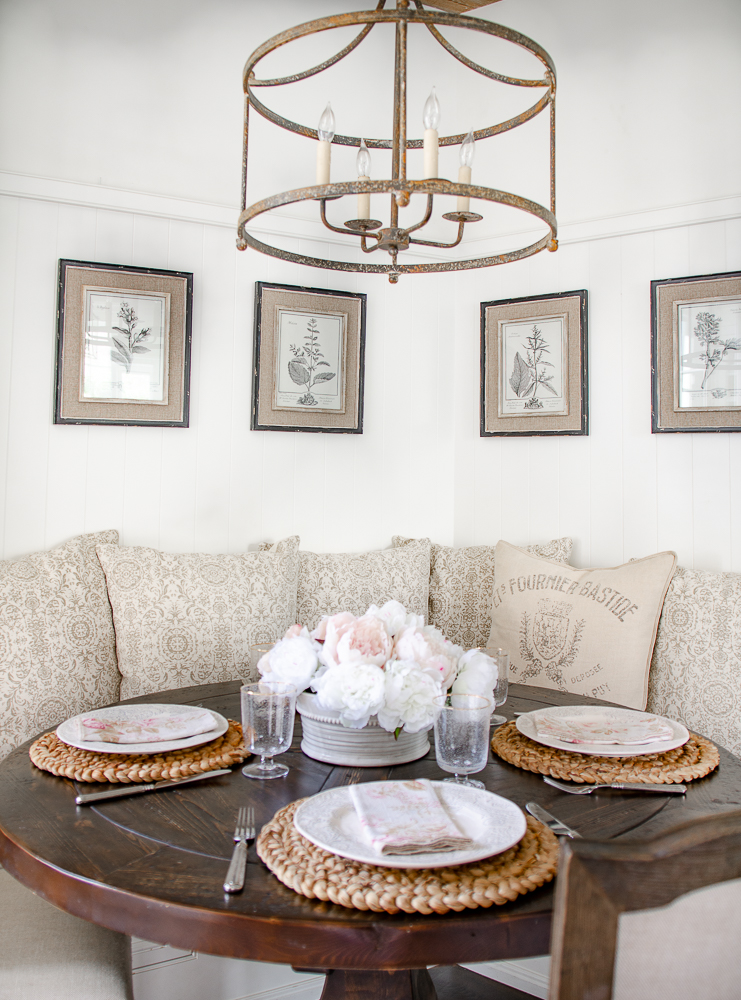 Because of the wainscoting and limited space in this area it would have been very difficult to use anything other than a coordinating set of prints. These botanicals, with linen matting, are the perfect neutral accent in this room and allow me to change my pillows seasonally without competing with colors in the prints.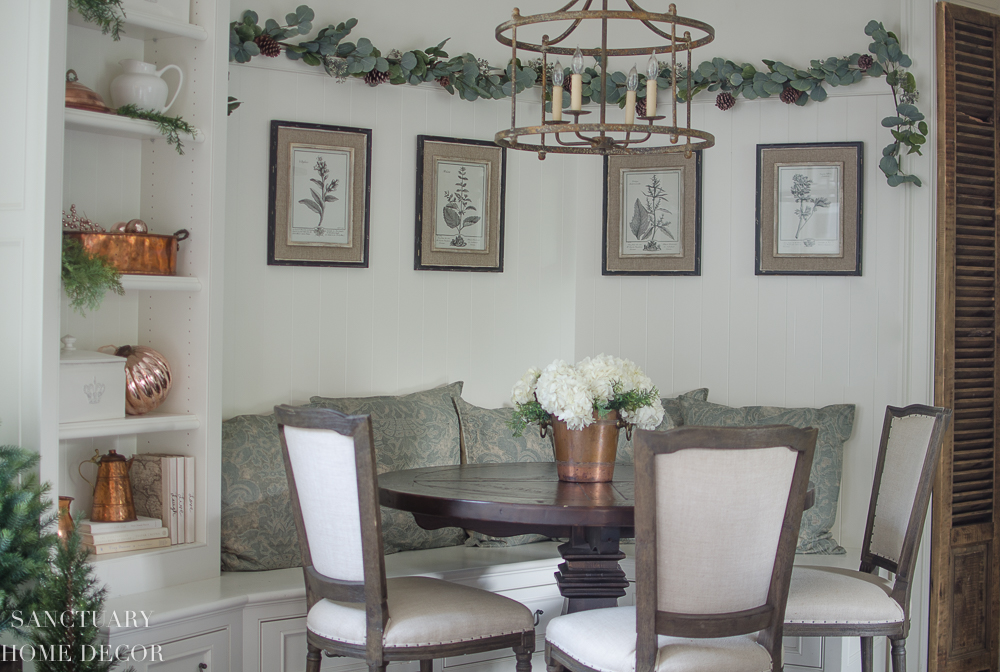 A SHEET MUSIC GALLERY IN THE LIVING ROOM
The large wall in our living room was by far the most difficult to find art for. The ceilings are quite high and it was impossible to find a piece of art that would not be dwarfed by the size of this wall. The solution was to create an oversized gallery wall, this time using sheet music prints.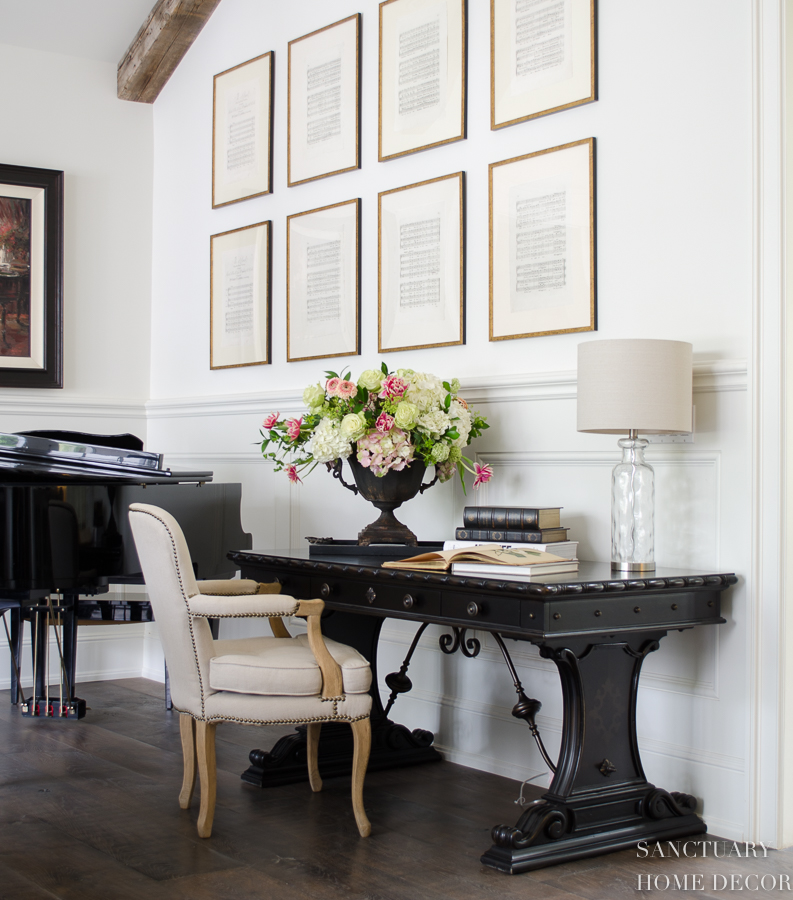 I love the way this fills in the whole wall in a very subtle way. The thin gold frames add a graphic look without being too dramatic and the neutral sheet music is the perfect element to add to this corner of the living room.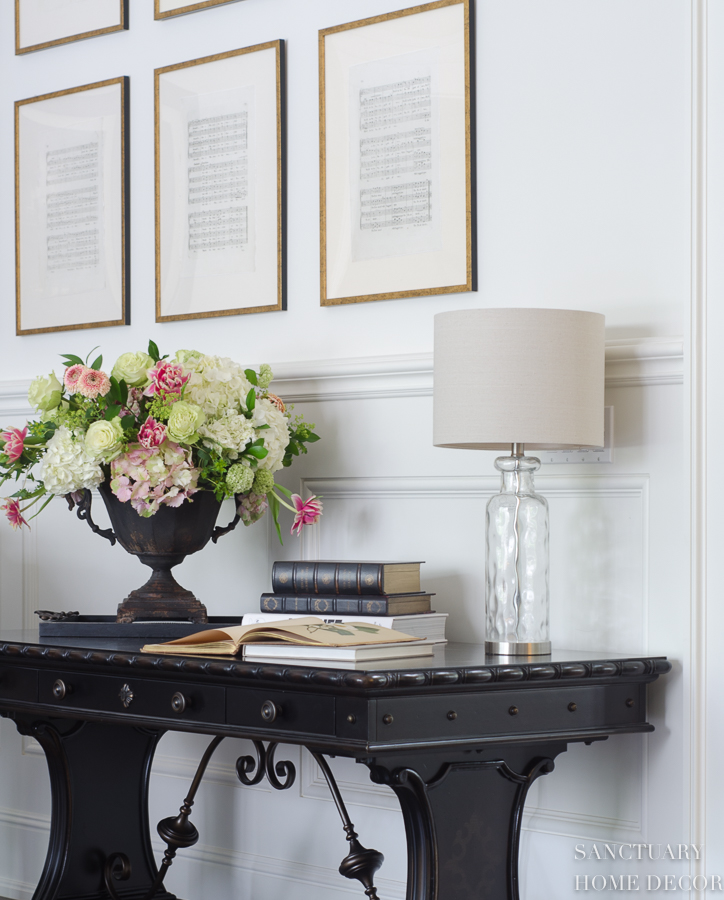 I hope this has given you some ideas about how you can use art prints to create a gallery wall in your home. I generally choose neutral tones for my galleries, but colorful botanicals or coordinating prints can look absolutely stunning as well!
Happy Decorating!