The 15 Most Beautiful Master Bedrooms on Pinterest
Hi Friends! I have gotten so much great feedback about my "15 Most Beautiful" series that I've decided to make it a regular feature on the blog. Today I'm sharing the 15 Most Beautiful Master Bedrooms on Pinterest and have included everything from farmhouse to traditional and modern to bohemian. Have a look and leave me a comment telling me which is your favorite!
1) RUSTIC CHARM
I love every detail of this bedroom! From the reclaimed wood detail on the ceiling to the soft neutral tones of the bedding. The charcoal tufted bench at the end of the bed adds just the right amount of contrast and the soft white draperies keep it light and bright! And can we talk about that chandelier? Just gorgeous!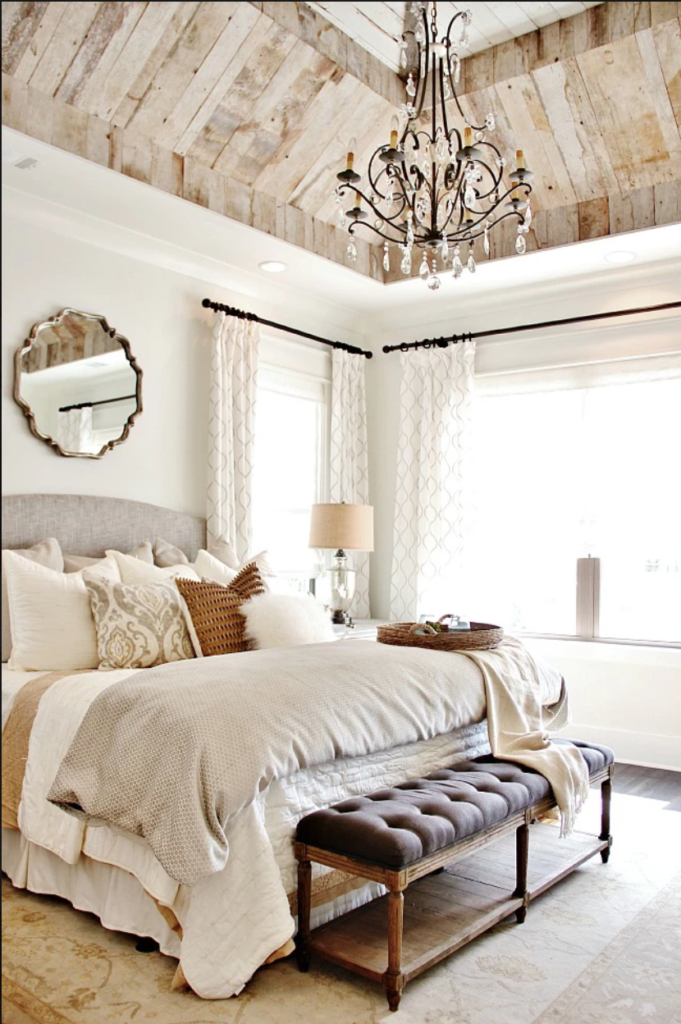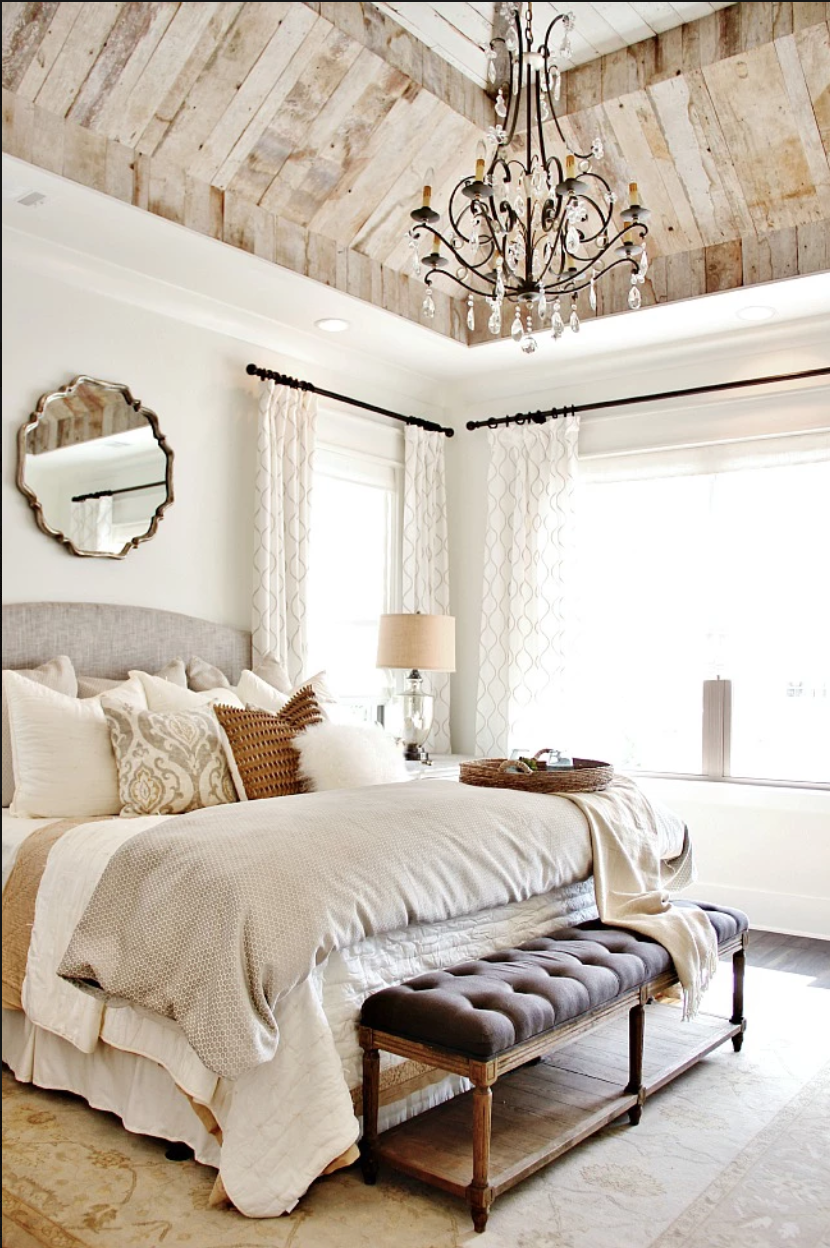 2) COZY TRANSITIONAL
This is transitional done right! I love the soft color palette and simple linen bed mixed with the bright white walls. The addition of the modern gold light fixture gives this room a fresh, updated look without sacrificing the cozy feel. Perfect!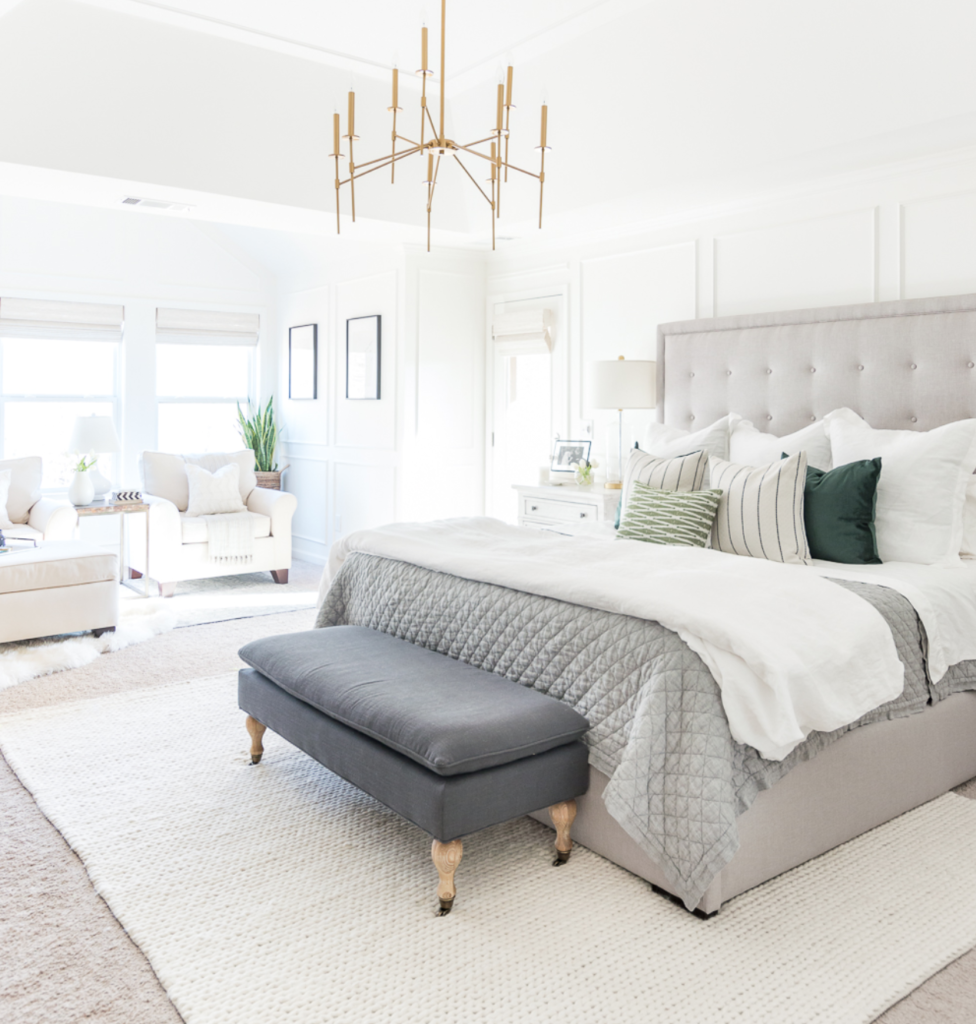 3) ROMANTIC FARMHOUSE
I adore the romantic farmhouse look when it is done well. This lovely bedroom has all of the right elements without being too over the top. The beautiful ruffled bedcover and pillows, sit perfectly on the simple iron bed and the wall sconces and oversized relief add country charm to the wall above the bed. Mix in the textured window shades and soft draperies and this bedroom say romantic farmhouse in every way!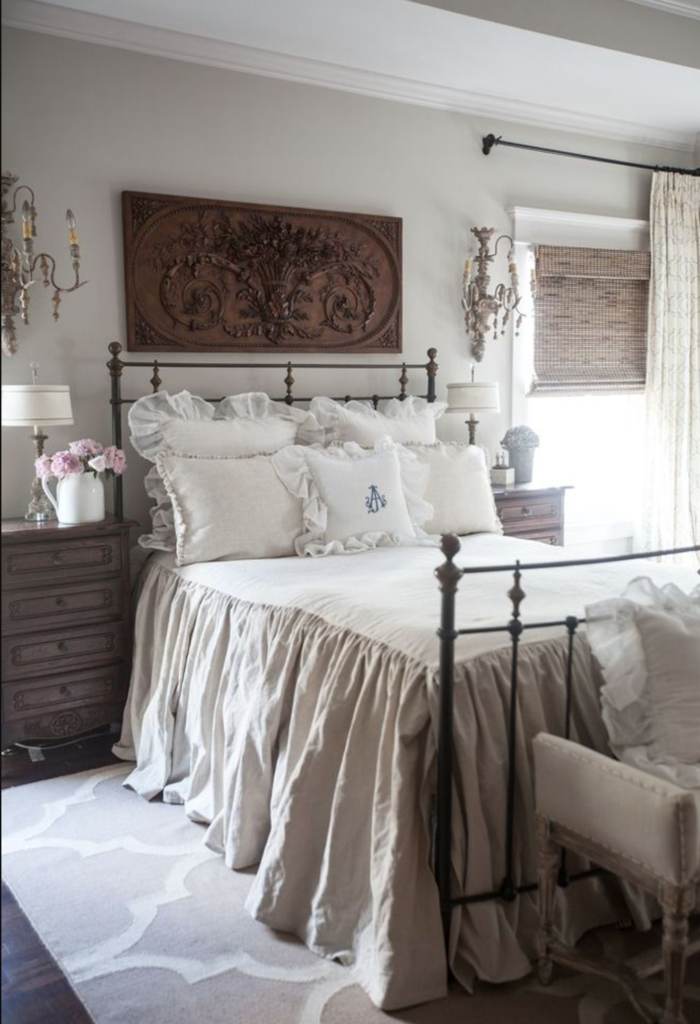 4) SOFT NEUTRALS
There is something so soothing about the soft, neutral look in this master bedroom. White bedding mixed with soft gray accents and light linen tones give this master suite a fresh and inviting look and yet it still has a lovely warm feeling. I love that you can change the look of this room, seasonally, just by replacing the throw pillows!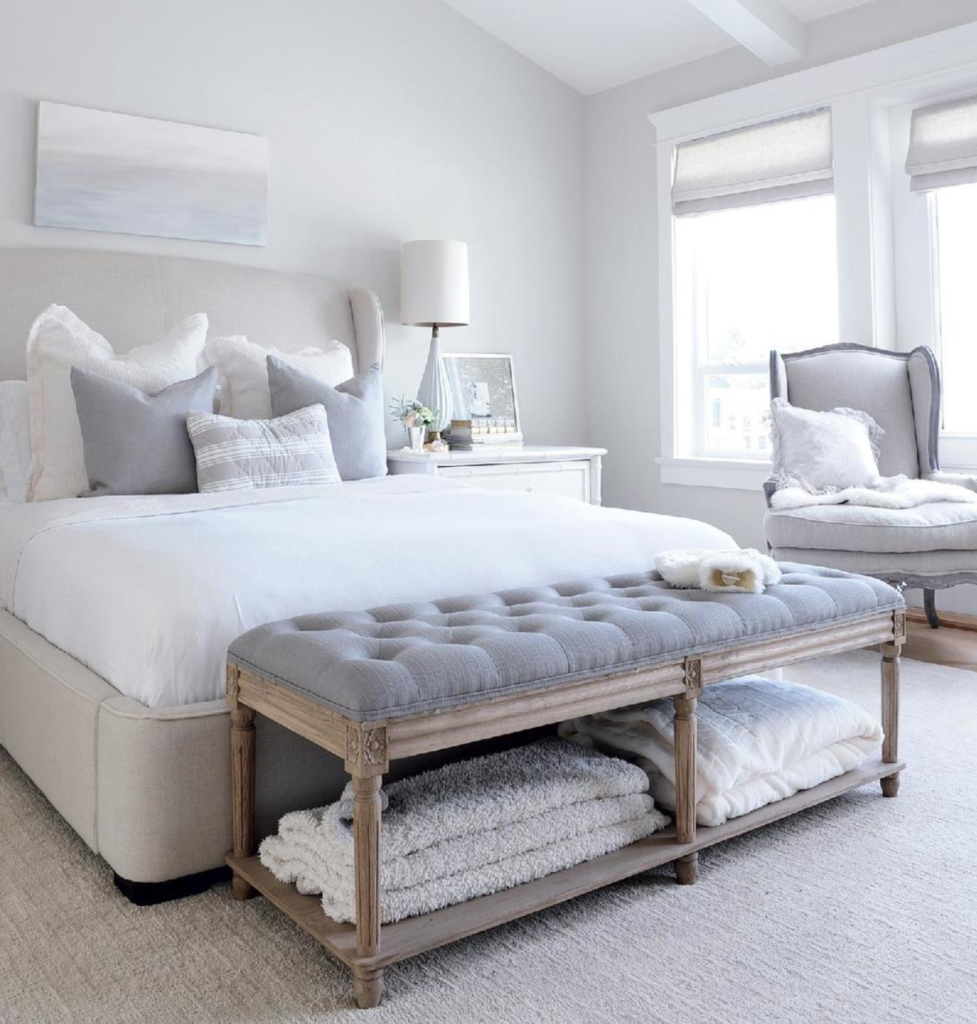 5) DRAMATIC AND YUMMY
I really LOVE these colors! The combination of deep teal and blush pink make such a dramatic statement, but somehow feel completely yummy and soft. I don't know if I would be brave enough to commit to this color combo, but a girl can dream, right?!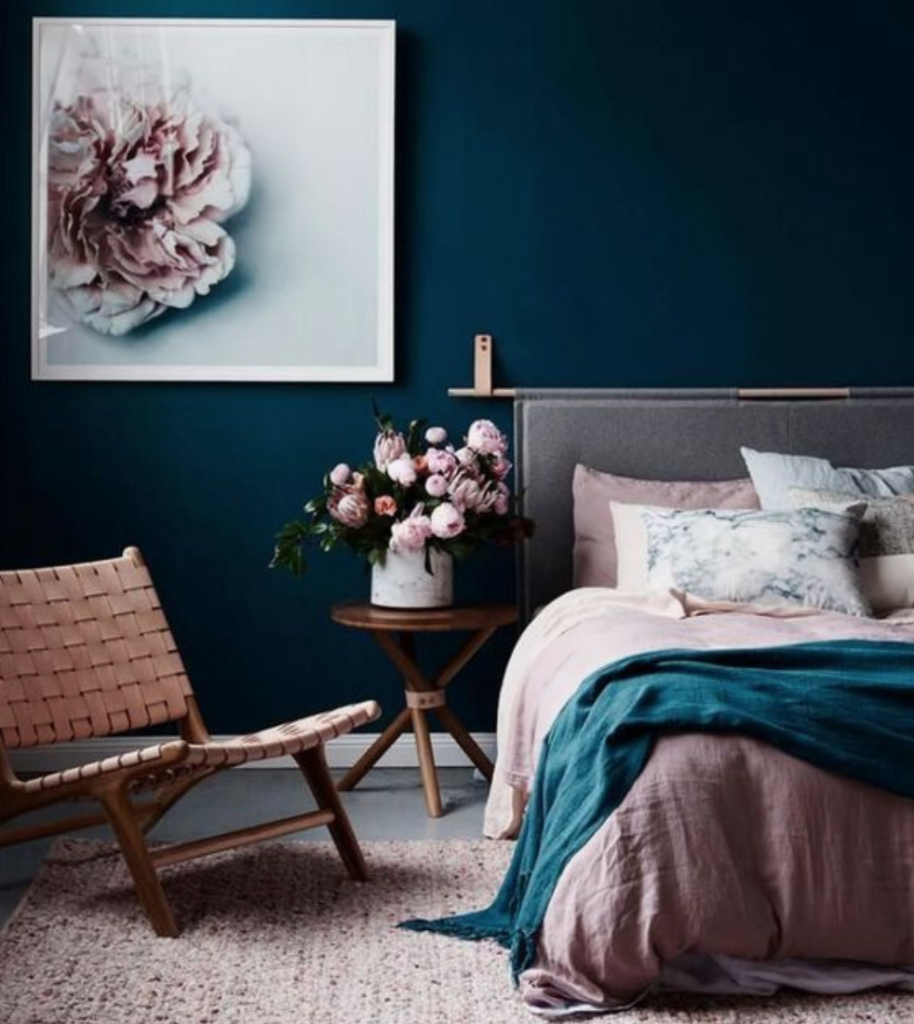 6) CASUAL RUSTIC
It took me a minute to figure out what I was so attracted to in this master bedroom, and then I realized that it is the casual, lived in look that appeals to me. The reclaimed wood headboard adds a rustic element that I always love and mixed with white and gray bedding it still feels fresh. Plus, you can never go wrong with a big bucket of blush peonies. And then there's something so charming about the stacks fo magazines that create the base for the table at the end of the bed. All in all, I really love this space.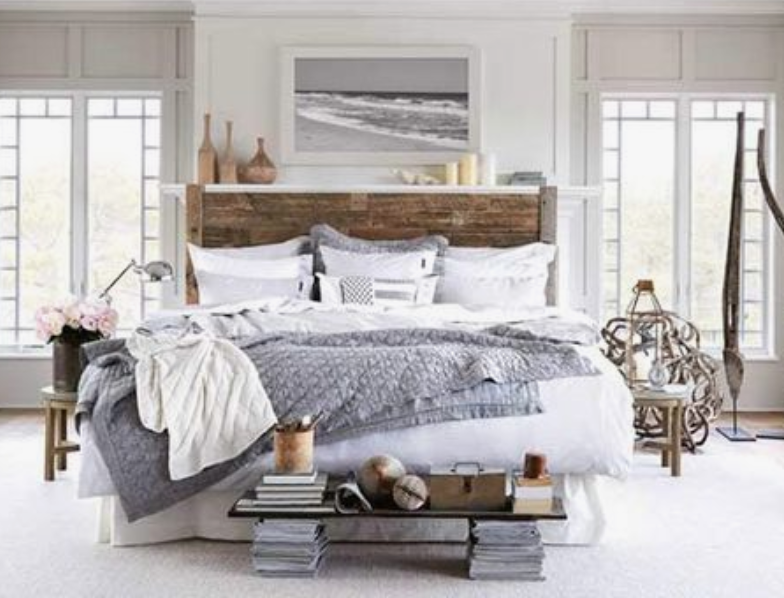 7) MINIMALIST CHIC
This bedroom epitomizes my ideal modern-minimalist style. Cement, mixed with reclaimed wood and warm linen tones create such a beautiful balance of color and textures. I would be very content to wake up in this clean, beautiful bedroom.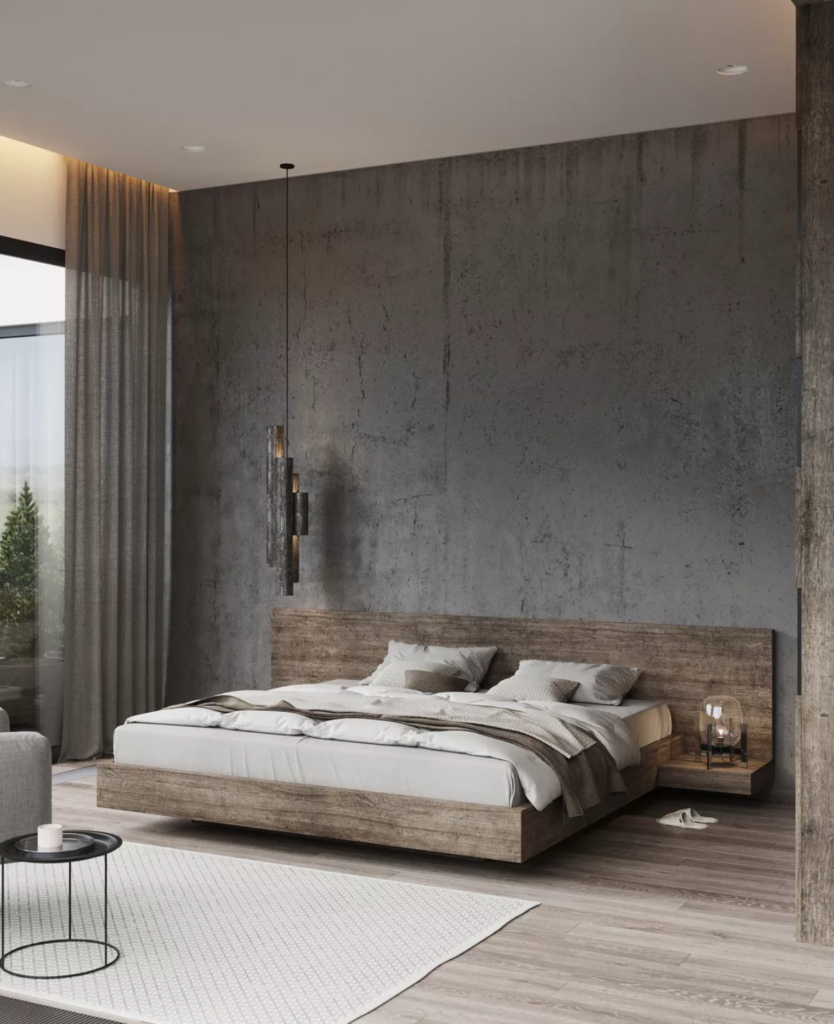 8) BRIGHT WHITES
In my world of kids and dogs, an all white bedroom would never make sense, but I sure do love to imagine what it would be like to have a master bedroom like this! The pretty gray walls are just the right contrast to the white bedding, draperies and furniture, and that wall of windows is just stunning!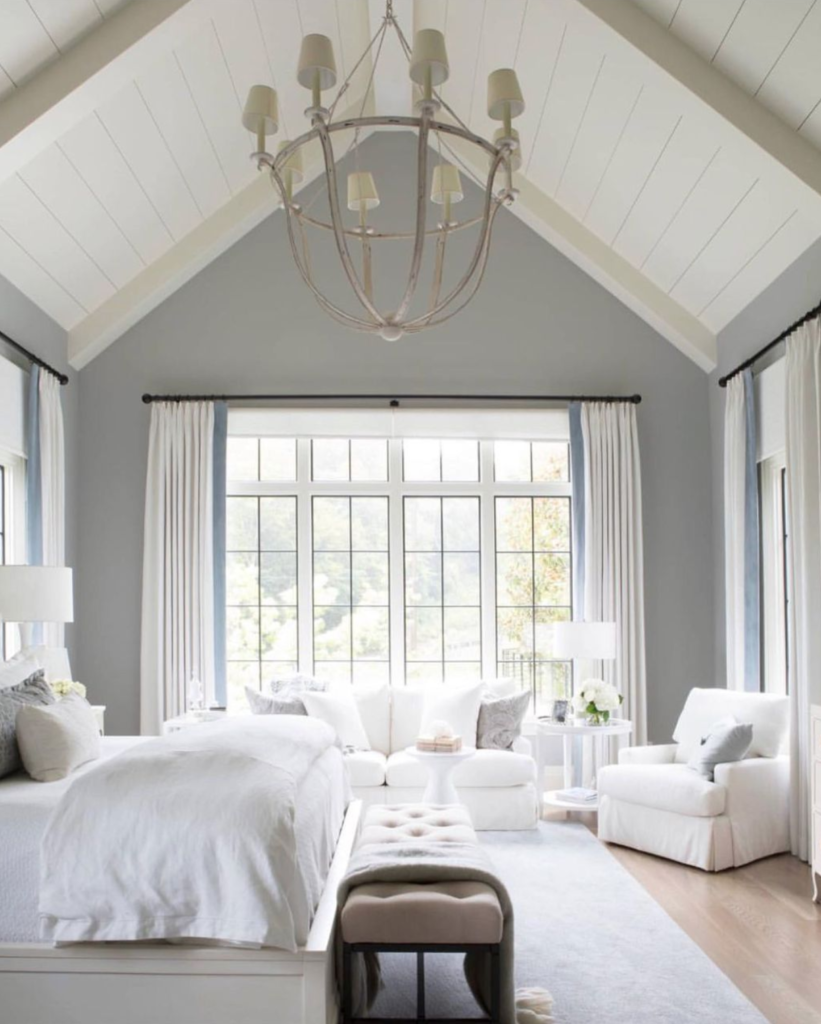 9) MODERN INDUSTRIAL
What could be better than an entire wall of used brick?! This industrial bedroom space makes me think of the years I lived in New York in ultra cool loft apartments. The exposed ducts and black windows are the perfect compliment to this modern, industrial space.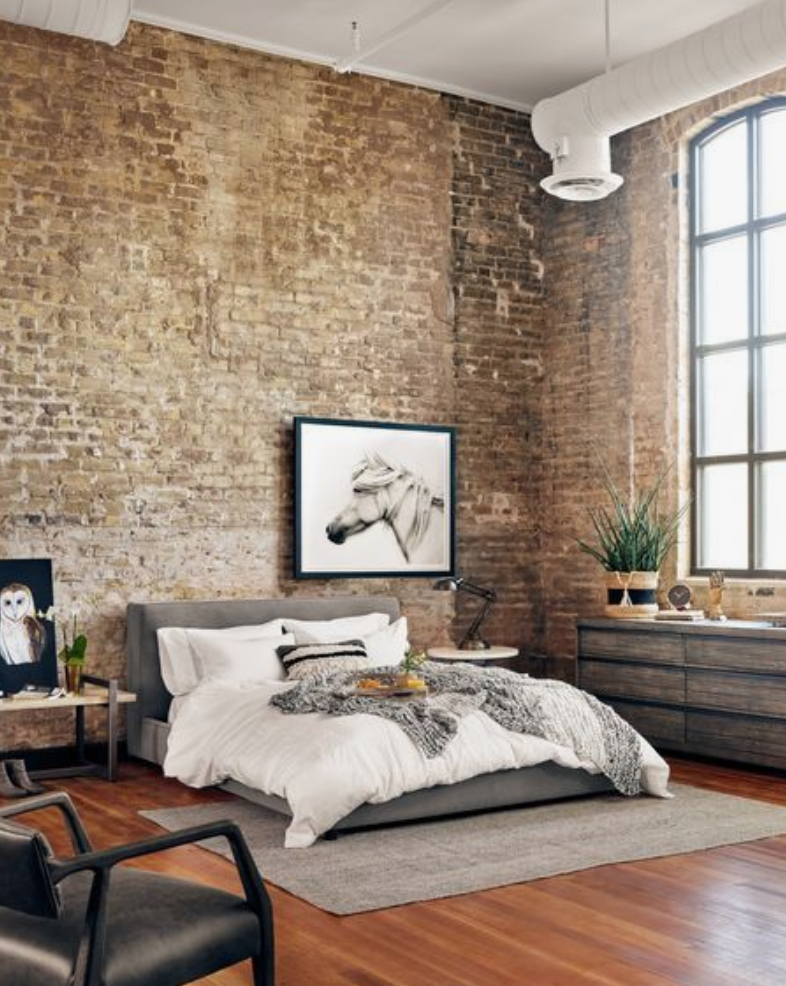 10) BOHEMIAN BLUES
I am super attracted to the decor and styling of this bohemian bedroom. The bright patterned rug and mud cloth pillows add such a great pop of color to what would otherwise be a very neutral room.
11) EUROPEAN COUNTRY
I imagine that if I peer out the window of this bedroom, I would see a beautiful European countryside. This room has all of the elements of a country chateau from the four-post bed to the tailored skirt on the night table to the rustic wood ceiling. Add a fire in that gorgeous fireplace and I would never want to leave!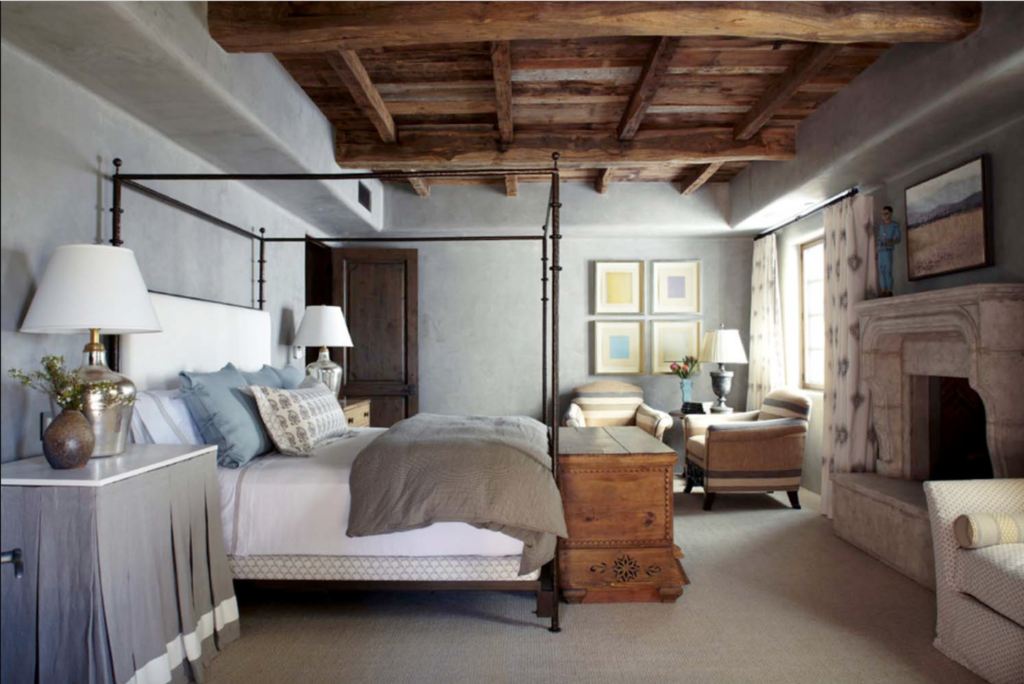 12) TRANSITIONAL CHIC
I'm not sure what I love most about this bedroom; the gorgeous bed, the wood beams or the yummy carpet. In combination they create a transitional and warm room that still feels very chic and fresh.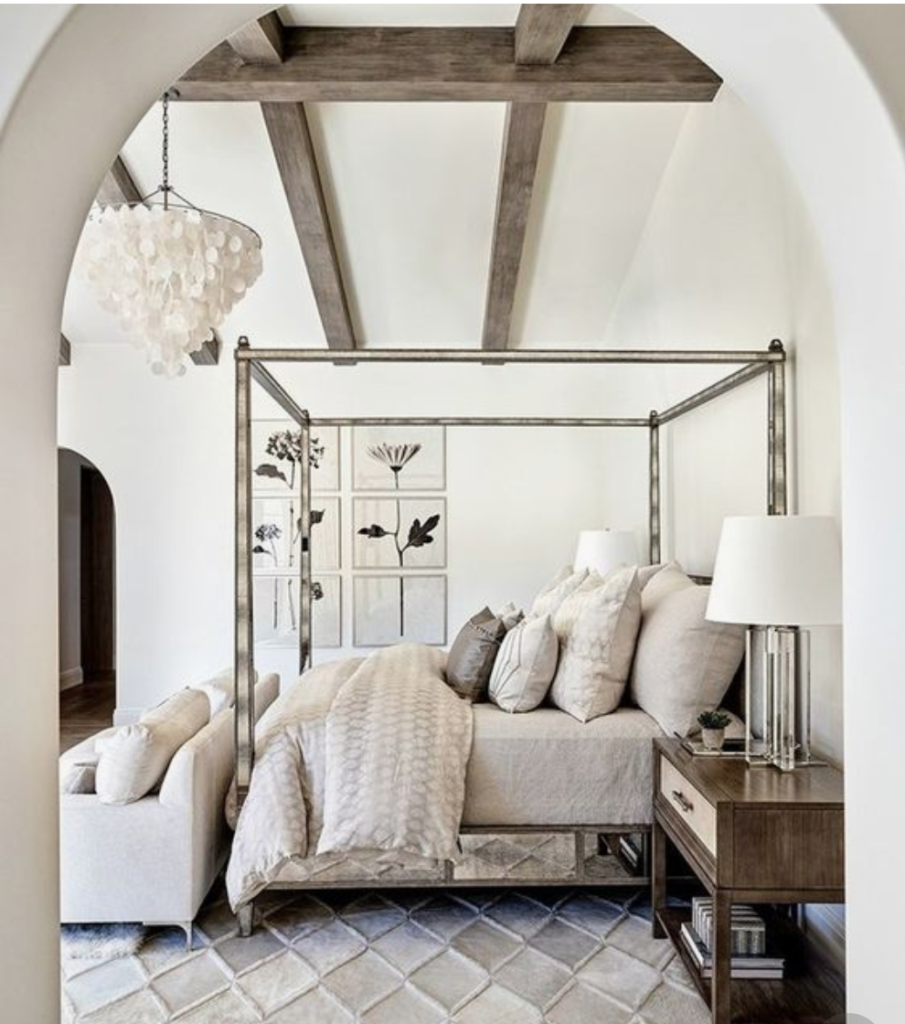 13) FARMHOUSE CHARM
I wish I could talk my husband into a chandelier in the bedroom. Even in a room with a rustic barn door and a farmhouse vibe, this chandelier works! I especially love the dramatic white beams on the ceiling in this charming bedroom!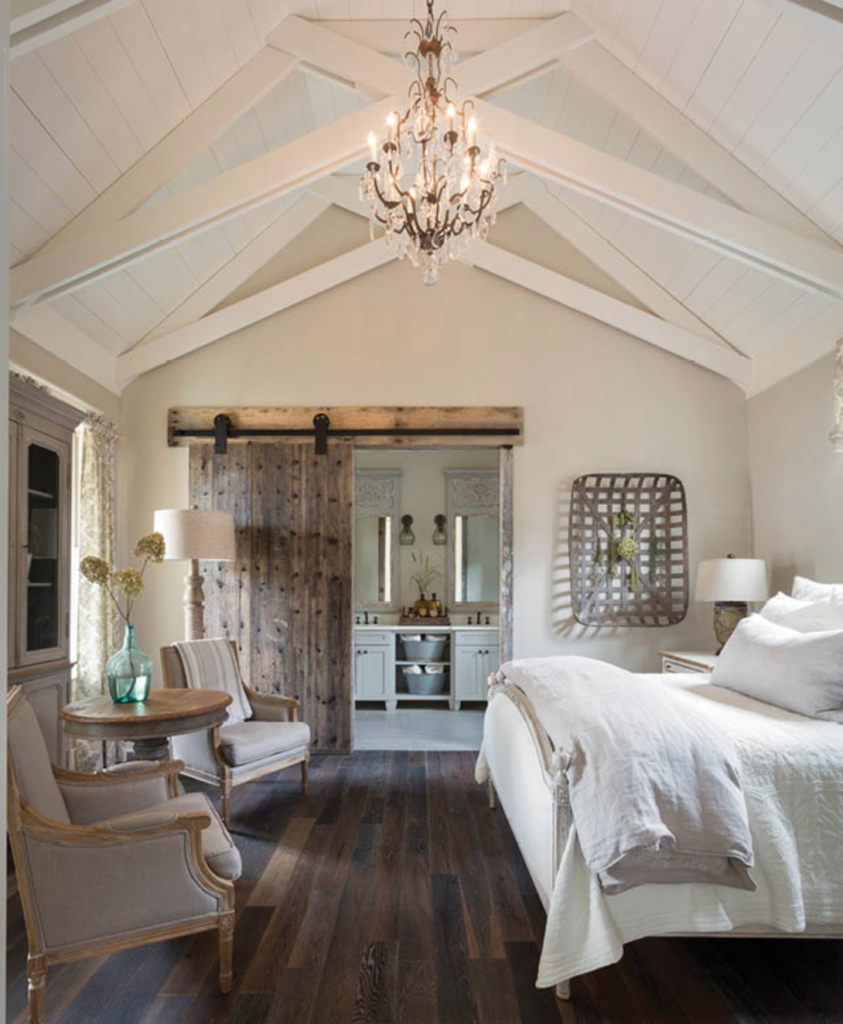 14) WARM NEUTRALS
Sometimes neutrals can feel as warm as other more obvious color choices and this bedroom showcases that beautifully. There is such a soothing and soft glow in this room with tones ranging from bright white to dark tan. It all makes for a beautiful, timeless look.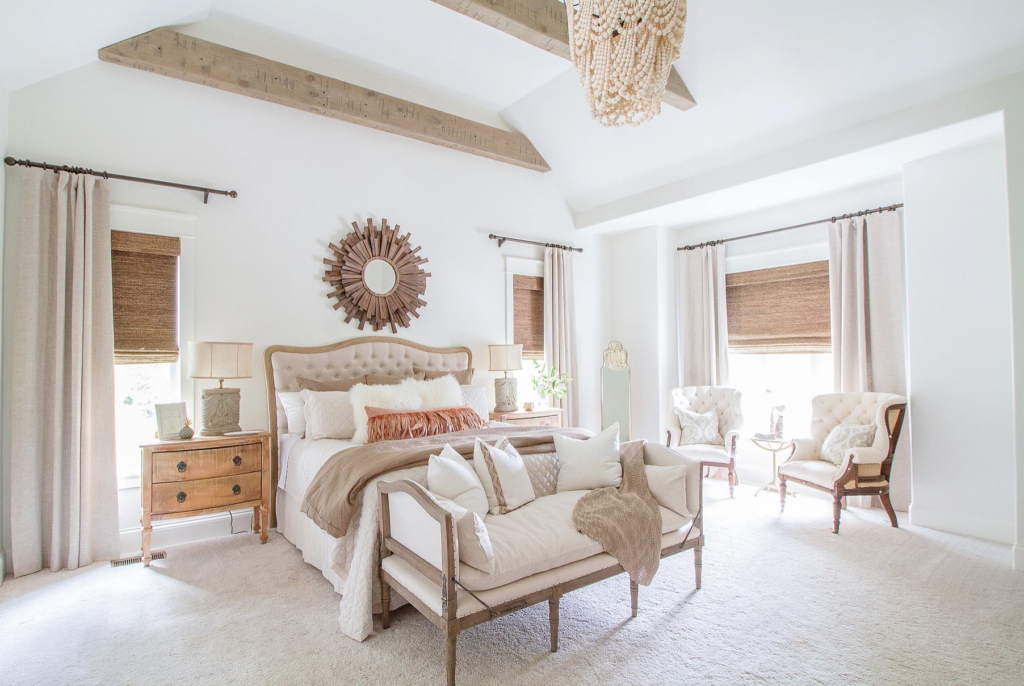 15) RUSTIC RETREAT
Don't you want to just snuggle into this bed with a good book and breathe in the fresh air?! This is my all time favorite Pinterest bedroom because it includes all of the elements I love. Shiplap walls, linen bedding, traditional styling and a gorgeous view! Heaven!!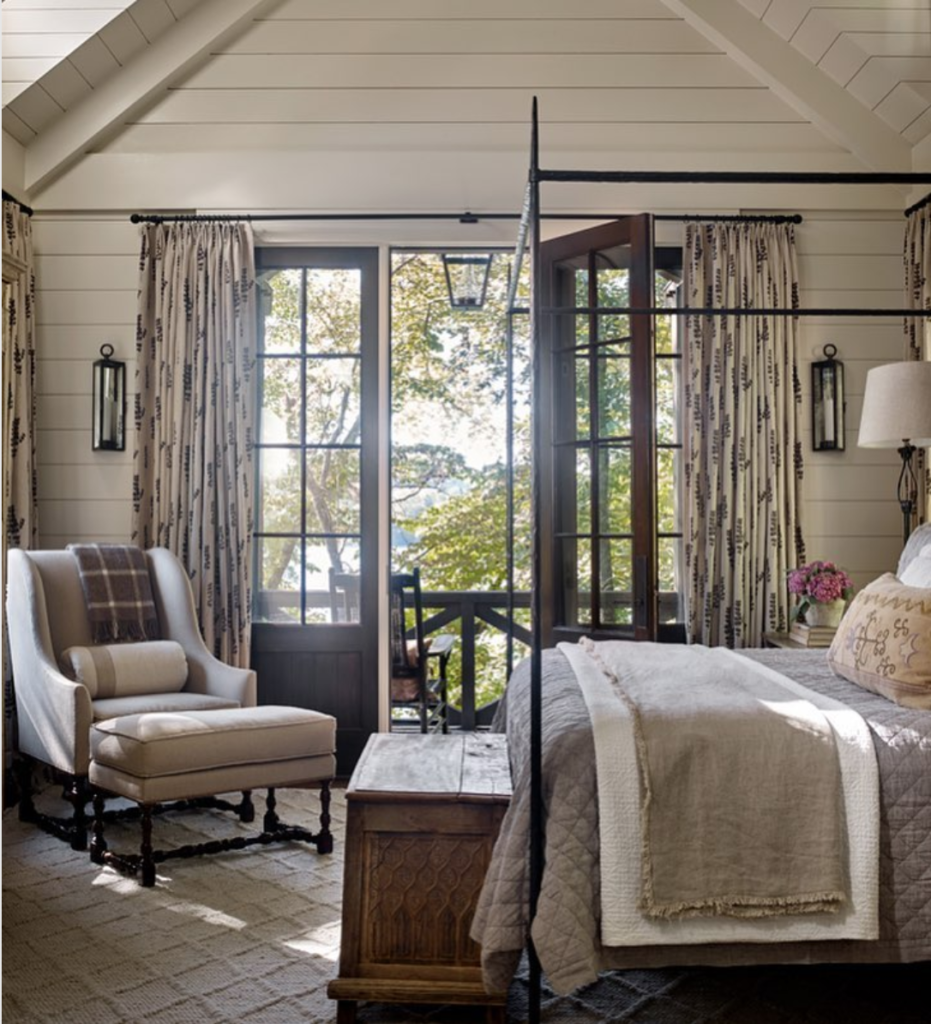 I hope you found some master bedroom inspiration in these images. Pinterest is a fantastic place to search for design ideas and I regularly update my boards. If you want to follow along just click HERE. Have a beautiful day!