The 15 Most Beautiful Dining Rooms on Pinterest
I've been searching for dining room inspiration lately. Ever since we moved into our home, I have wanted to change the look of our dining room, but have struggled with what would not only look beautiful but also be practical. This means I have spent hours scouring Pinterest and designers websites looking for something to spark an idea. The result is, I still haven't found just the right "thing" for our dining room makeover, but I sure have found some incredibly beautiful spaces to pin on my Pinterest boards. So today, I thought I would share what I think are the 15 Most Beautiful Dining Rooms on Pinterest. These run the gamut in style from traditional to farmhouse and transitional to modern. Maybe something will inspire you!
I have searched for and linked the original sources of these photos wherever possible, but sometimes Pinterest photos are not correctly attributed to the original source.
SIMPLE FARMHOUSE
This simple and traditional farmhouse style dining room really speaks to my personal aesthetic. I love the warmth of the cabinets against the painted walls. I also love the mix of chairs and the rustic painted table. To me this dining room is charming and inviting in the best possible way.
DRAMATIC ACCENT WALL
I am in love with the accent wall in this dining room. The three dimensional aspect adds so much interest to the room and the color works perfectly to soften the space. I also adore the square table. This, to me is a perfect transitional dining room.
FARMHOUSE PERFECTION
The amazing Liz Marie, over at Liz Marie Blog really knows how to do farmhouse. Her beautiful dining room is ever changing with accessories, lighting and decor and I love to see the transformations she creates. This version of her dining room is my favorite. The crisp white chairs, rustic wood table and chippy cabinet are all so charming and inviting! I'm ready to sit down for dinner!
MODERN MEETS VINTAGE
I absolutely love to mix styles and decor in unexpected ways and this modern meets vintage dining room is the perfect combination. The mix of classic chevron floors and ultra traditional fireplace and mirror, alongside the modern velvet chairs in soft pastel tones is just stunning to me. Add in some black and white photo prints and I'm sold!
RUSTIC MINIMALISM
Okay, can we talk wood beams!? I am a HUGE fan of wood beams and reclaimed wood and have used it extensively in both of our homes. This rustic yet minimalist dining room is such a beautiful take on the modern farmhouse look that has become so popular lately. There is nothing about this space that I don't love!
HYGGE
Have you guys heard of HYGGE? I hadn't until about a year ago. I kept hearing this word used to describe a particular style or aesthetic. It wasn't until just recently that I did some research and discovered that it is a Danish word that means cozy, charming, comfortable and simple. (I'm sure it encompasses more that that but for design purposes, that is the general idea) Anyway, this cozy dining room is the perfect representation of hygge to me. I love the simple lines and bench seat, the splash of color on the table and the warm gray glass doors behind.
TRADITIONAL WITH A TWIST
I love paneled walls! So when I saw this beautiful dining room with the dramatic paneled walls, I stopped to check out all of the details. Isn't this traditional dining room just beautiful with a slightly modern twist?! The chairs dark framed photos are just slightly less than traditional, so the overall look is transformed. I adore this space and am using some of these elements for my own dining room makeover.
MIX AND MATCH
A little French country, a little farmhouse a little traditional all mixed together to make one beautiful dining room. Add a chair rail and dark charcoal paint and this is a winner in my book. I am considering this color paint in my dining room. Dramatic and lovely, right!?
LIGHT AND BRIGHT TRANSITIONAL
I don't know that I would have thought to mix this traditional dining table with the more contemporary light fixtures and wall covering. And can we talk about that white bench?! There is something so soothing and inviting about this dining room and it has me shopping for a beautiful, long tufted bench!
CLASSIC EUROPEAN COUNTRY
I must have lived in the European countryside in another life. I am so drawn to the warmth and artistry of European design details and rich colors. This yummy dining room has all the feels I love and makes me want to sit down with a huge cheese board and a glass of Italian wine!
MODERN DRAMA
My husband and I have been talking about how beautiful it would be to have a dining room filled will bookshelves and rows of books. Apparently, this is commonplace in city apartments where spaces are multi-purpose and a dining room may double as a library. I love this idea and would love to incorporate this into our dining room.
TRADITIONAL SIMPLICITY
Sometimes it's not about a lot of complicated details, but more about simplicity. This dining room, while simplistic in it's design details is still warm and inviting. This reminds me that sometimes less is truly more.
INDOOR MEETS OUTDOOR
Can we talk about the beauty of an indoor-outdoor dining space with tons of natural light and natural brick floors? I love the provincial feel of this dining room. It would be equally beautiful in the winter as in the summer and is dramatic and casual at the same time.
FRENCH COUNTRY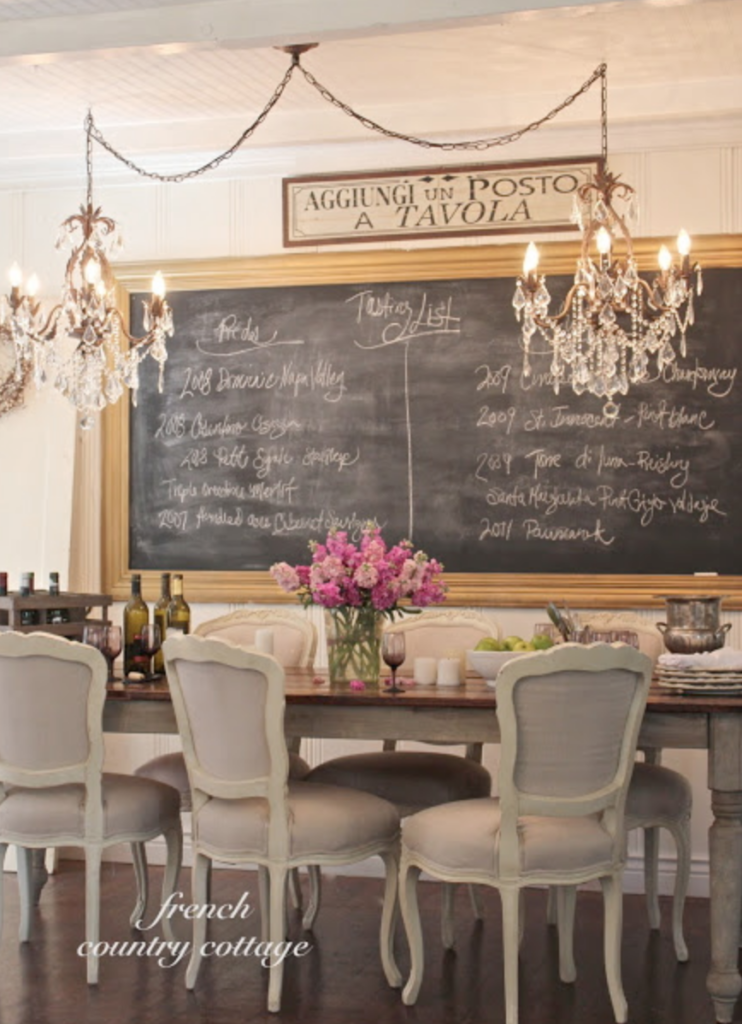 I have shared my friend, Courtney from French Country Cottage a couple of times in the past. Her home is so beautiful and inviting and her dining room is one of my favorite spaces. The giant chalkboard adds such a charming element to her French Country style and the dual chandeliers are the final beautiful touch.
ALFRESCO DINING
This image captured my imagination the first time I saw it. We do a ton of alfresco dining at our Southern California home as well as at our Montana ranch and the vine covered patio with the twinkle lights on this patio are the epitome of romantic outdoor dining. I love the simplicity of the outdoor benches and the linen covered table surrounded by greenery. To me this is the ultimate in warm weather dining in a beautiful setting.
I hope this group of beautiful dining rooms gives you some inspiration whether you are starting from scratch or looking to refresh your space. Let me know which one is your favorite in the comments below!



Follow me on PINTEREST to see all of my design boards and inspiration. Pin the images below to your Pinterest to come back to this post later.