How To Make An Oversized Flower Arrangement On A Budget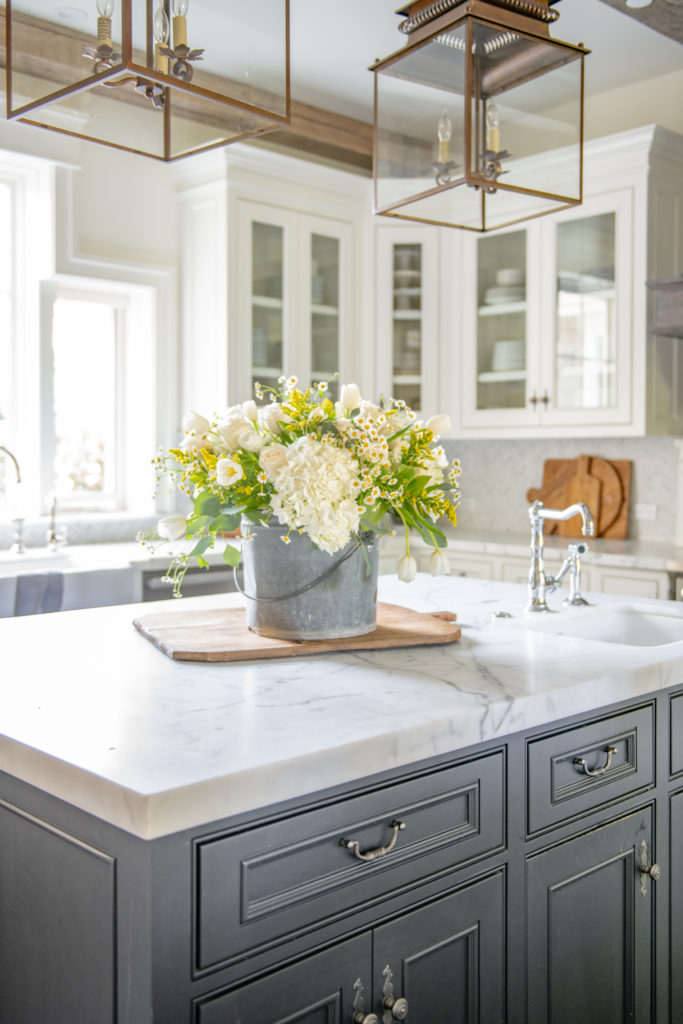 It's finally spring and that means all of the beautiful spring blooms are showing up in our local super markets! This week, as I was doing my grocery shopping at our local Trader Joe's, I was thrilled to see the expanding variety of flowers. I love that their flowers are so affordable and usually quite fresh, so in a burst of spring fever, I gathered together an armful of white and yellow blooms. I spent about $40 on my flowers, but I have a tendency to get a little overexcited when spring arrives. The great news is, affordable flowers can be found in most large grocery store chains now, so it is easier than ever to make a beautiful, oversized flower arrangement on a budget.
When I got home, I cut the stems and placed them in the sink filled with water to give them a good drink while I decided what vessel to use for my arrangement.
Here's exactly what I used for this arrangement:
2 Small Bunches of Eucalyptus
3 White Hydrangea Stems
2 Dozen White Roses
10 White Tulip Stems
2 Bunches Mini Daisies
2 Bunches Yellow "filler"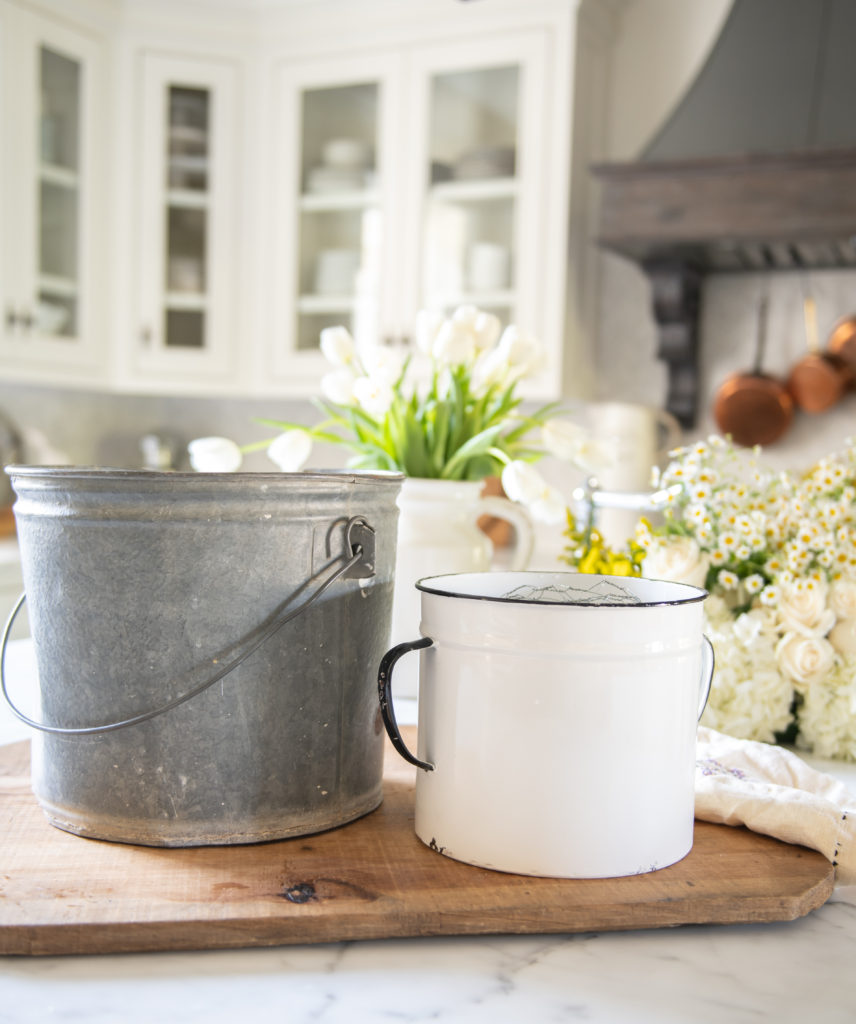 I've never been conventional when it comes to vases, so when I saw my old galvanized bucket in the flower studio it looked like a perfect vessel for my crop of flowers. The only issue was that the bucket was not watertight, so I solved that problem by using a second, smaller bucket inside the larger one.
Click to Read: 15 UNIQUE VASE IDEAS FROM RUSTIC TO CLASSIC
For a flower arrangement like this you could use any type of large vase, ice bucket or deep bowl that works with your style.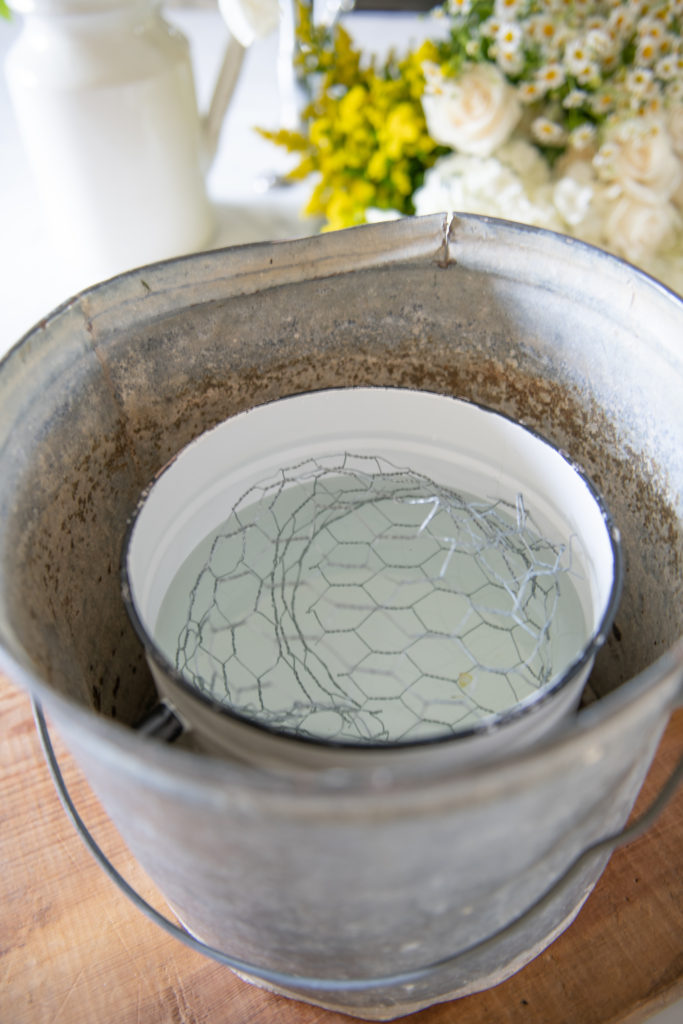 Now here's where I used my favorite trick for flower arranging. I made a "loose" ball out of chicken wire, placed it inside the smaller bucket and filled it with water. The chicken wire acts as a stabilizer for the flower stems and is a great way to easily create both large and small arrangements. You can also use floral tape placed in a grid to keep your stems in place.
Click to read: THE BEST FLORAL ARRANGING TIPS I'VE EVER GOTTEN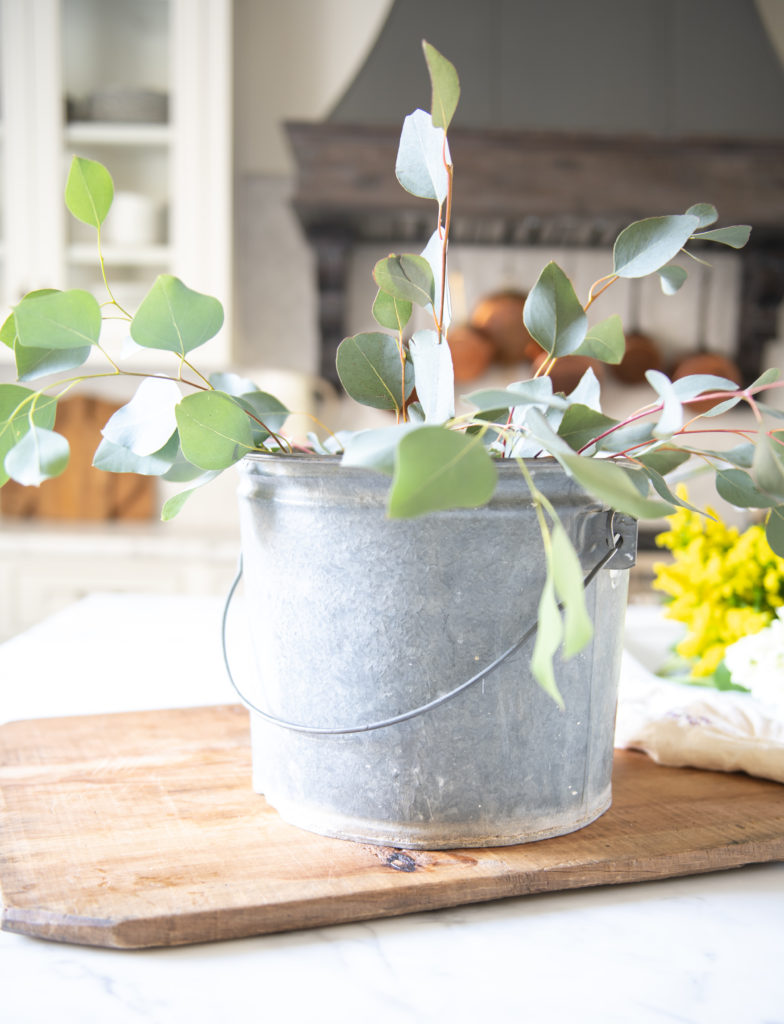 With everything in place, I started by placing the eucalyptus stems around the edge of the bucket.
TIP: Use flower shears to cut thicker stemmed flowers, so as not to crush the stem.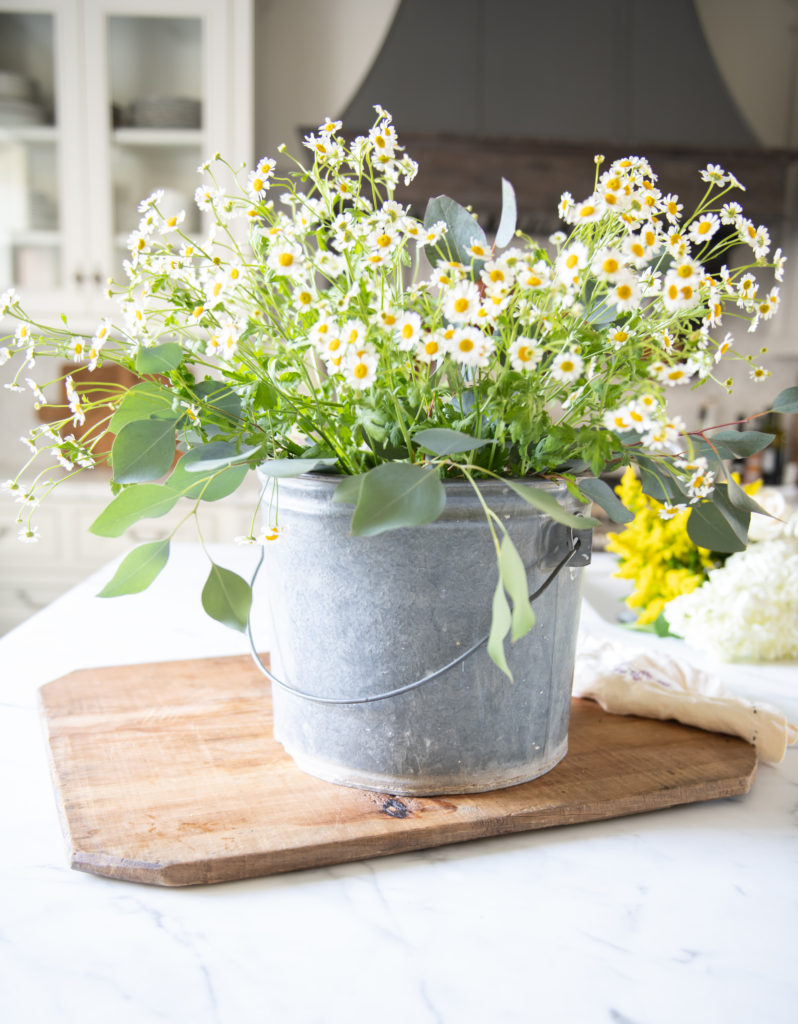 Next, I filled in the center with the mini daisies. I didn't worry too much about placement because I was able to move them around easily as I added more flowers.
TIP: Cut your flower stems at an angle to allow more water to penetrate.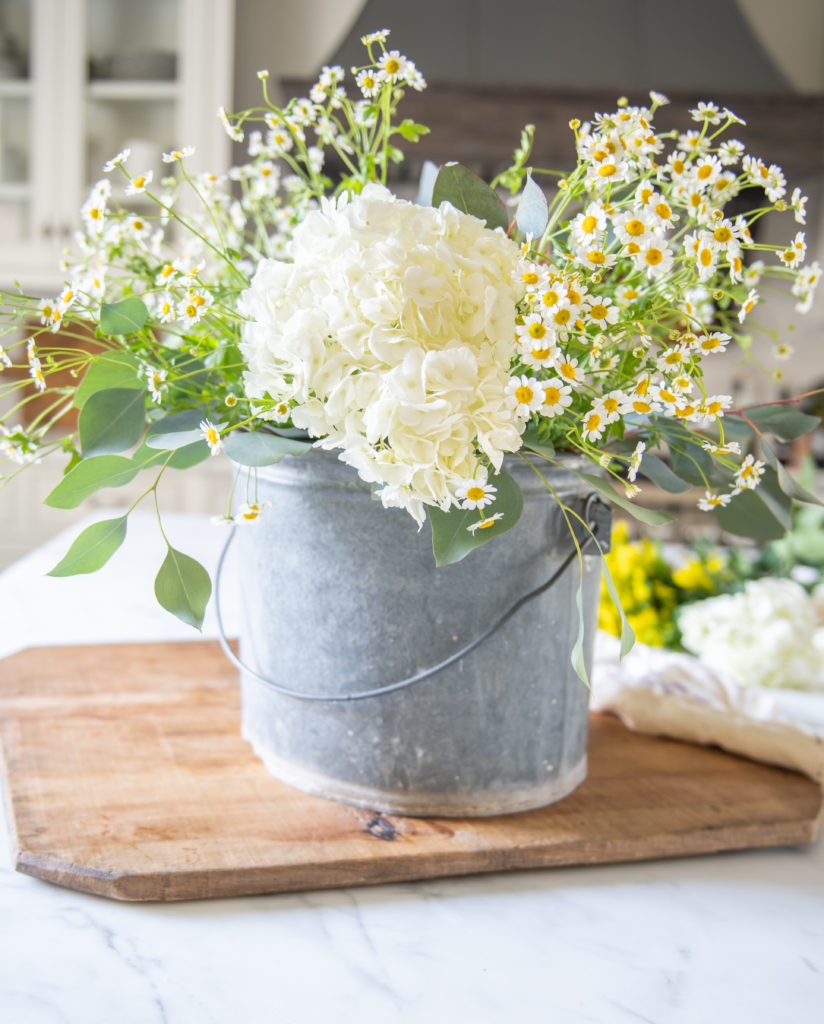 I placed the three large hydrangea next, making sure to keep the look asymmetrical and casual rather than too structured.
TIP: Place the flowers closest to the edge of the vase at an angle to give the look of flowers spilling over the edge.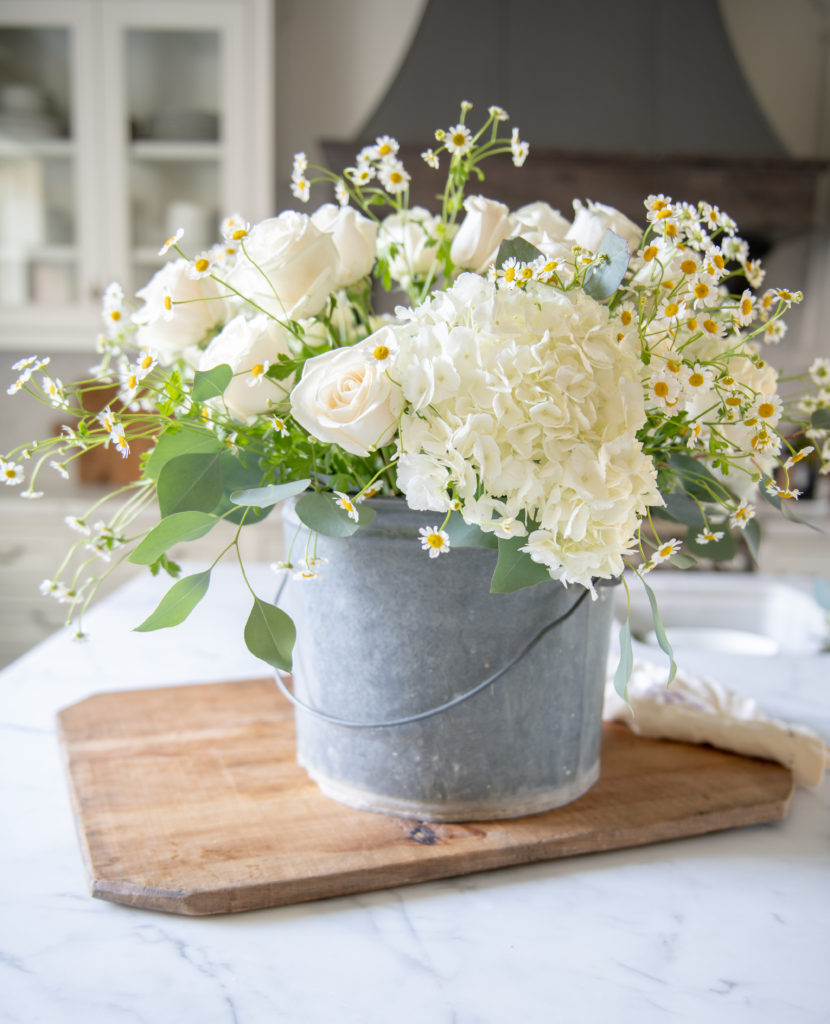 From there, I began adding in the roses. I made sure to put them in at varying angles and placed them between the daisies and eucalyptus.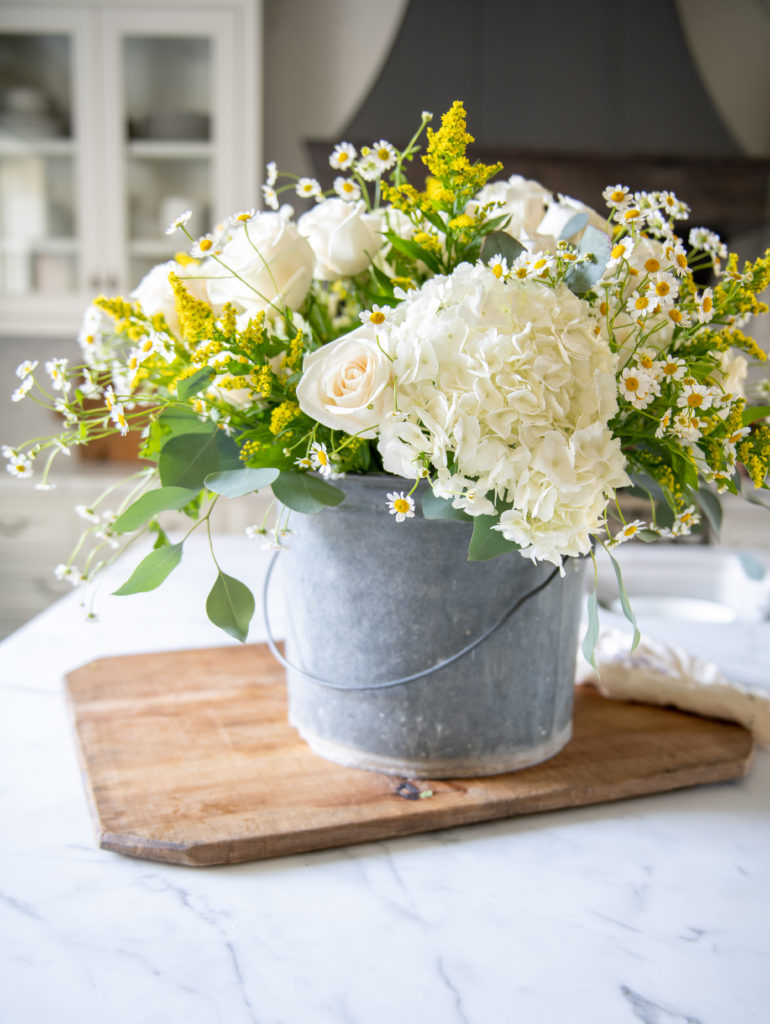 Once I had all of the roses in place, I added the yellow filler flower
I wish I knew the name of this one. If you know, please leave me a comment with the name!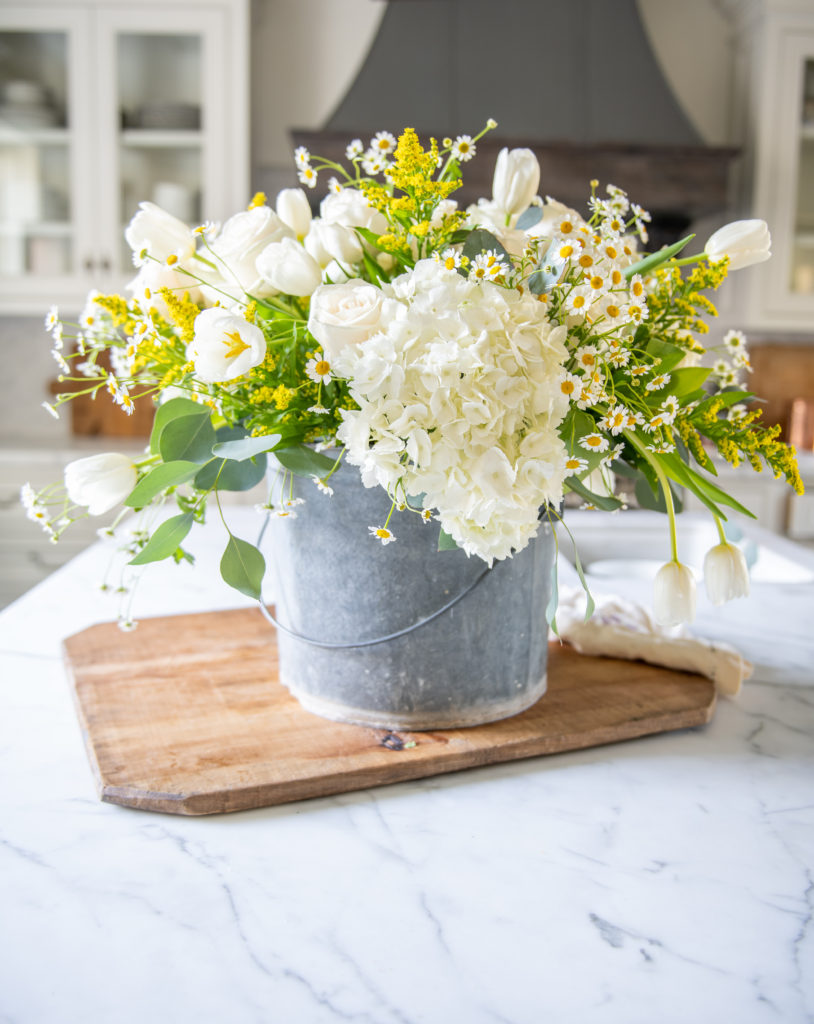 And finally, I added in the tulips. I purposely saved them for last because I wanted to cut them a bit longer than the other flowers so they spilled over the edges and peeked out of the sides.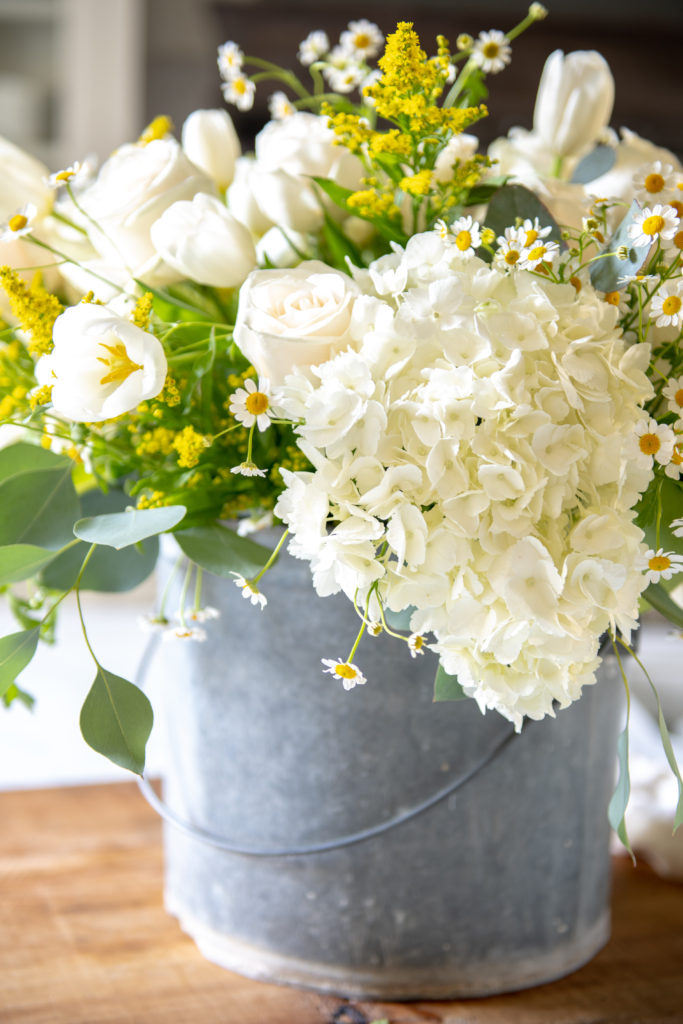 The end result was a springtime arrangement that would work as a centerpiece on a dining room table or in my case as an accent piece on the center island.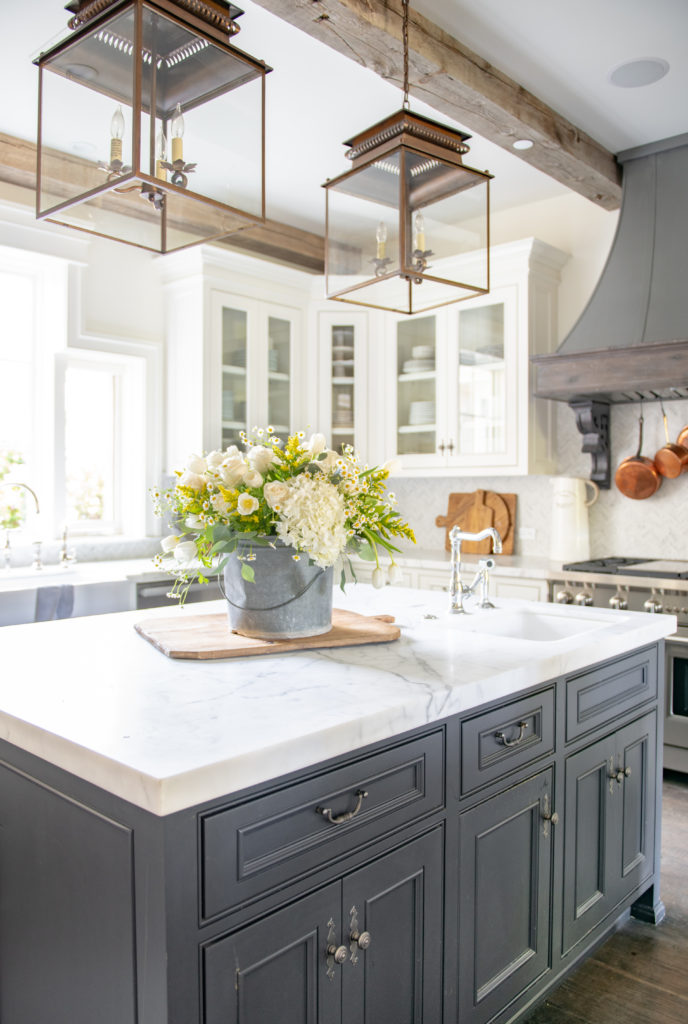 The whole process took about 20 minutes and was made easier by the fact that I wasn't looking to make a "perfect" flower arrangement. Because I chose similarly colored flowers, it was easier to keep the look rustic and free form.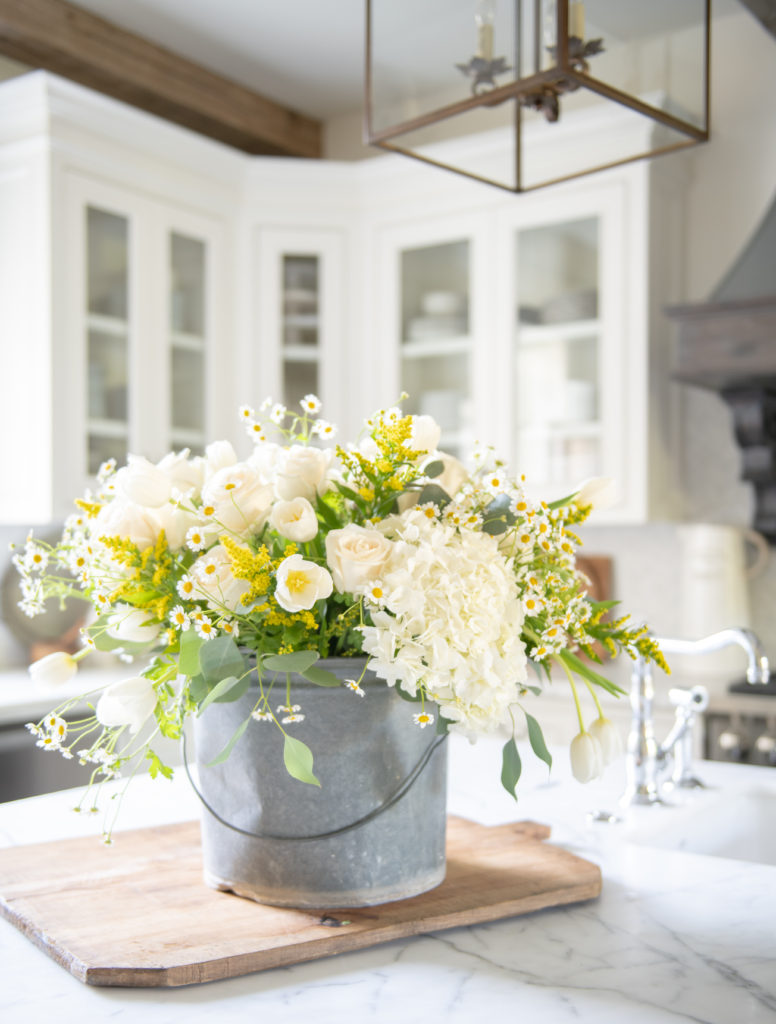 Coupled with my dough bowl filled with olive branches and lemons, my kitchen has taken on a decidedly springtime feel in just a couple of days!
Click to read: HOW TO STYLE A DOUGH BOWL FOR ANY SEASON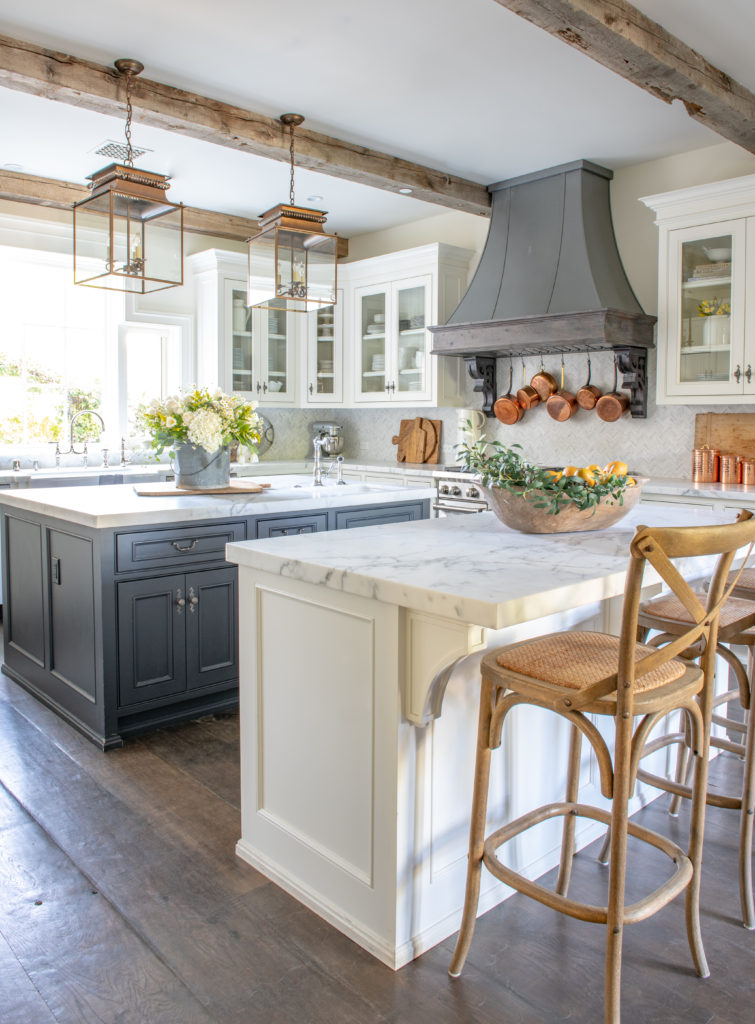 I hope this inspires you to see the flower section of your grocery store in a new light. There are so many possibilities to create beautiful floral arrangements on a budget with what is available near you!
Have a beautiful day!