My Home Office Makeover Reveal!
Well it took a bit of planning and work, but I'm so excited to be revealing my home office makeover with you all today! I have to admit that this project was more difficult than I anticipated, mostly because it forced me to confront all of the "stuff" that had accumulated in my office over the past year. I was determined to give my home office a fresh new look and at the same time, do some much needed organizing and cleaning out. Today I'm sharing all of the details including an embarrassing "before" photo. So come on in for a tour!
Disclosure: I am so excited that my sweet friends over at Joss and Main provided a small budget for me to purchase a few of the decor items I used for this makeover. I truly adore their products! For your convenience, this post contains affiliate links to those products and others.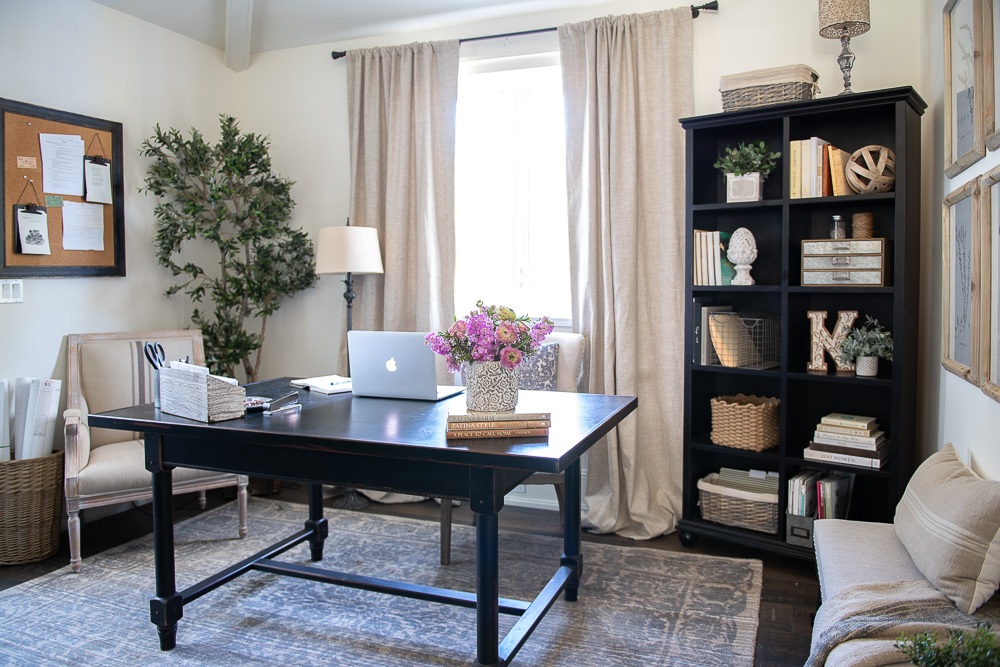 A few weeks ago, I shared my Home Office Makeover: Planning and Inspiration Board with you. It included a vision and style for my office that I had been dreaming of for awhile but had never implemented. In fact, my office was probably the most neglected room in our home. I contained "left over" pieces of furniture and had no real style. It functioned, but I honestly did not love spending time in there. (I wish I had taken additional "before" photos for you, but to be honest it was too embarrassing!)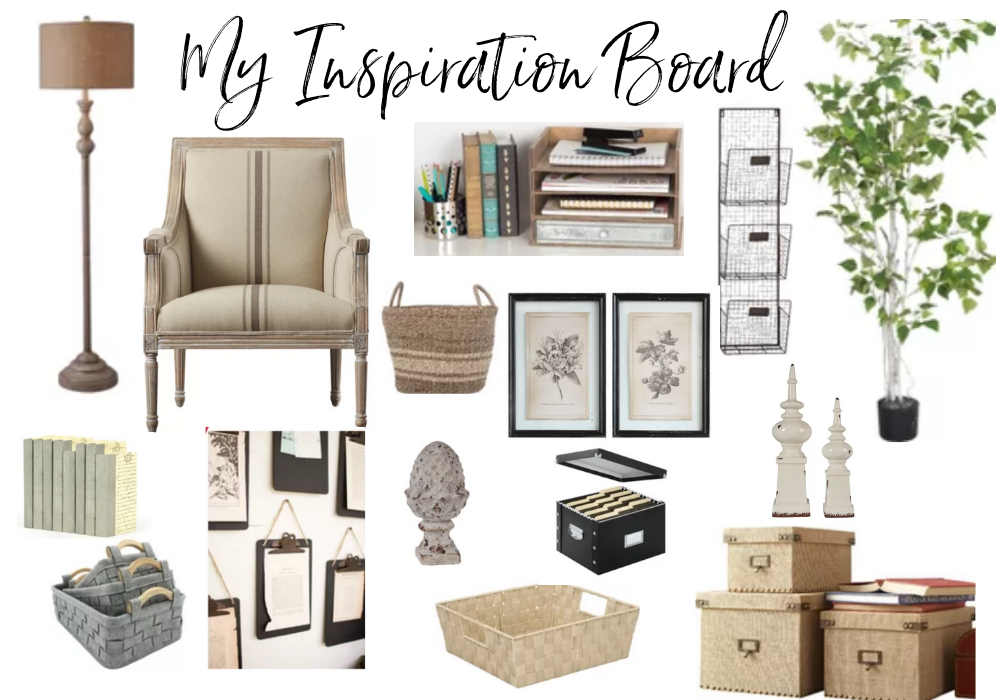 My vision was to create an office that reflected my style, and was also super organized so I was more efficient and happy working in there.
I did not have the budget to buy all new furniture, so I had to work with what I had, which was all black. The board below shows you the basic furniture, rug and accessories I was working with.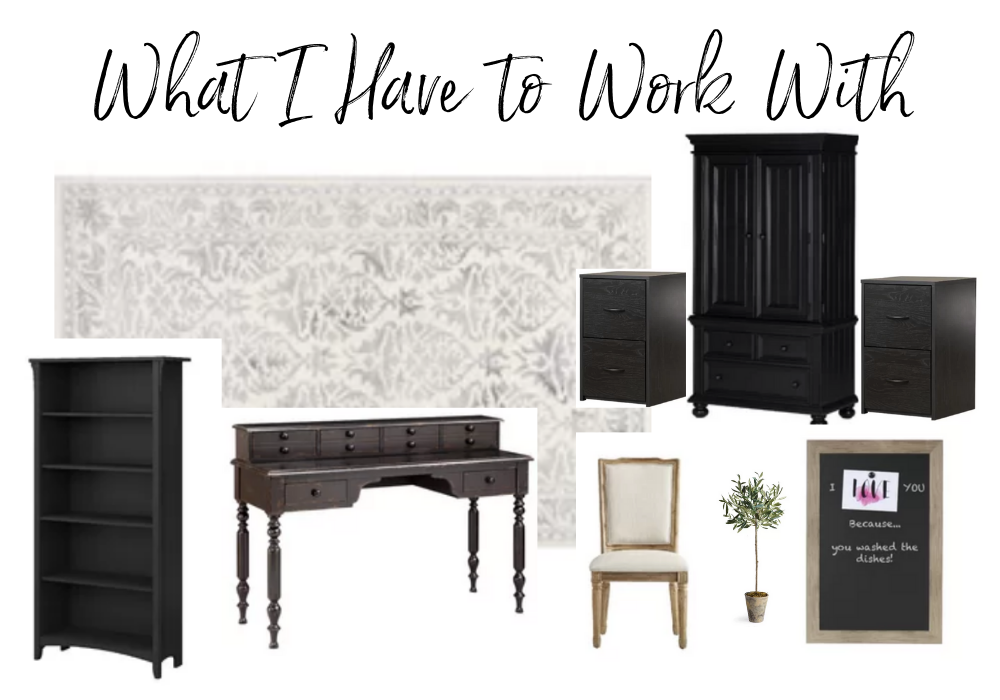 One significant change that I did make was my desk. My previous desk sat underneath the window with the back of the chair facing the door. While I enjoyed the view looking out the window, I always felt disconnected from the rest of the room.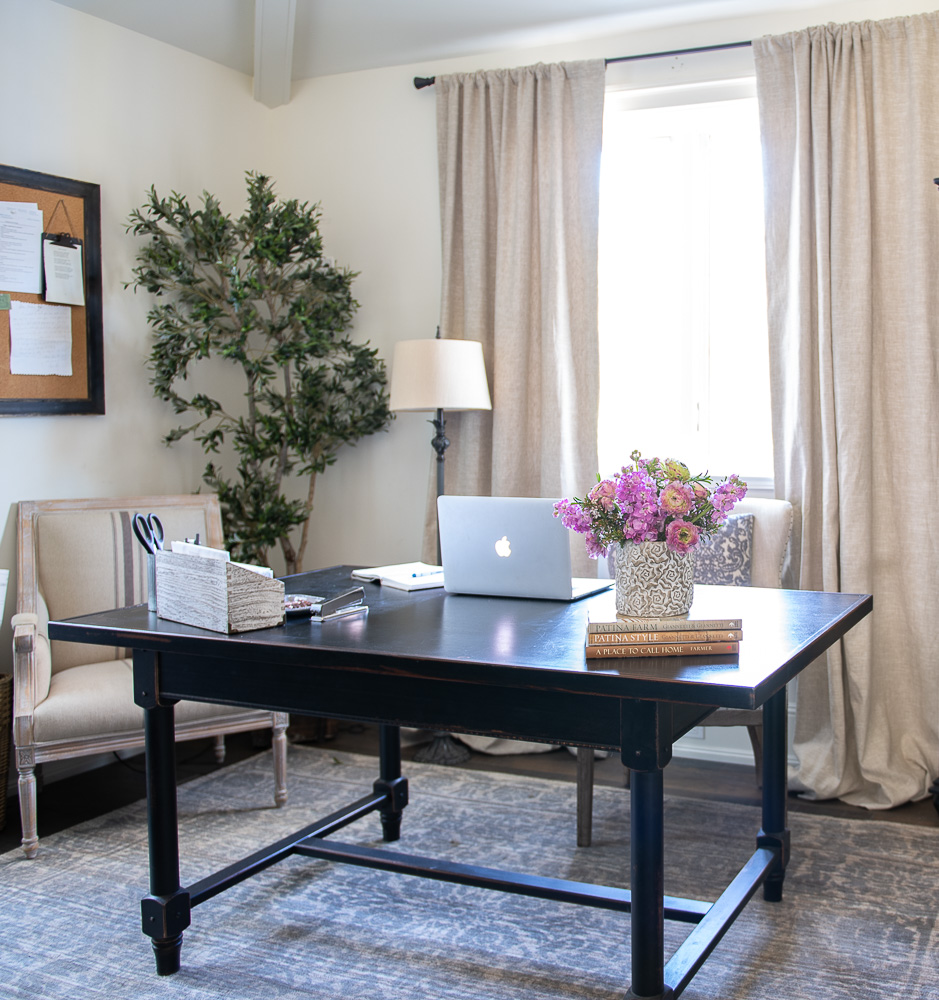 Fortunately we had a black desk in our guest bedroom that would allow me to change the orientation of my chair, so I switched the two desks and voila! my office took on a whole new look! I also added this beautiful linen desk chair which has just the right blend of comfortable and rustic.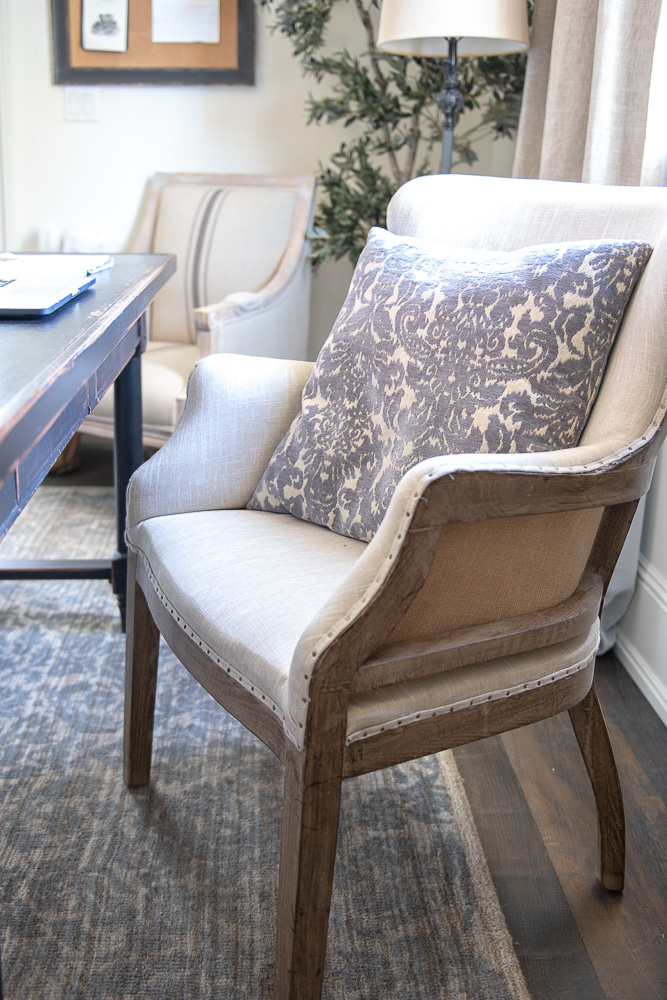 Since my desk had a new orientation, I wanted to soften up the window wall, so I decide to add full length linen drapery panels. This immediately changed the look of the room. It added a much needed softness and also incorporated the linen color in a much more dramatic way. My husband even commented that he really liked this look, and he is not in the habit of noticing draperies!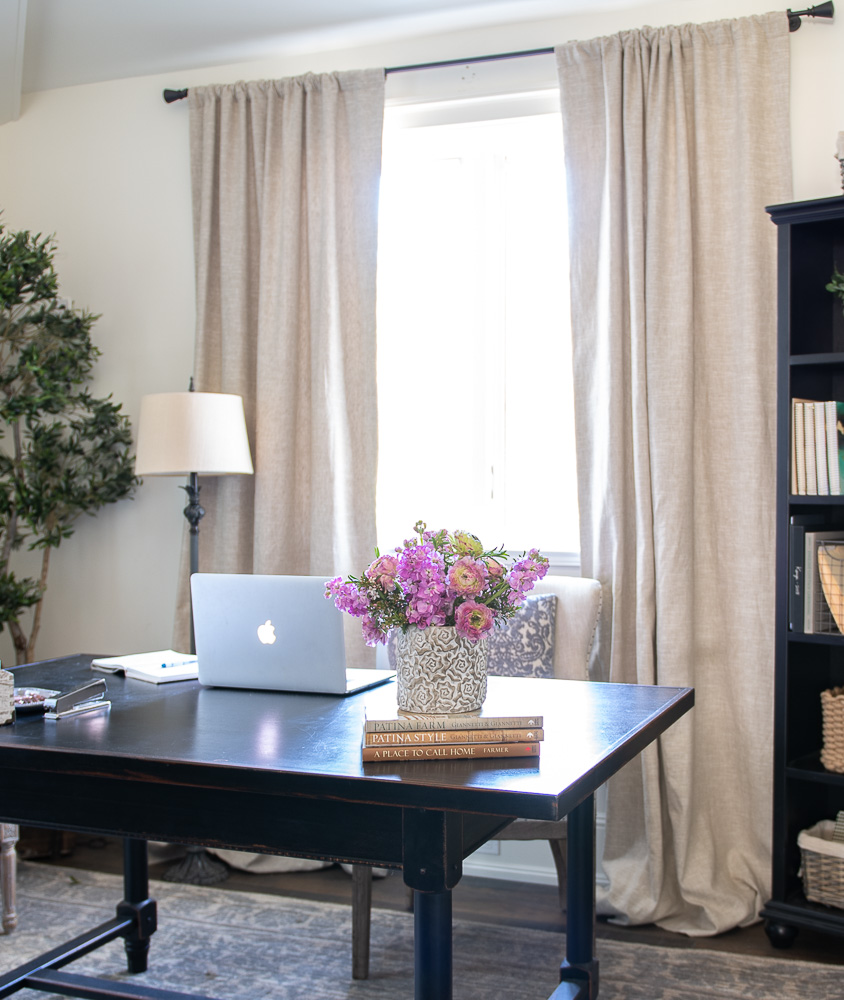 The next area I tackled was my office bookshelf. I love a good bookshelf, but this had become a jumble of stuff that was not only hard to see, but definitely not pretty, so I cleared everything off of the shelves and started over.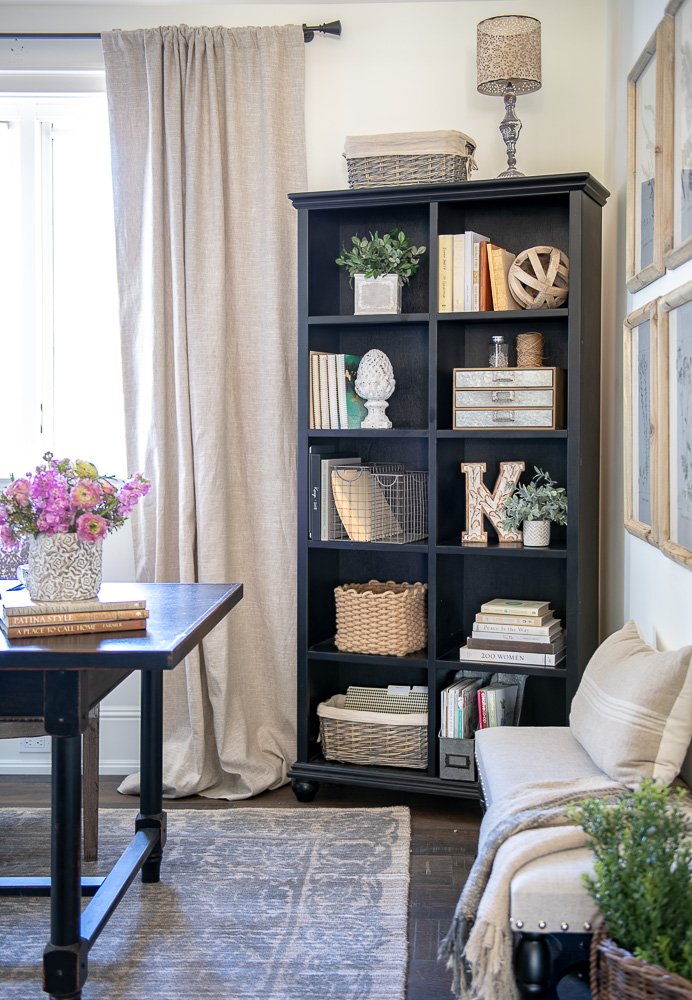 I sorted through and condensed my books, added some new decor pieces and faux plants, (have I ever told you that I have a black thumb when it comes to house plants?) and got some magazine and file holders to organize my magazines and files. The result was bookshelf that not only looked pretty, but was also functional and organized.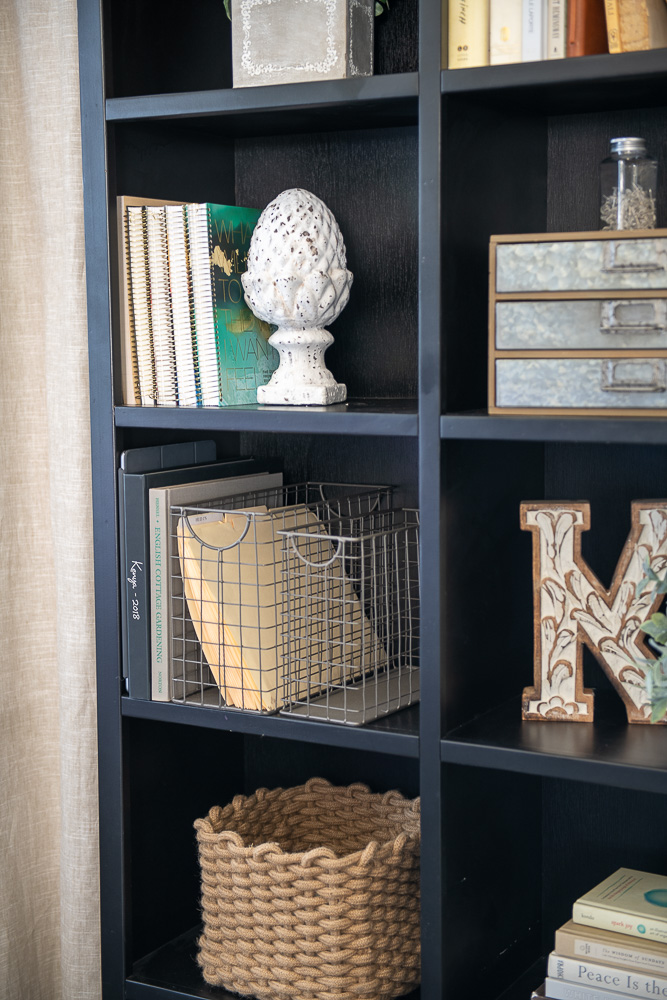 To finish off this side of the room, I brought in a small linen bench that had been taking up space in my studio and added these beautiful botanical prints to the wall.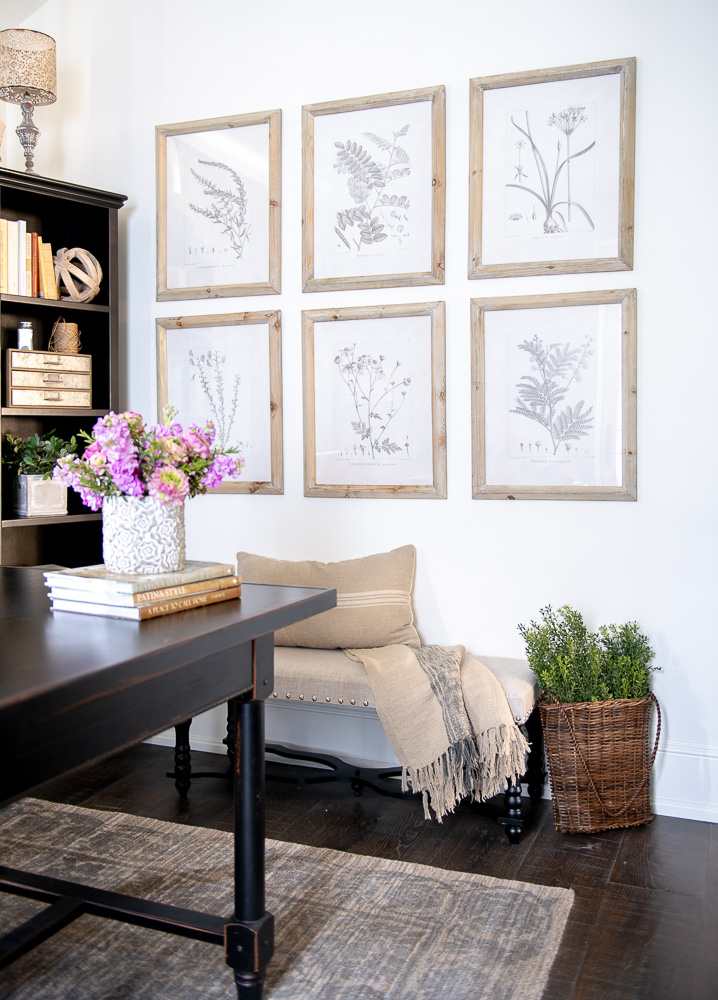 I adore gallery walls with soft art prints so this wall definitely makes me happy! I shared How to Create A Galley Wall Using Art Prints on a recent blog post.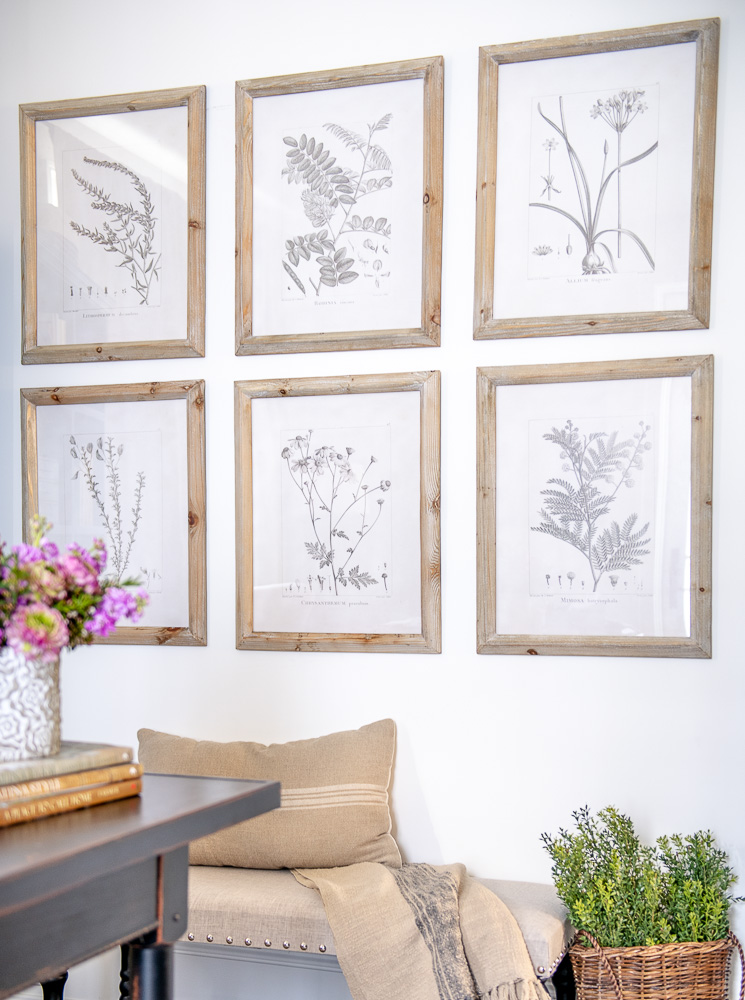 The opposite side of the room was definitely the most challenging for me. I had a large armoire and several file cabinets that had been sadly neglected and had gotten cluttered over the past several months, so I decided to tackle this area next.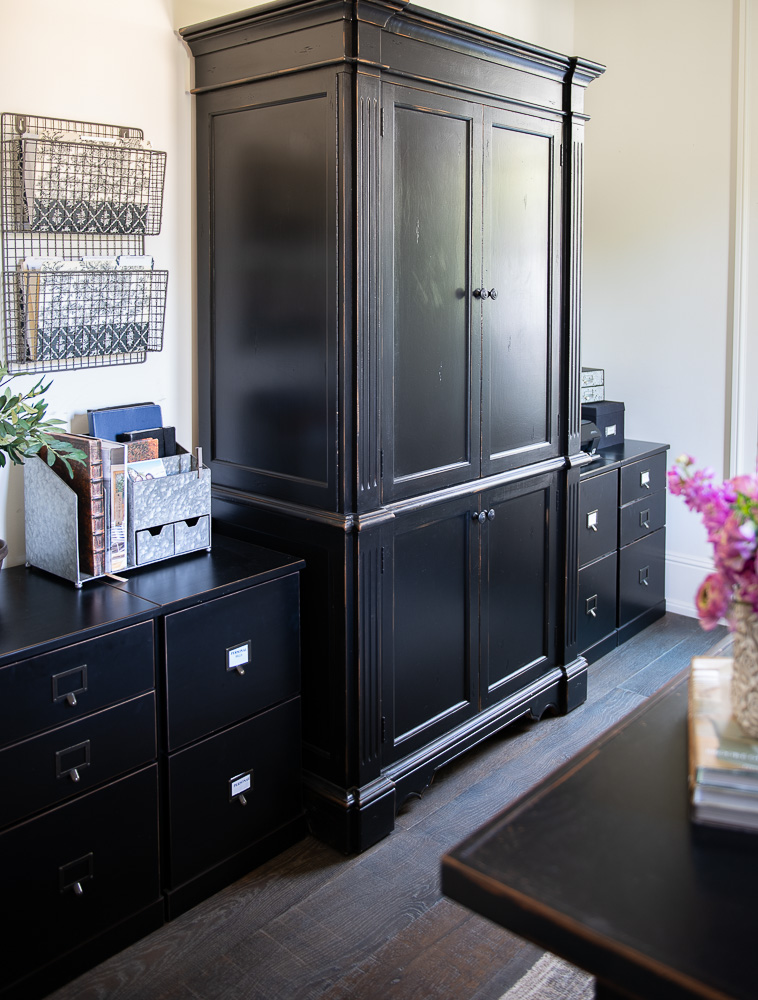 I did snap a picture of the inside of my armoire before I started to reorganize. As you can see, things had gotten out of control. There were many things that simply did not belong in my office, and those that did belong were not well organized.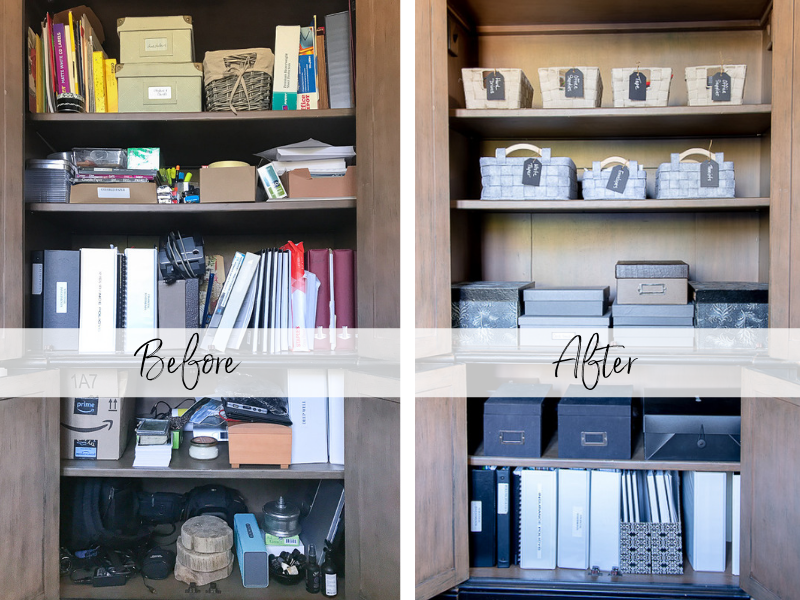 What became clear was that I didn't have enough storage containers for all of the necessities that so often accumulate in an office, so I ordered several baskets from Joss and Main to help me out. I also got different size and shape boxes to hold many of my papers and supplies that were hard to keep organized.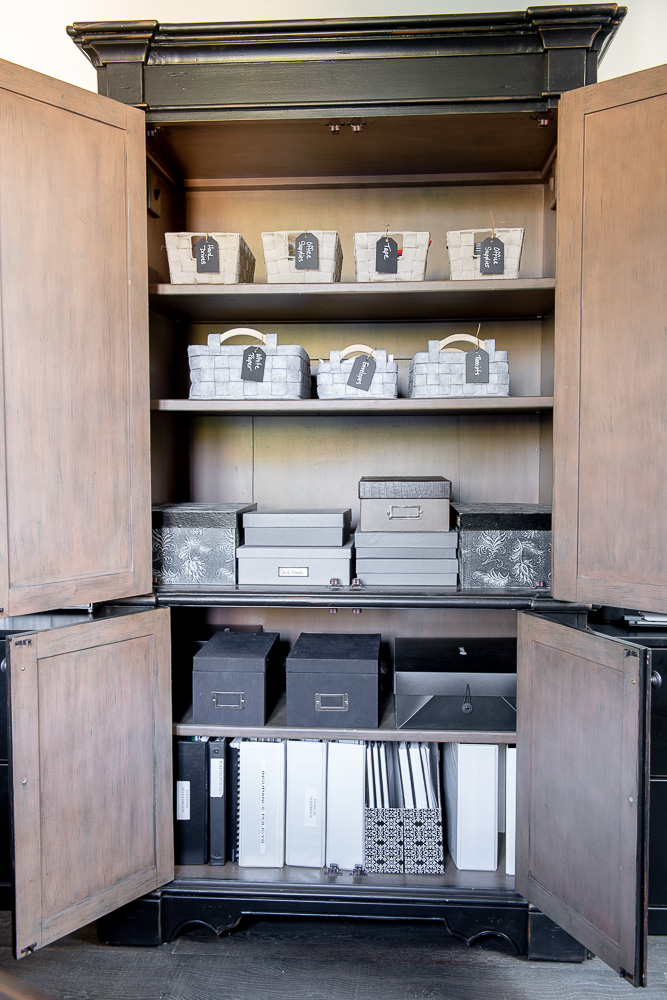 I used black paper cutouts and a chalk pen to make labels for my baskets so I could easily keep things organized going forward.
The remainder of the "stuff" that was in this armoire I put in it's proper place in our home. (Marie Kondo would be proud!)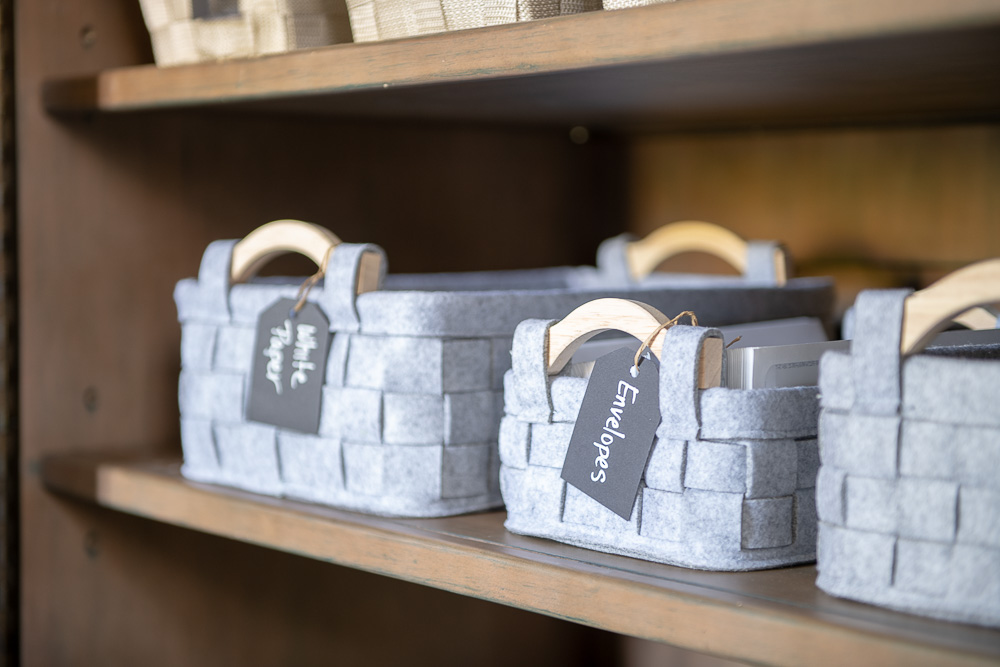 The walls on either side of the armoire became a perfect place for some hanging file holders. I love the rustic look of these wire holders, and that they display my favorite decorative file folders. I have to admit that I may get a little over excited about pretty paper products and stationary.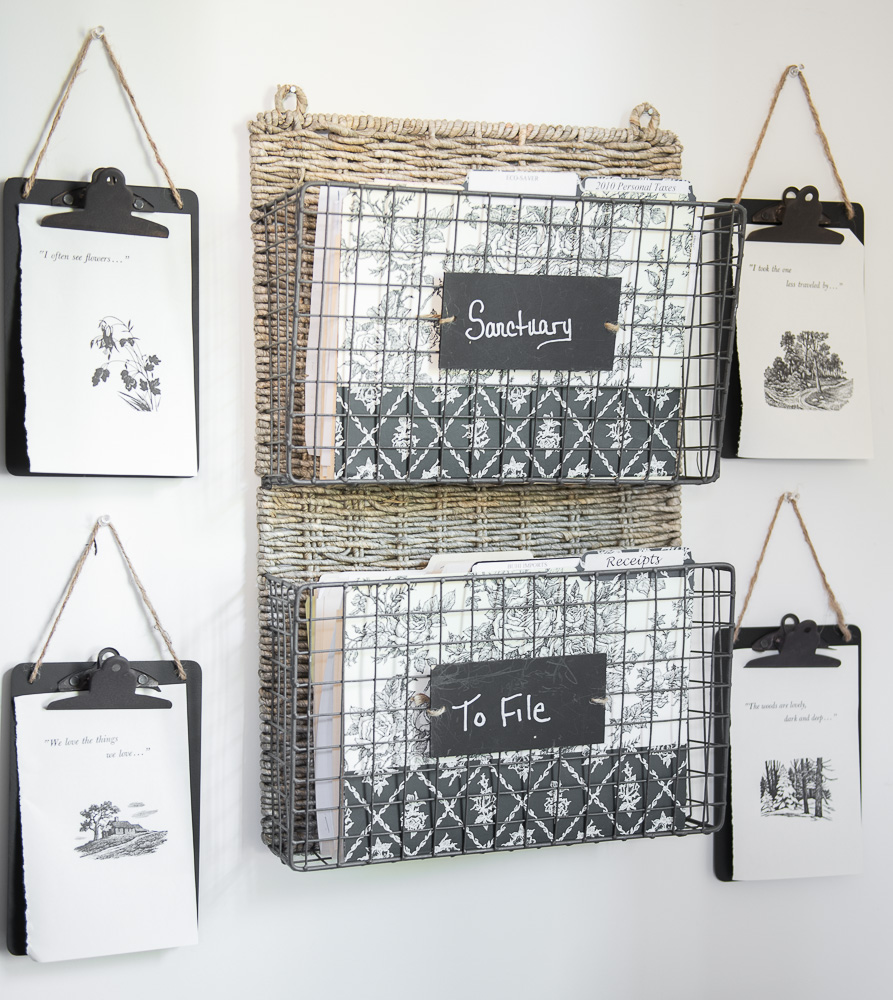 When I was searching Joss and Main for inspiration, I fell in love with these sweet hanging clip boards and knew I wanted them in my office. I hung them on either side of my file holder and on my cork board and added pages from my favorite Robert Frost poetry book. They make me very happy!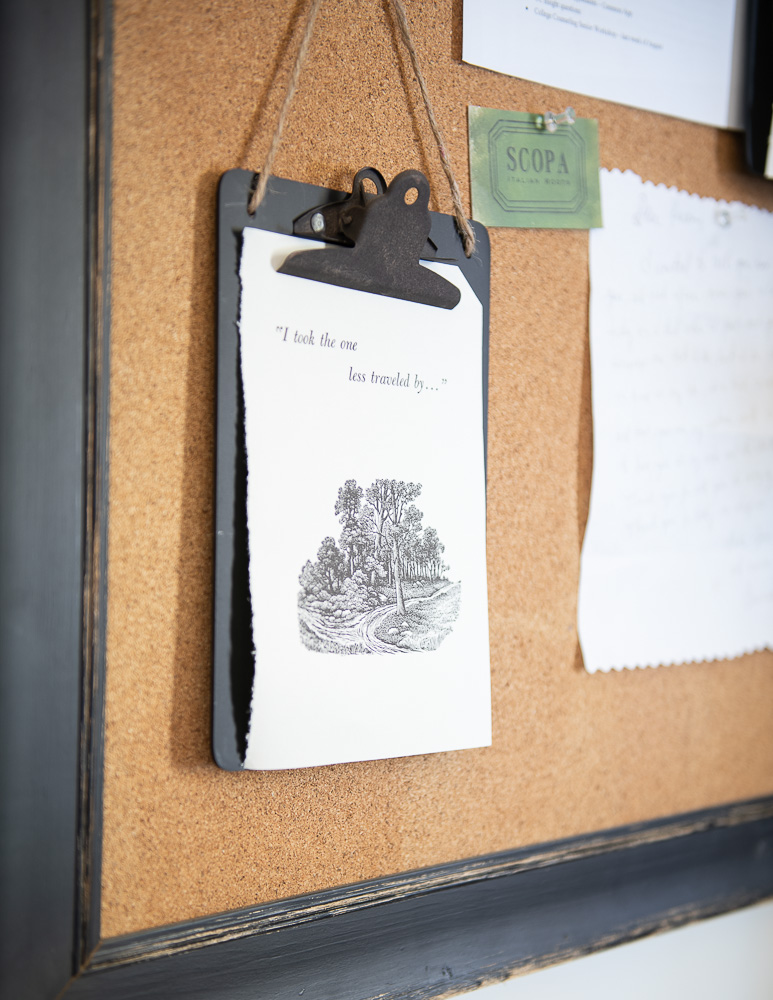 The opposite wall contains another hanging file holder with a great desk organizer below it.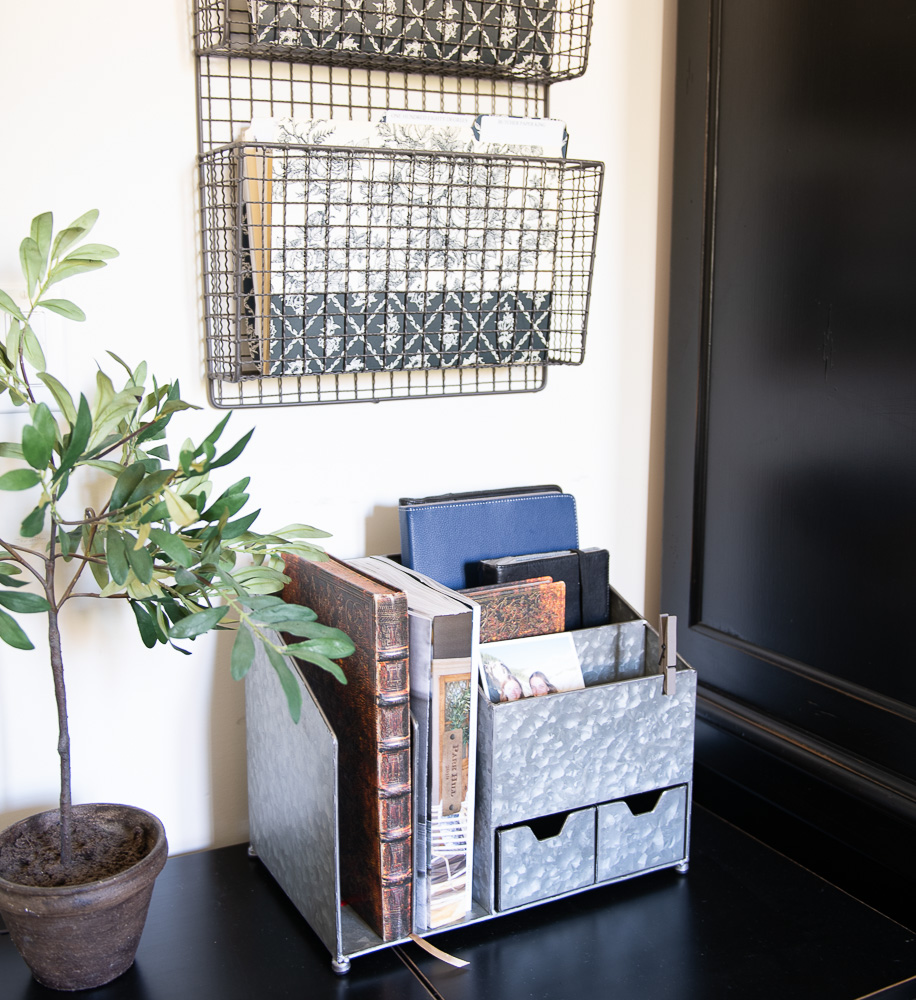 Perhaps my favorite new addition to my home office is this beautiful linen chair. It was the first thing I added to my inspiration board because it epitomizes the style and feel I wanted in my office. I love the simple stripe and light wood. It coordinates perfectly with my new draperies and botanical prints.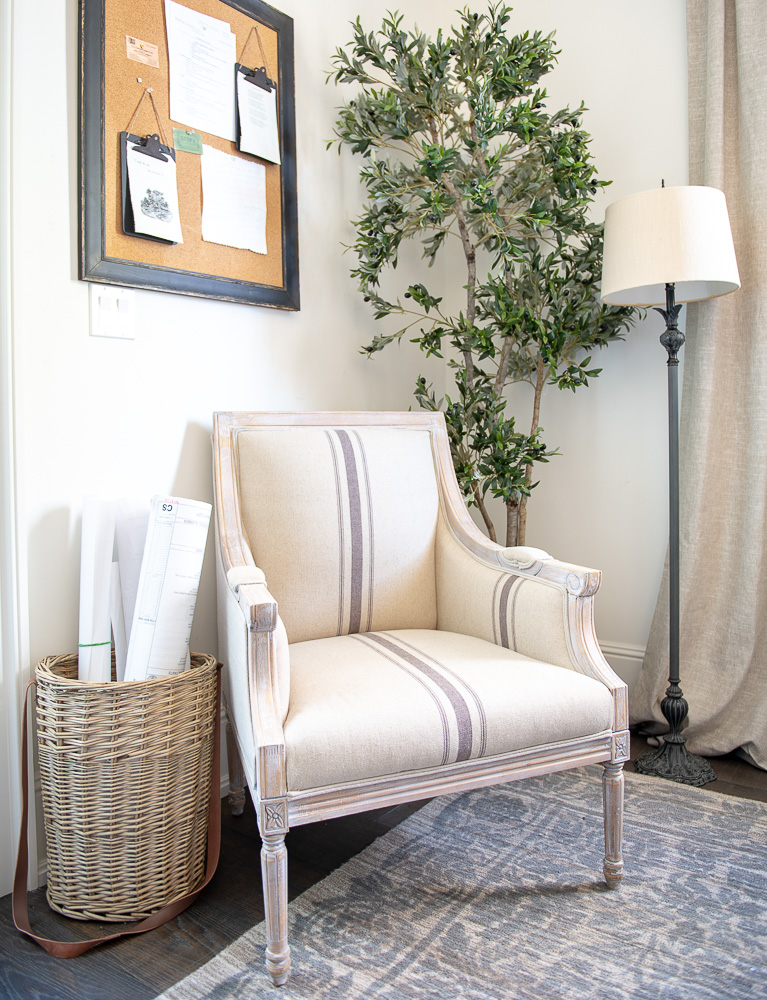 The final addition was a large (faux) olive tree that I found at HomeGoods. I was so excited to find such a realistic looking tree that was large enough to fill this corner. It is amazing what a difference some natural green elements makes in a room.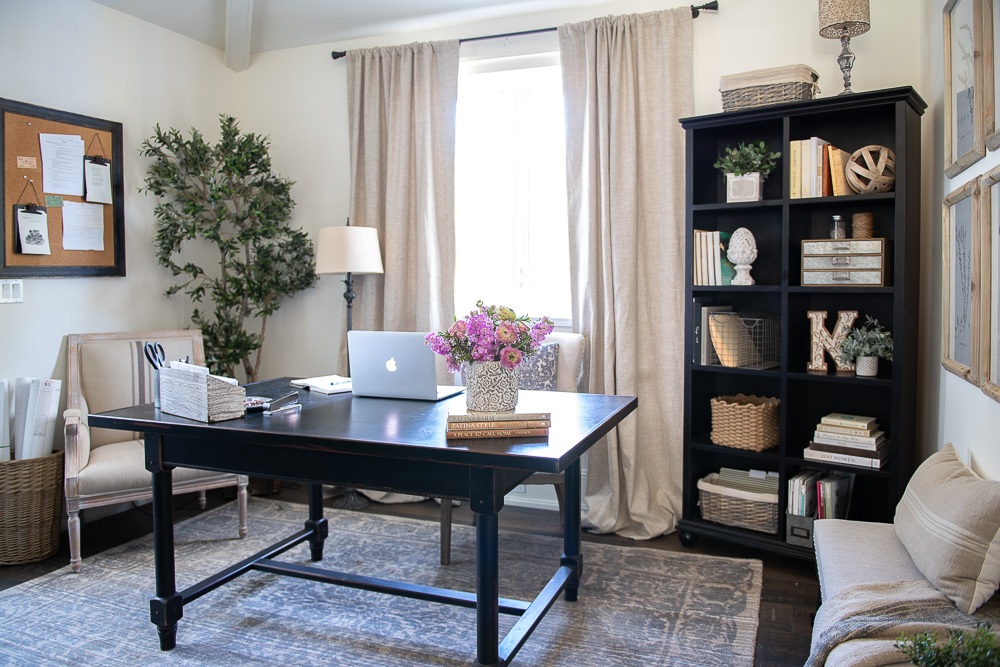 I am pretty giddy about how my office makeover turned out. It took a bit of planning and some organizing, but it was so worth the time and effort. As I sit in my new office today, writing this post, I am reminded that taking the time to create a home that feels good and provides a sense of peace and joy is vital. My home office feels that way to me now, and it has become my new sanctuary.