6 Easy Ways to Add Farmhouse Charm to Your Home
There's something comfortable and charming about a farmhouse look that I am completely drawn to.  The relaxed and easy feel of vintage decor and rustic pieces give everything a lived in and no fuss atmosphere that suits our family perfectly.  Our home(s) are not totally farmhouse, but they definitely have a farm style look and I attribute that to a few easy touches throughout the house. Below are 6 easy ways to add farmhouse charm to your home!
VINTAGE AND CHIPPY
I am drawn to vintage and "chippy" (meaning peeling or chipped paint) pieces and have always found a way to incorporate them into our decor. This is such and easy way to add farmhouse charm to you home and many pieces can be found in your local antique shops!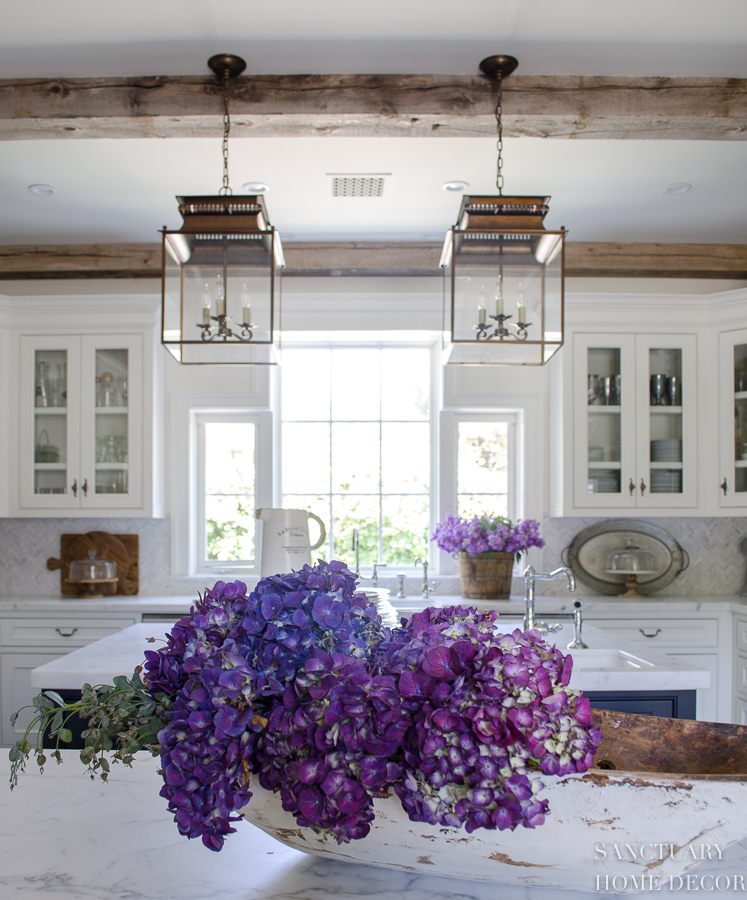 A chipped and painted dough bowl on the kitchen counter gives just enough of a rustic look to our California kitchen. I fill it with lemons in the summer, apples in the fall and ornaments during the holidays. No matter the season it is a versatile and easy way to add a bit of farmhouse charm to our kitchen.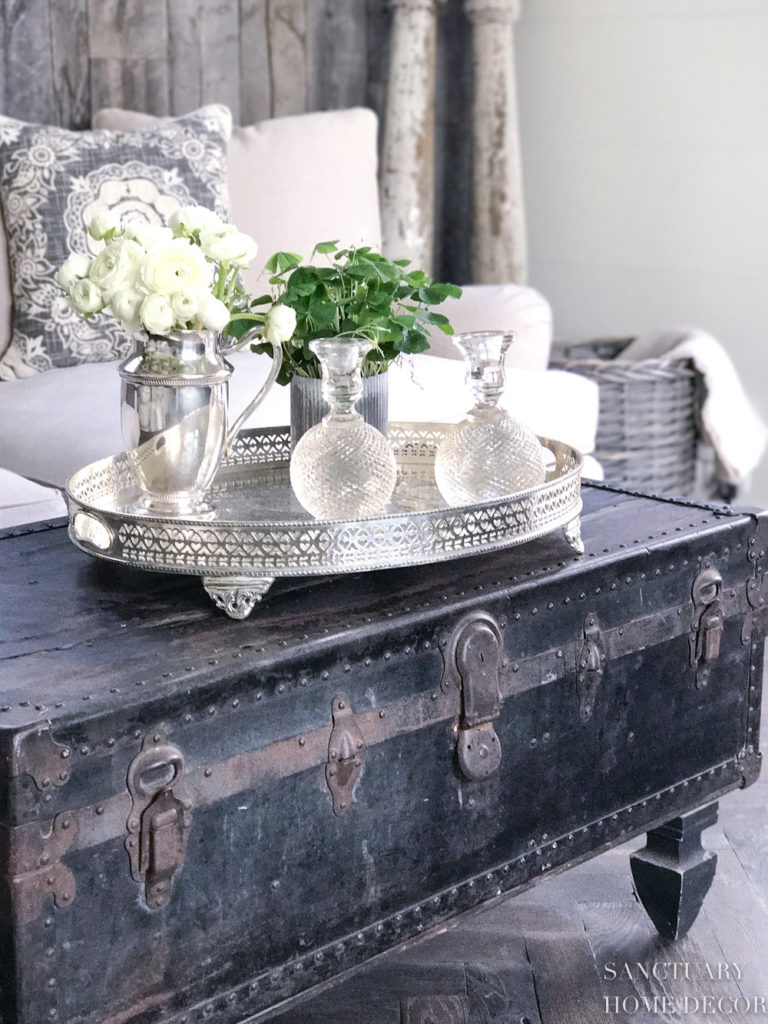 Short legs were added to this vintage trunk to make a coffee table. It adds just the right amount of farmhouse feel without being too much. I also LOVE vintage silver and use trays as accent pieces throughout the house.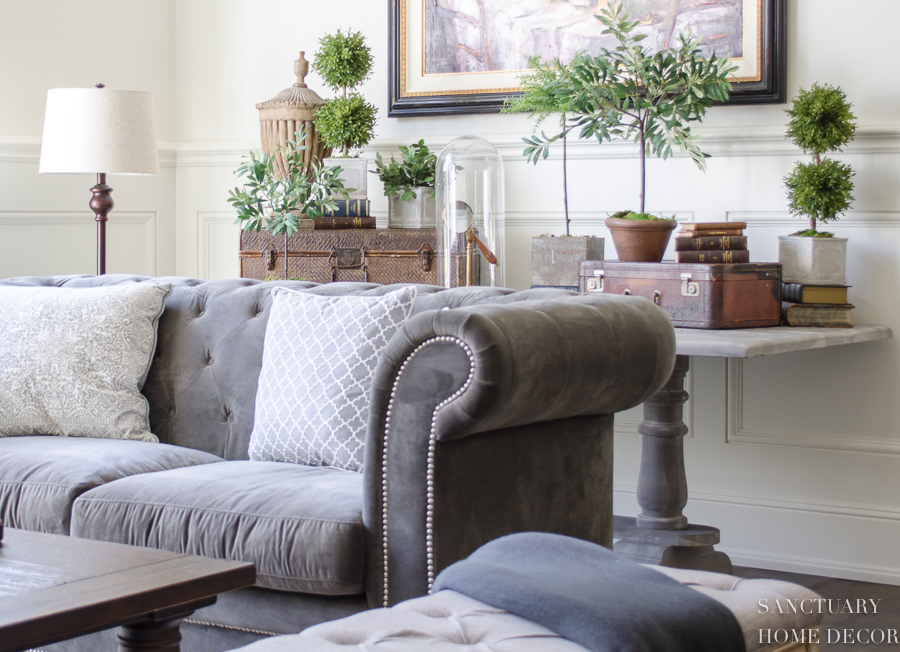 Vintage suitcases and books are some of my favorite decor pieces. When I can find old leather suitcase and books, I usually grab them. They add a ton of warmth and that vintage farmhouse feel.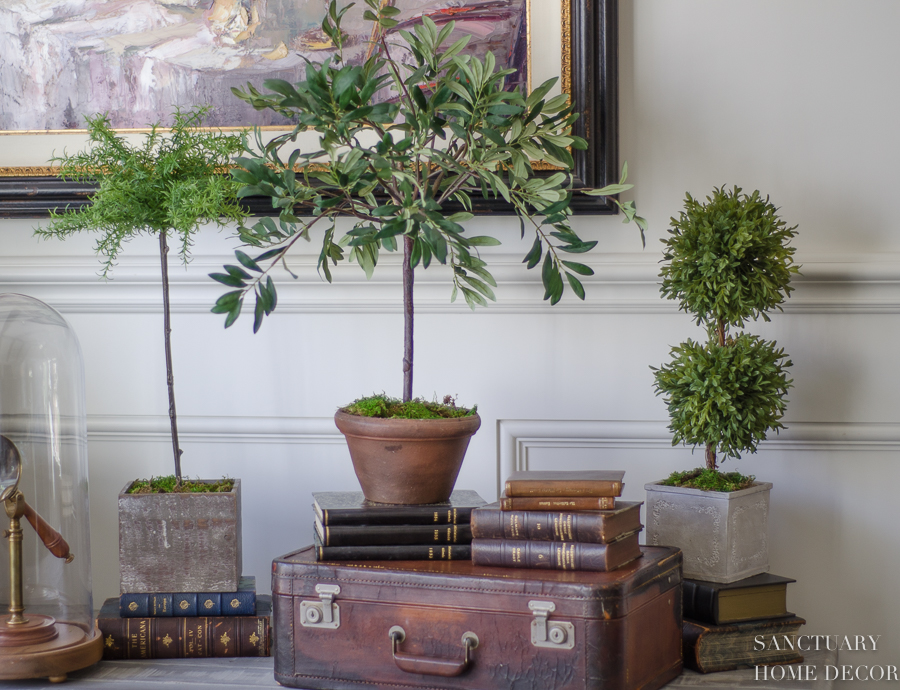 CROSS BACK CHAIRS
The definitive farmhouse chair. When added to a dining table or kitchen counter they can transform a room to farmhouse style immediately.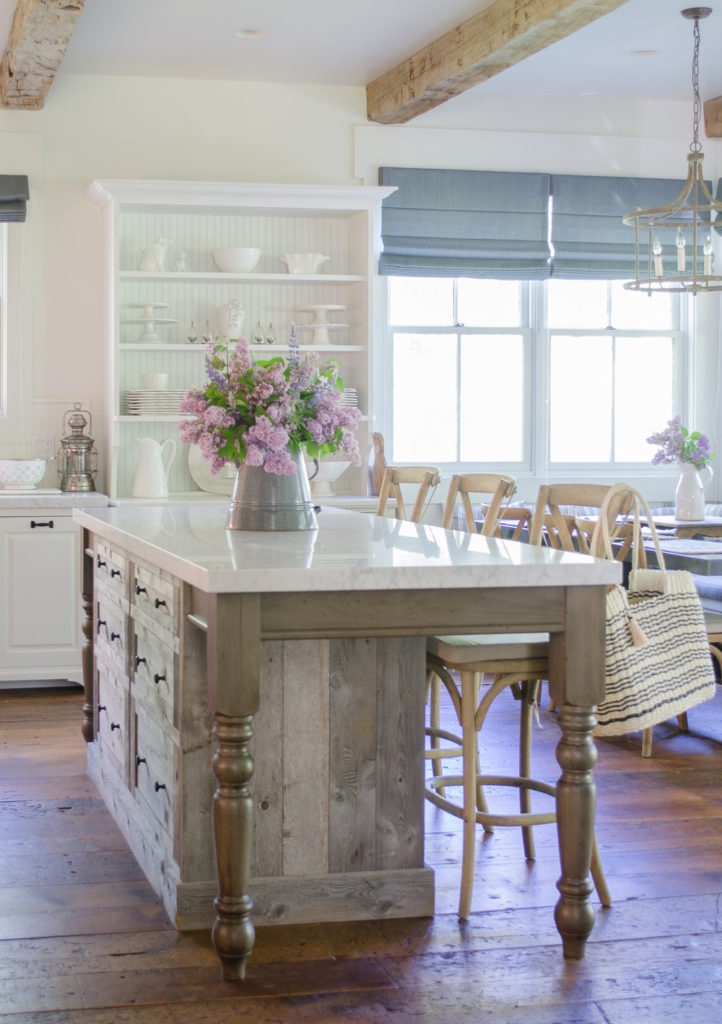 I have cross back chairs in our Montana kitchen at the center island counter and breakfast nook. They mix well with the rustic beams on the ceiling and are casual yet refined.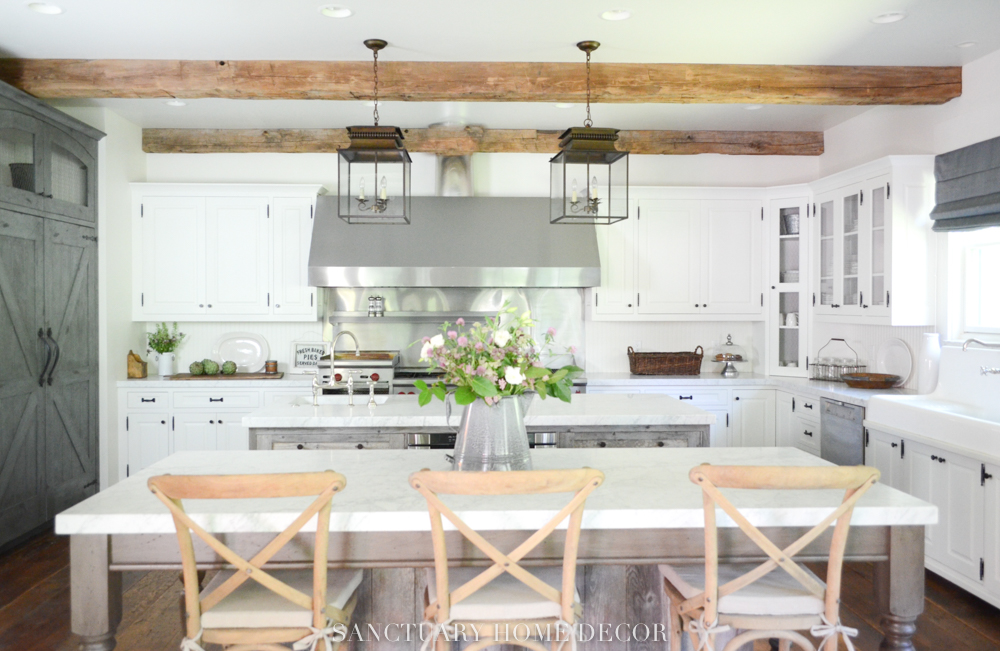 I also have cross back chairs outside on our porch. We use them almost daily in the summer and they are so easy to mix and match with any table setting. I think they are the perfect complement to any outdoor table.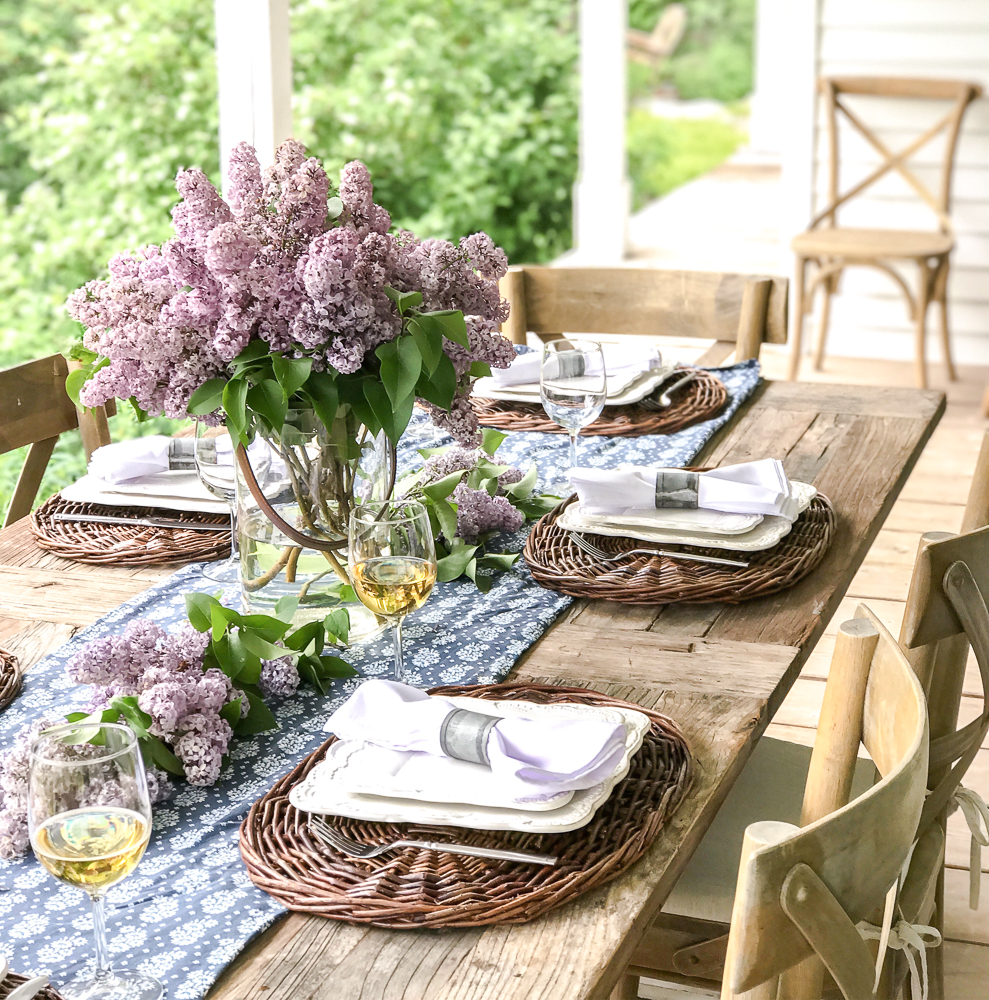 LADDERS
I have to admit, I was slow to warm up to the idea of rustic ladders as decor. I thought they were a little bit TOO farmhouse for my style, but I soon changed my mind. I found this six foot vintage wood ladder at a local shop and thought I would try it in my house. (I figured the worst case was we would have a new ladder in the garage.) Because I am a huge fan of throw blankets, the ladder turned out to be the perfect place for my favorite throws.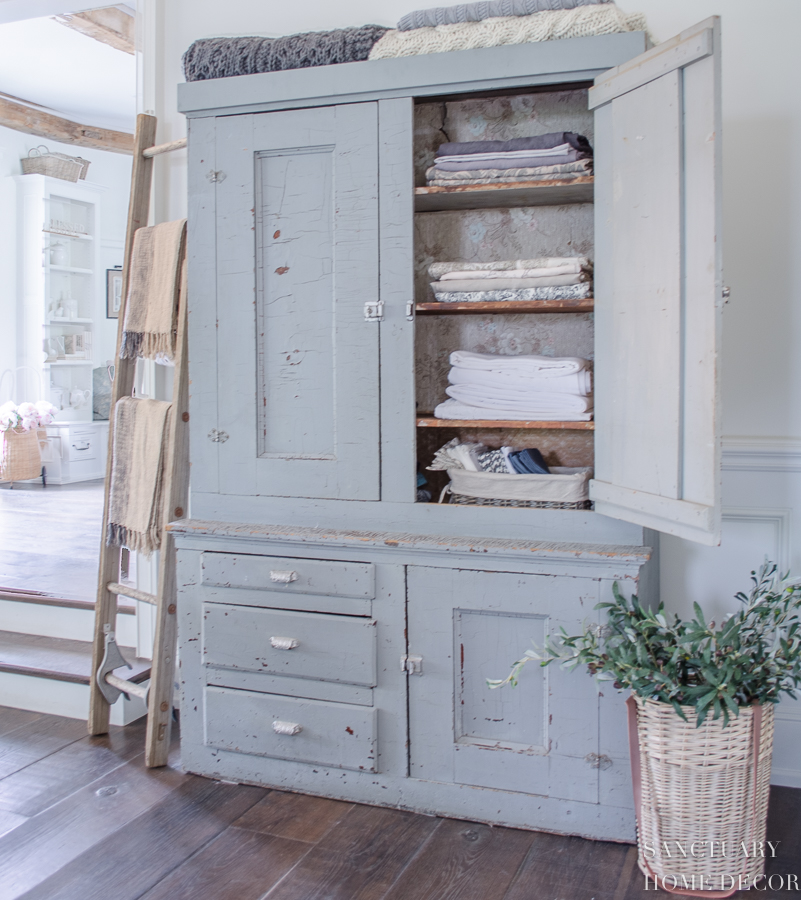 It wasn't long before I got a second one and put it in my office.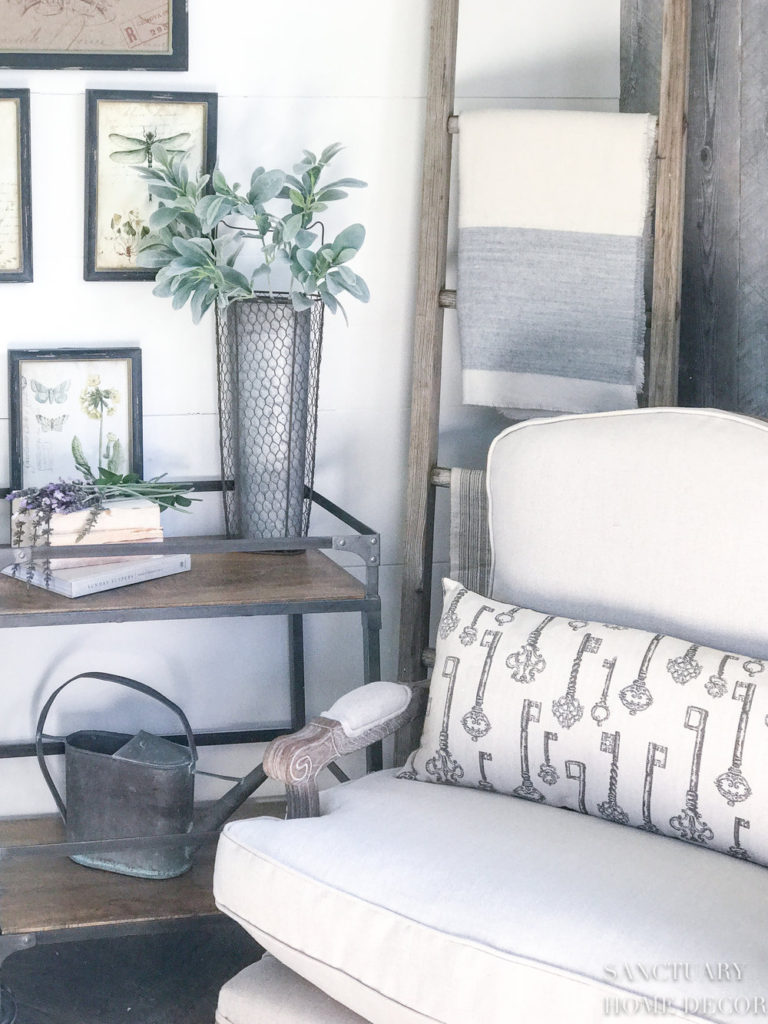 And then a third for our bath towels. I love how ladders look standing in a corner or next a piece of furniture. They say farmhouse all day long and are the perfect way to add that charm without breaking the bank.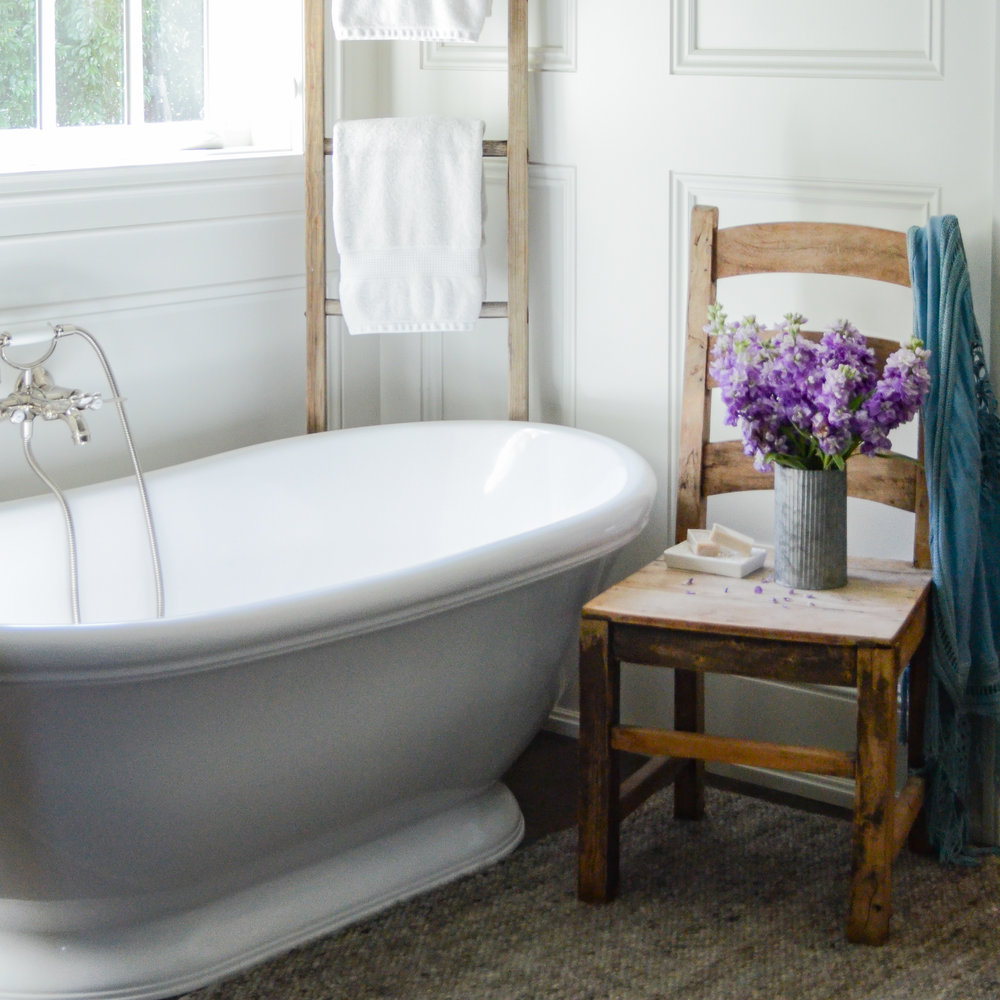 WHITE EVERYTHING
I have always loved color. In the past, I have painted walls red, green, blue…you name it, but when it comes to that classic farmhouse style, I think white is best. We painted all of our kitchen cabinets Benjamin Moore Swiss Coffee and used Carrera marble for the countertops. This white base allows me to add seasonal touches of color and still maintain the fresh look I love.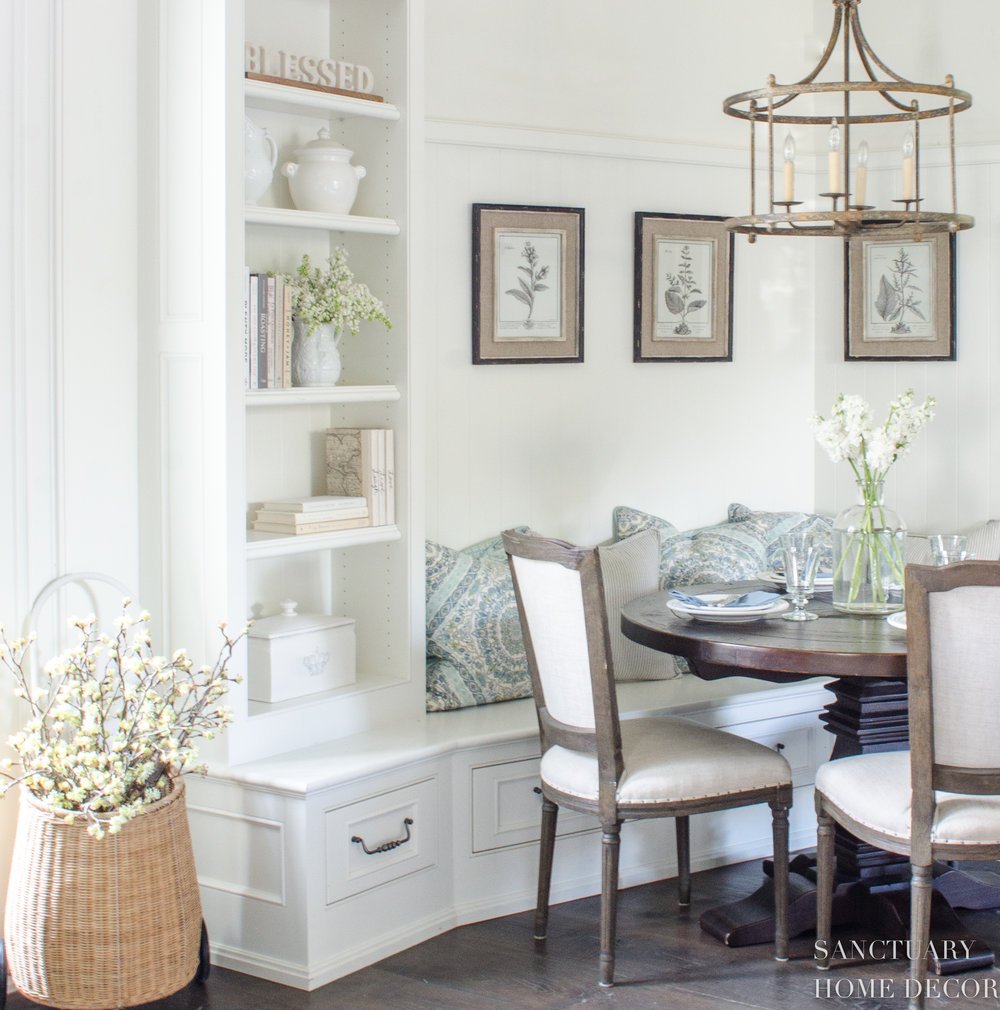 I chose all white dishes for the same reason. I wanted to have a neutral color for all of my table settings and add accent colors using linens and flowers.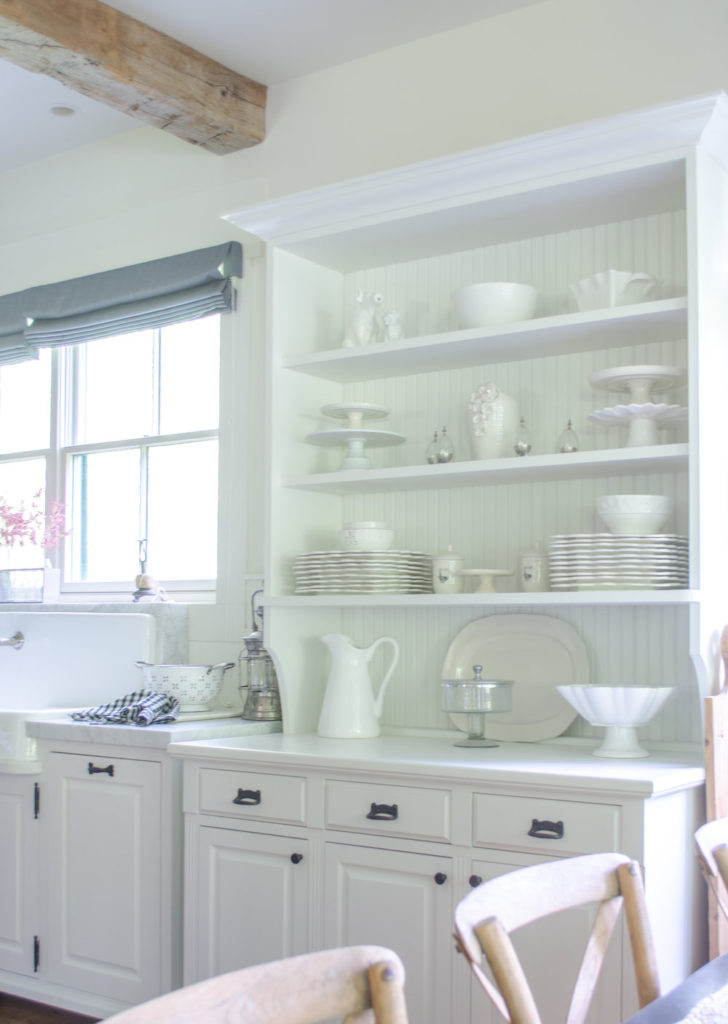 The white dishes in the open cabinets allow me to add seasonal decor without being committed to a permanent color.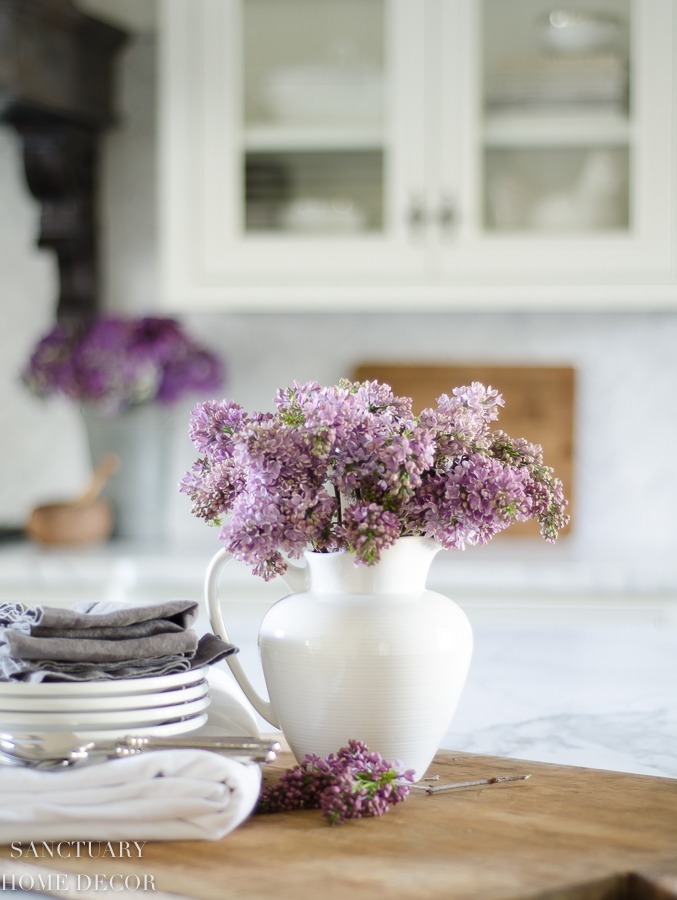 White pitchers of every size and shape make great vases and are the perfect way to add a farmhouse look to your kitchen or dining table.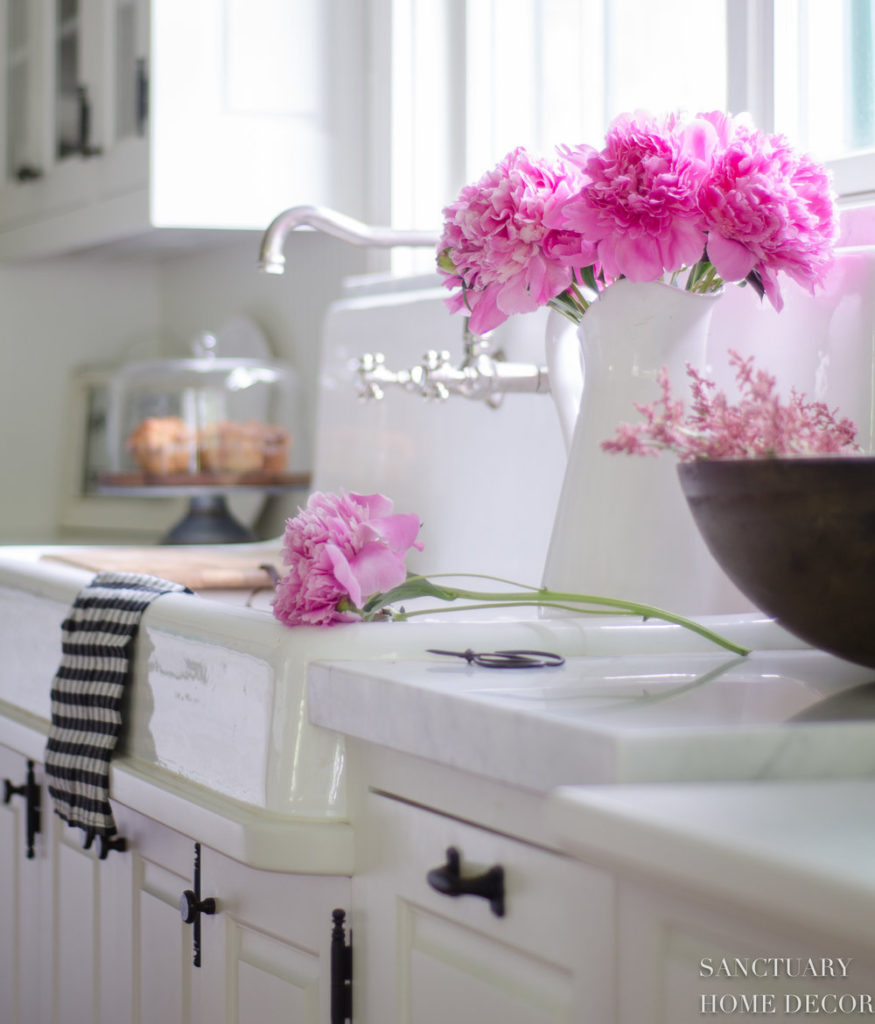 NATURAL FLOWERS
Speaking of flower arrangements, when it comes to farmhouse, unstructured and natural is better. I love a beautifully, structured floral arrangement as much as the next person, but when it comes to that farmhouse look, wild and unstructured is better.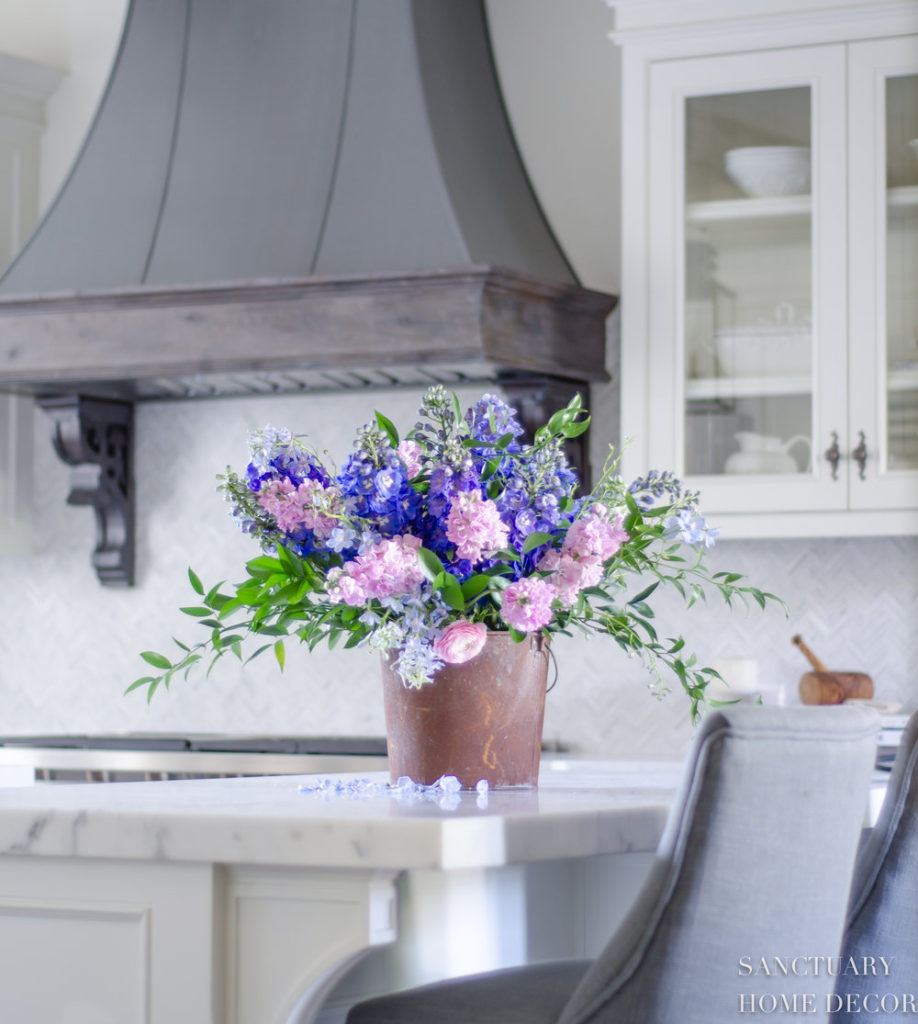 A mass of greens and spring blooms in a rusty bucket add an easy farmhouse touch to our kitchen.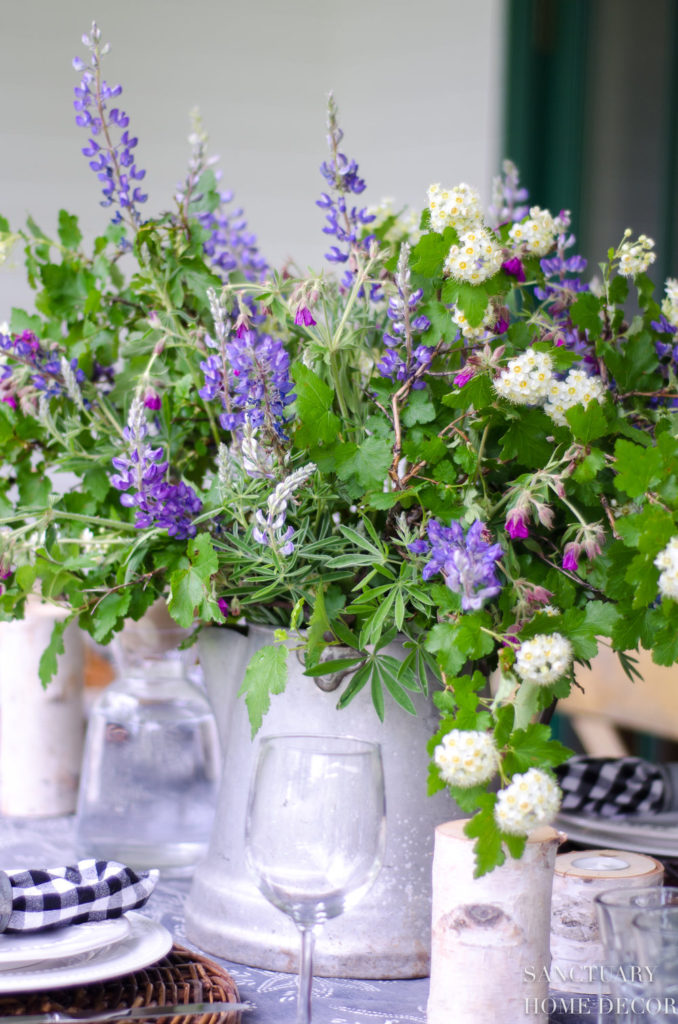 Wildflowers in a vintage tin coffee pot are one of my favorite centerpieces. I usually forage for a a ton of greens and add in whatever color I can find in the meadows.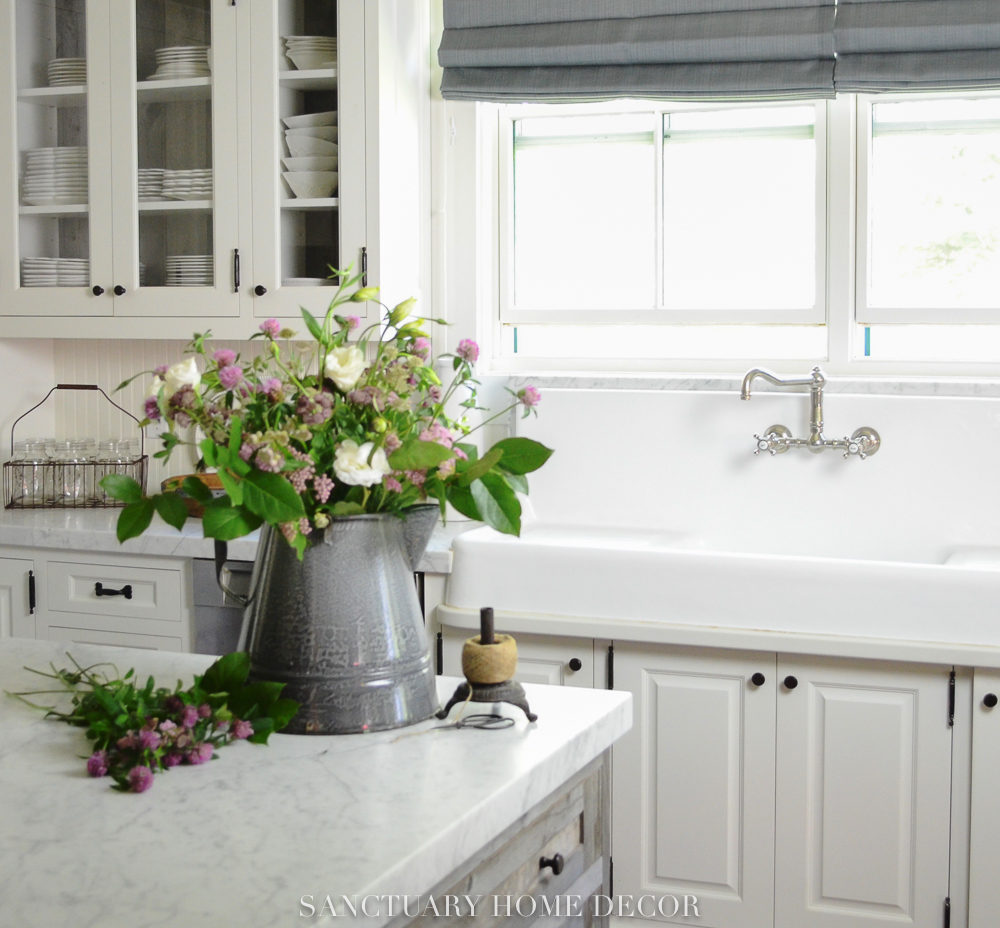 Adding wild clover and yarrow to a few market flowers in this enamel coffee pot adds that perfect farmhouse style to this arrangement.


                
                


                    
                    
                


            
It only takes a few small elements to add that farmhouse charm to any house. A little chippy or vintage…a rustic ladder or some cross back chairs…a lot of white and some natural wildflowers, these are the ways I have found to add those touches to my home. I hope I've given you a few ideas for yours!