12 Ways to Use Reclaimed Wood in Your Home
It all started seven years ago when we bought a summer ranch in Montana. We were settling in for our first summer and working on plans for a remodel of the main house when we discovered reclaimed barn wood. It was love at first sight…the rustic goodness…the weathered gray color…the perfect blend of vintage mixed with refined. We began dreaming of ways to incorporate it into the design of our new kitchen and living spaces and from there it grew into the guest cottages and eventually made its way to our home in Southern California. Reclaimed wood can be found in many different rooms in our homes and always adds that perfect touch of rustic we crave…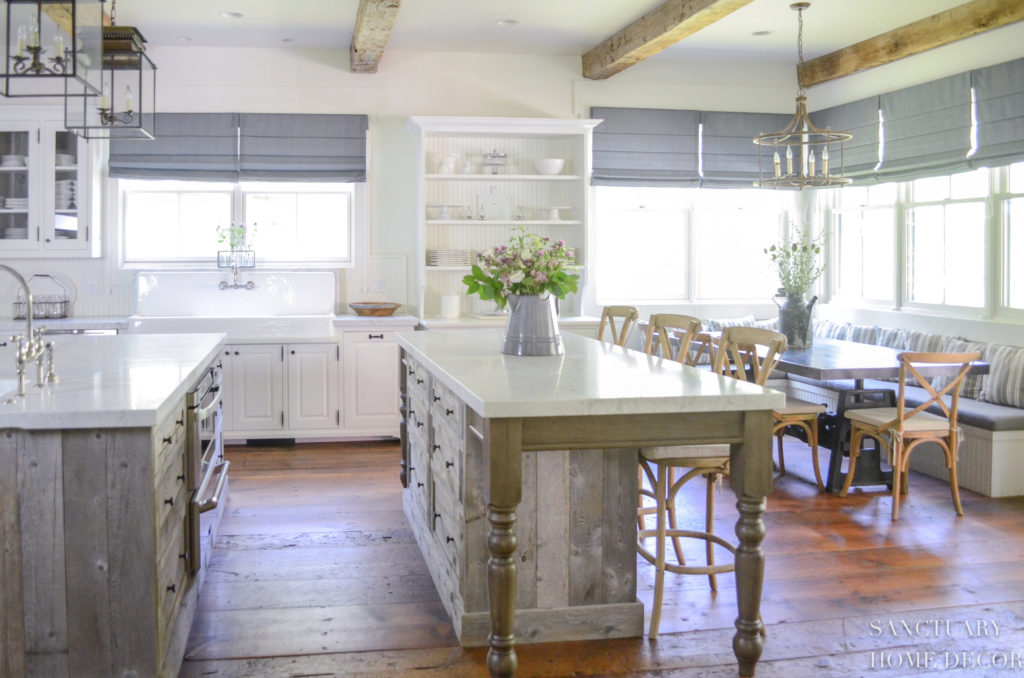 1. KITCHEN CENTER ISLANDS
The ultimate in rustic, farmhouse style, our center islands in the ranch kitchen add that perfect blend of casual yet refined. These were custom designed and built by a local craftsman after much discussion about how to get the look we wanted and still maintain the function we needed in our kitchen. They make the perfect statement as you enter the room and set the casual easy tone we love.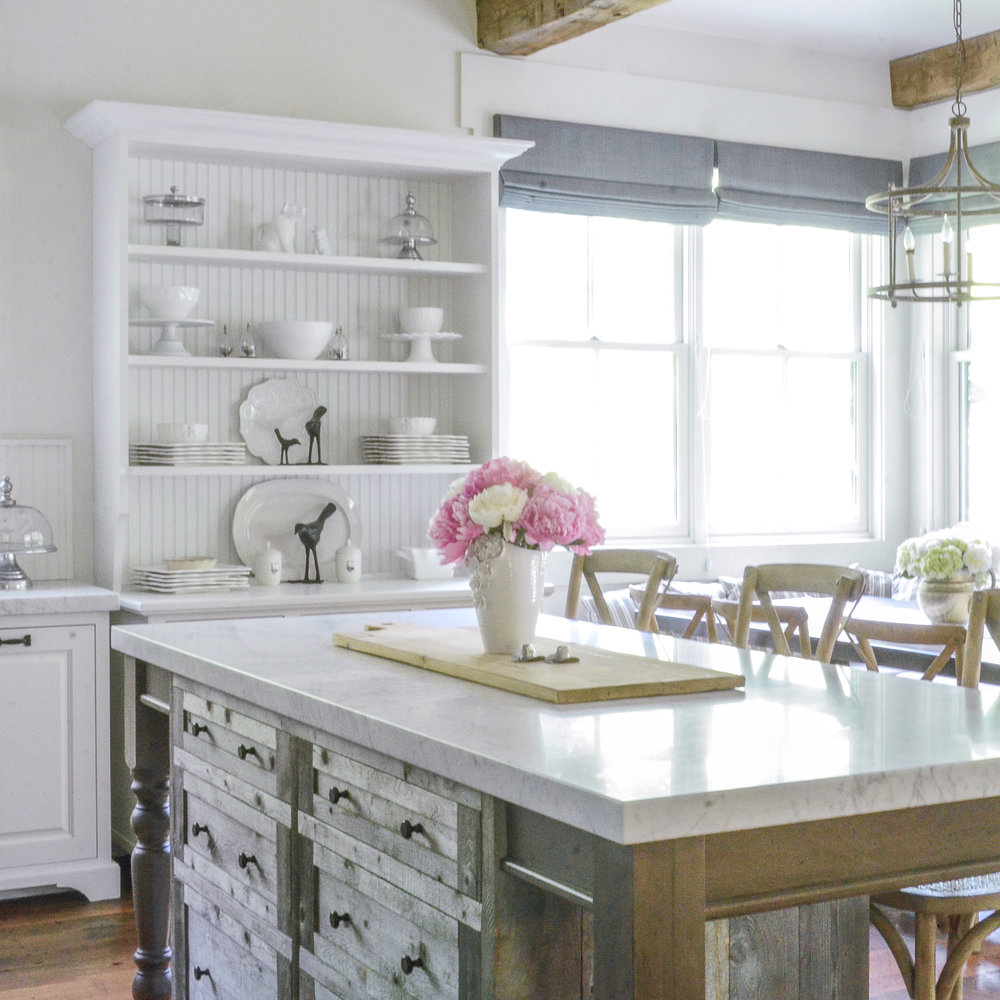 We chose simple iron button knobs and farm style pulls for the drawers and cabinets. I shared the entire remodel of this kitchen several weeks ago. You can see that post by clicking the link below.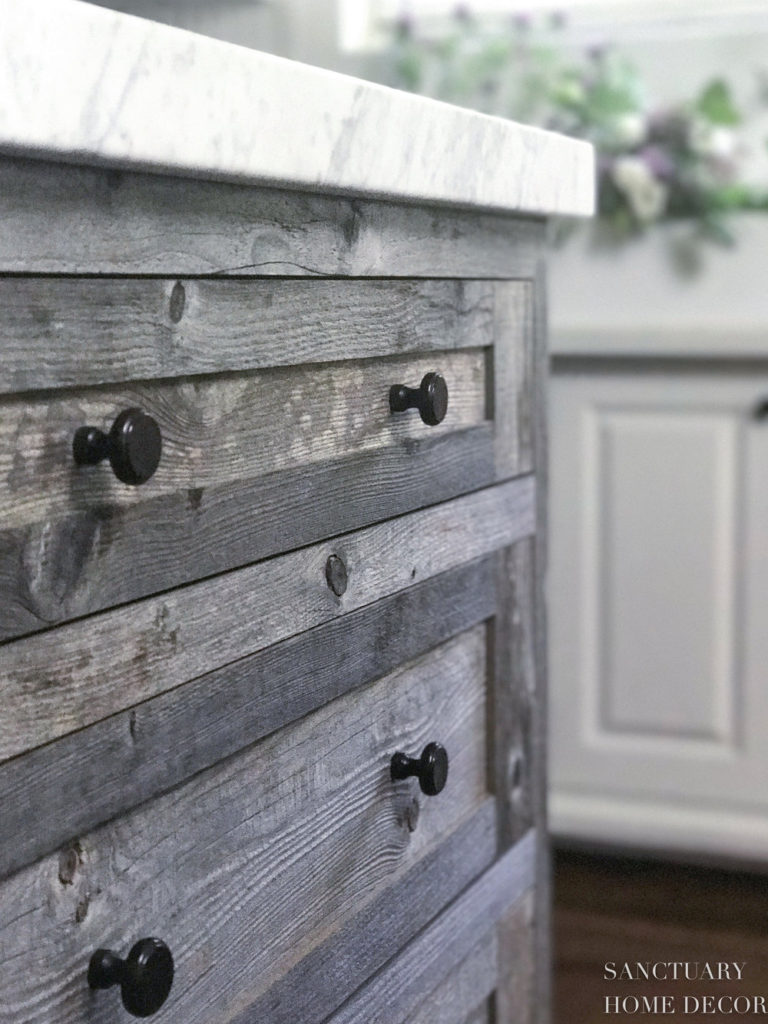 2. A BEDROOM ACCENT WALL
I love the way reclaimed wood looks when it is installed vertically on an accent wall. It makes the perfect backdrop for a beautiful bed and other decor. We specifically chose gray toned boards to complement the other furniture in the guest cabin and warm up what would otherwise be a stark white room.
3. KITCHEN CABINETS
We wanted to mirror the bed accent wall in the guest cabin, so we decided to use the same wood for the small kitchenette, We designed simple cabinets with plank doors and used white shiplap for the backsplash. We purchased a small, panel ready, under counter refrigerator and our cabinet maker made a barn wood door to match the cabinets. The overall look is fresh and warm with just the right amount of rustic charm.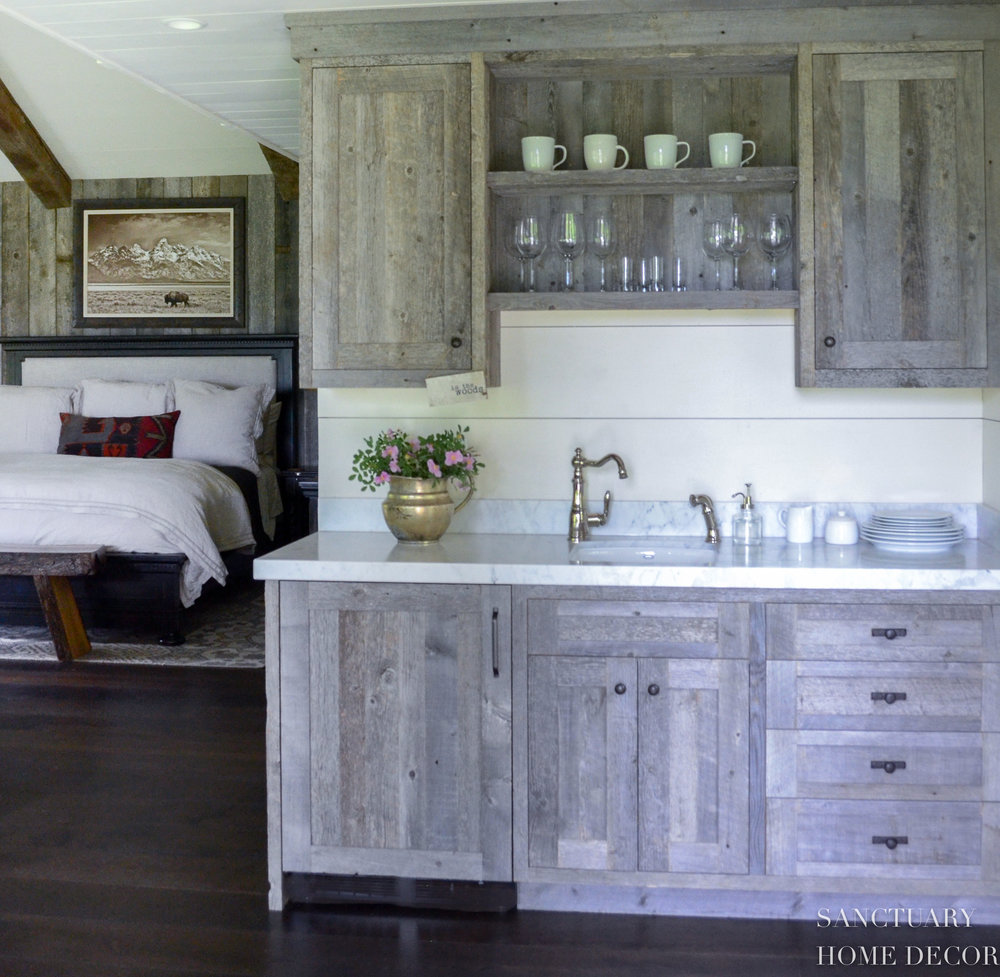 4.EXTERIOR SIDING
Okay, here's where we went full Montana. We needed a guest cabin and wanted to design something that was authentically western. We decided to use the reclaimed wood in the same way we might use traditional wood siding. The entire cabin was wrapped in barn wood and we incorporated old rustic beams for the porch and posts.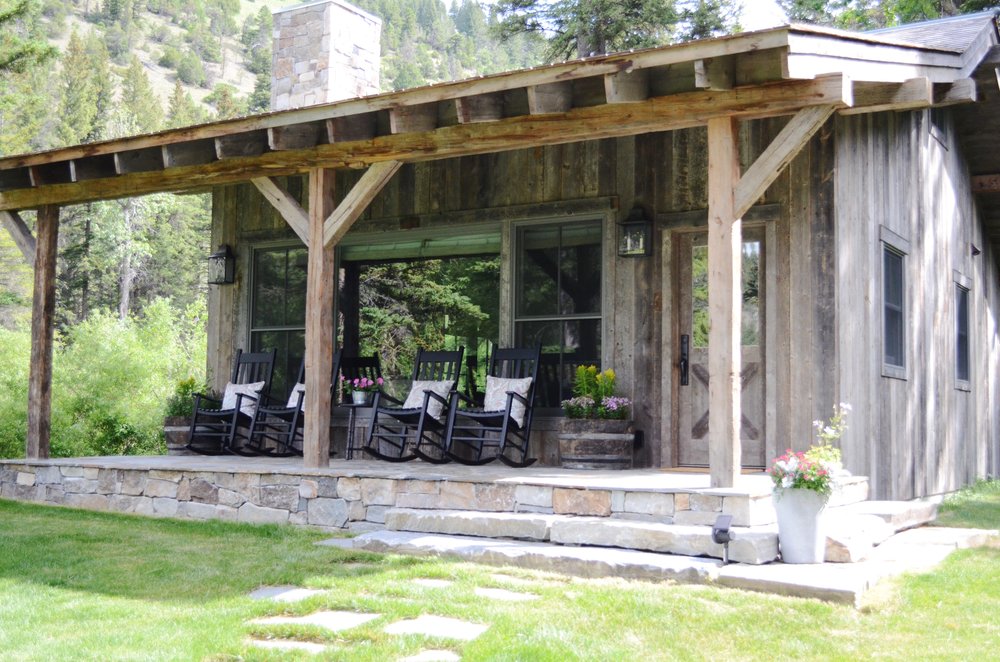 It sits nestled in the woods and feels like it has been there forever. The porch is the perfect place to have morning coffee and take in the view.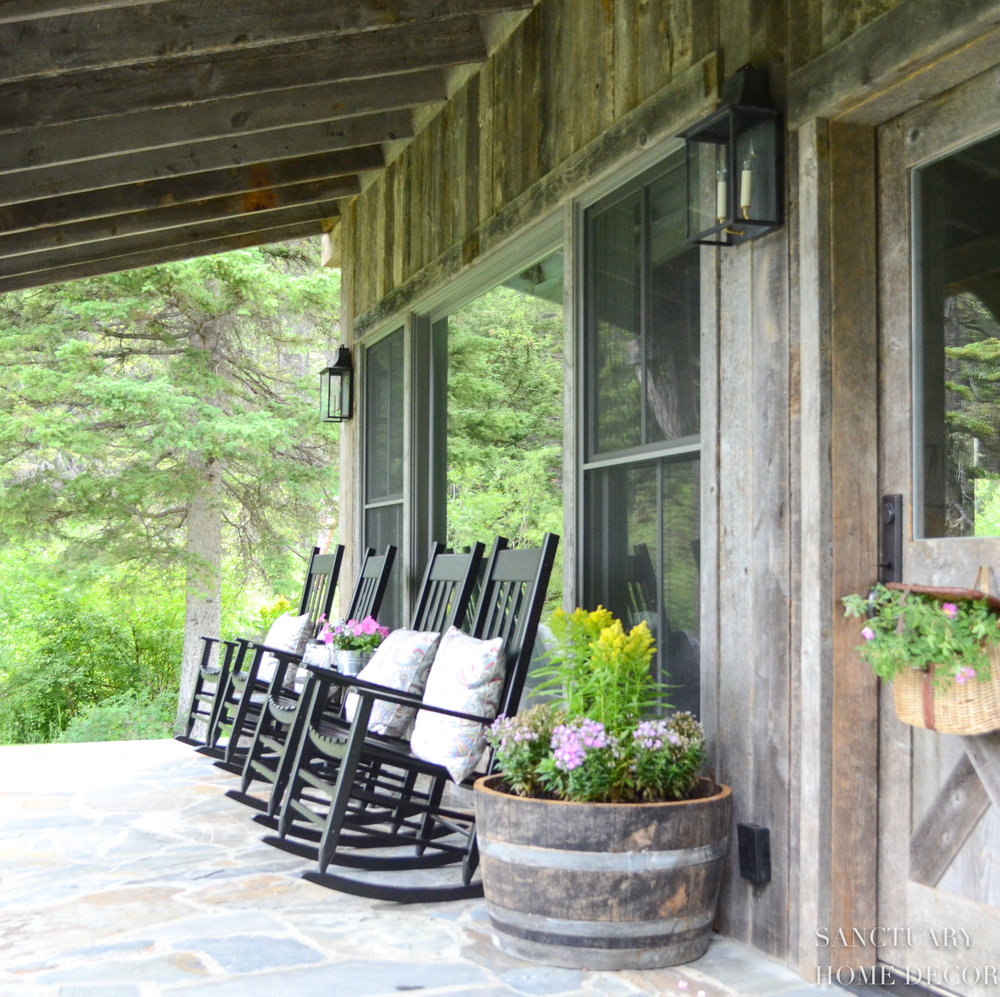 5. A WESTERN BAR
We entertain A LOT during our summers at the ranch and that often includes evening cocktails or a glass of wine. We decided to design a walk up bar between the dining room and living room, including a wine refrigerator. This room already had rustic hand hewn beams, so adding reclaimed wood cabinets and a paneled wine cooler made perfect sense. This has been one of the best additions to our ranch not just in it's utility but because the style feel just right in this room.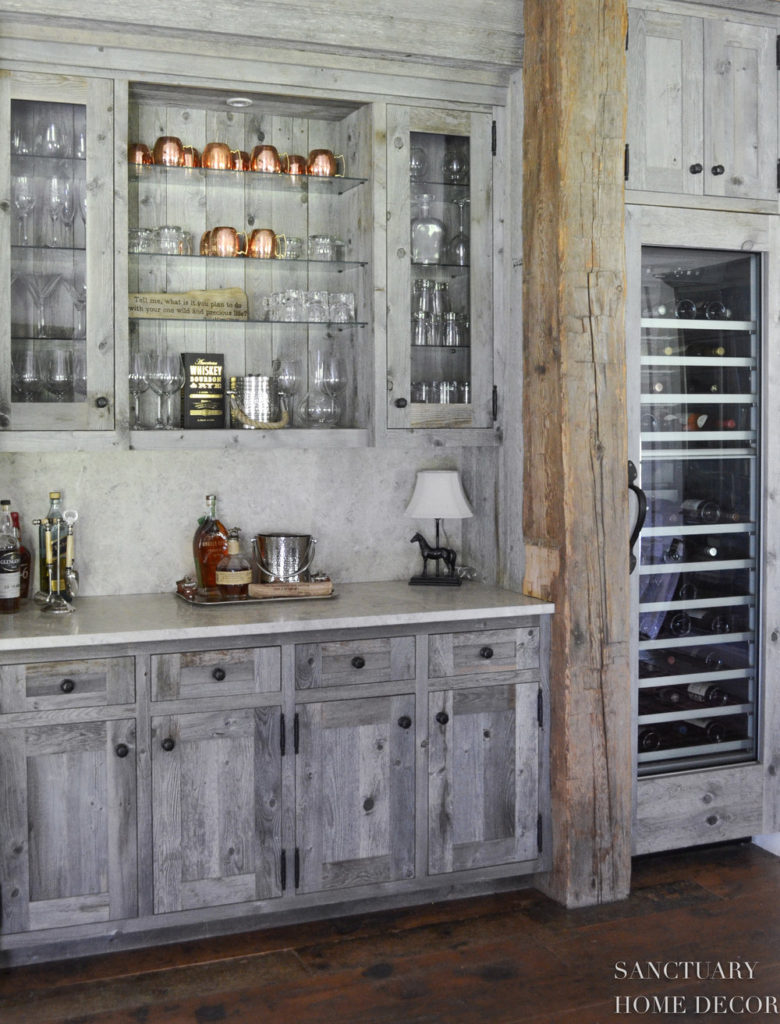 6. A LIVING ROOM ACCENT WALL
When we were designing the guest house, we planned to do simple white walls with some warm wood accents…then the reclaimed wood bug hit us again. We ended up using vertical planks in the living area and continuing up the stairwell. This wood was a soft gray and added just the right amount of color without being too rustic or overpowering. It is one of my favorite rooms at the ranch.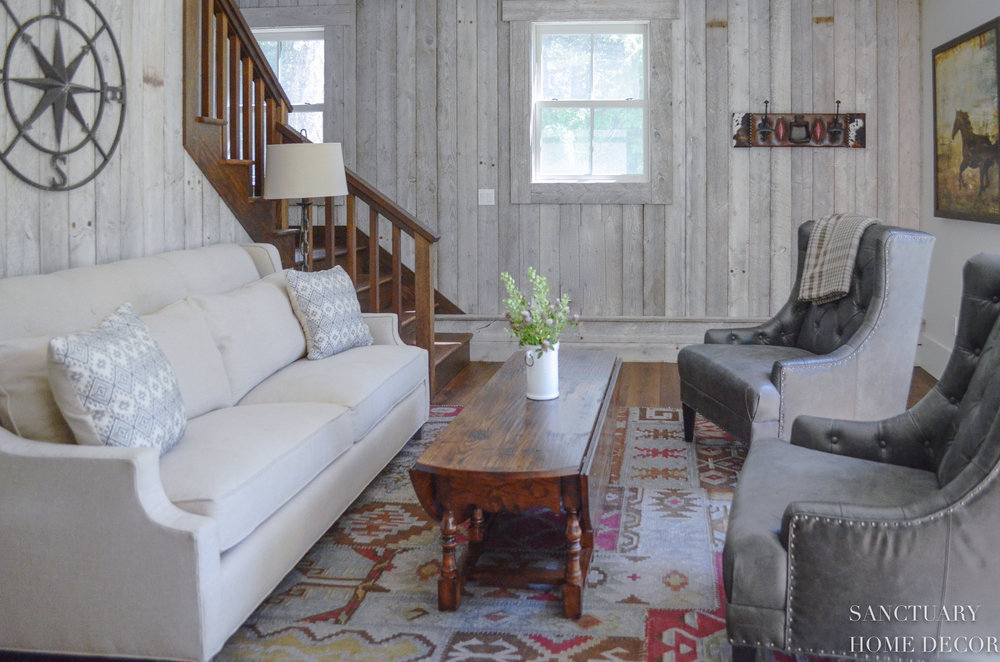 7. BUILT-IN BEDS
What could be more cozy and inviting than a built in bed in an attic bunk room!? These twin beds were built as simple platforms with drawers underneath. Cubbies hold books or electronics and electrified lanterns add a charming western touch.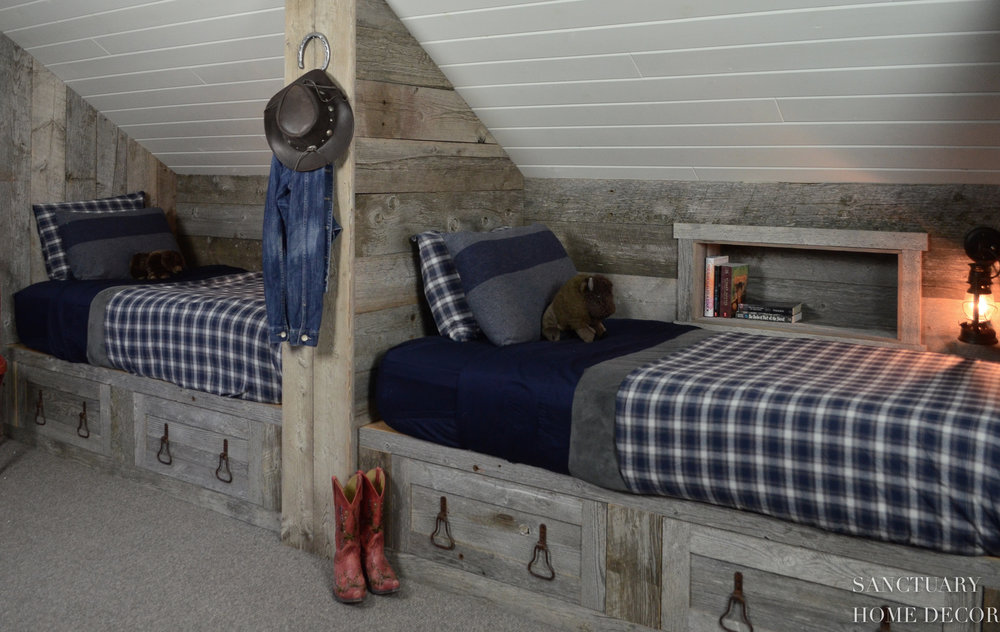 We created the same look on the other side of the room with two double beds. I shared all of the details of our attic bunk room makeover on the blog a few months ago. You can see that post by clicking the link below.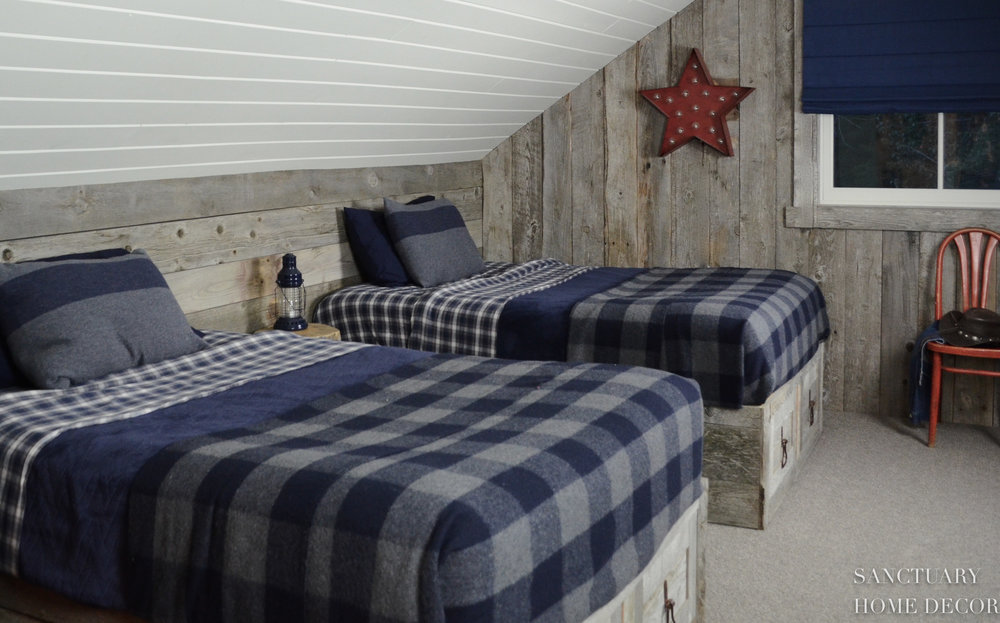 8. BATHROOM CABINETS
We couldn't design that adorable attic bunk room without adding in a coordinating bathroom, could we? This simple vanity was inspired by the classic double sink that I just fell in love with. We designed a simple cabinet door with a subtle western design and then I chose rusted hardware to complete the look.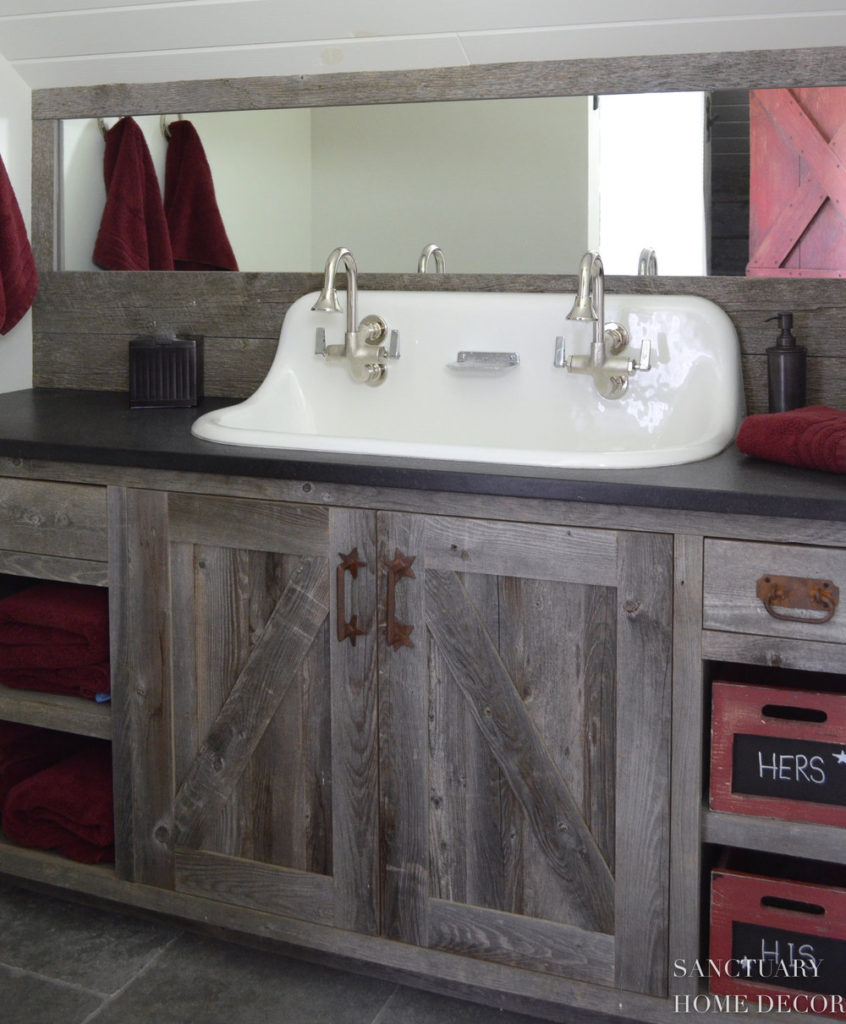 9. WOOD BEAMS
When we were building our house in Southern California, we really wanted to add just a little touch of Montana to the design. We decided to see if we could get our wood supplier in Montana to ship us some beams for our living room. They agreed and that started us thinking…where else could we add that warm, rustic touch we so loved?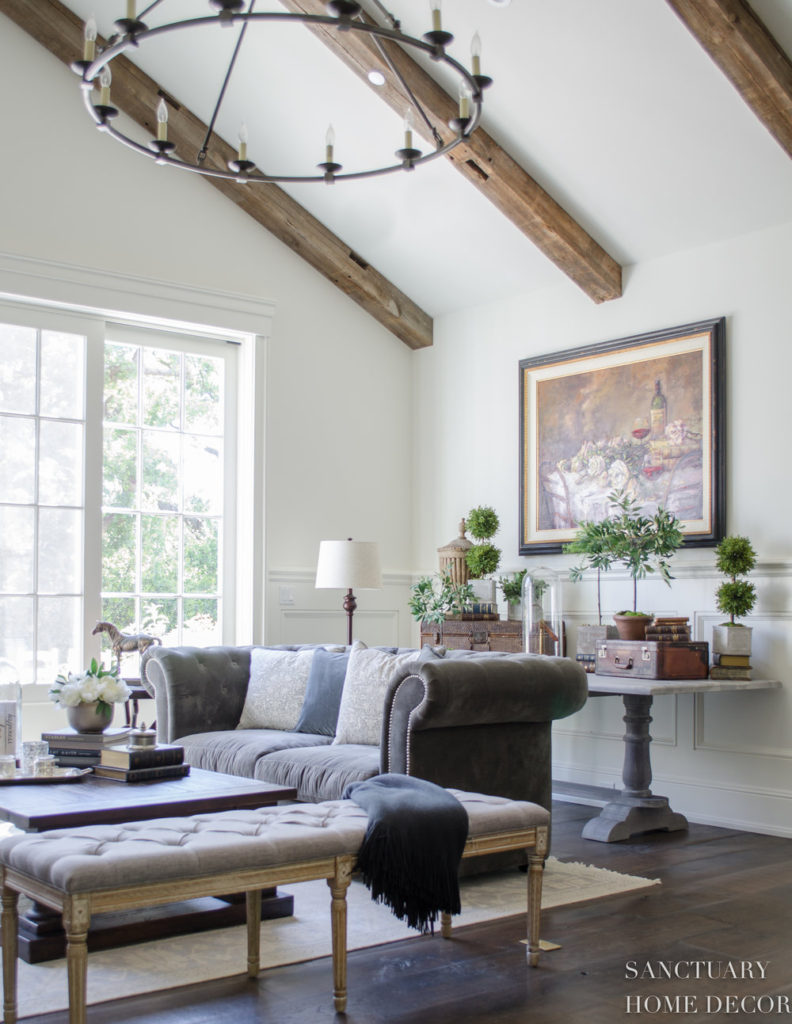 10. A STAIRWAY ACCENT WALL
It didn't take us long to decide where to incorporate our beloved wood planks. The two story wall leading up the stairs was a vast white space, just begging for some warmth.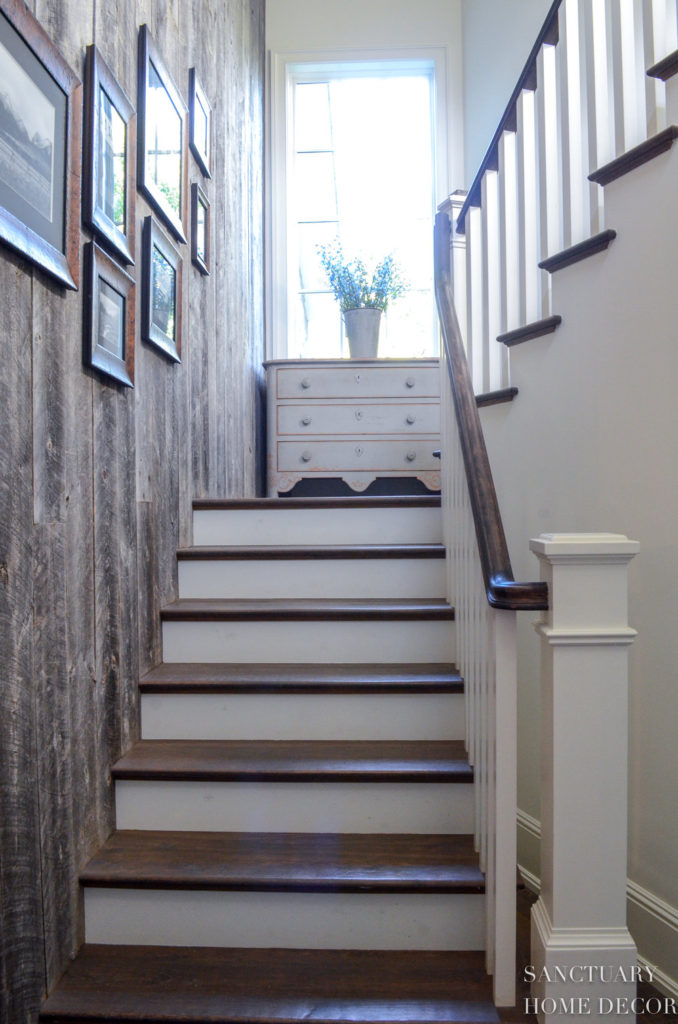 The vertical wood planks added just want we were looking for…a little Montana in a more elegant farmhouse design.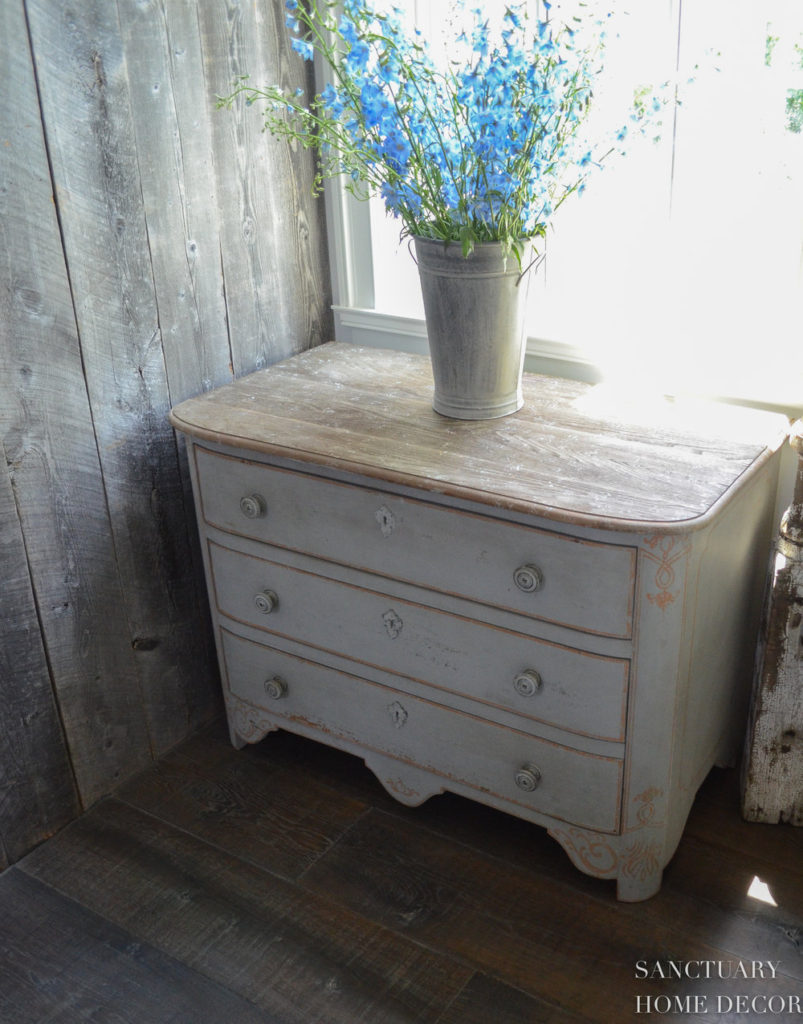 11. A STUDIO ACCENT WALL
A couple weeks ago, I shared the transformation of our guest cottage to my new flower studio. It is a lovely, creative space that I absolutely adore. One of my favorite features is the vertical barn wood accent wall that intersects with the horizontal shiplap boards in the rest of the room. It honestly makes me think of our ranch every time I enter the room and puts an instant smile on my face.
You can see all of the details of my new flower studio, by clicking the link below.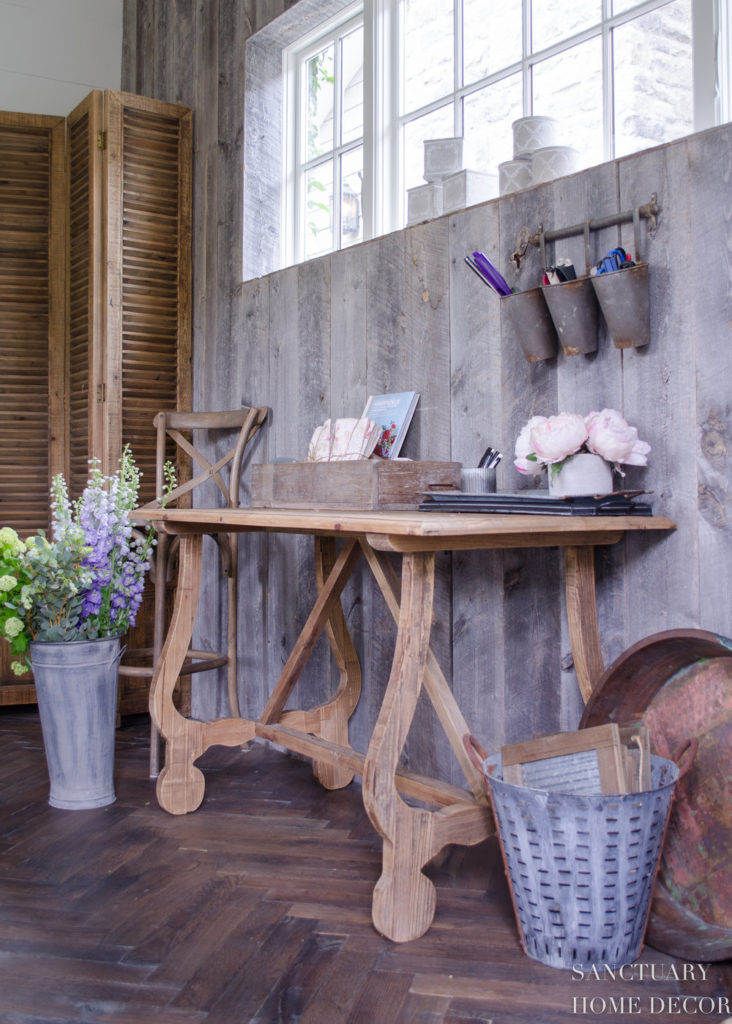 12. A BARN
And finally…the barn. What could be more obvious that using barn wood for a barn?! Seems pretty straightforward, right? Well not really. You see, this barn is at our home in California, and we live in a community with very strict architectural standards. When we proposed putting barn wood on our barn, they did not initially agree. It took a lot of convincing to get the committee to come to their senses and we finally got our barn wood barn.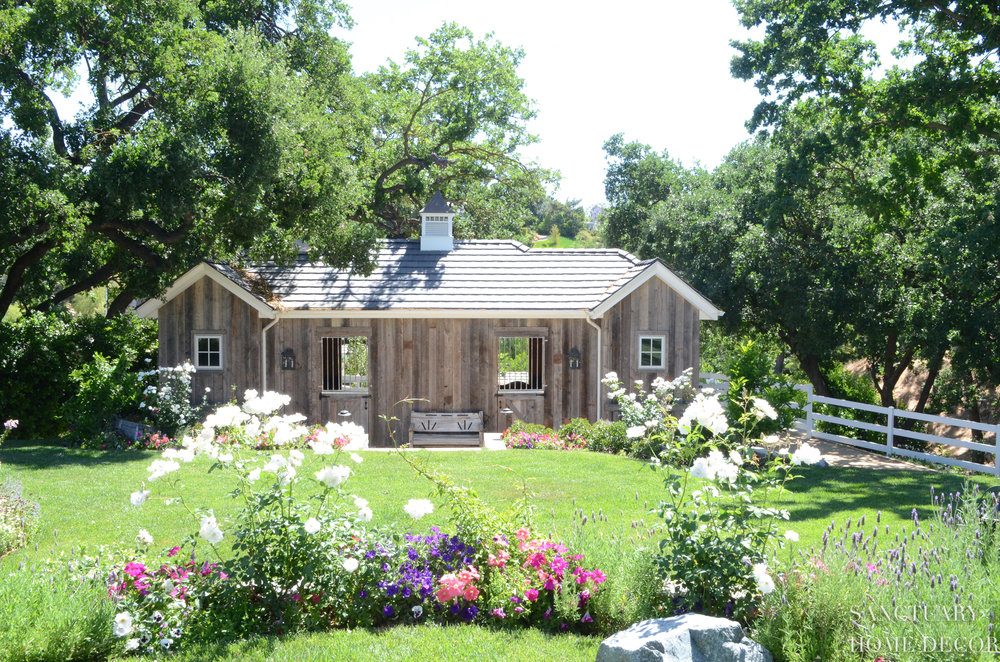 The funny thing is, after our barn was built a reclaimed wood craze happened in our community. There are dozens of homes now using old barn wood on the exterior and interiors of their homes and it looks beautiful!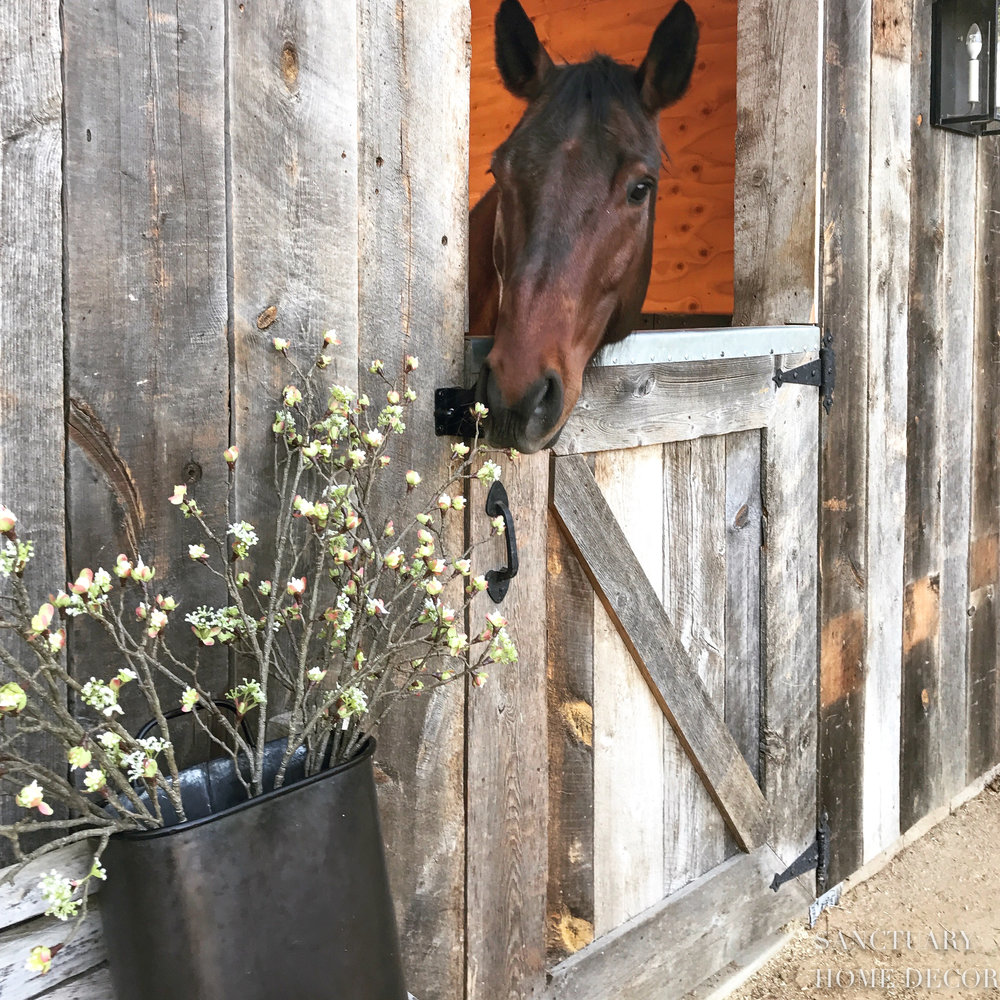 We never intended to use reclaimed wood in so many ways in our homes. It was born from a love of the warm, vintage feel that it brought to every space we used it in. We are true fans of this beautiful material and will continue to find ways to add it to our designs and decor. Maybe you will be inspired to consider it as well!