The Joy of Summer Porch Sitting
Hello Friends! I'm so happy you stopped by today! If you are coming over from Noting Grace, welcome! We're talking all things porches on the Summer Blog Hop today. I had planned to give you all details of how we furnished our porch (and you will find those at the end) , but instead I wanted to take a moment to describe the joy of long summer days sitting on a porch.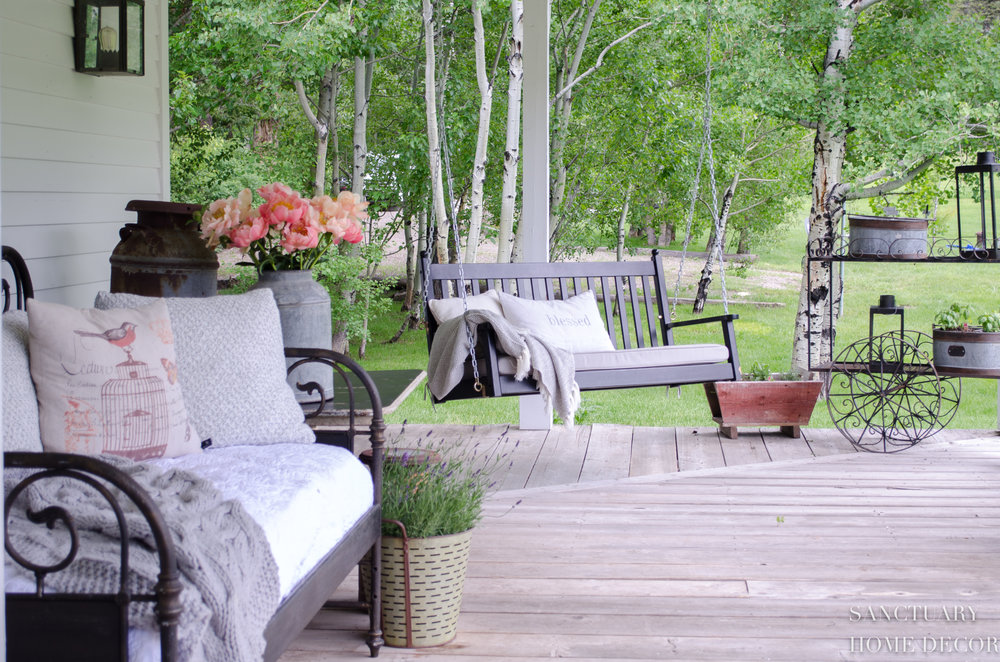 It has something to do with a comfortable rocking chair or a slightly squeaky porch swing or a table set with just the right amount of casual and cozy that creates the magic of sitting on a porch. Time passes slowly and yet you could spend the whole day there…we often do. I am sitting in one of those rocking chairs right now as I write this.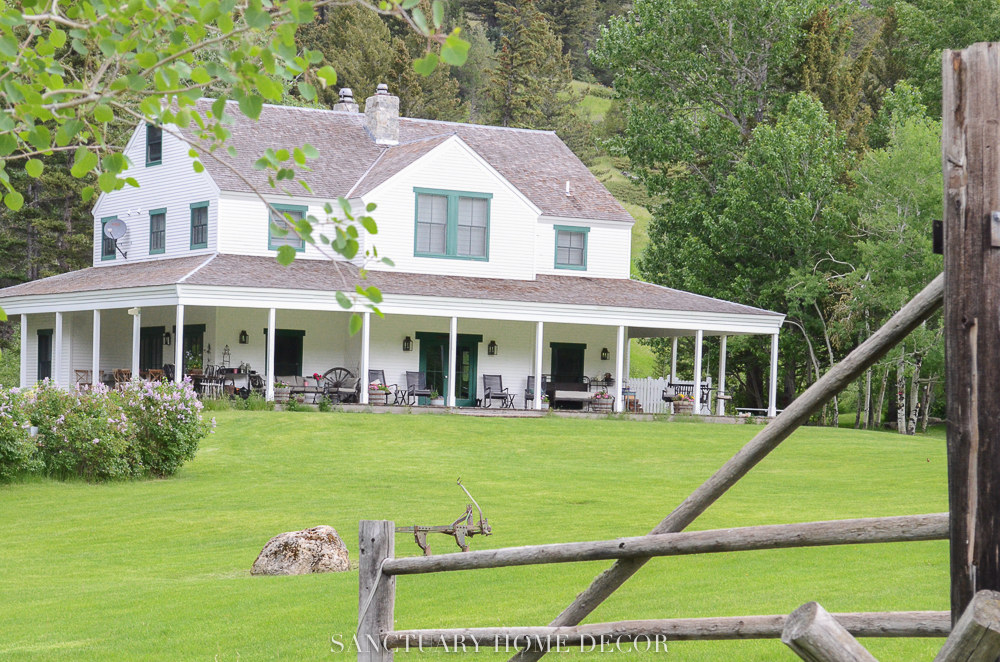 I am the first one awake today and I hear the ever present sound of the running creek, soothing and calming in its consistency. There is a cool breeze coming off the Eastern mountains and steam rising from the wet grass in the meadow. The birds are just waking.
It is not hard to sit still here, in fact, I think this is the reason we bought this old house, because we knew this porch would call to us.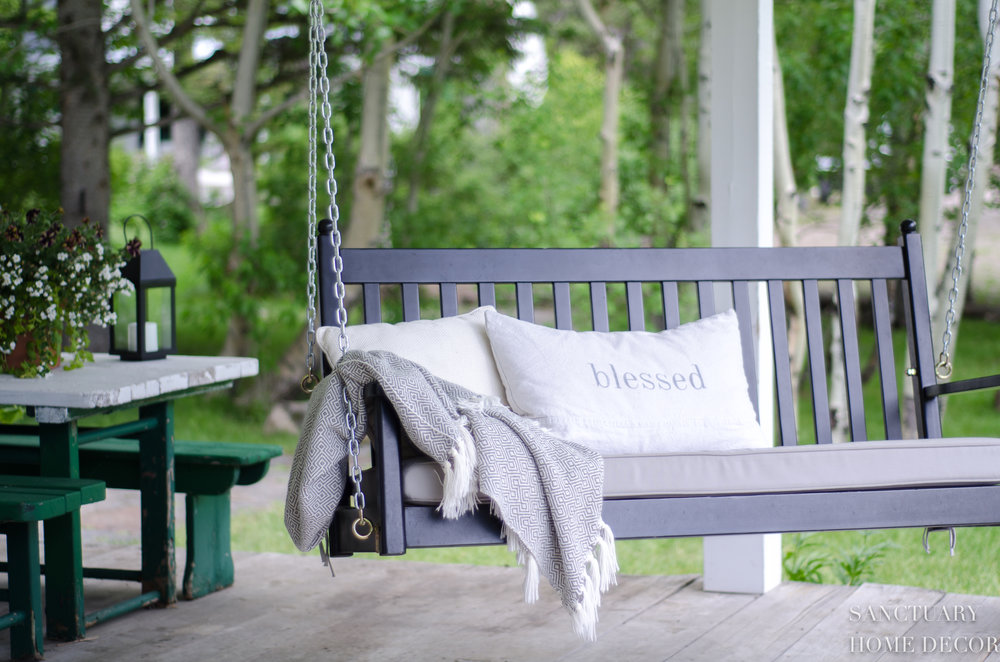 It asks us to be quiet and read a book with a hot cup of coffee in the morning or a cold glass of tea in the heat of the day. It allows us to spend time with friends and family in the early light of day or as the moon rises. It says, come swing or rock while you have a conversation that is long overdue or gives you a new perspective or idea.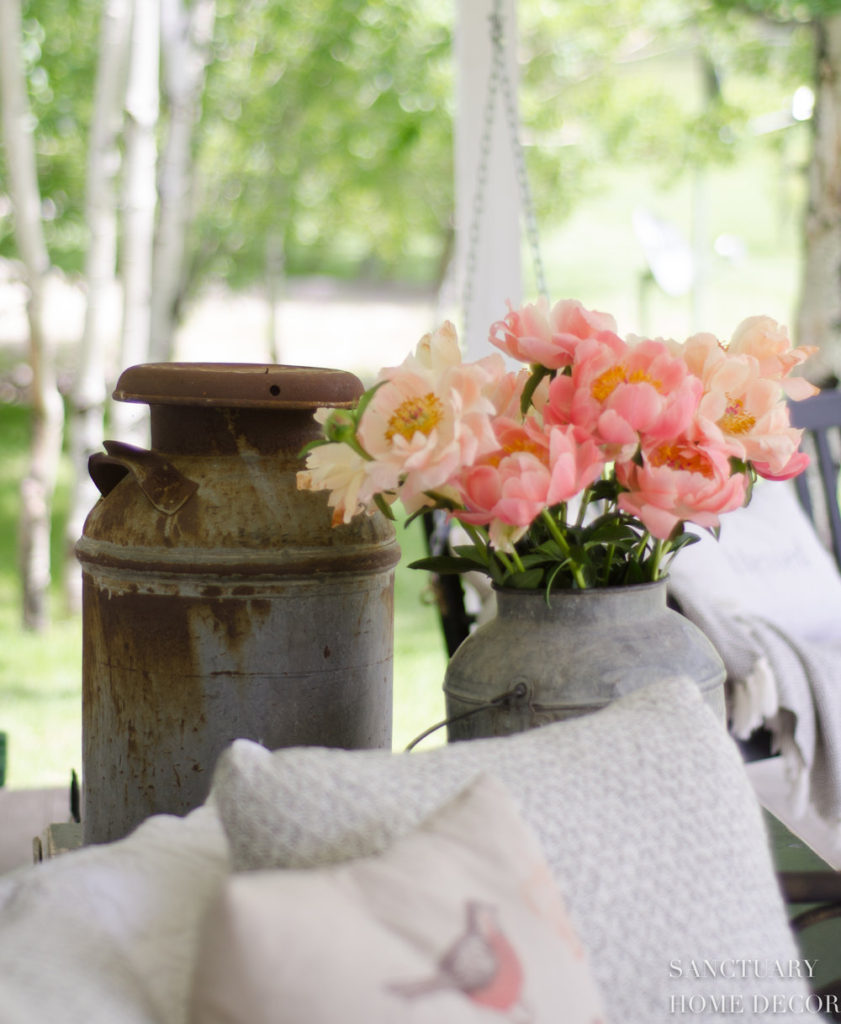 It is not necessary to talk or read…it is okay to just sit.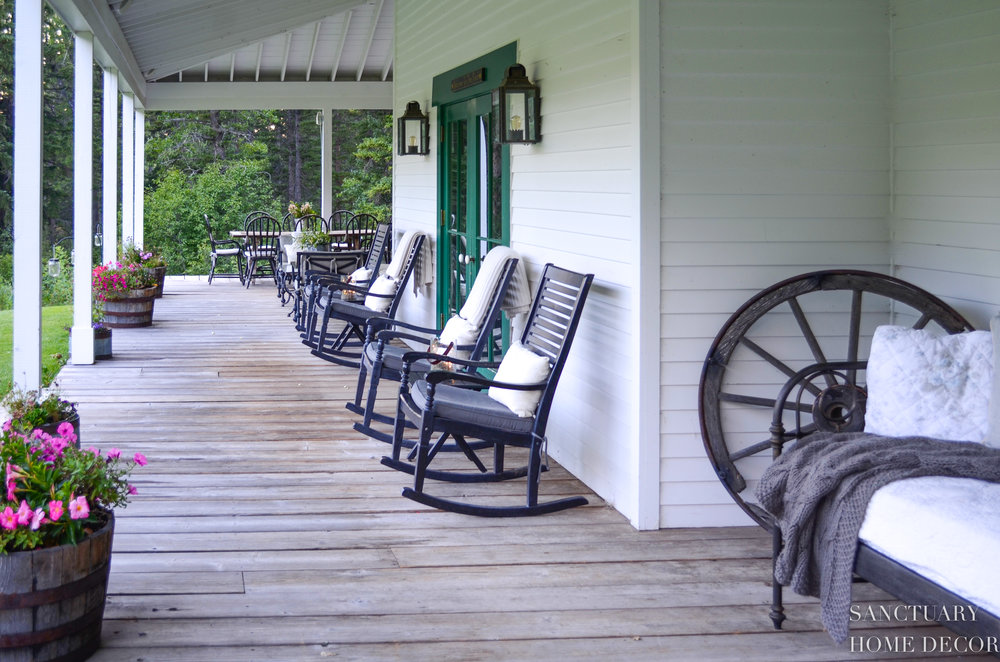 To watch the leaves flutter in the breeze or the grass grow. To see the dogs race down to the pond to chase a family of ducks or roll in the grass in the afternoon sun. Nothing needs to be said…rocking or swinging is optional.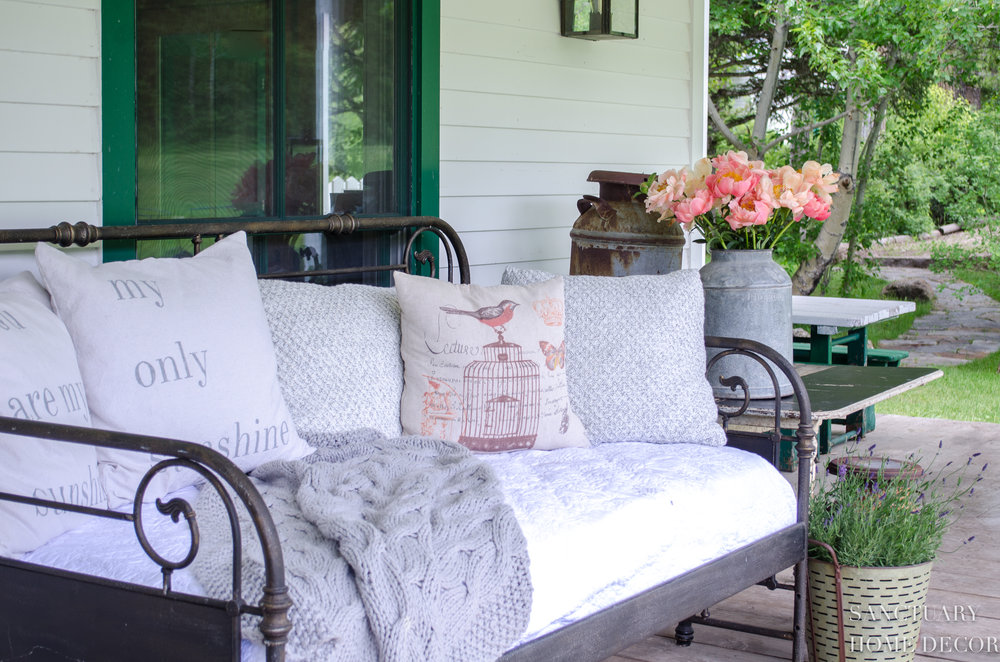 Napping is a must. After a long day of fishing, gardening, cooking…a short nap with the sound of the creek in the background is just what the doctor ordered.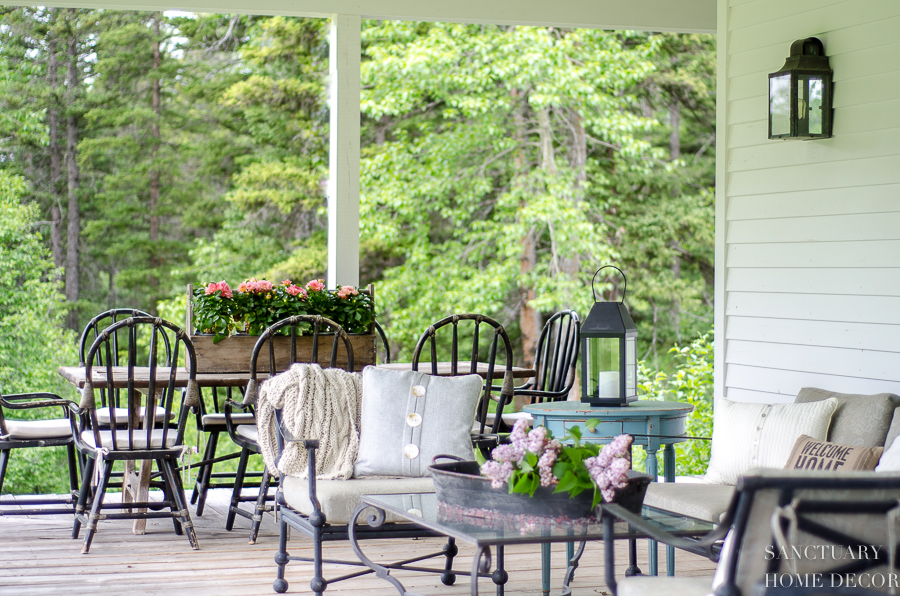 And as the activities of the day come to a close, the anticipation of a shared meal looking out over the creek and meadow sets in. We sometimes all fit at one table, but often have to push two or three tables together and bring out extra chairs to accommodate family, friends and neighbors who join us.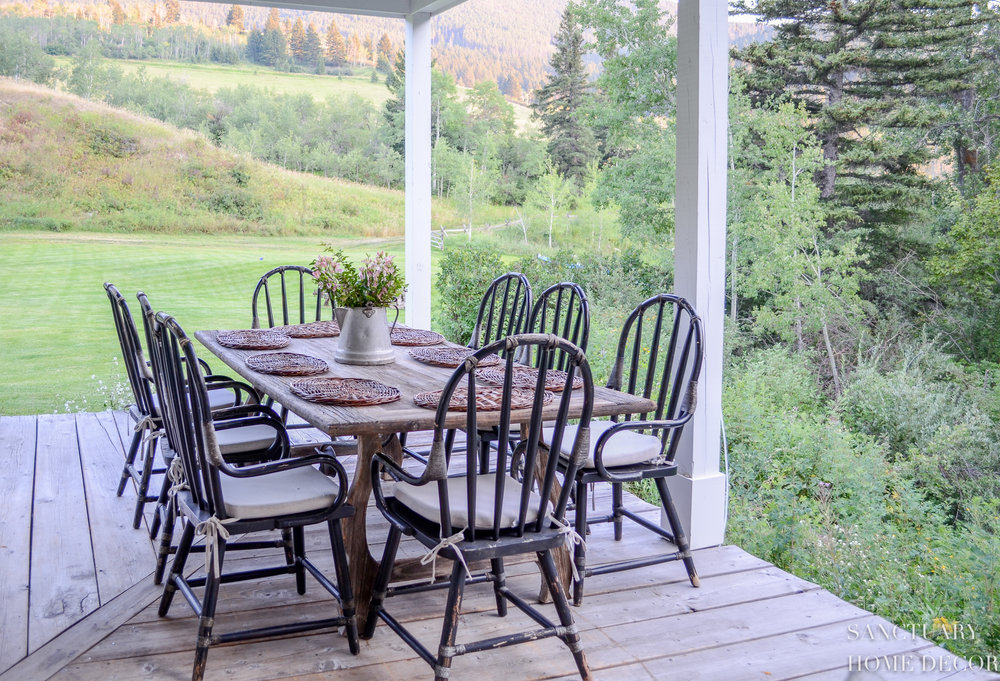 The sound of the creek fades to the background over the laughter and animated conversations that happen around the table. There are stories told and re-told and the tradition of a quote or two read from a dog-eared book. New friendships are forged and we are reunited with family we have not seen in quite some time.
We are blessed to experience the joy of porch sitting. We look forward to it every year as we prepare to leave our busy lives in Los Angeles and settle into the slow summer days in Montana.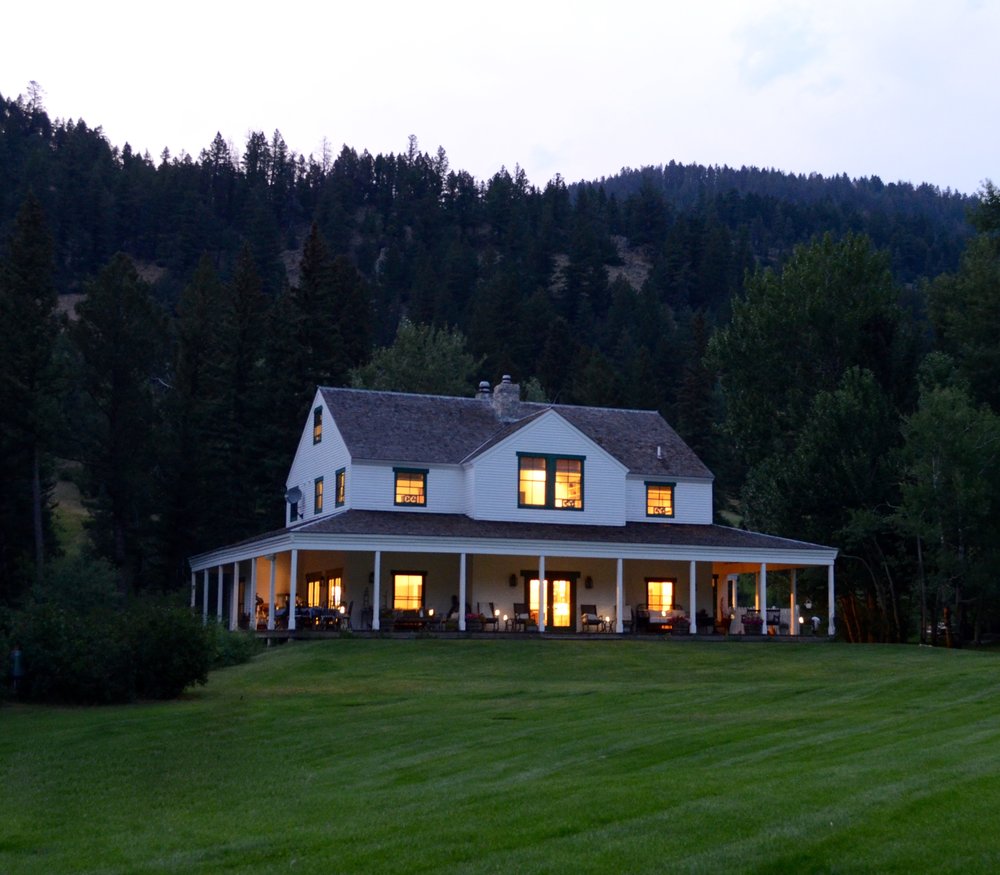 Scroll down to SHOP MY PORCH and to see the other amazing posts on the Summer Festival Blog Hop!
Next up is Cindy at COUNTY ROAD 407! New posts everyday this week!!

Vignettes on Monday
Joy In Our Home | The Painted Hinge | Honey n Hydrangea
My Creative Days | Follow The Yellow Brick Home

Front Porches on Tuesday
Country Road 407 | Chatfield Court | Starfish Cottage
Noting Grace | Sanctuary Home Decor

Recipes on Wednesday
Live Laugh Rowe | Love In My Oven | The Sugar Coated Cottage
Countryside Cravings | Chocolate With Grace

Tablescapes on Thursday Hood Creek Log Cabin | Making It In The Mountains | The Crowned Goat
Timeless Creations | 2 Bees in a Pod

Mantles on Friday
DIY Beautify | White Arrows Home | Repurpose and Upcycle
Lantern Lane Designs | The Latina Next Door


                
                


                    
                    
                


            
This post contains affiliate links. I have included identical products if they are still available, otherwise I have sourced similar items for your convenience. I receive a small commission if you purchase something, but you do not pay a penny more.