How to Decorate With Gold and Blue for Christmas
I wanted to do something different this year. I have used so many different color combinations in my Christmas decor over the years that I thought there weren't any new possibilities, then I realized that I had a new rug in my living room and that was the inspiration for this year's color combination. I decided to use warm gold and copper tones mixed with subtle blue accents to create a natural and festive look. Scroll down to see my tips for how to decorate with gold and blue for Christmas.
This post contains affiliate links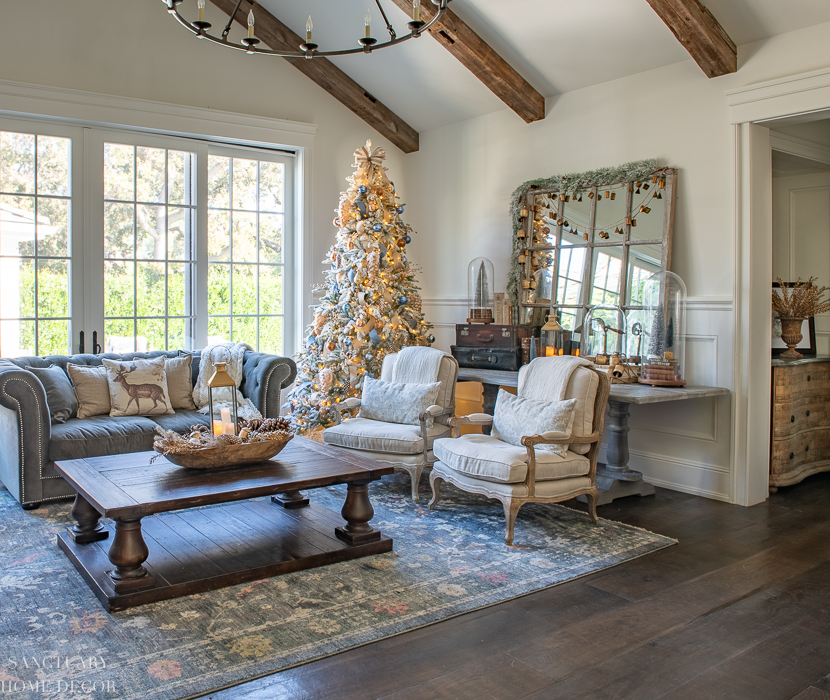 The inspiration for my holiday color palette was this beautiful rug that currently takes center stage in my living room. Because it makes a strong color statement, I didn't want to ignore it in my decorating plan, so I decided to embrace it.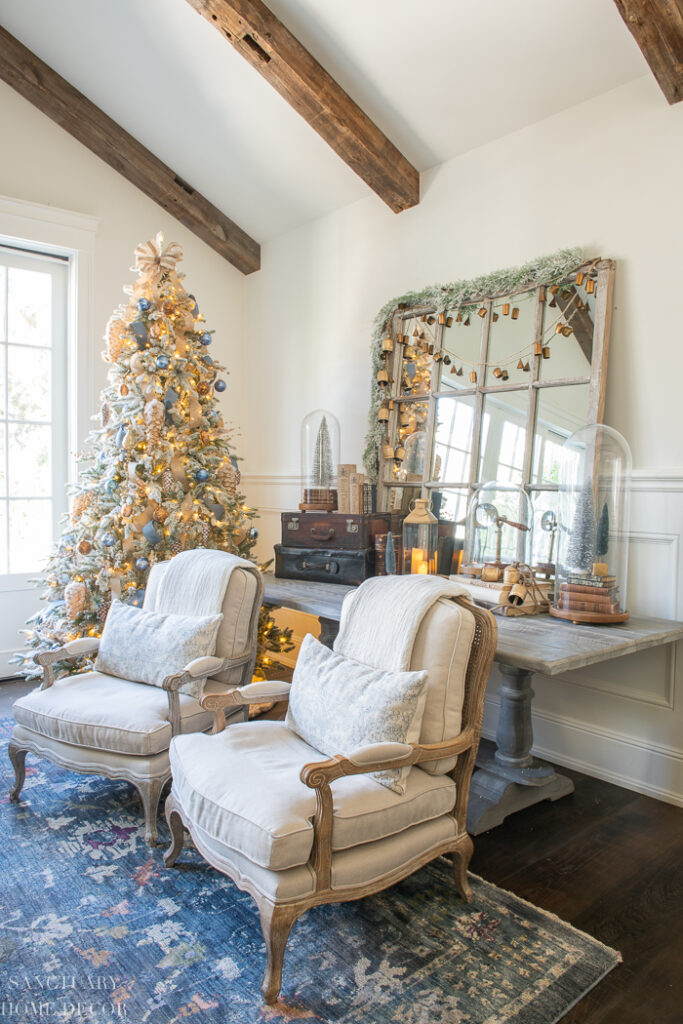 I started by decorating the oversized table that sits against the far wall of our living room. The mirror that sits atop the table is a perfect place to hang garland and other holiday decor. I hung a softly frosted garland, asymmetrically, and then added two lengths of small gold bells. On the far side, I added a larger bell garland to make a stronger statement.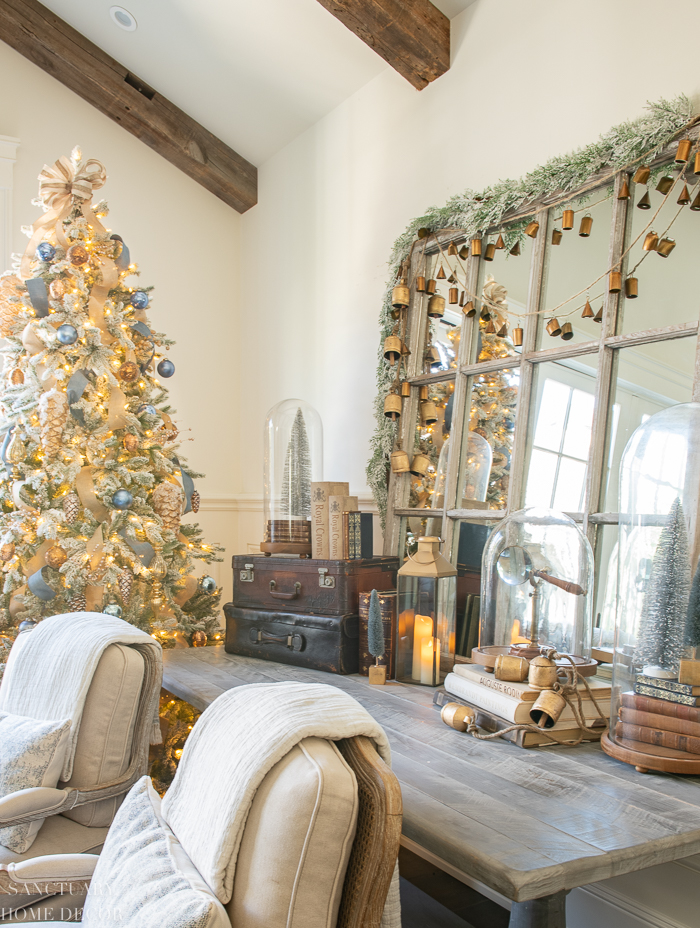 On the table, I stacked my favorite vintage suitcases and books and topped them with oversized cloches filled with leather-bound books and soft blue bottle brush trees.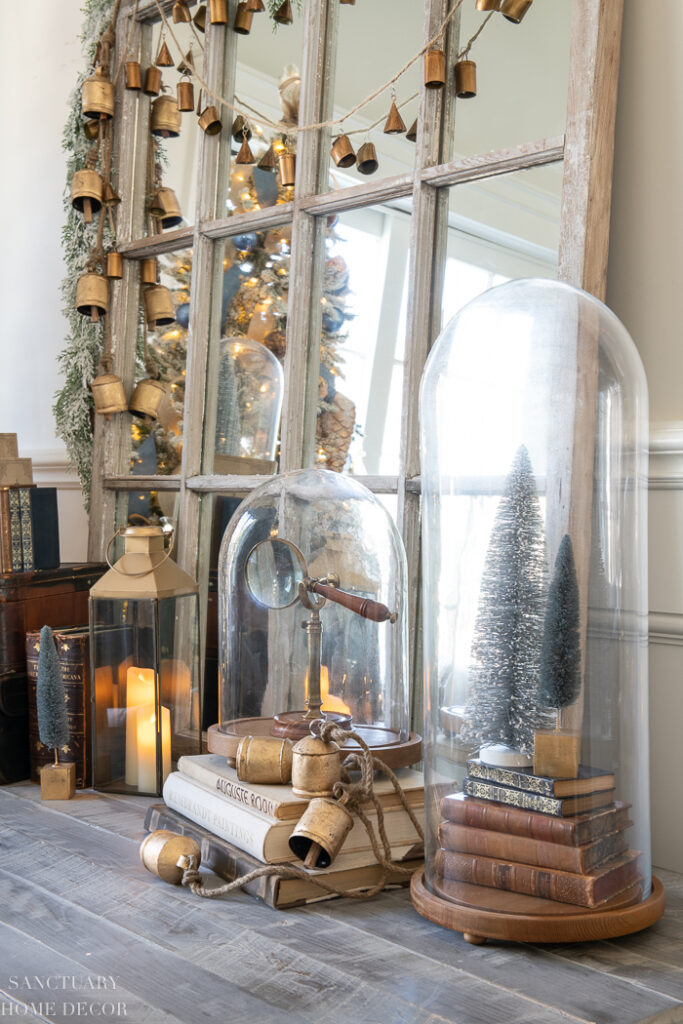 I finished the look with another garland of bells and a soft gold lantern with led candles.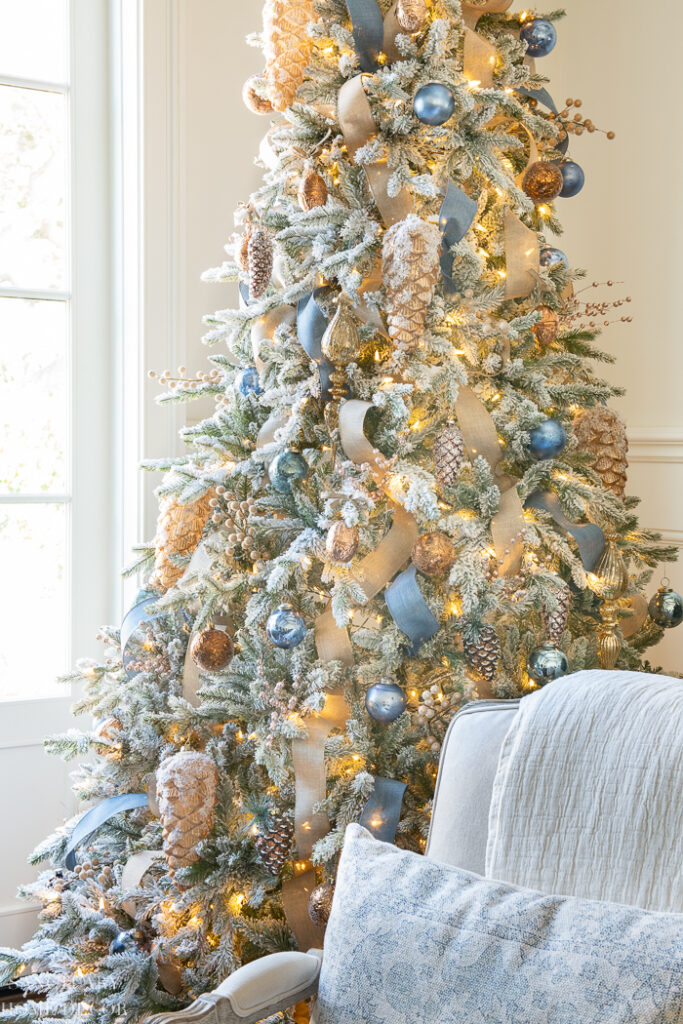 Decided to start my tree decorations with a wide linen-colored ribbon. I then layered in a blue linen ribbon to establish the base colors for my tree. I sprinkled in warm gold and subtle blue ornaments and added some brighter copper colors for a bit more contrast.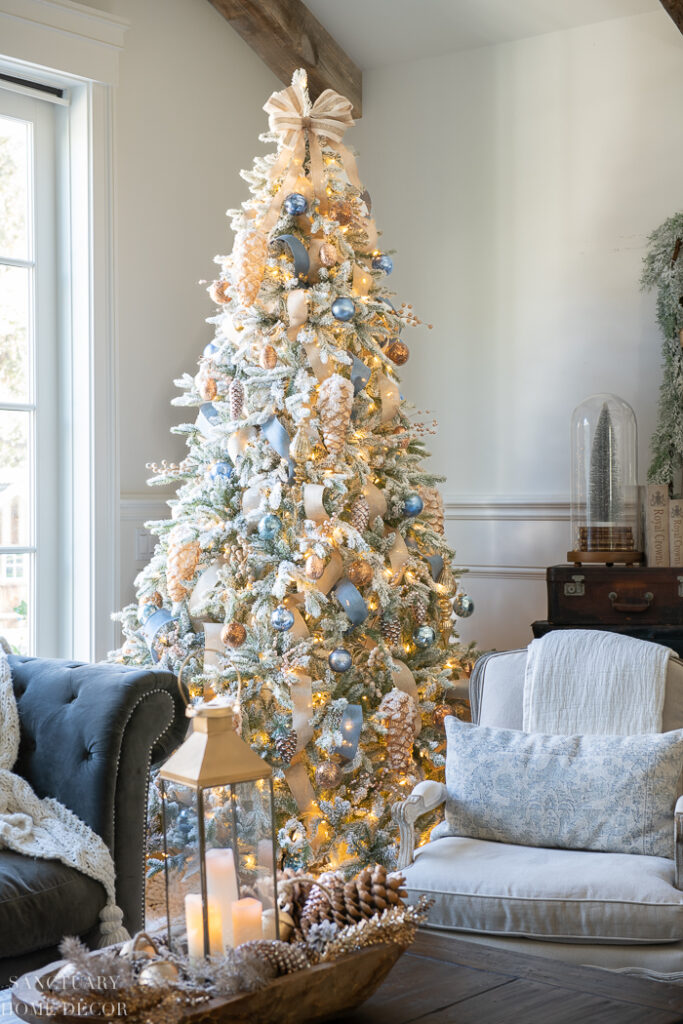 I finished the look with a simple linen bow on top of the tree.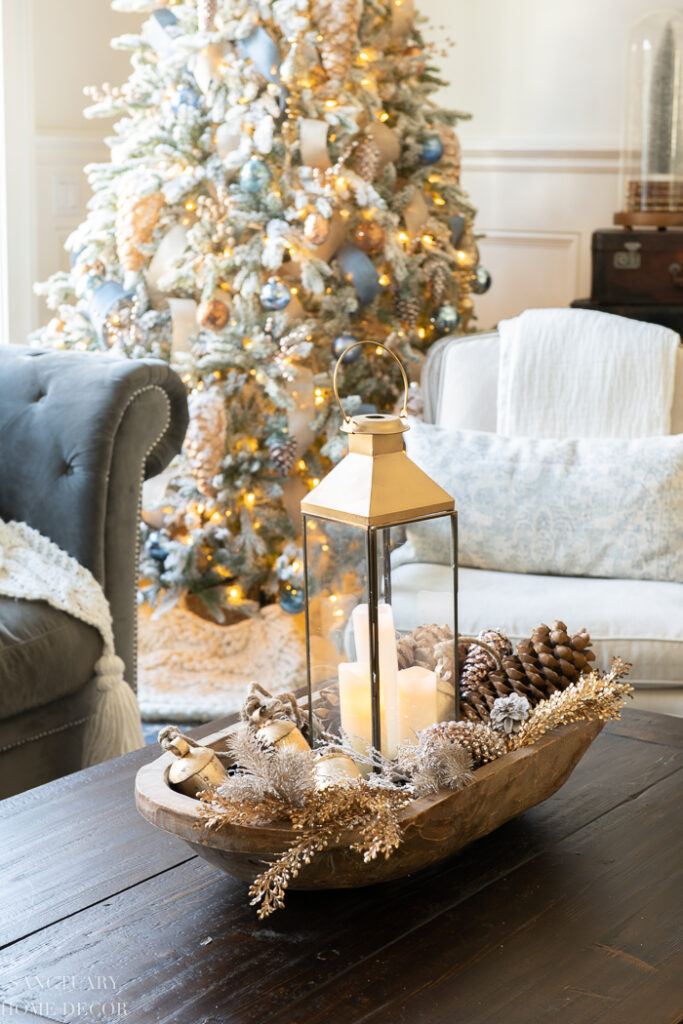 On the coffee table, I created a neutral centerpiece in my favorite dough bowl. I started with the same lantern that I used on the side table placed in the center of the dough bowl. (I propped it up with a couple of small books) Then I filled in with various size pine cones and gold and platinum branches. Lastly, put in a final garland of gold bells…do you see a theme here?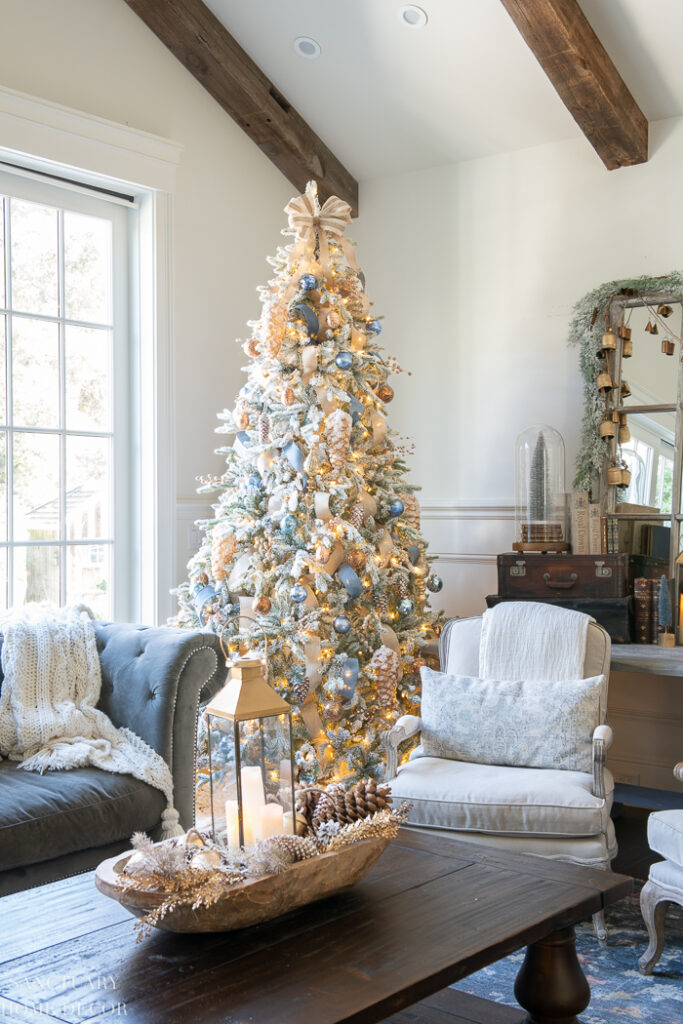 I love how the soft colors in the dough bowl repeat the colors on the tree and side table.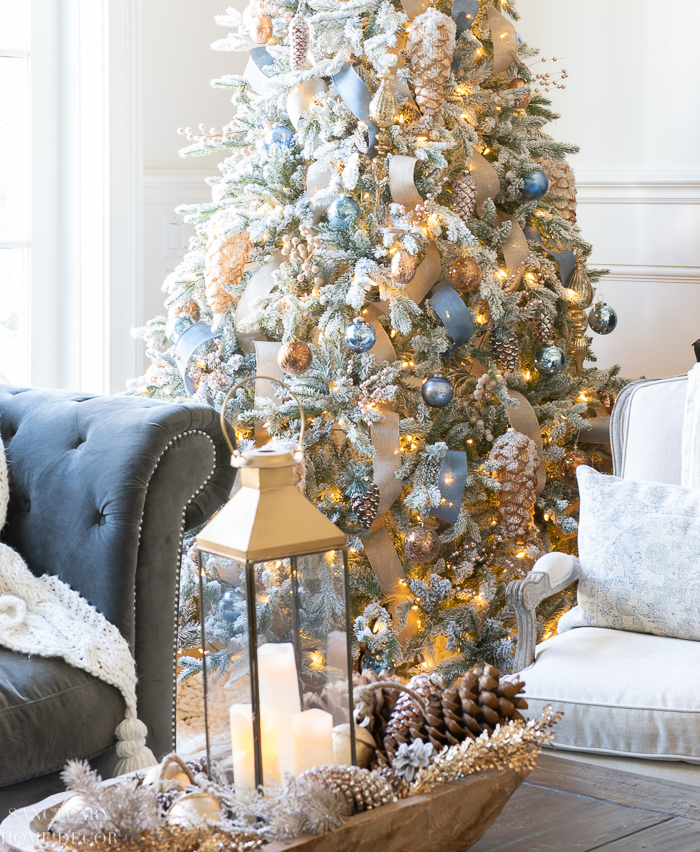 The final look is soft and warm and does not feel out of place in my home. I am thrilled with the overall look and while it is definitely Christmas, it is subtle and not over the top.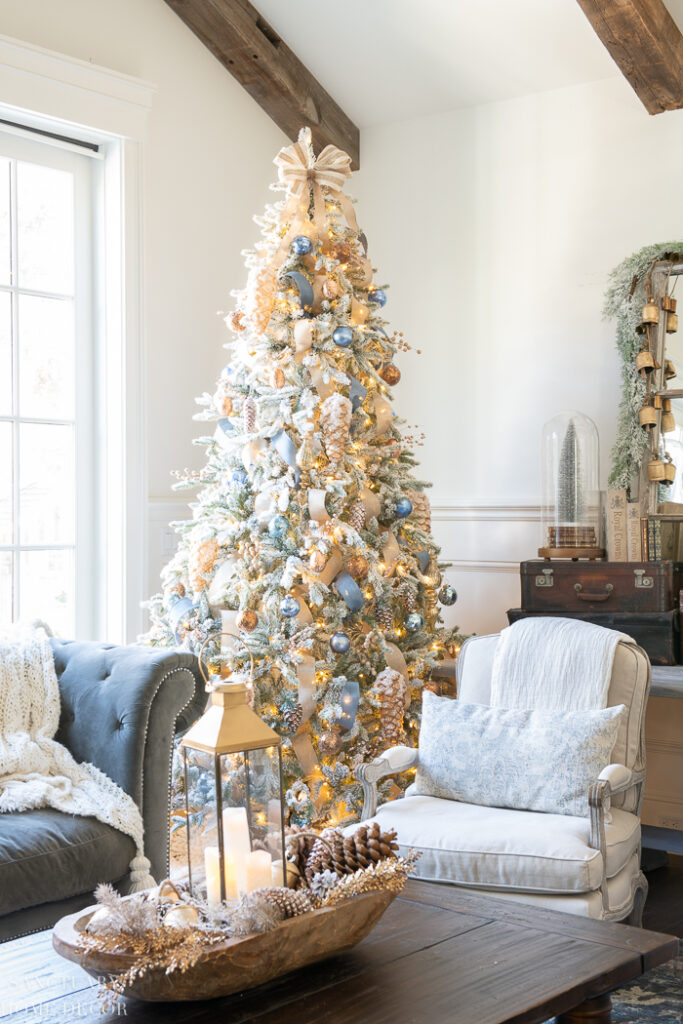 I hope this gives you some ideas about how to decorate with gold and blue for Christmas. I'm moving on to the family room, kitchen, and dining room next. Be sure to check back for more in the coming weeks!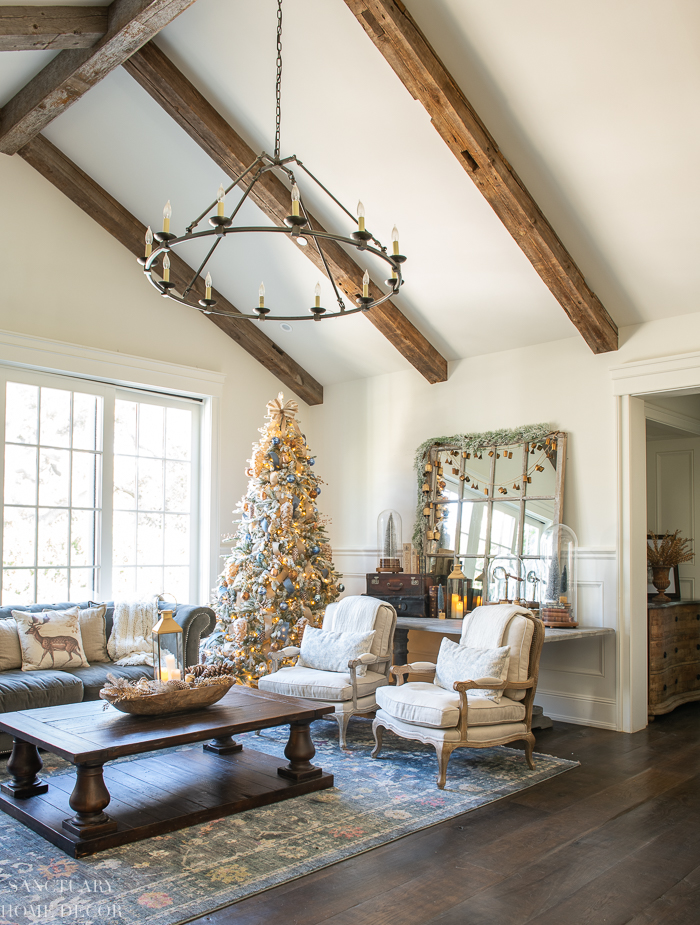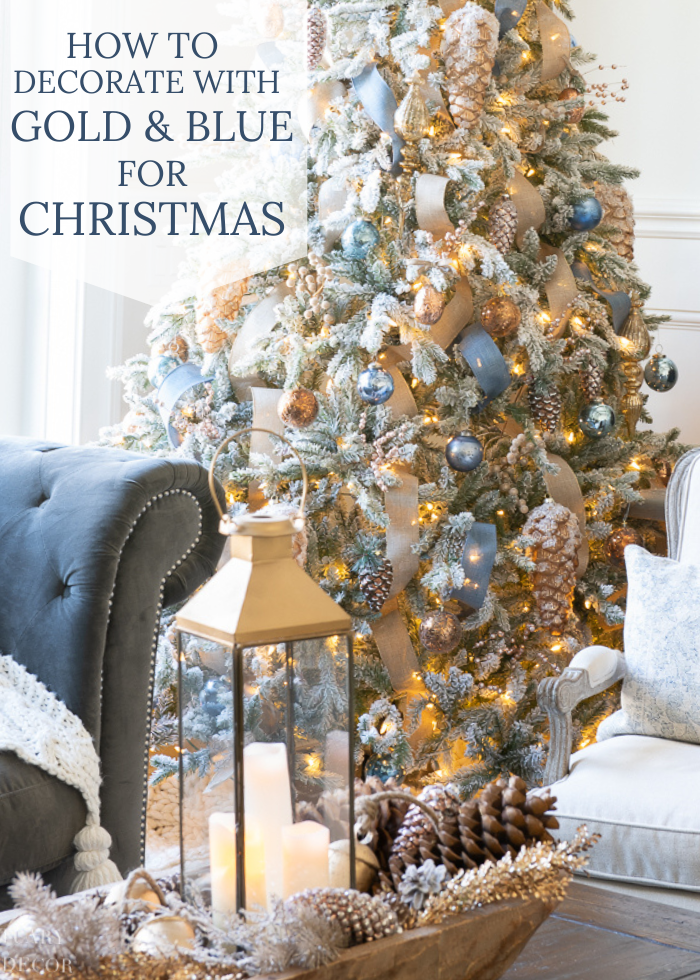 Looking for more Christmas inspiration? Check out the post below