The Best Holiday Cocktail Party Ideas
I'm excited for the holiday season this year! I missed having cocktail parties and Christmas gatherings last year so I am planning several fun get-togethers this winter. I especially love cozy cocktail parties with a small group of friends, so today I am sharing the best holiday cocktail party ideas that will make your next gathering easy and special!
Idea #1 – Start With A Signature Cocktail
When we are hosting a cocktail party, I like to include one or two "Signature Cocktails" on my menu. There are so many great recipes for fun and unique holiday drinks that can be served in specialty glasses. This will elevate the mood of your party and also be a great conversation starter! It is also a good idea to choose drinks that can be mixed ahead and then served over ice or easily shaken to save time!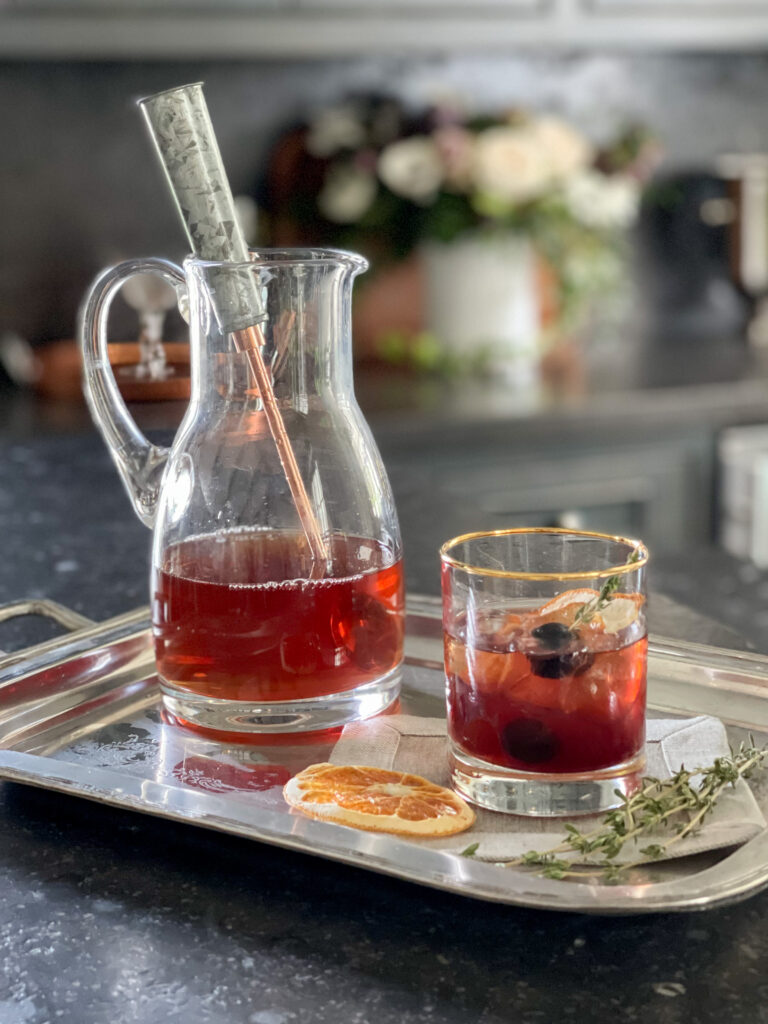 One of my favorite sources for holiday cocktail recipes is Half Baked Harvest. Tiegan has such unique and beautiful concoctions and they are always a big hit!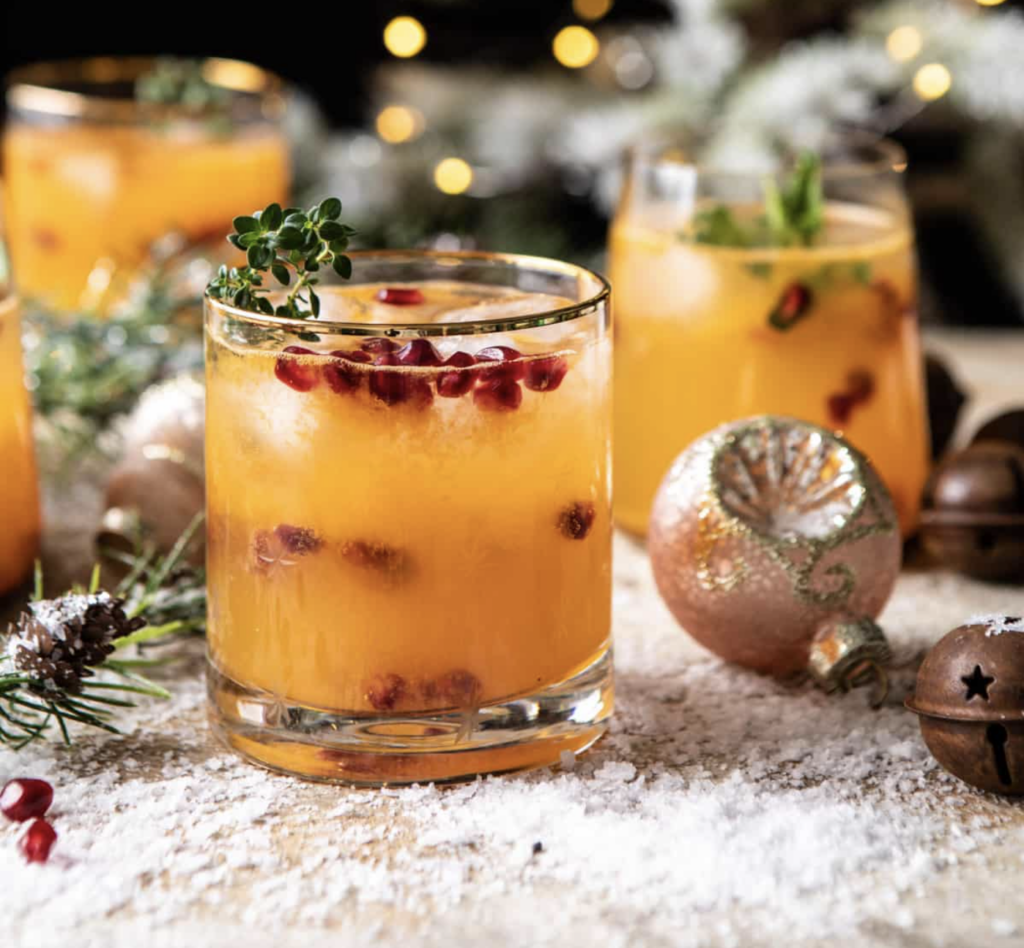 This Holly Jolly Christmas Citrus Cocktail is delicious and so beautiful and can be mixed in advance!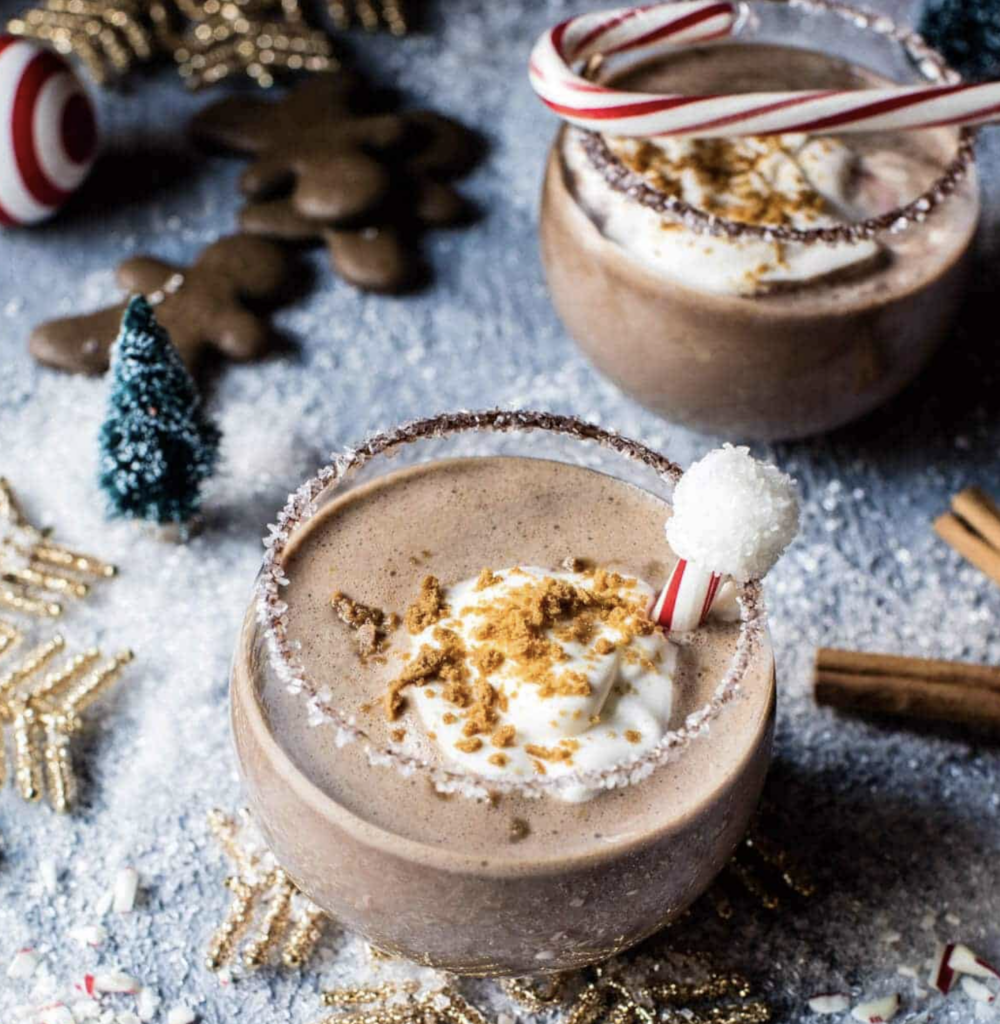 If you're looking for something decadent and yummy…almost like dessert, try the North Pole Cocktail from Half Baked Harvest!
Idea #2 – Include a Non-Alcoholic "Mocktail"
Gone are the days when non-alcoholic drink choices include only soda or juice mixed with sparkling water. Today there are so many incredible cocktail alternatives that will get your guests in a festive mood. One new (ish) option is distilled non-alcoholic spirits that can be mixed to create interesting and beautiful drinks. One of my favorites is from Seedlip. With three different flavor profiles, there are countless ways to mix these botanical spirits to create interesting and delicious mocktails.
I recently made this gorgeous drink using Seedlip Spice 94, grapefruit juice, a squeeze of lemon and a splash of simple syrup. I topped it with a sprig of rosemary and a fresh cranberry. So yummy!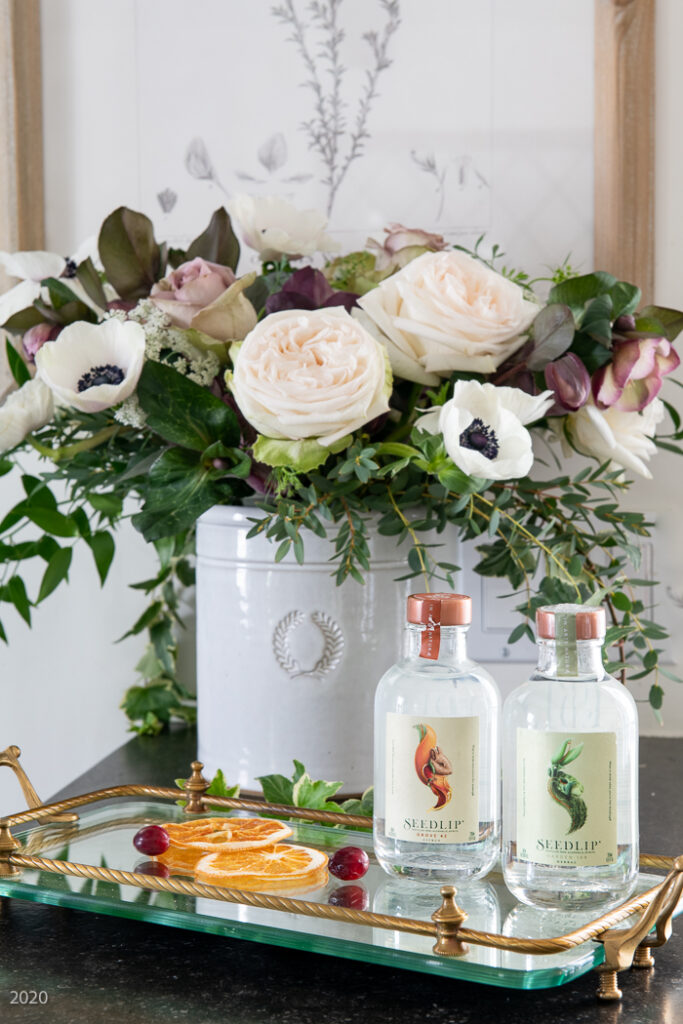 The other two varieties from Seedlip are Grove 42 and Garden 108. Both are fun and easy to experiment with to create your own unique holiday mocktail! You can download a FREE E-Book with great Seedlip recipes HERE.
Idea #3 – Break Out The Beautiful Glassware
If there was ever a time to dust off the glassware and dishes that have been sitting in the cabinet all year, the holidays are it! When creating your signature cocktails and mocktails, consider what glassware you have that will elevate your drinks and make them look even more special.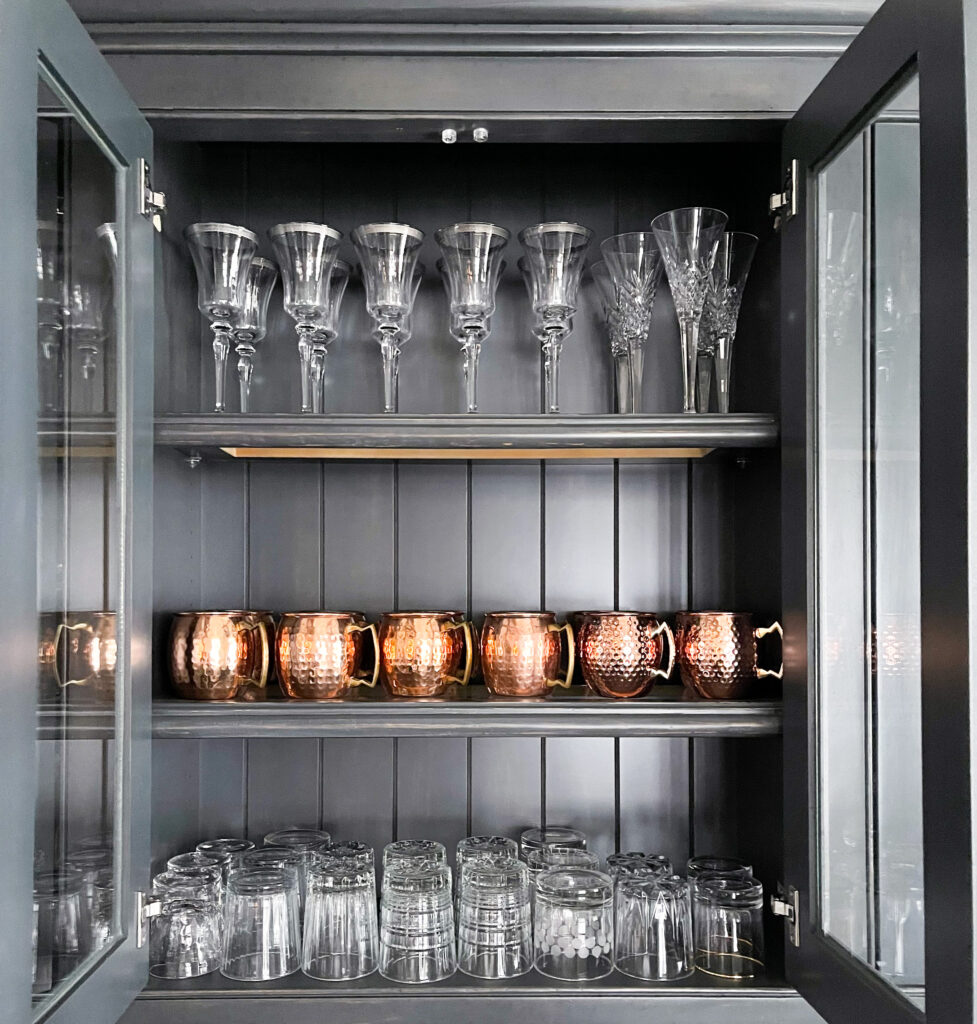 Perhaps it's those vintage coupe glasses you picked up at a flea market, or the copper mugs you bought but haven't had a chance to use. It doesn't have to be expensive, but unique glassware lets your guests know you have taken time to consider all of the details!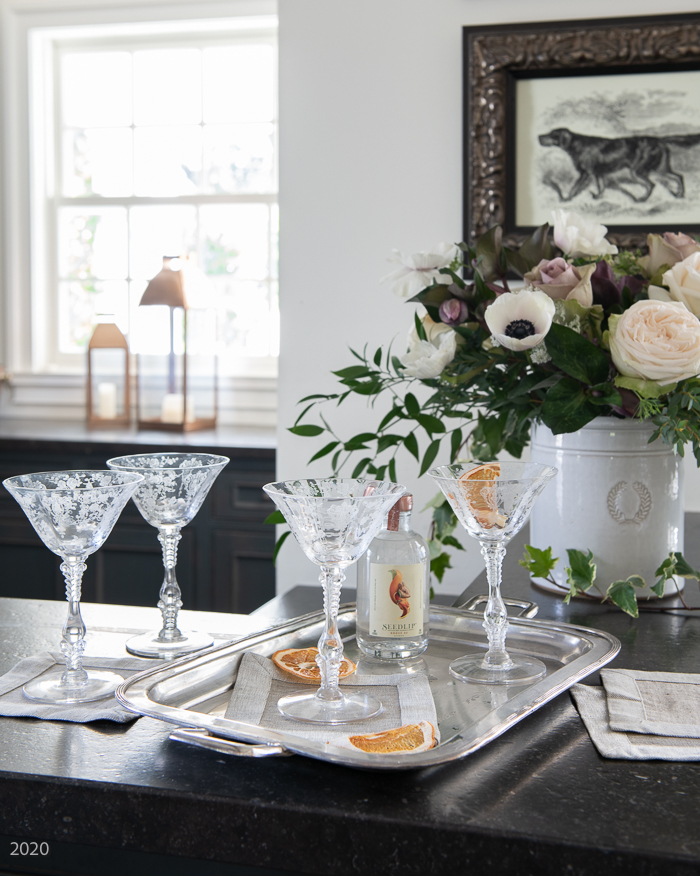 I recently got these stunning etched martini glasses from Weston Table. They are my go-to online shop for gorgeous, unique entertaining ware and ideas.
If you are just setting up your home bar, be sure to check out my guide to Essential Glassware for a Home Bar.
Idea #4 – Hearty Snacks Are a Must
I have to admit, that when it comes to drinking alcohol, I am a bit of a "lightweight" so I need some hearty sncaks at a cocktail party. I have also found that many people forgo dinner when going to a cocktail party and often stay longer than planned, so filling snacks are important.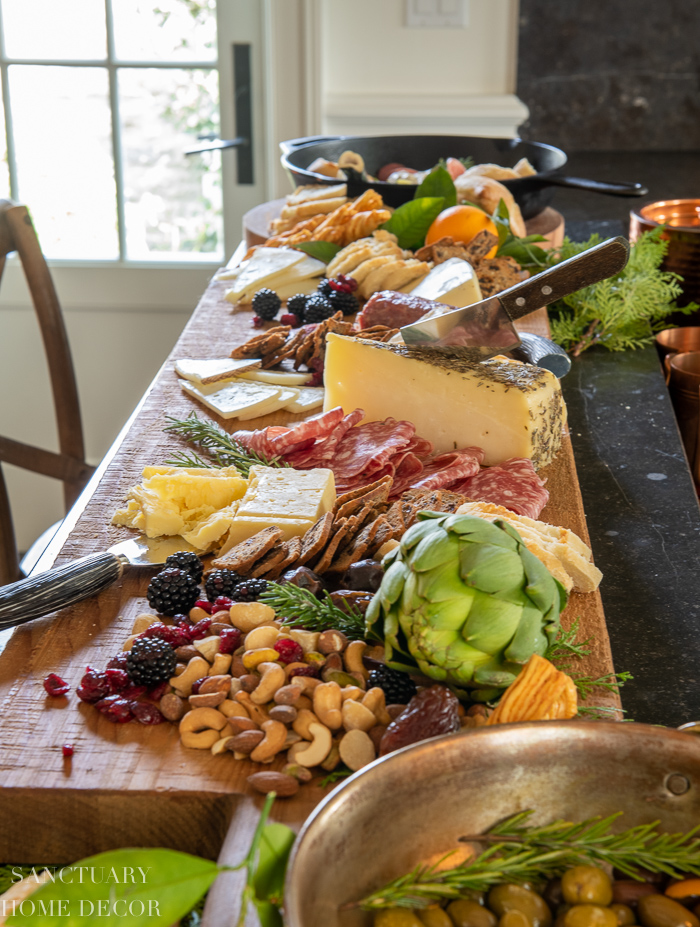 I always like to provide lots of grazing options for our guests with a few special treats added in. I often set everything up on the bar so that guests can grab a snack while refilling a drink. Cheese, meats, nuts, olives and fruit are easy and filling. You can see all of the details of this cheese and charcuterie board HERE.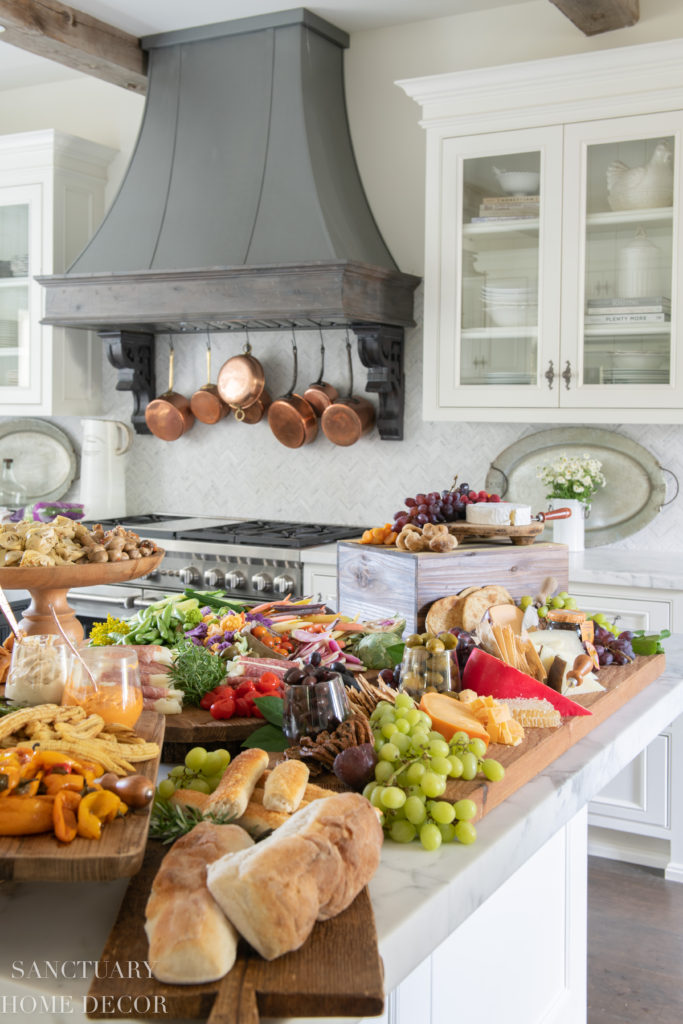 Having a bigger party? Consider a grazing table. This consists of a multitude of cheeses, meats, antipastos, fruit, dips, bread and crackers (think cheese and meat board on steroids). I love this idea for a larger cocktail party and it is such a beautiful presentation! You can see How To Create A Grazing Table HERE.
Idea #5 – Don't Forget The Cozy Details
Winter is the perfect time to add some cozy details to your cocktail party. Soft holiday music playing in the background, a fire in the fireplace, a scented candle burning and cozy blankets for your guests to sunggle up in. All of these small details make a big difference in the experience of your party guests. Make sure to take in the sights, smells and sounds of your party before your guests arrive and add those special touches that make the difference between a good get together and an extraordinary cocktail party!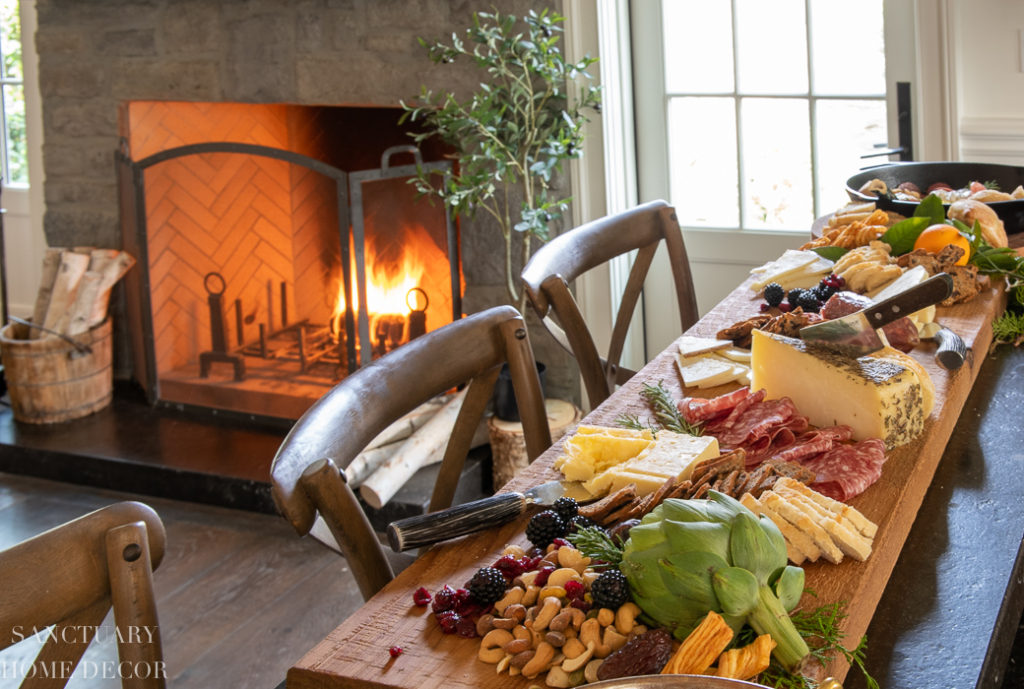 So now that you've read my best holiday cocktail party ideas, start planning your next gathering! Most important in all of your planning is to make sure you have time to enjoy the party and your guests. Plan ahead, set everything up and then…relax, because there is nothing more important than time share with those we love!
Have a beautiful day!]