How to Create The Perfect Grazing Table
Last week was a whirlwind at our house. Country Gardens Magazine was here for two days to shoot our backyard and since everything was looking so pretty, we decided to have a little Spring Fling. We invited forty of our friends and family over to enjoy the warmer weather, stroll the gardens and of course enjoy some great food and drinks. One of my favorite parts of entertaining is to create a beautiful menu for our guests and this time I envisioned creating a scrumptious grazing table followed by a "build your own burger" bar. Normally I would do all of the food myself, but since I was super short on time to prep and plan, I decided to concentrate on the burger bar and called on my friend, Lisa Ende from Food En Bord to create a delicious grazing table.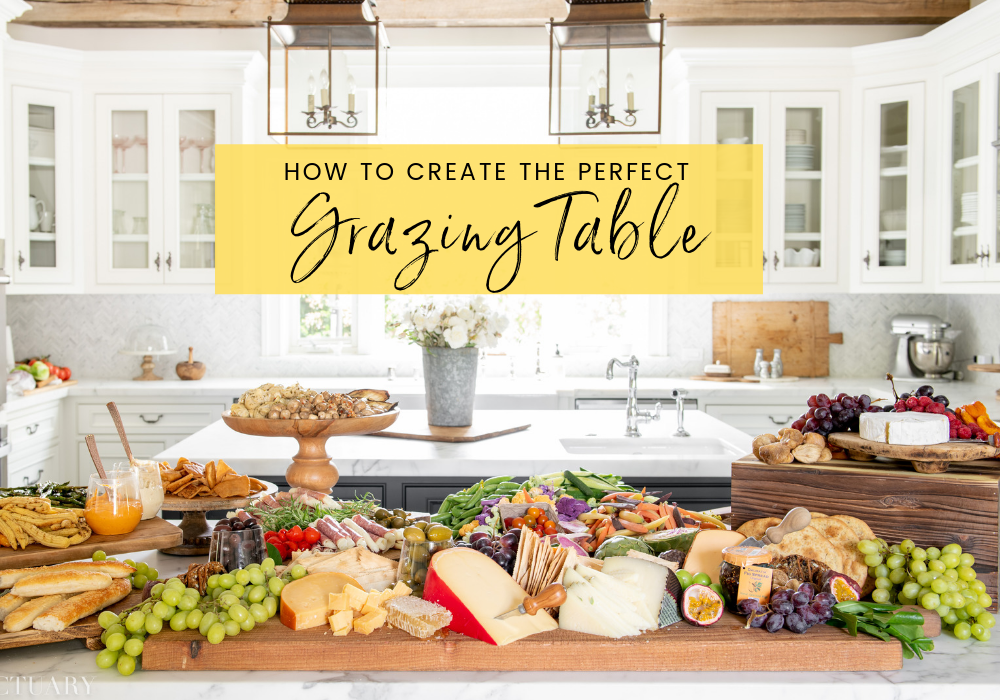 My vision was to have my kitchen center island overflowing with beautiful finger foods and yummy snacks and that's exactly what happened. I was so excited about the quality and variety of food that Lisa included on the grazing table I had to share all of the details with you.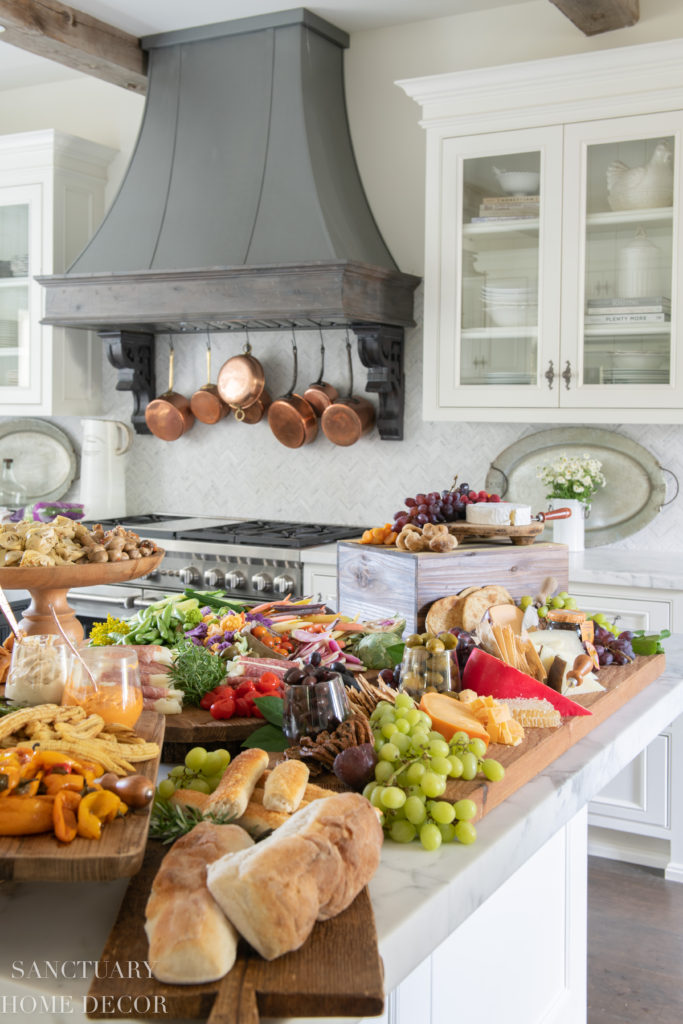 Whether you're having a casual barbeque or a stylish cocktail party a grazing table can be incorporated into your menu. We set ours on the kitchen center island so that our guests could graze from both sides, but a smaller table would work just as well. The key to creating the perfect grazing table is to add height and layers by stacking wood boards on top of other elements. I watched as Lisa laid my longest board on one side of the island and then used large wood discs, cake plates, and boxes to add height and depth to the overall display. Once the boards were in place, she began plating the food.
Classic ingredients for a grazing table include such things as cheese, crackers, grapes and olives. Large blocks of cheese, sliced or cut into bite size nibbles look beautiful and make it easy for guests to snack. Lisa included some beautiful additions to this section of the table with a block of honeycomb and some crab apples tucked in between the cheese and crackers.
Beside the long cheese board, Lisa placed an upside down wood crate and added a rustic round cheese board. She added dried and fresh fruits and a beautiful wheel of brie cheese to this little feast. She also included some grapes and Mediterranean bread leaning against the crate, which was the perfect way to fill in the empty space.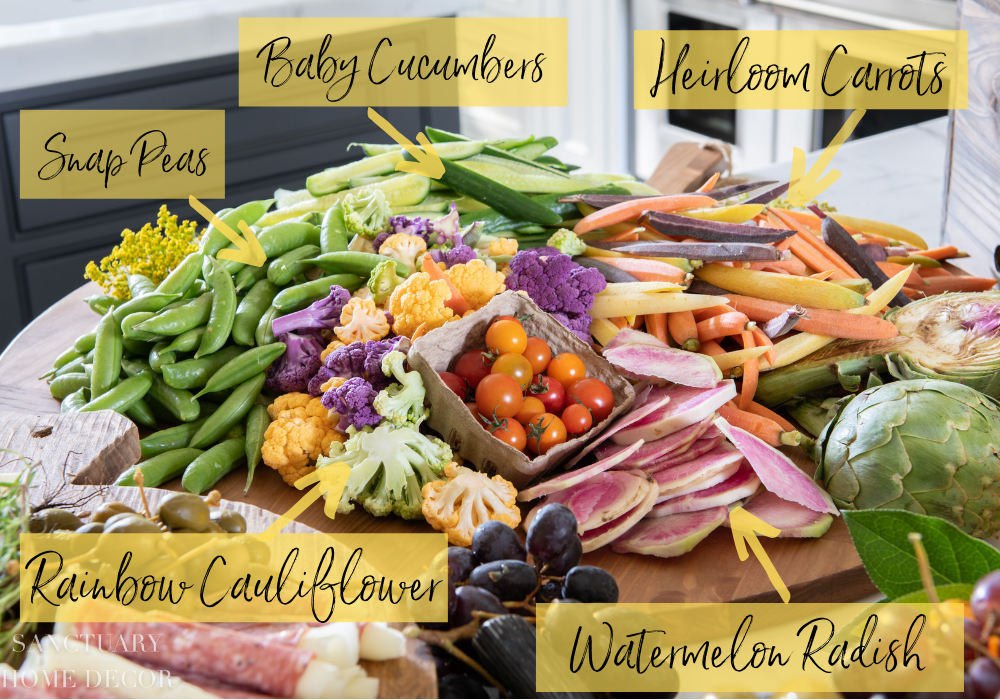 On the opposite side of the center island, a huge round board was piled with a rainbow of fresh sliced vegetables. Lisa left the cherry tomatoes in their container and arranged the farmer's market bounty all around. A halved artichoke made the perfect garnish for this board of crunchy freshness.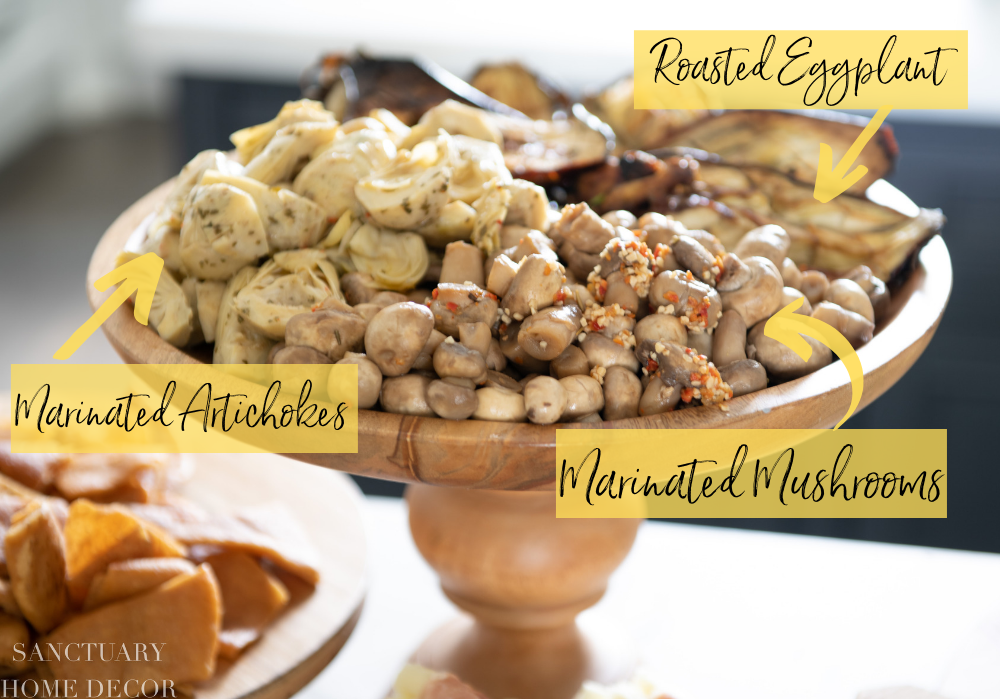 From fresh and crunchy to salty and savory, there was something for every guest on this grazing table. Marinated and roasted vegetables were piled onto a footed wood cake dish and mozzarella wrapped in salami and prosciutto sat next to salty caper berries and sweet cherry peppers. Fresh rosemary added a pop of freshness to this platter.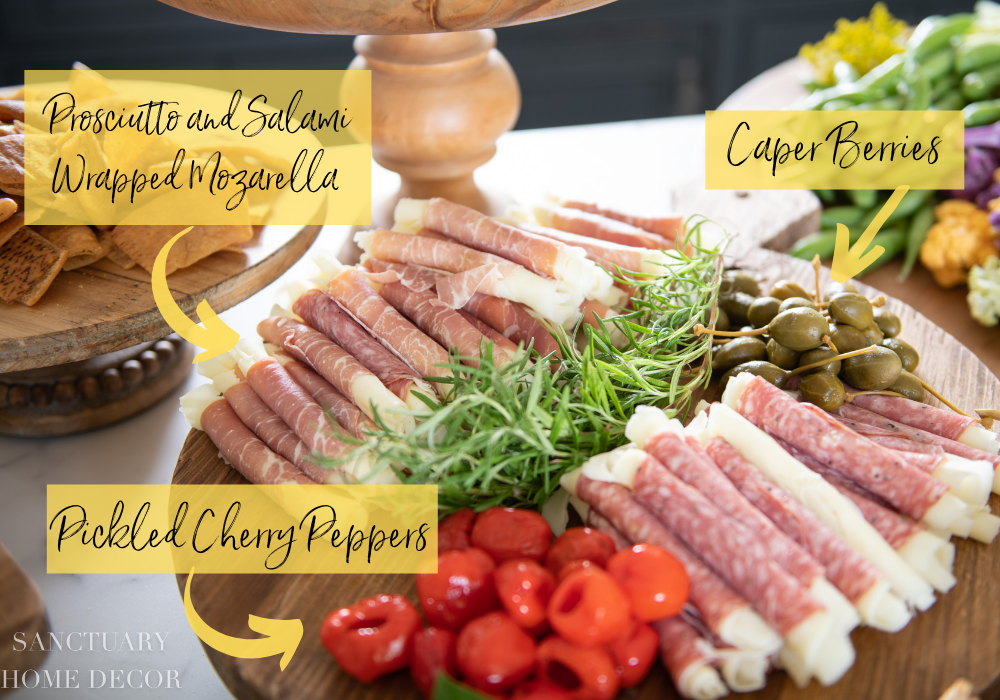 And finally a board with room temperature roasted vegetables and cups filled with hummus completed the savory side of the board. Farmer's market root vegetable chips piled into a glass jar are the perfect compliment to this board.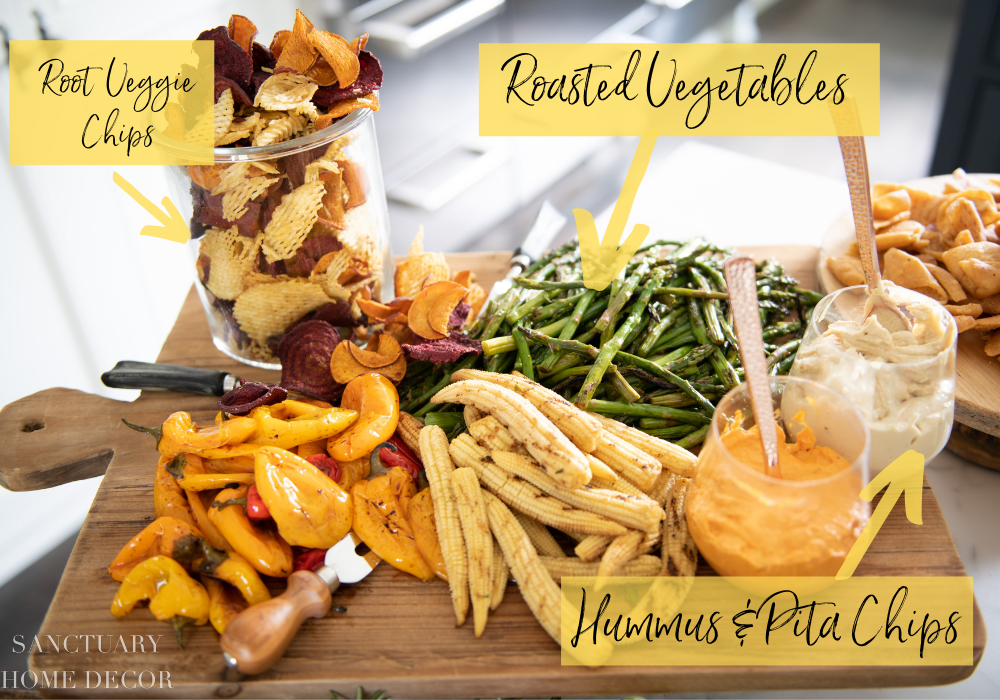 Freshly baked bread was left to be hand torn and added to any of the delicious snacks that were laid out.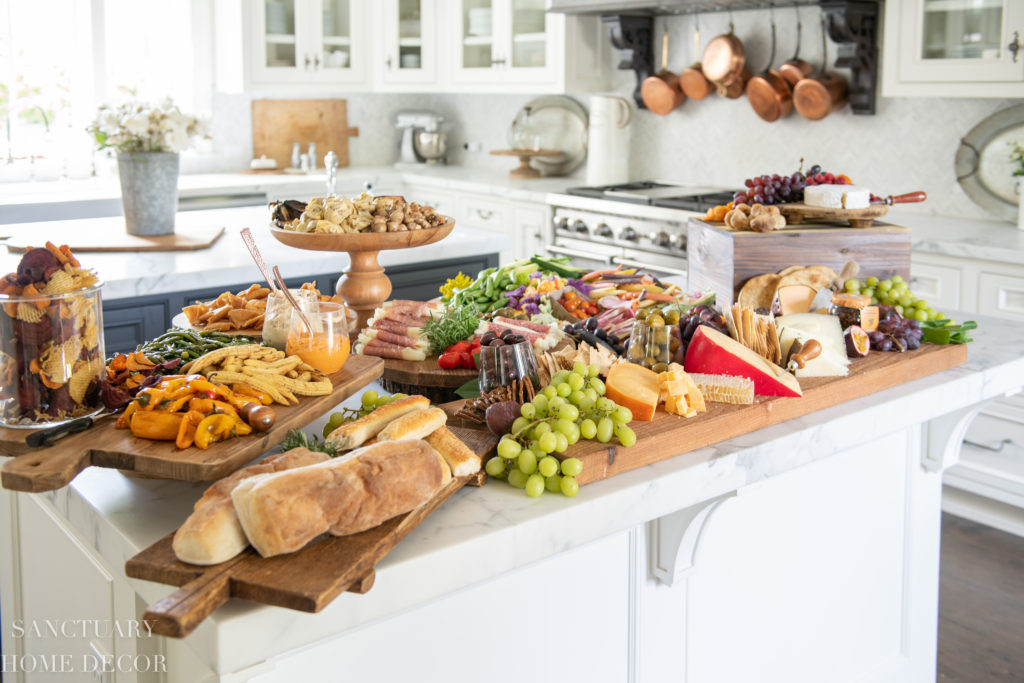 The overall effect was a bounty of fresh and delicious foods that were literally designed for grazing. Empty spaces were filled in with bunches of grapes and lemon leaves and herbs added freshness. It was a feast for the eyes that by the end of the night had been nearly picked clean!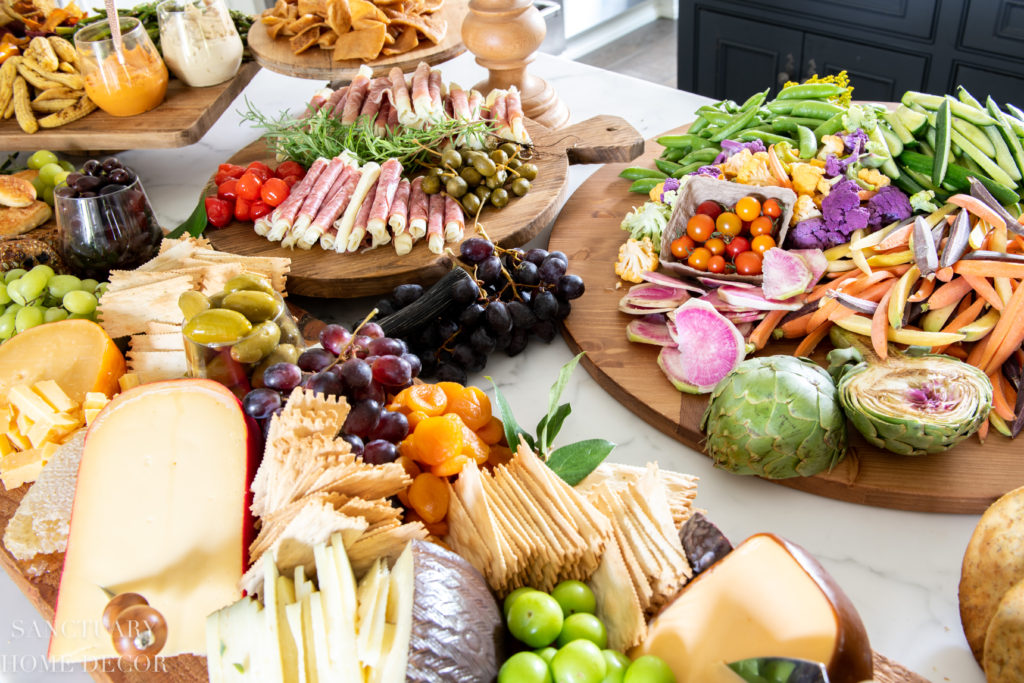 If you're having a party, I would highly recommend a grazing table (and I would also highly recommend Lisa Ende of Food En Bord if you are in Southern California!) She showed me how to create the perfect grazing table using simple ingredients. This was the hit of the party and will be repeated many times in our home!

You might also like:
WHERE TO BUY RUSTIC AND VINTAGE BREADBOARDS.