How To Transition From Summer To Fall Decor
I find that the "season" between seasons can be difficult to navigate when it comes to home decor. The bright colors of summer naturally give way to the warmer tones of fall, but while the weather is still warm or we are not in full fall mode, it can be complicated to keep seasonal decor looking appropriate. Today I want to offer a few ideas about how to transition from summer to fall decor smoothly and naturally.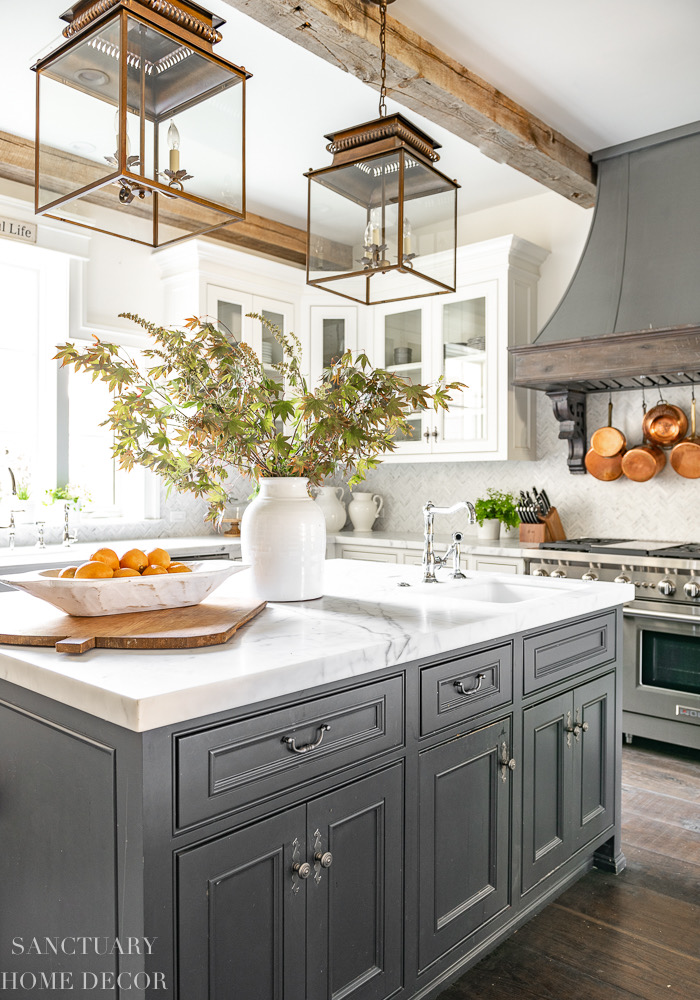 BRANCHES IN MUTED OR GREEN TONES
I love to use large vases or containers filled with branches in every season, and fall branches can be stunning as a statement piece in a room, but the traditional fall colors can feel out of place when the weather is still warm. My solution is to use "transitional" branches at the beginnning of September to give our home a soft fall look.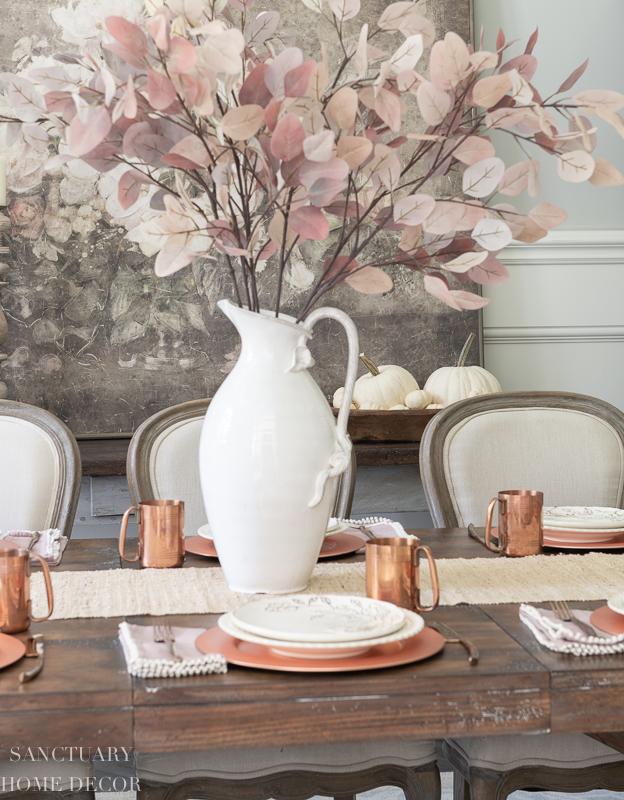 Whether fresh or faux, branches in an oversized pitcher or container can be a stunning additon to any room. I often take my large clippers out to the garden to find seasonal branches on our trees and bring them in the house.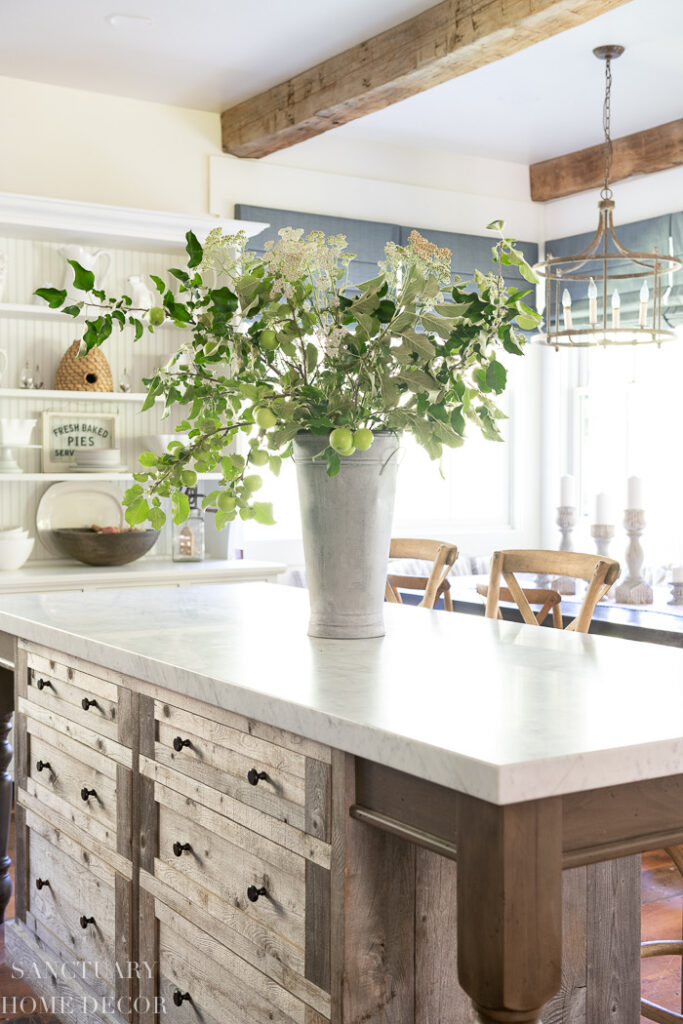 Recently, I have also found some beautiful faux branches in soft muted tones. When these are good quality they can be stunning as a single variety at the beginning of fall and then mixed with additional branches as the season continues.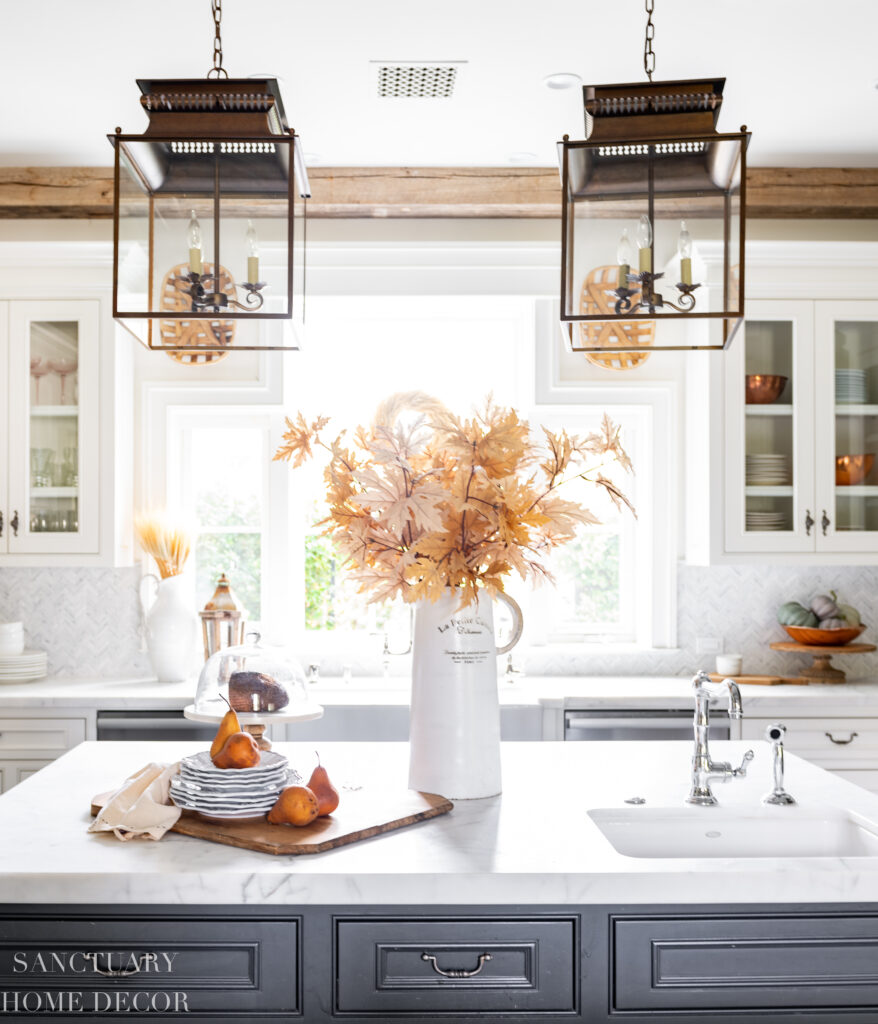 Even deeper tones work as an accent color when used sparingly at the beginning of fall. When it comes to using branches at the beginning of a new season, I like to start small and build as the season progresses.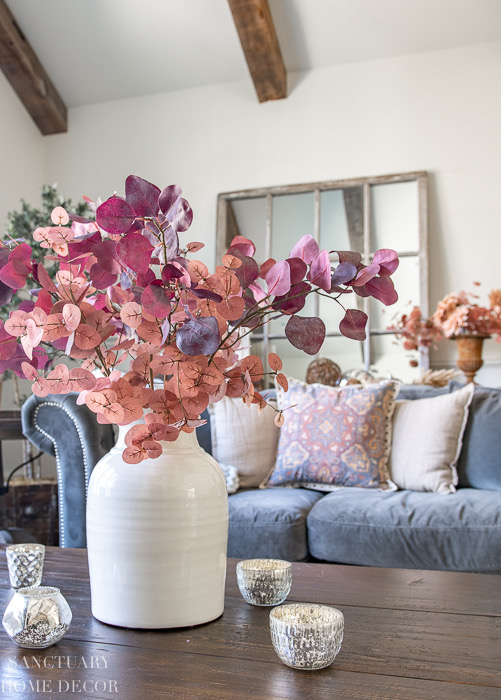 FLORALS IN WARM COLORS
In addition to soft seasonal branches, fresh and faux florals in muted fall tones can also be a great transitional look. I like to use yellows at the end of summer to help transition to fall or to mix some of my favorite branches with muted florals in the same color family.
An oversized pitcher with several Forsyth branches makes a beautiful and warm statement on my center island.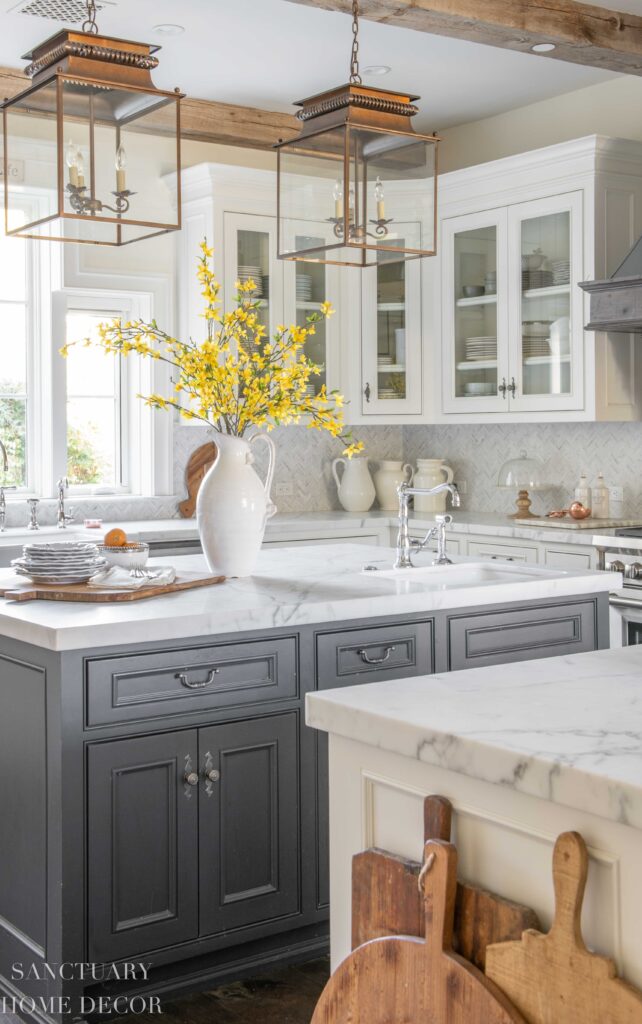 I have found that the best way to incorporate florals into my early fall decorating is with a mixture of summer and fall blooms using brighter yellows early in the season and transitioning to warmer rust and cream tones later on.
A rusted French urn is a perfect vessel for a collection of soft orange branches and florals.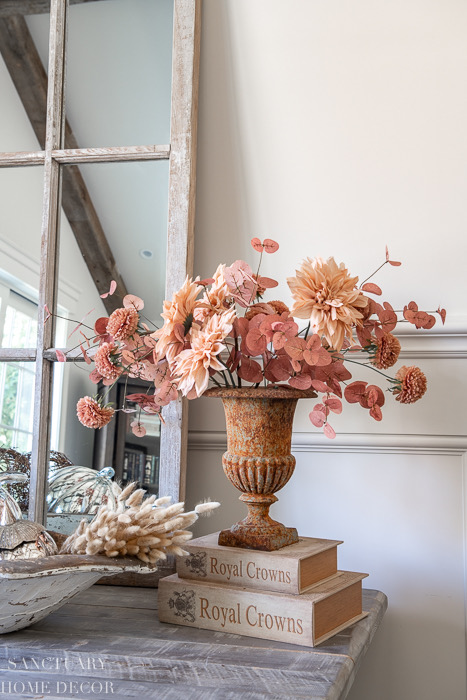 Cafe au Lait dahlias, mixed with dusty pink roses and eucalyptus mix the beauty of summer with the warmth of fall colors.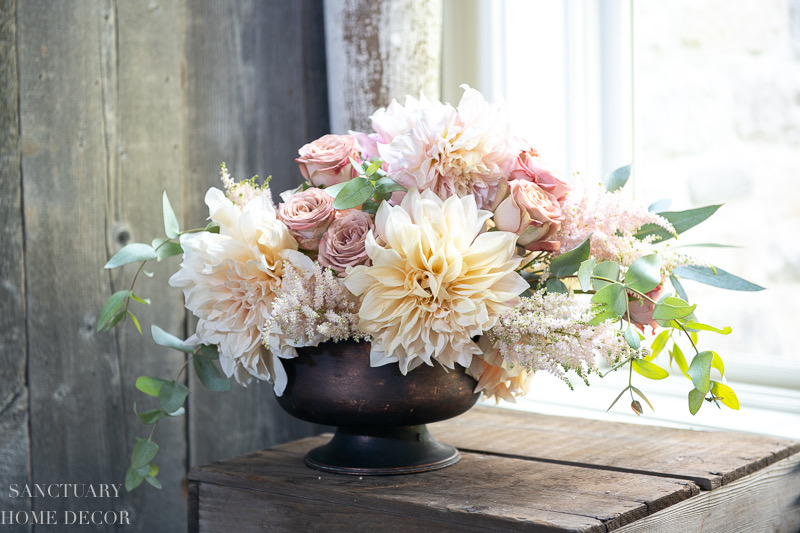 COPPER ACCENTS
Copper accents added to any room in September automatically adds a warm glow. Especially in the kitchen, where I often trade out my white accents for warm metallic pieces.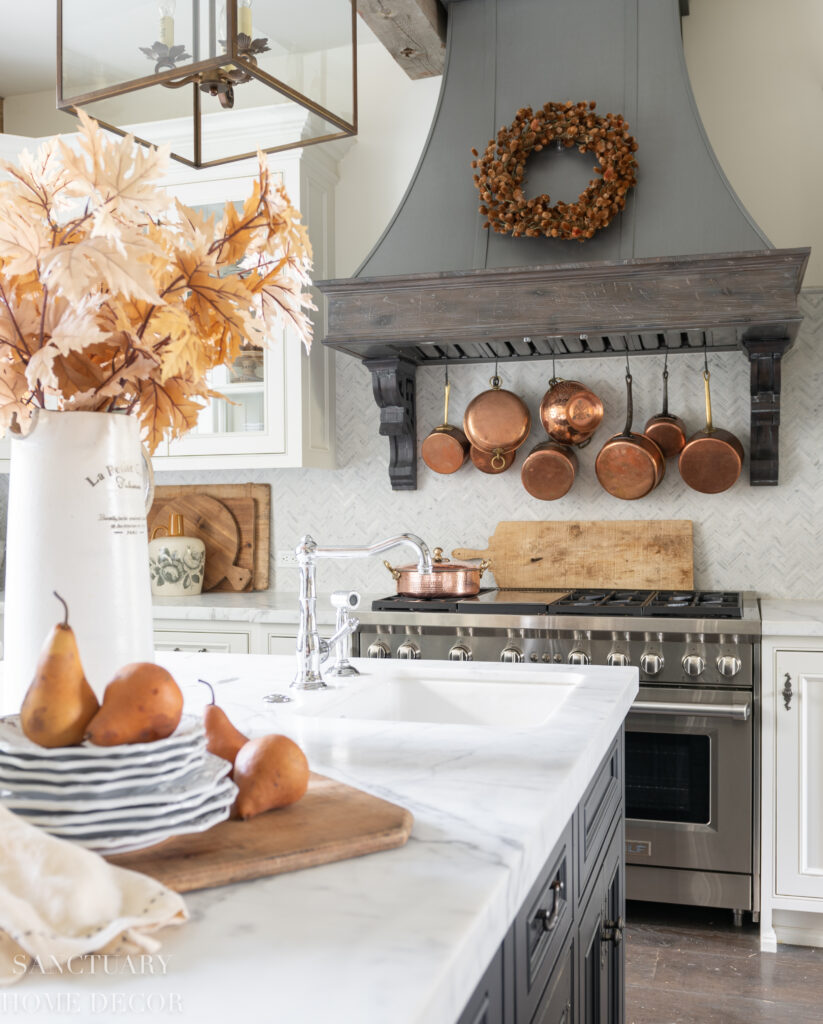 A simple transition from all white to copper and wheat in my glass front cabinets signals the start of a new season on the horizon. I have collected many vintage copper pieces through the years, but there are also some beautiful new reproductions being sold in the larger box stores that are super affordable.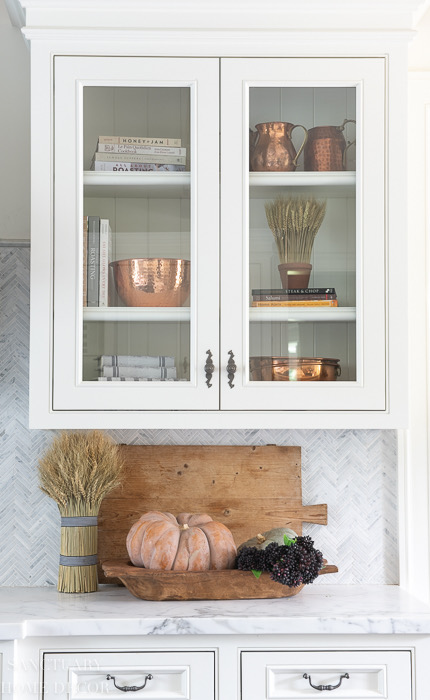 NEUTRAL COLORED PUMPKINS
If I'm being honest, I've not used traditional orange pumpkins in my decor in many years. I prefer the soft, muted tones of heirloom pumpkins or the simple white of mini pumpkins often found in the grocery store.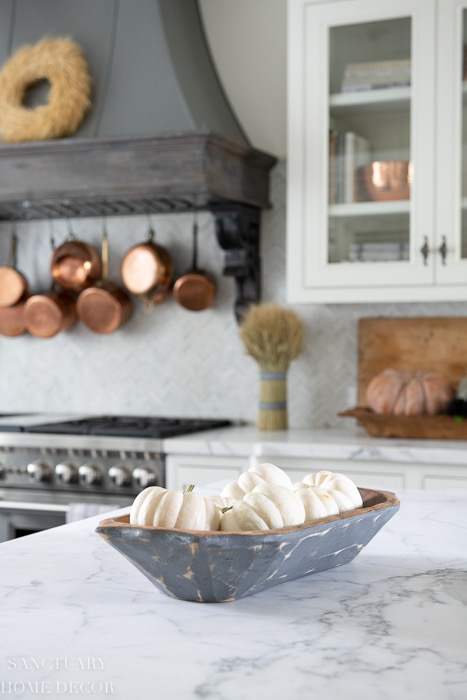 At the beginning of fall, these colors work beautifully as a small accent on the kitchen counter or a coffee table. I often use dough bowls to hold my real or faux pumpkins which works well when coupled with some eucalyptus branches.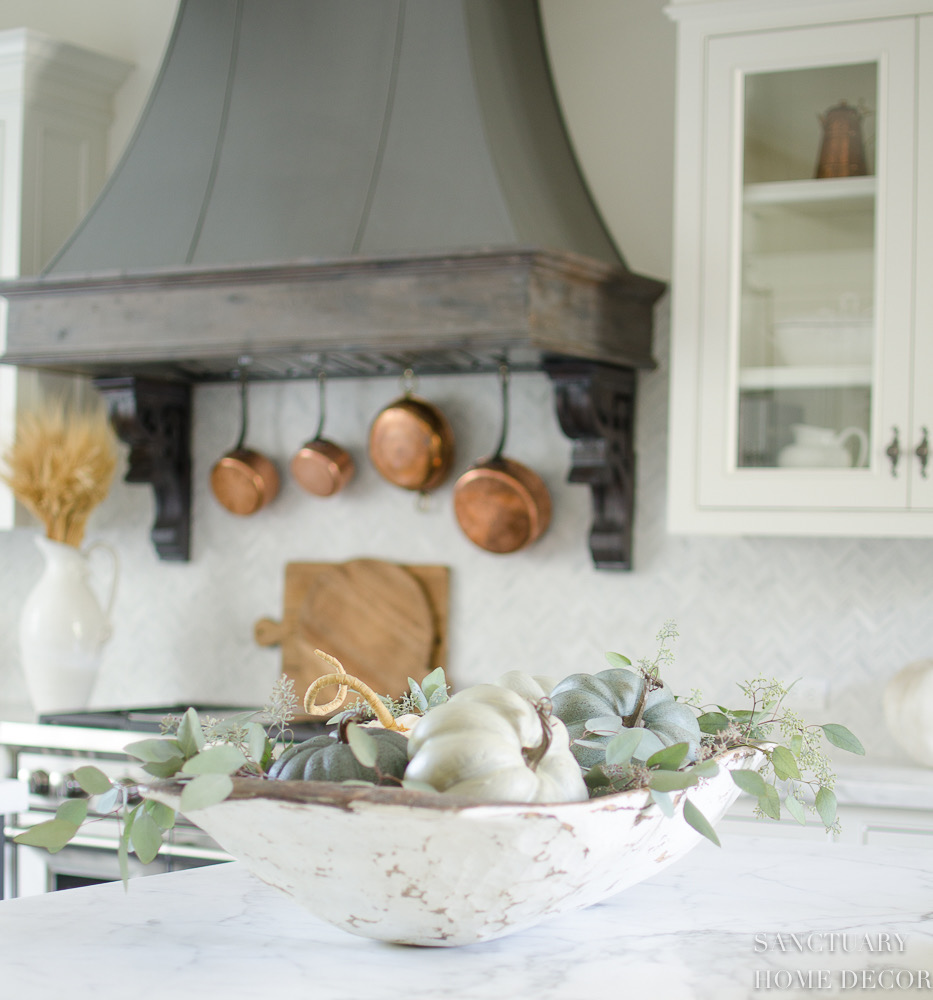 There are some incredibly realistic faux, heirloom pumpkins available now, so if storage is not a problem, they are a great way to save money on repurchasing fresh pumpkins year after year.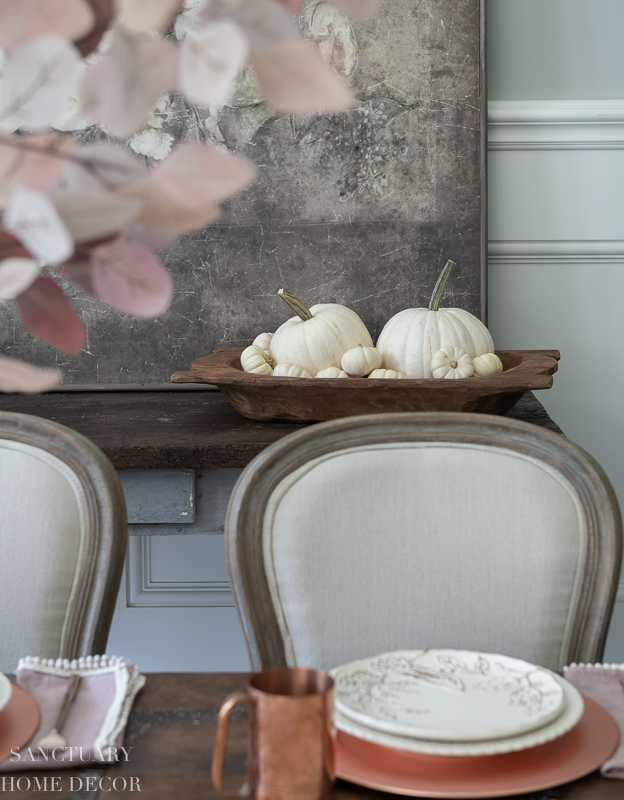 DRIED FLORALS
I love hydrangea and we have several blooming plants in our yard. At the end of summer, many of the blooms have naturally dried, so I often use them in my transitional fall decorating.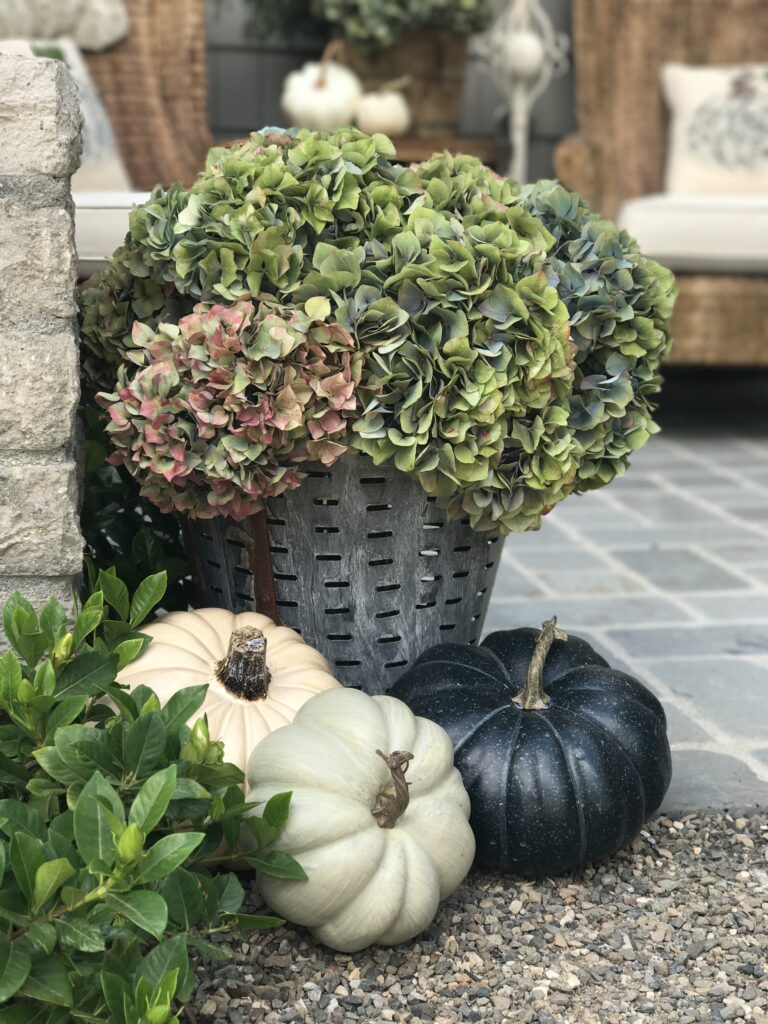 I find that the soft colors of dried florals are a very natural way to begin decorating for fall and they can be used in many ways both indoors and out.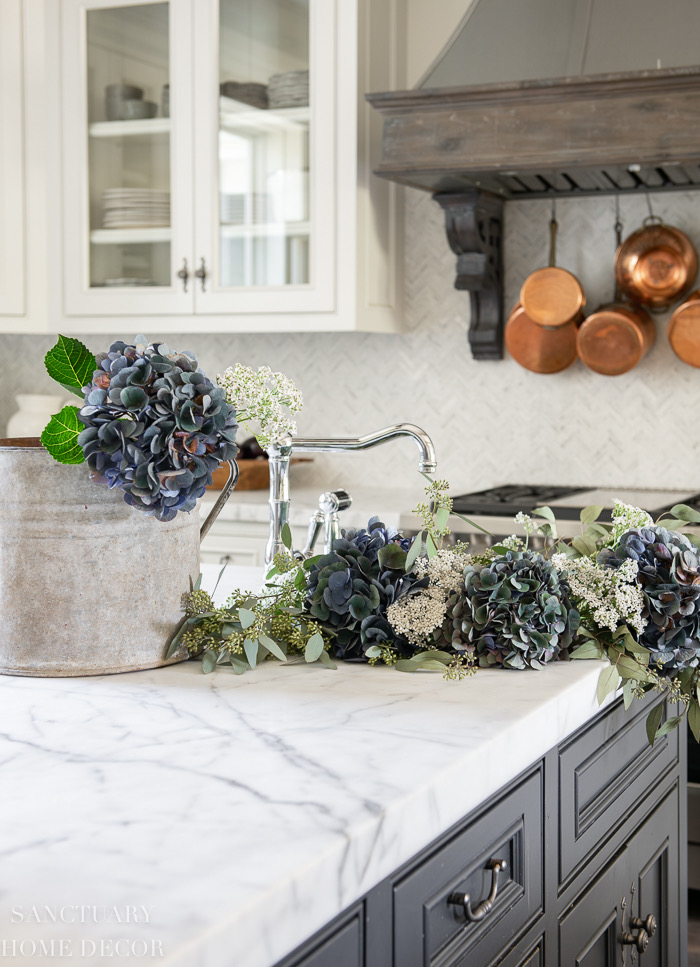 An oversized French bucket filled with blue and purple dried hydrangea makes such a pretty statement on our kitchen center island and is an easy way to transition for summer to fall decor.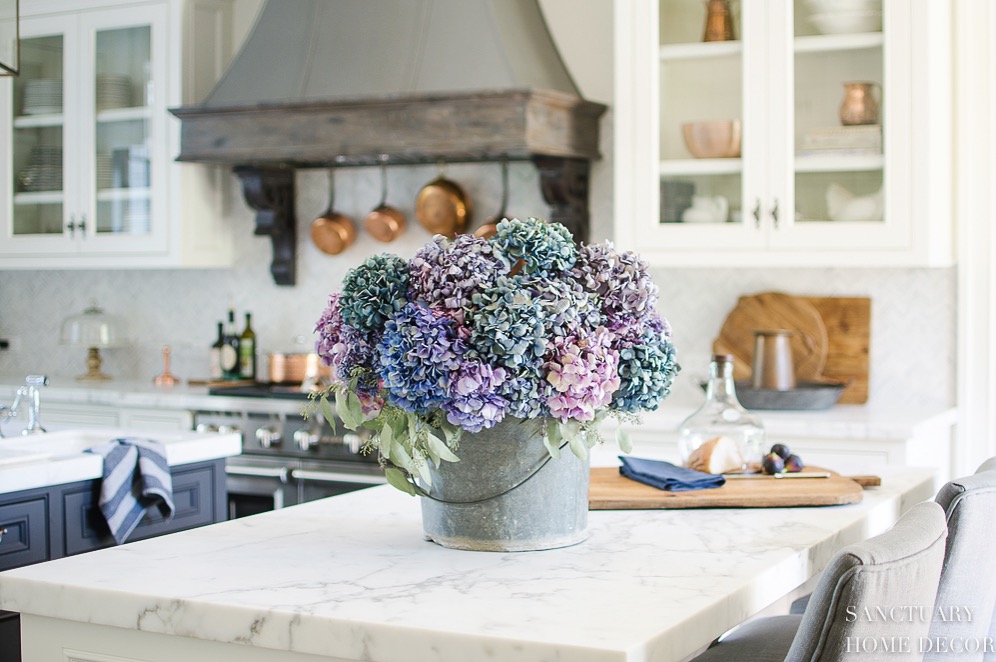 On the outdoor patio, these hydrangeas naturally dry and last for weeks with no water in the vase.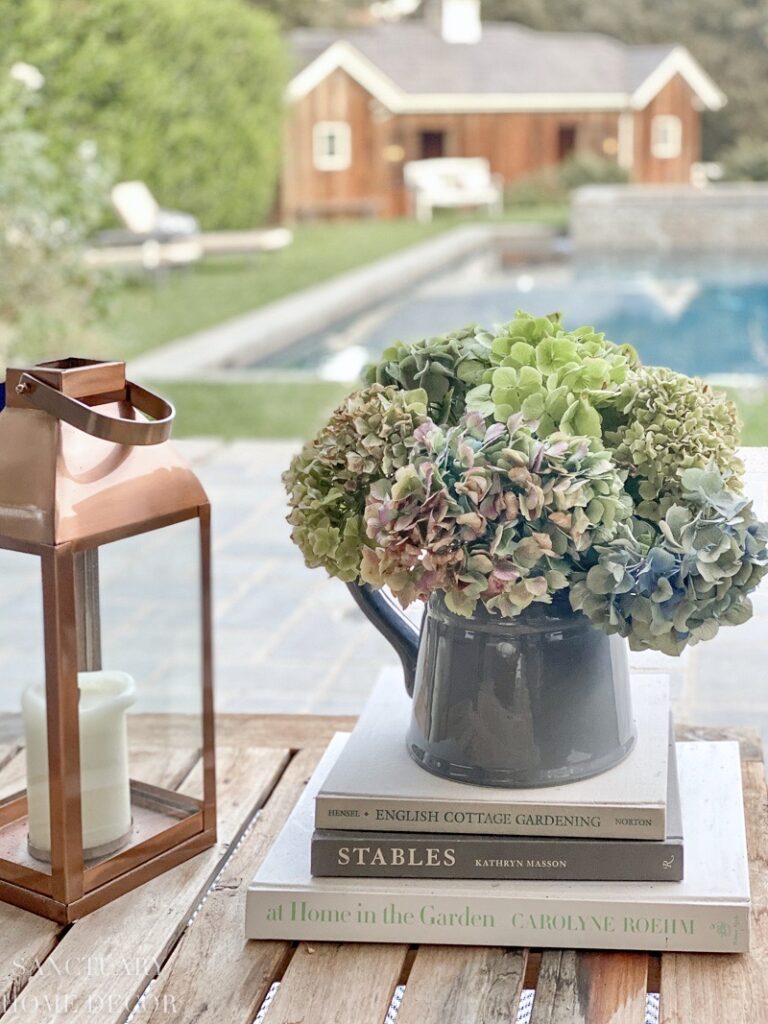 And on our front door, I used foraged leaves from our oak tree to make a simple grapevine wreath in soft colors.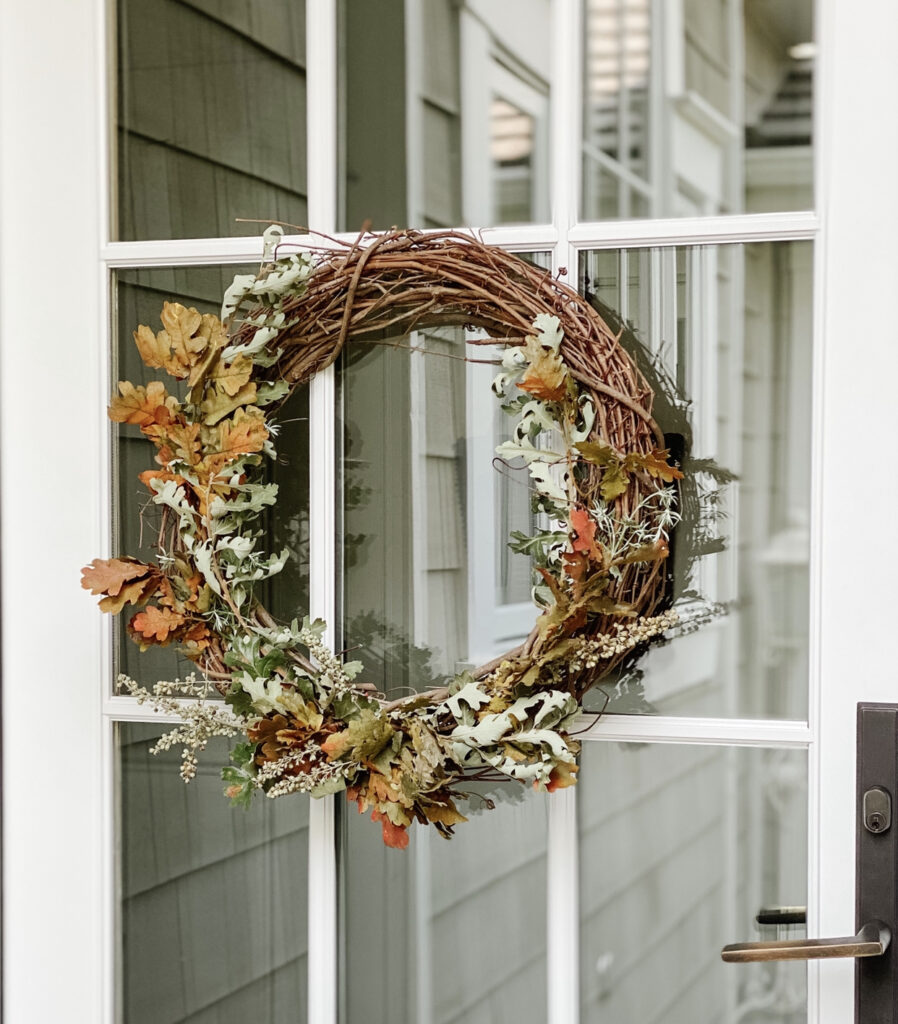 Regardless of how you transition from summer to fall decor in your home, the key is to keep it simple as the season changes. Small touches and soft colors that build as we get deeper into September and October feel natural and help to make it easy and beautiful.
I hope this gives you some ideas about how to transition from summer to fall decor in your home. I've included some sources for some of my favorite fall decorating items below. Happy September, friends!