Fall Tablescape with Copper Accents + FREE PRINTABLE!
I cleaned out my garage this week, and as I was moving things from one place to another, I came across a stack of old copper bowls and buckets that had been left on a shelf sometime during our last move. YAY! I got super excited, because I had been envisioning a fall table filled with accents of copper and wood and the glow of candlelight. So a few days ago, I dragged my favorite table out to the patio and began gathering the elements I had been thinking about for a warm and woodsy Fall tablescape.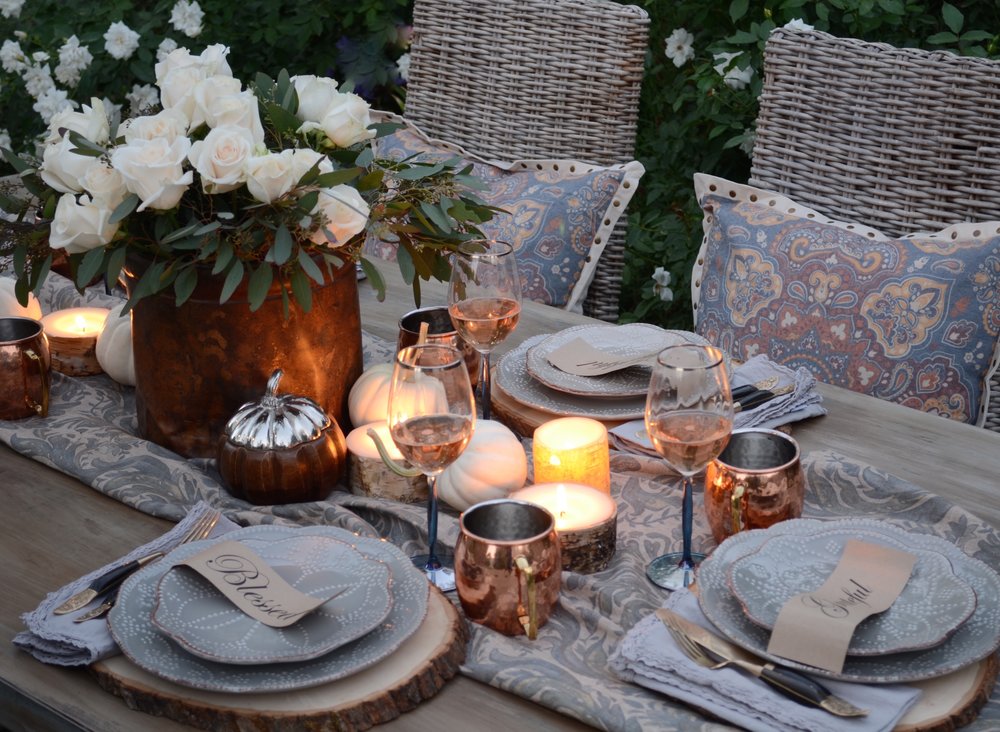 First of all, I have to admit, I have been to HomeGoods a few times (okay, maybe about a dozen times) in the last several weeks. They have had the most beautiful variety of neutral Fall decor and some great new linens. I collected a few new things in anticipation of Fall and this is how it all came together.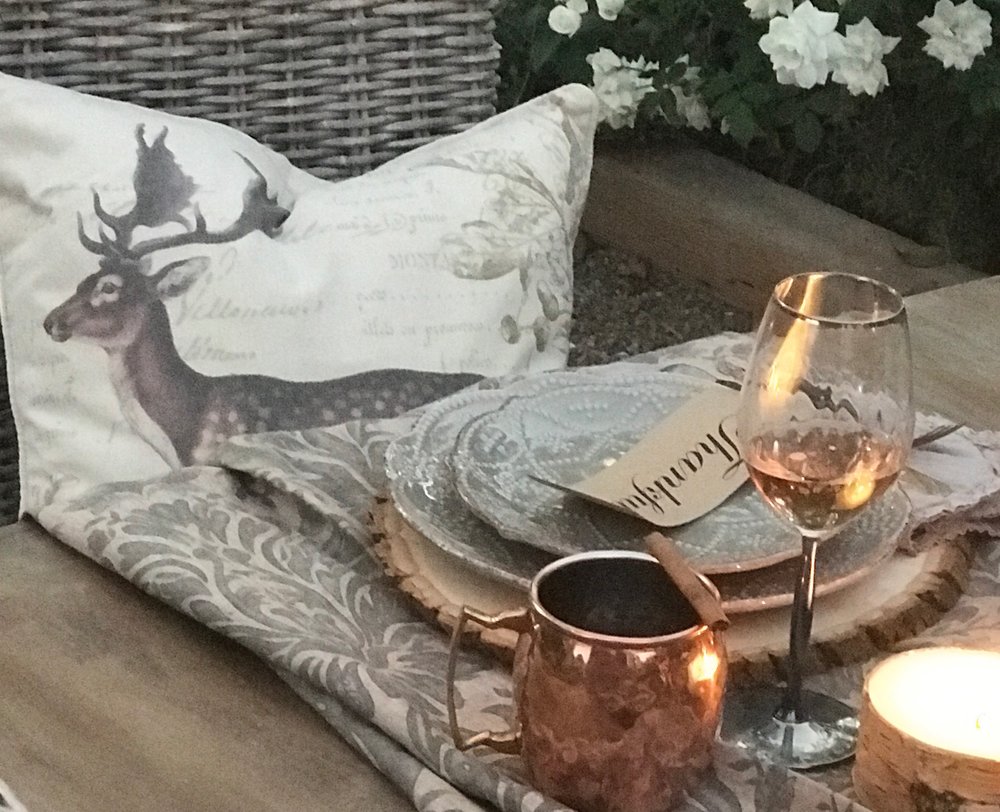 I started the tablescape with a linen table cloth that has gorgeous shades of gray in a "fall-ish" print. (One of my HomeGoods finds!) I didn't open the cloth all the way, but instead used it as a runner. I intentionally didn't flatten it out, but left it a bit crumpled and loose in order to keep the overall look very informal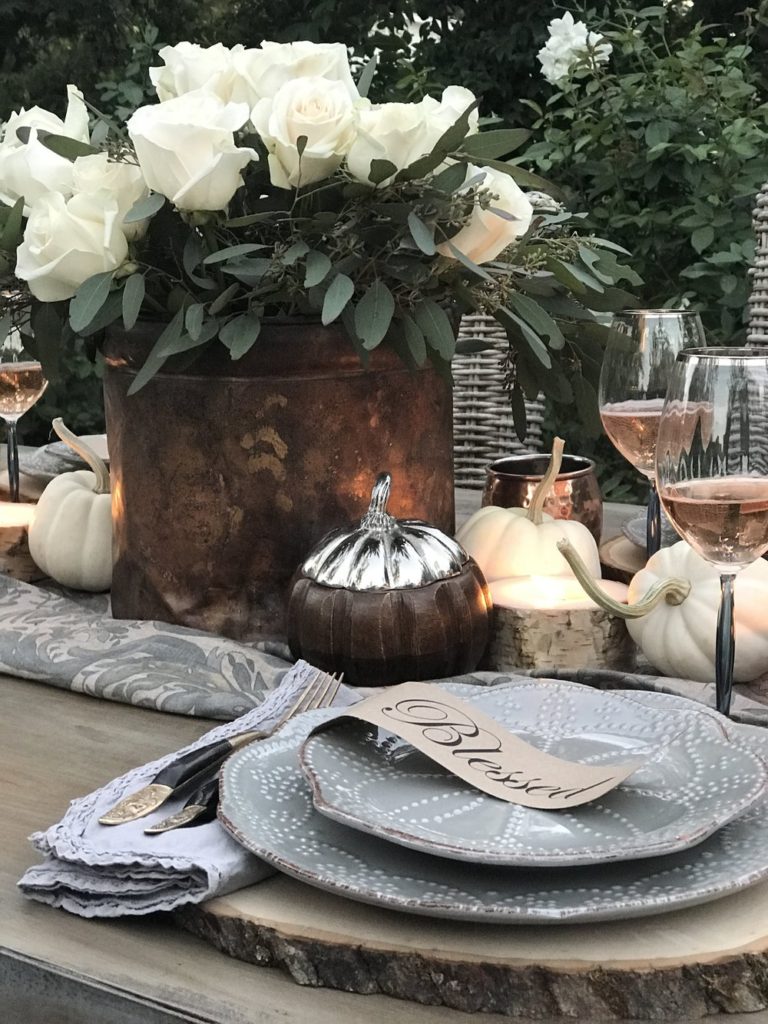 I then added wood slabs as chargers…I love the rustic feel of these. So simple and yet they make a great Fall statement, don't you think? These were purchased online and you can find them by clicking HERE.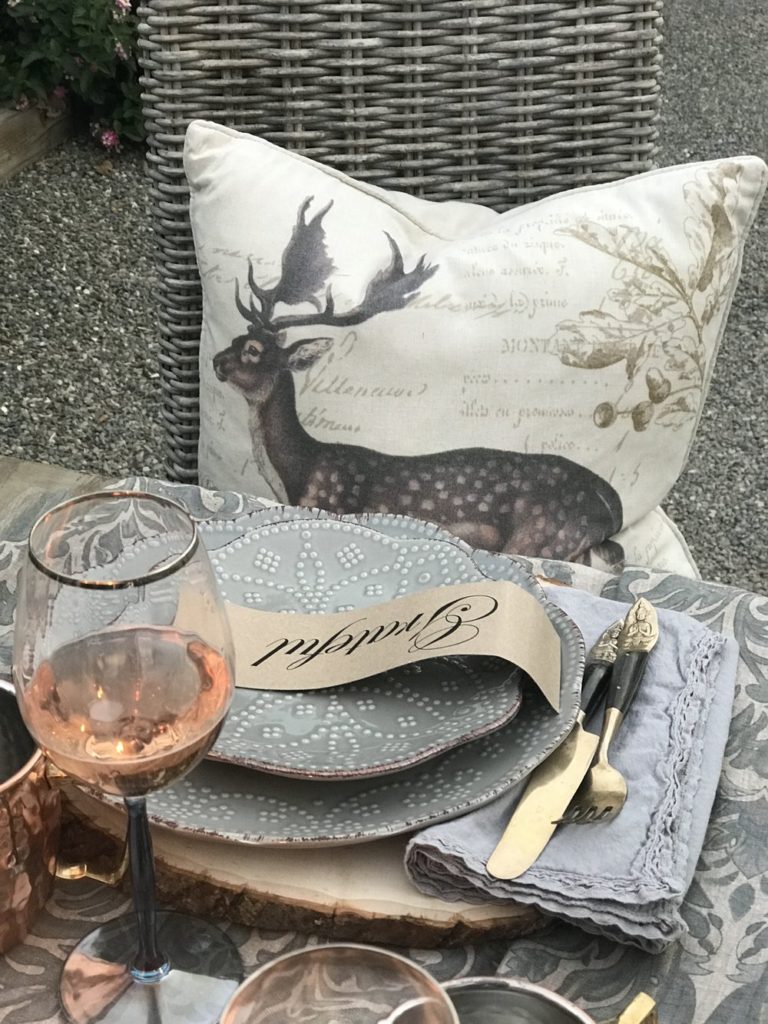 I used lace-edged, soft gray napkins from Piu Belle, that I also found at Home Goods. These also are not perfectly pressed, but have a few wrinkles…I like this look, especially for an outdoor table.
I already had these gray plates (also from HomeGoods..what a surprise!) and I love the way they coordinate with the whole look.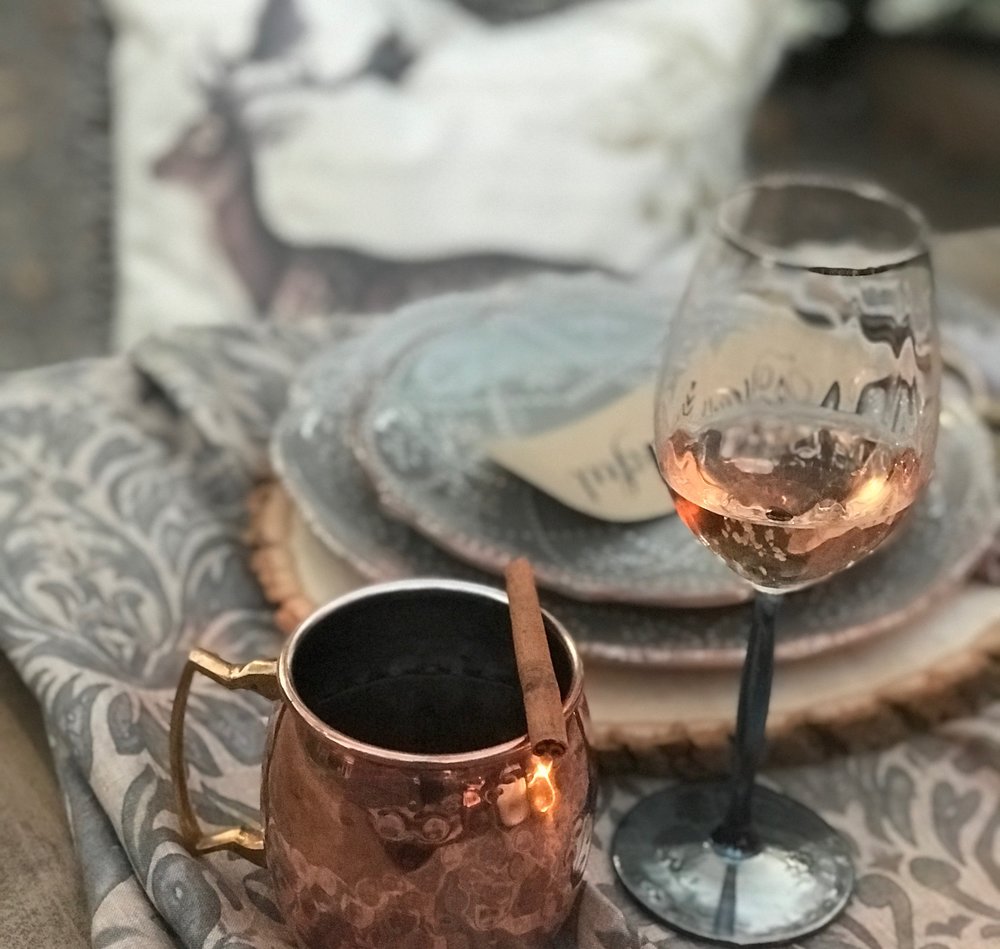 These shiny copper mugs were the true inspiration for this table setting. I don't take them out often, but they seem so perfect this time of year. They are just calling for a yummy hot toddy or spiced cider!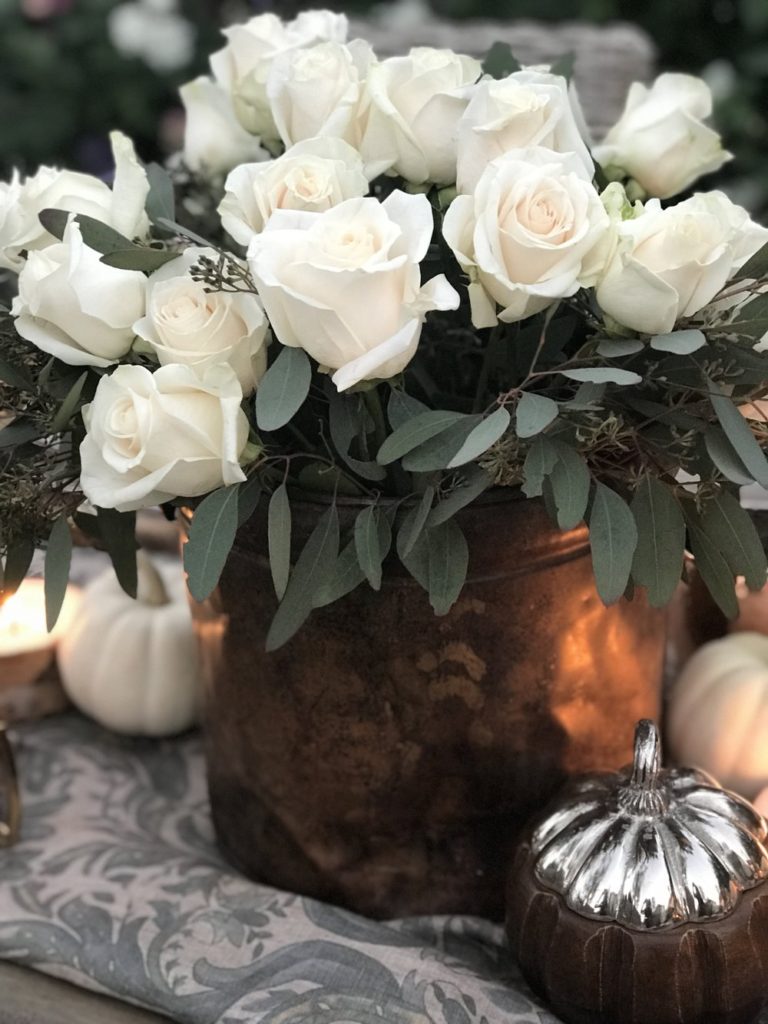 One of my re-discoveries in the garage was this dented old copper bucket I had acquired at a flea market many years ago. I wanted to incorporate it into this tablescape, so I put a smaller glass vase inside the bucket and added some simple seeded eucalyptus and white roses I had gotten at the market for less than$20!
It literally took five minutes to put this arrangement together…no fuss or complications.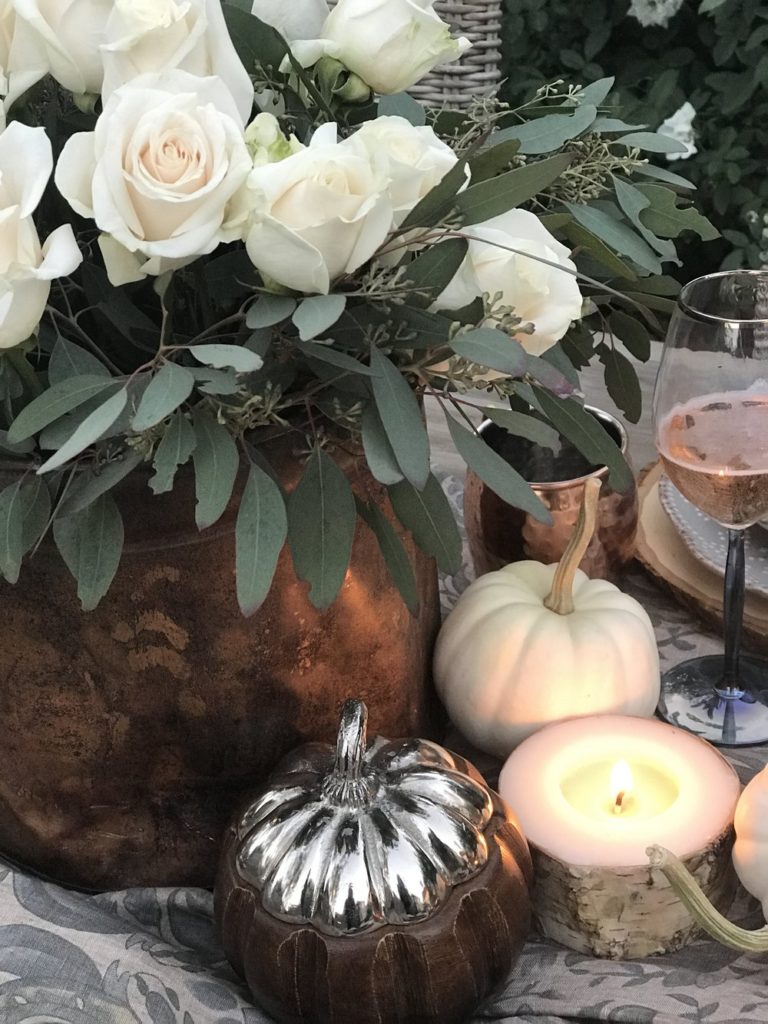 For a little additional nod to Fall, I grabbed a few small white pumpkins, several birch wood wrapped candles and a couple of decorative wood pumpkins (I bet you can guess where these are from!) to sprinkle along the linen runner.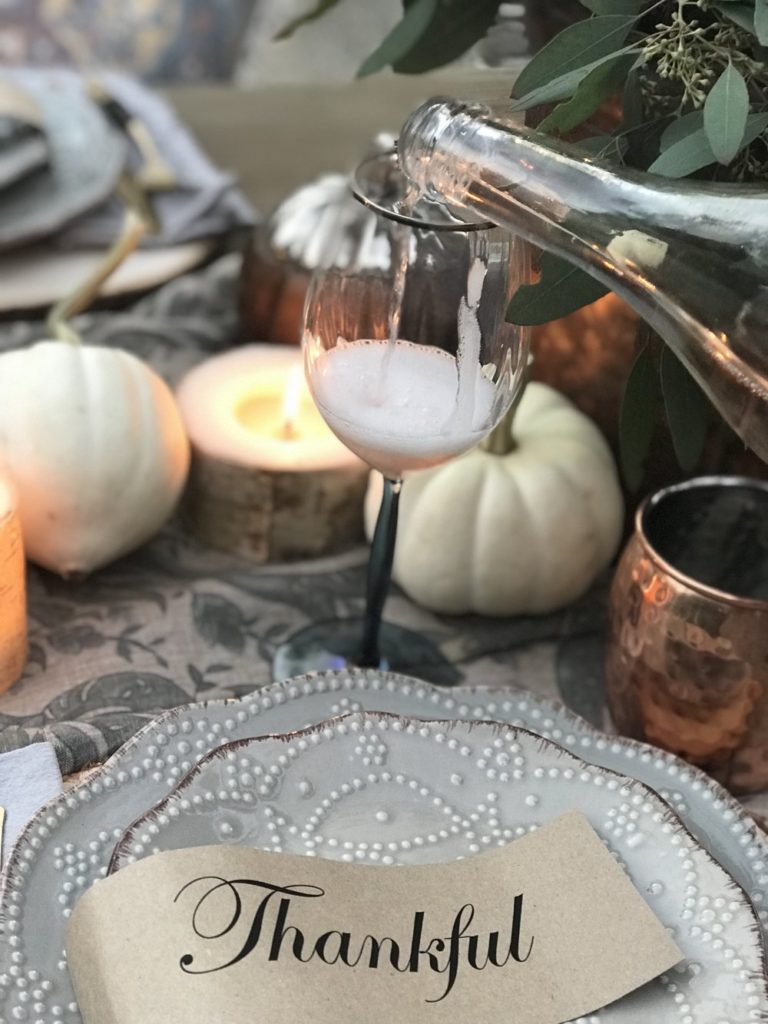 The final layer I added was these super simple paper place cards. I printed them on kraft paper, cut them into strips, gave them a little bend and tucked them under the salad plate.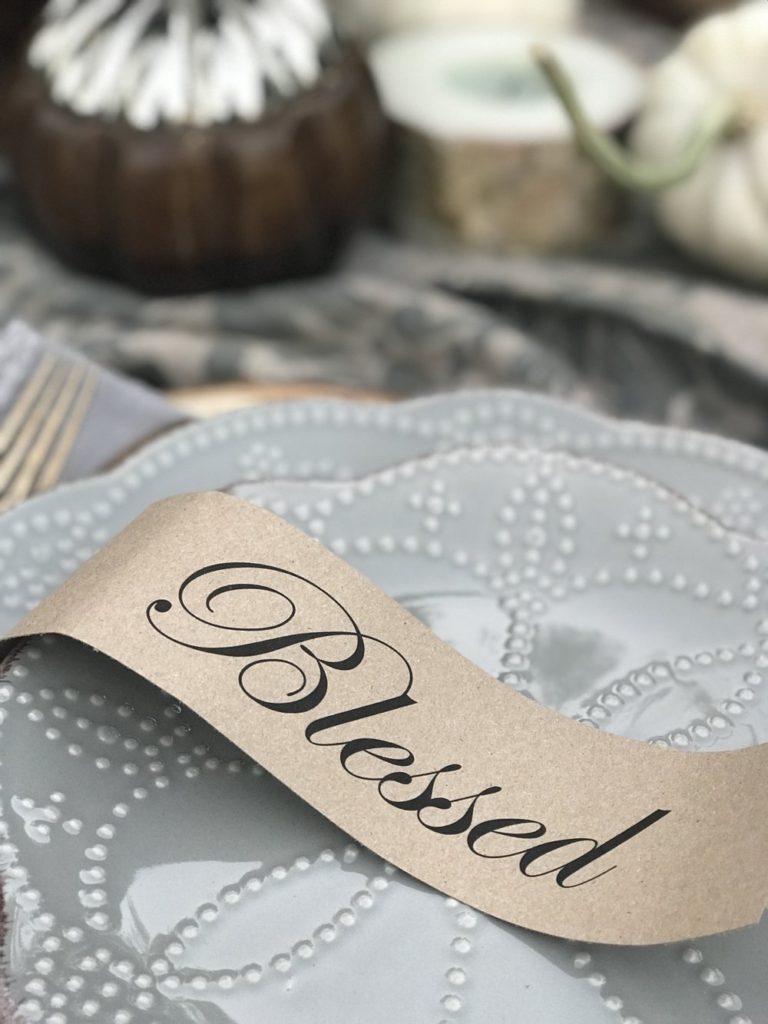 I love the way these complete the look of the table and also add a personal touch to each place, so I wanted to share them with you!
You can download the printable by clicking HERE!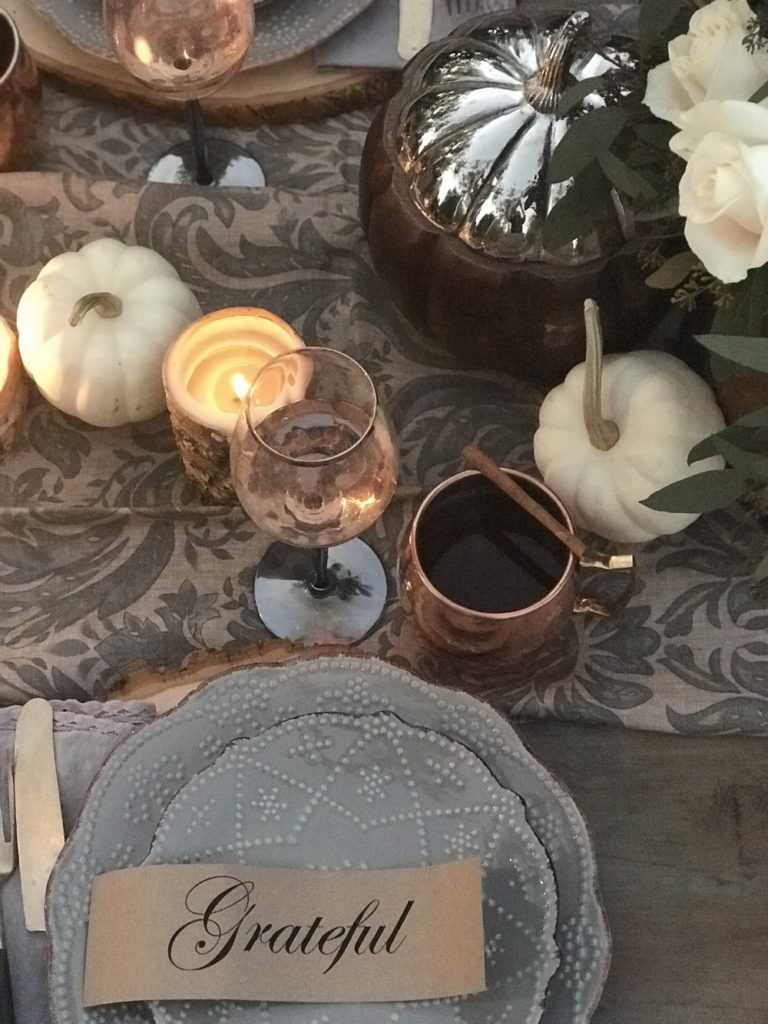 If you are looking for the exact paper I used, you can get it by clicking HERE.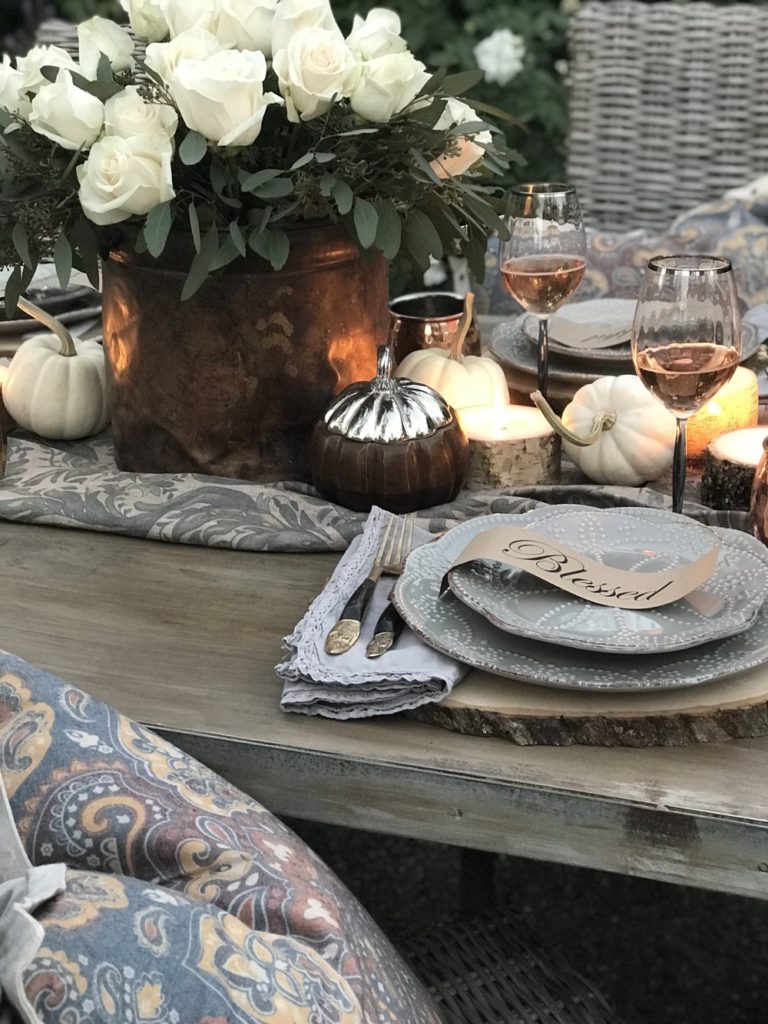 One final thing, I love to add decorative pillows to chairs around a dining table. They add a softness and another layer of color and texture to the whole setup.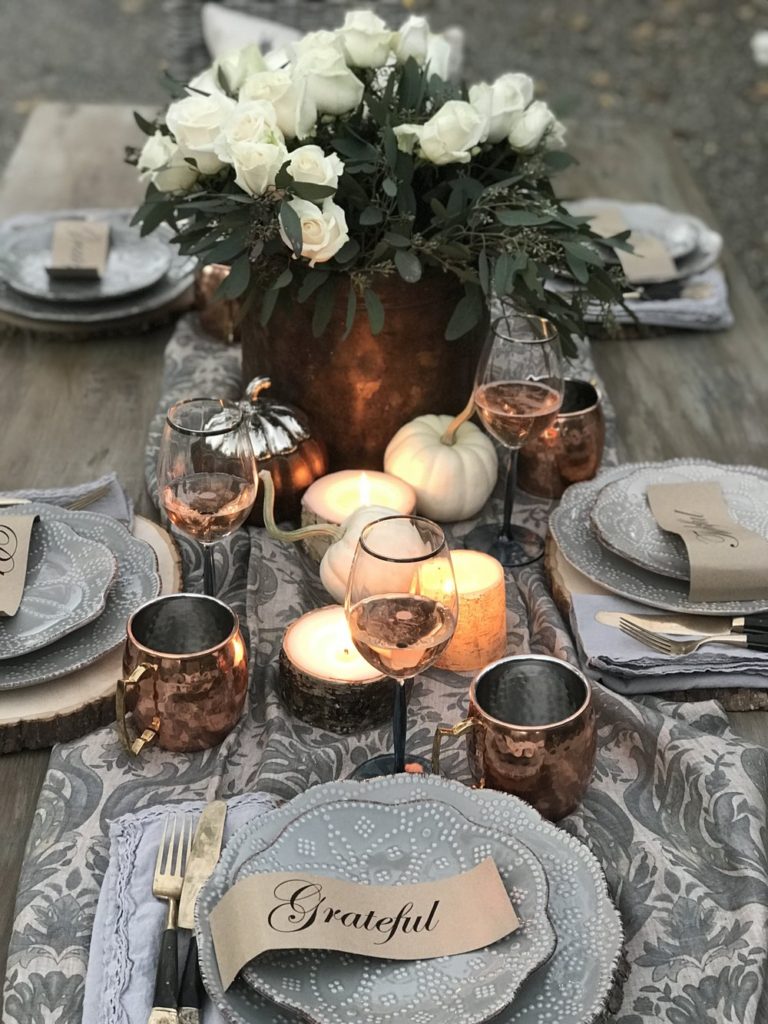 So there you have it…my early Fall table, complete with a little DIY place card. I hope this gives you a bit of inspiration in the coming weeks as the weather cools, the leaves fall and the harvest moon rises.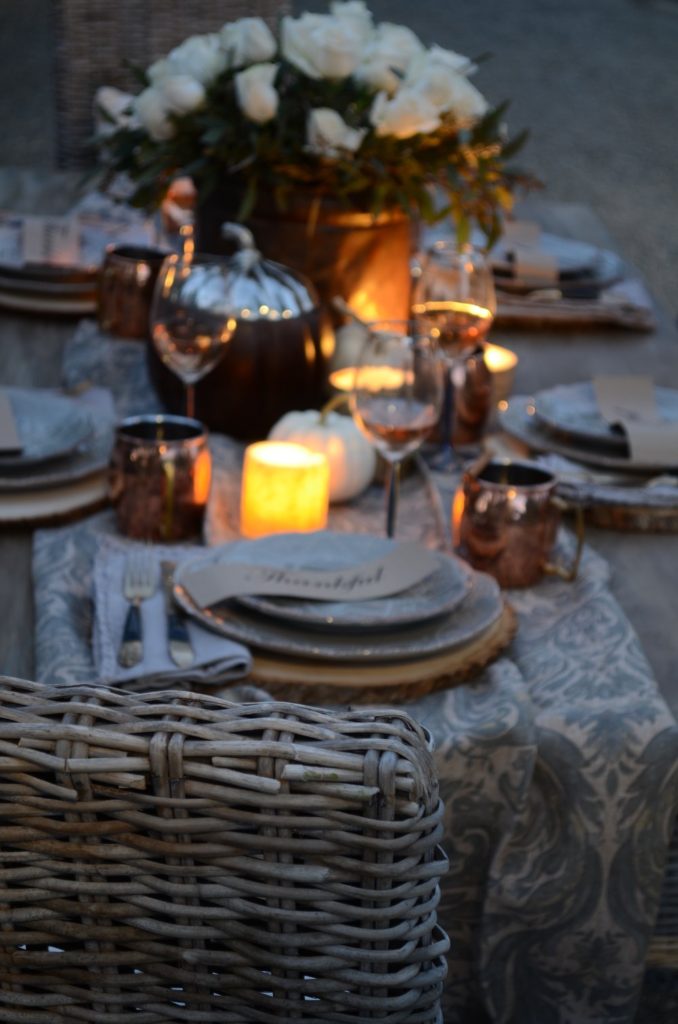 A QUICK NOTE & A LITTLE DISCLAIMER:
NOTE: This is the first time I am linking a printable, so if you have any trouble with the download, please don't hesitate to get in touch by clicking HERE!
Have a fantastic day!