It's almost October! YAY! I love this time of year!  The shift from those sultry, hot (sometimes too hot!) summer days to the fresh, crisp air of autumn signals a time to cozy in at home and with a good book and mug of spiced chai!  I often wait until October arrives to even think about decorating for fall, but this year I was so inspired by the beautiful images popping up on my Instagram feed and the stunning hydrangea at the flower market, that I decided to bring out a few pumpkins a little early. So here is a little fall home decor tour for you all!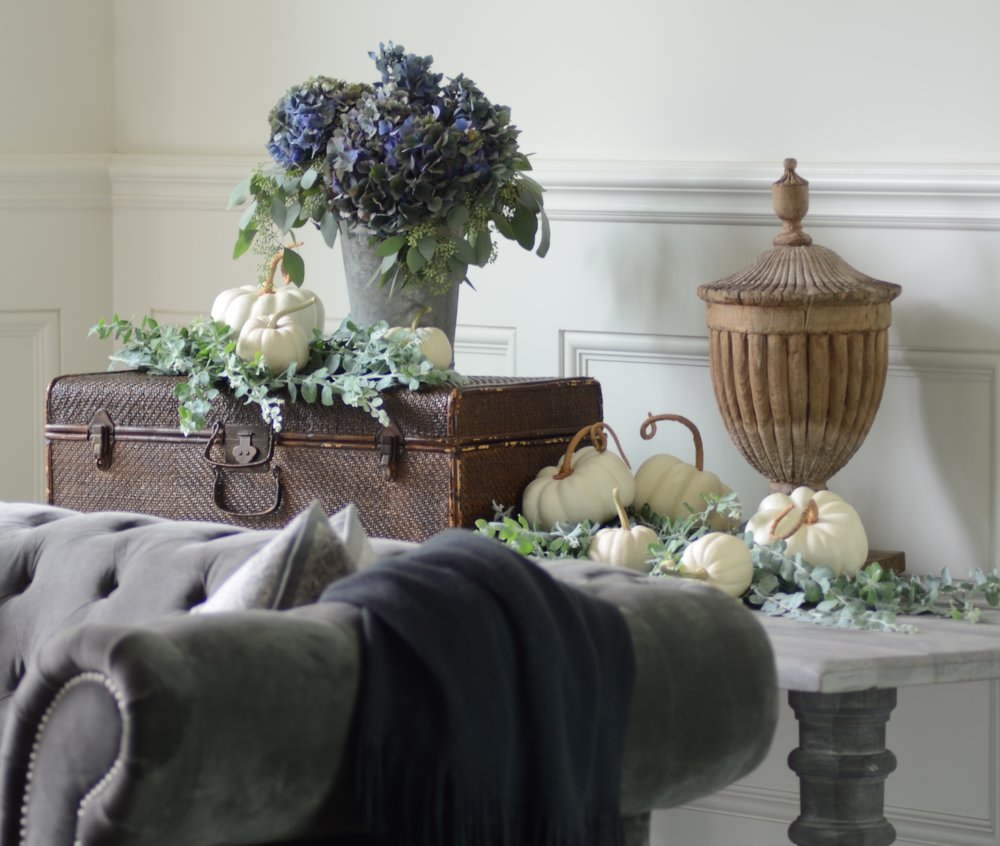 I have always been a bit of a traditionalist when it comes to fall decor using lots of warm oranges and yellows sprinkled throughout the house. This year I decided to do something completely different, so I chose to use soft greens and creamy whites with accents of indigo, purple and gray mixed in. I love the way it coordinates with my existing decor, yet still looks festive.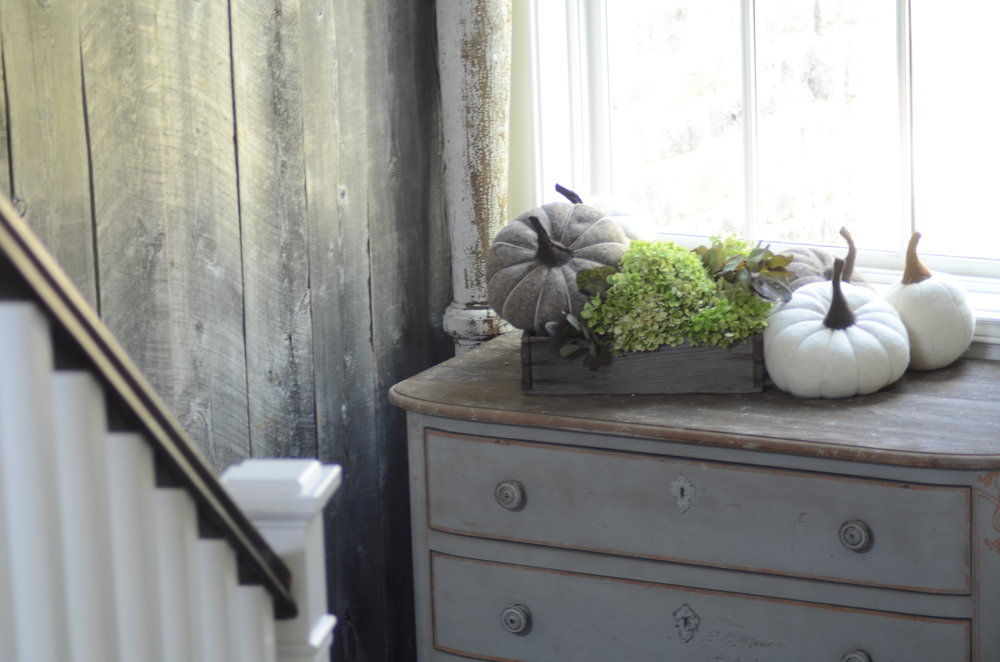 There are not a lot of real pumpkins available in Southern California yet, so I found these great felt pumpkins at HomeGoods in the yummy tones I was looking for! Mixed with an old wood box, the staircase landing says "Fall" in a very subtle way.
The dining room got a sprinkling of fall with this extra large pumpkin and a few mercury glass accents. More dried hydrangea add a long lasting floral accent.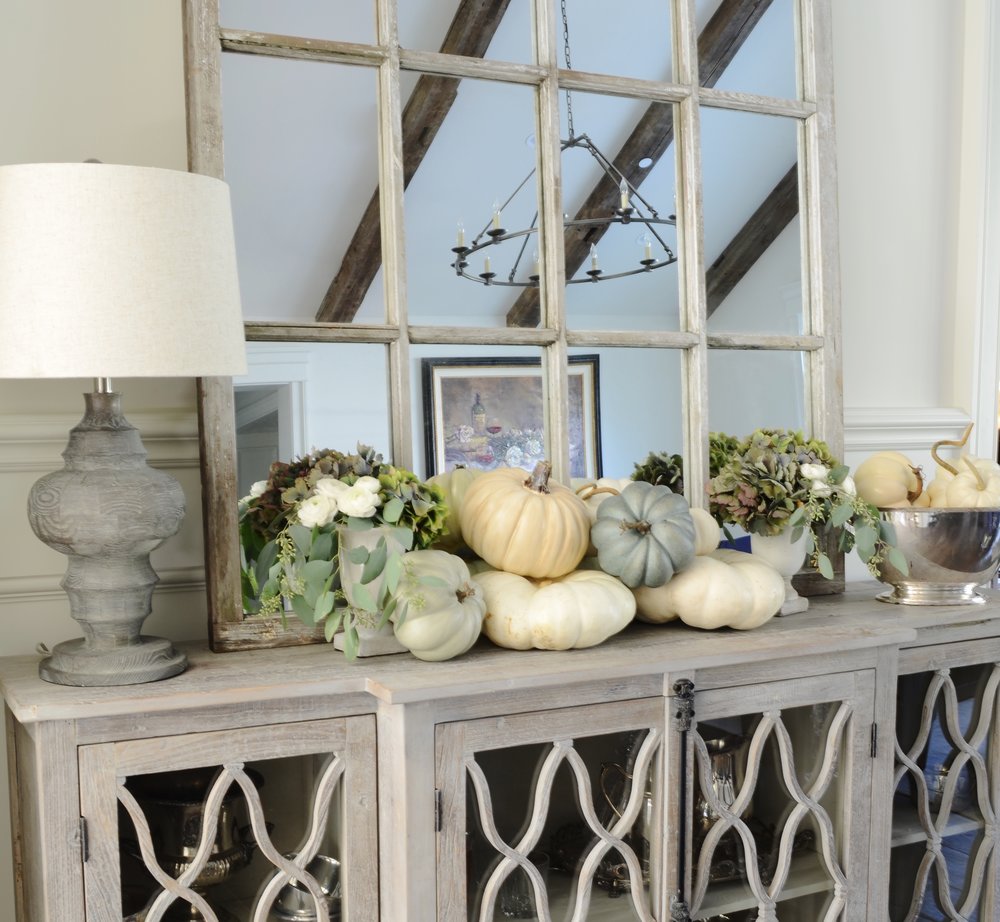 I found a few large white pumpkins so I mixed them with my favorite faux pumpkins for a pretty styling on this console in our living room.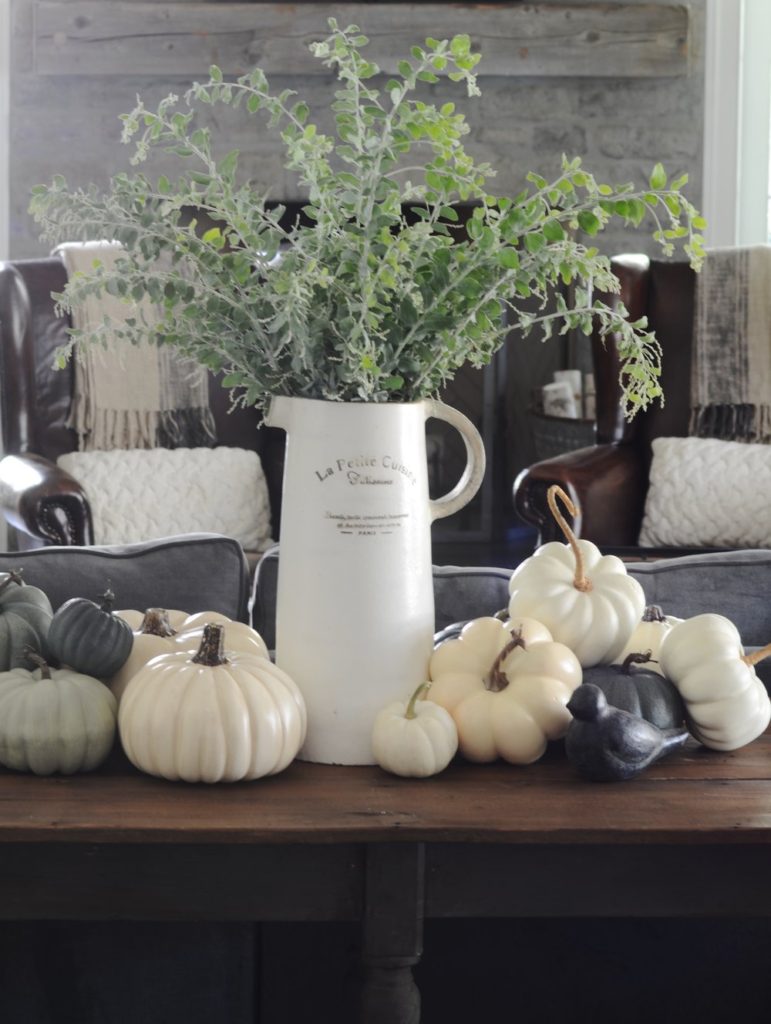 Often it takes no more than some pretty greens in a container and some random pumpkins to say "Fall". This table inner family room is simple but keeps the neutral theme going!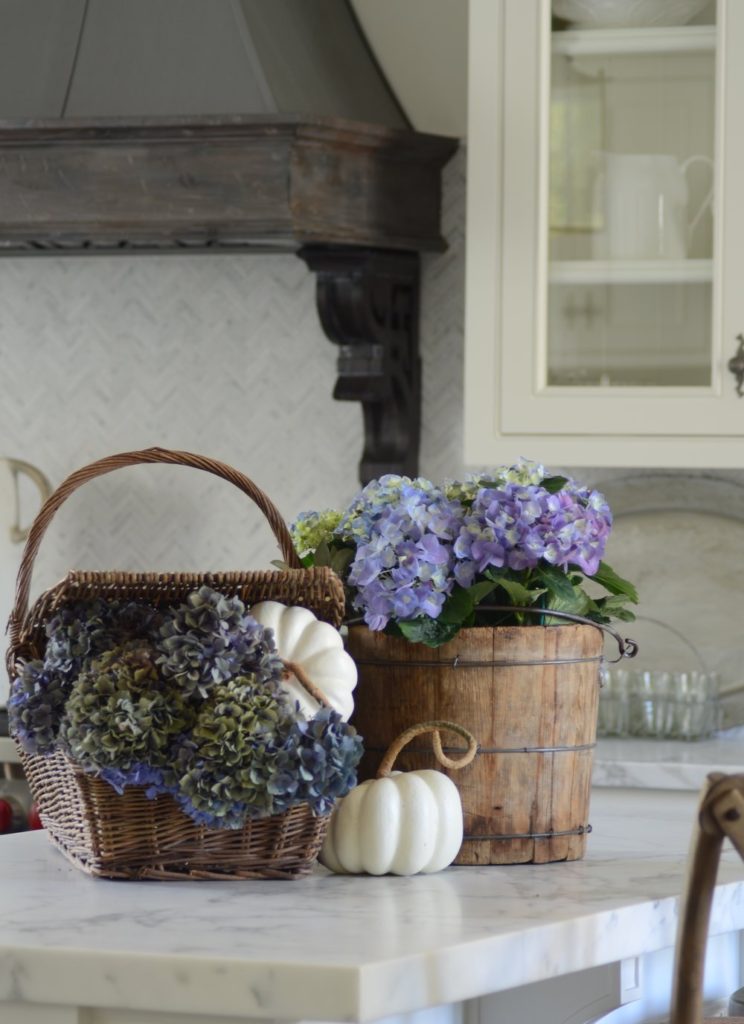 This antique basket and bucket inspired an early fall vignette on my kitchen counter. Once the pretty hydrangea dried, I used them in the garland below.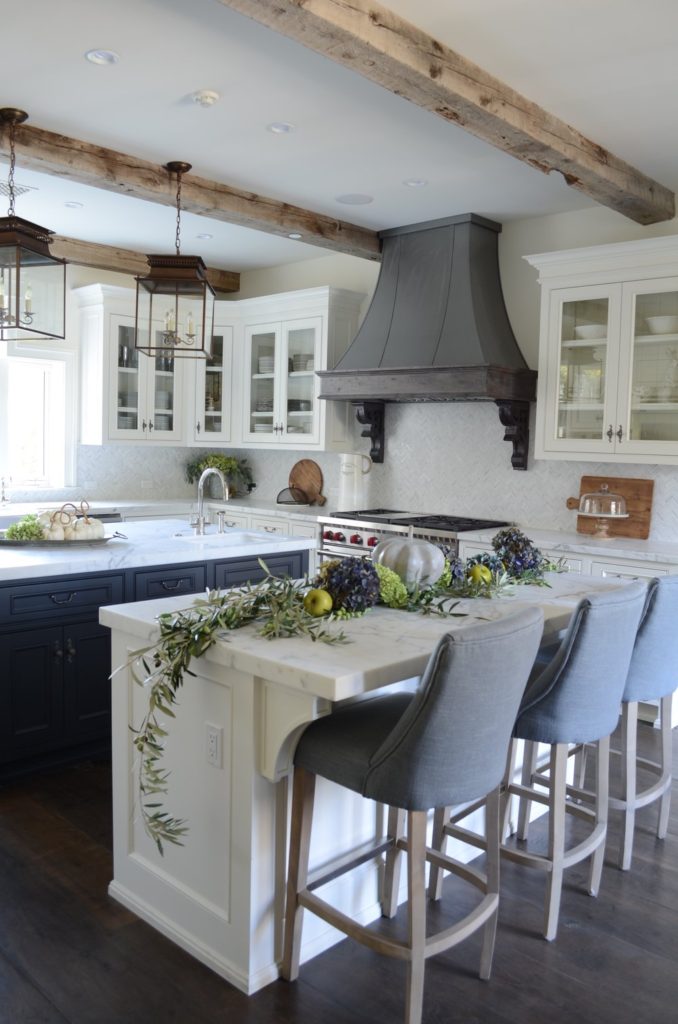 I made a garland of olive branches I picked from our neighbor's tree and added in the dried antique blue and green hydrangea.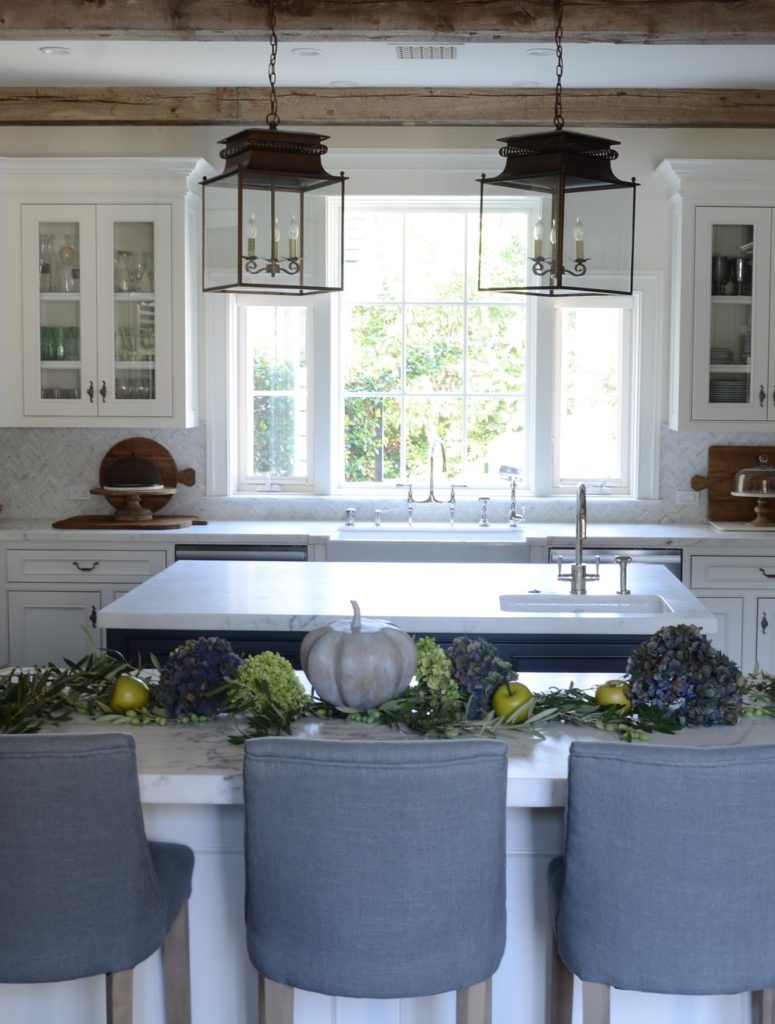 I was also inspired by the new barstools I got for the kitchen. This fabric color is the perfect complement to the soft neutrals I was looking for!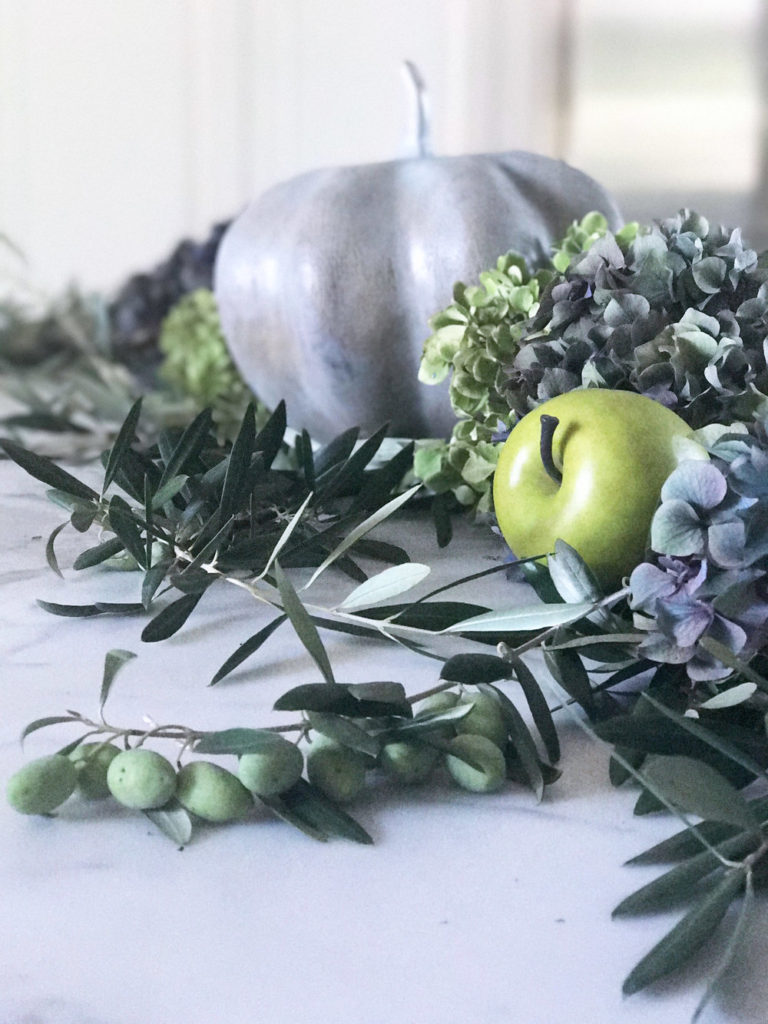 A wooden pumpkin in soft blue and a few green apples added a bright accent.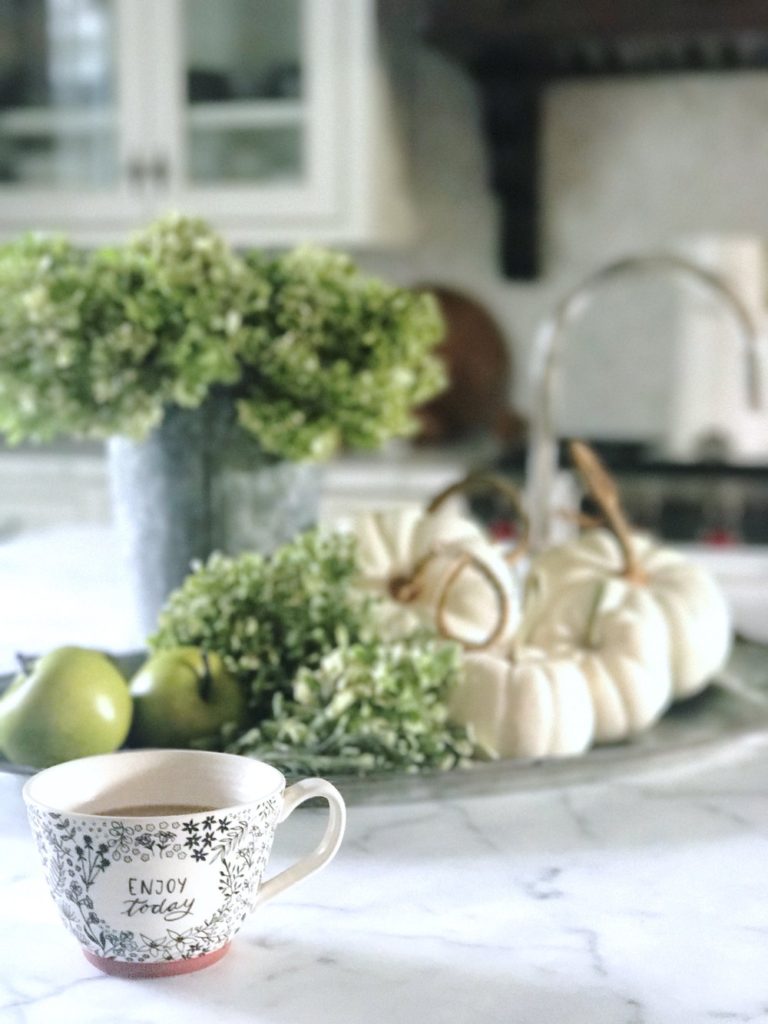 On the work island, I used a simple metal tray and layered white pumpkins, green hydrangea and more green apples. Don't you love apples in fall?!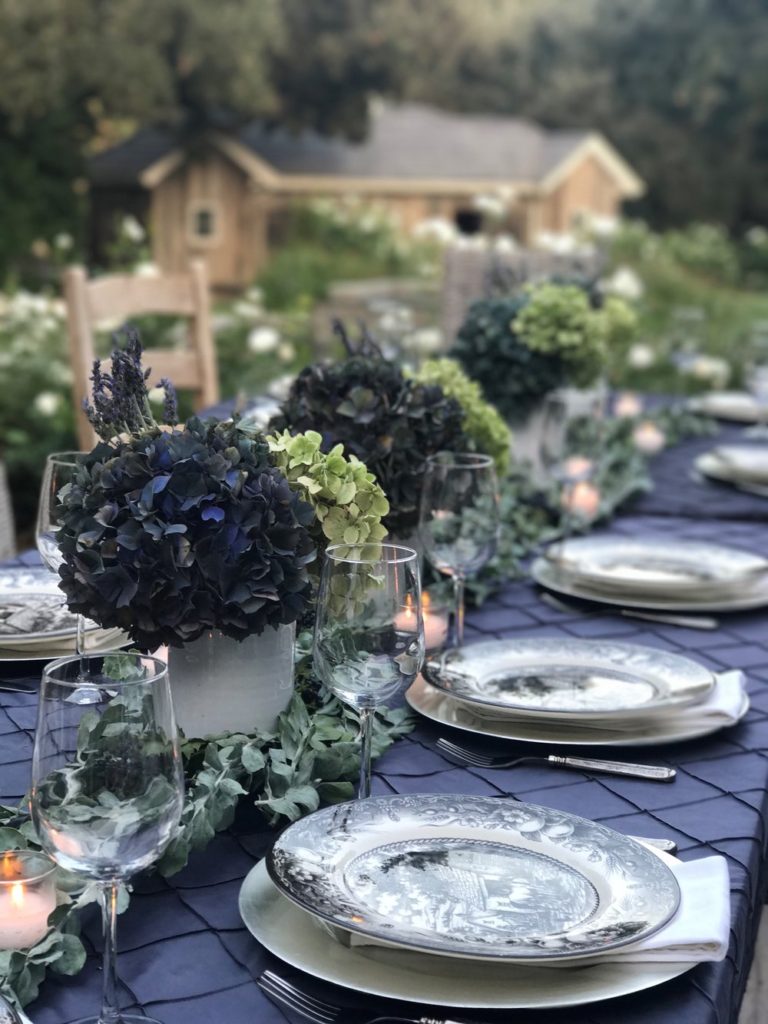 I have to admit that part of my "rush" to decorate for fall came from the fact that we were having series of parties at the house in September. One was an outdoor dinner party for my husband's birthday.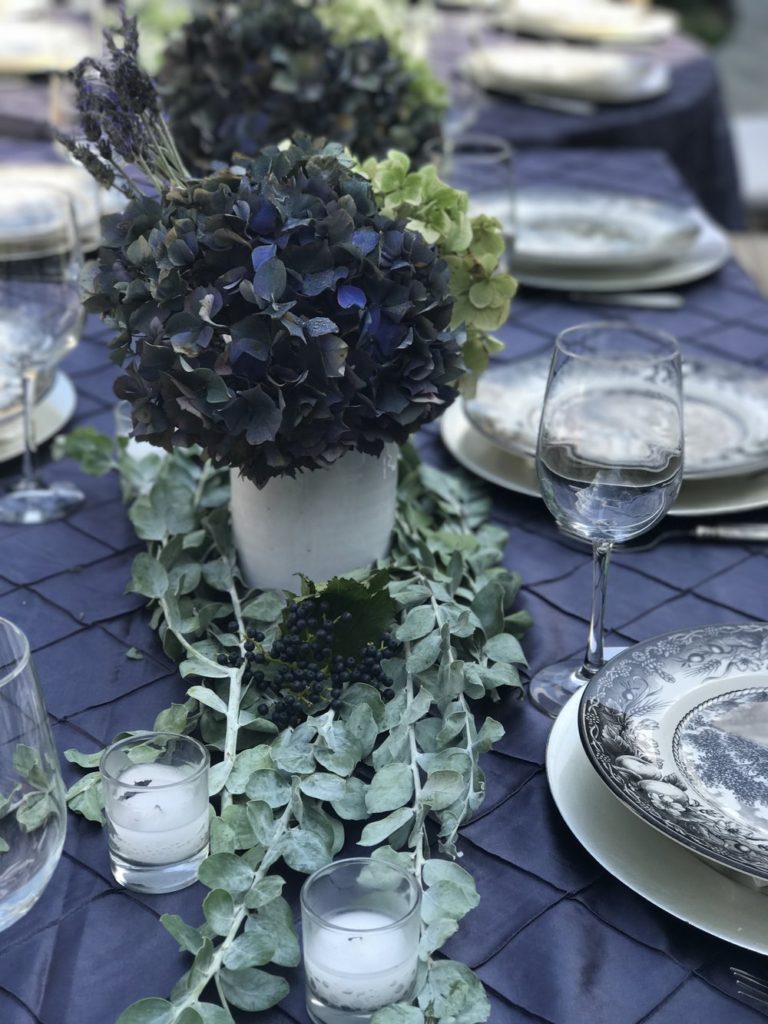 I used my tried and true indigo pin tuck table cloth and added a runner of acacia branches along with some simple votives and hydrangea mixed with fresh lavender in white vases.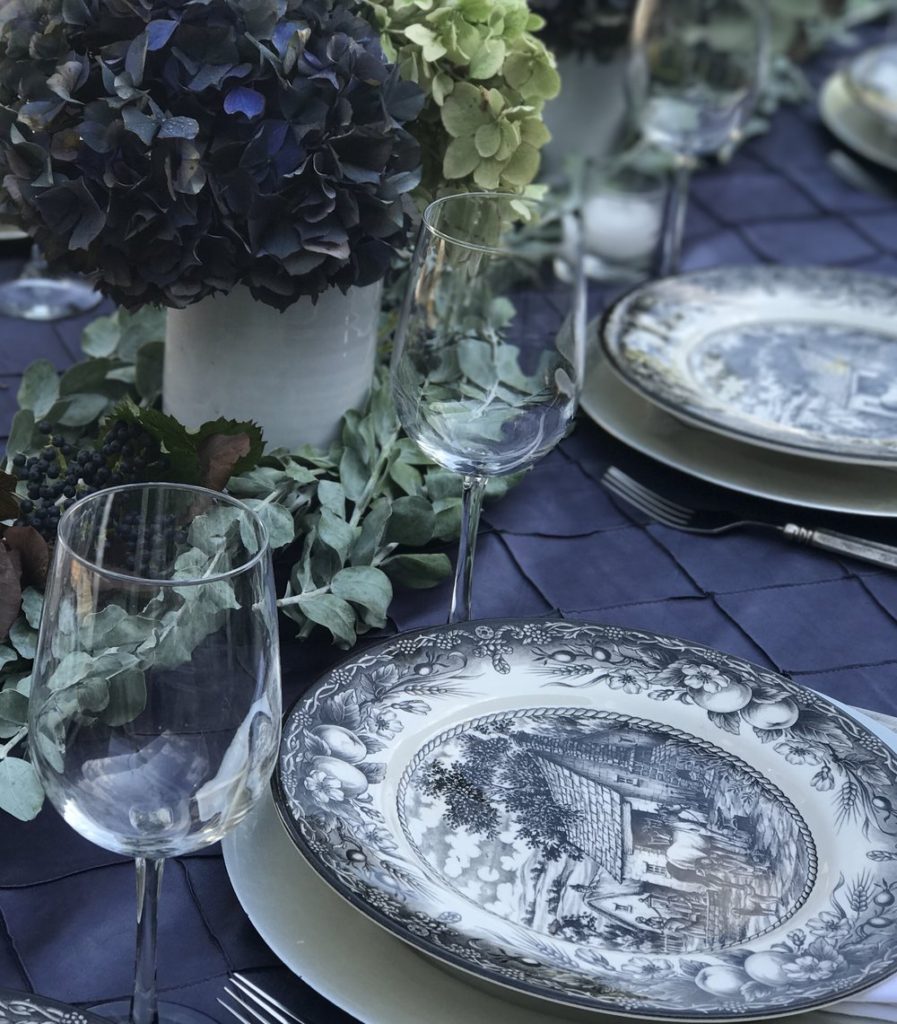 I brought out my favorite fall plates in this great black and white pattern to add a little warmth and a casual feel.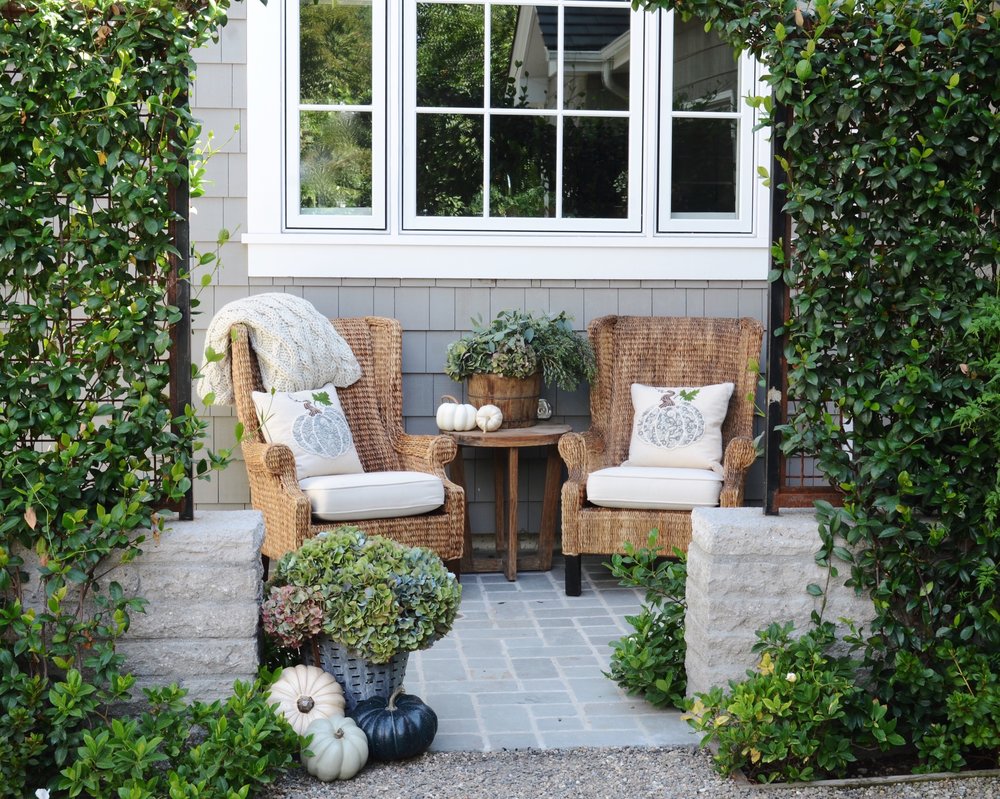 On the back porch, a couple of HomeGood's pillows and a bucket of hydrangea and eucalyptus cozy up these seagrass chairs from Pottery Barn.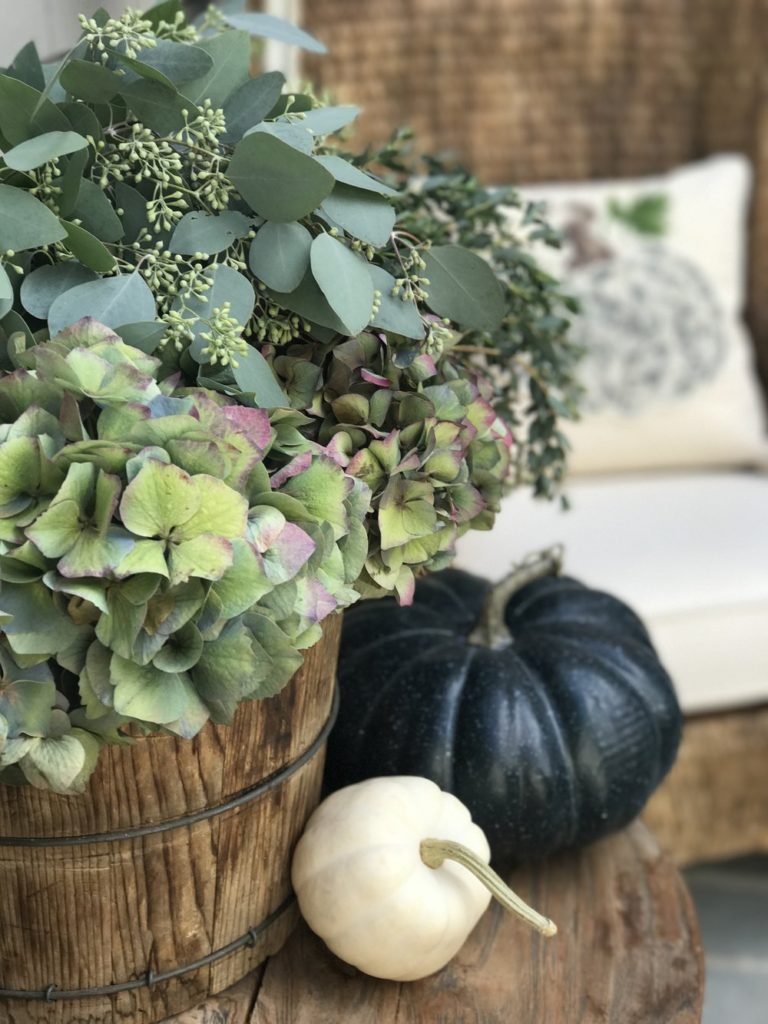 Pumpkins in these simple neutrals are an easy addition.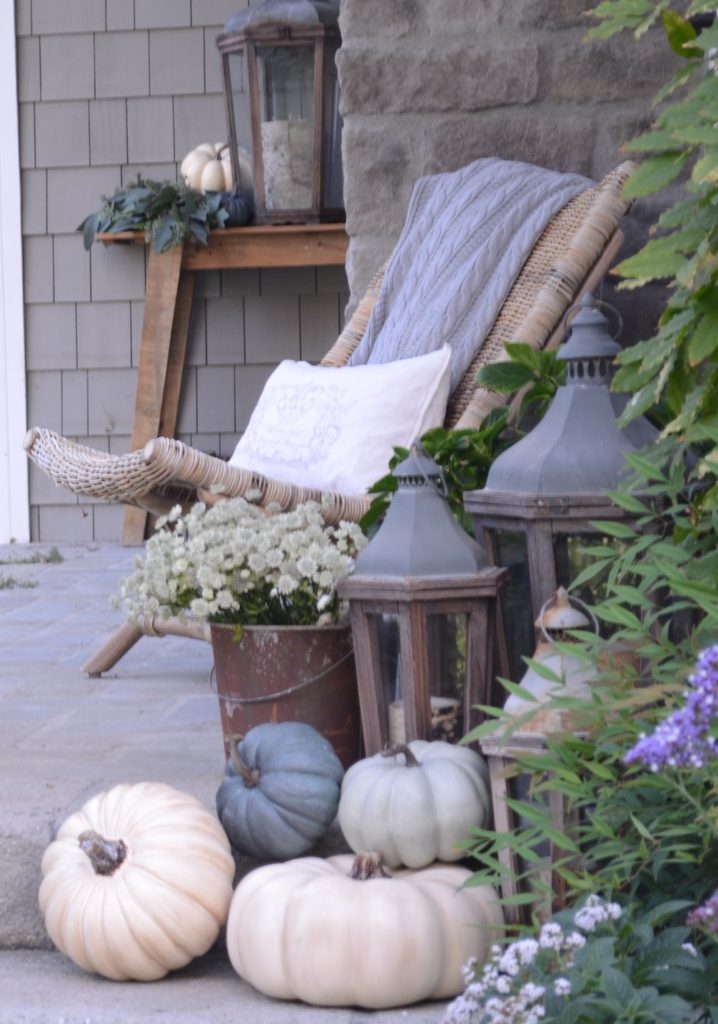 The bedroom porch got a touch of fall with these great "weather-proof" pumpkins from Michael's.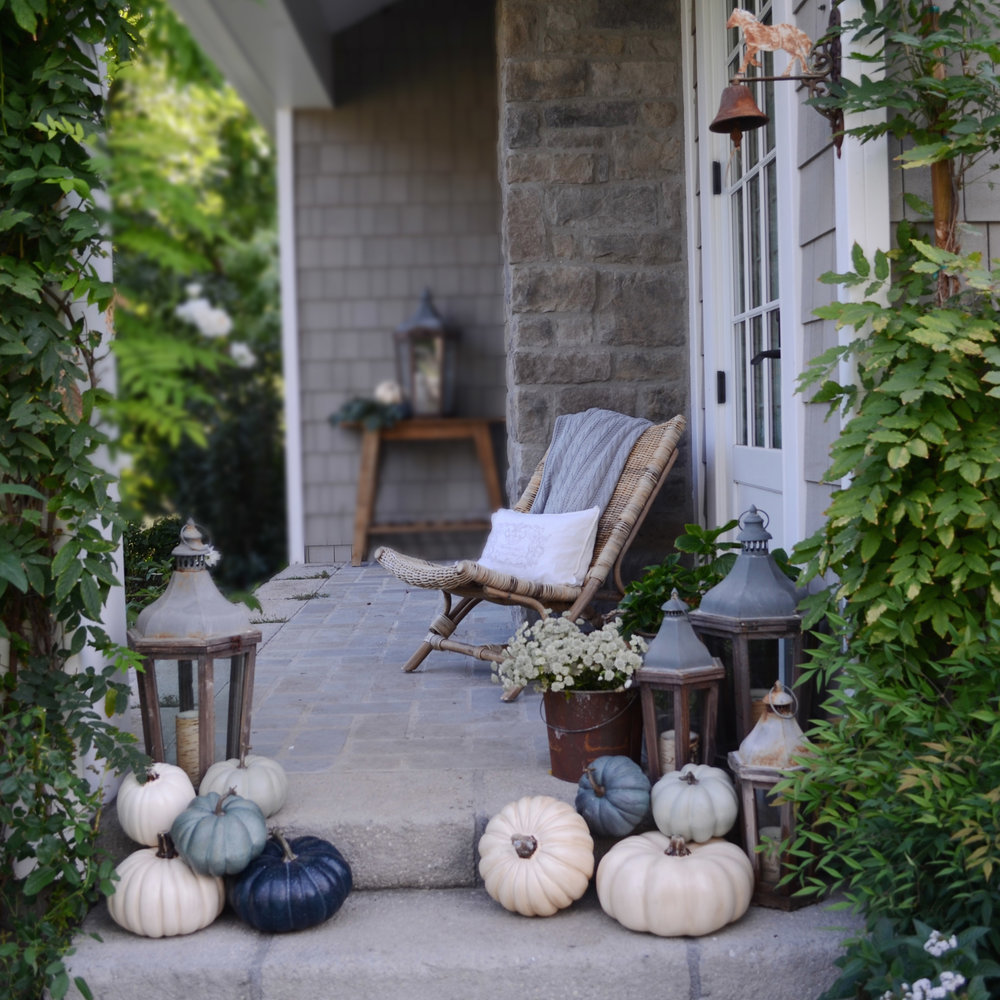 I love the way my favorite outdoor lanterns from Pottery Barn with birchwood candles stack on the steps. An old rusted bucket with some fall flowers is an easy way to add some softness.
The house and yard are shaping up nicely for the coming season…I'm excited to share my completed dining room table next! Check back soon for more fall decorating inspiration!