A Neutral Thanksgiving Table
Wow! Can you believe it is already the end of October?! It sure doesn't feel like it in Southern California! We have had 90+ degree days for weeks, and I am having a hard time keeping my pumpkins from melting on my front porch! Nevertheless, we are quickly moving toward one of my favorite holidays, and I am already dreaming of Thanksgiving tablescapes.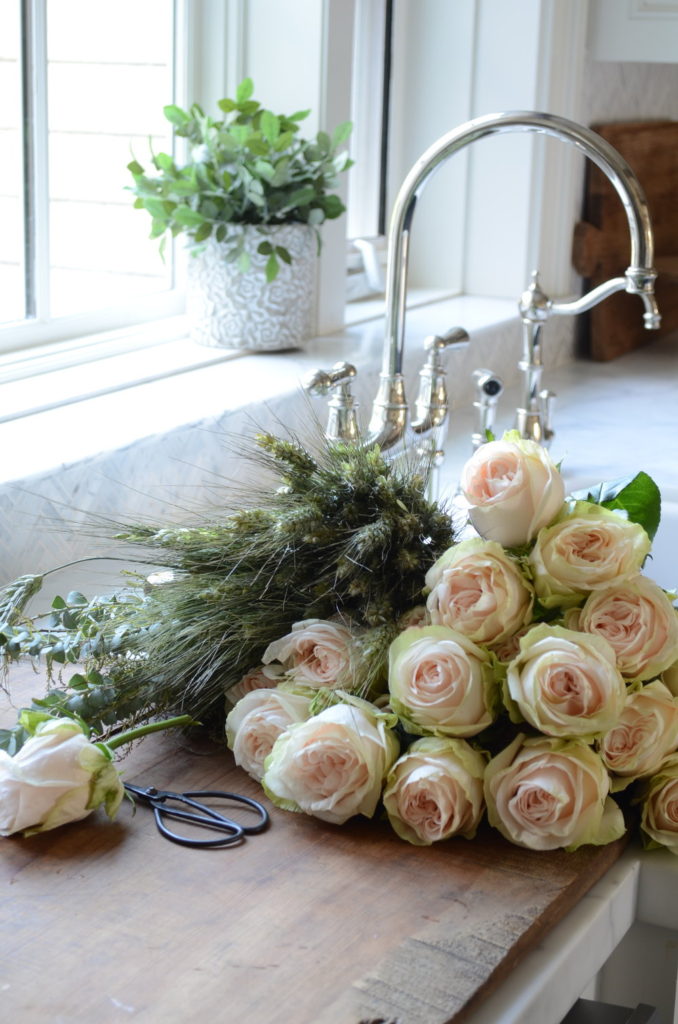 In case you haven't noticed, I am kind of obsessed with setting a beautiful table, regardless of the occasion. I often find my inspiration and color palette in fresh flowers and this week was no different. I have been really loving the beautiful seeded eucalyptus at the flower mart, mixed with soft whites and pale blues and purples for this Fall season.
I often use more traditional warm tones for a Thanksgiving table, but have found that with the right accents, the softer, neutral tones can be equally festive.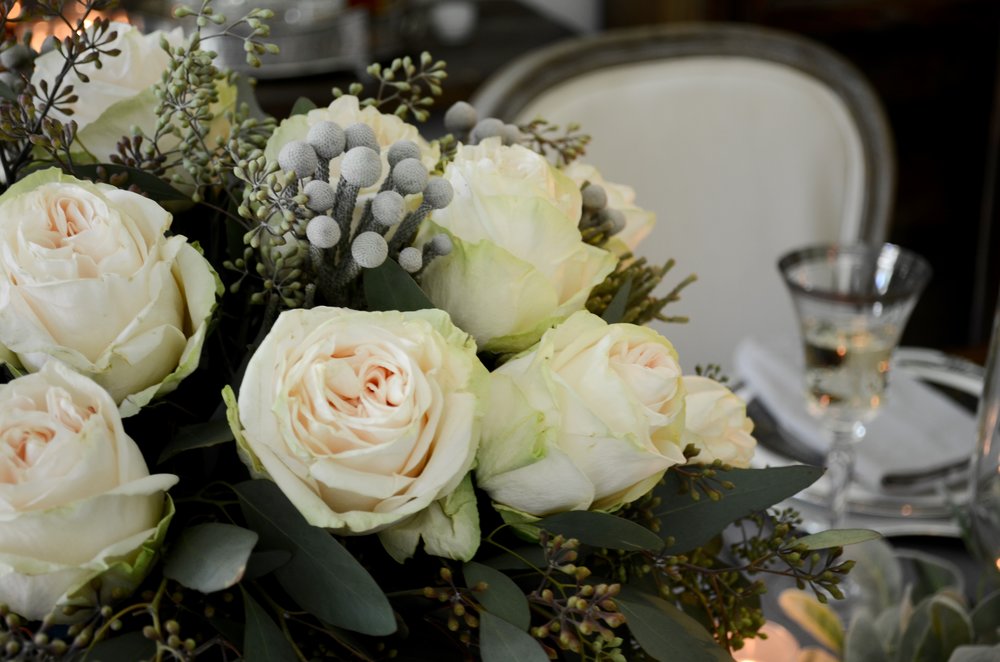 I grabbed some beautiful garden roses in a soft white with a very subtle blush cast as well as some heavily seeded eucalyptus, fresh wheat and silver brunia.
I can honestly say that I did not have a concept of what I was going to do with these beauties once I got them home, but I was confidant that inspiration would strike.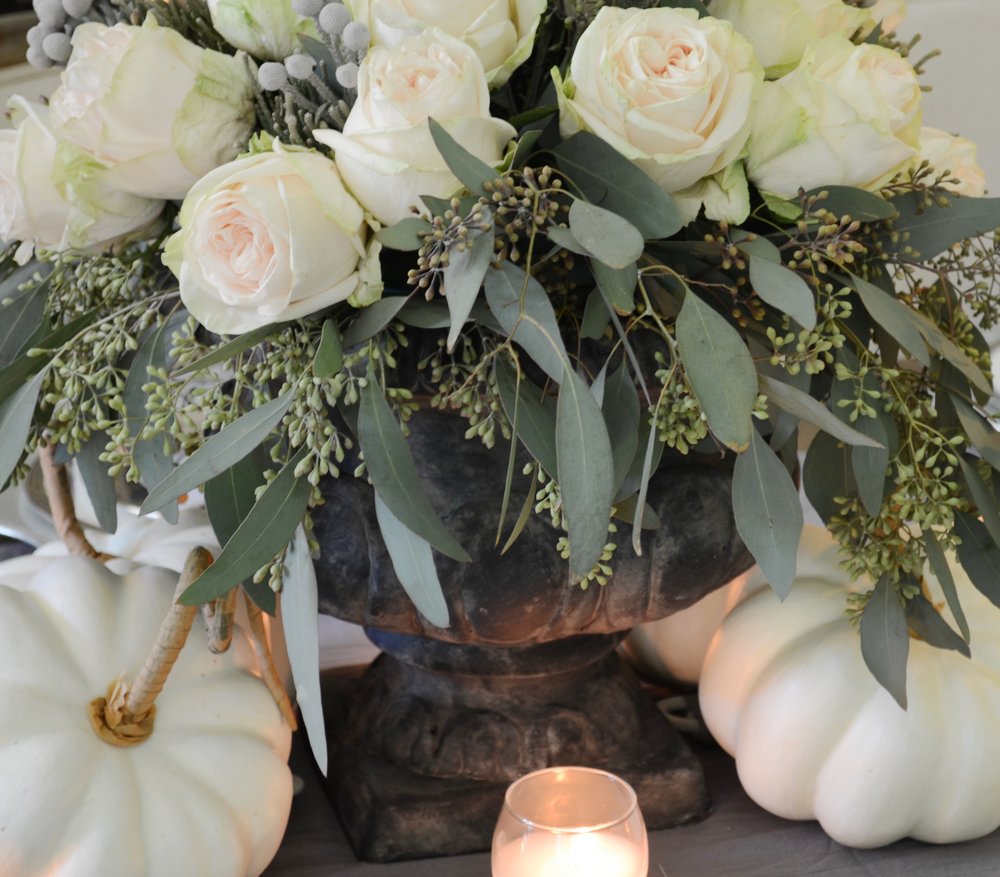 I decided to experiment with a new black pedestal container I had recently gotten. I added some water soaked floral foam to the inside and then filled the outside edges with eucalyptus. I filled the interior with the garden roses and inserted the silver brunia randomly.
This was a truly easy centerpiece to make…the key is using floral foam to keep all of the blooms in place!
See the FULL TUTORIAL on how to make this centerpiece in three easy steps by clicking HERE.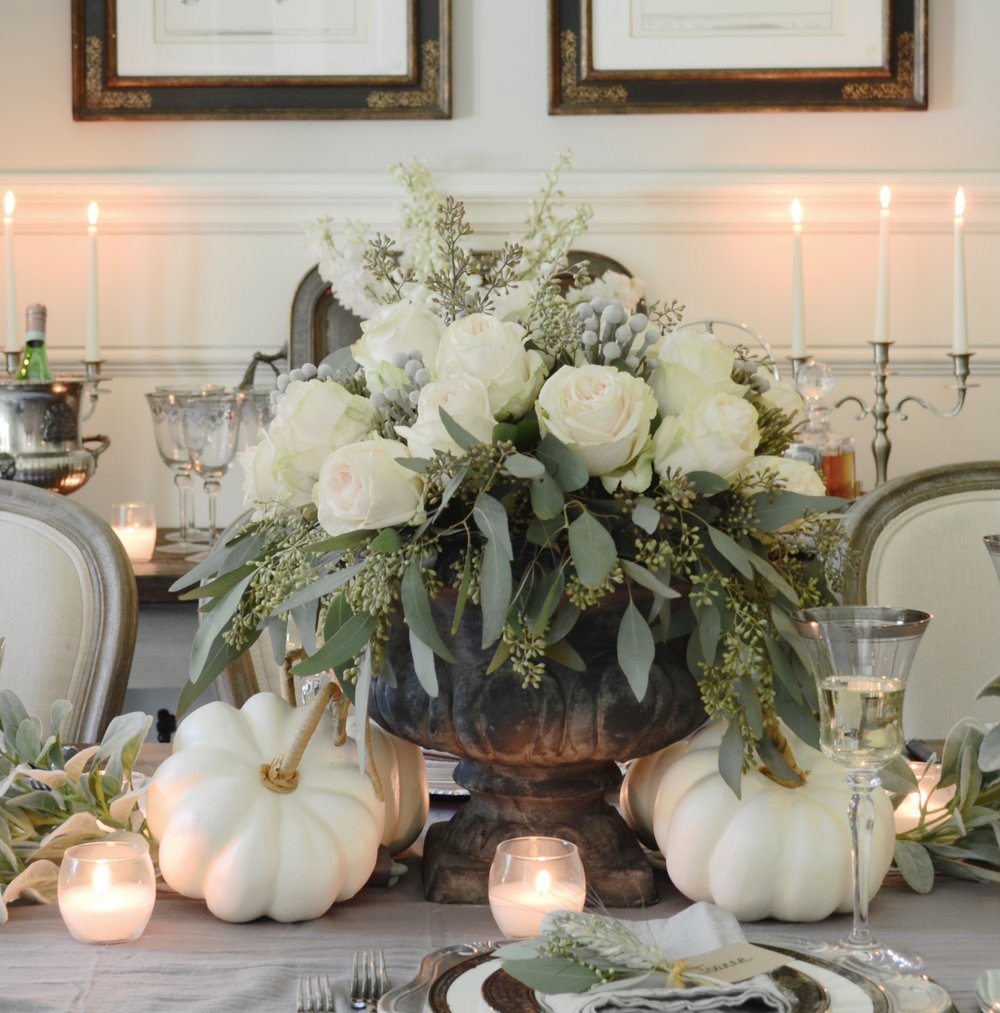 In keeping with the soft, neutral theme, I used a simple flour sack tablecloth, folded in half to create a runner.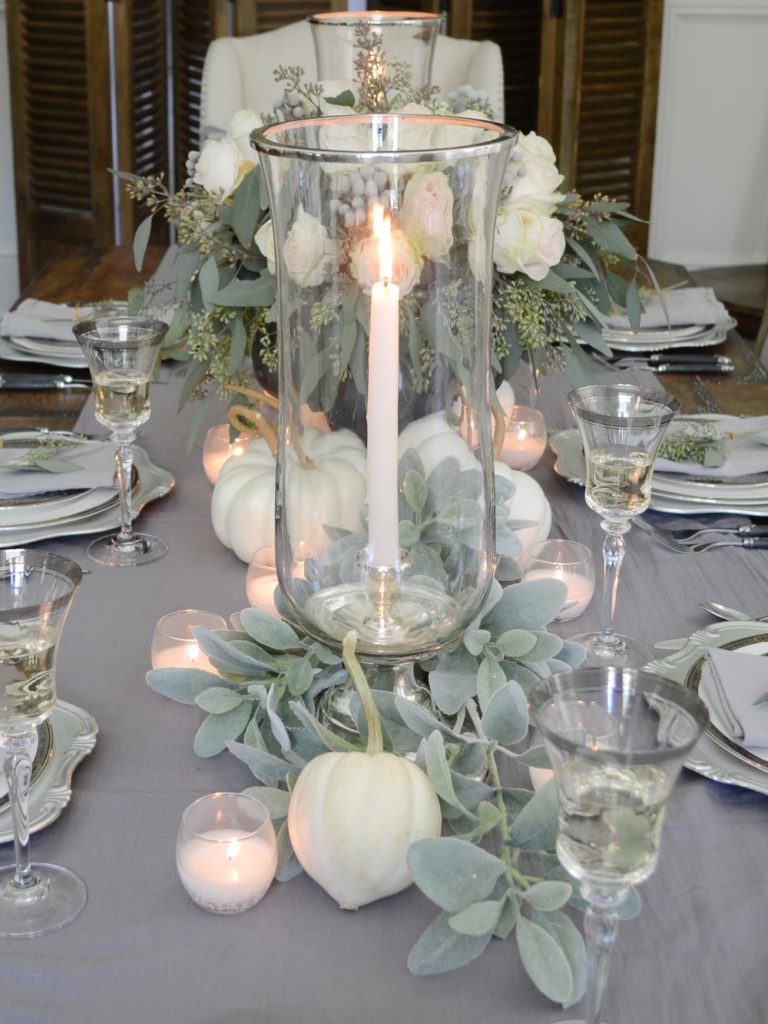 I wanted to create a garland effect down the center of the table, but did not have any more seeded eucalyptus, so I grabbed some faux greenery I had in a vase, and began playing with that. I was able to layer it in a way that it laid perfectly along the table, but I did not want the faux stems to show, so I used some simple gray ribbon and wrapped the stems…kind of like a bouquet.
My favorite thing about using the faux greenery, is that I don't have to worry about it drying out before everyone sits down to dinner. It is easy to maneuver and looks fresh forever!
To complete the look, I used my favorite faux white pumpkins alongside some baby white pumpkins from the market. A sprinkling of votive candles and two large hurricane candles completed the tablescape.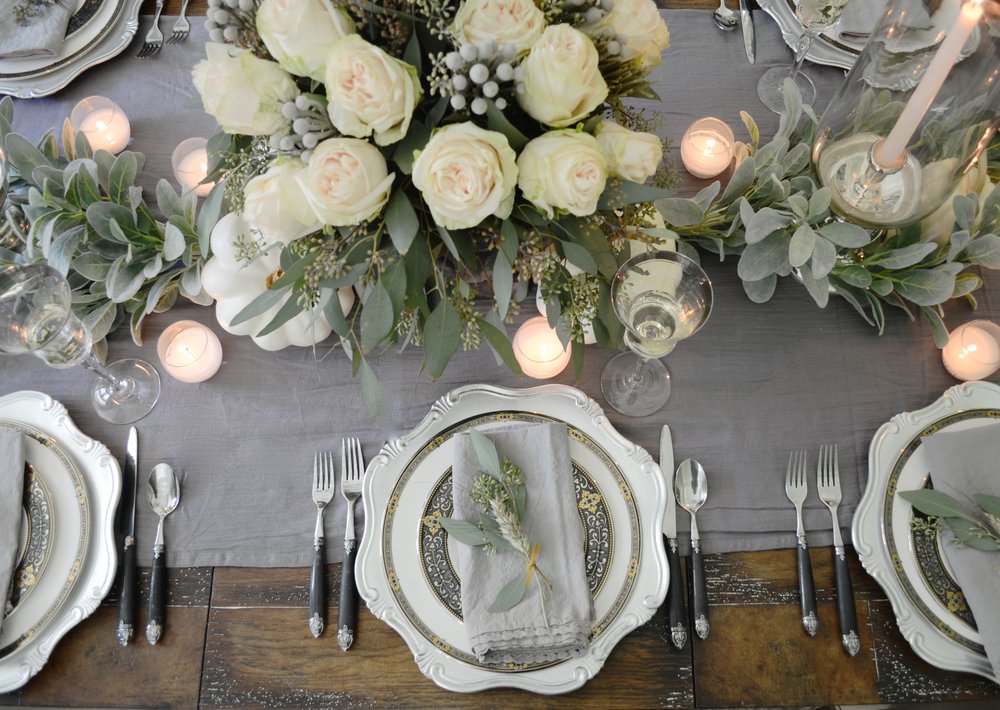 I don't get our fine china out too often, but to me, Thanksgiving is the perfect occasion to dust off the "good stuff" and enjoy it! I recently got some silver (acrylic) chargers with a pretty detailed edge, so I used those as a base for the china and then layered the dinner and salad plates on top. I also used flatware with a pretty charcoal gray handle. I softened the look with a soft gray napkin placed on each plate.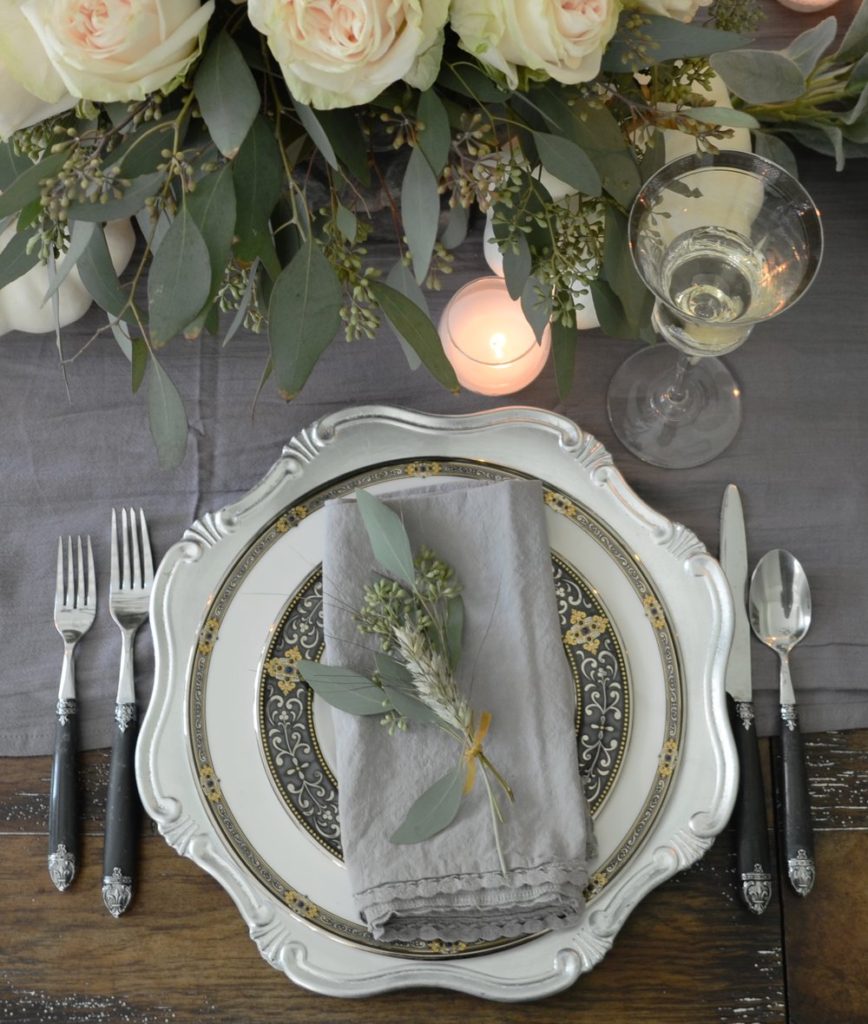 NOTE: Eucalyptus will dry out after a day or two, so don't make these too far in advance.
The final touch, at each place, is a simple fall accent of eucalyptus and wheat tied with a gold ribbon.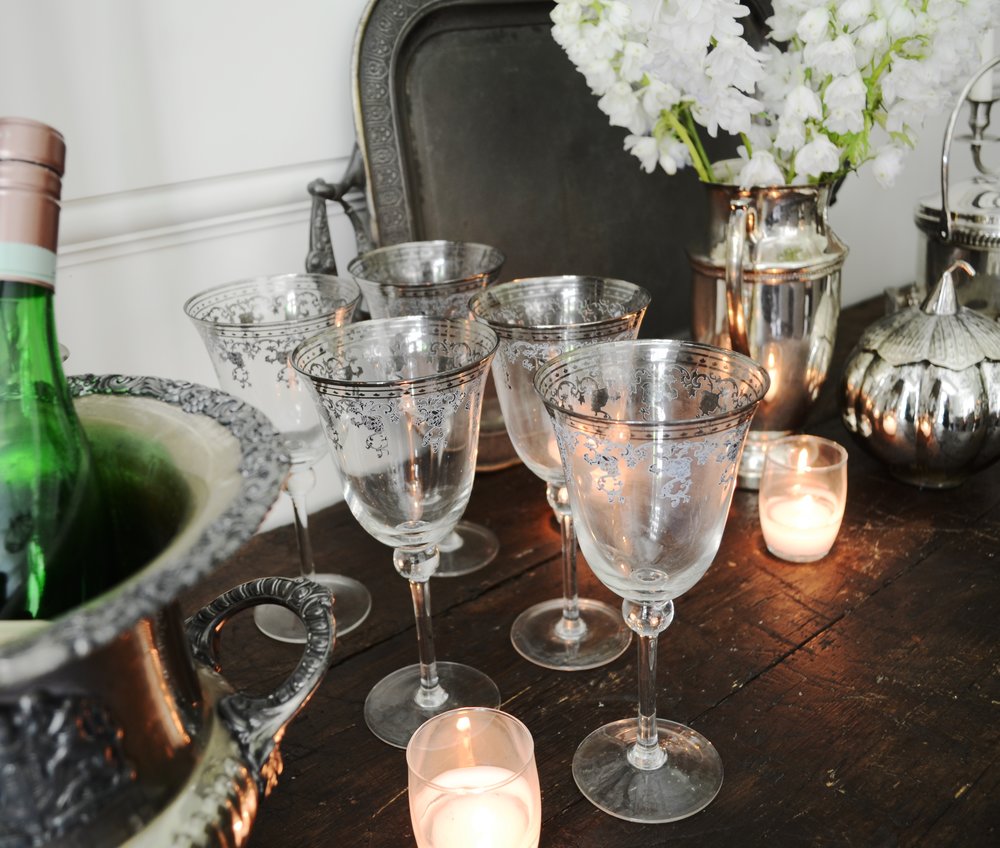 Finally, I brought out some of my favorite vintage silver pieces to set up a small bar on the sideboard. This provided a place for another pretty vase filled with white delphinium and some additional candles!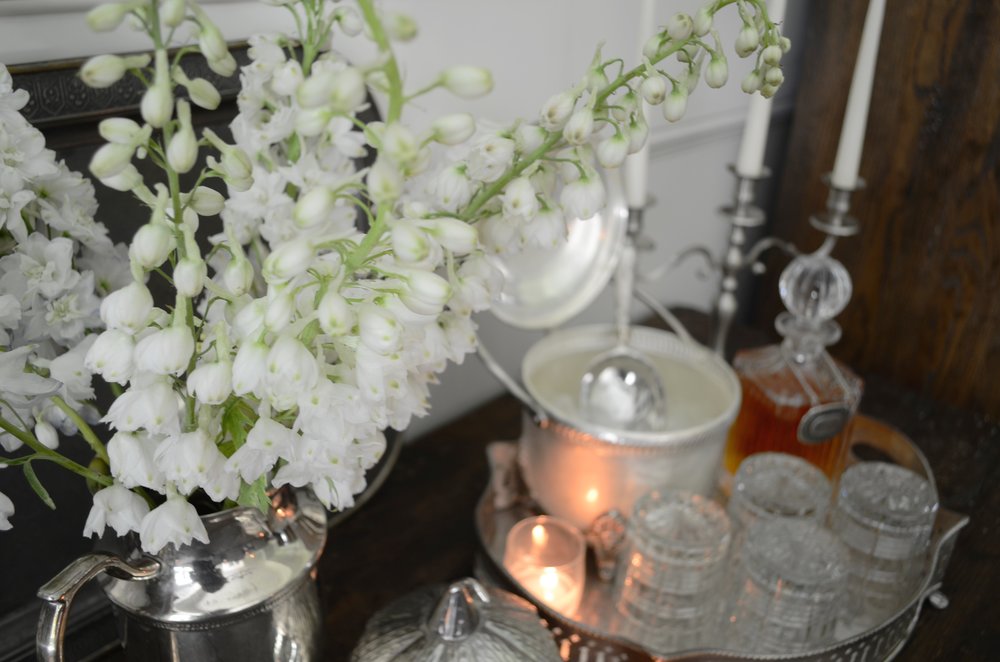 So there you have it…my take on a neutral Thanksgiving table!
It was nice to move away from the traditional tones and create something fresh and different this year. What are your plans for Thanksgiving? Leave a comment…I would love to hear from you all!