40 Holiday Party Essentials under $40
Do you guys entertain during the holiday season? We do…a lot! We usually have three or four parties from October to December plus Thanksgiving and Christmas, so having the right party essentials is key in our house. Since I don't want to spend a fortune on beautiful partyware, I often turn to Walmart for budget-friendly holiday entertaining options and they never disappoint! To show you what I mean, this week I've rounded up 40 holiday party essentials under $40 that I know you're going to love! I've got everything from tabletop to barware and decorating to baking essentials that are beautiful and stylish but won't break the bank. Scroll down to see everything and shop your favorites!
This post is sponsored by Walmart, but I am dedicated to only sharing products I love and actually use. All ideas, reviews, and opinions are mine. This post contains affiliate links.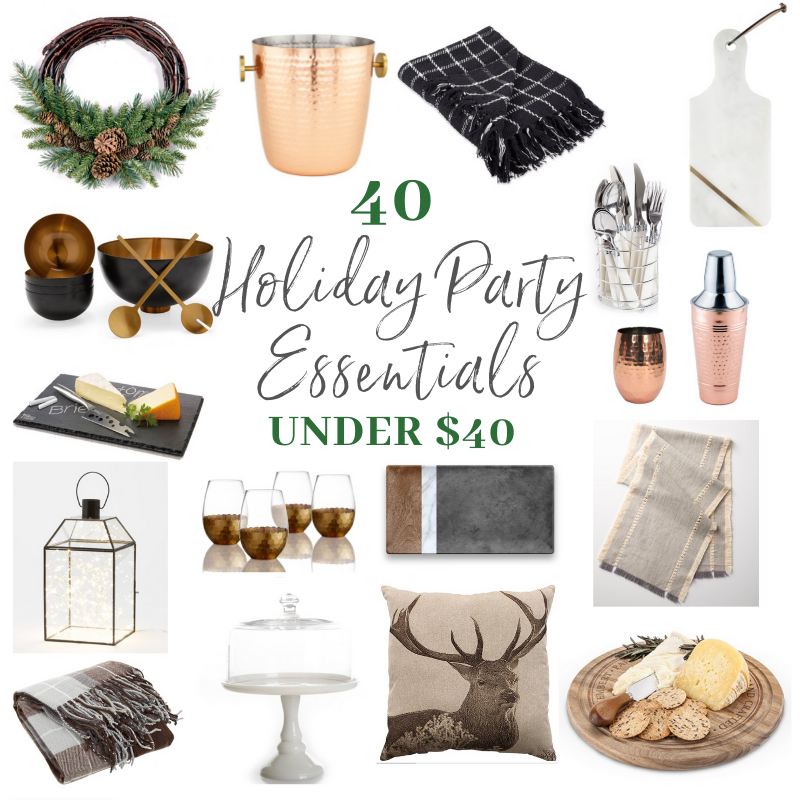 HOLIDAY PARTY MUST-HAVES
Click on the small photos to shop

I have this melamine cheeseboard and these gold stemless glasses and I use them all of the time! They are perfect for a small cocktail party!

I always create a cheese board for our parties and this pretty round wood board is iconic and the perfect size. I also love using my cake stands for cheese because they add height and interest. This one is perfect for desserts or cheese!

These simple gold-rimmed glasses are classic and can be used year-round and a slate cheese board is one of my favorites. I use chalk to write the types of cheeses directly on the board.

How clever is this cheese knife set?! You can add cheeses directly to the wood board or simply place this set out for guests to use! I also LOVE these beautiful marble cheeseboards with the gold accent and this gorgeous black and gold salad set!


I've just ordered this three-tier serving set from Walmart for my holiday buffets. I have all kinds of ideas about how this will incorporate perfectly with my all white dishware and make serving easier. And I use my marble and wood board all the time!

Speaking of holiday buffets, I am always looking for ways to make mine better. This silverware caddy and drink dispenser are must-haves to save space and make my buffet beautiful.

I also found a few beautiful table setting options that I will be using this season. This pretty black and white "thankful" tray is perfect for serving bread and the copper silverware will definitely be making an appearance on my table.

You know how much I love table linens and these two table runners are among my favorites from Walmart. I can go from rustic farmhouse to modern farmhouse with a simple change of linen. And let's not overlook this classic candlestick. I think it would look great with either table runner!

Copper accents are always on display in my home, but they make an extra appearance during the holiday season. I found these great ice buckets, copper cups, and drink shaker plus some kitchen accents all from Walmart. Yay!

HOLIDAY DECORATING MUST-HAVES
Click on the small photos to shop
I always add some seasonal decor to the house to create ambiance and warmth and lately Walmart has had some fantastic and crazy affordable choices! Below are a few of my favorites for this season.

I just got these accent pillows and this throw blanket for our family room!

Loving this wreath and these wood trays. They will last throughout the holiday season and into winter!

Absolutely adore this black and white throw and lantern (I know it's a little over $40 but I HAD to include it!!) for any season.

And let's not forget the traditional accent colors. This holly berry wreath and plaid pillow are perfect and cozy for winter.
HOLIDAY KITCHEN MUST-HAVES
I have to admit, I don't bake too often, but during the holidays, I get inspired! Below are a few kitchen favorites that will be making an appearance this season!

Aren't these red-rimmed pie plates the cutest! And the copper baking set is a must-have in my kitchen!

The fall leaf cake pan has me dreaming of pumpkin spice something and the buffalo check towels will be a great accent in the kitchen for the holidays.

I admit I'm a bit of a mess in the kitchen so an apron is essential. Love this simple gray stripe apron with oven mitts included! Also loving these adorable baking pans from the Pioneer Woman collection at Walmart.

And finally, this copper collander is hanging behind my range and looks perfect for the season and these beautiful mixing bowl are great for cooking or serving!
Phew! That's a lot of amazing holiday party essentials and all under $40! Can you believe it! I have to say that Walmart has really upped their game when it comes to home decor and they are one of my go-to sources when I want style that is budget-friendly…which is pretty much all the time!!
I hope you found something you can use for an upcoming party or just to get your home ready for the season. Have a beautiful day!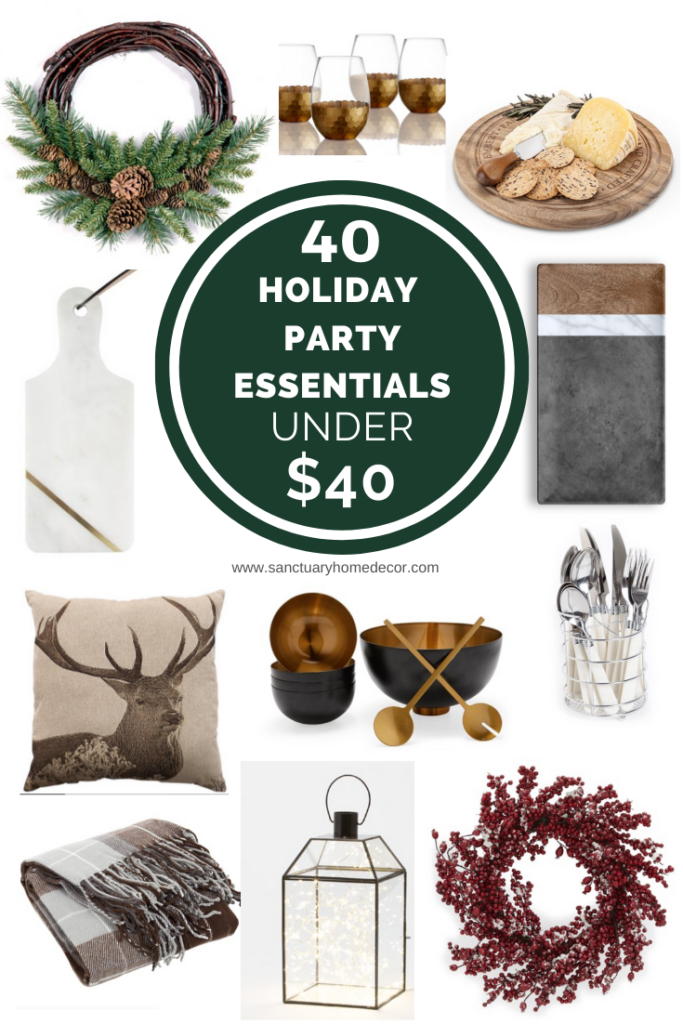 SHOP ALL PARTY ESSENTIALS
Below is everything I shared today plus a couple of extras that I couldn't resist showing you! Happy Shopping!