Vintage Christmas Table Setting
Using a beautiful cloche ornament as inspiration, the soft colors of glittered bottle brush trees paired with mercury glass accents create a beautiful vintage Christmas table setting that is perfect for a holiday gathering.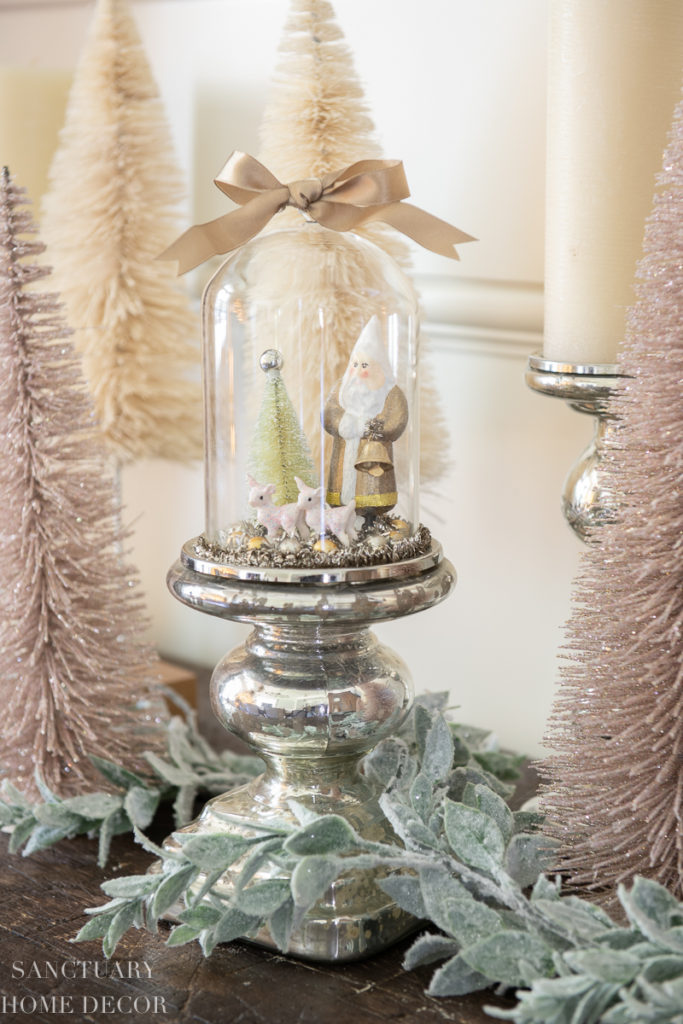 I am so happy to be joining my super talented friends today to bring you some gorgeous Christmas table inspiration! If you are coming over from Life by Leanna, welcome! I'm so happy you're here! Be sure to scroll down to the end of this post to see the other table settings my friends have created!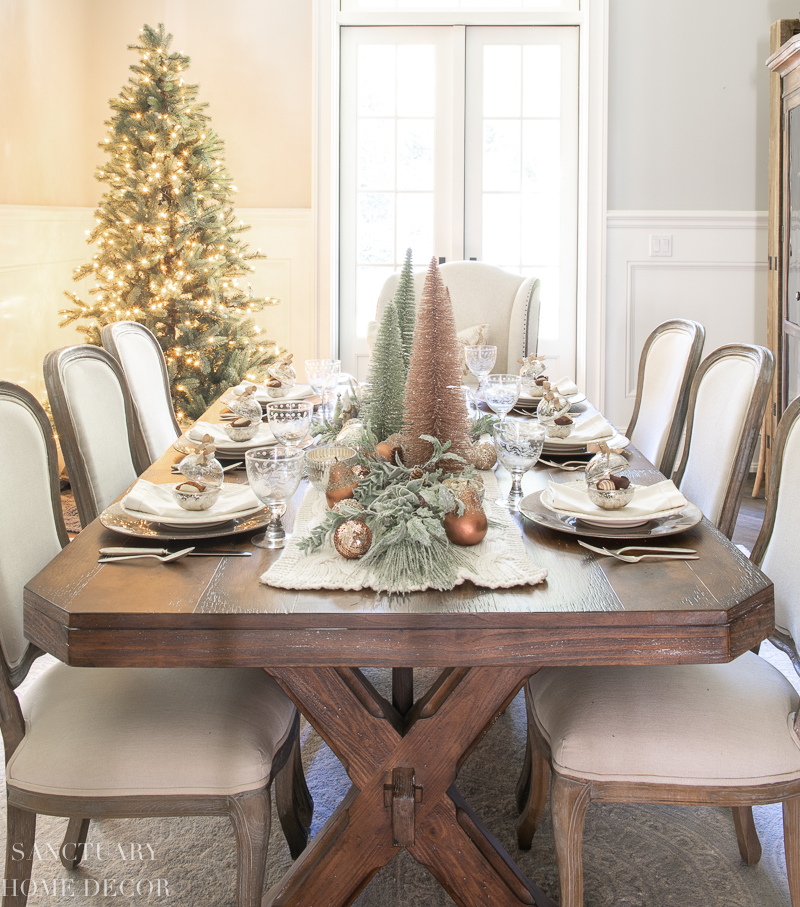 My vintage Christmas tablescape all started when I was shopping for Christmas decor with my friend and we spotted the most beautiful oversized cloche ornaments with an adorable vintage scene inside. We started talking about how great they would be on a table setting…and well, that got me thinking. I began to envision soft colors, glittered trees and mercury glass coming together to create a vintage Christmas table setting that was elegant yet subtle.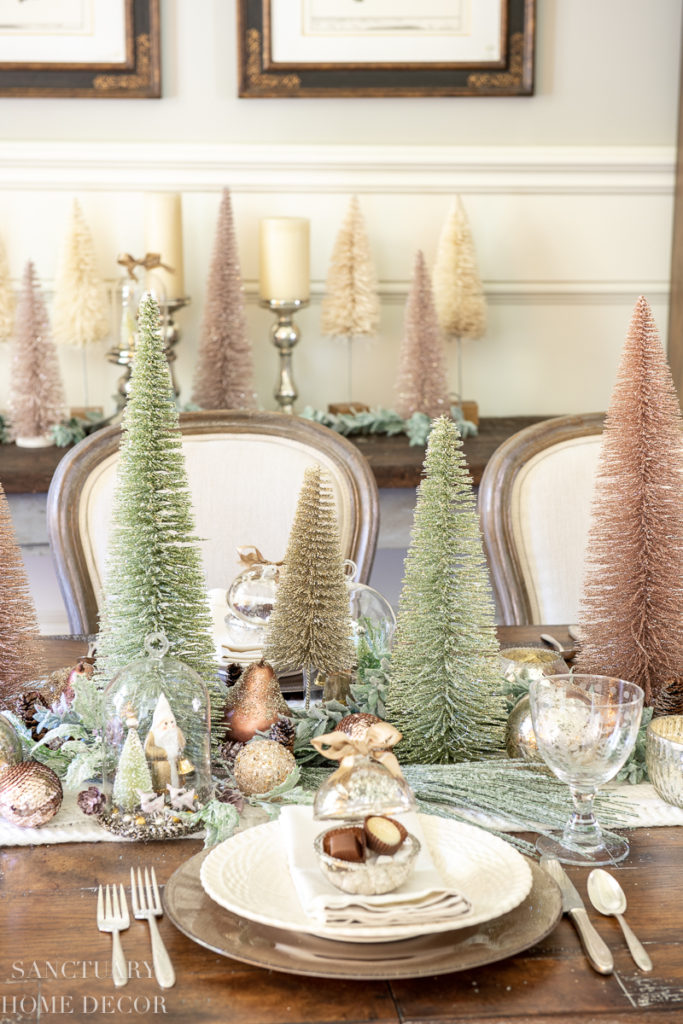 I gathered together some of my favorite frosted greenery and bottle brush trees as a starting point and began to put together the centerpiece.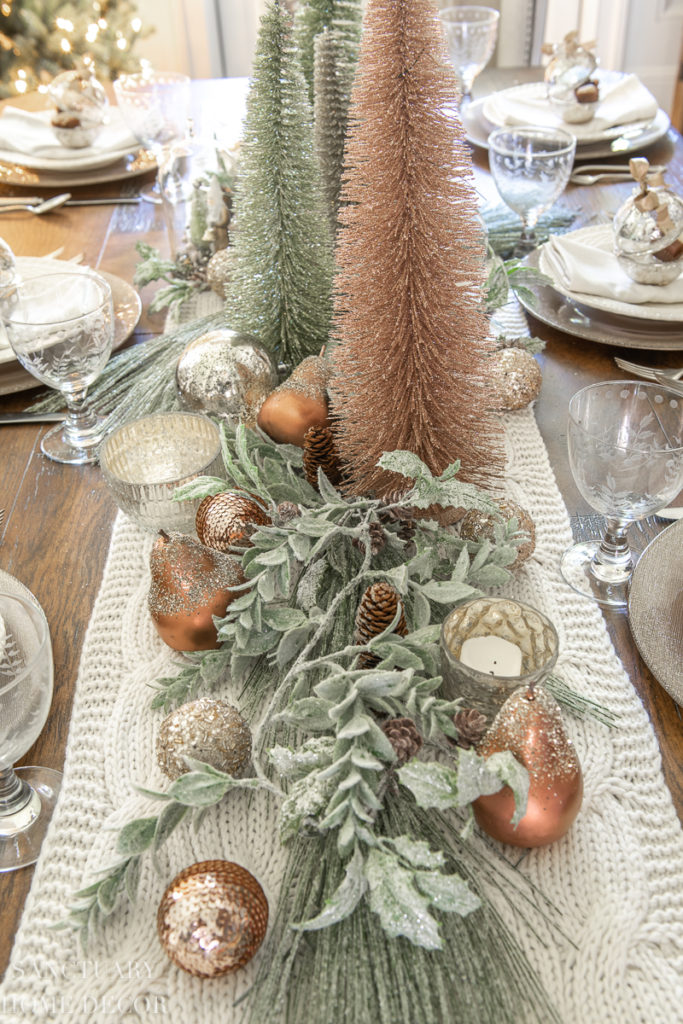 I used a cable knit table runner as my base and layered glittered pine branches and holly leaves down the center of the table. I added a few pinecones and a soft green garland along the length of the table to give the centerpiece more height and width.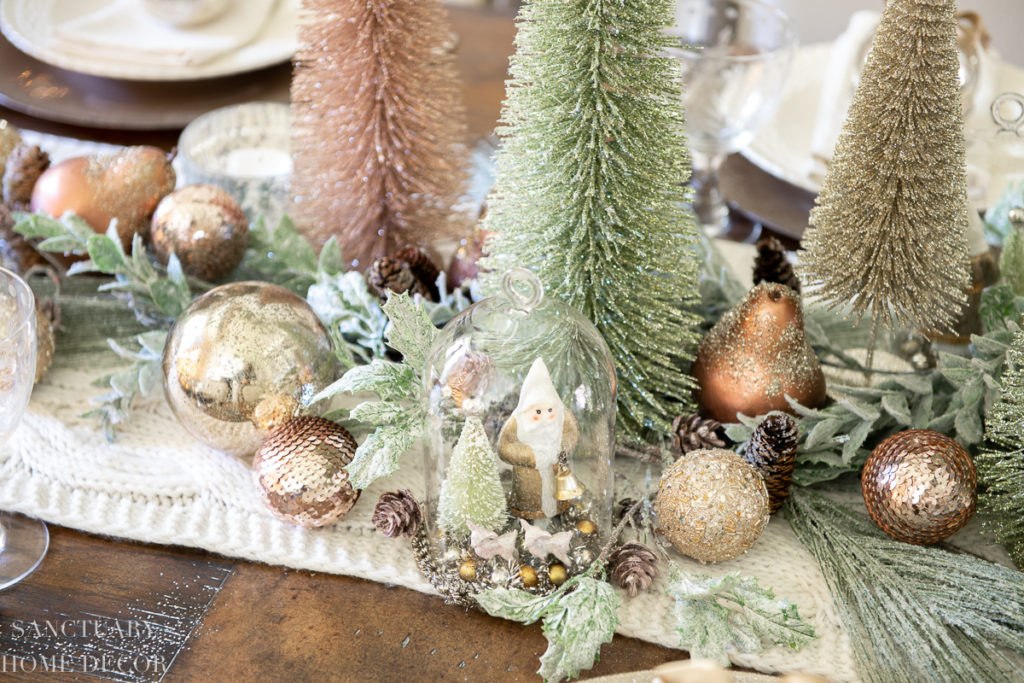 I sprinkled sequined and glittered ornaments along the length of the table and then added glittered pears and mercury glass ornaments. And of course those beautiful cloche ornaments on each side of the table.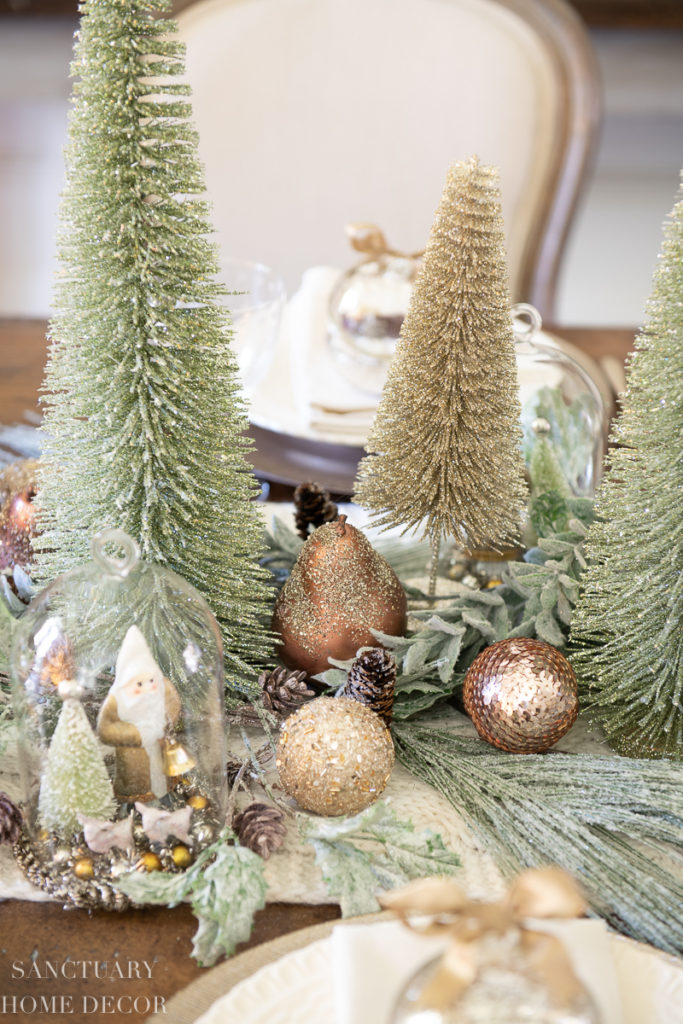 Finally, I clustered five different height glittered bottle brush trees toward the center of the table to add some height and drama to the look.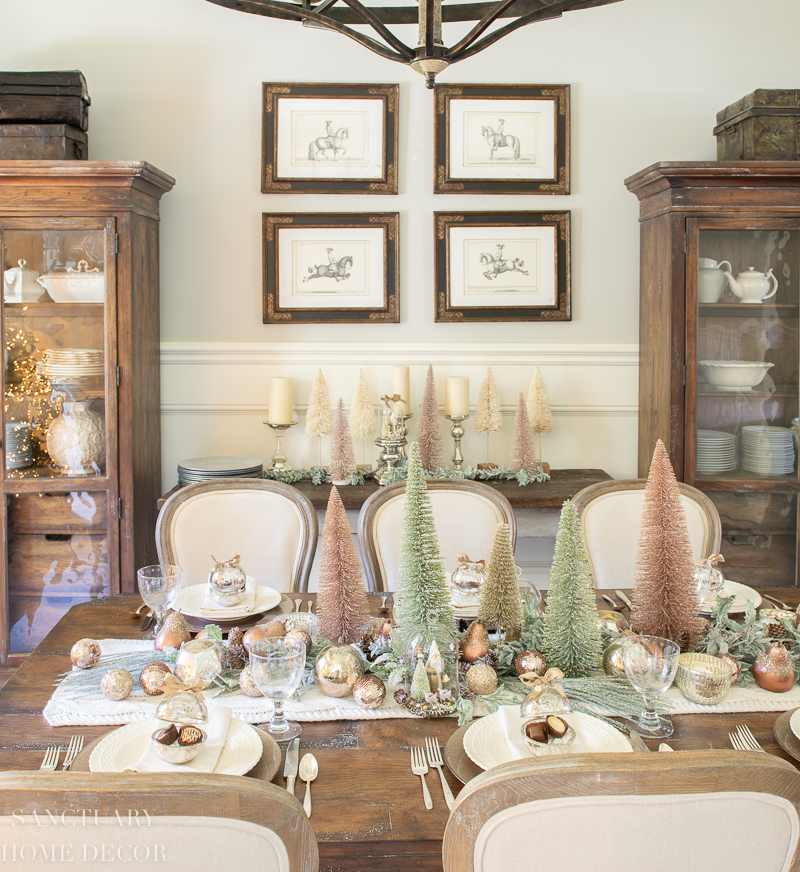 I love the soft, vintage Christmas look of this centerpiece and the subtle color palette that has just the right amount of sparkle and glitter.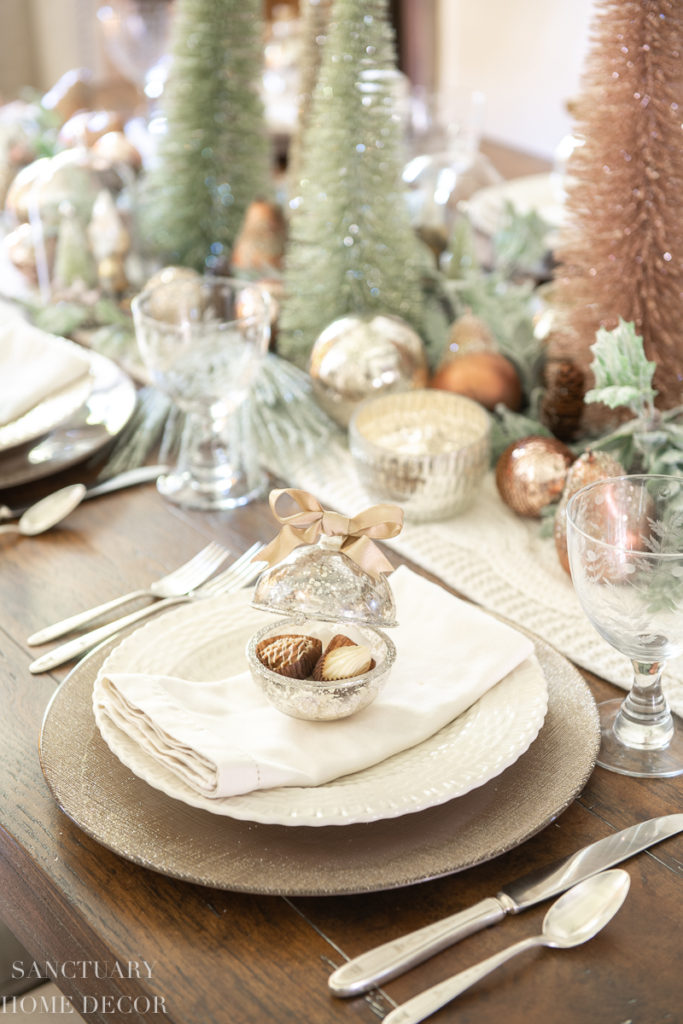 The other thing I found with my friend that day, was mercury glass trinket ornaments with a gorgeous silver band around the center. Again we talked about how pretty they would be on a table setting,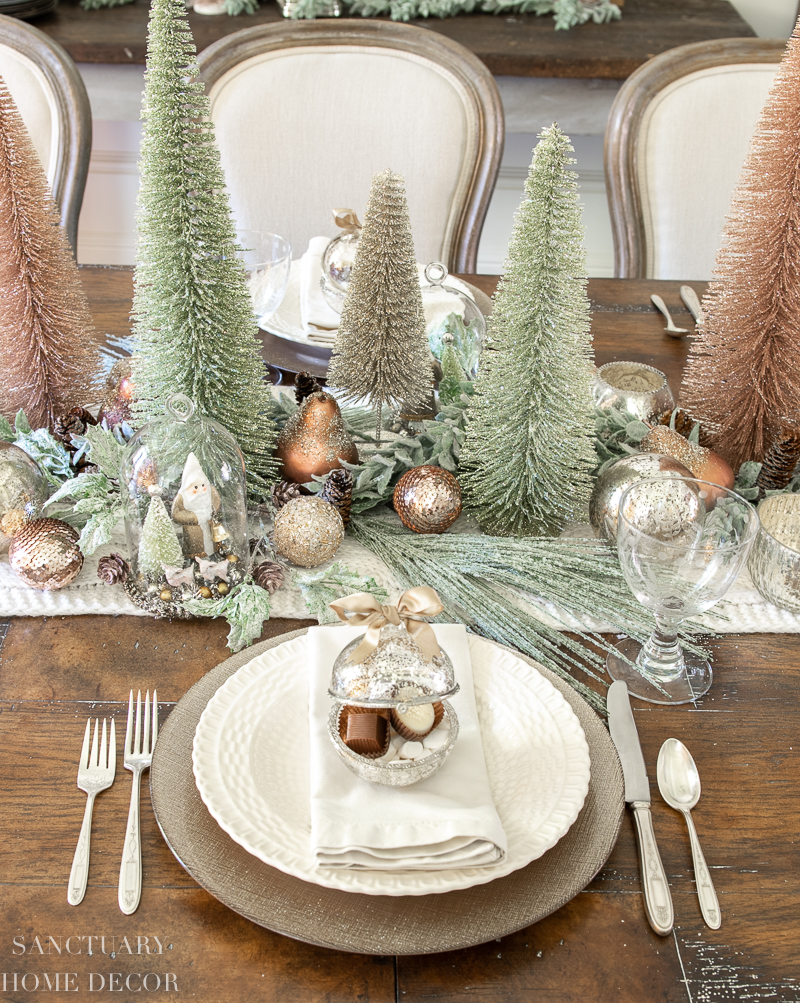 I wanted a simple place setting with a bit of a glitter element to incorporate the vintage look, so I used Vietri glass chargers as my base.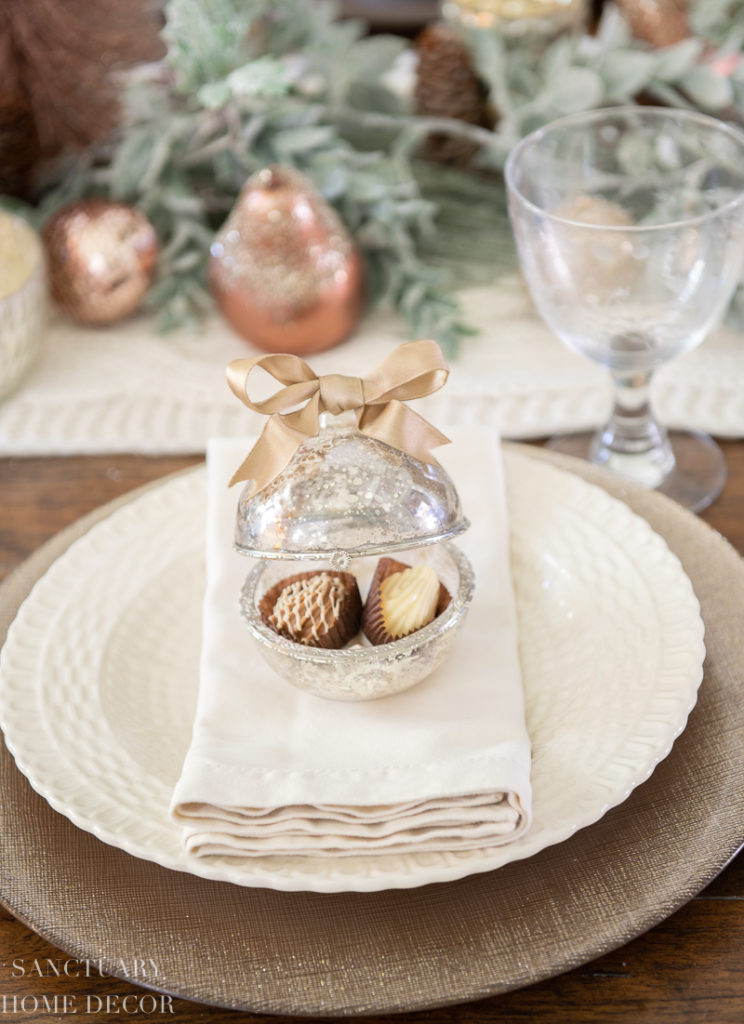 These beautiful plates are the perfect way to add a holiday feel to any table.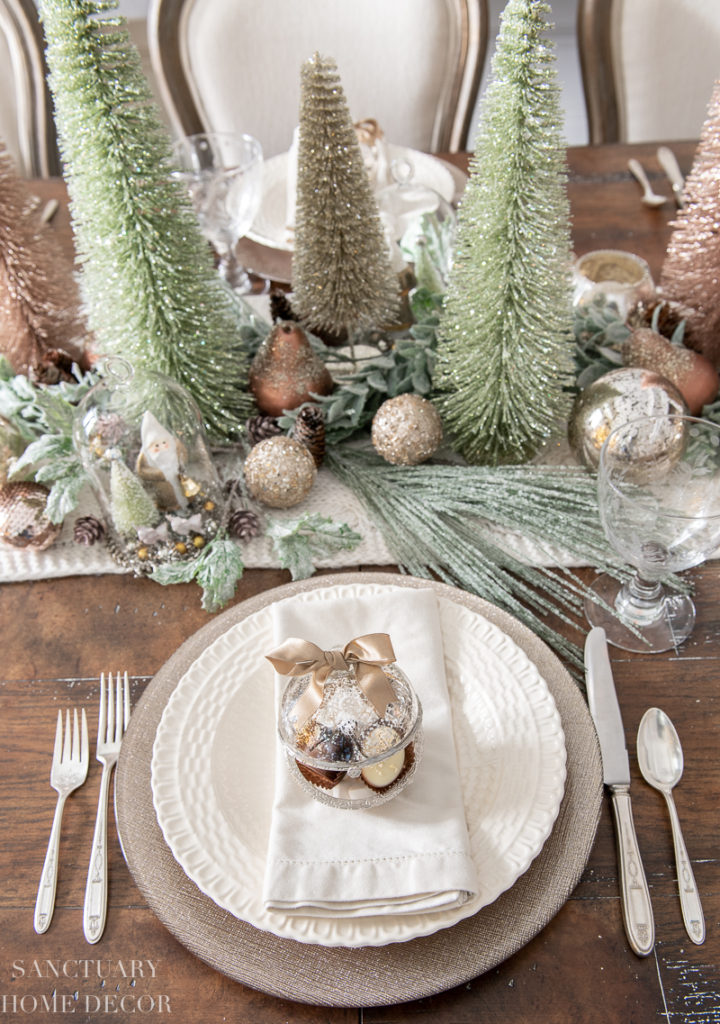 You can see all of the Vietri products by clicking HERE. And as a special bonus, Vietri is offering my readers 20% off any order with code SANCTUARY20. YAY!!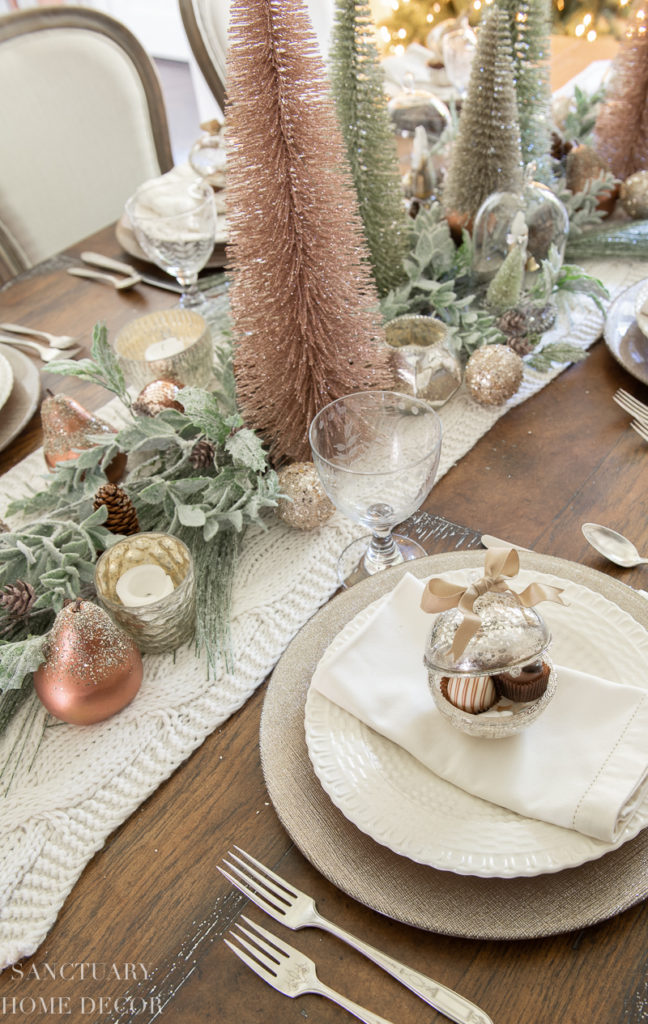 I layered a basketweave plate on top of the charger and used a simple cream napkin to coordinate with the table runner.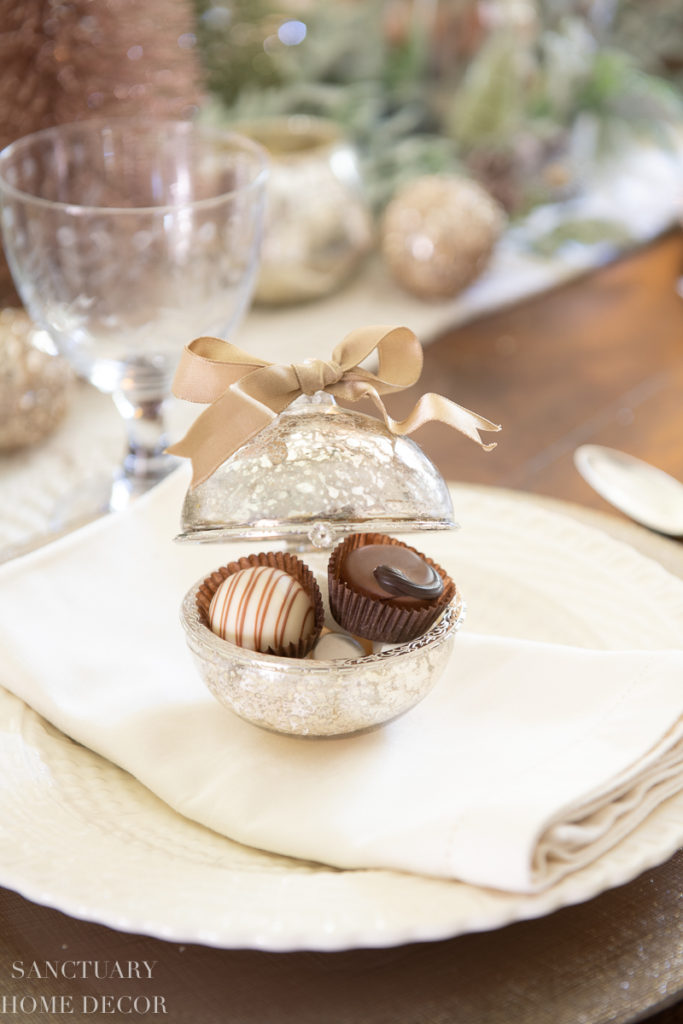 On top of each napkin, I placed one of those beautiful mercury glass trinket ornaments. I filled the bottom of each ornament with marshmallows and then added two yummy chocolates on top.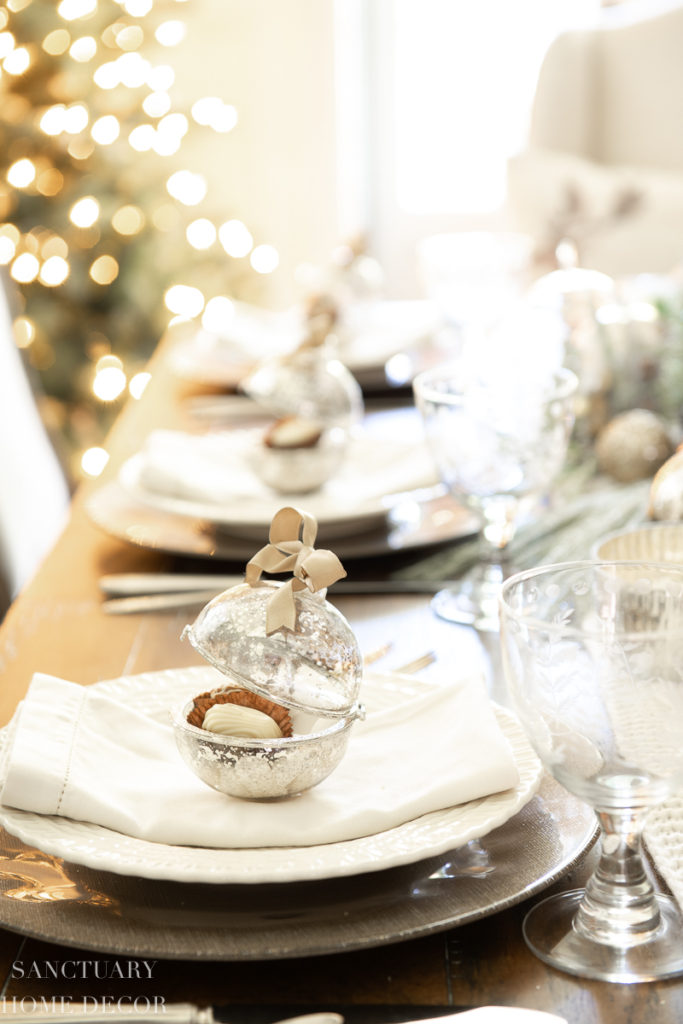 I added a simple silk ribbon to the top of the ornament and left them open on each place setting.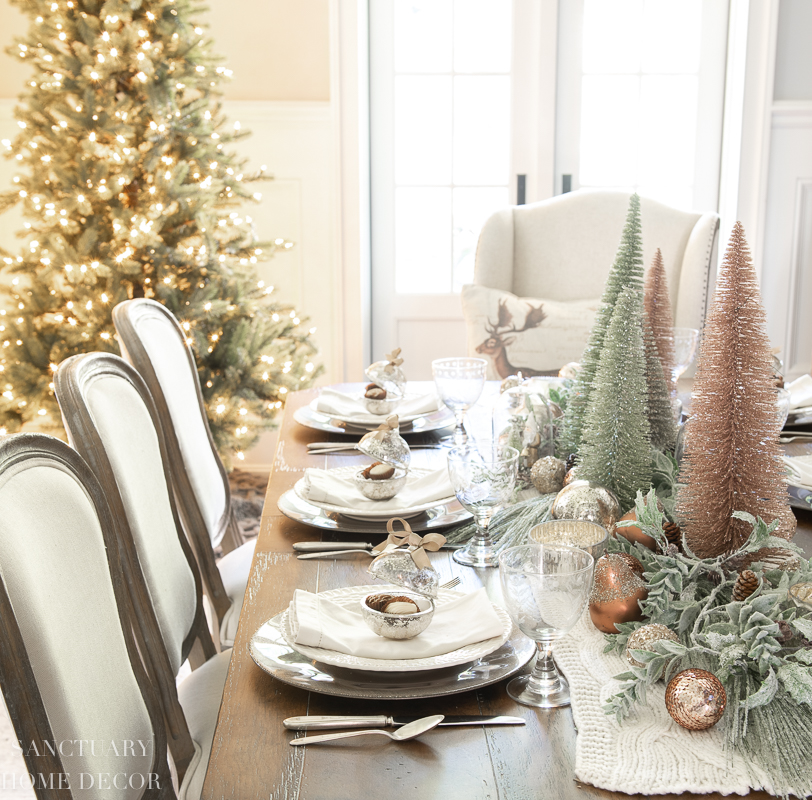 I love the surprise of a beautiful ornament at each place with a sweet treat inside. It's such a lovely way to greet guests and give them something to take with them to remember the evening.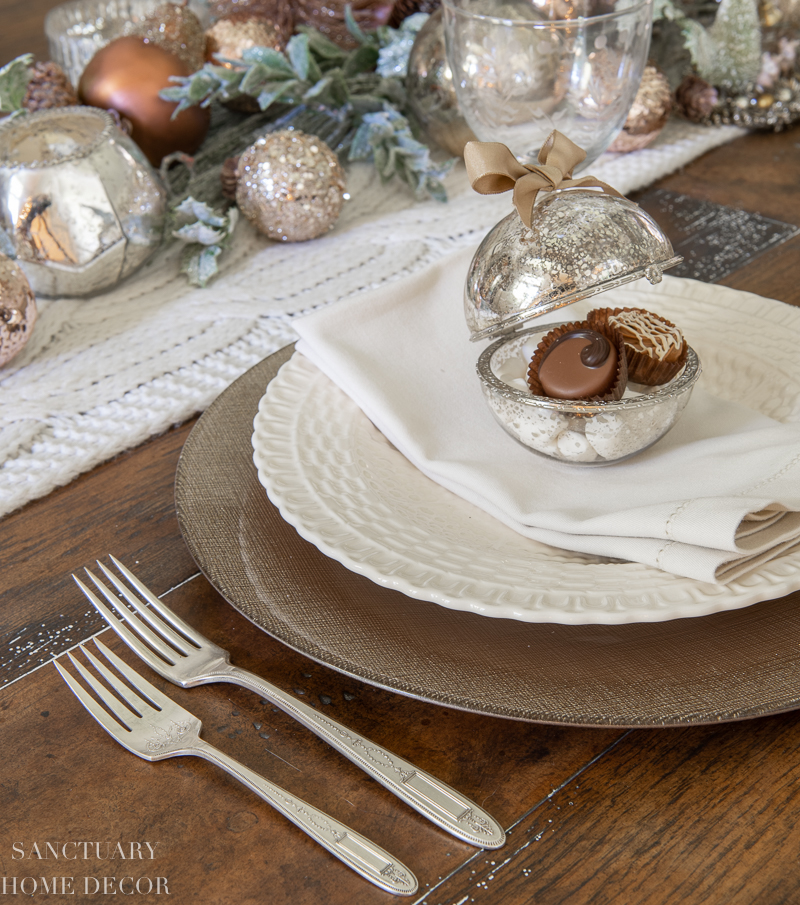 I finished each place setting with vintage silverware and etched glassware for the perfect vintage Christmas table setting.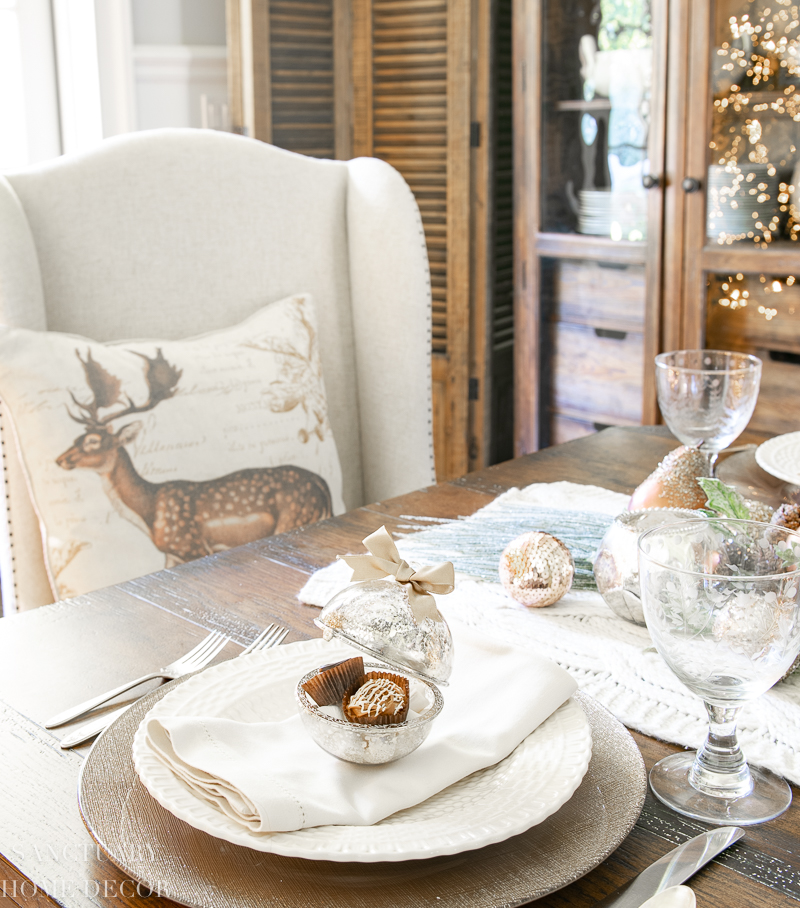 Each guest had a different view of the table with all of the glittered and glass elements, yet the whole look was subtle and soft with a distinct Christmas feel.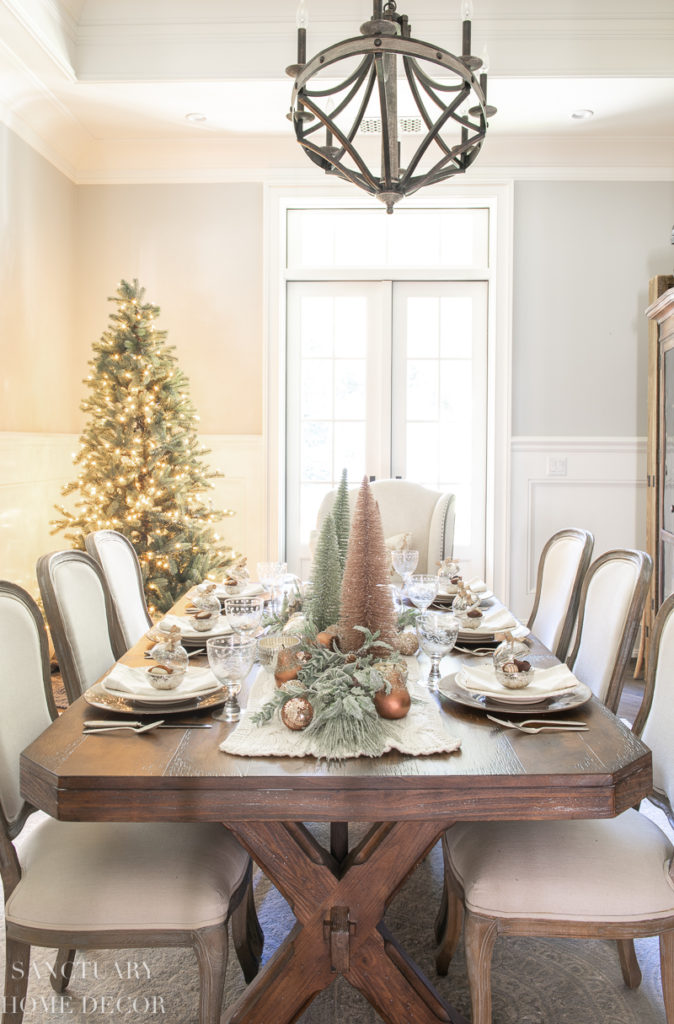 The sweet ornaments made a perfect gift for each guest and were definitely the talk of the table.
This color palette and style is a departure from my usual design aesthetic, but I love how it all came together. I especially enjoyed using one simple element as the inspiration for an entire tablescape.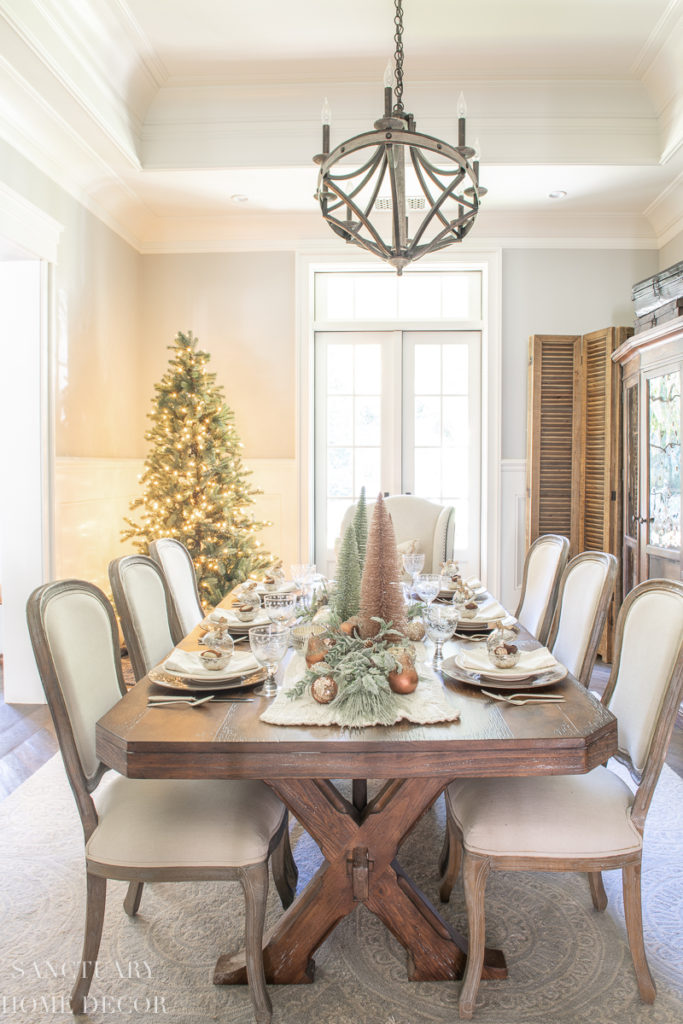 It is a good reminder to use the things that you find beautiful to design everything from table settings to entire rooms! XO


Below are affiliate links for some of the exact items I used for this look as well as similar items when the original was not available online. The cable knot table runner is no longer available, but a knit scarf or two would work just as well to create the same look.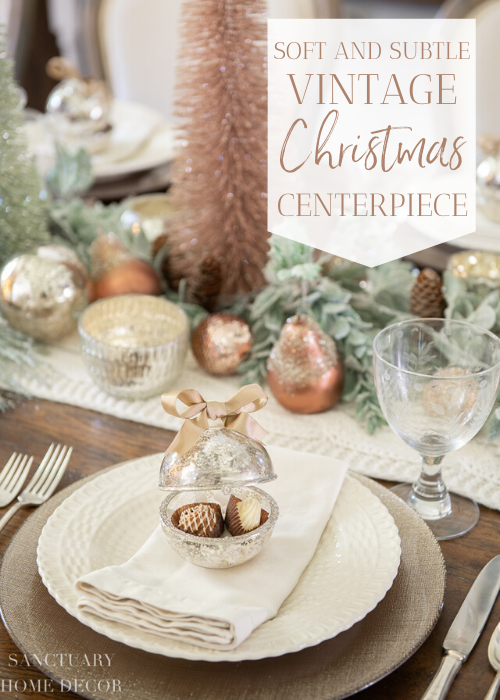 Don't forget to check out Leanna's table next! Her Christmas inspo is gorgeous!!