How to Refresh a Kitchen for Spring
I realize it's only February, and many of you are still in the throws or winter, but I am ready for spring! As we leave winter behind and look to brighter days, I feel the need to scrub my kitchen from top to bottom and add touches of spring to brighten up the most used space in our home. I get this itch every year around this time and always end up doing the same basic things to transition my kitchen from warm and cozy winter days to windows wide open, bright sunshine spring days. Below are a few ideas for how to refresh a kitchen for spring and brighten up your home!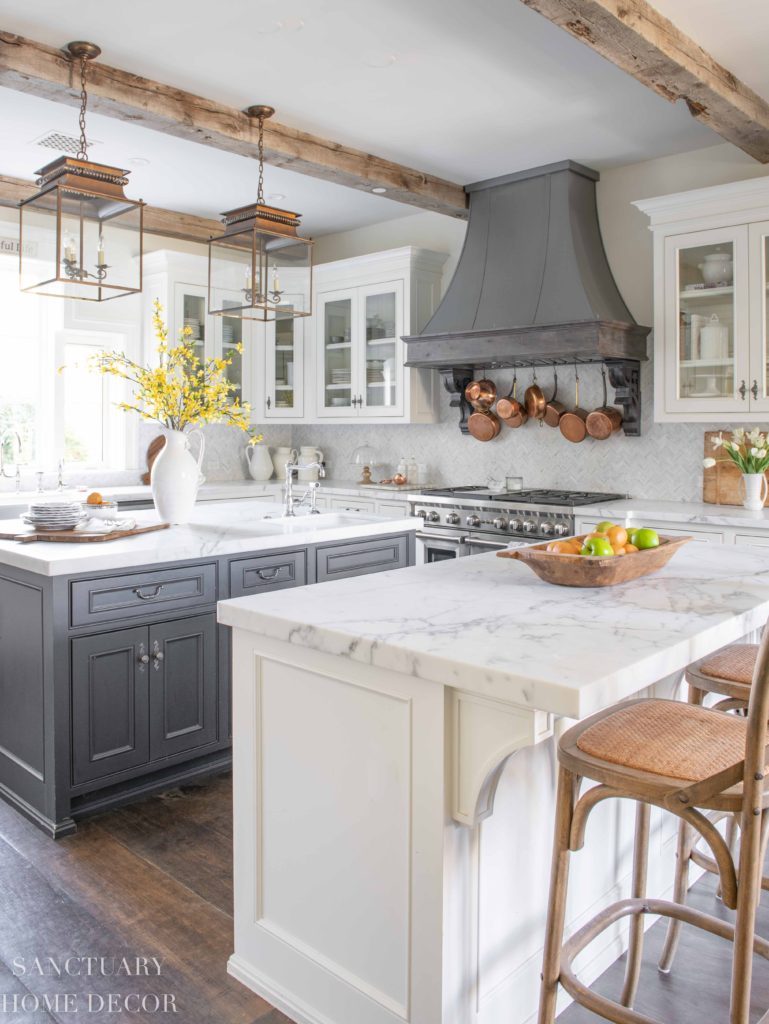 I always start by completely clearing off my kitchen counters and backsplash. This allows me to give everything a good scrub down and start with a fresh clean palette.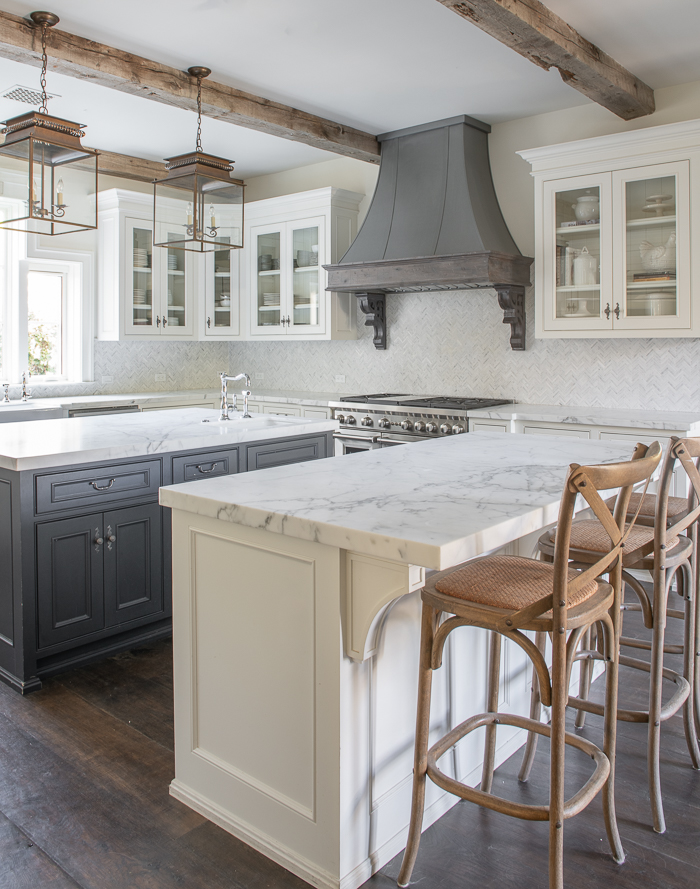 I shine and polish every surface paying special attention to the corners and nooks that tend to collect crumbs and dirt throughout the year. I also wipe down every appliance and vacuum and grates that have collected dust.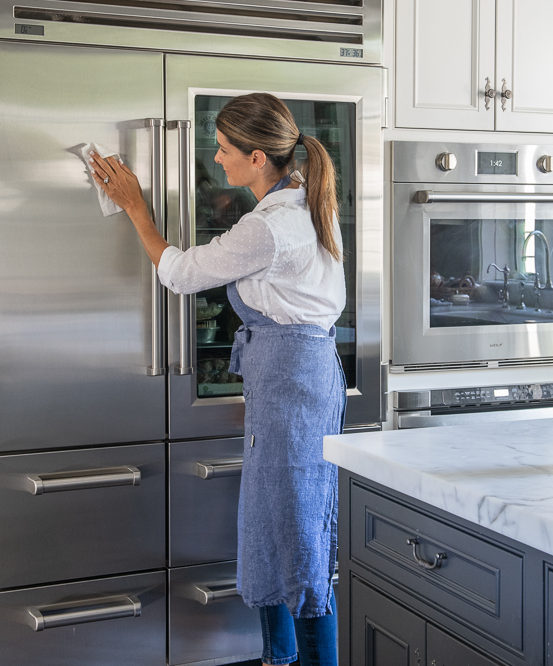 Once everything is sparkling clean, I begin to add some decor. I usually start with the perimeter countertops and backsplashes and then finish with the center island(s).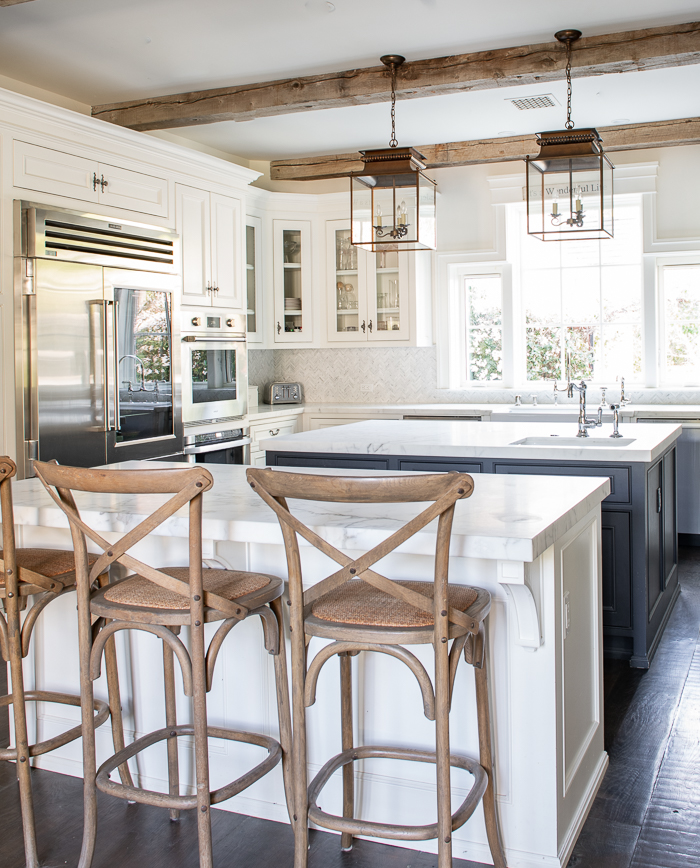 I often fill in the corners of my perimeter cabinets with large pitchers that I use for vases throughout the year. This trio of white ceramic pitchers brightens up the corner and keeps my most used "vases" handy and easy to grab.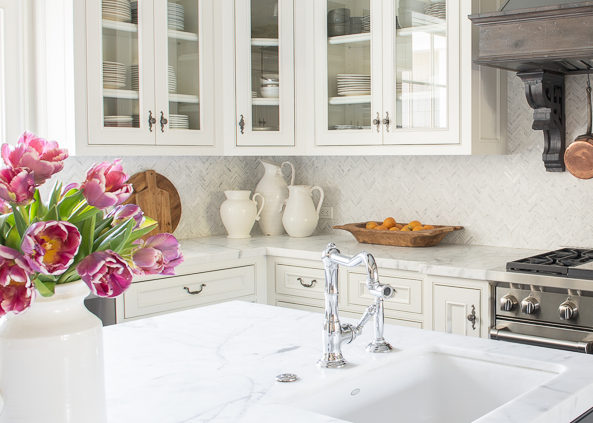 It is equally pretty to use one large vase to fill in a kitchen corner. The key in spring is to choose light and bright colors to brighten up the corners of your kitchen.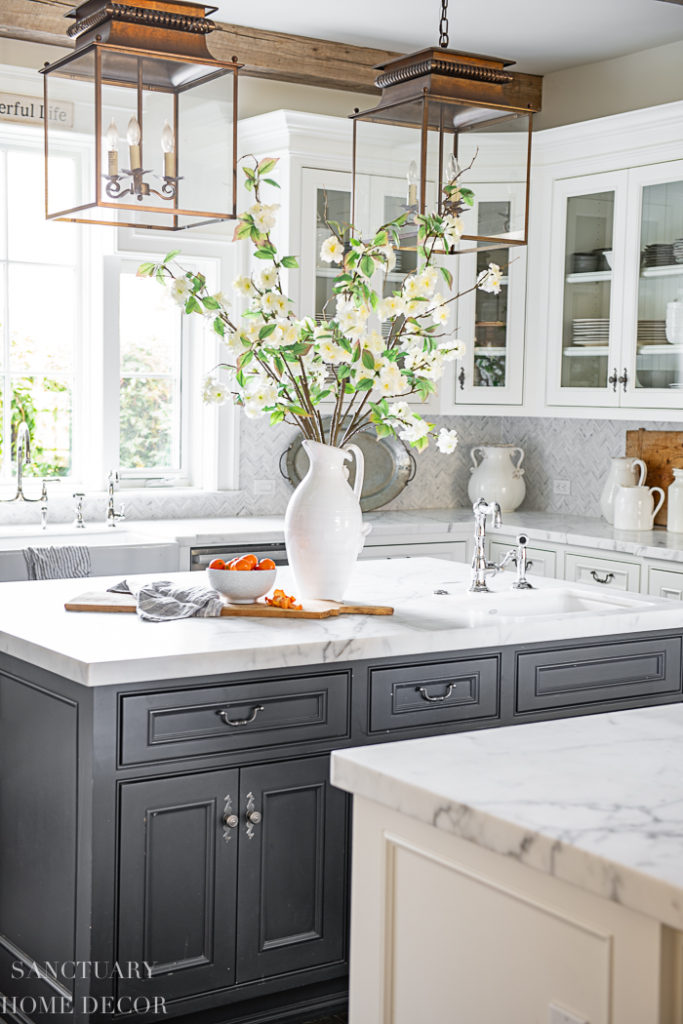 Throughout the winter, my copper pots and pans get pretty grimey, so I like to give them a good polish to brighten them up for spring. I am always surprised at how much it warms up my kitchen to have the pots hanging above the range.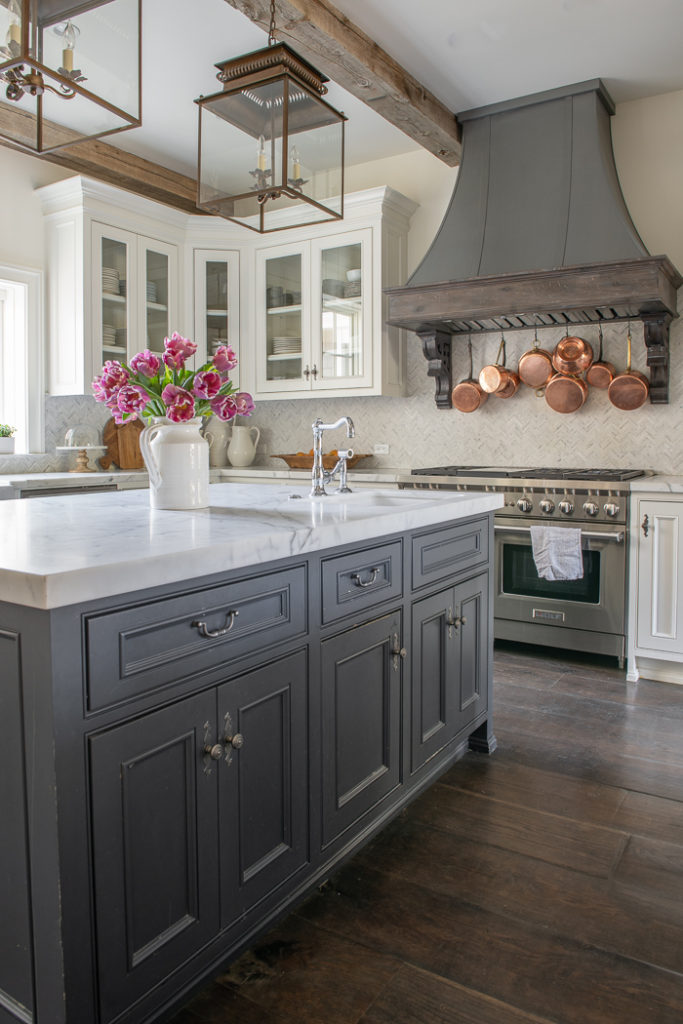 I have also used wooden boards behind the range to add some warmth to the backsplash. I like the way they both look, but find that the hanging copper pots are more practical and useful.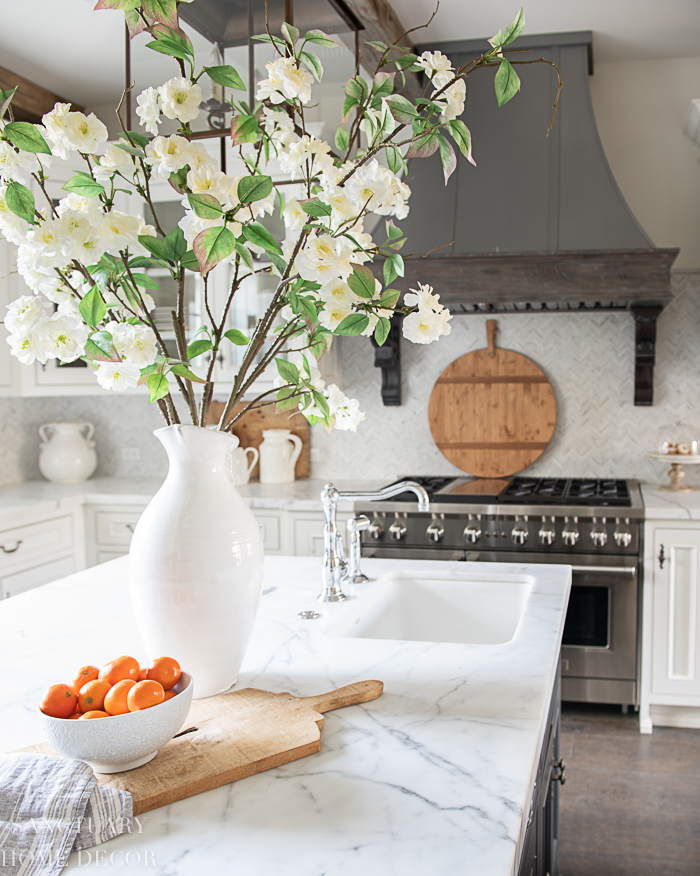 One other element that I always add in spring is bowls of fresh (or faux) fruit. I love a pretty bowl of lemons or apples sitting on the kitchen counter. And when our tangerine tree is producing fruit, I always have a big bowl on the island.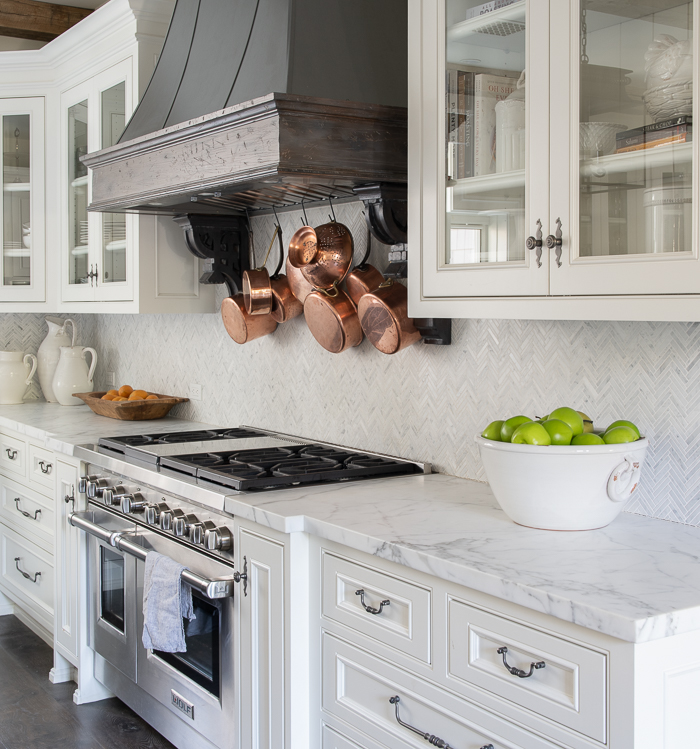 I also often fill dough bowls with fruit and branches for a bright pop of color that works on both the center island or the perimeter counters.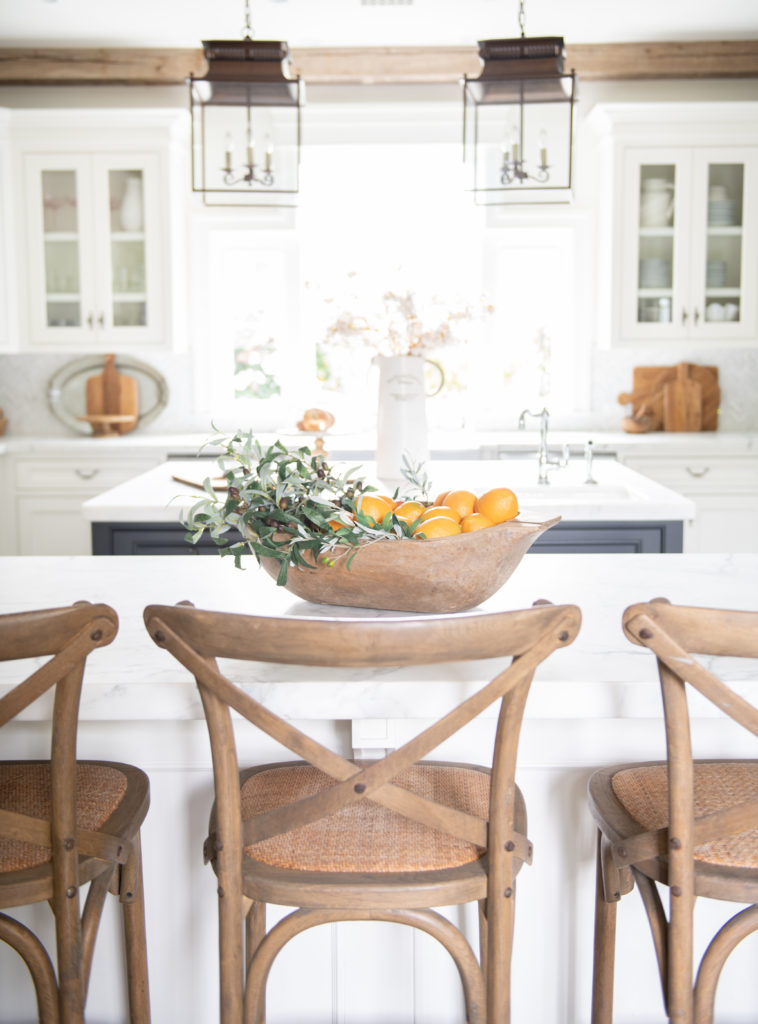 Of course, flowers are the best way to refresh a kitchen for spring. As winter departs, I often use faux florals, and then when fresh spring flowers arrive I fill my vases with branches and flowers and put them EVERYWHERE!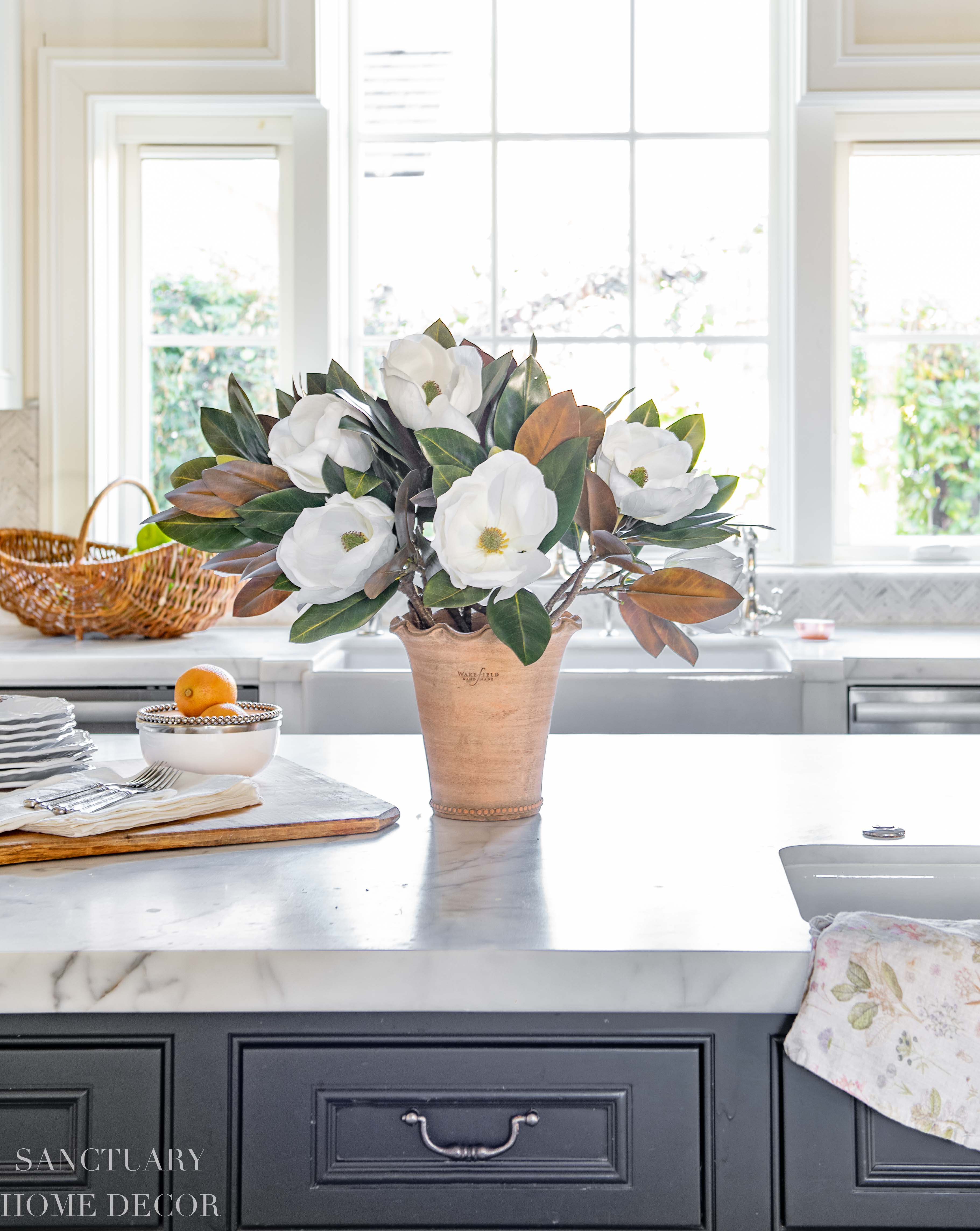 I love the look of pale pink flowers loosely arranged in a vintage pitcher.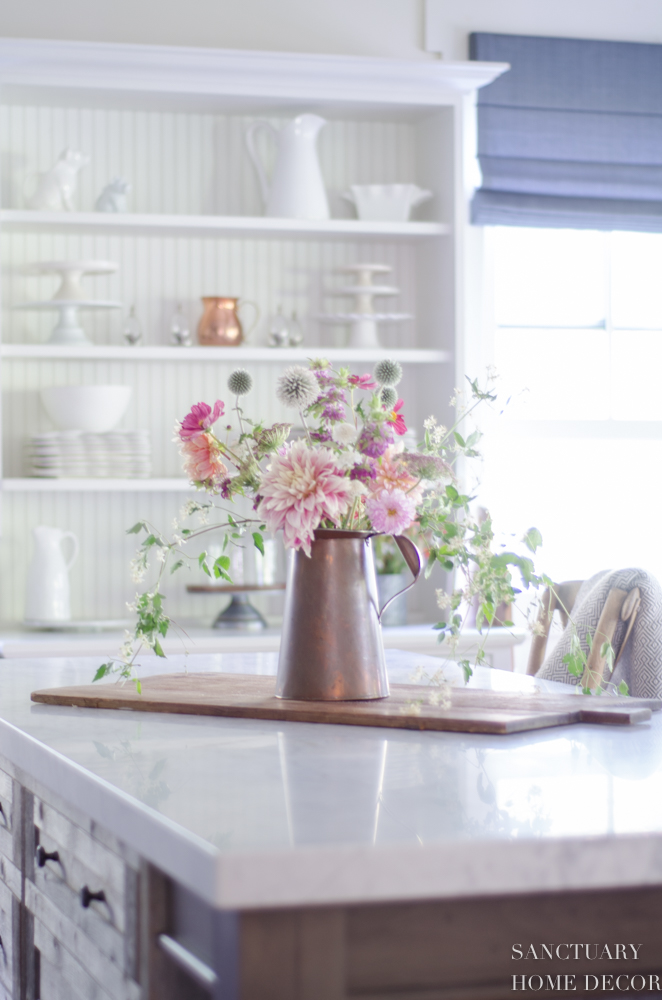 Whether using fresh or faux, flowers are definitely the most important element to add to a kitchen to decorate for spring!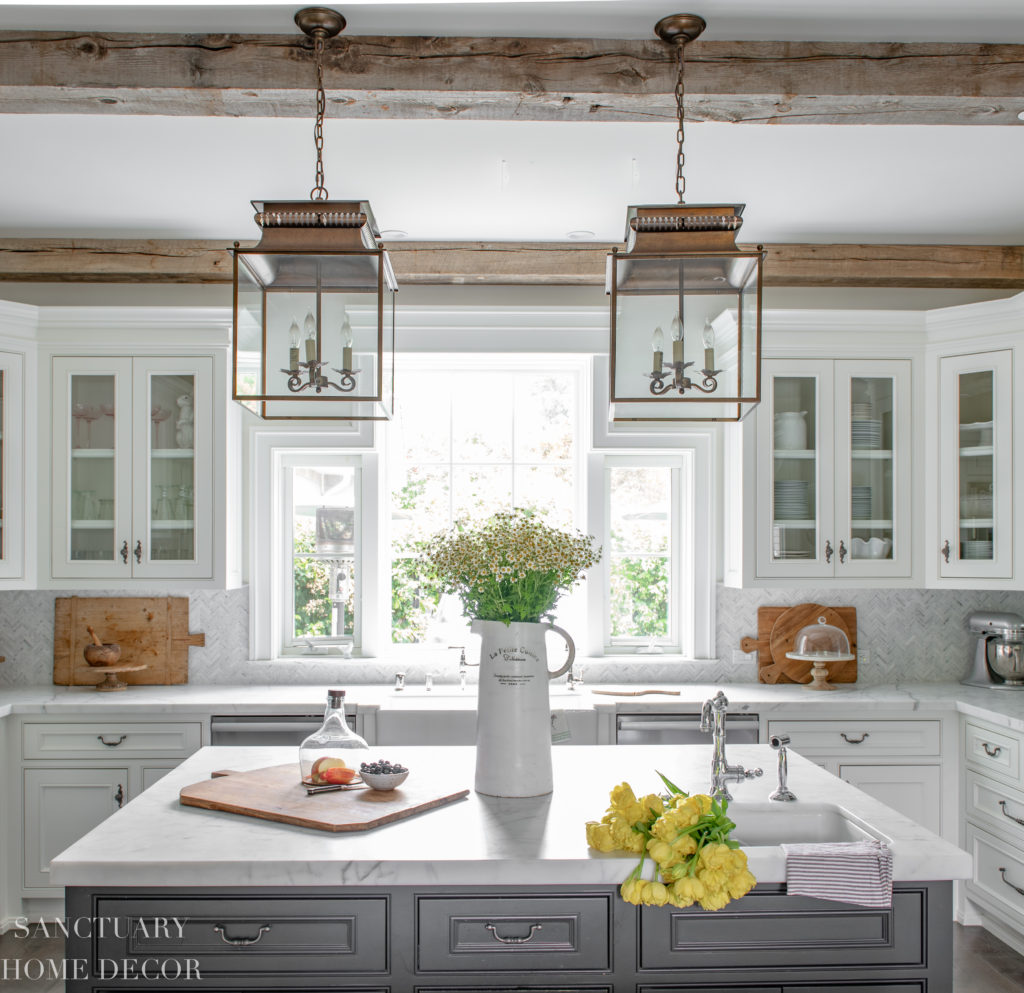 These simple tips for how to refresh a kitchen for spring should start you on your way to a bright and beautiful season. I hope you are enjoying a bit of warm weather and are ready for a fresh and beautiful spring!
Have a beautiful day!