A Rustic Woodland Holiday Table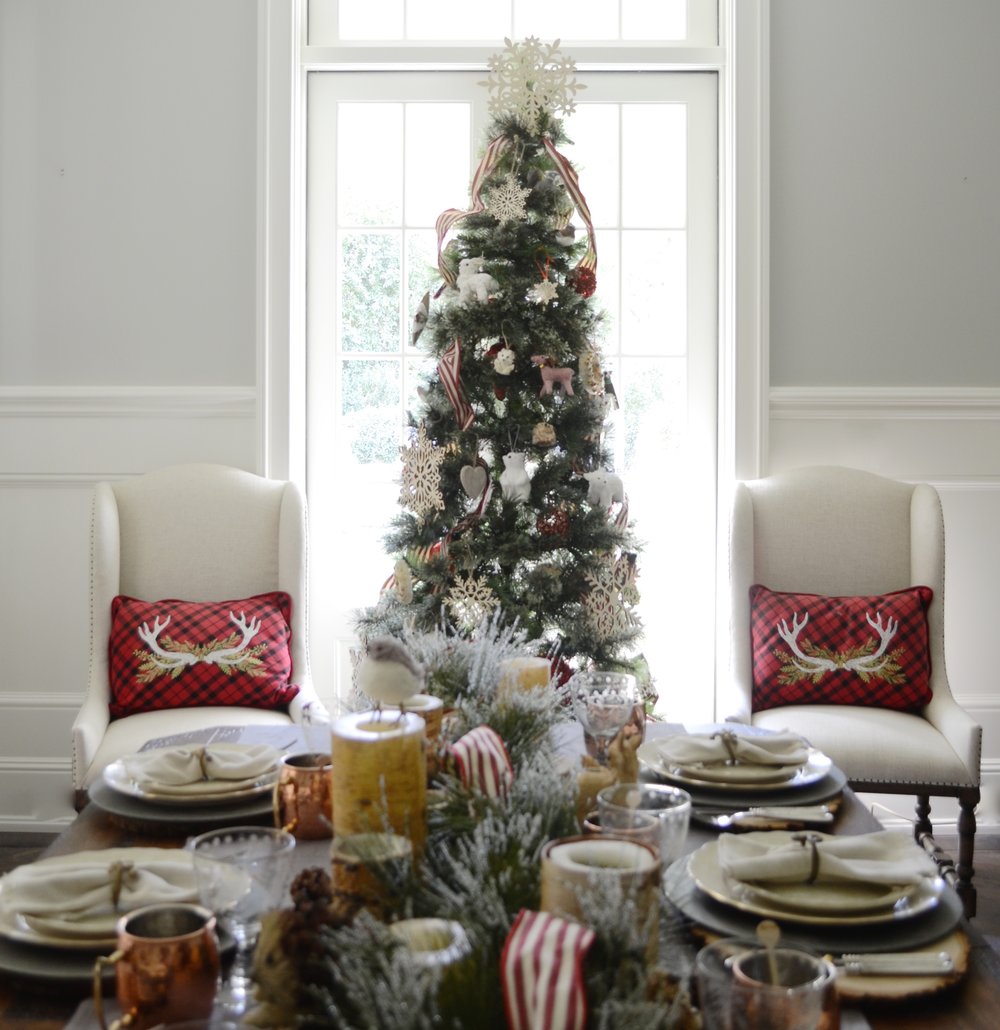 Happy December all! While it seems like there's been a whirlwind of holiday decorating going on everywhere, I have been in slow motion getting our decor going. This year is a little different than most, because our family will be traveling for a good portion of the holidays, so I have been a less inspired than normal to "deck the halls", But as always, I am inspired by a beautifully set table, and this year I'm keeping it rustic and simple!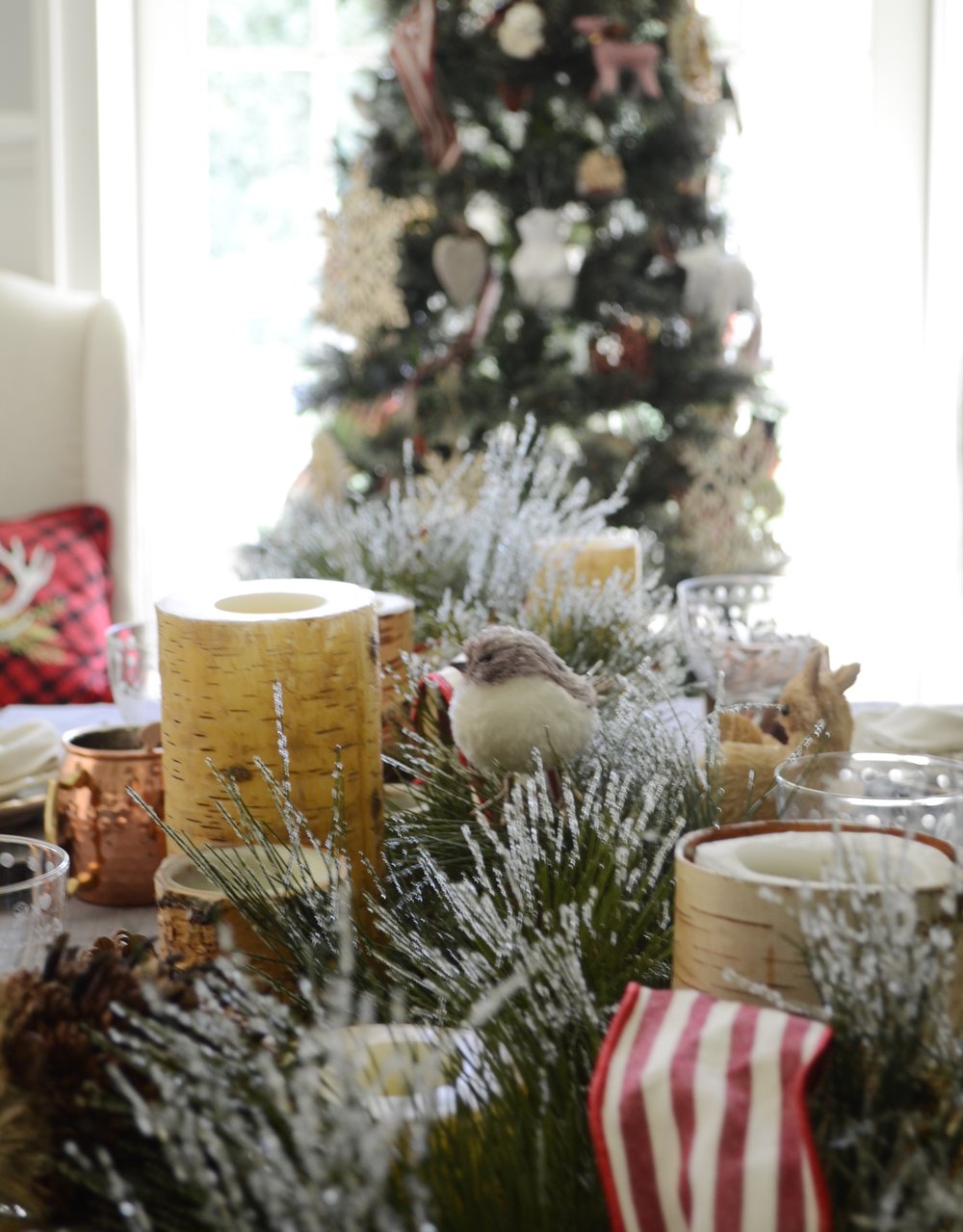 I decided on a "woodland" theme, mostly because my youngest daughter adores all of the sweet woodland animals we have collected through the years. We even did a woodland themed tree in our family room last year, so I have all kinds of critters just waiting to make an appearance during the holidays.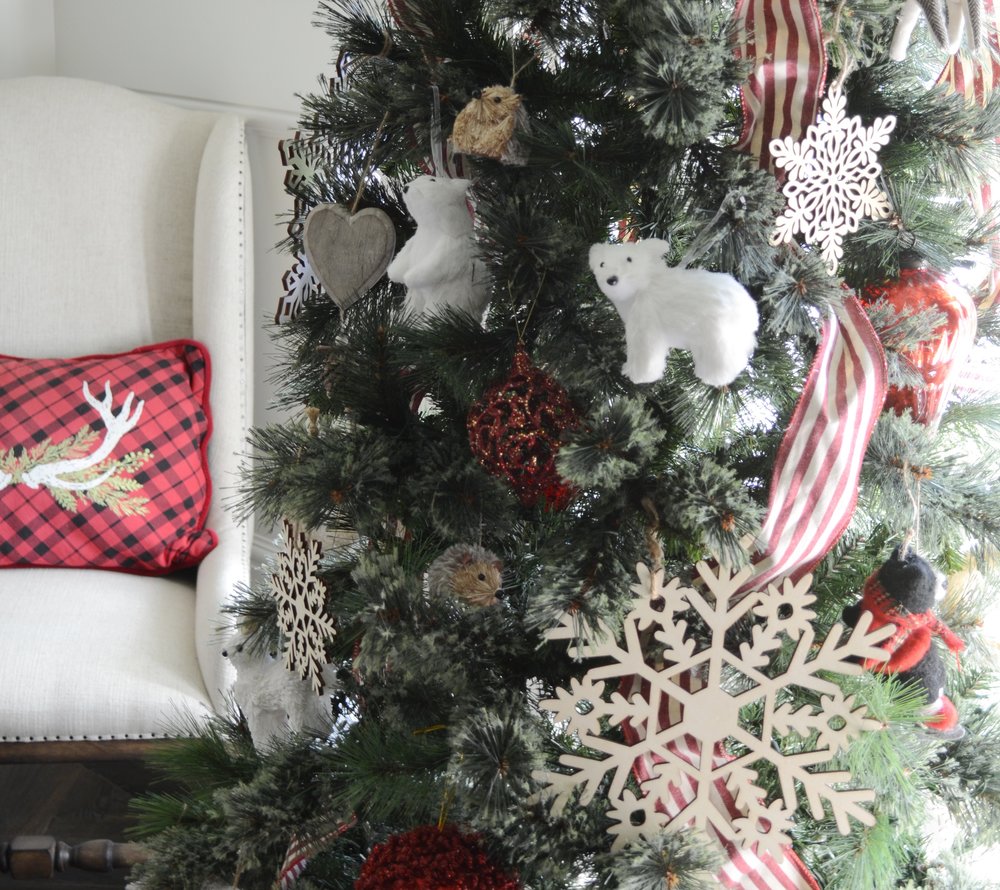 For the first time this year, I got a couple of faux trees to use in different rooms in the house. It started when I went to Target and saw this great "slim" tree and thought it would look perfect in my dining room window. It is a Virginia pine and I love the variegated color of the branches, so I decided to take the plunge and buy our first artificial tree!
Fortunately, it was a perfect fit in the dining room and makes the exact statement I was looking for! I was also inspired by this adorable red and cream striped ribbon I found at HomeGoods a couple of weeks ago. It was one of those impulse purchases…like most of my HomeGoods buys! It seemed like the perfect whimsical compliment to the rustic theme I was going for.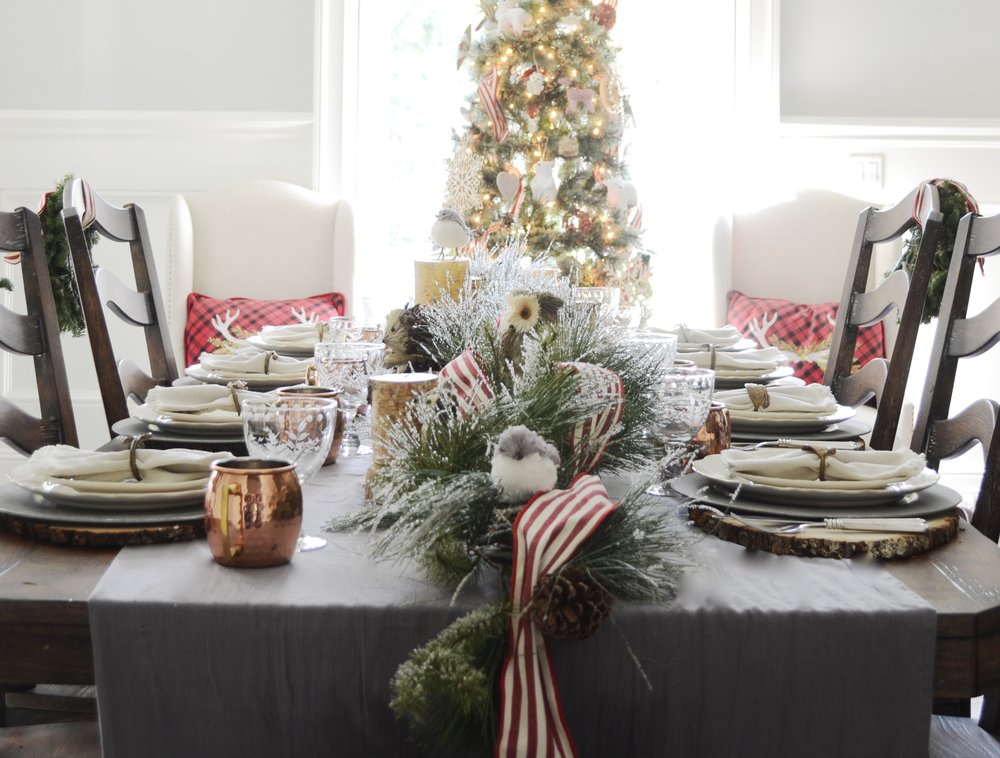 For the table, I started with a simple gray flour sack table cloth, folded into a wide runner. I added a frosted pine needle garland down the center of the table and let it drape off either end. I then tucked in the striped ribbon, letting it flow into and out of the garland in no particular pattern. From there I added some pine cones intermittently. That set the base for my runner.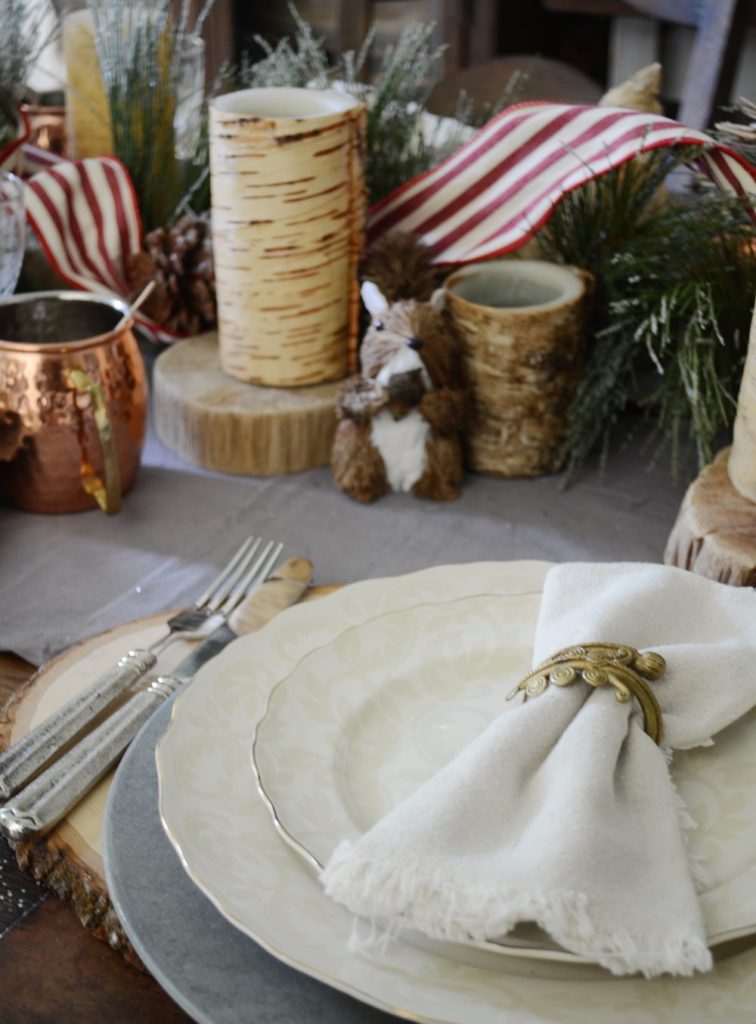 In order to make it more "woodland" I used birch wrapped candles in different shapes and heights place along the garland. Then I tucked the "critters" in along the entire table.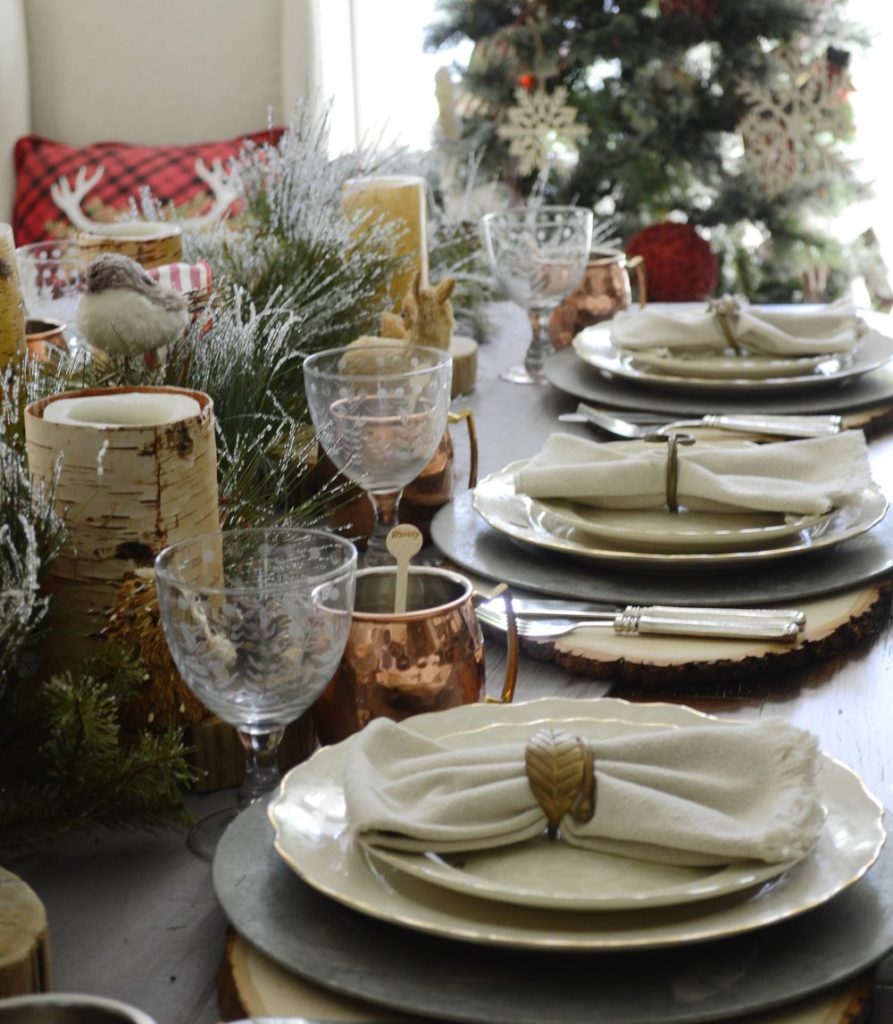 For the place settings, I layered a large oval wood disc, then a rustic, tin charger and then the plates. Because the ovals were large enough, I was able to offset the chargers and plates and place the silverware on the wood. I love how this creates a complete setting for each guest.
I kept the napkin a simple, natural linen, but used a metal napkin ring to break up the color a bit.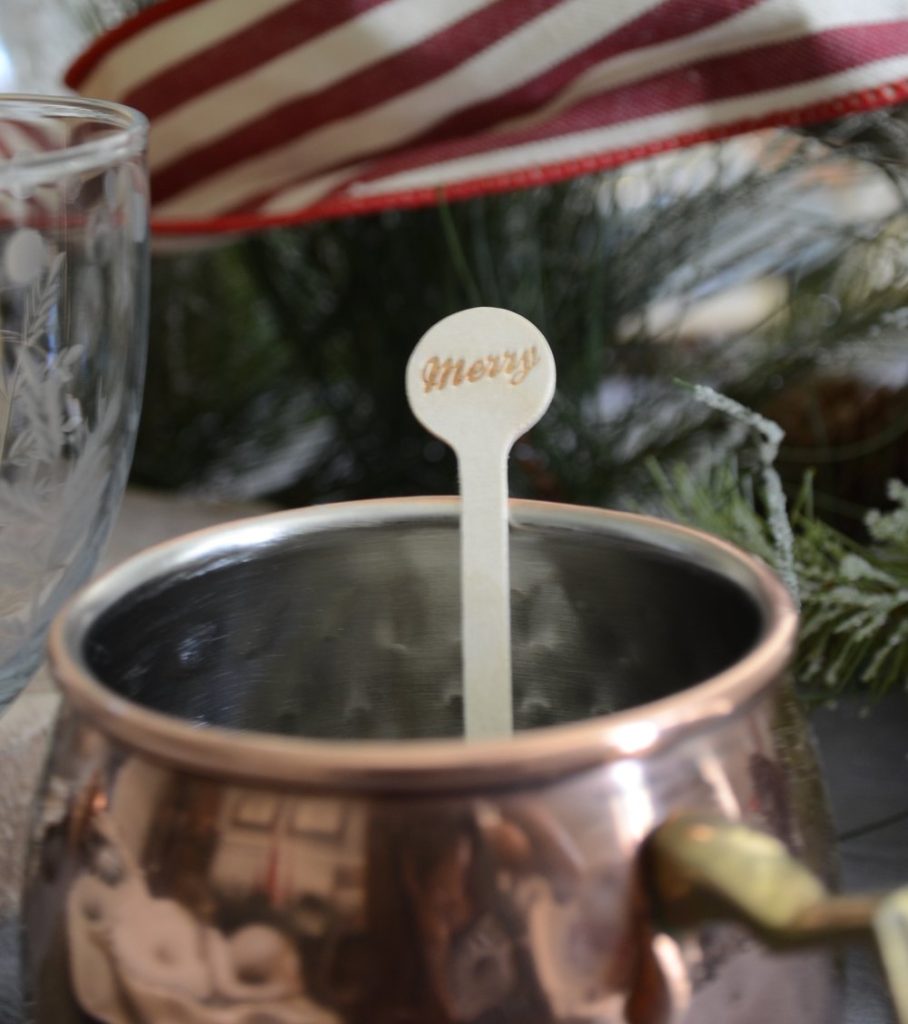 Finally, I added an etched wine/water glass and my favorite holiday copper mugs. I love the mix of metals on the table. From tin to copper to brass…they all complement one another and, I think, add some interest to the overall look.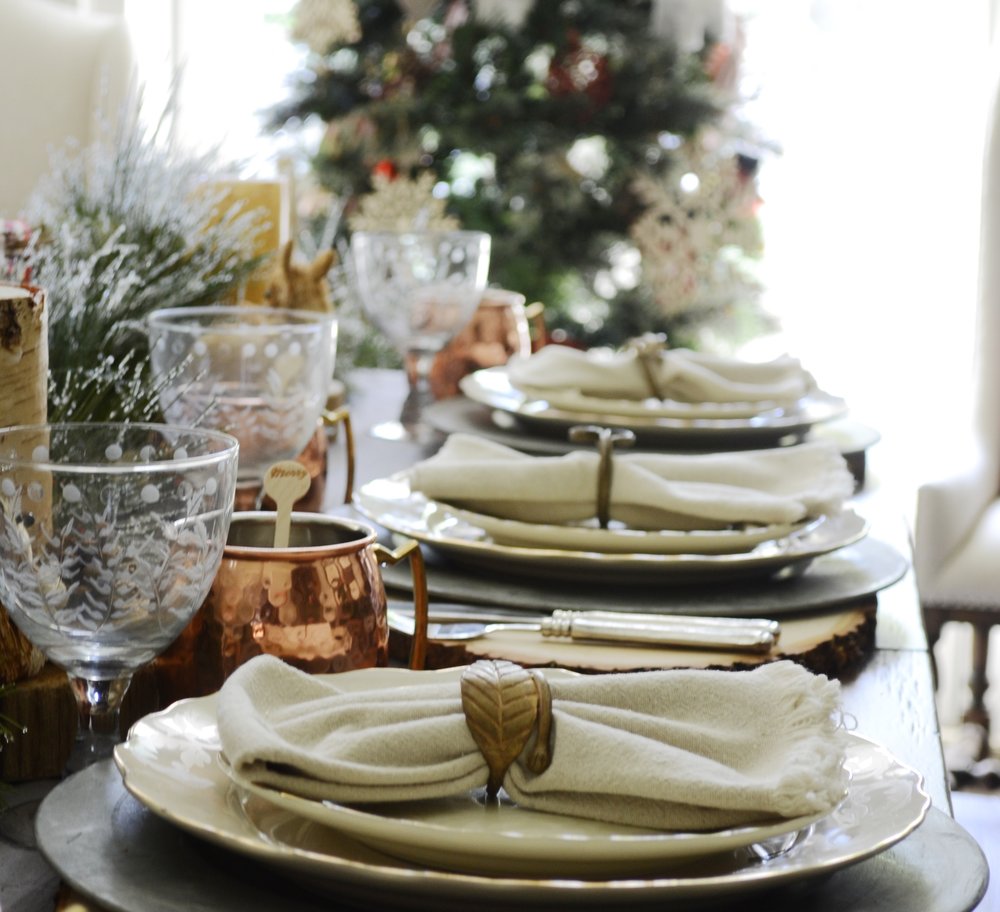 To complete the woodland theme, I attached these fresh wreaths, from Trader Joe's, to the back of each chair with my favorite striped ribbon.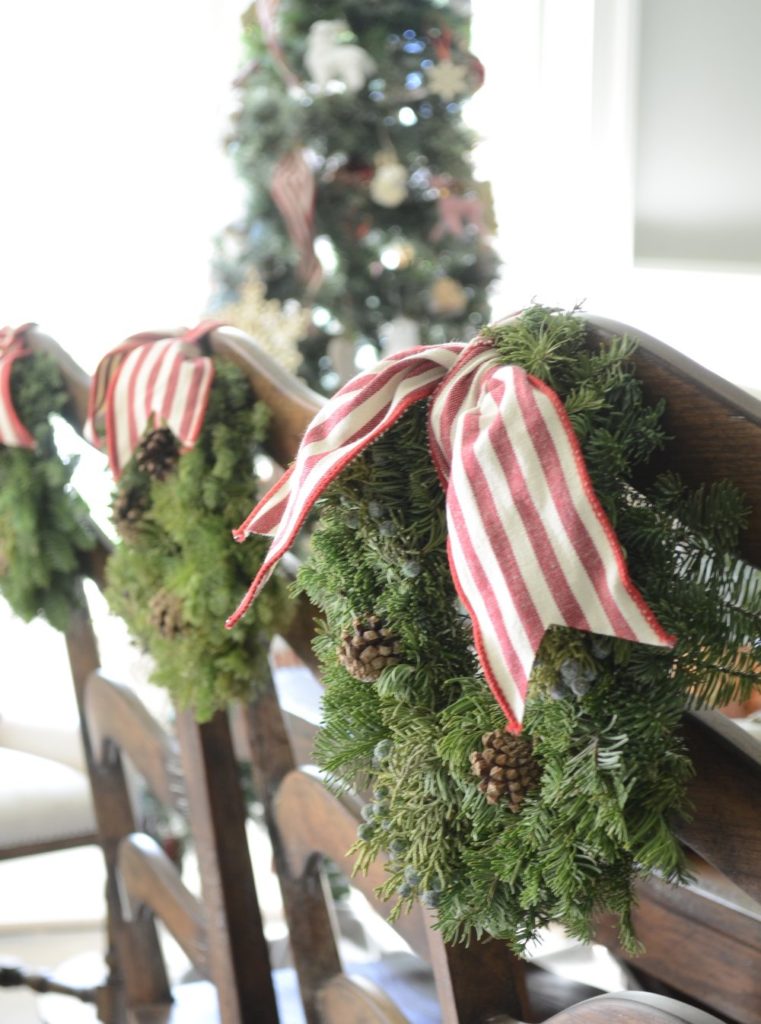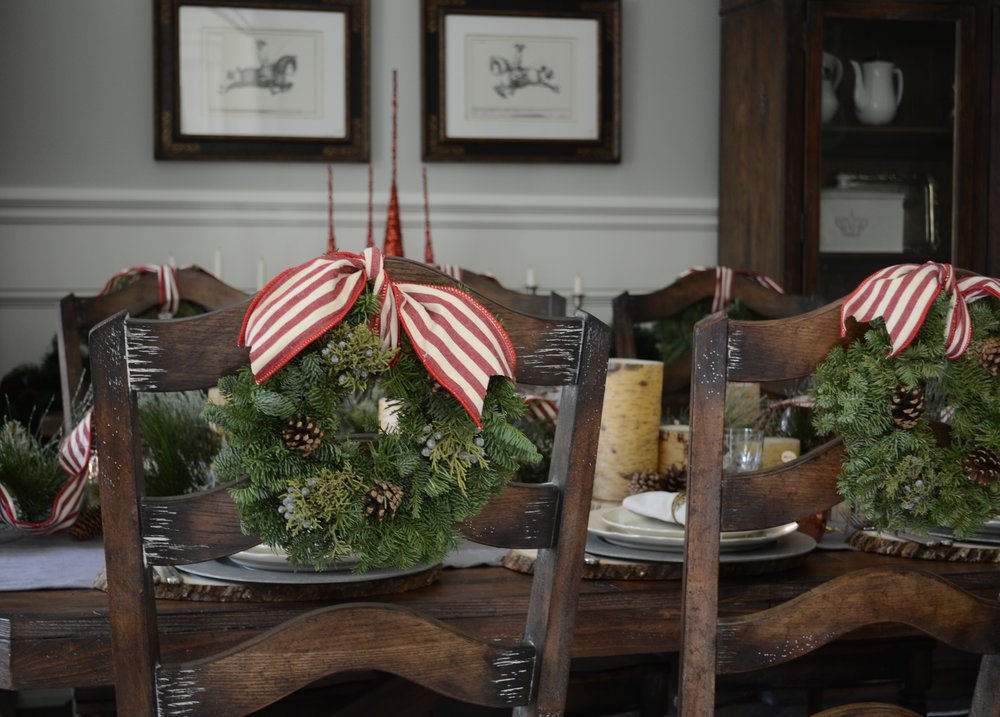 I used the remaining woodland animals along with some carved wood snowflakes and a few other rustic ornaments to decorate the tree. The last of the ribbon was tucked into the tree to bring all of the colors together.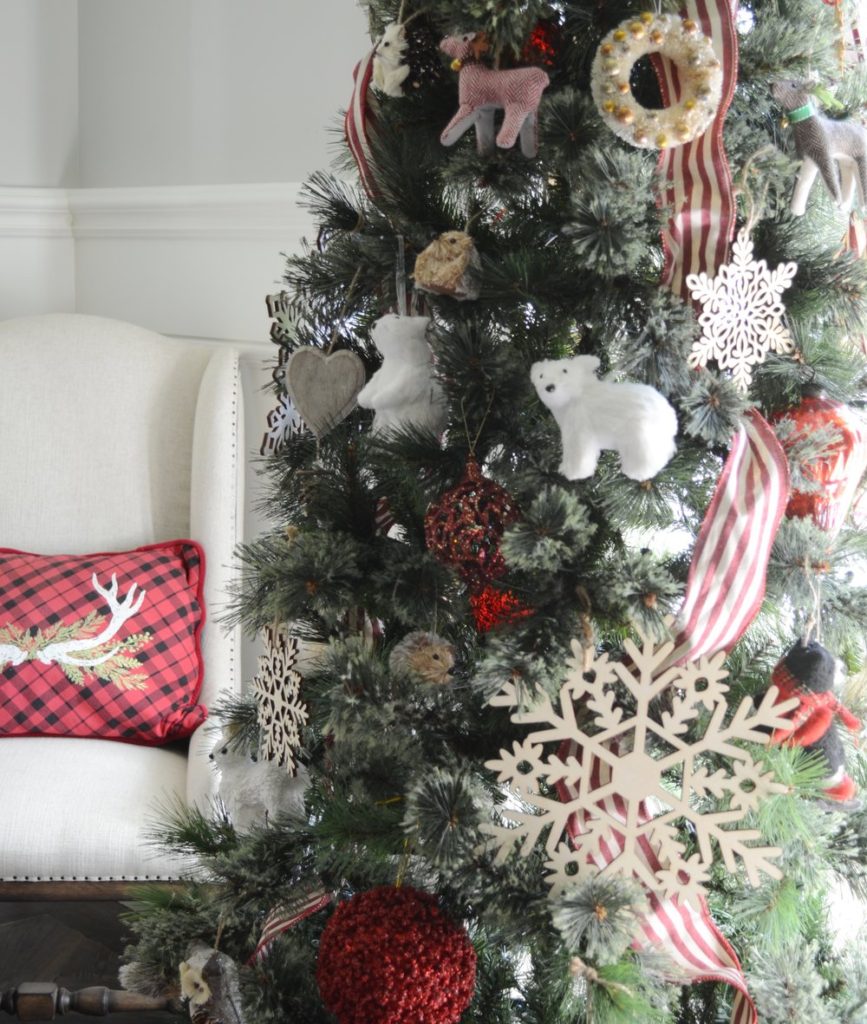 So that's it…a woodland holiday table, complete with little critters.  My daughter has already decided her seat is next to the fox, so she will no doubt be placing a reserved sign there, now that I am done taking pictures!