Neutral Christmas Front Porch Decor
A welcoming porch is a lovely way to greet guests, and there is no better time to create a beautiful entry than during the holidays. This year I used neutral Christmas front porch decor to signal a change of season and welcome our friends and family.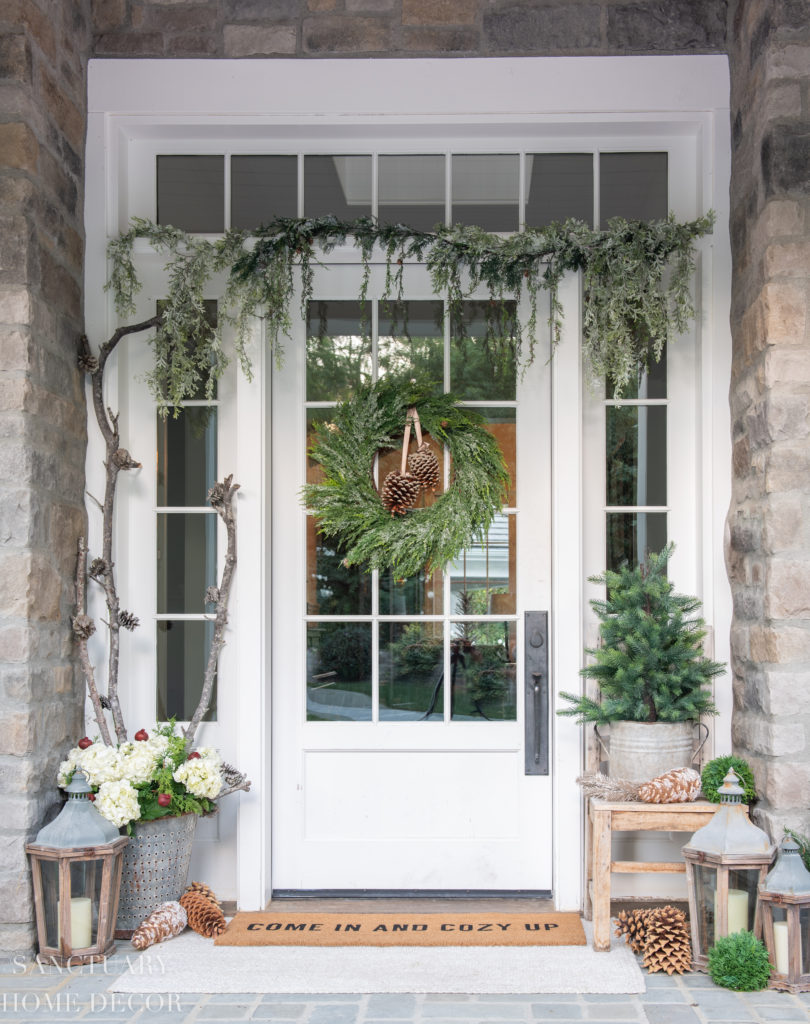 I am excited to show you my Christmas porch and am thrilled to be joined by some incredibly talented friends who are also sharing their porches decorated for the holidays. Be sure to scroll to the end of this post to see what they are sharing!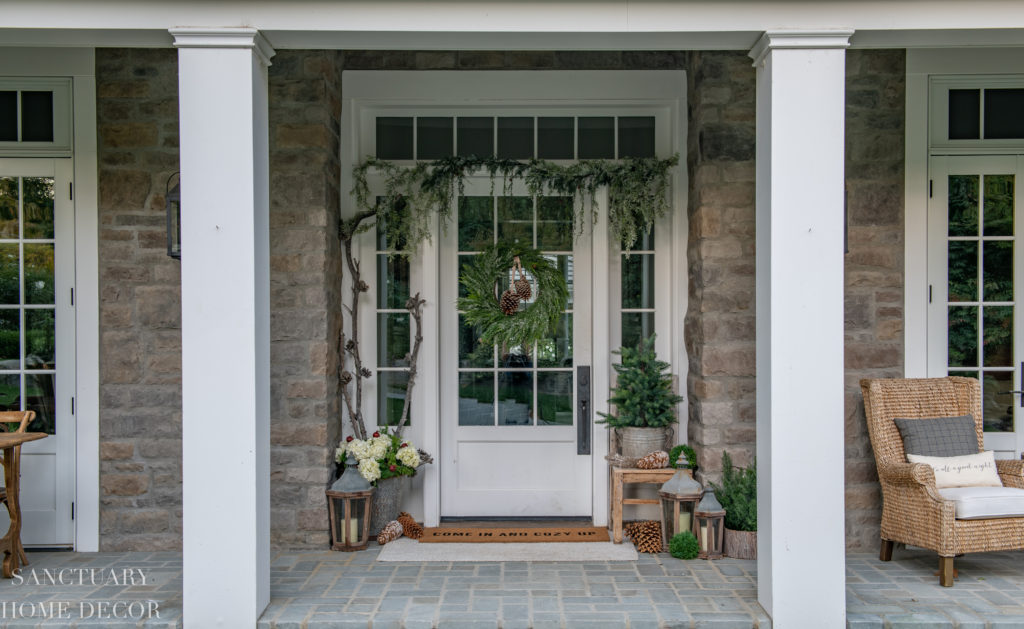 Our front porch is actually quite big, so just decorating around the door is not enough. There are three sets of doors that lead out to the porch and each is a distinct area, so I decided to create a little vignette in each one.
By the way…ALL of the greenery on my porch is faux. I have collected some beautiful, realistic pieces that I use year after year and I cannot tell you how much money it saves in the long run!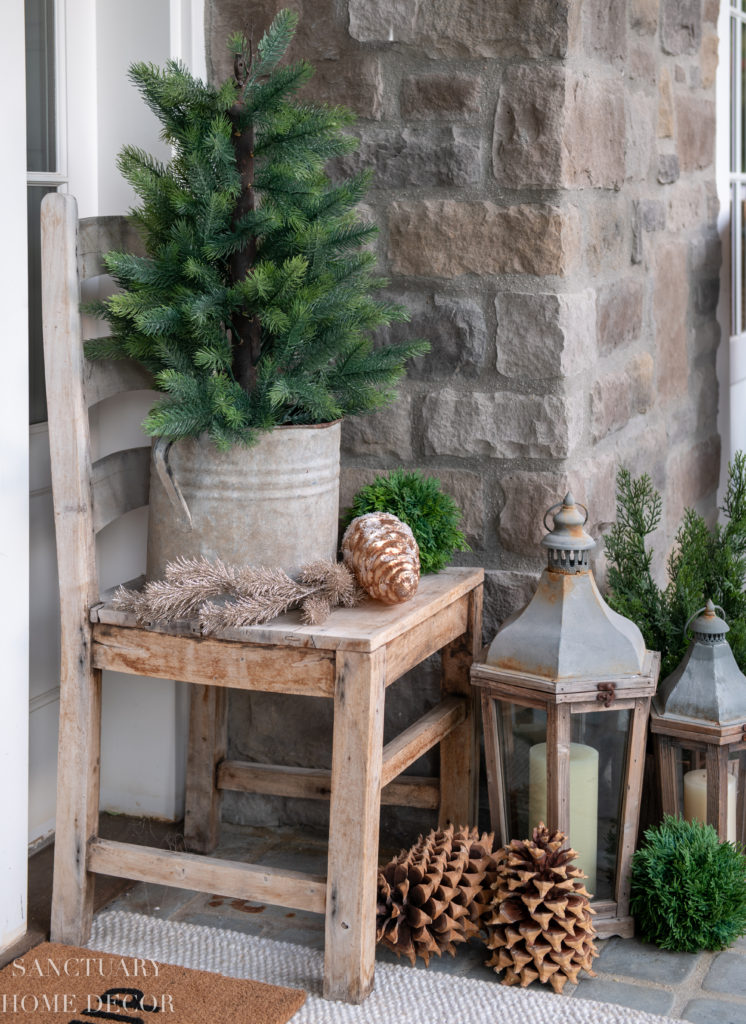 I really wanted the porch decor to be neutral, so it would carry through from Christmas into winter so I started by the front door with a simple rustic chair topped with a vintage French bucket filled with a small pine tree.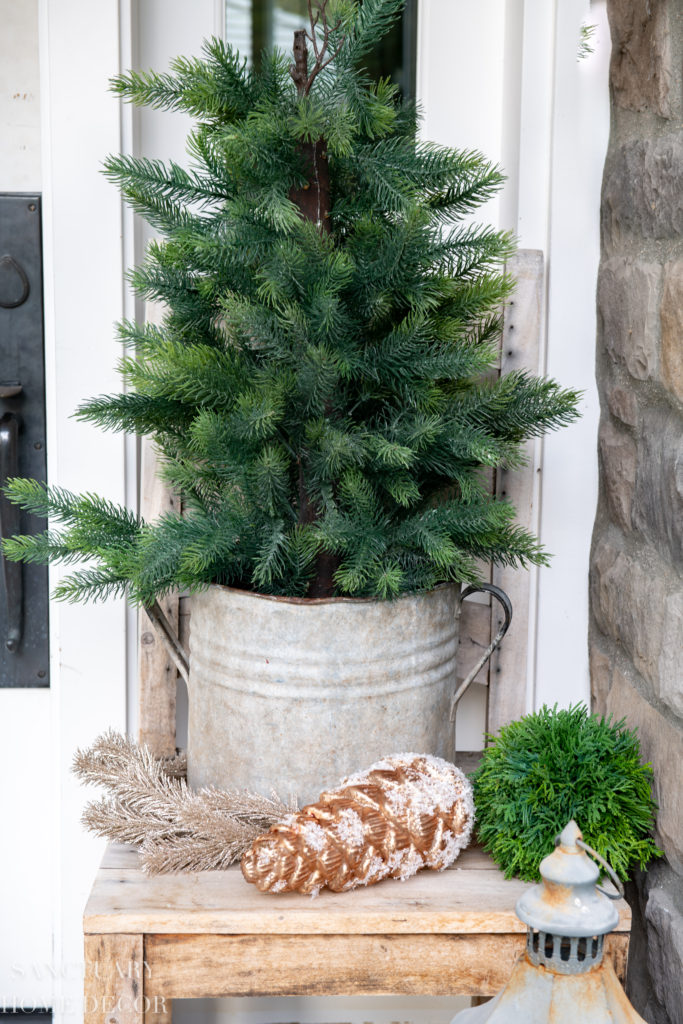 I added a couple of my favorite lanterns, a few pine cones, (including an oversized ornament) and some cypress balls to balance out the look.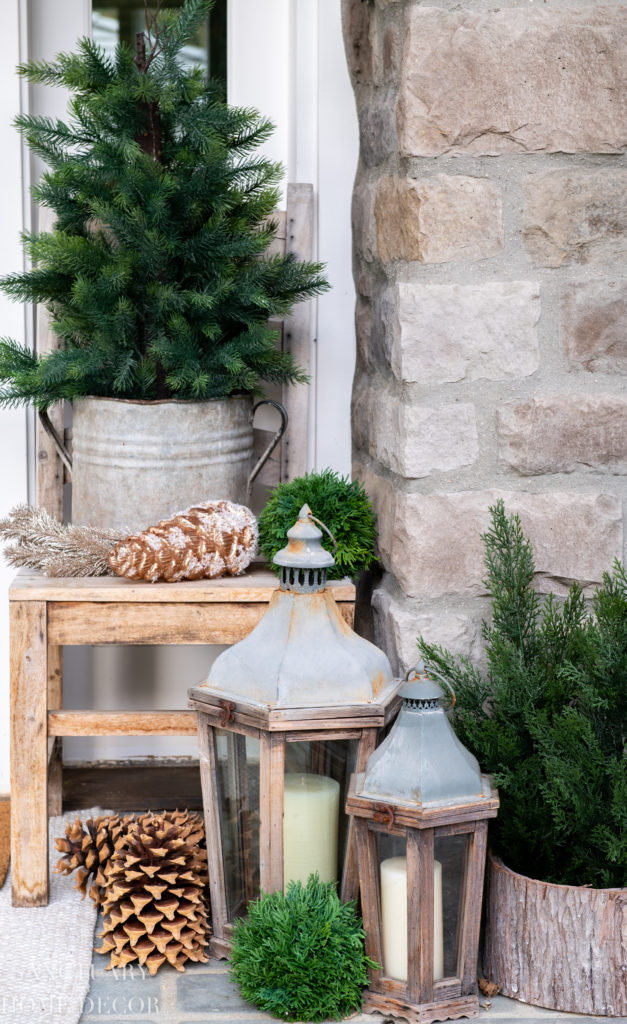 On the opposite side of the door, I filled a vintage olive bucket with hydrangea, cypress, and pomegranates as well as some rustic pine branches with pine cones still attached.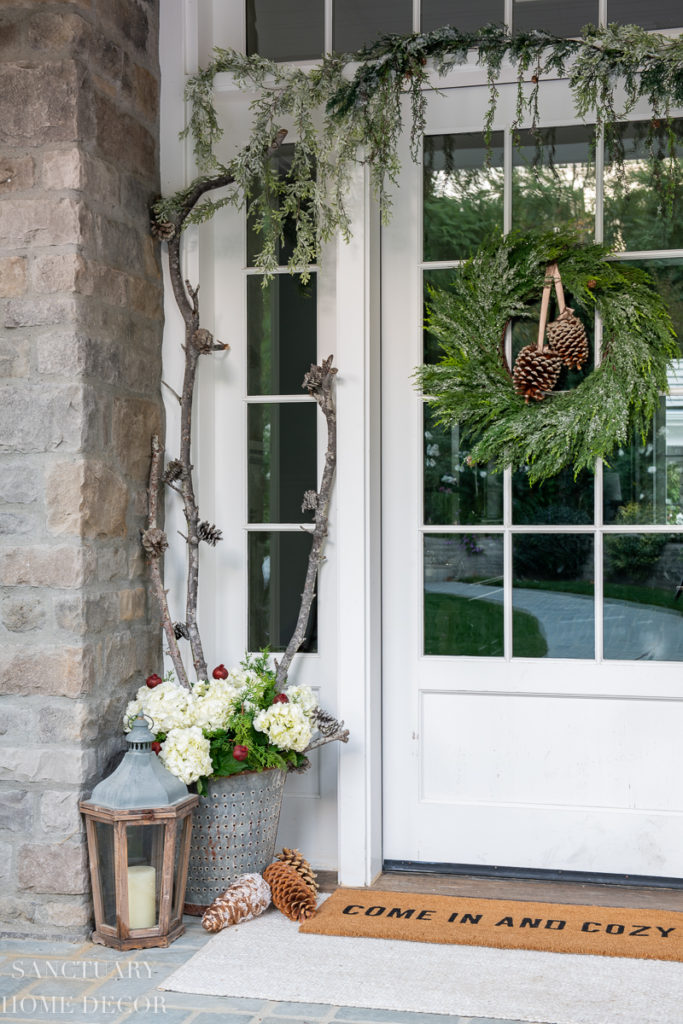 These great branches were a gift from my friend who knew I would find a use for them! I included another lantern and a few pinecones to finish this look.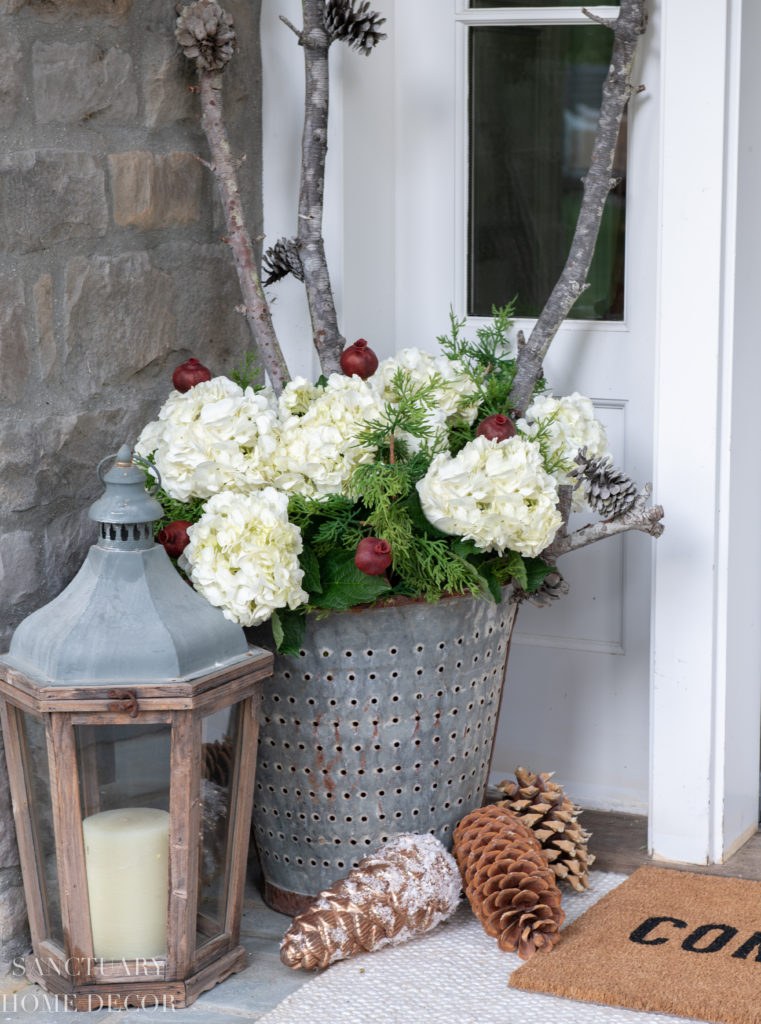 I love this fresh element on the porch and the brightness it adds to the overall look.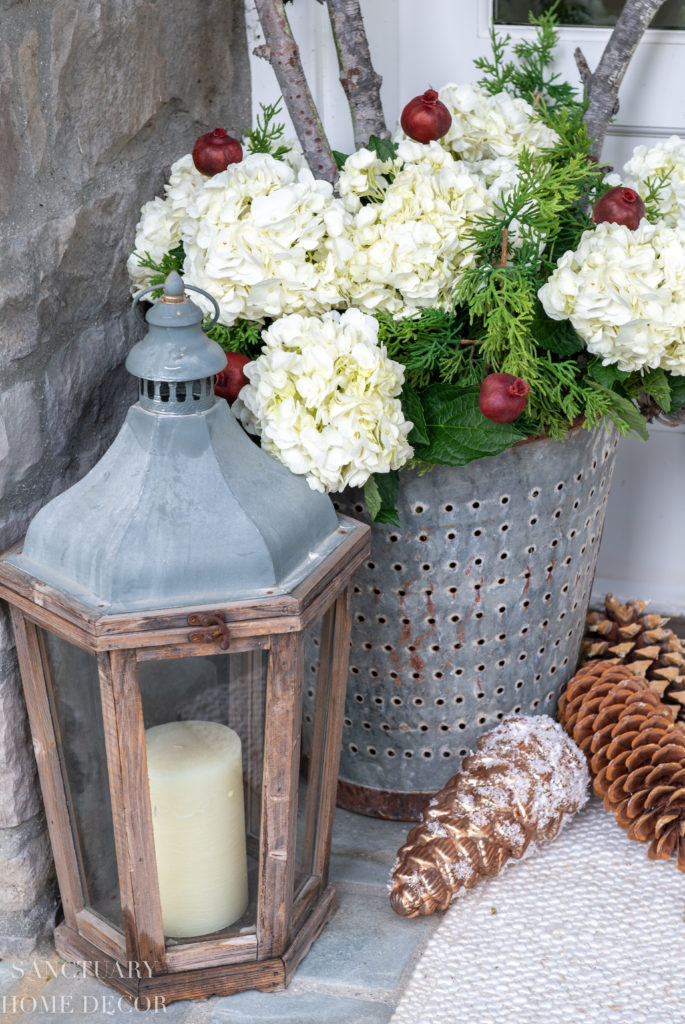 To bring together the pinecone and cypress "theme" I hung an oversized (faux) wreath on the door with a duo of glittered pine cones added to the center.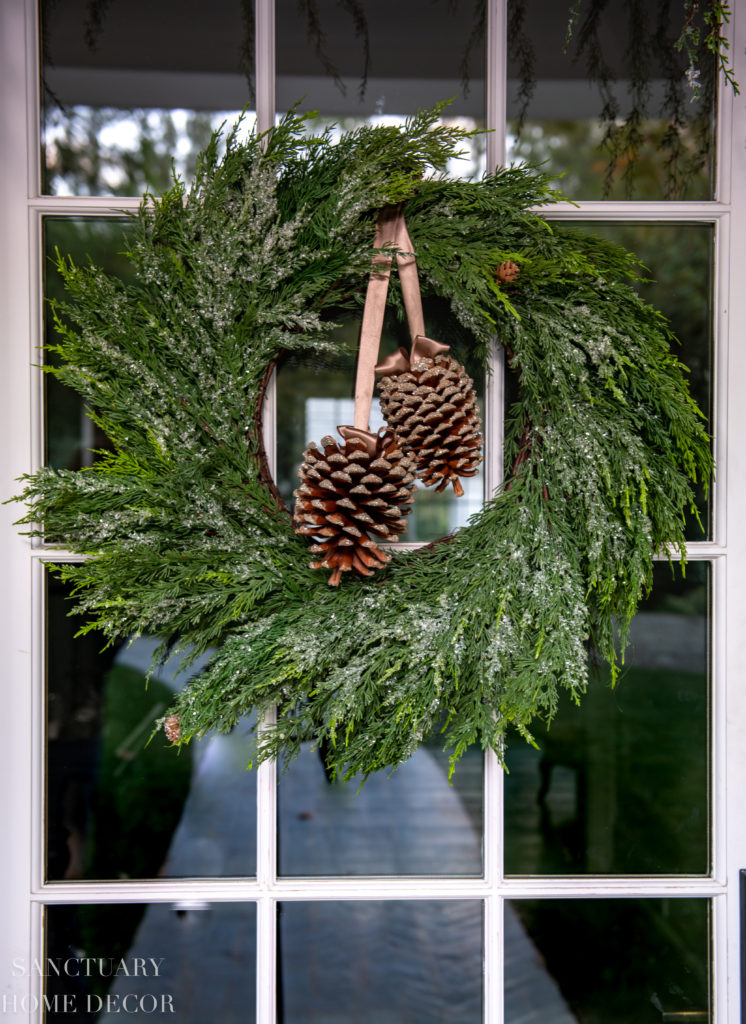 Above the wreath, I added a couple of simple garlands, loosely strung across the doorway.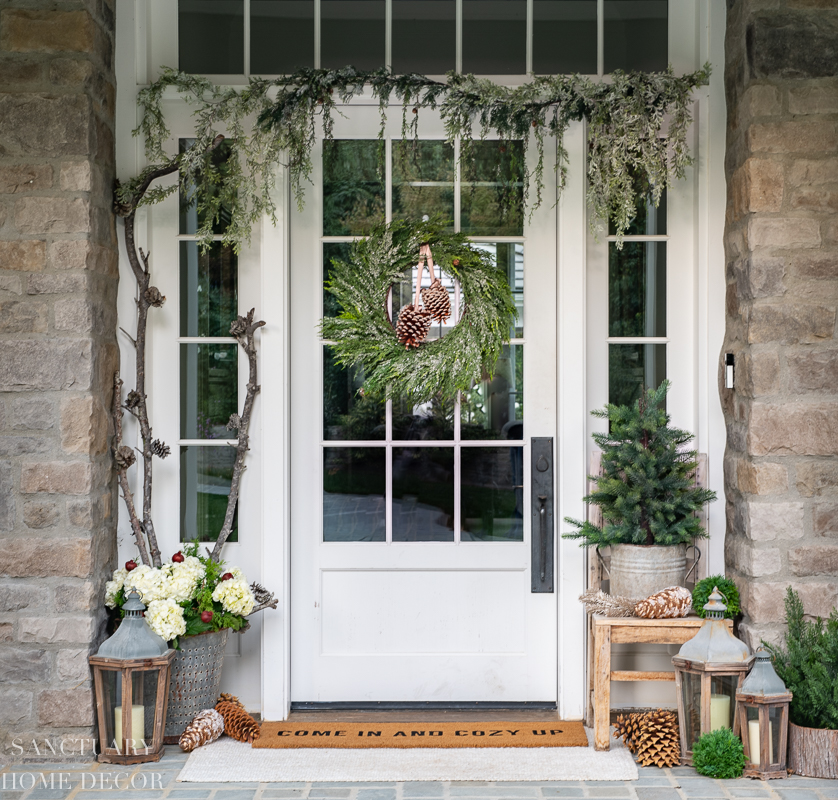 This tied the whole look around our door together and created that neutral winter feeling I was looking for.
The final piece was a new doormat that I found at a local shop. This sums up perfectly, my sentiment about the season. It's all about getting cozy and snuggling in at this time of year, so I couldn't resist getting this mat!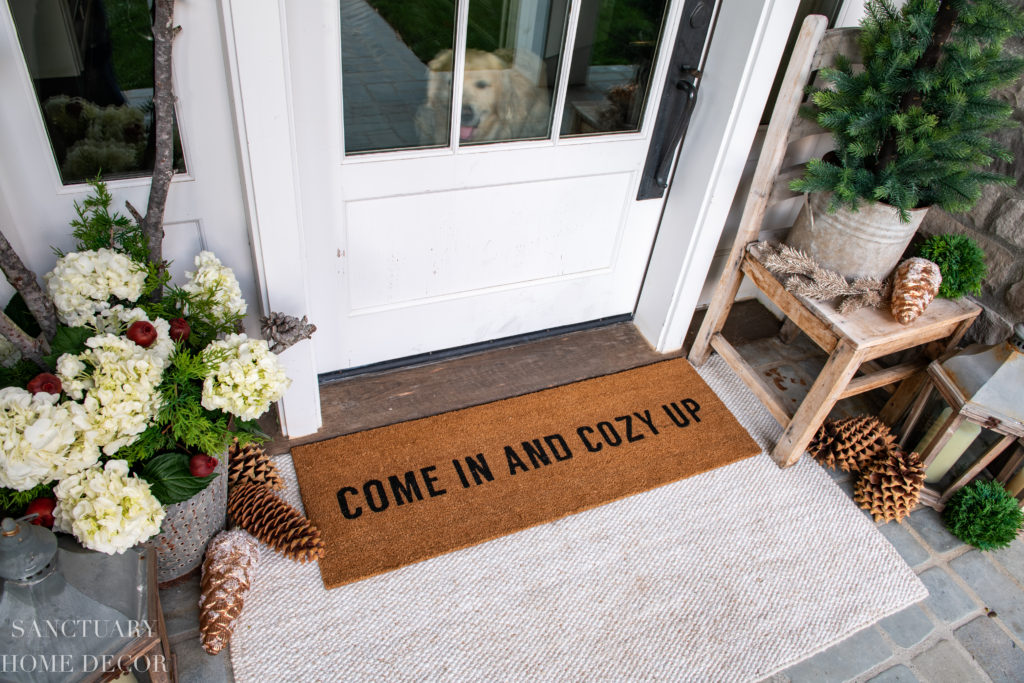 The area of the porch to the right of the door is just outside my husband's office, so that's where I placed my two favorite seagrass chairs and a small table.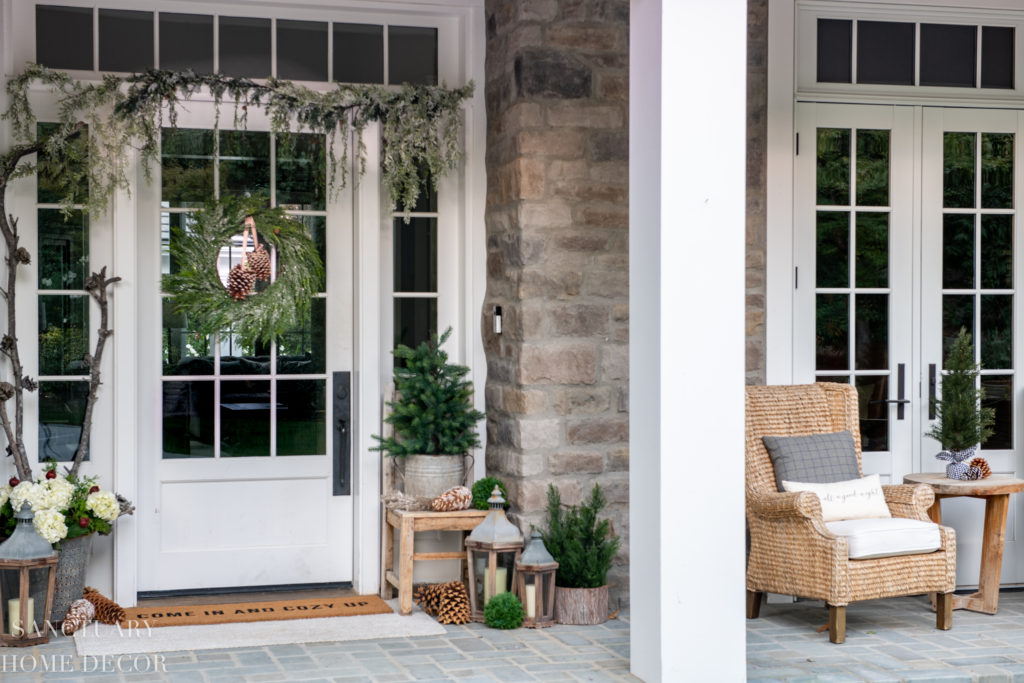 It's now a great seating area, complete with cozy blankets for our mild winter days.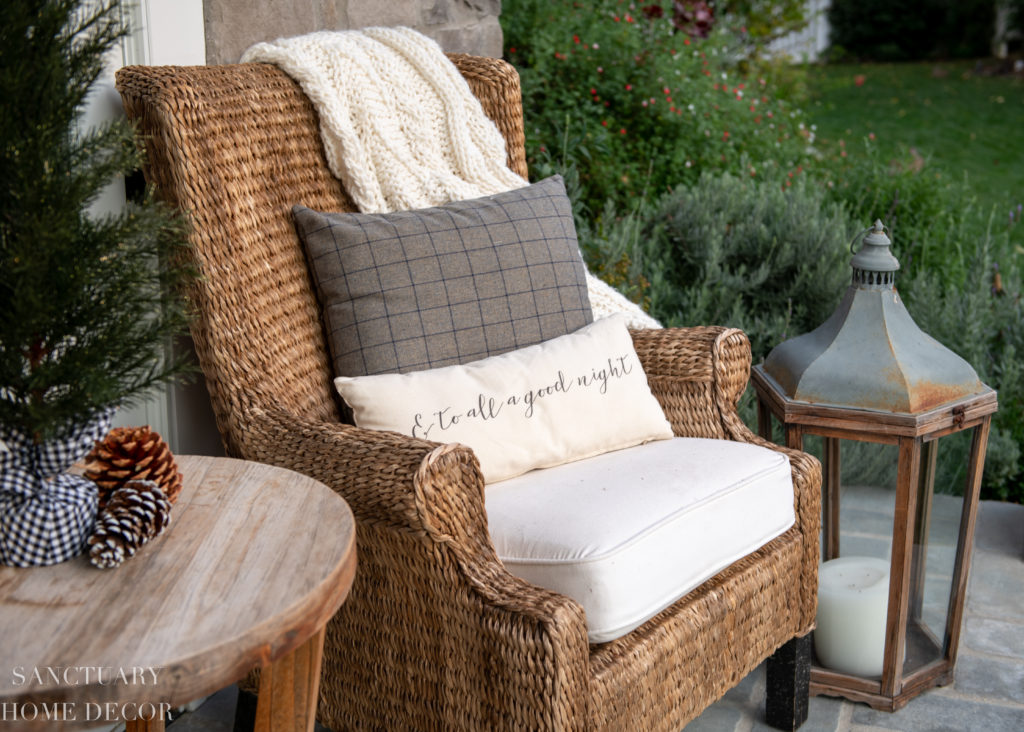 The area to the left of the door is outside our dining room, so I decided to add a small table and four chairs so that we could open the French doors and enjoy a little alfresco dining before it gets too cold.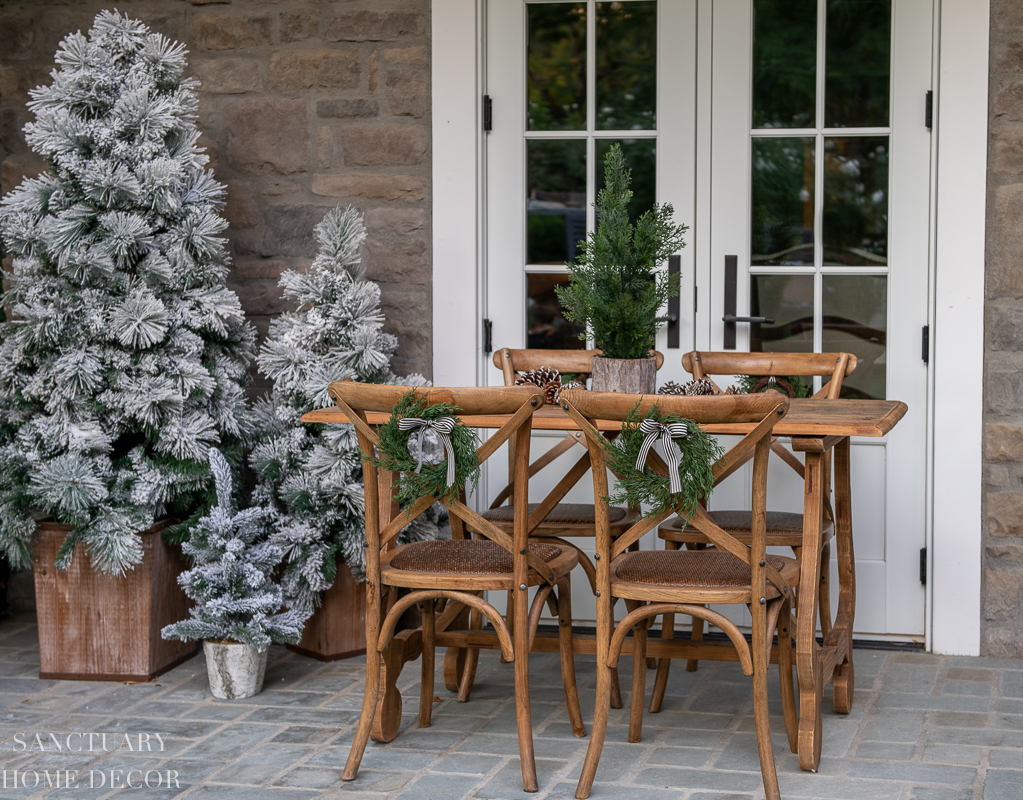 I added three different sized flocked pine trees to the corner to add a touch of winter to our mild climate while still keeping the look neutral.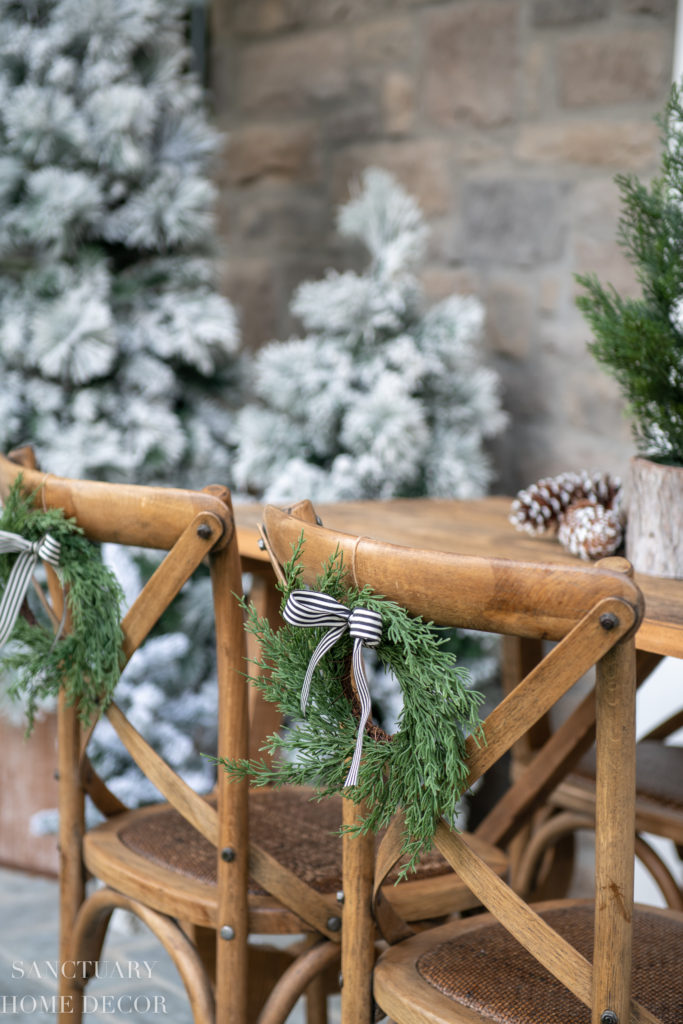 Some small cypress wreaths tied to the chair backs and a coordinating tree on the table finish the look.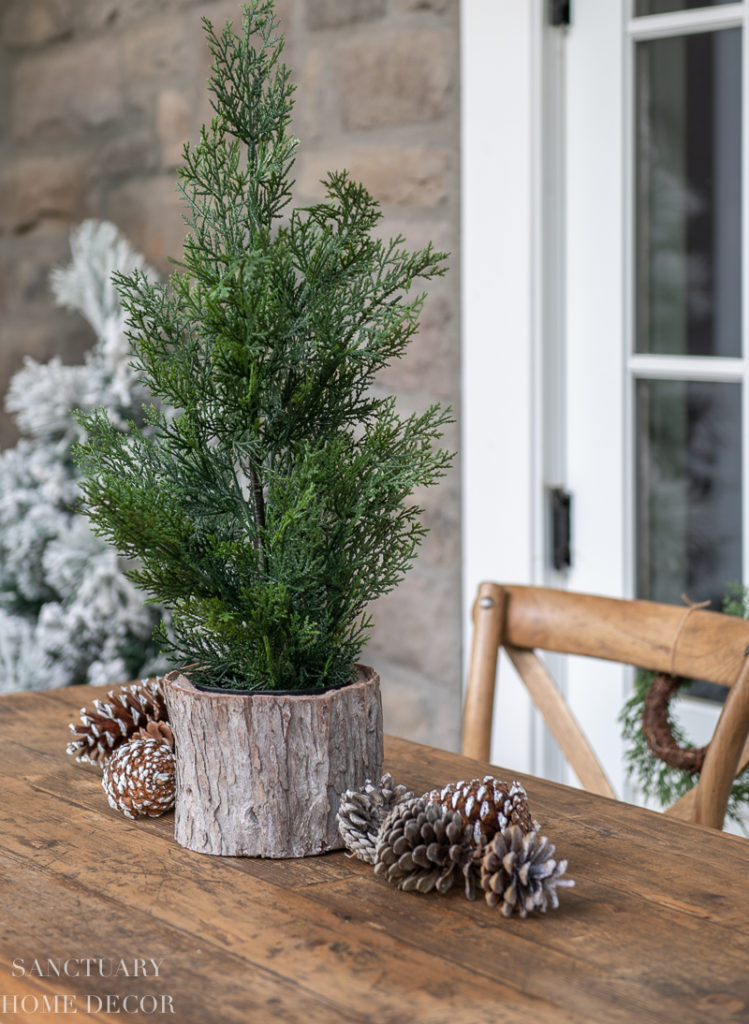 I really love how this year's porch turned out. It is a different look from previous years and is a reflection of my evolving aesthetic and love of many styles and design elements.
I hope this provides you a bit of inspiration or at the very least a few ideas for your Christmas porch decor.






Now if you scroll down you will see some beautiful Christmas porches from my friends. Head over and check out what they're sharing and be sure to say hello from me!!
xo

Visit These Beautiful Christmas Porches