How To Set a Thanksgiving Table in Warm Fall Colors
The beauty of the season is captured by a Thanksgiving table, in warm fall colors, set to share a meal with friends and family. Casual yet elegant, this tablescape is easy to achieve with just a few simple elements!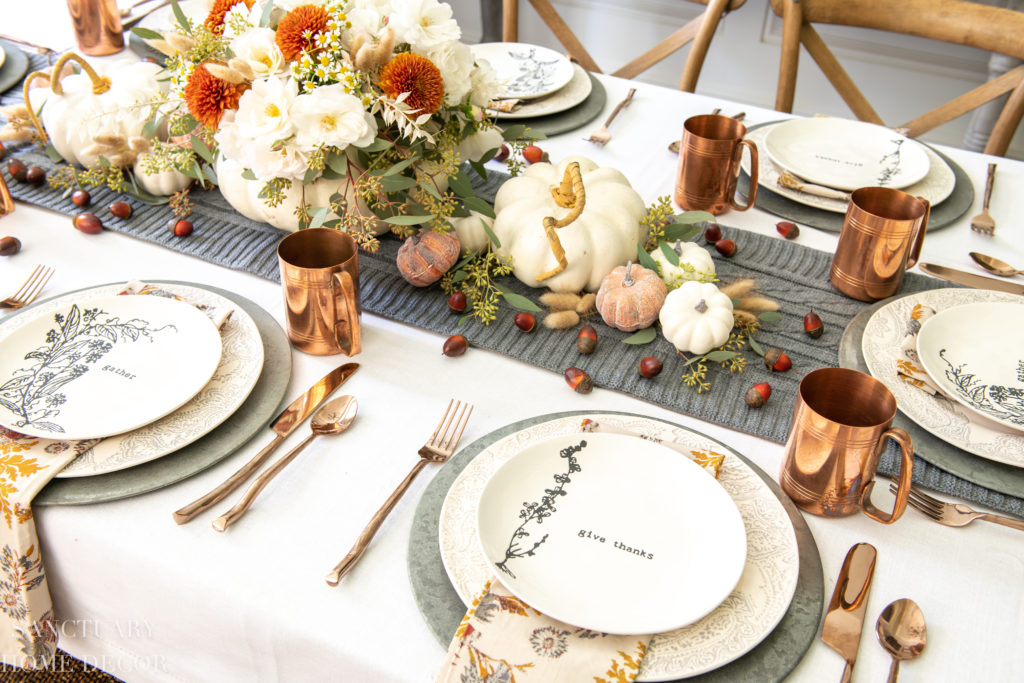 One of our family's favorite traditions revolves around the preparation of the Thanksgiving meal and the anticipation that we will all sit down together to enjoy the fruits of our labors. Seating 25+ friends and family, for dinner in our home, is no small task, so preparing the tables in advance is key to making the day run smoothly.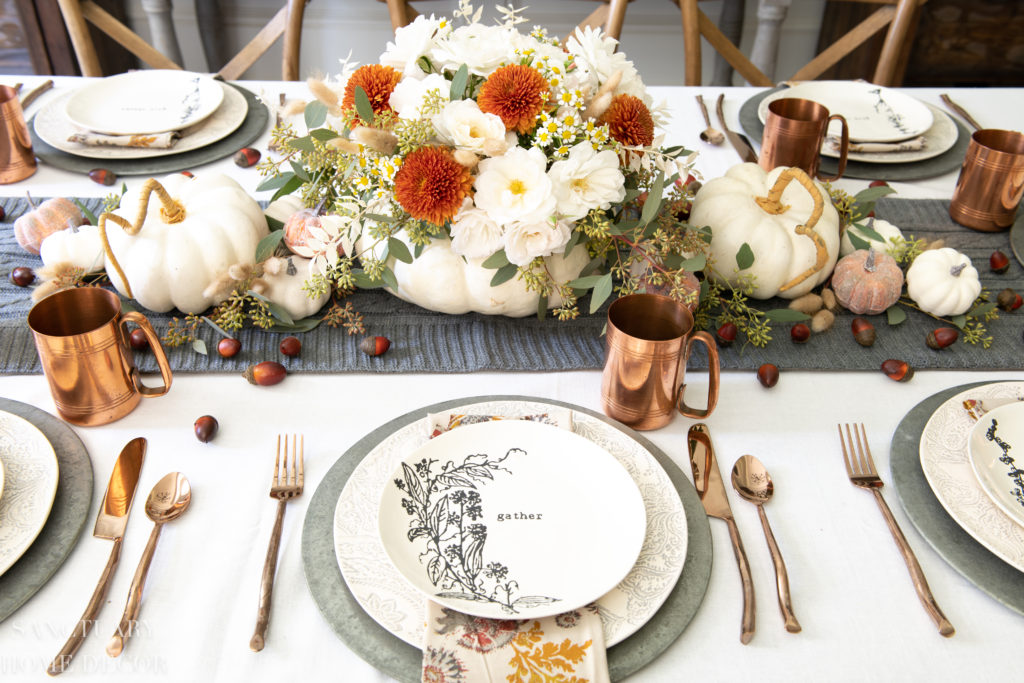 Today I'm sharing a Thanksgiving table in warm fall colors, but be sure to scroll down to the bottom of the post to see the gorgeous tables my talented friends are sharing! No matter your style, you will find some beautiful inspiration here!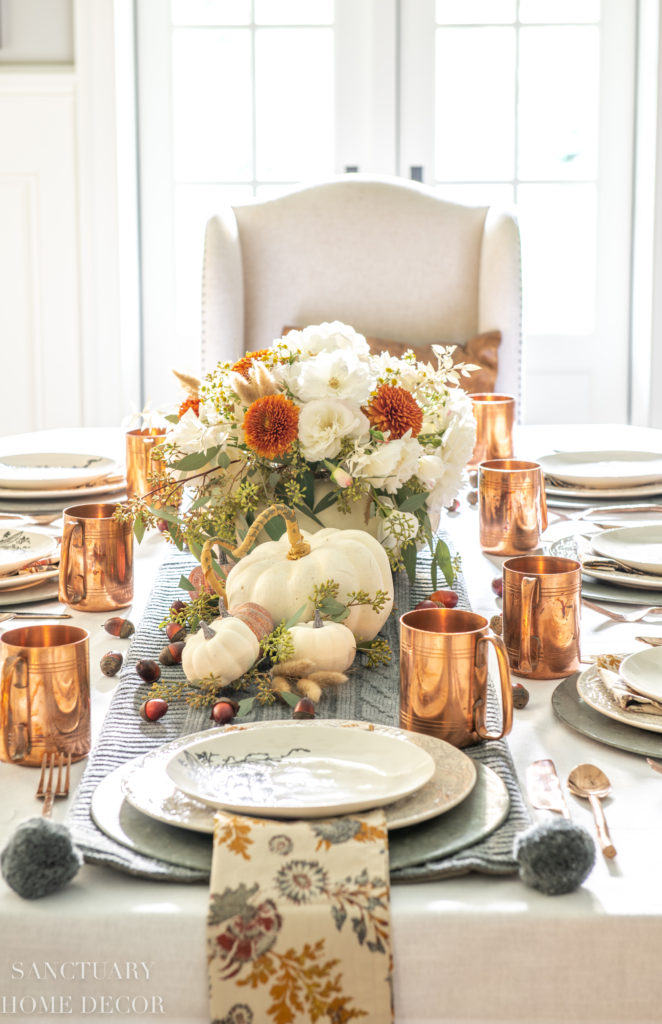 This year I am inspired by the warm fall colors that are so iconic during this season. I am also mindful of the fact that the underlying color palette in my home leans more toward blues and grays, so I decided to blend the two to create a table setting that is warm and inviting yet honors the design of my home.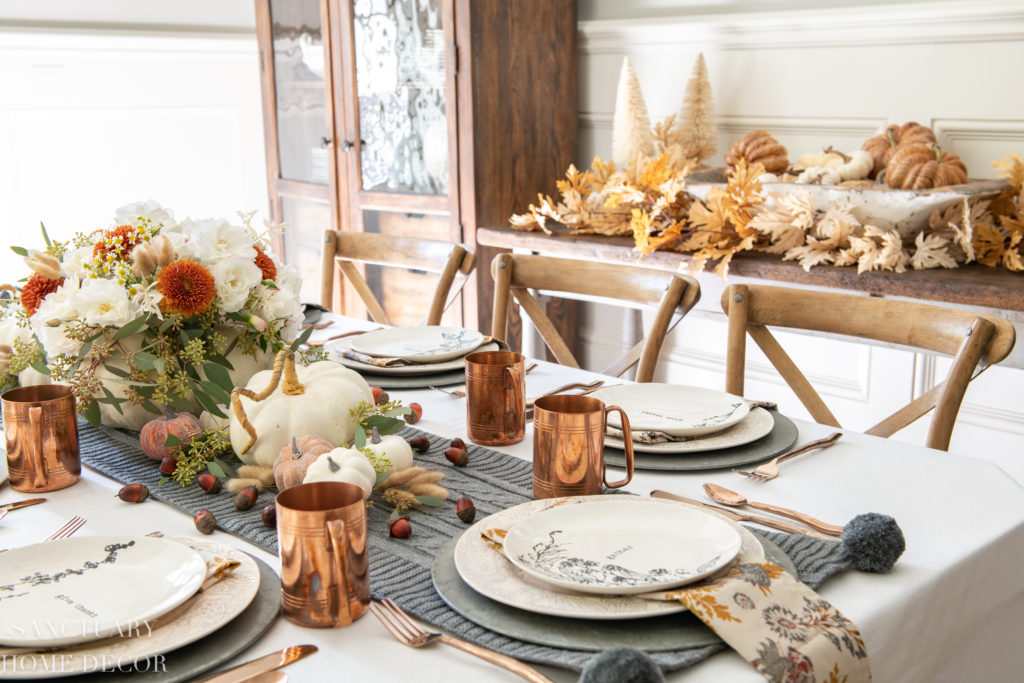 I started with a simple white table cloth as my base and added a pretty gray knit table runner on top. While this may not seem like the beginning of a warm fall table setting, it made for an unexpected contrast in colors and a beautiful look in the end.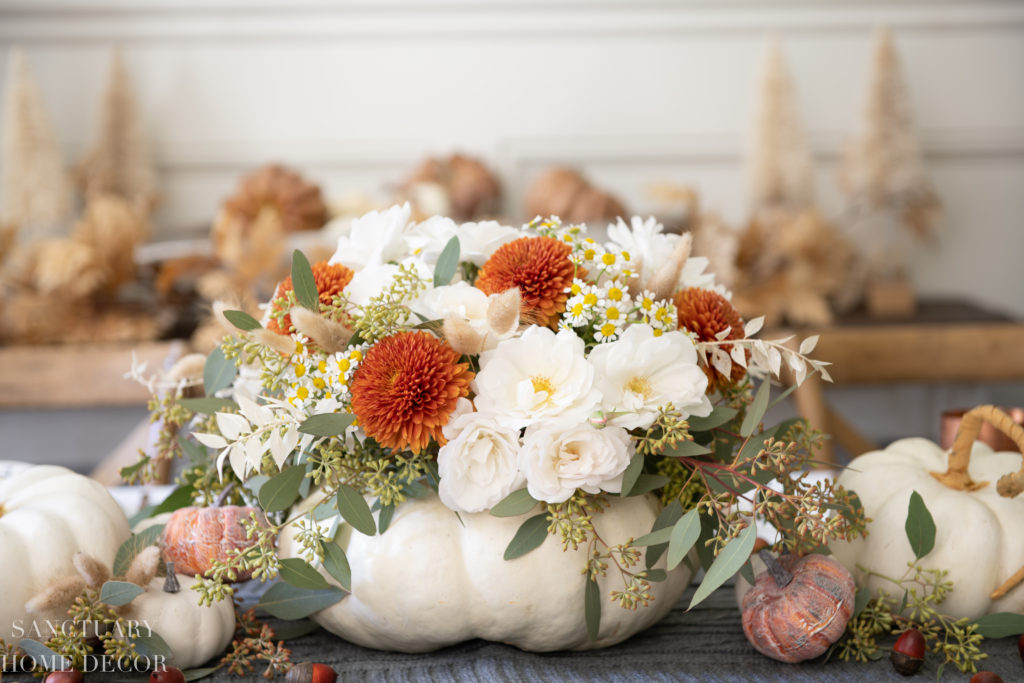 I wanted a centerpiece that included a bit of fall color without being too dark, so I used a white heirloom pumpkin as my "vase" and made an arrangement using roses from my garden (yes, they are still blooming!), seeded eucalyptus, chamomile, a few dried florals, and rusty orange mums. I got all of the flowers at my local market for under $30 so this is also a fairly budget-friendly centerpiece!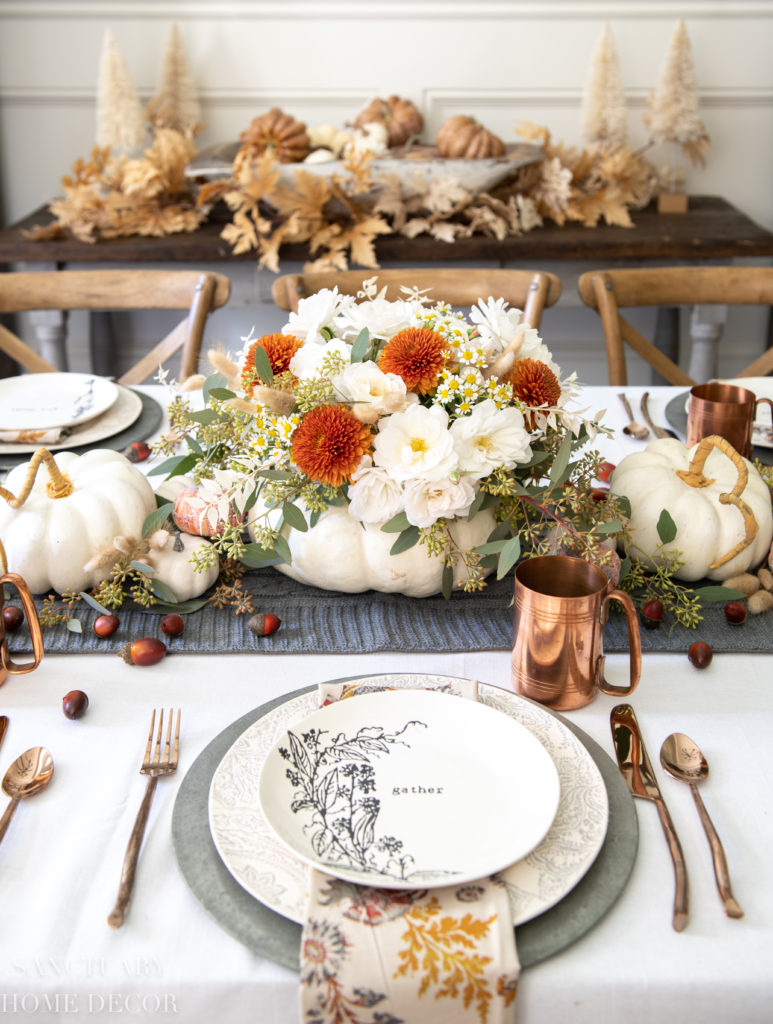 Next to the centerpiece, I placed faux white pumpkins and then sprinkled some additional smaller pumpkins and a few faux acorns around the table. I also tucked a few pieces of seeded eucalyptus and dried "bunny tail" along the runner to incorporate the colors and elements.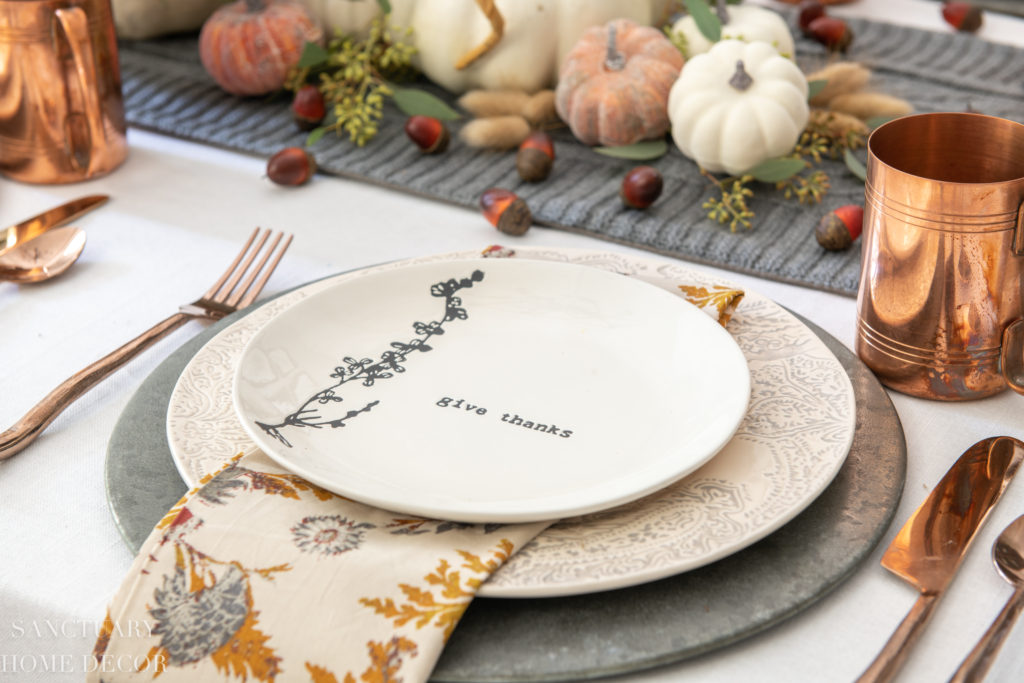 For the place settings, I started with a galvanized charger that matches the color of the table runner. This was important to unify the look and colors. I layered my all-time favorite dinner plates on top of the charger, (I swear these work for almost every table setting!), and then folded a fall napkin into a long rectangle and let it drape over the edge of the table.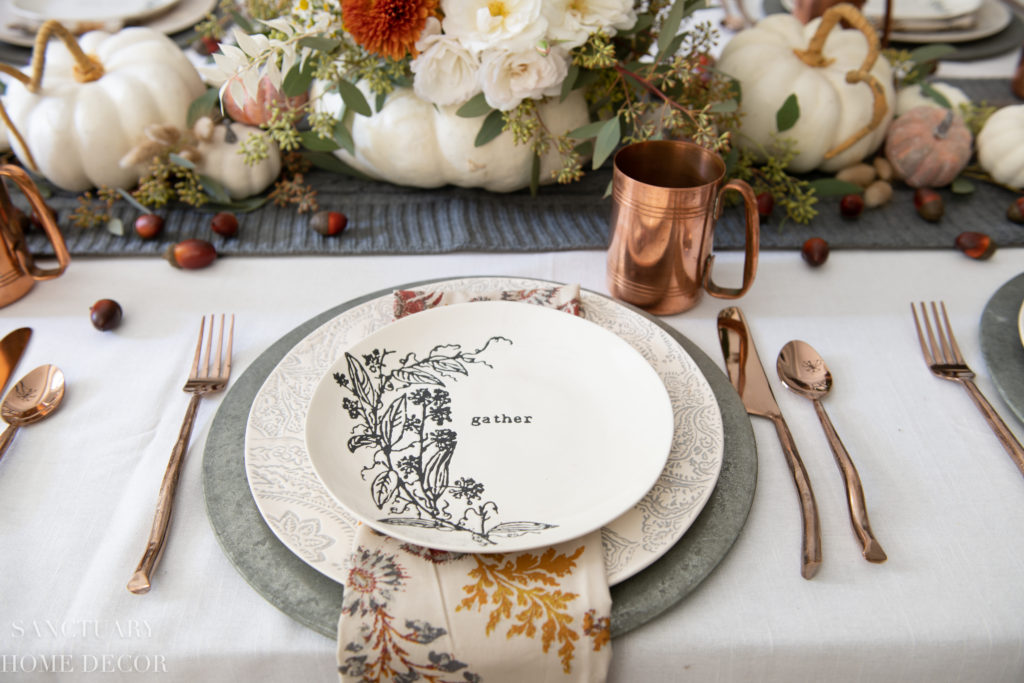 I topped the place settings with these beautiful, seasonal salad plates that I just bought and absolutely love!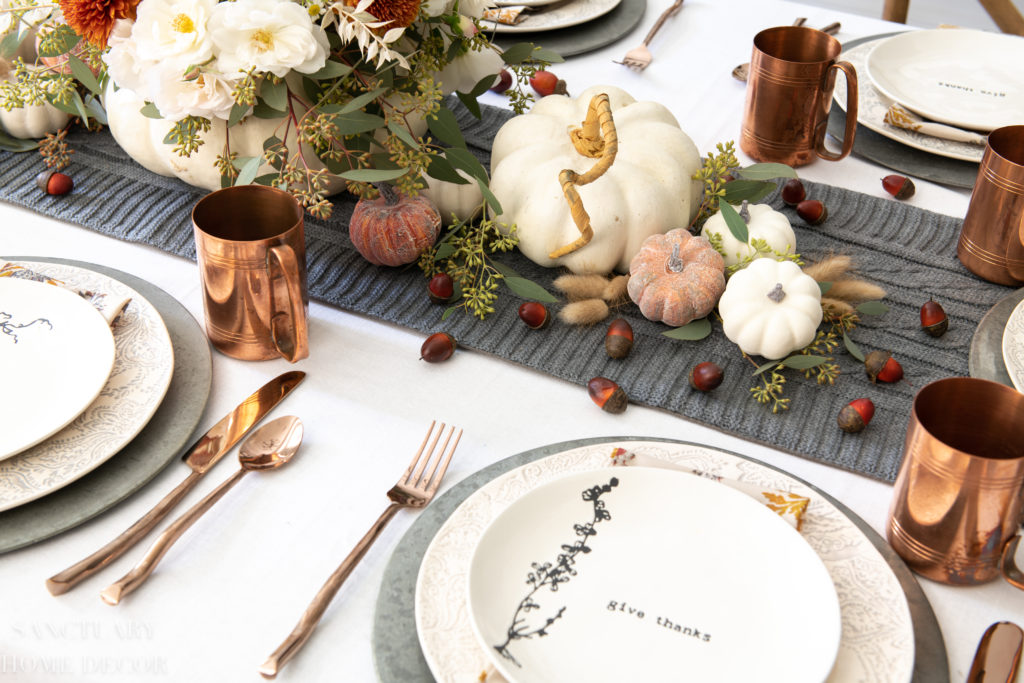 And of course, I had to add the beautiful copper that I adore, so I used my favorite fall silverware and copper mugs to round out the look.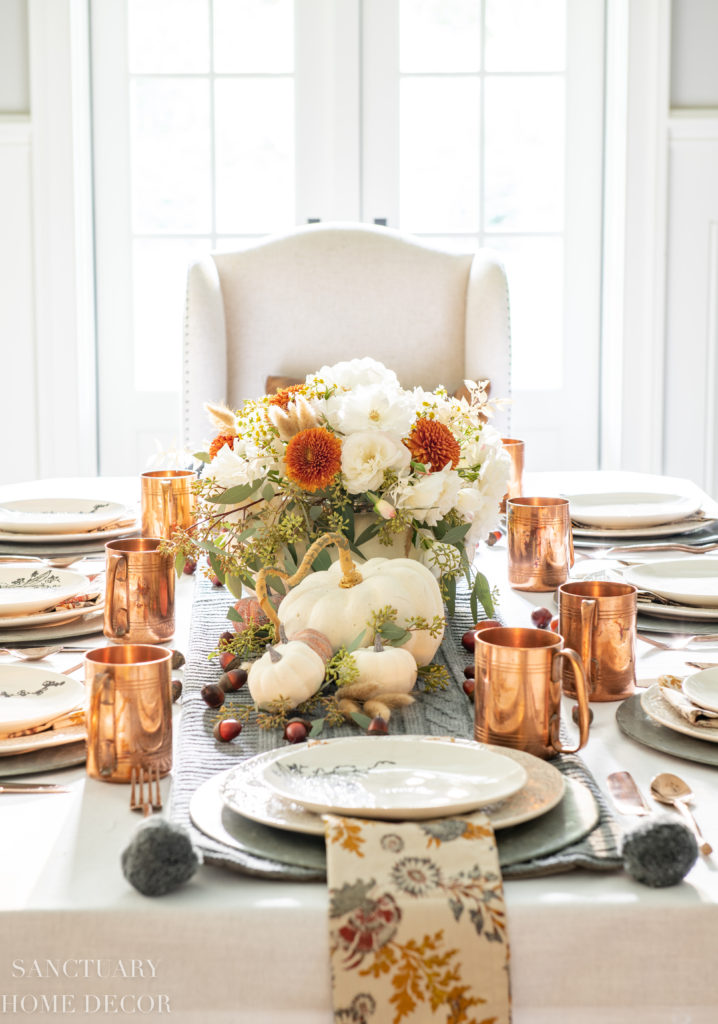 The copper added just the right amount of brightness to this Thanksgiving table.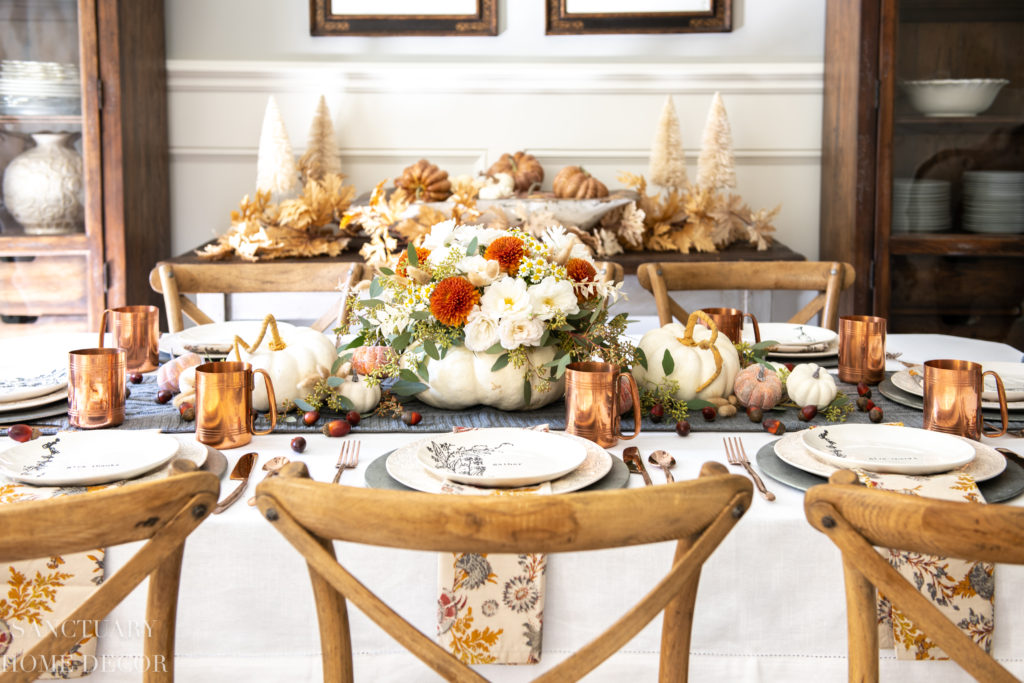 I also added some simple decor to the sideboard in the dining room. A chippy dough bowl filled with warm-toned pumpkins, a few faux fall leaves, and some natural bottle brush trees creates a subtle fall look.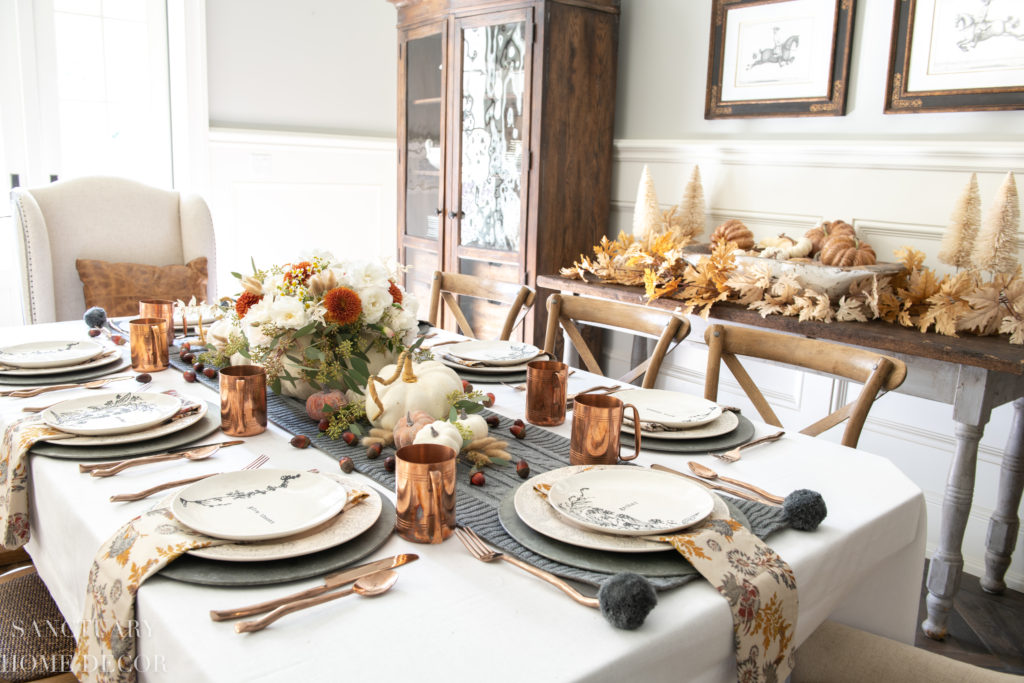 I love how this table came together because it is a reminder that mixing tones and textures often works well. I was able to balance the colors by matching the table runner to the chargers and then adding the warm fall colors on top.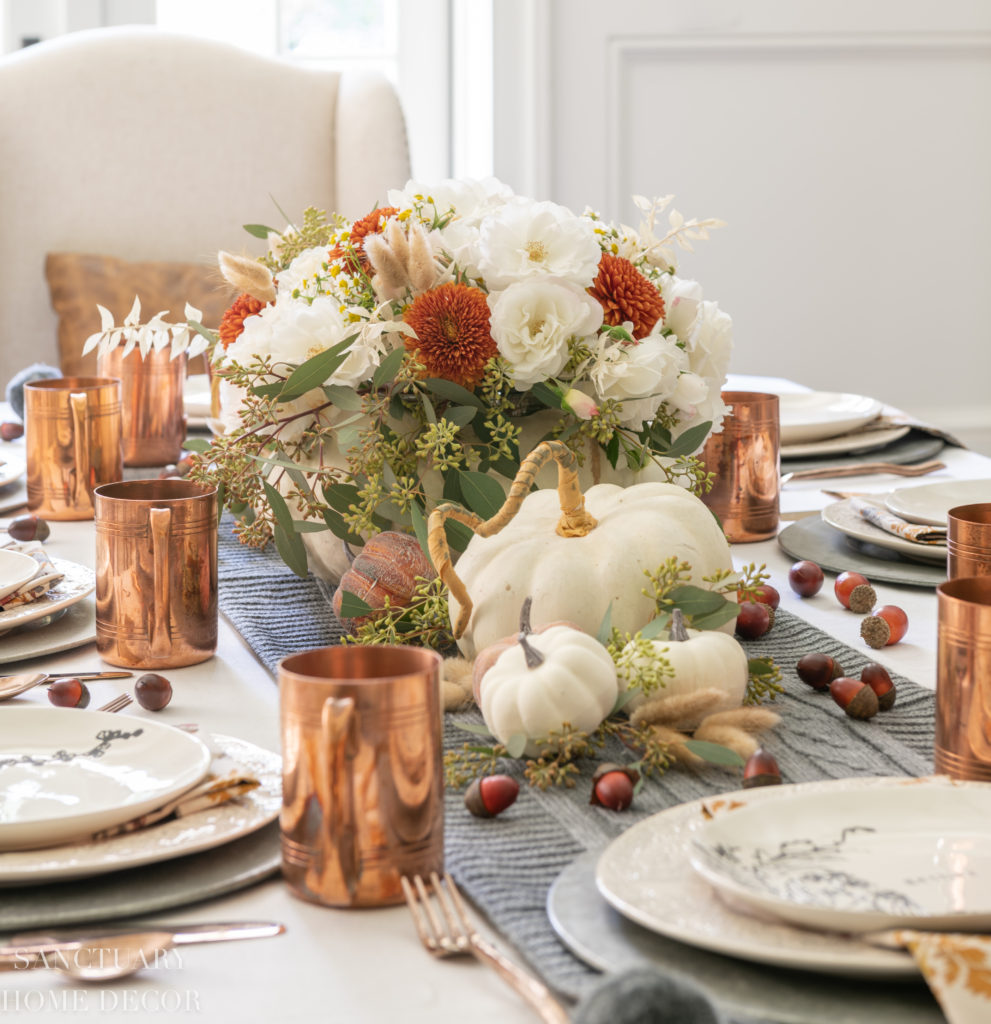 Attention to the small details such as the addition of bits of eucalyptus and acorns helps to unify the look.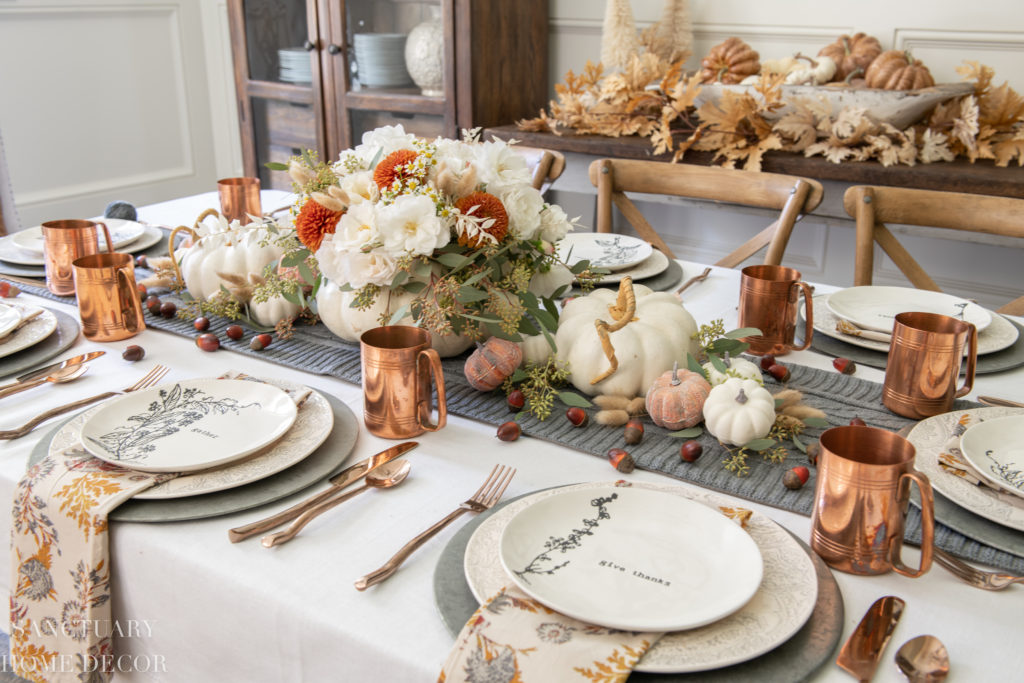 This Thanksgiving table in warm fall colors is light and bright yet captures the season and still feels warm and cozy! The perfect combination in my book!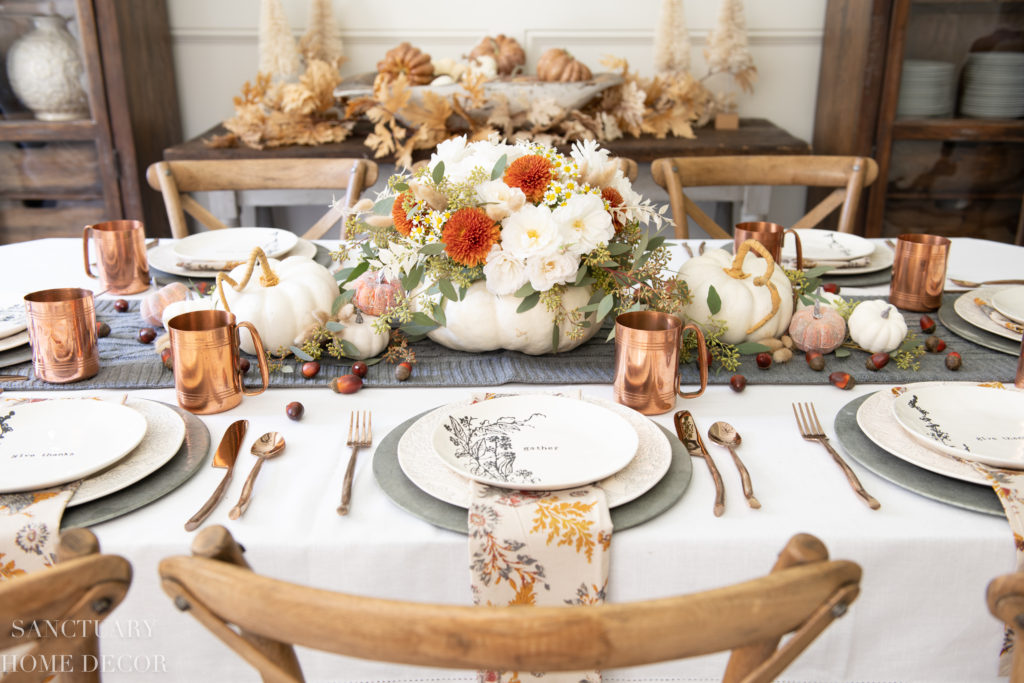 I hope this gives you some inspiration for your Thanksgiving table and a few ideas about how to create a beautiful setting for your friends and family!

Thanksgiving Table Setting // Easy Thanksgiving Centerpiece // How To Decorate a Thanksgiving Table // A Foraged Centerpiece // Thanksgiving Table, Warm Fall Colors

Natural Thanksgiving Centerpiece // Dried Hydrangeas Fall Centerpiece // Fall Centerpiece // Live Pumpkin Floral Centerpiece // Fall Centerpiece

Thanksgiving Centerpiece // Friendsgiving Ideas // Thanksgiving Dinner Outdoors // Cozy and Intimate Thanksgiving Table // Thanksgiving Centerpiece Ideas

Thanksgiving Centerpiece with Fresh Fruit // 5 Step Easy Thanksgiving Centerpiece // Thanksgiving Centerpiece Ideas // Thanksgiving Table Settings // DIY Floral Centerpiece