Easy and Casual Fall Harvest Table Setting
As we head into a season filled with holidays and gatherings, it can sometimes feel overwhelming to decorate or create the "perfect" table setting for guests. To help relieve that stress, I've partnered with Walmart to share an easy and casual fall harvest table setting that can be used every day or for an upcoming holiday celebration. The best part is it's incredibly budget-friendly and the elements can be re-used in every season! Scroll down for all of the details!
This post is sponsored by Walmart, but I am dedicated to only sharing products I love and actually use. All ideas, reviews, and opinions are mine.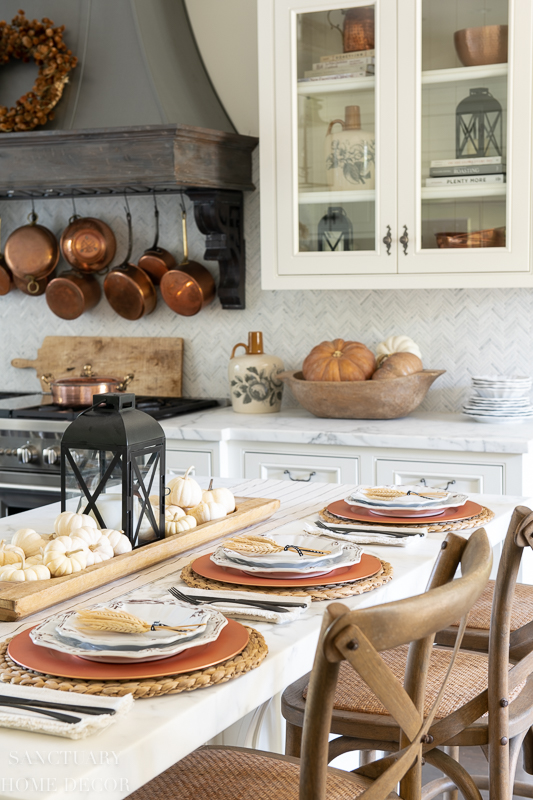 My family loves autumn and everything that goes with this warm and cozy season. As I shared last week, my kitchen is transformed at this time of year with warmer tones making an appearance, including a lot of copper and wheat accents.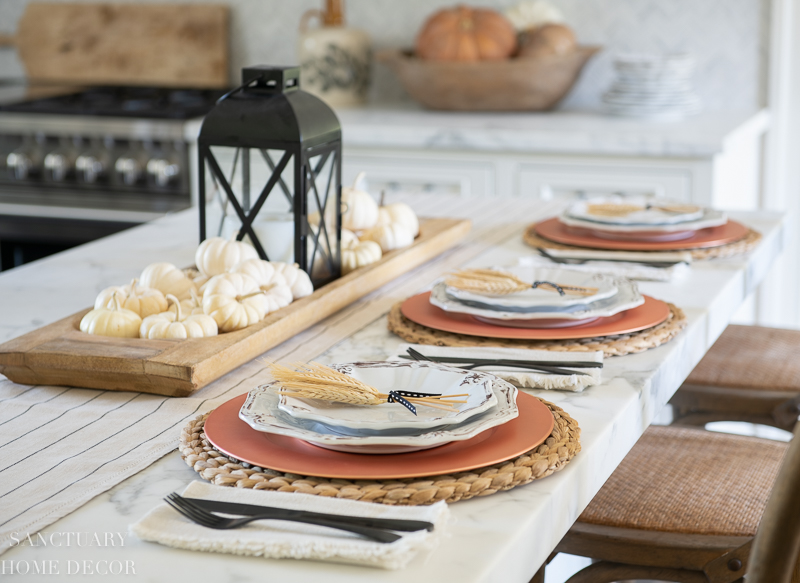 To celebrate fall, I also add some warmer tones to my everyday place settings and the Fall Harvest Collection from Walmart has everything I need to make that happen.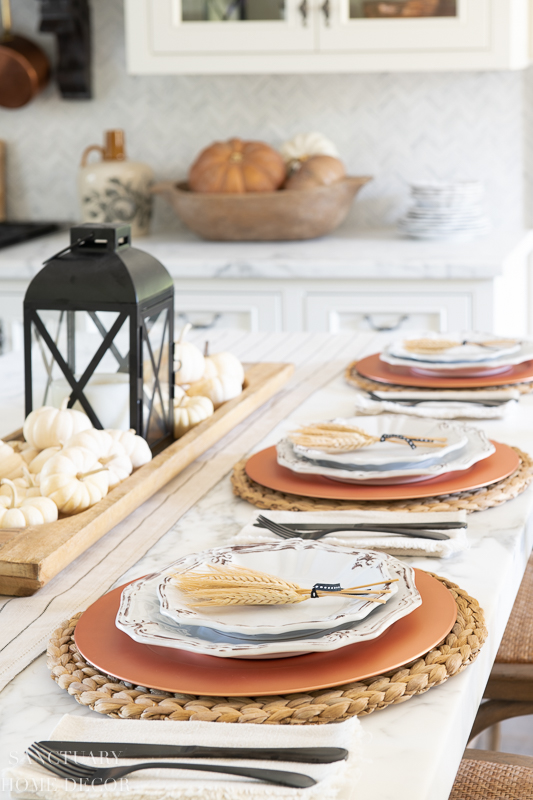 I am slightly obsessed with beautiful dishware, so when I saw this gorgeous French country dish set at Walmart for only $55 I had to have it! It comes with dinner plates, salad plates, bowls, coffee cups, and saucers…Yay!!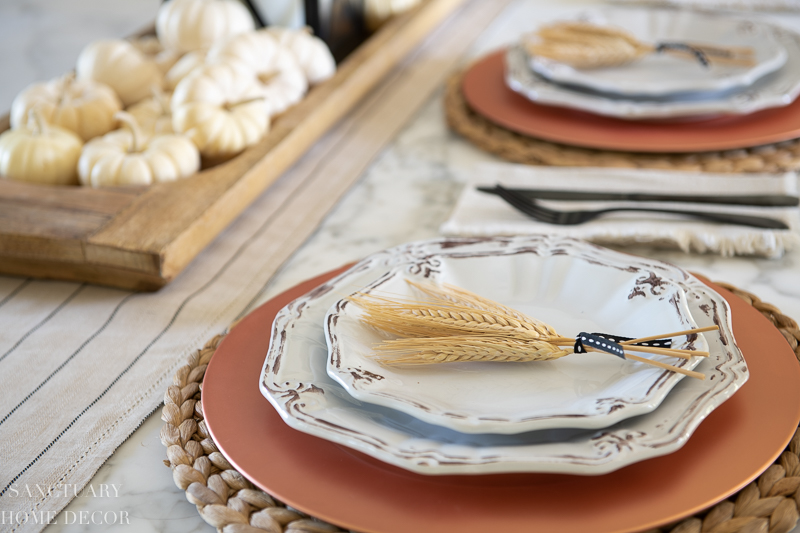 This is the PERFECT set of dishes for any season, but that little brown accent color makes it just right for autumn. Underneath the plates, I layered a simple copper charger on top of a round seagrass placemat. I love the mixture of colors and textures and yet this still looks like a casual table setting.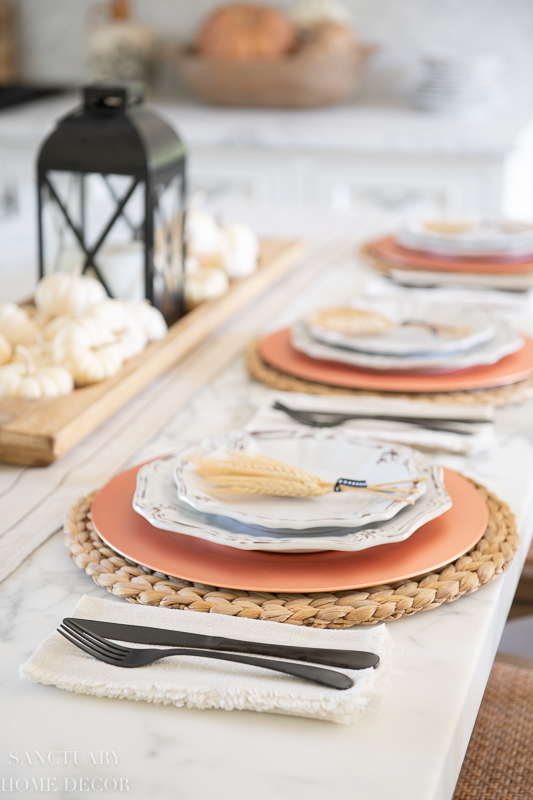 Maybe my favorite new addition to my place setting collection is the gorgeous black flatware set I got from Walmart.
At only $21 for a 20 piece set, this is a great bargain!
I had honestly never thought to use black flatware before now but is such a beautiful accent on the table, I am hooked.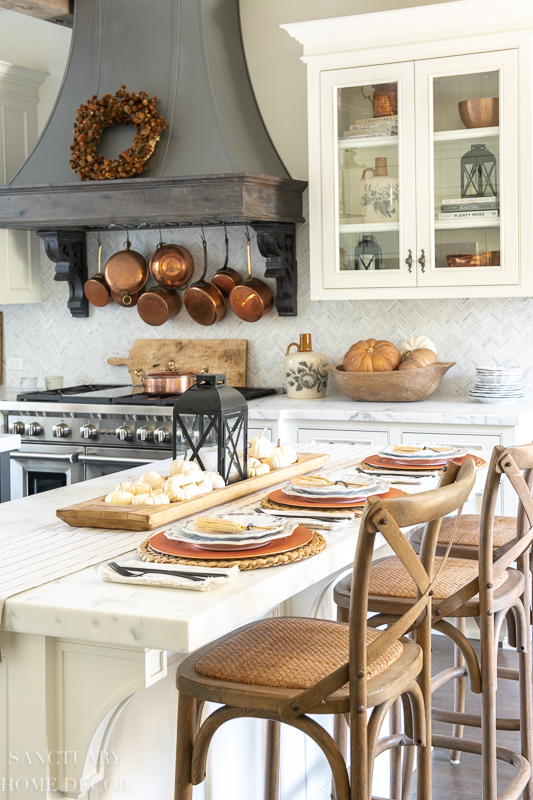 I found that the best way to make this flatware work is to add a couple of additional black accents to the table, so I tied a few stalks of wheat with a simple black and white ribbon and put them on each plate.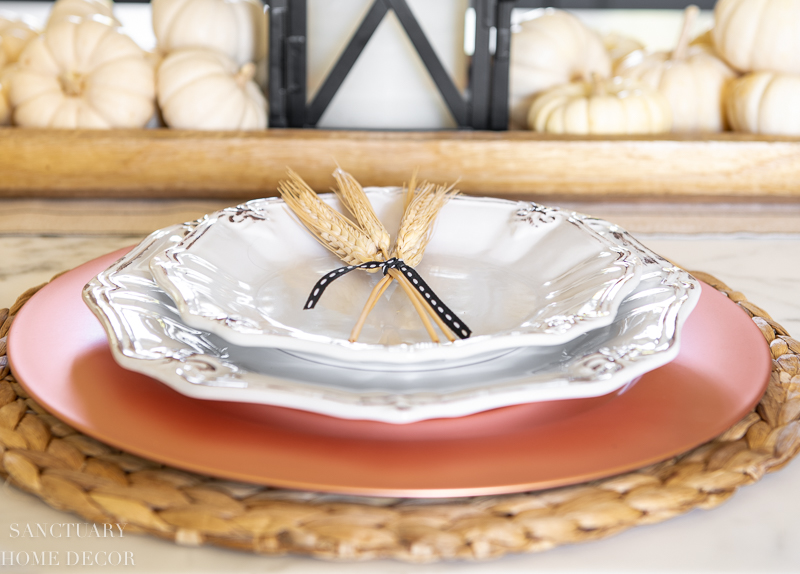 I also included a black lantern in the center of a wood trug filled with mini pumpkins. Walmart has these lanterns in three different sizes and they are the perfect accent piece for a table setting, a fall vignette or porch decorating.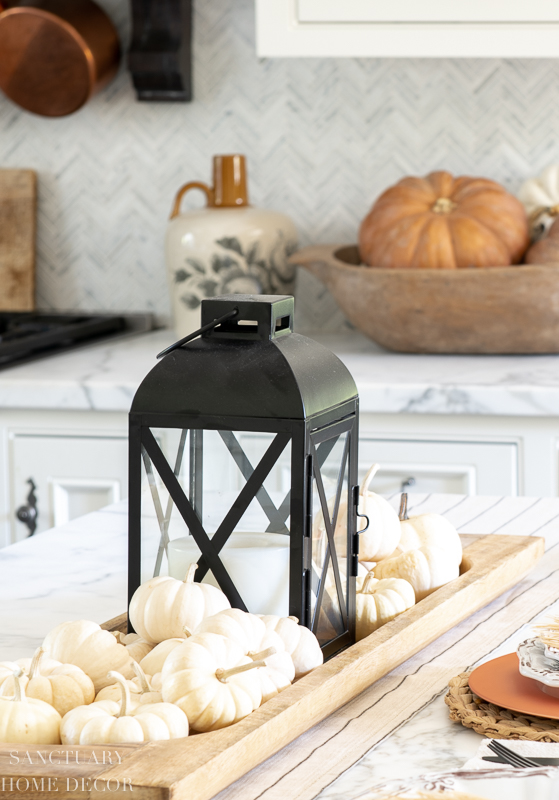 I got six of them in different sizes and love how they look! The best thing is they are SO affordable! If you are looking for lanterns, go check these out!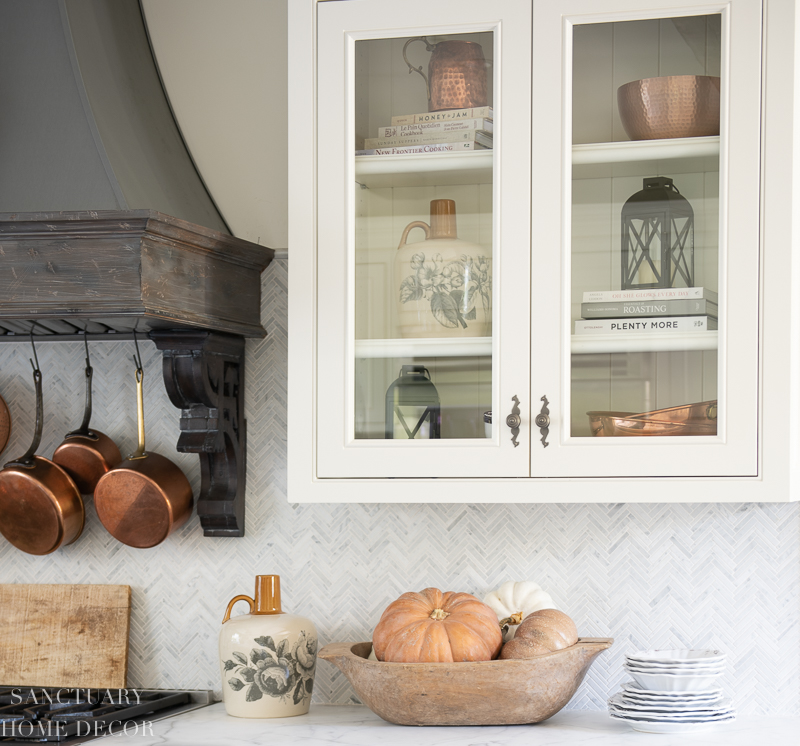 One of my favorite new items this season is this beautiful wood trug. It is the perfect size and shape to hold all kinds of seasonal decor! I have used it on two different table settings so far and just love how it looks. It is one of the more expensive pieces I got this year, but I know I will use it repeatedly in every season, so it was a worthwhile investment!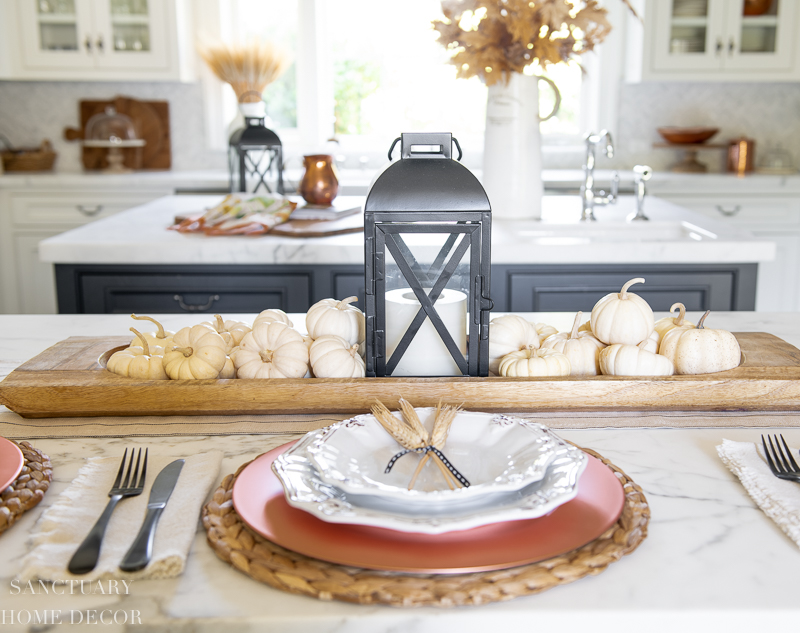 I put the trug in the middle of my center island on top of a beautiful linen colored table runner with thin black stripes. It really completes the fall harvest look I wanted to achieve.
At only $18 this runner is a bargain and can be used in any season so, of course, I got three! I've already used them on several tablescapes, so get ready to see them on repeat over here!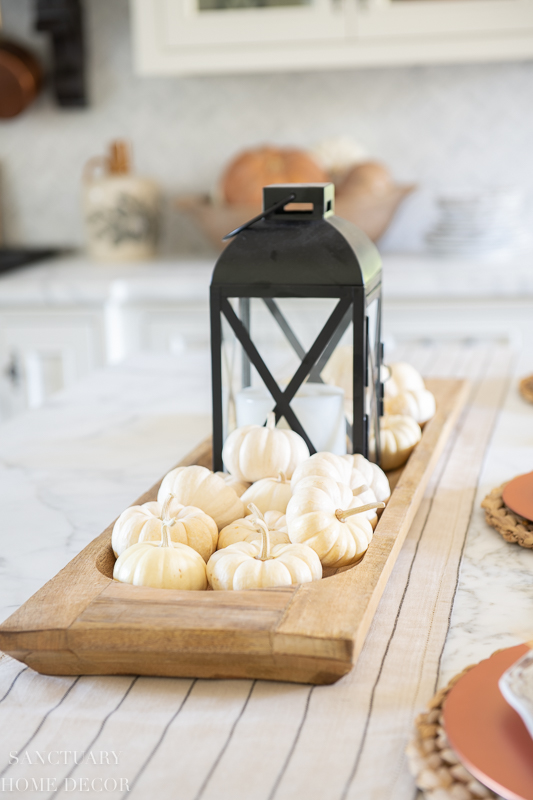 See how I styled this piece in my dining room by clicking HERE.
I have to admit that I was surprised by how many beautiful fall decorating and entertaining items Walmart carries, and you know their prices are great. I shared quite a few fall finds from them a couple of weeks ago and have been really happy with everything I got.
They also offer free 2 day shipping and free returns on orders over $35, so you can't go wrong!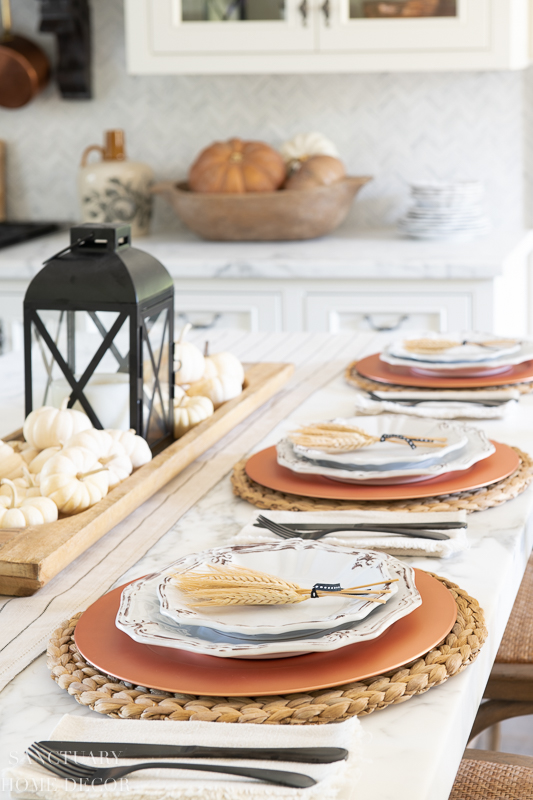 I hope this gives you some inspiration for styling a beautiful, casual fall harvest table. Check back soon to see how I used these same elements and completely changed the look for an early fall dinner party!

Below are affiliate links for most everything shown in this post as well as some of my other favorite fall decor finds from Walmart!