New Year+New Look-A Completely Fresh Website Design!
I am SOOOO excited to be writing this post because it means you are on my new website! YAY! If this is your first visit to Sanctuary Home Decor, "Welcome!" If you've been here before you will probably notice a completely new look and a lot of changes. I have added a ton of fresh content, including product and design sources that I have never shared before.
My hope is that you will find some inspiration here to create your own sanctuary!
We made it super easy to find what you are looking for, but , I wanted to give you a quick tour to show you what's new!
ALL NEW BLOG MENU
I've made it easier to find inspiration with an all new blog menu. Just click on the category you are interested in and all related posts will come up.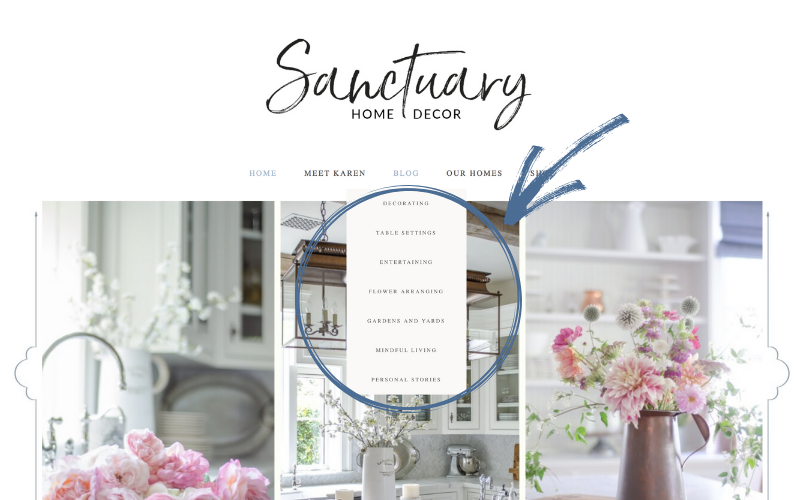 SEASONAL BLOG POSTS
Looking for some seasonal inspiration? I've categorized every blog post by season so you can easily find current looks and topics..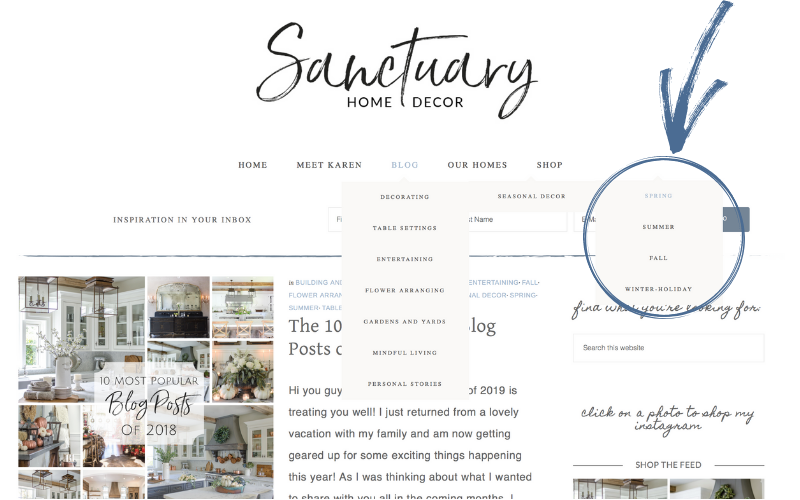 EASY SEARCH FEATURE
Looking for something specific? Look for the "FIND WHAT YOU'RE LOOKING FOR" box in the sidebar. Just type in a keyword (eg. marble countertops, lighting, kitchen) and this search box will return any blog posts related to your search.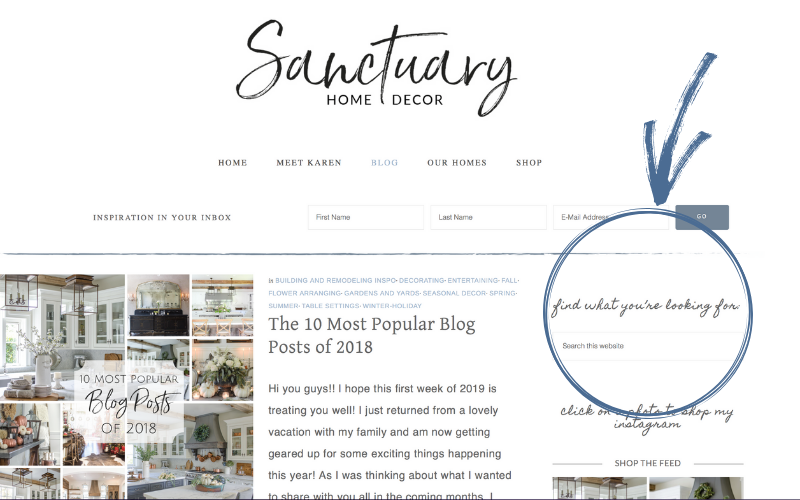 TOUR OUR HOMES
Stop by for a tour of our elegant California farmhouse or our rustic Montana farmhouse. I update these pages regularly with new photos and inspiration.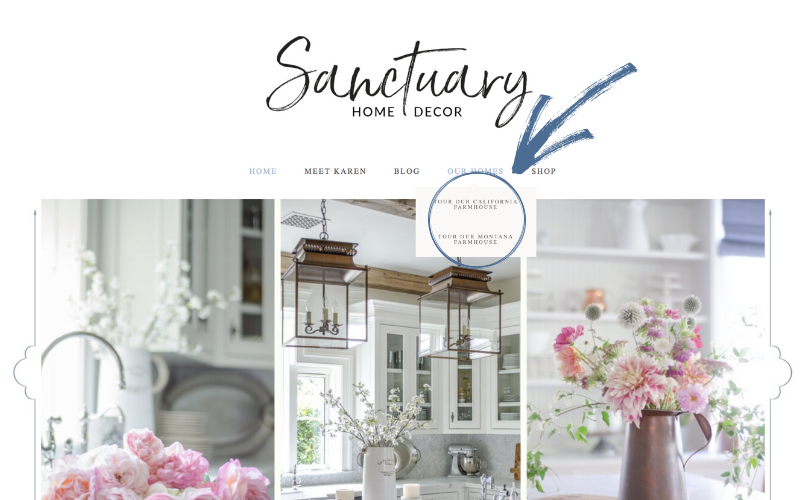 SHOP THE LOOK
I often get questions and inquiries about the decor details in our homes, so I have provided affiliate links to many of the products that are pictured. You can shop the look of our California farmhouse, our Montana farmhouse, or my daily Instagram photos  by clicking on the tab.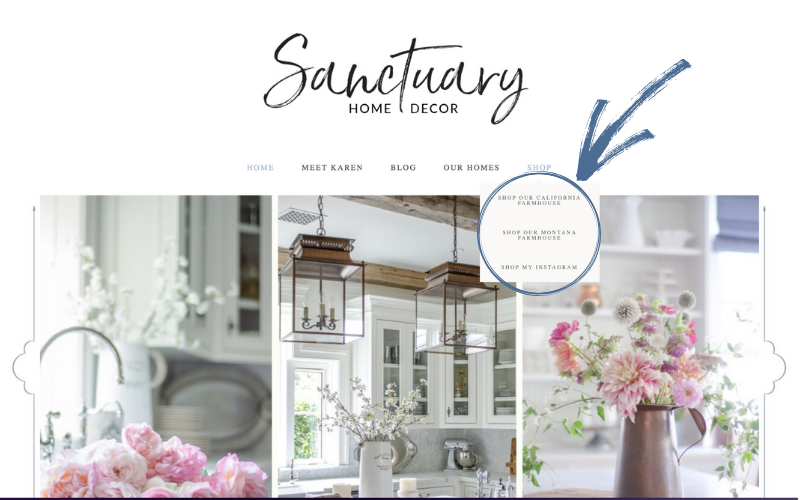 GET DESIGN SOURCES AND PAINT COLORS
The most common questions I am asked are "Where did you get your range hood and what color is your center island." I answer all of these questions and more with links to find many products under the DESIGN DETAILS AND SOURCES tab.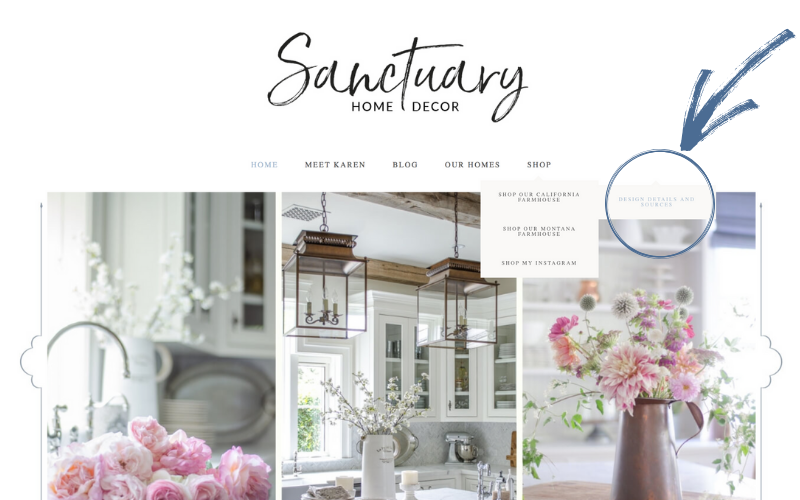 MOST IMPORTANT OF ALL…PLEASE KEEP IN TOUCH
My favorite part of this whole endeavor is getting to know YOU! All of this would be meaningless to me in the absence of the beautiful friendships and connections I continue to make through this website. Look for the "LET'S CONNECT" buttons in the sidebar and please reach out with any questions, comments or just to say hello!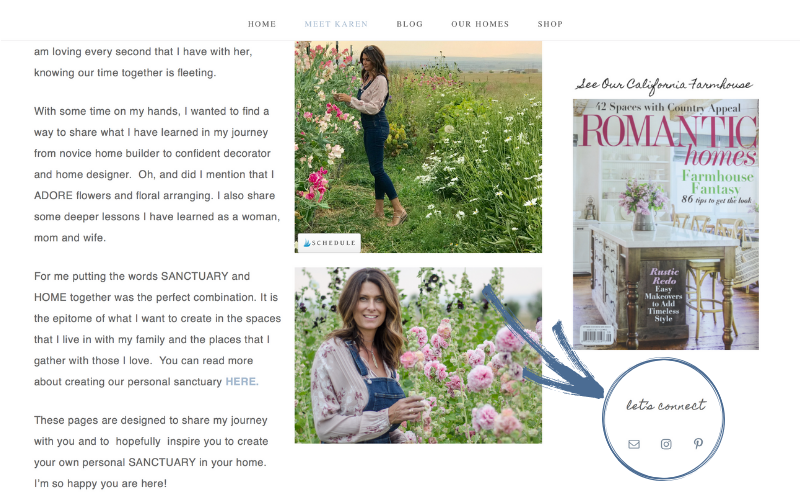 I am so happy you stopped by today! I am excited about the changes coming in 2019 at Sanctuary Home Decor and would love it if you joined me on this journey! Have a beautiful day!

NEED A GREAT WEBSITE DESIGNER?
I can't say enough great things about Tana at Your Marketing BFF  ! We first spoke about 6 months ago when I was considering transitioning from my old blogging platform to a whole new system and I was super nervous about making the change. She reassured me, held my hand, totally got my vision and created the site I had envisioned. She is an amazing resource for bloggers or anyone who wants to turn their online vision into a reality! I can highly recommend her and know you will love her (and her amazing website) as much as I do! If you stop by, tell her I said "Hi"!