How Window Shutters and Planter Boxes Transformed the Exterior of My House
I'm bringing this post up to the top of the blog because I can't believe it has been nearly three years since we made this change to our house!
Hi you guys!  I'm so excited to share these photos with you this week!  We have been working on several projects around our house, because next week Romantic Homes will be coming over to shoot our home for a Fall feature…Eeeekkk!! Needless to say, I'm feeling a bit anxious about getting several unfinished projects finished, including one big one on the exterior of our house.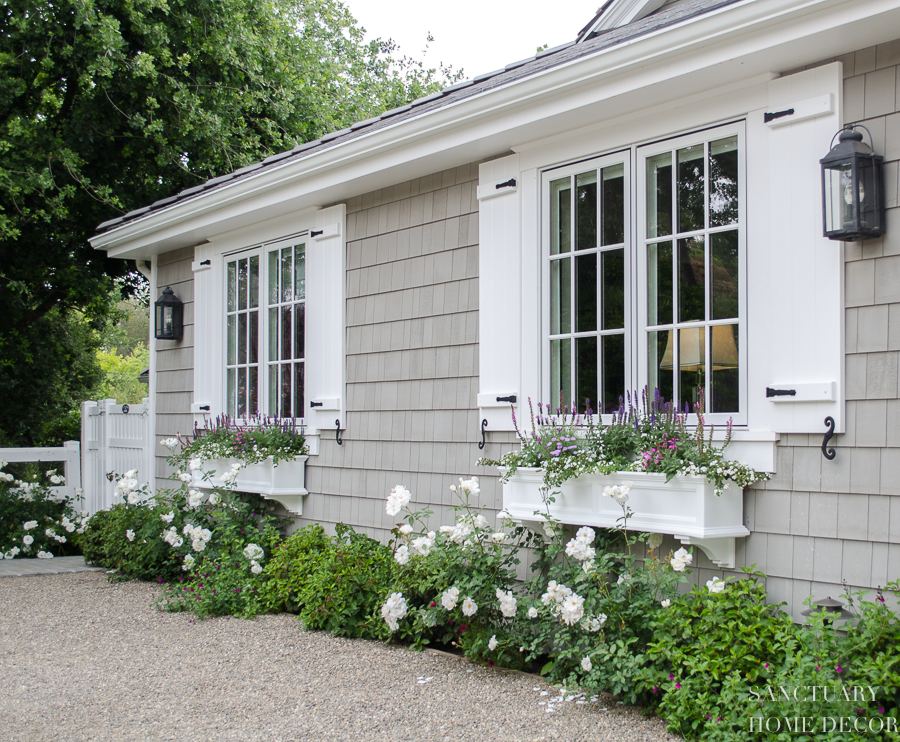 One of the things we always planned to do when we built our house was add shutters to some of the exterior windows. As is often the case, time went by and while we still wanted to do it, other things took priority. Then, when I got the call from Romantic Homes, I decided not to wait any longer. Honestly, I don't know if they will even take pictures of the exterior of my house, but it seems like a good reason to finish up a few projects we had been putting off.
Here are some before pictures of a couple of the windows. As you can see they looked "fine". Pretty trim, clean looking…fine. But with the style of our home I always felt like there were certain windows that were just calling for shutters. This area is in the back of our house, by the garage and back porch.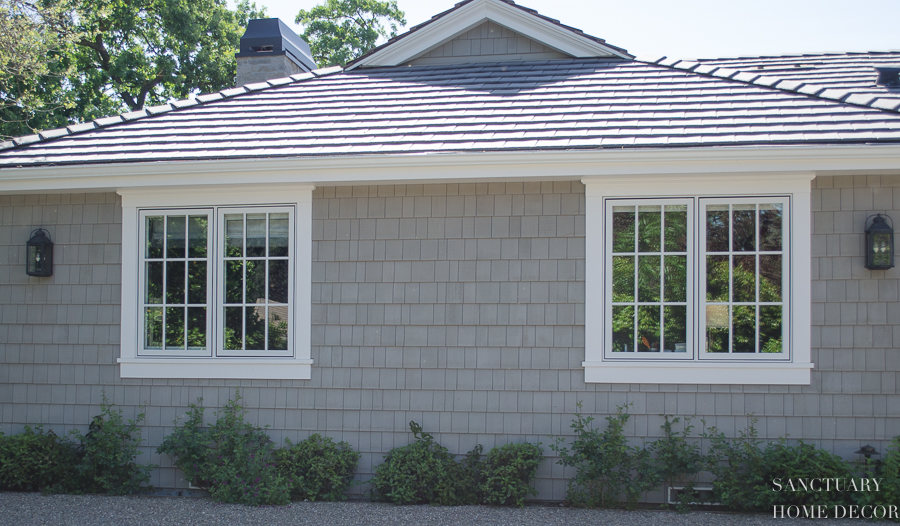 I actually didn't start with putting shutters on. I started by adding planter boxes to these particular windows. I was looking for something completely unrelated online one day, and ran across some great planter boxes. I figured it might be just the thing to add to these windows, so I ordered them and had our handyman install them.
SIDE NOTE: Have I ever told you that my husband is the LEAST "handy" guy that ever lived…I'm not kidding…he's not allowed to go near the tools. He's fantastic at a million other things, but handy he is not. So I have a handyman for things like hanging planter boxes and I am actually quite handy myself. I'm fairly adept with a power drill and can hang a picture like nobody's business…but I digress. Back to the shutters.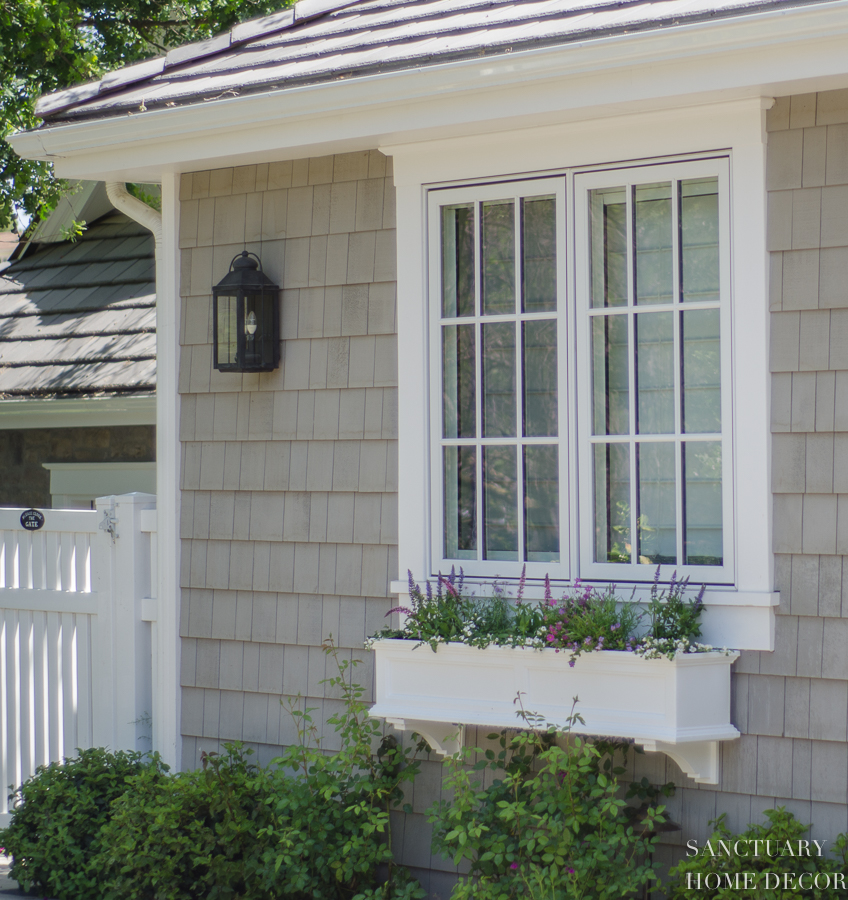 Once the planter boxes were hung, I filled them with pretty plants. I loved the charm they added, and I probably could have stopped there, but I still felt like the shutters were missing.  There were also several other windows on the house that "needed" shutters. I looked online for pre-made styles, but soon found that we had some unusual size windows that wouldn't work with standard size shutters, so I called on a local company to help me out.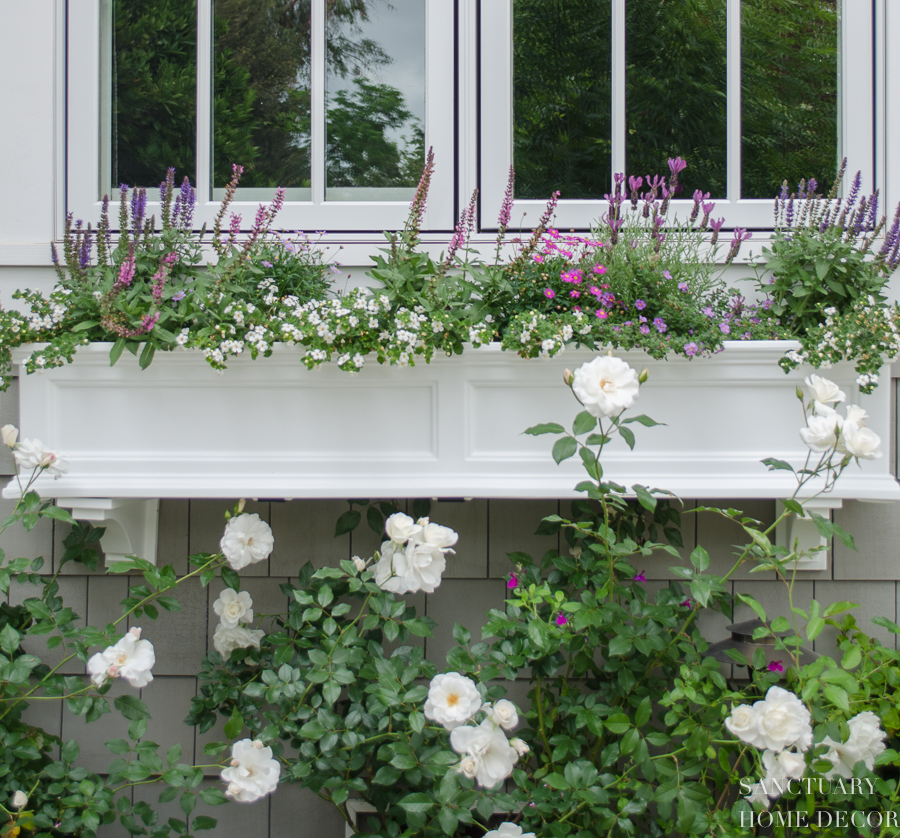 We chose a board and batton style, since they seemed to be the most authentic looking with the style of our home.  I also wanted to add black strap hinges and I thought they would look the best on that type of shutter. The guy who came out to measure told me average size was 12″-18″ so we decided to make ours 16″ wide.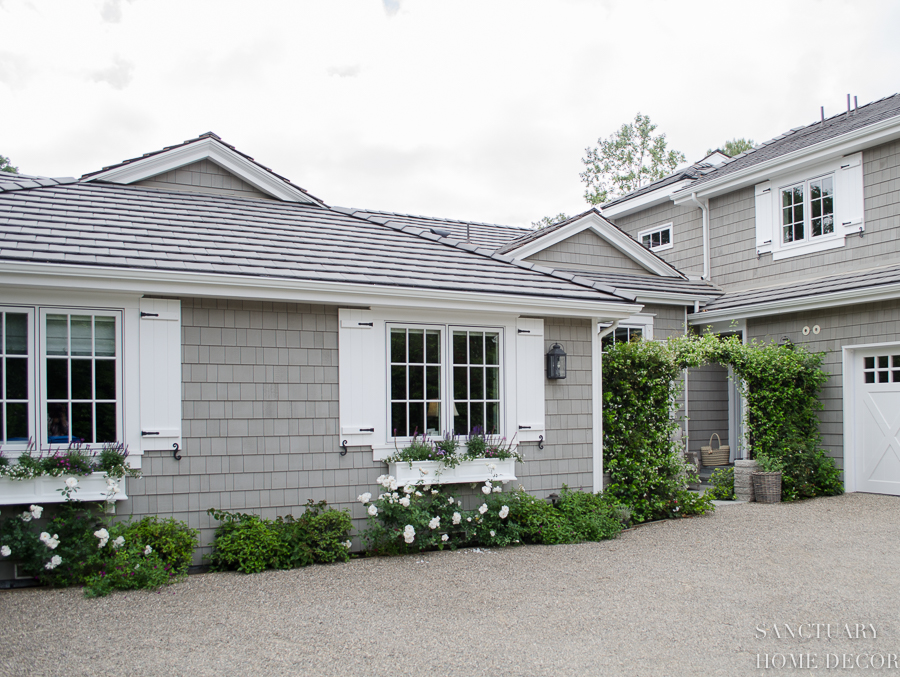 There were thirteen windows we wanted to put shutters on around the house.  We had to choose windows that had plenty of space on either side so that limited our options. We also wanted to make sure the exterior didn't become too "gingerbready" (is that a word?).  We were looking to add charm but not overdo it.  With that in mind, it was fairly easy to decide which to shutter and which to skip.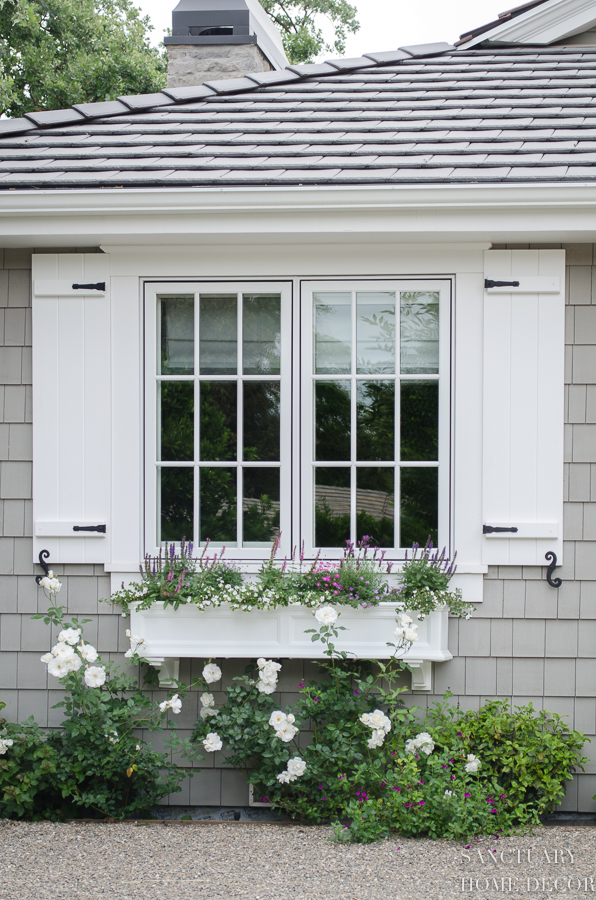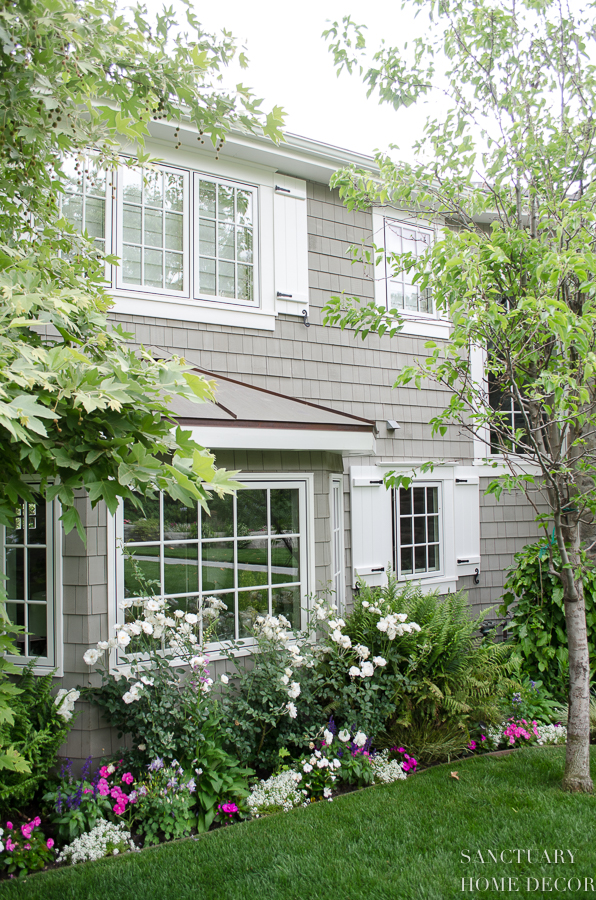 We originally planned to paint the shutters a "color". We had been toying with the idea of a deep charcoal gray or a lighter French blue. Since they were being primed before they were delivered, we had a bit of time to decide. Ultimately we decided on the deep gray, almost black…and then the primed shutters arrived.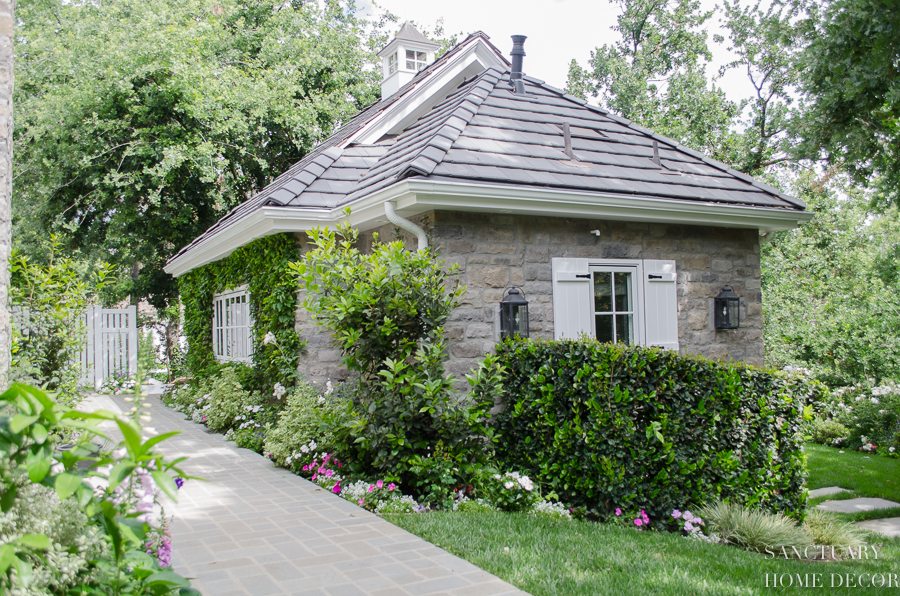 My flower studio got a new look as well!
My husband and I both had the same thought when we saw the shutters in white. "Is there some reason we aren't doing them white?"  So we held one up and I have to admit I was underwhelmed at first and then we held them up with the hardware and that did it.  I loved the contrast of the dark hardware with the white shutters and frankly, it was shocking what a difference the hardware made in how the whole thing came together.  
We (and when I say we, I mean our painter) painted the shutters Benjamin Moore Decorators White, to match the existing trim.
I do have a confession to make about the shutter hardware. Because we were in a bit of a rush, I was searching online for hardware and was focused on what I could get in a hurry. I knew I wanted the "strap hinges" and then those little curly things (I soon found out they are called pintels) for the bottom of the shutters. I located these and the timeframe was right, so I ordered them. When they arrived, it was clear that I had not read the description very well, because they were not metal (like I had assumed) but instead vinyl.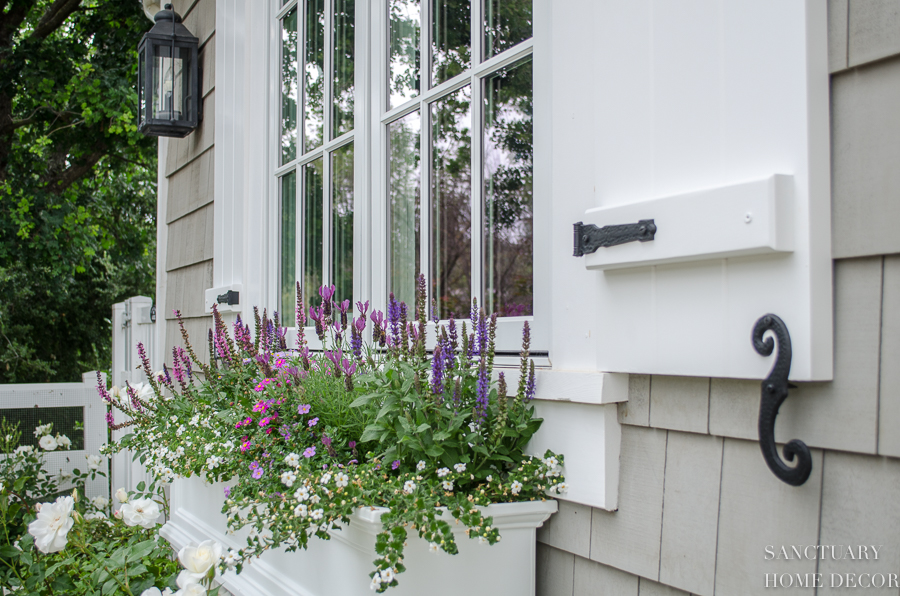 I was ready to return them and start over when I realized that they looked incredibly realistic and nobody was actually going to walk up and touch them. In fact, they were mostly on windows that were higher up on our house, so I decided to give them a try. As it turns out, they look just great and I don't think anyone would know the difference. (Plus they were about half the price! Happy mistake…Yay!)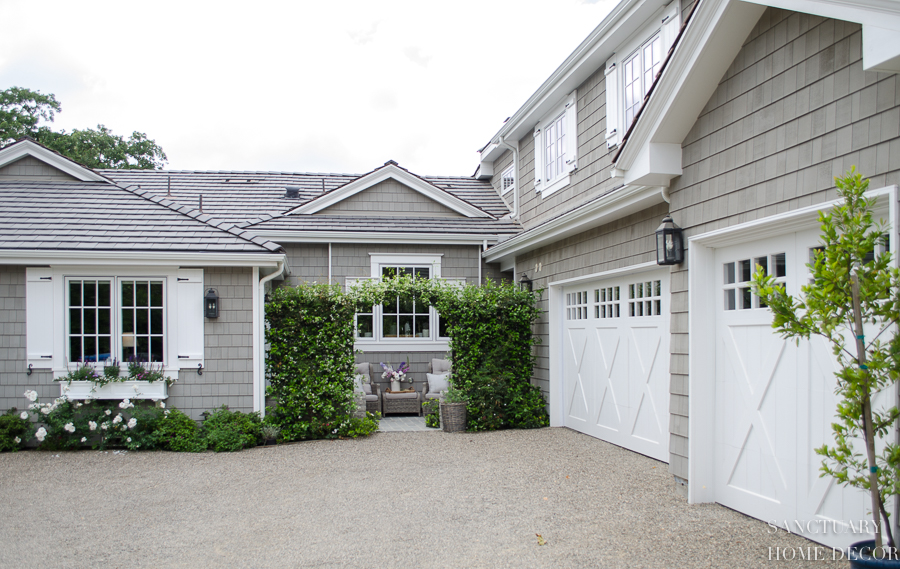 Here is a fuller view of our back porch and driveway.
I am so thrilled that we finally got around to adding these shutters (and the pretty planter boxes) to our house.  I think it added just the right touch of charm and whimsey we were hoping for.  I also love my planter boxes.  The one you see in the picture above sits right outside my office window, so as I sit here typing, I can see the lavender and salvia through the window and a friendly little hummingbird who often comes to visit!  
I will let you know how the magazine shoot goes next week…Wish me luck!!




Just so you know: The above are affiliate links and while I receive a small commission from anything you purchase, you do not pay a penny more. I appreciate your support!