Affordable Spring Patio Refresh With Tuesday Morning
Spring is in the air and I am ready for some fresh new changes to our outdoor patio area so last week I visited Tuesday Morning! It is my go-to store for all things spring decor and they did not disappoint this year. I was able to find everything I was looking for and their budget-friendly prices made it easy on the wallet as well! Scroll down to see how my easy, affordable spring patio refresh with Tuesday Morning came together and all of the great finds I brought home!
This post contains sponsored content but all opinions are my own. I don't promote or share any products or brands that I do not actually use and will always be honest about my experiences.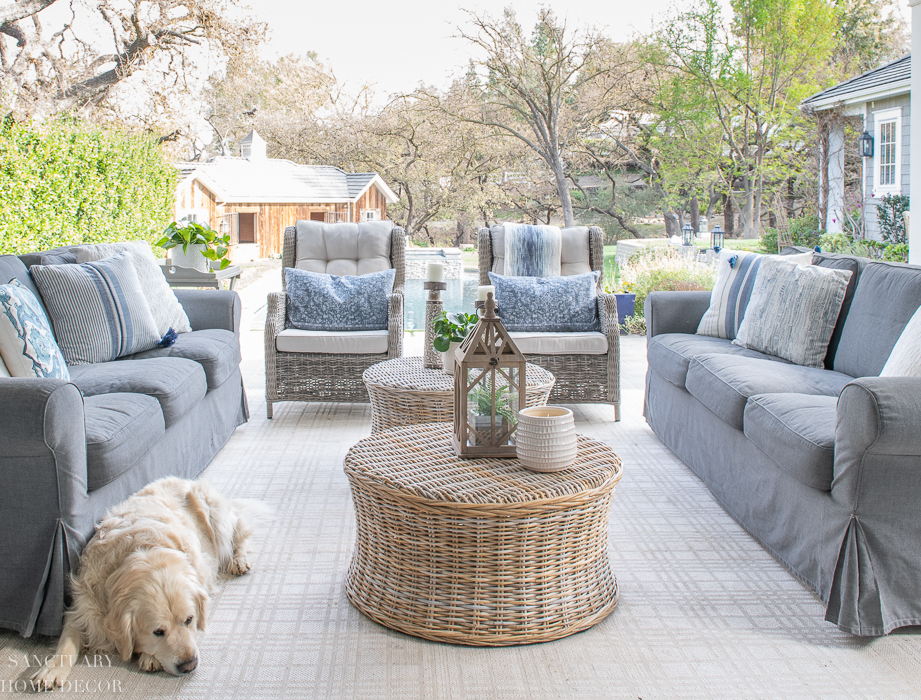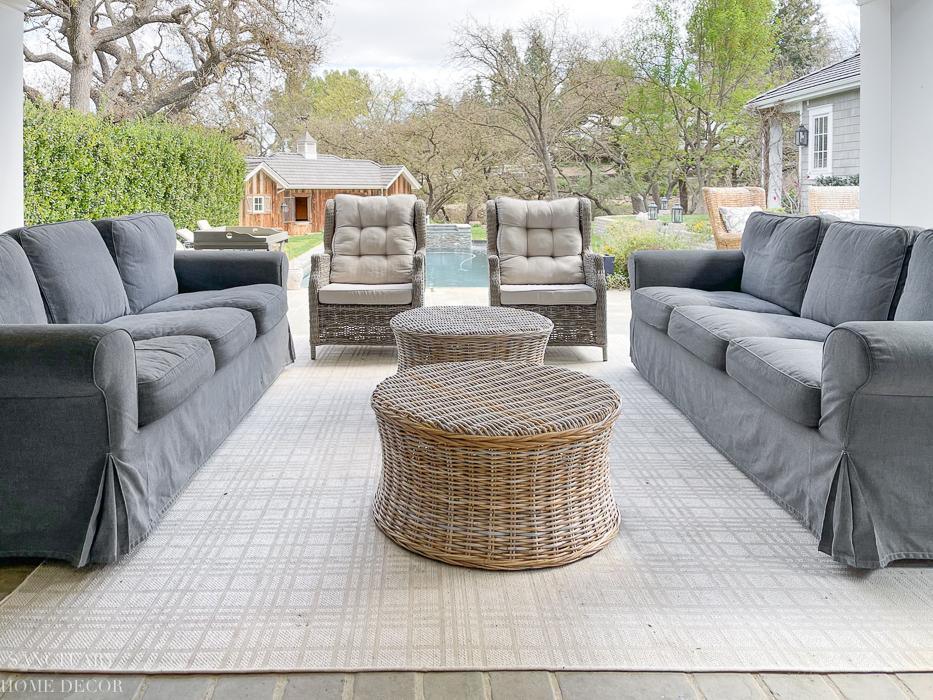 In winter, I remove all of the pillows and decor from our outdoor patio so everything is bare and without any fresh pops of color. One of my favorite early spring patio refresh projects is adding some new throw pillows to the furniture and brightening up the coffee tables with some new plants and decor.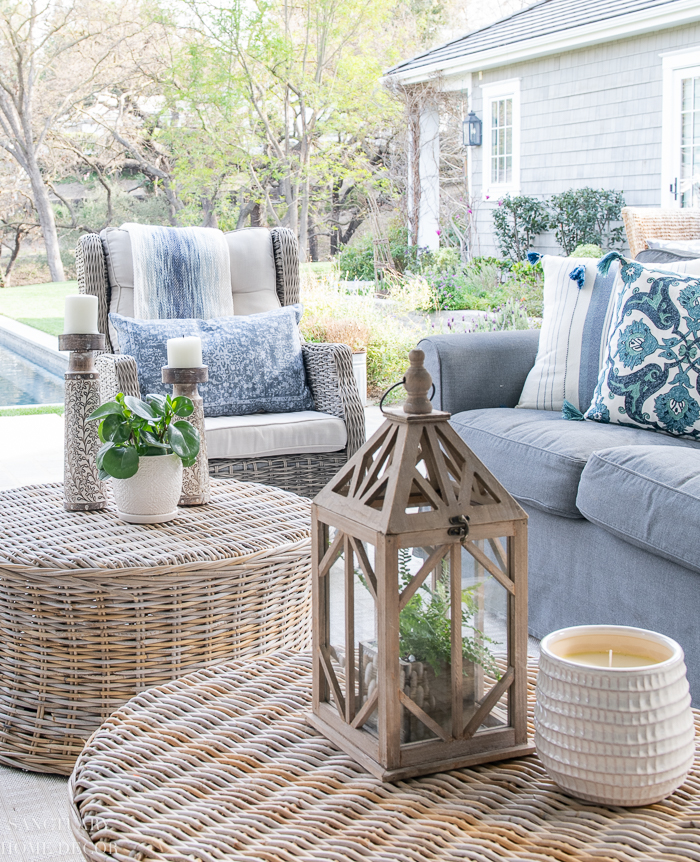 Tuesday Morning had so many beautiful things to choose from it was hard to decide, but I settled on a soft blue and white theme with some pretty wood accents and then added some fresh plants for color.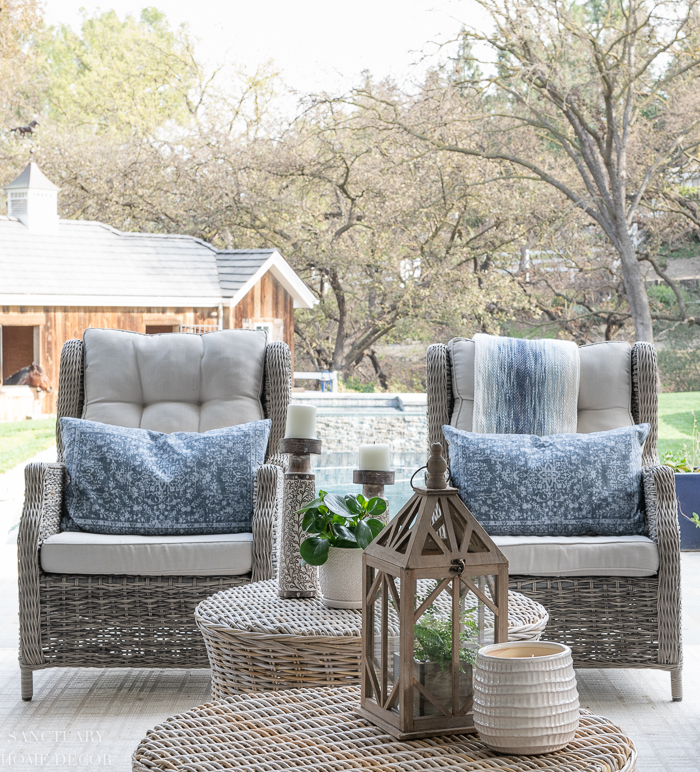 I started in the pillow section (they had so many great options!) and found these gorgeous rectangular pillows in a soft blue pattern that reminded me of the prints I saw in the south of France. They were the perfect size for our existing chairs and made a big impact on the overall look, not to mention the price was so reasonable!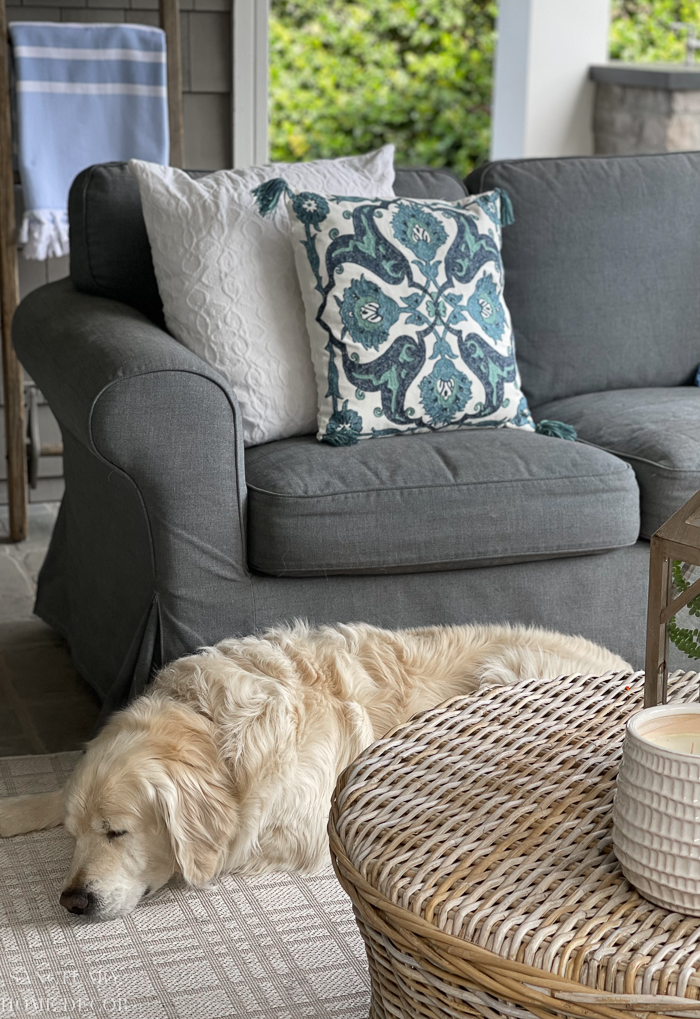 Once I had these pillows in hand, I chose several others for the two couches to bring the palette together. I used my existing white pillows as a base and then mixed stripes and patterns to create an eclectic look that still had a cohesive feel. I also found a cozy throw blanket that incorporated all of the colors I was looking for. It ended up working great as an addition to one of the chairs.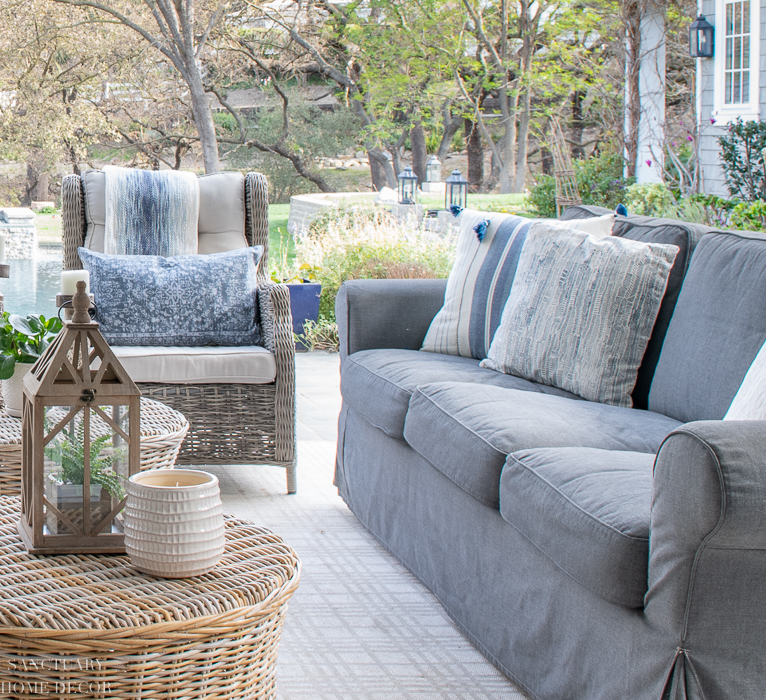 I love to add candles to our outdoor decor and because this is a covered patio, they are very practical to use for a pretty evening glow. I also fell in love with the natural wood elements that Tuesday Morning had in stock and decided to add some interesting pieces to our decor.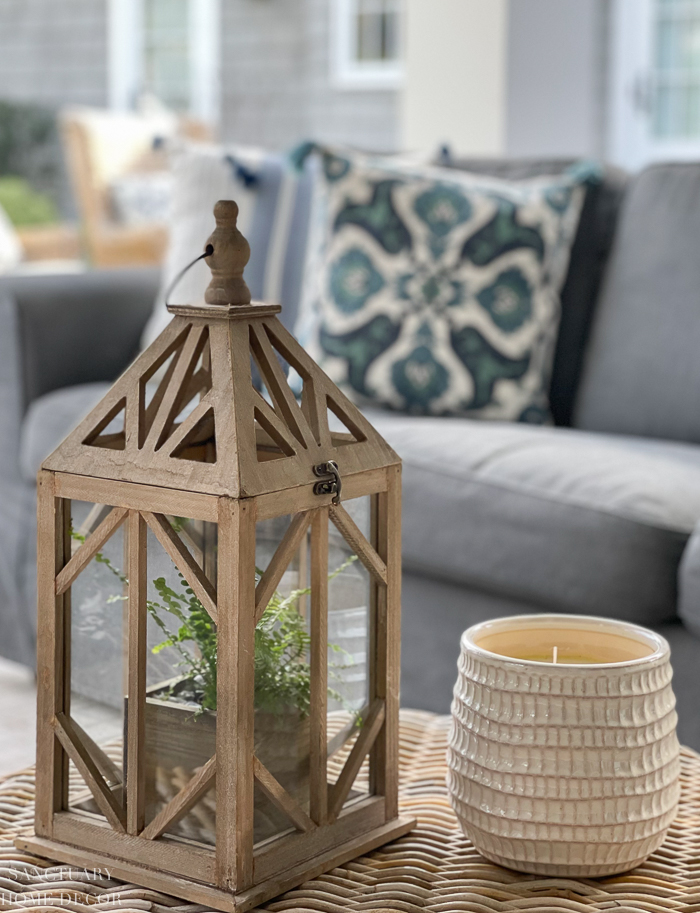 The oversized candle in the ceramic pot was a must-have find and it was less than half the cost of similar candles I had been looking at. I love when that happens! I also scooped up two of these stunning lanterns and decided to add a simple potted fern to the one I put on the coffee table.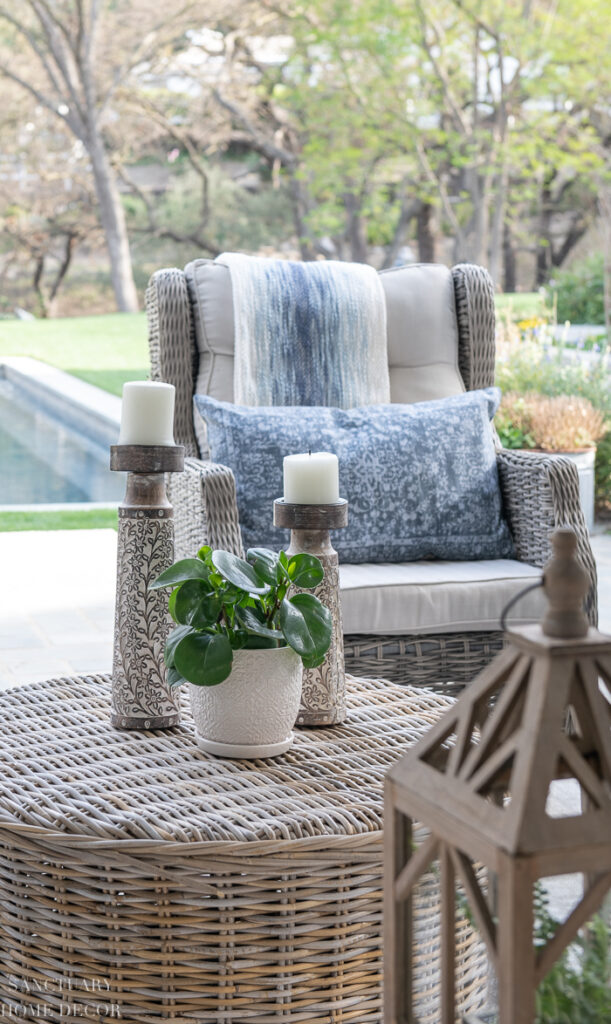 On the other coffee table, I mimicked the same colors but used a white ceramic pot to hold a fresh plant and then added tall candlesticks with a gorgeous carved floral pattern. The combination of colors and textures was exactly what I was looking for and it could not have been easier, thanks to Tuesday Morning!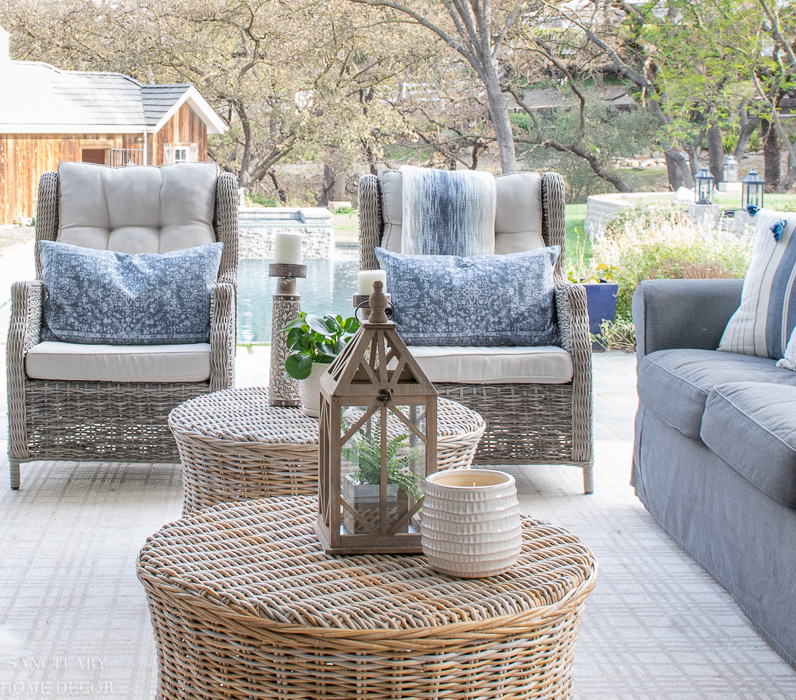 Just to the left of our seating area is a little corner that I often use to set up drinks or snacks when we are outdoors. I wasn't planning on styling this area yet, but I was walking through Tuesday Morning and they had so darn many great things that…well…you know how that works!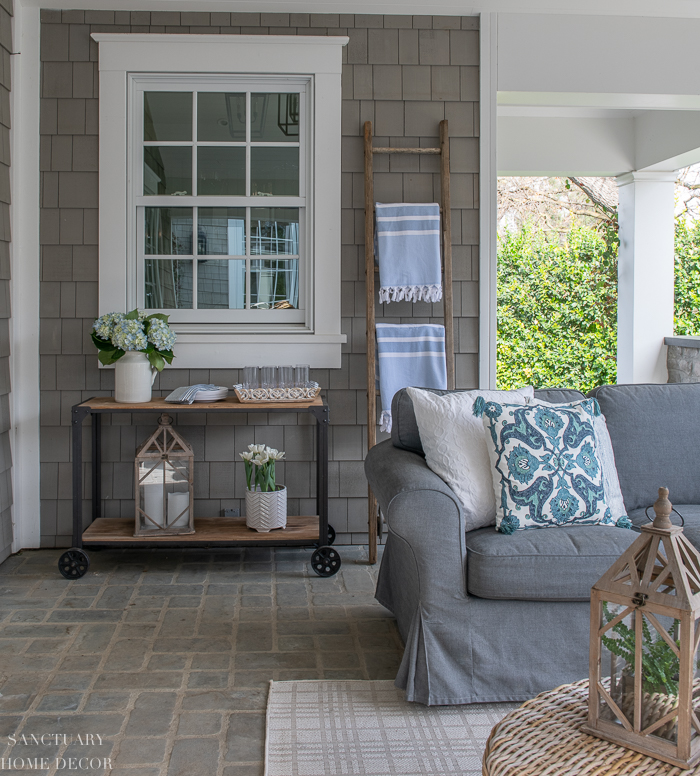 Can we talk about these awesome Turkish towels!? I have been looking for great pool towels for the longest time, so when I saw these I grabbed them fast! Don't they look just perfect hanging from this vintage ladder?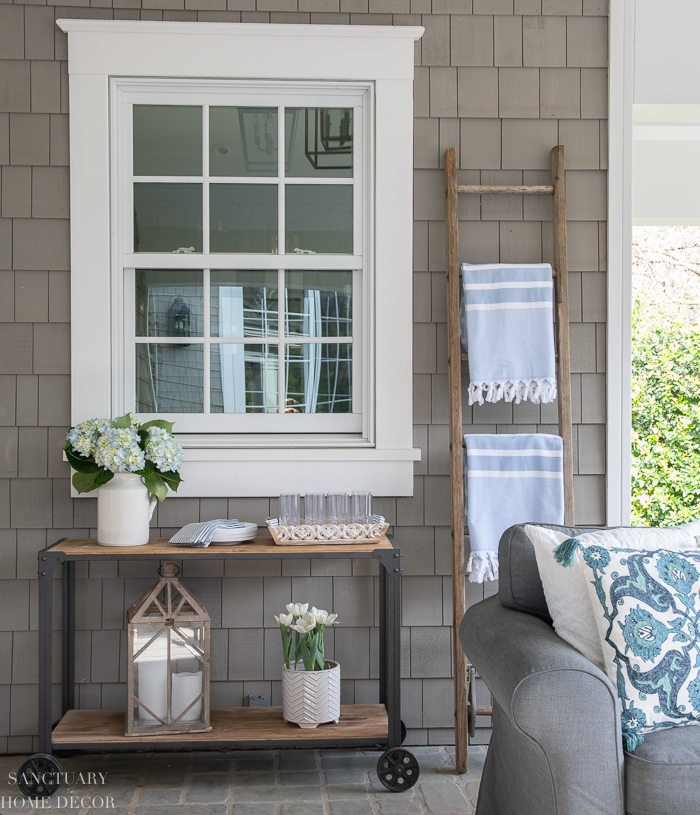 And I just love how the larger wood lantern looks on the bottom shelf of the cart next to the fresh potted tulips.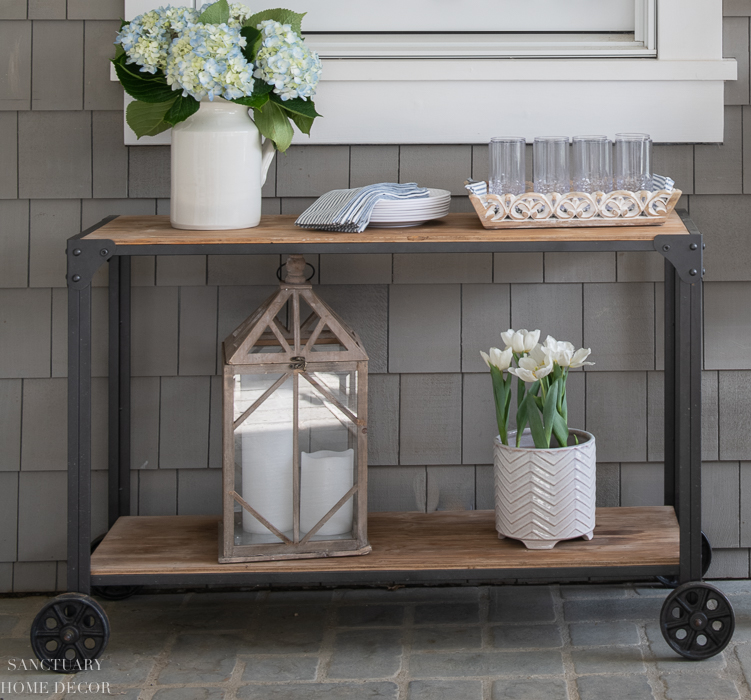 You know I also love outdoor glassware and dishes so I was thrilled to find these top-quality sets at super affordable prices. I will be using these all season and I may have to go back to get a couple more sets before they sell out. I also couldn't pass up the pretty striped napkin sets that coordinate so well with my color scheme.
I just love how easy and affordable it was to bring my outdoor patio to life with the help of Tuesday Morning! If you have a store in your area be sure to check them out. Here is a link to their Store Locator. Even Oliver is appreciating our patio refresh and I'm sure he can't wait to jump up on my couches and try out the new pillows! 🤦🏻‍♀️ #AD #TuesdayMorningFinds #TuesdayMorning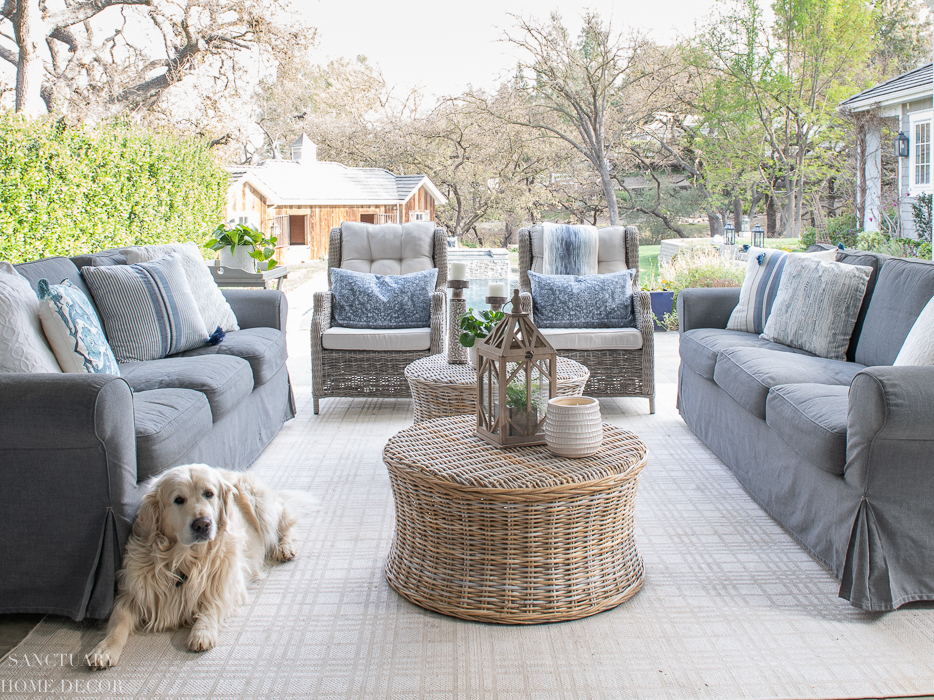 Have a Beautiful Day, Friends!



I hope this spring patio refresh has inspired you. Be sure to save the pin below to come back to this post later!