Simple Crostini and Cheese Board with Recipes
This week we have one of our favorite families visiting us for some fun and relaxation at the ranch and that means lots of time spent planning meals and cooking. My friend, Andrea is an amazing cook and always makes the most beautiful appetizers for her parties, so I wrangled her in the kitchen one afternoon and convinced her to show me how she makes her delicious crostinis. She layers fresh ingredients, paired perfectly for a delicious bite every time. I took notes and pictures and have all of the details for you today on how to make a simple crostini and cheese board that will not last long at your next gathering!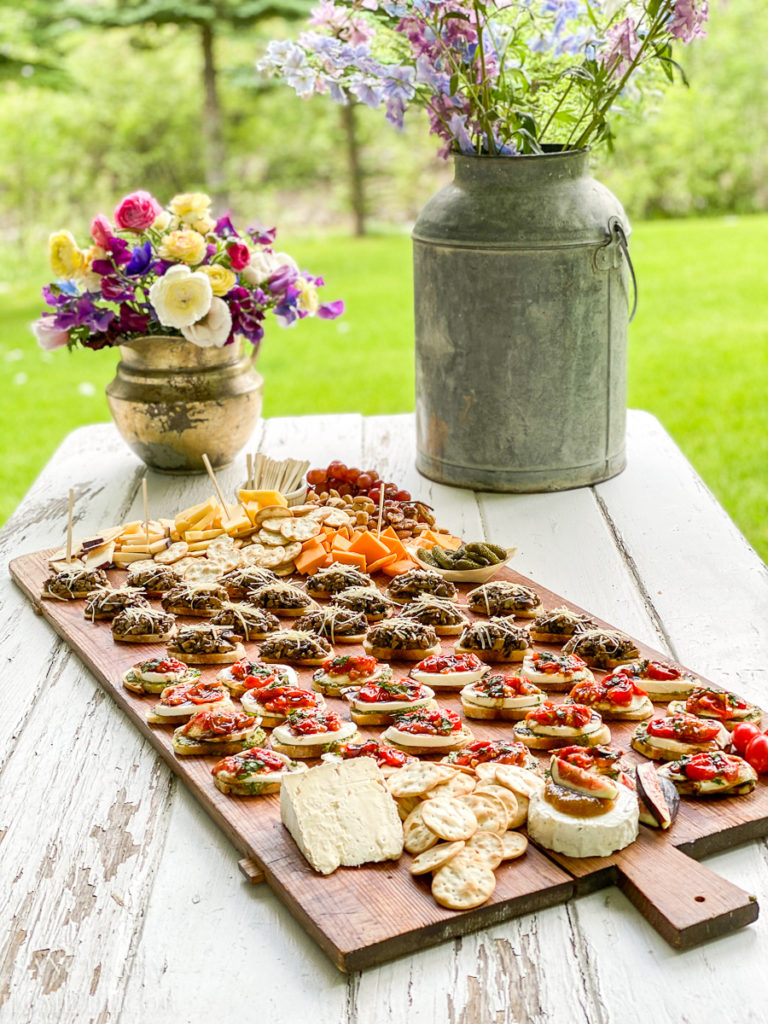 The key to these beautiful crostini is using fresh ingredients to make every bite memorable.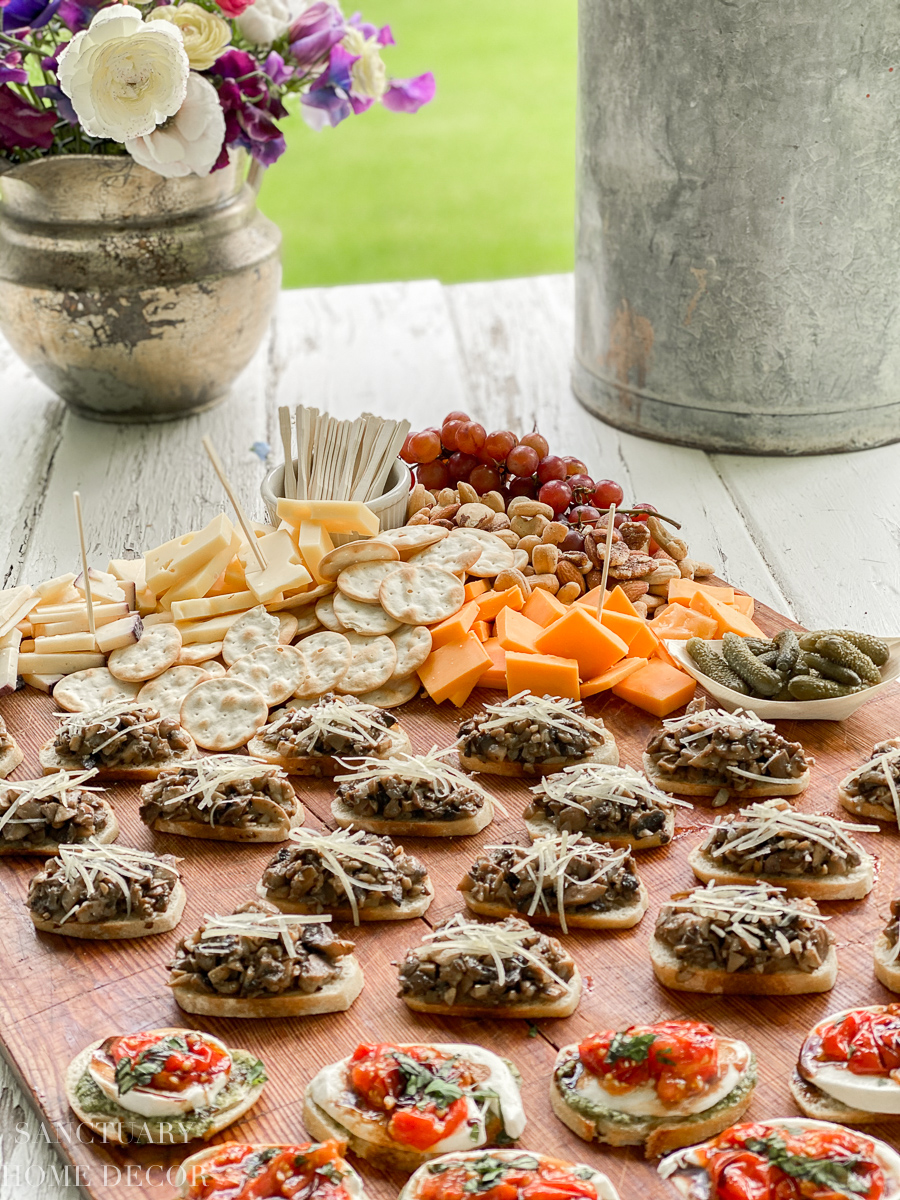 As I watched Andrea buzz around the kitchen, it was clear that she had made the ingredients for these crostini many times. She sliced fresh, cherry tomatoes and mixed them with simple ingredients to roast in the oven. Then she whipped up the most delicious pesto in just a few minutes. As she assembled the crostini, she took care to add just the right amount of tomatoes and basil and topped each with just a touch of balsamic vinegar.
It would be easy to use store bought pesto in place of the homemade version, but don't skip the roasted tomatoes! They are delicious!
Roasted Tomato, Pesto, Mozarella Crostini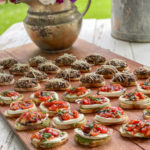 French Baguette, sliced in 1/4 inch rounds
Olive Oil
Pesto (Store bought or fresh (recipe below))
Fresh Bufala Mozarella (Sliced into 1/4 inch rounds)
Oven Roasted Cherry Tomatoes ((See Recipe Below))
Fresh Basil (Diced)
Barrel Aged Balsamic Vinegar or Balsamic Glaze
Salt
Preheat the oven to 375 degrees

Place the baguette rounds on a baking sheet in a single layer, brush with olive oil and sprinkle with salt

Bake for 10 minutes until they are crisp. Let cool.

Add a thin layer of fresh pesto to each baguette round.

Top with a piece of mozarella.

Add a teaspoon (about 4 tomatoes) atop each piece of mozzarella.

Sprinkle a few pices of basil on each crostini and drizzle with the balsamic vinegar.

ENJOY!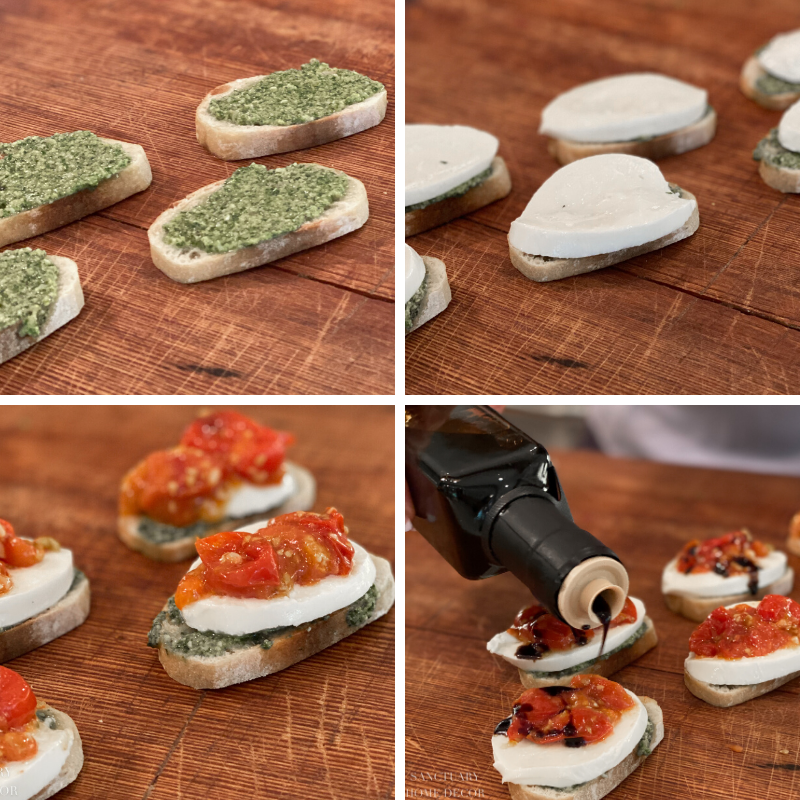 Fresh Pesto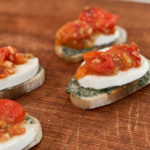 Fresh basil pesto great for pasta or delicious crostinis
2 cups fresh basil (destemed)
1/2 cup Olive Oil
1/2 cup unsalted walnuts
1/2 cup parmesean cheese
2 tsp minced garlic
1/2 tsp salt
Add all ingredients to a food processor and blend until creamy. Add additional olive oil if needed. Add additional salt to taste.
Roasted Cherry Tomatoes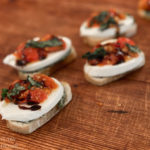 Oven roasted cherry tomatoes are delicious on crostini or mixed with fresh pasta and basil
2 Cups Cherry Tomatoes ((Cut in half))
2 tbsp Olive Oil
1 clove garlic (Minced)
1/2 tsp Salt
Preheat oven to 400 degrees.

In a medium mixing bowl add olive oil, garlic, and salt. Stir to combine.

Cut cherry tomatoes lengthwise and add to bowl.

Toss to coat tomatoes in olive oil mixture.

Spread tomatoes out into one layer on a baking sheet. Bake for approximatey 30 minutes (turning once) until they are soft and slightly charred.

Let cool before adding to crostini.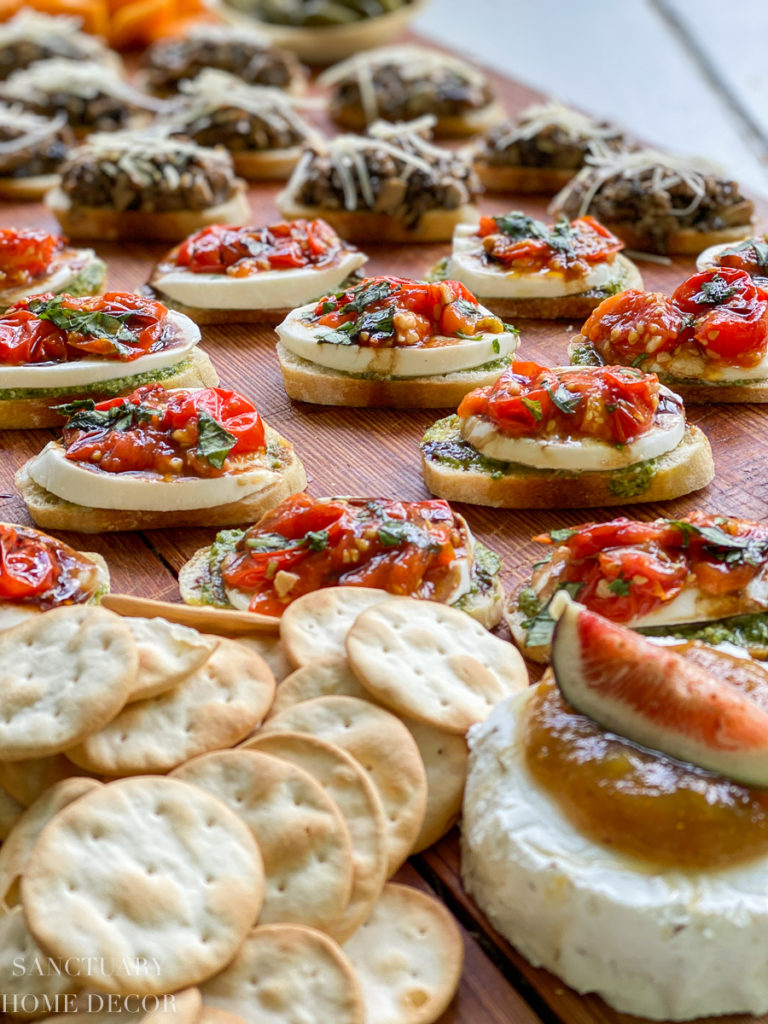 Each bite has just the right amount of flavor and a crispness, mixed with sweet and savory elements. I could make a meal out of these crostini and a good glass of wine!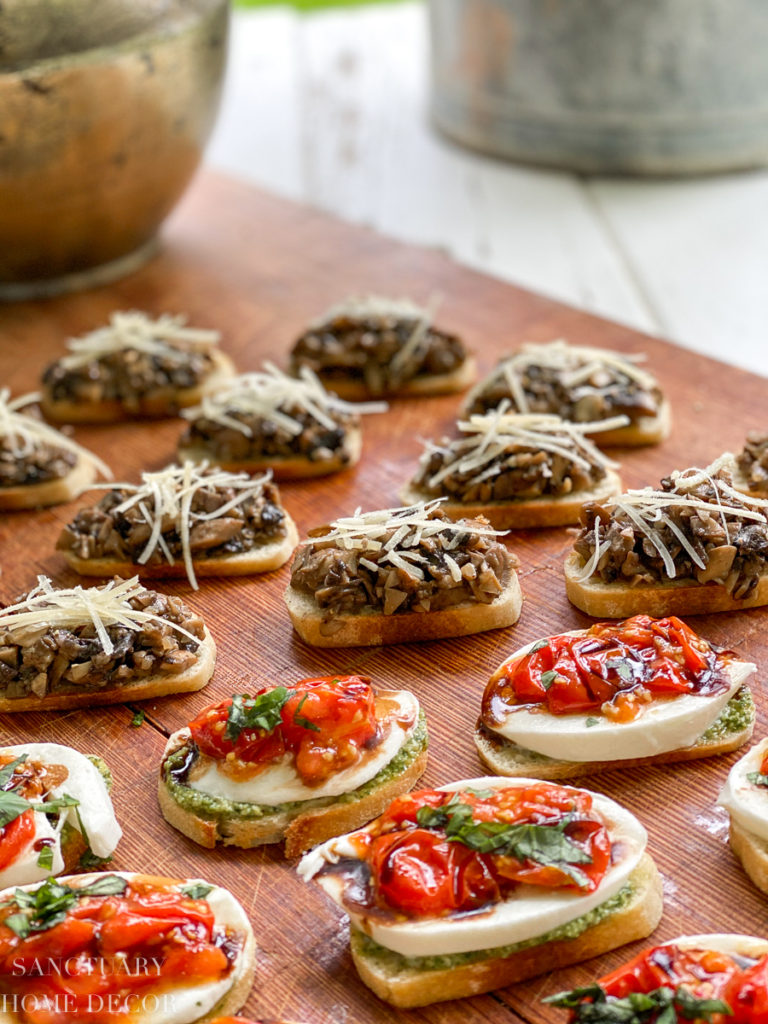 As if the incredible tomato, pesto, mozzarella crostini were not enough, Andrea decided to include her marsala mushroom, parmesan truffle crostini on the board. Yay!
She transformed simple mushrooms into a gourmet delight and topped them with a drizzle of truffle oil and parmesan cheese. These might be all of my favorite ingredients in one bite!
Marsala Mushroom, Parmesan, Truffle Crostini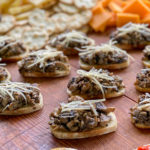 1 French Baguette (Sliced into 1/4 inch rounds)
Drunken Mushrooms (Recipe Below)
Truffle Oil
Shaved or Grated Parmesan
Preheat oven to 375 degrees

Place baguette rounds in a single layer on a baking sheet and bake for 10 minutes, until crisp. Let cool.

Add a generous tablespoon of Drunken Mushrooms (recipe below) to each baguette round.

Drizzle a small amount of truffle oil over the mushrooms.

Top with a sprinkle of parmesan.

ENJOY!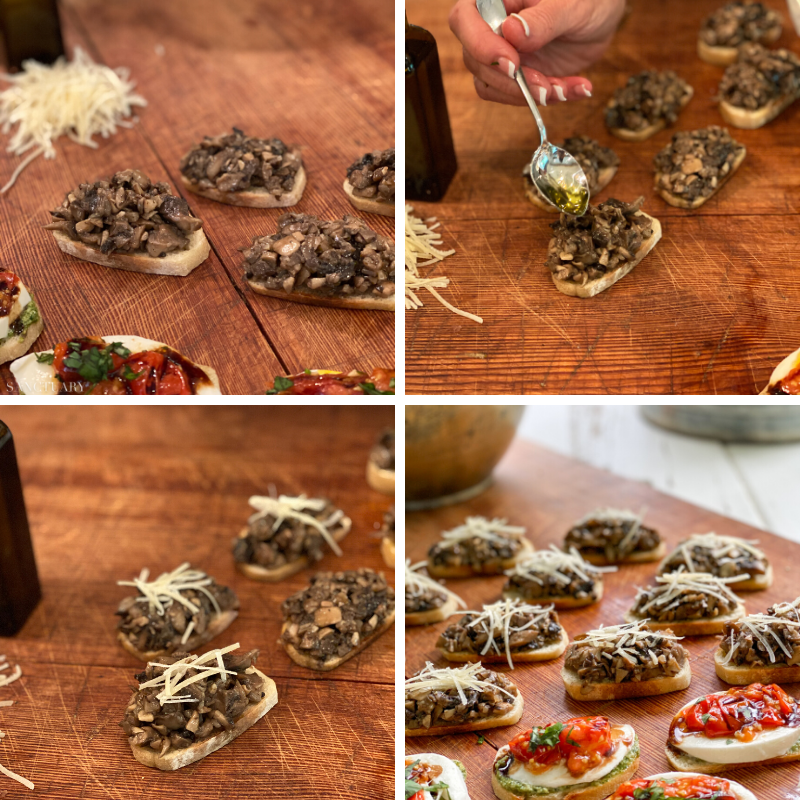 Drunken Mushrooms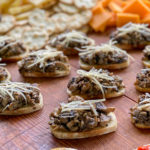 Sauteed mushrooms with marsala wine.
2 lbs White or Crimini Mushrooms (diced)
2 Large Shallots (finely minced)
1 cup Sweet Marsala Wine
1/4 cup Olive Oil
1 tsp Salt
Medium high heat. Heat olive oil in large saute pan and add shallots. Saute for 2 minutes.

Add mushrooms and salt, mix together and cook down until dry. (approx. 10-15 min)

Once all liquid from mushrooms is absorbed, add Marsala wine to pan. Cook on medium-high heat, stirring occasionally until dry again. (approx. 6-8 min.)

Let cool to room temperaturebefore adding to crostini.
I love the mixture of these two crostini on a beautiful cheese board.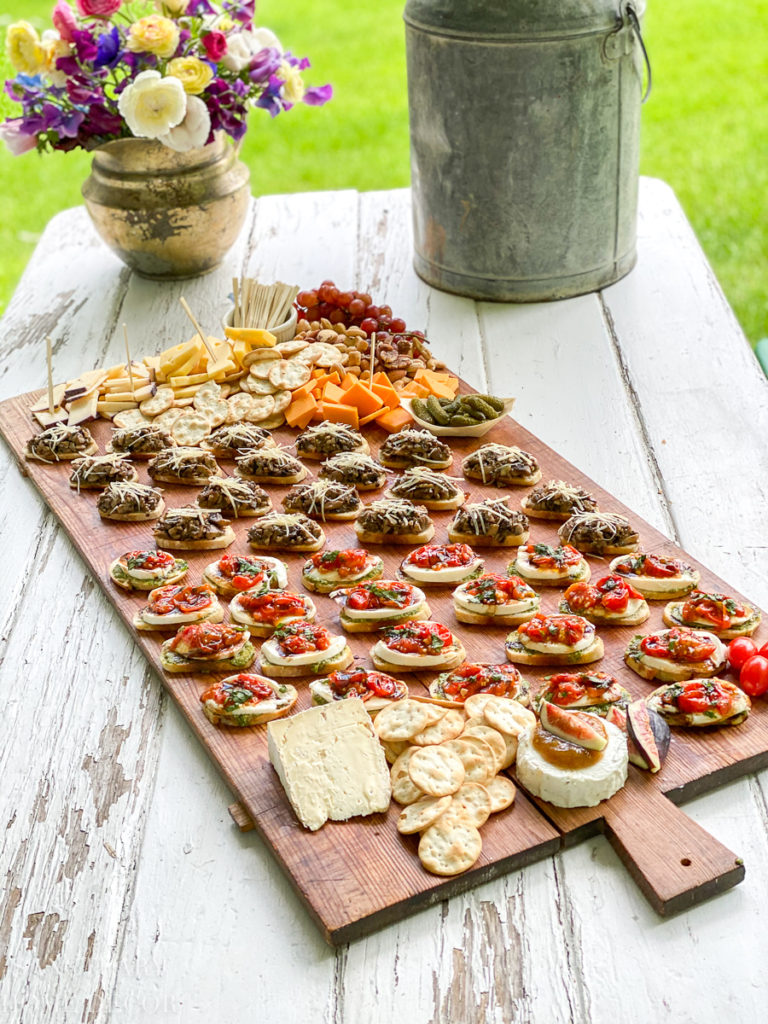 We placed the crostini on a diagonal in the center of the board and then added a variety of cheeses, nuts, fruit and crackers to the corners to create a beautiful cheese and crostini display.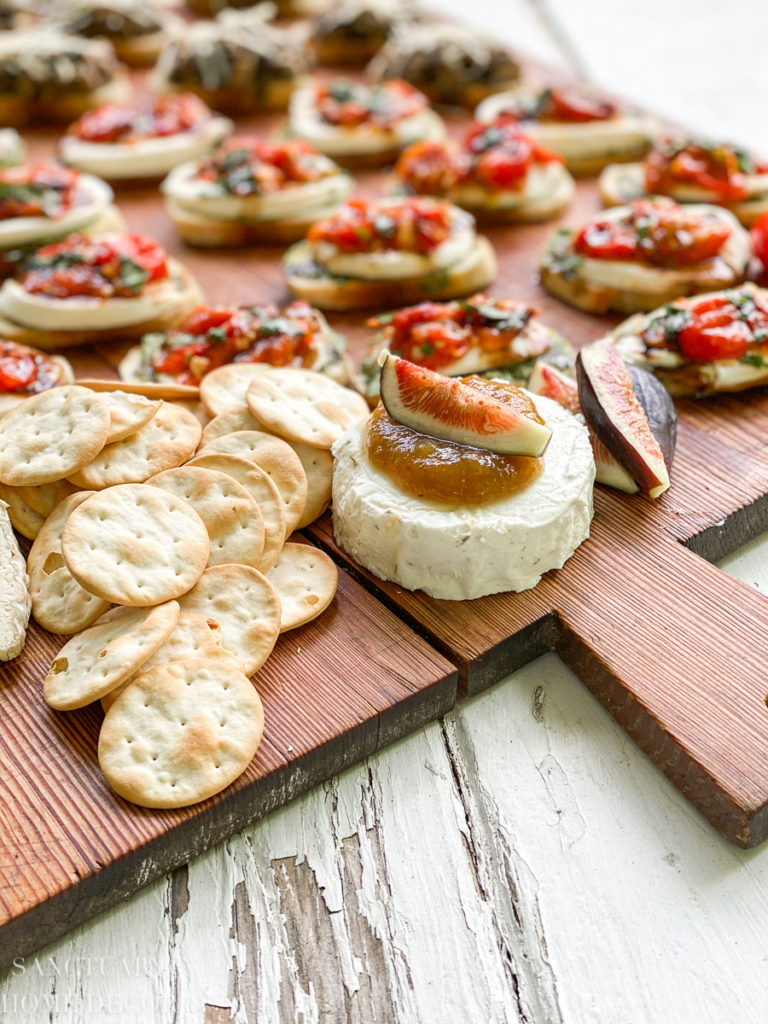 A soft, goat cheese topped with fig jam and fresh fig slices is a perfect sweet and savory element on this cheese board.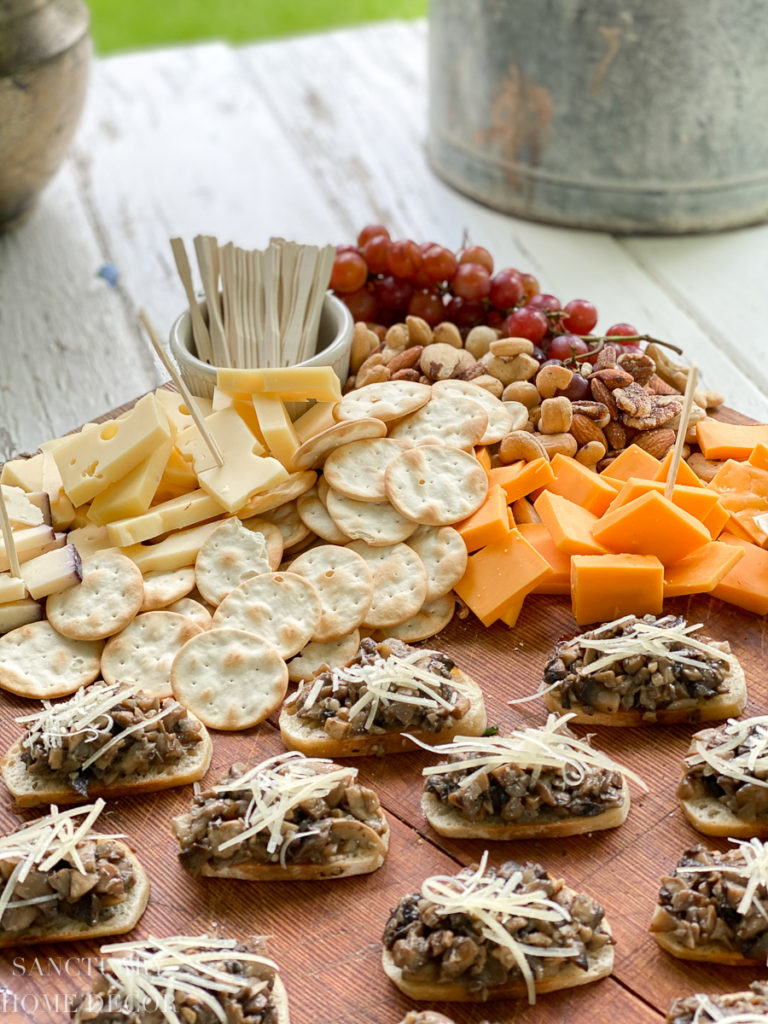 The addition of sliced cheeses, crackers, grapes, and nuts on the opposite side are simple to eat bites for guests.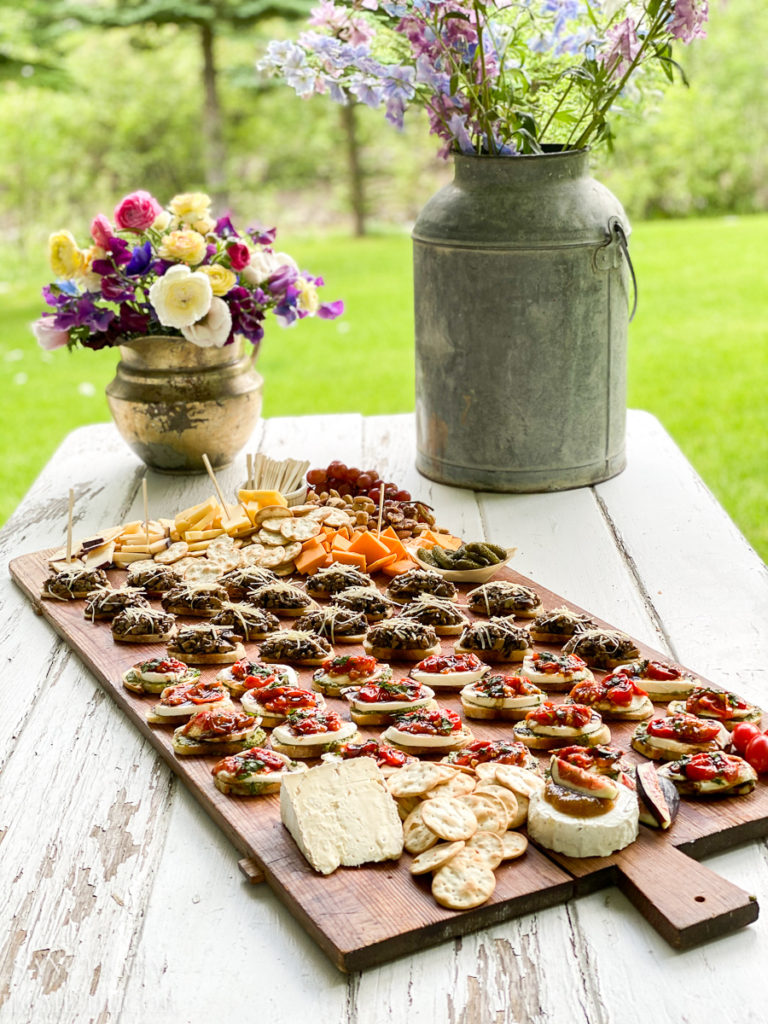 Elevate your next cheese board with the addition of these delicious and simple crostini. I promise it will be a huge hit!!
Check out my tips for making a beautiful cheese board HERE.
Thanks for stopping by today and thank you to my amazing friend for sharing her recipes with me! Let me know if you make this crostini and cheese board. I would love to hear about your experience and suggestions!
xo