Affordable & Realistic Faux Peony Arrangements
Hi Friends! I hope you and your families are all healthy and safe in your homes. I know it is a difficult time for all of us as we settle into daily life, spent mostly in our houses, with little social interaction. It is for this reason that I think it is vitally important to make sure that your home is a place of peace and joy. One of the things, that I know helps me with this feeling is having beautiful flowers in my home, especially as we head into spring. But with the weather still cold in many areas and the markets stocking few flowers right now, it is especially difficult to find beautiful blooms to add to your space. Well, I have the answer! I have found an easy way to add affordable and realistic faux peony arrangements to your home in just minutes! Scroll down for some inspiration and resources.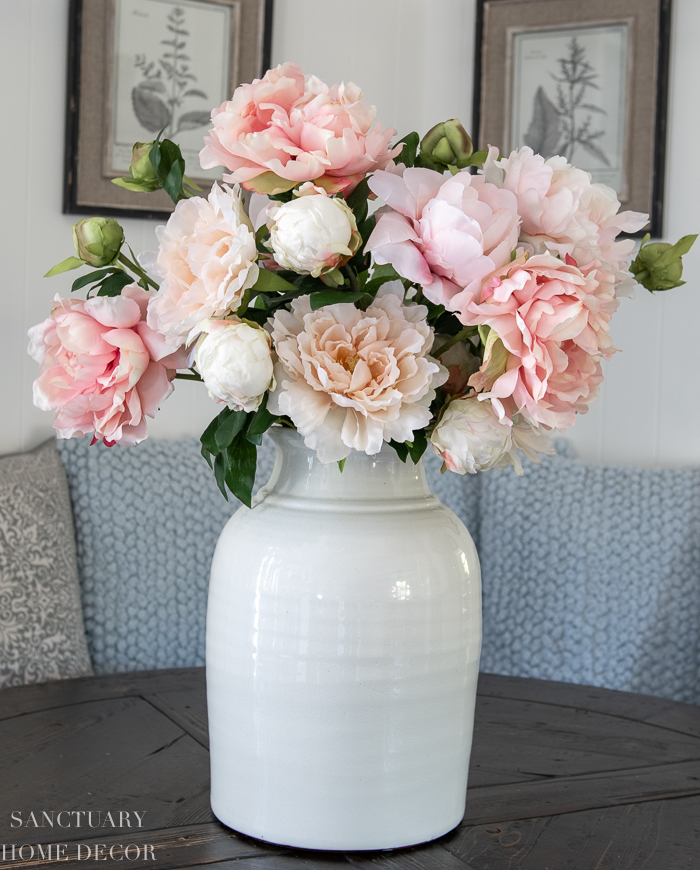 As faux floral quality has improved, so has the ability to create beautiful and affordable arrangements with flowers that can pass as fresh. I have spent a lot of time looking for the best faux peonies available, and have discovered some truly incredible alternatives to fresh, that not only look beautiful but will stand the test of time.
This post contains affiliate links.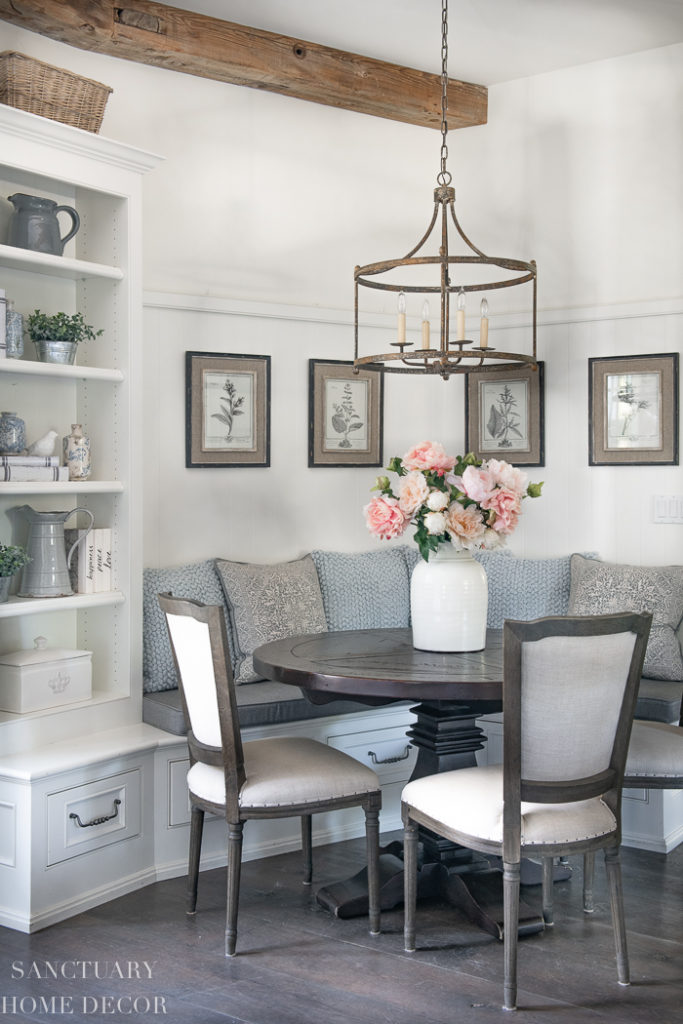 I created this gorgeous peony arrangement using four different varieties of faux blooms from Afloral. I incorporated smaller buds alongside larger flowers all in different lengths and shades of blush pink. Below is a list of the exact blooms I used:

This is a very large peony arrangement that would work beautifully as a centerpiece or on a kitchen center island.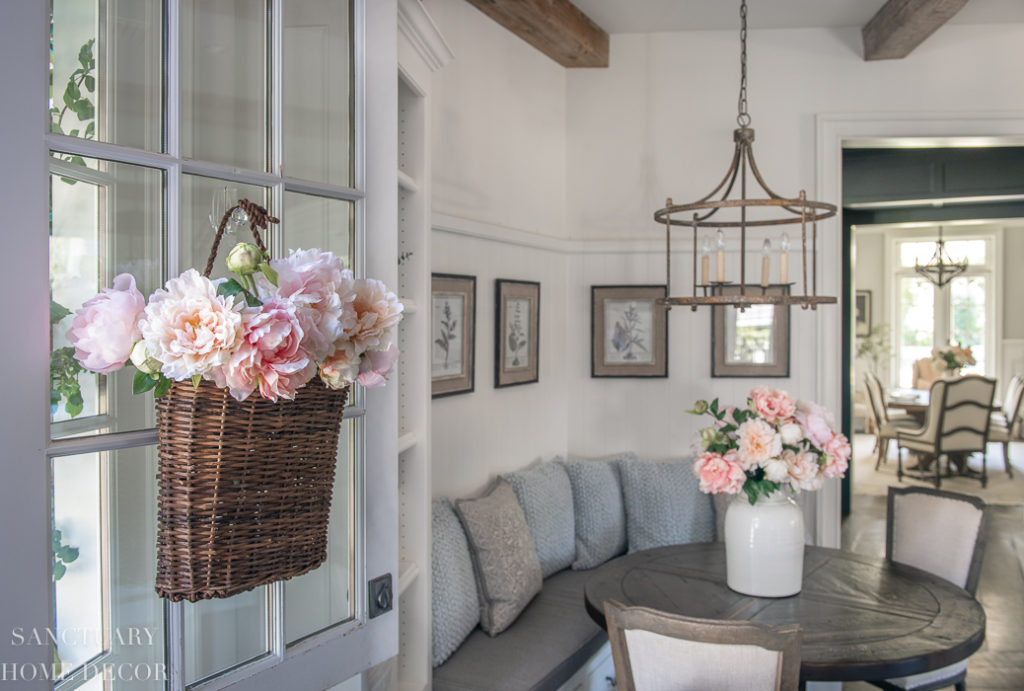 If you are looking for a different way to incorporate faux peonies into your spring decorating, consider a hanging basket. I love the way this wicker basket looks hanging from the Dutch door in our breakfast room.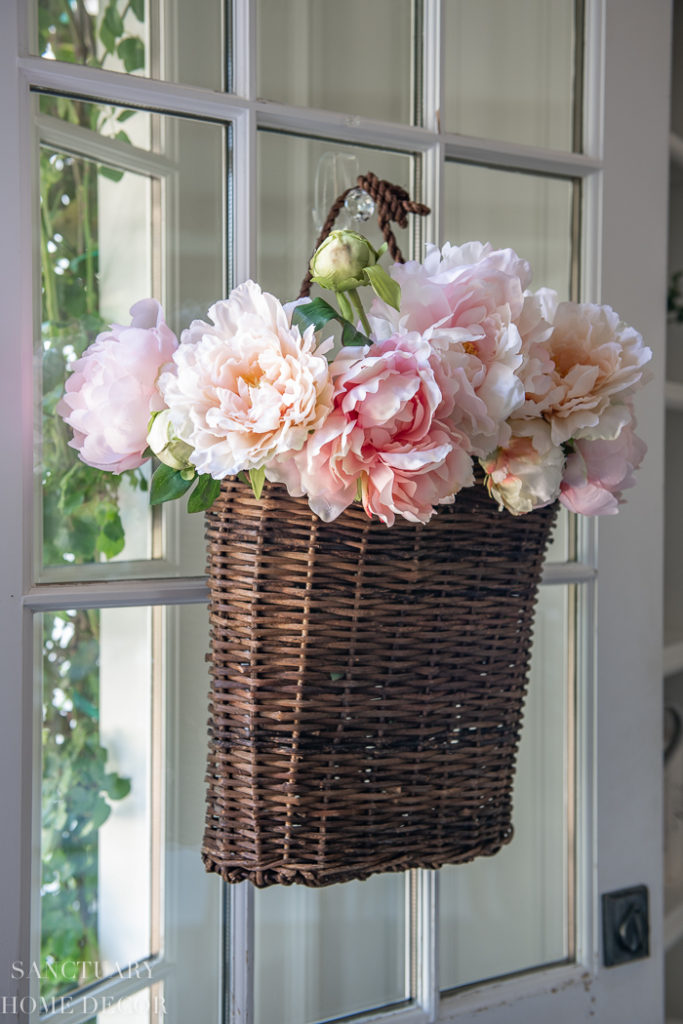 I have used this basket for both fresh and faux flowers and it looks equally beautiful either way. I have to say, I find some appeal in using faux peonies for this arrangement because they are long-lasting and look incredibly realistic. Below is a list of the exact flowers I used for this arrangement.


You can see how I filled this basket with fresh (and faux) flowers by clicking HERE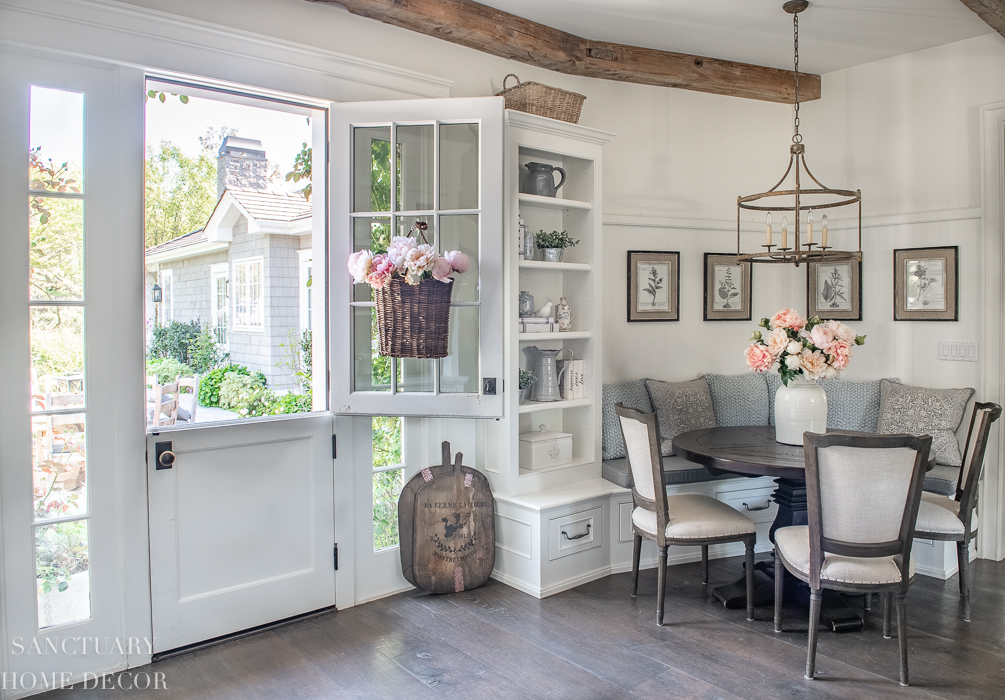 I have used many different shades of faux peonies in my arrangements recently, including these beautiful white blooms.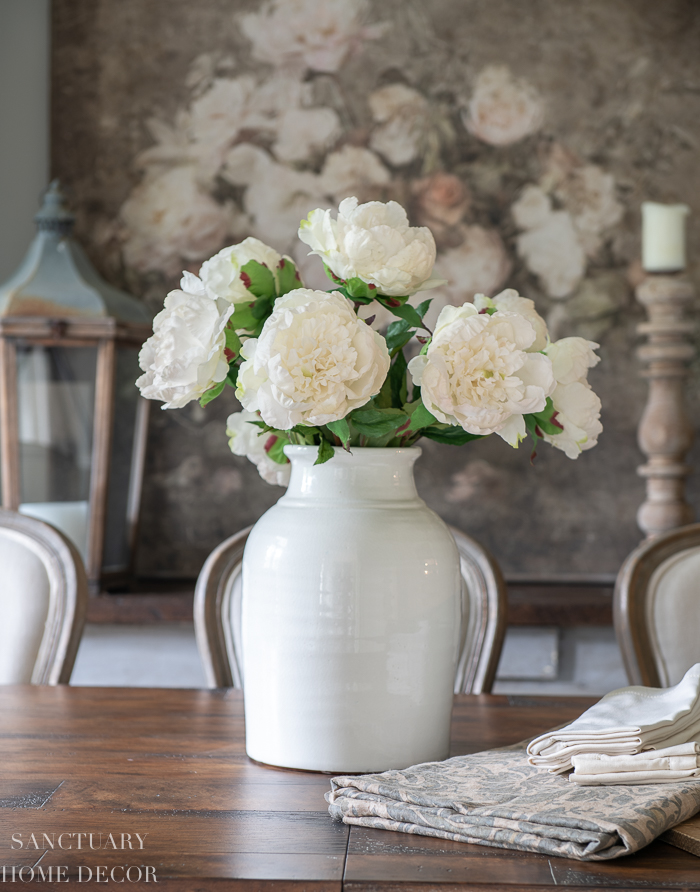 The simplicity of this faux peony arrangement is particularly appealing to me because it can be used in almost every season. I chose to use a white "jar" as a vase but these peonies would look stunning is a colored or patterned vase as well. Below are the exact stems I used for this arrangement.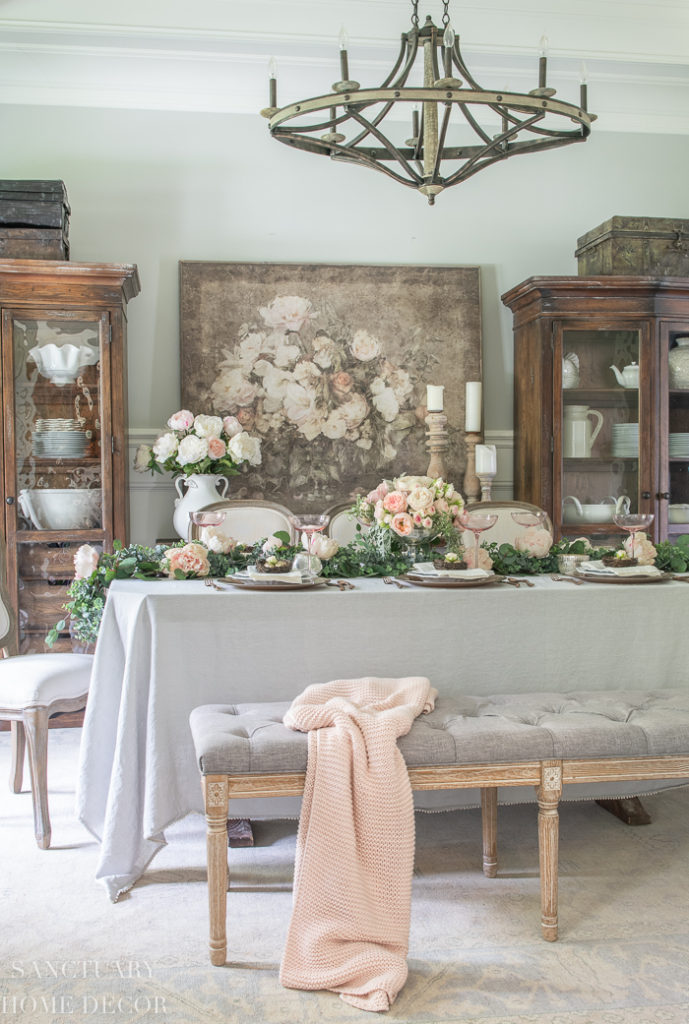 And on the side table in my dining room, I used the same white peonies, with a few pink blooms added in.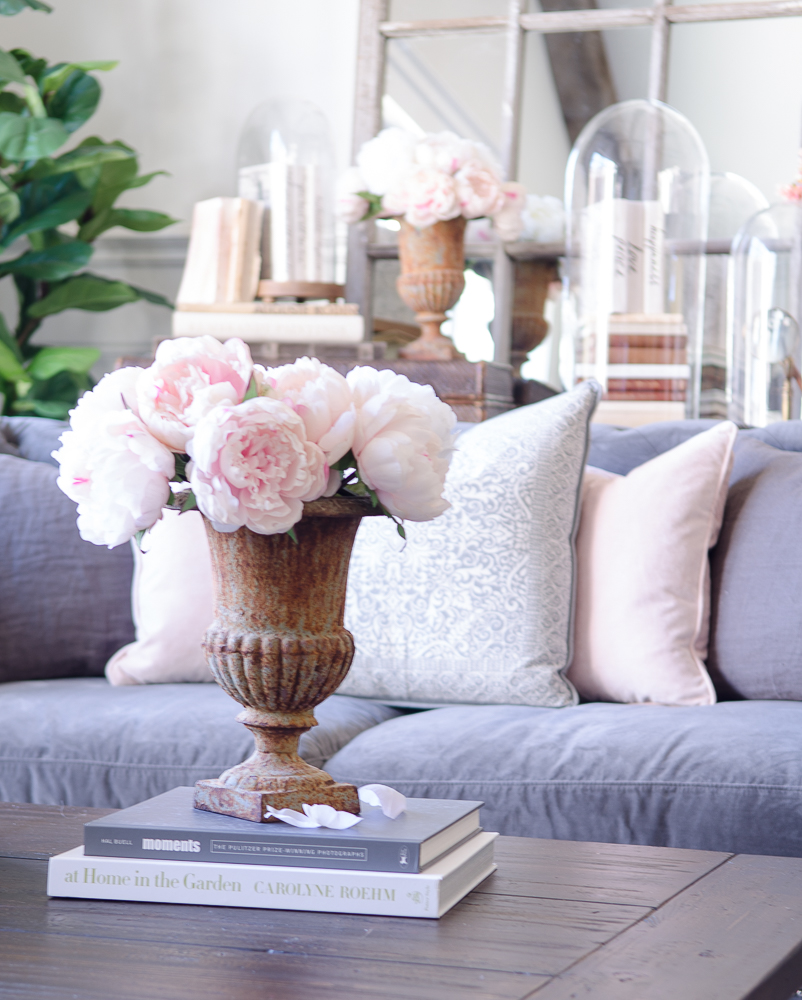 I also love the simplicity of these silk peonies in a vintage iron urn sitting on our coffee table. Paired with a couple of blush pillows on the couch, this makes a pretty statement for spring or summer.
Below are links to similar peonies and a reproduction urn that would work well to recreate this arrangement.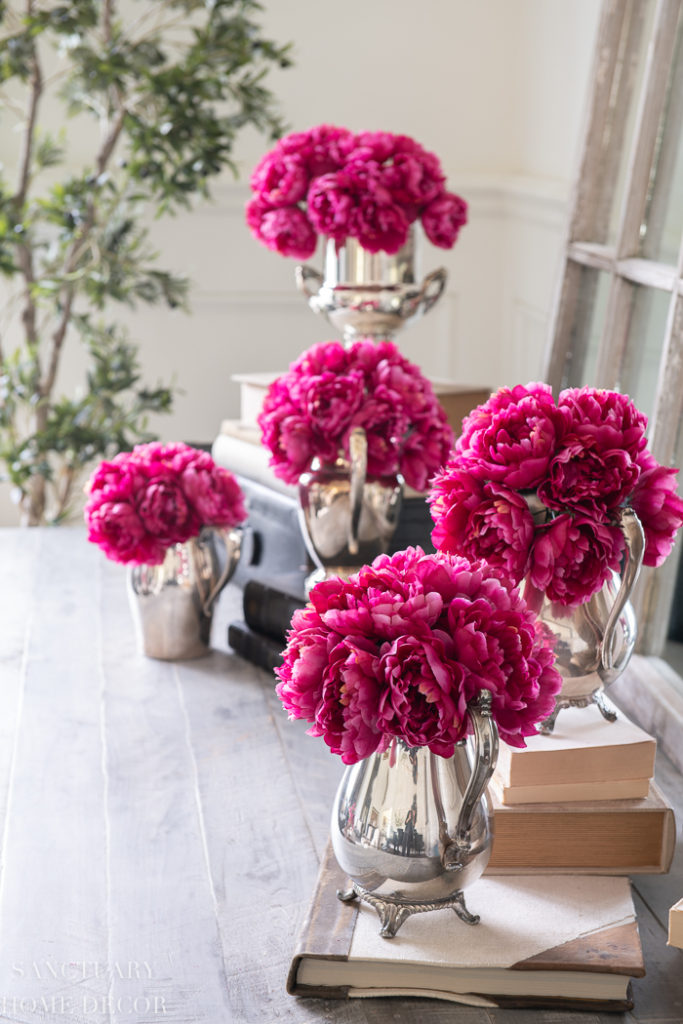 If you're in the mood for something a bit brighter, these magenta peonies are just the answer! I added these to my living room, for a pop of color this spring and absolutely LOVE how they brighten up my decor. I used a few vintage, silver pitchers as vases but they could be placed in any vessel you like. These exact peonies aren't available this season, but I have linked some very similar ones below.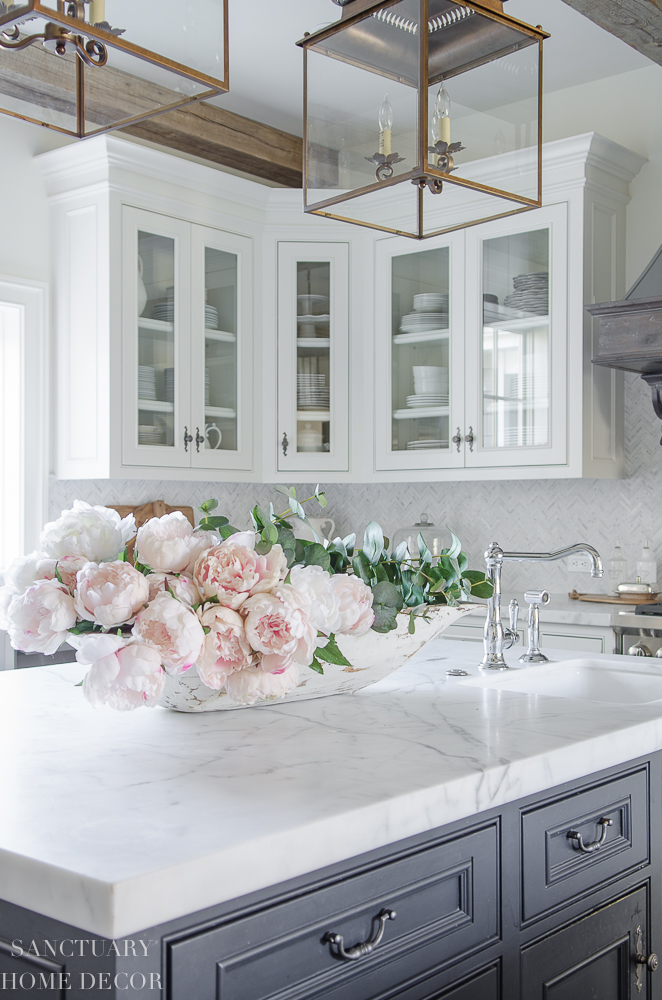 Alternatives to traditional vases are great for faux florals because there is no need for water. I have used both dough bowls and old tin buckets to hold my peonies and they both look great on my kitchen counter. I have found a great source for painted dough bowls and have linked several options below, along with the peonies and eucalyptus I used for this look.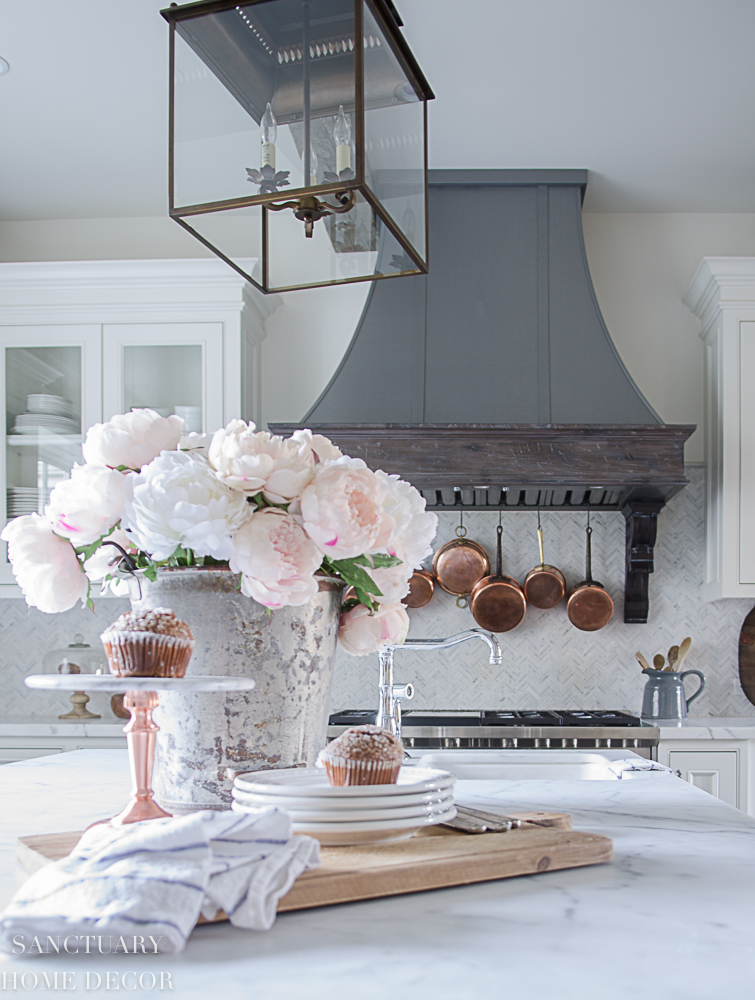 I hope this gives you some ideas about how to make an affordable and realistic faux peony arrangement for any room in your house. There is no better time to adorn your home with beautiful blooms than now! Check out all of the resources below and make your home more beautiful today!
XOXO





YOU MIGHT ALSO LIKE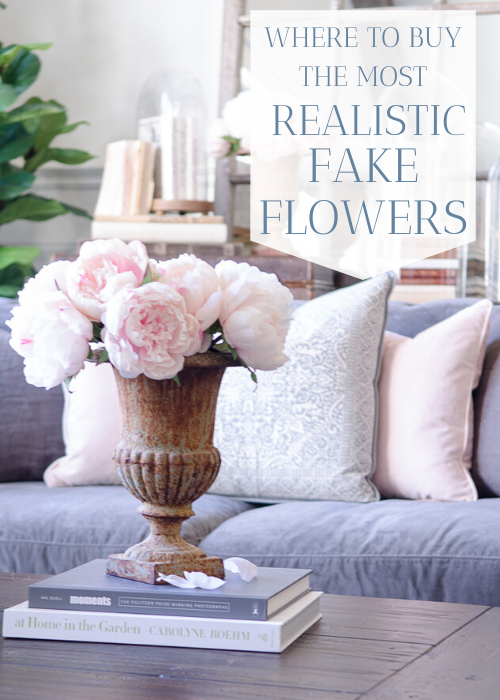 PIN THE IMAGE BELOW TO RETURN TO THIS POST LATER