25 Beautiful Christmas Trees For Every Style
Until four years ago, I NEVER would have gotten an artificial Christmas tree. We always had fresh trees when I was growing up and I continued that tradition with our family during the holidays. Then I started this blog and I realized that if I was going to be sharing holiday decorating inspiration, I had to start very early in the season and there weren't many fresh trees available…so I bought my first artificial Christmas tree. My family eventually got over the shock and since then I have collected several different styles of artificial trees that I use from year to year. Today I'm sharing my take on the best Christmas trees for every style and budget.
This post contains affiliate links.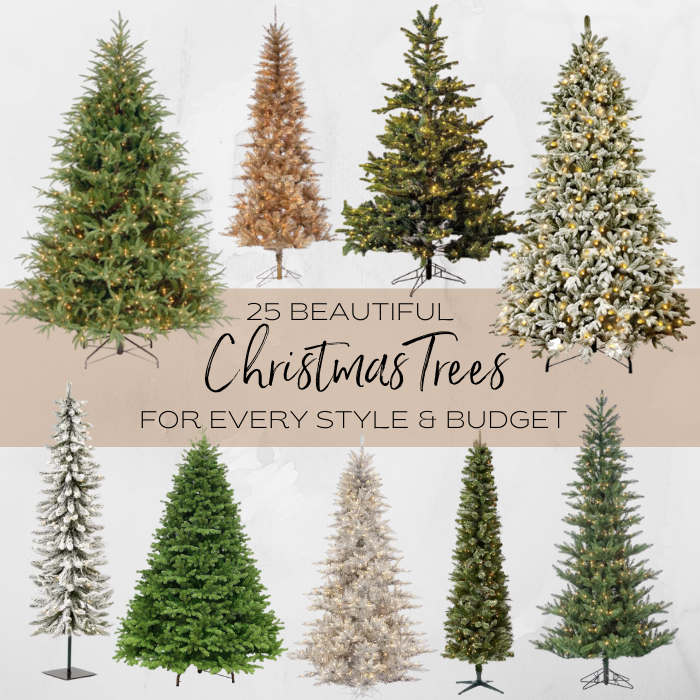 MY FAVORITE FLOCKED TREES
Last year I got my first flocked tree from King of Christmas. I was SO impressed with the quality and beauty of this tree. I chose the 9′ Queen Flock for the corner of our living room and it fit just perfectly! I have a few smaller flocked trees that I use as decor without decorating them, but this tree is just BEAUTIFUL!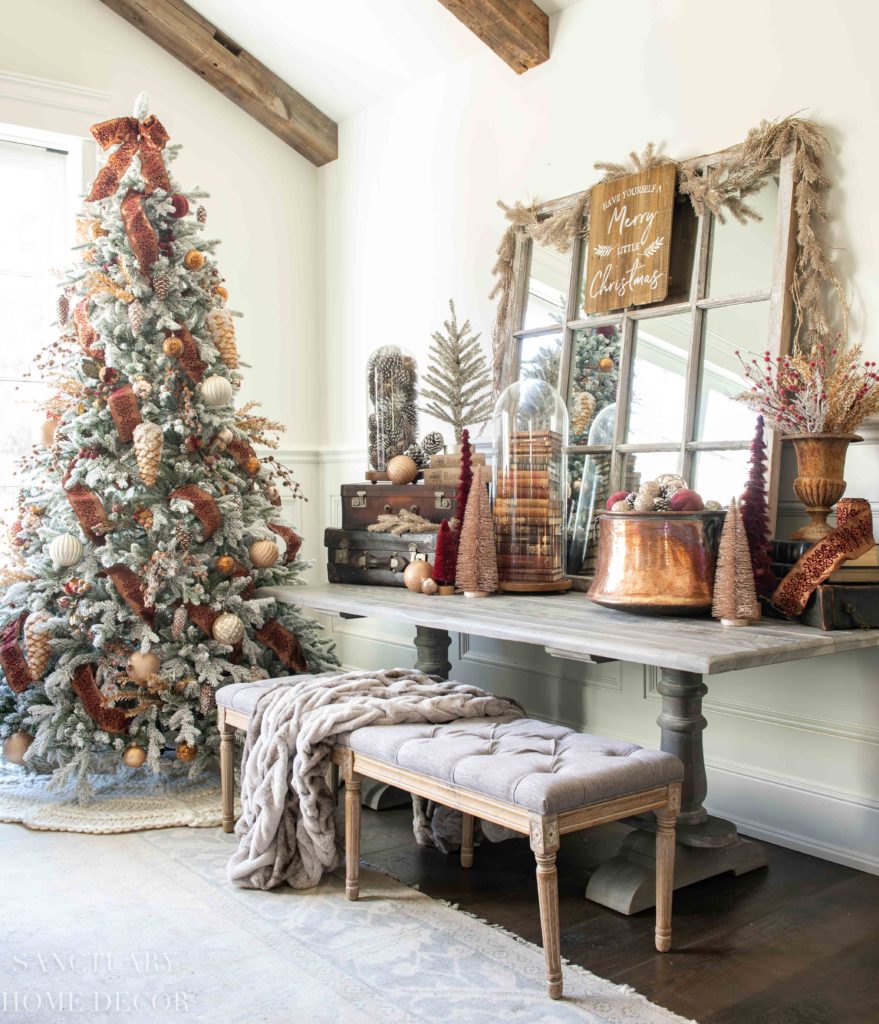 This flocked tree looks equally stunning "naked" and I left it in the corner of my living room last year for a week, just to enjoy the view.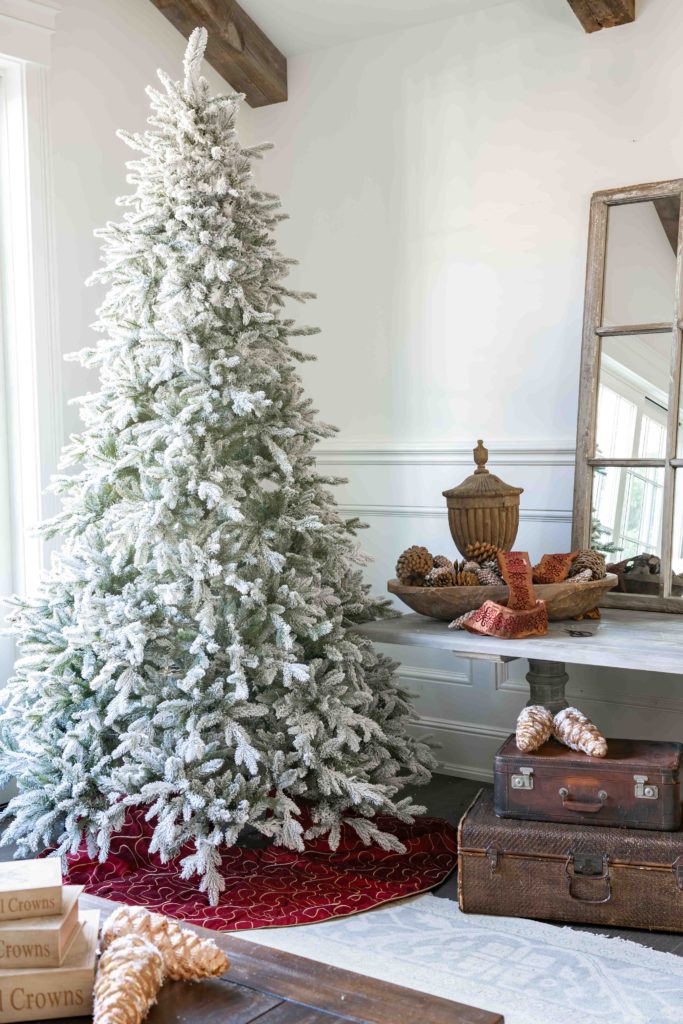 While I love a big Christmas tree, I have an equal love of smaller and feature trees. Below are my favorites flocked trees this year in every style and price range. Just click the photos to shop!

TRADITIONAL CHRISTMAS TREES
My first artificial Christmas tree was a Balsam Hill "flip tree". This was a big splurge for me, but I have to say, it was well worth it! This tree is super easy to set up and looks incredibly realistic. This is the 7.5′ Fir Flip and it is the perfect size for our family room. Just a note: This tree takes up a lot of storage space as it is stored upright in a bag. It is also on wheels and can easily be rolled to any location!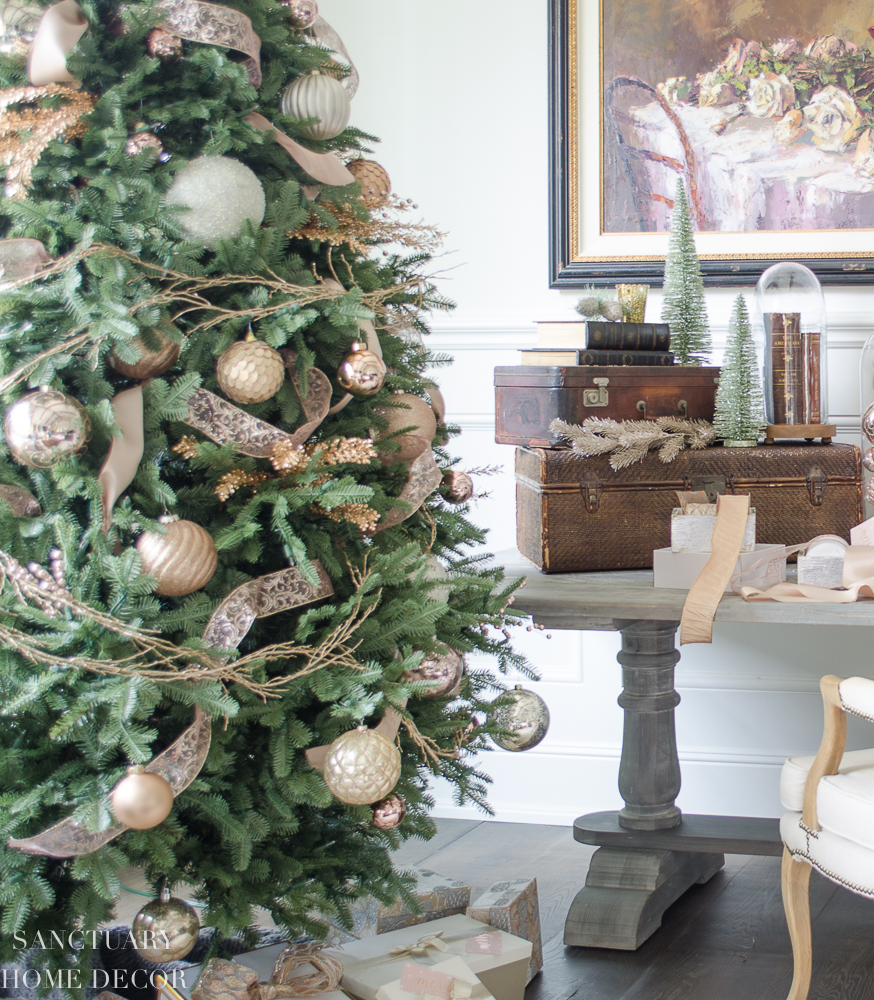 Since that first tree, I have to admit that I have now collected several other traditional Christmas in different shapes and sizes. Have used all of them, every year in different rooms. Some I decorate, some I leave simple and naked, but they are all pretty in their own way! Below are my favorite traditional Christmas trees in every size and shape and for every budget.

UNIQUE CHRISTMAS TREES
As much as I love a simple flocked tree or a traditional green tree, I really adore a unique and unusual Christmas tree! Two years ago, I chose to feature two trees in my family room and I absolutely LOVED this look. In fact, Better Homes and Gardens Magazine came to shoot my Christmas decor this year!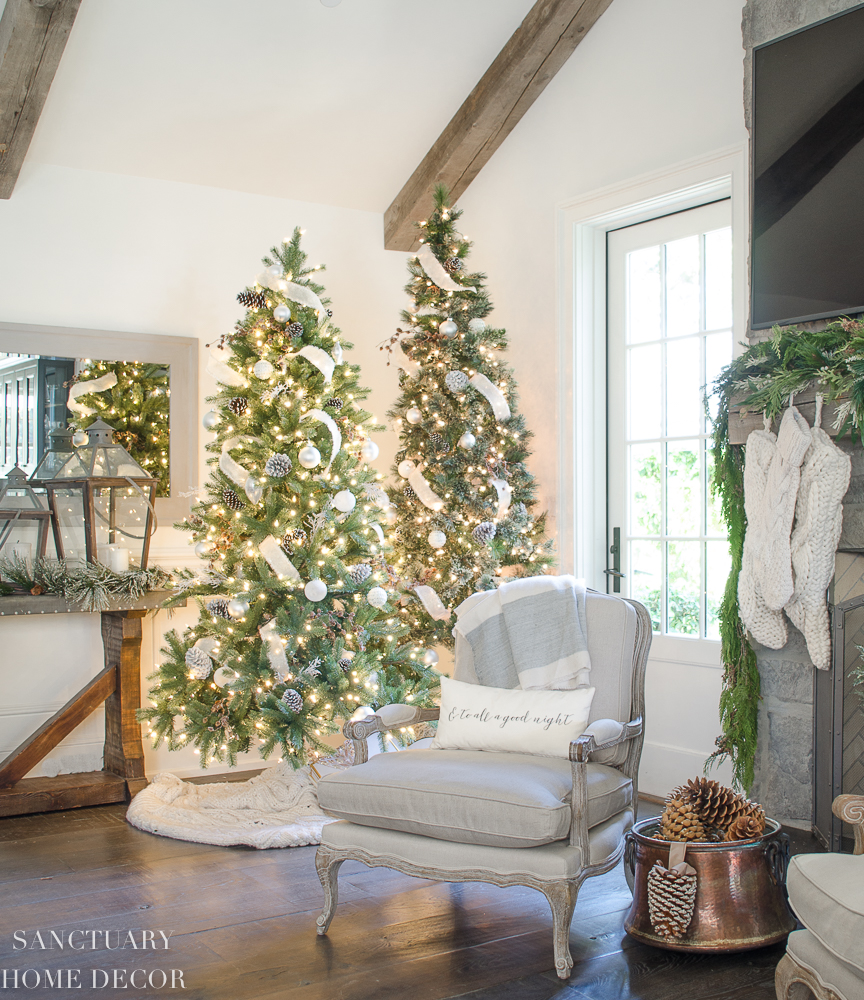 These were not expensive trees, but they made a big statement in our family room. They were both 7′ trees, so I placed the slimmer one on a box to make it taller than the fuller tree in front.
I also love metallic trees and am planning to add at least one to my decor this year! I especially love the rose gold tree below!
Below are some of my favorite unique Christmas trees in different sizes, styles and shapes.

TABLETOP TREES
As much as I love a big bold tree, I also appreciate a smaller, understated tabletop tree. I have gathered quite a few beautiful bottle brush trees that I use each year in vignettes and on table settings.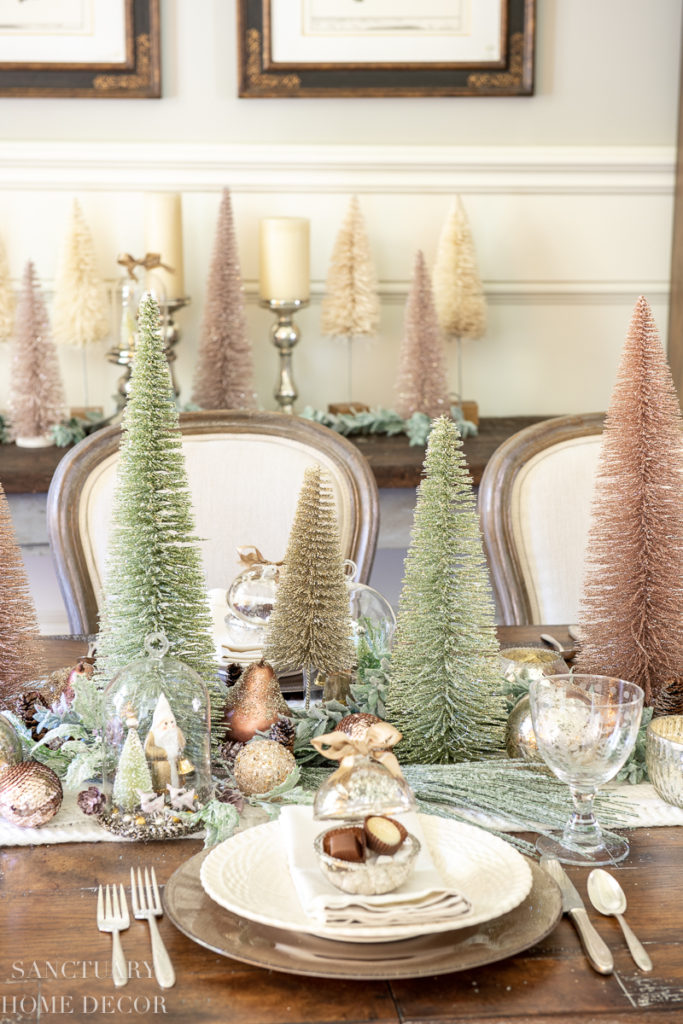 I also have smaller trees that I use in vignettes and on fireplace hearths. I really love these little trees and how they transition from Christmas to winter decor so easily.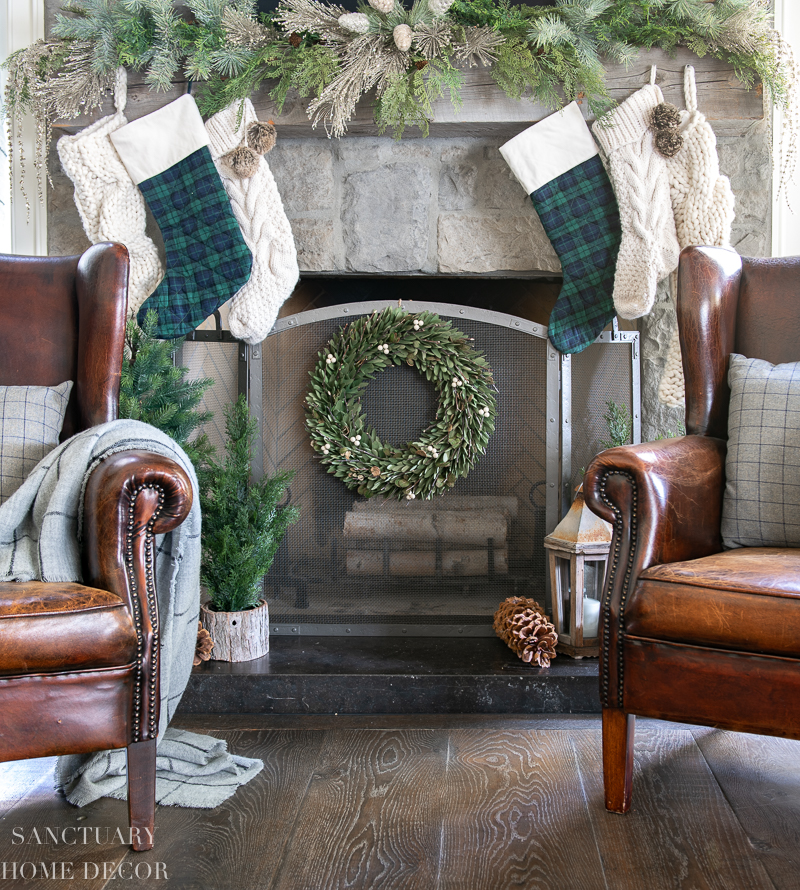 Below are my picks for tabletop trees this season. There are some fun, beautiful trees here that I know you'll love!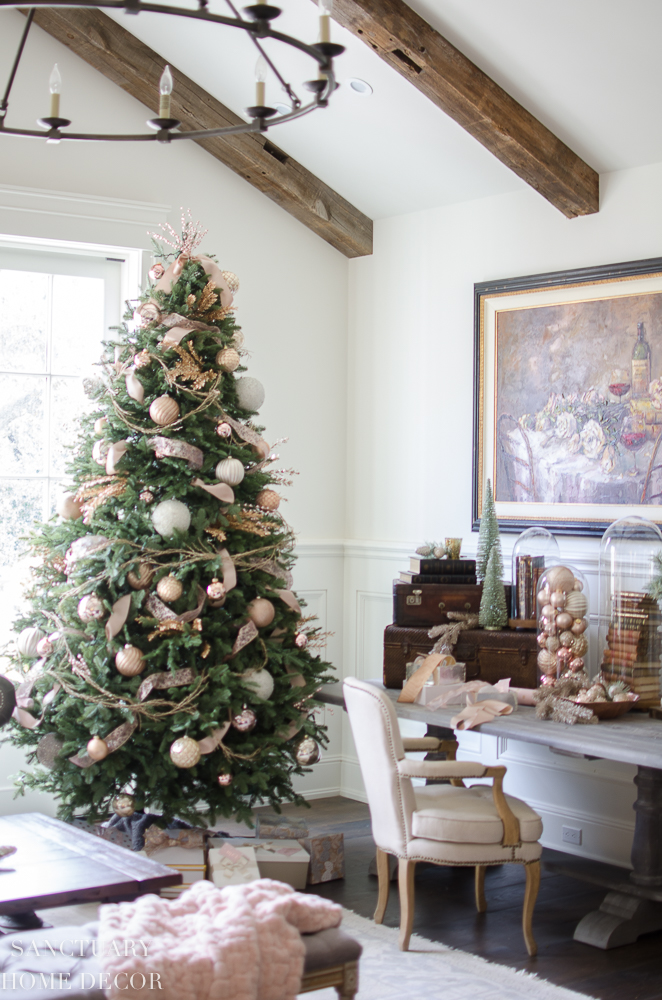 I hope this gives you some good resources for Christmas trees for every style and budget No matter your style, these trees will add sparkle and cheer to your home this season!
Have a beautiful day!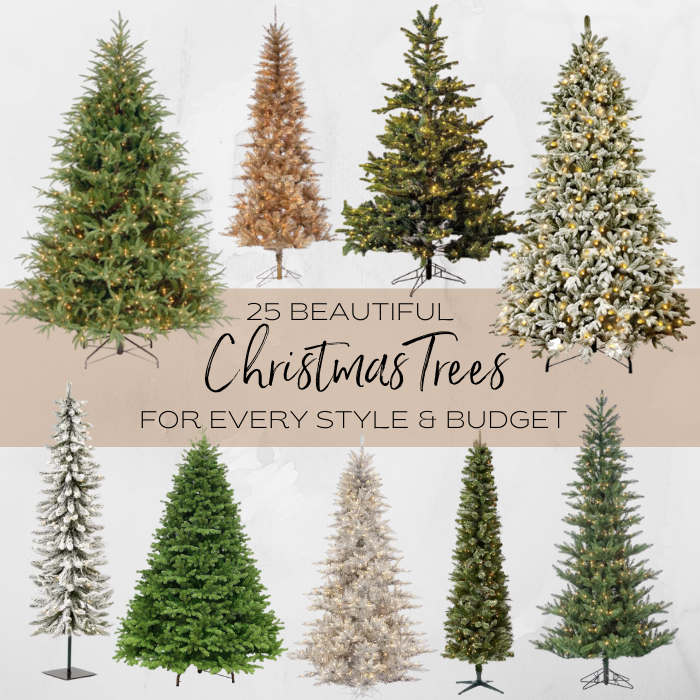 Once you pick out your favorite tree, check out my post on the easiest way to put ribbon on a Christmas tree.