How to Host a Wine and Cheese Girl's Night
I can think of few things more heartwarming and beautiful than a girls night spent with my closest friends. Regardless of the surroundings, I always feel filled up and after an evening of laughter, good food, and yummy wine, but I especially love creating a beautiful atmosphere for my friends and me to enjoy. Last week I set a pretty outdoor table and had a few friends over, so today I thought I would share my tips for how to host a wine and cheese girl's night that will make your next get-together a success!
This post contains sponsored content but, as always, all ideas and opinions are my own.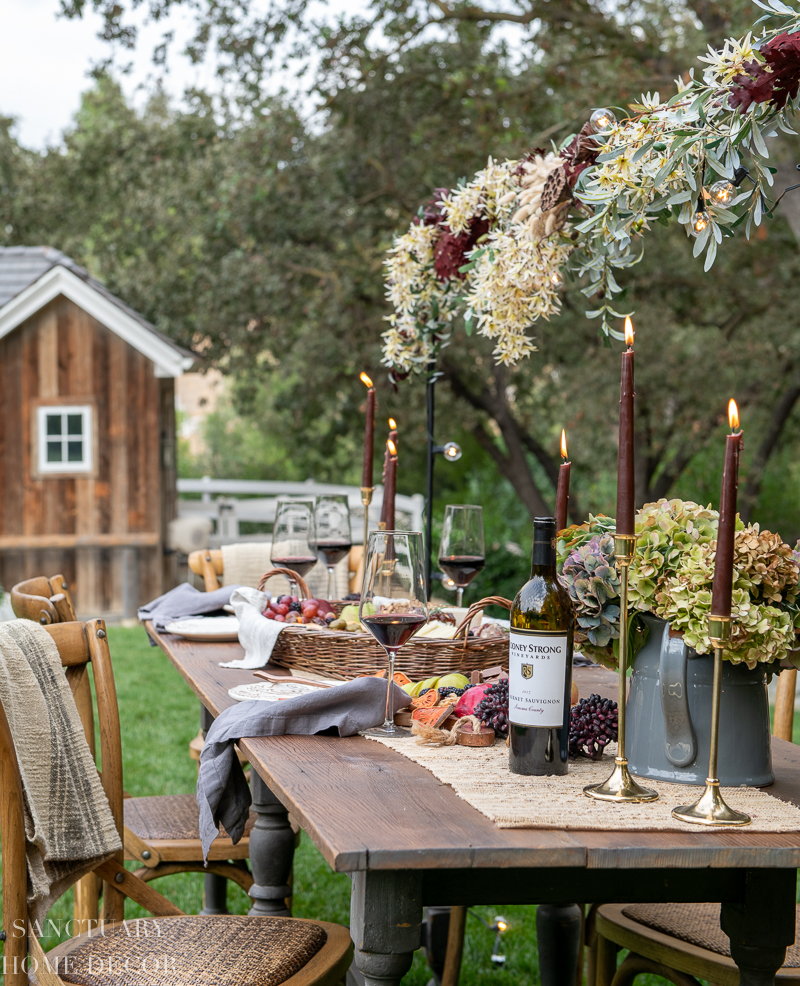 STEP 1: START WITH A GREAT WINE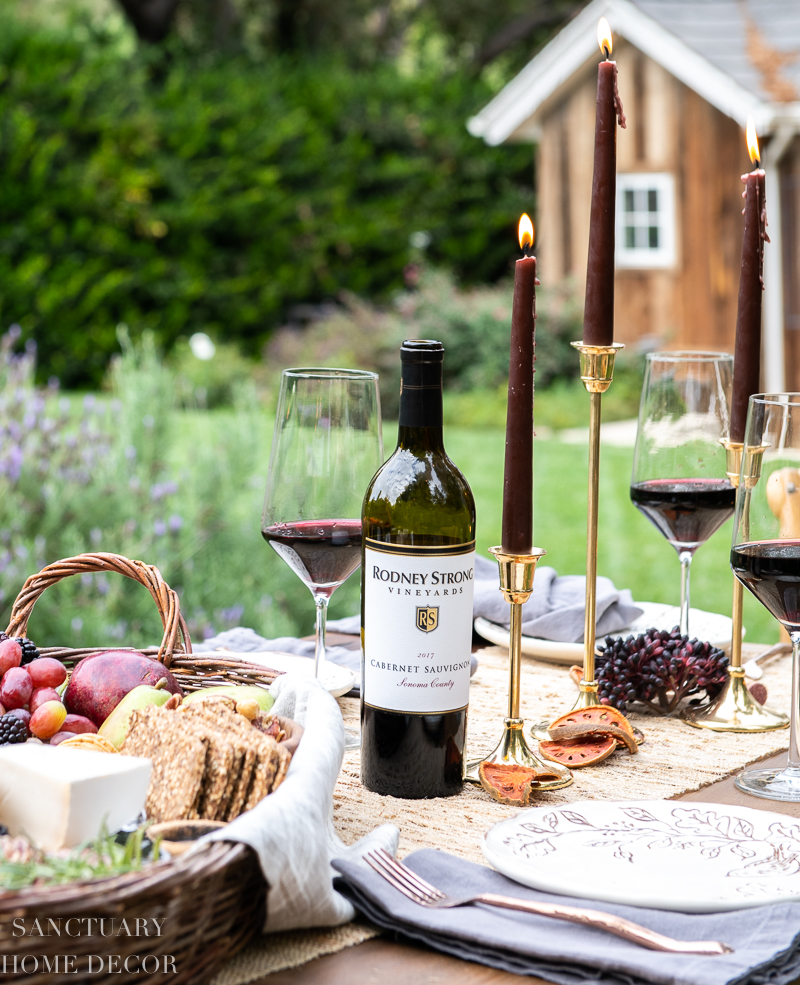 When planning a wine and cheese girl's night I always look for a wine that is not only yummy, but affordable, so I felt especially fortunate to have Rodney Strong Vineyards ask me to share their wine with my friends to celebrate their "STRONGER TOGETHER" campaign. I was already a fan of Rodney Strong, because their wines are always so reasonably priced , but when I tasted the Sonoma Cabernet Sauvignon I was reminded of what a delicious, quality wine Rodney Strong Vineyards consistently produces.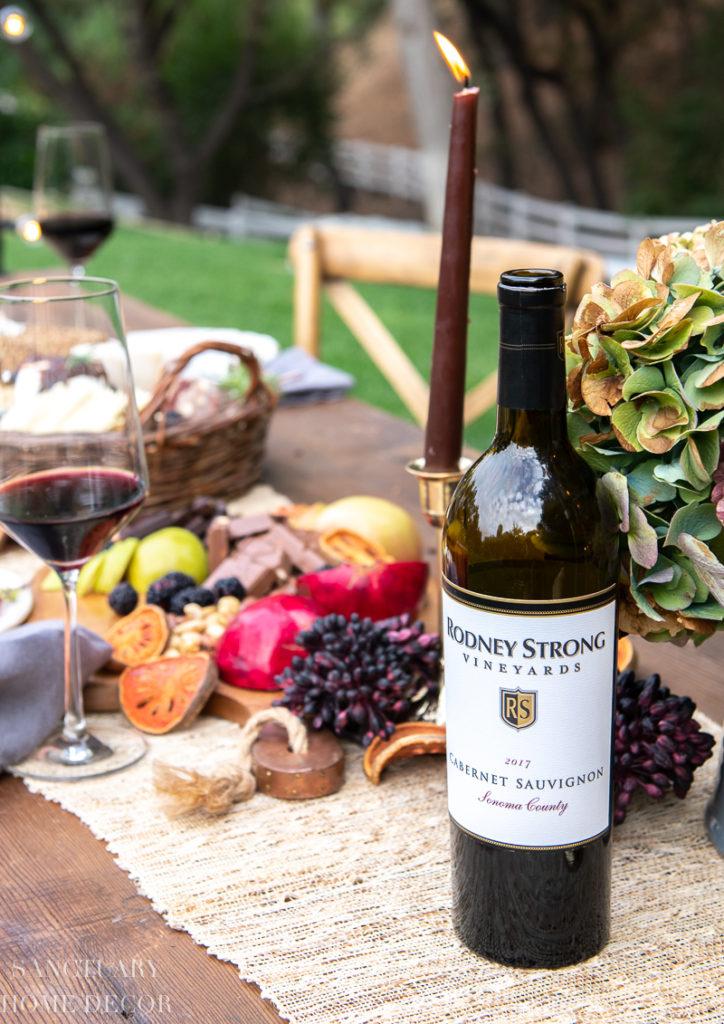 I am not a wine expert, by any stretch, but I know what I like and what tastes great. As the weather begins to turn a bit colder, I appreciate a deep, rich red wine, and I learned from the Rodney Strong website that the 2017 Cabernet Sauvignon has notes of dark plum, cherry and baking spices and is the perfect complement to winter meals or rich cheese flavors. This seemed like the perfect choice for the hearty cheese and charcuterie basket I was planning to serve.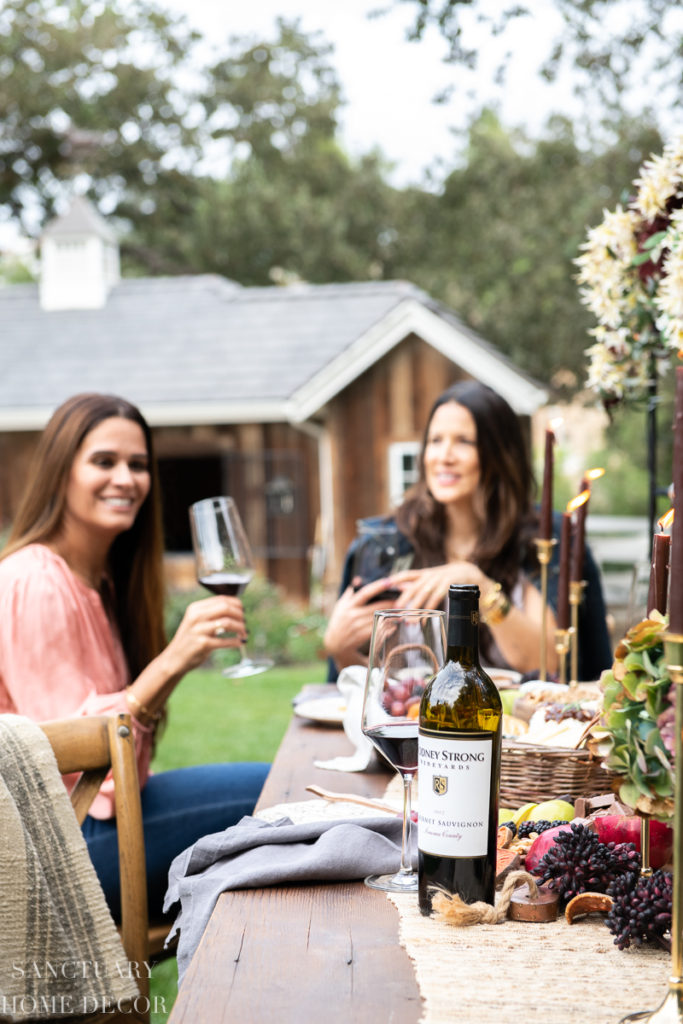 It turned out to be the exact right choice for our girl's night and my friends could not stop talking about what a delicious wine it was!
If you're interested in finding out more about this wine or where you can purchase other Rodney Strong wines, click HERE.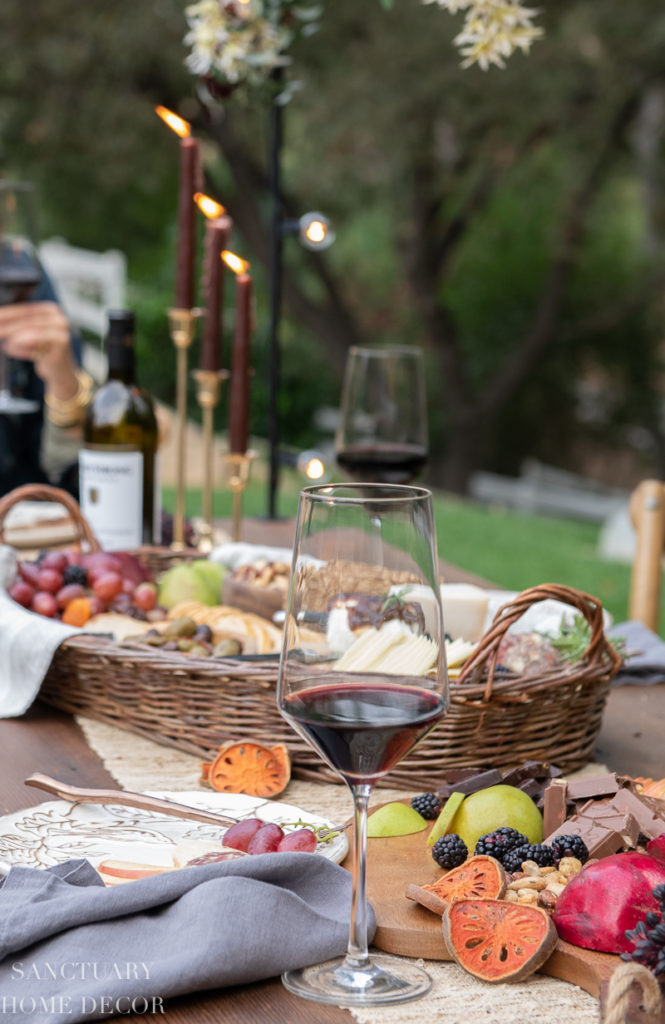 STEP 2: CHOOSE CHEESES TO COMPLEMENT YOUR WINE
Just as I'm not a wine expert, I am also not a cheese expert, but I did a bit of research about pairing wine and cheese to get ready for our girl's night. I found that the best cheeses to pair with red wine are hearty, aged cheeses, so I went to our local market and found three that I thought would pair well with the Rodney Strong Cabernet Sauvignon. I decided on a hard aged goat's milk cheese as well as a soft goat's milk cheese topped with a fig jam. I also added a creamy cow's milk cheese infused with truffles. These ended up pairing perfectly with the wine!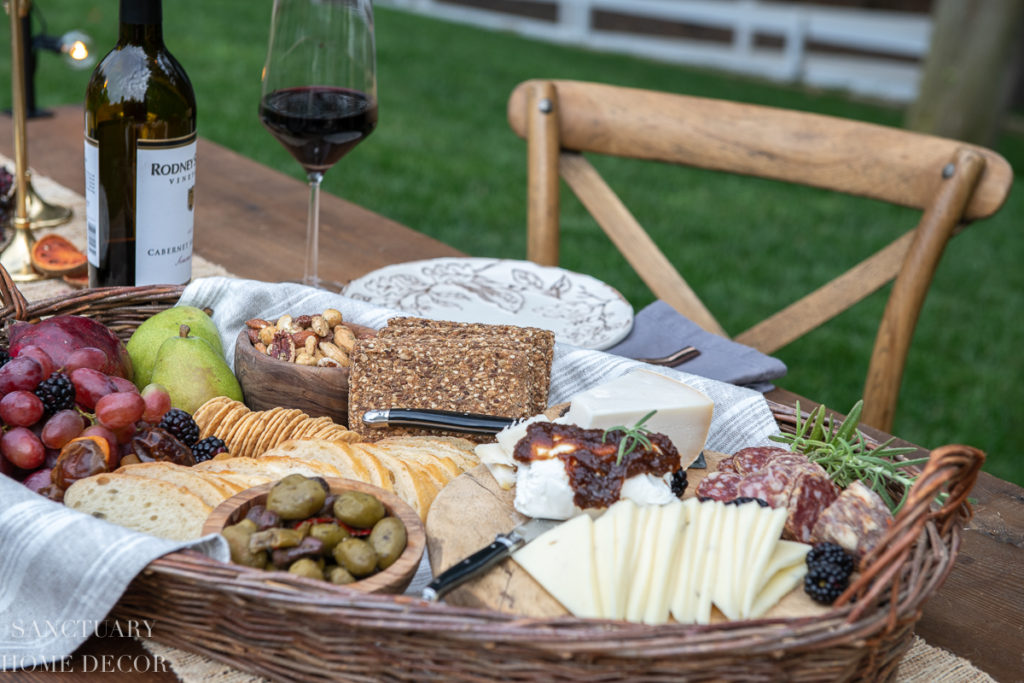 Alongside the cheeses, I wanted to serve "snacks and nibbles" to round out the flavors of the wine and cheeses, so I put together a charcuterie basket filled with some of my favorite small bites. This included a Tuscan salami, Italian olives, sliced French baguette plus gluten-free and multi-grain crackers.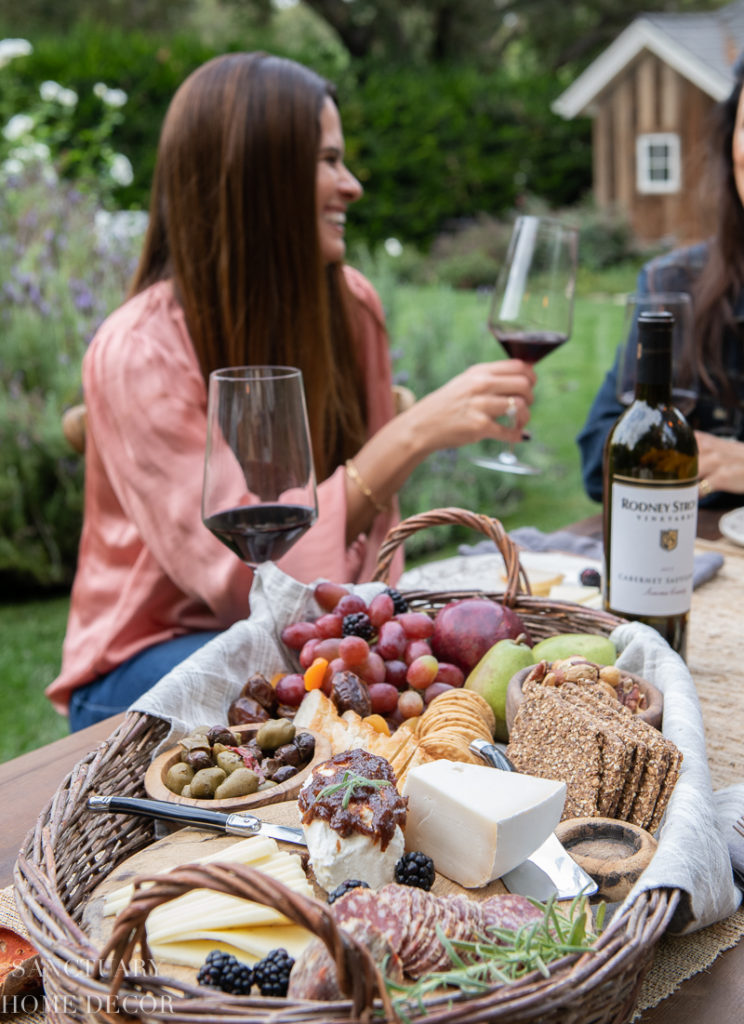 I also included some fresh grapes alongside dried dates and apricots and a bowl of rosemary-infused nuts. All of these flavors worked beautifully together and were hearty and filling enough to last the entire evening.
HERE is a resource I love for more info about pairing cheeses with wine.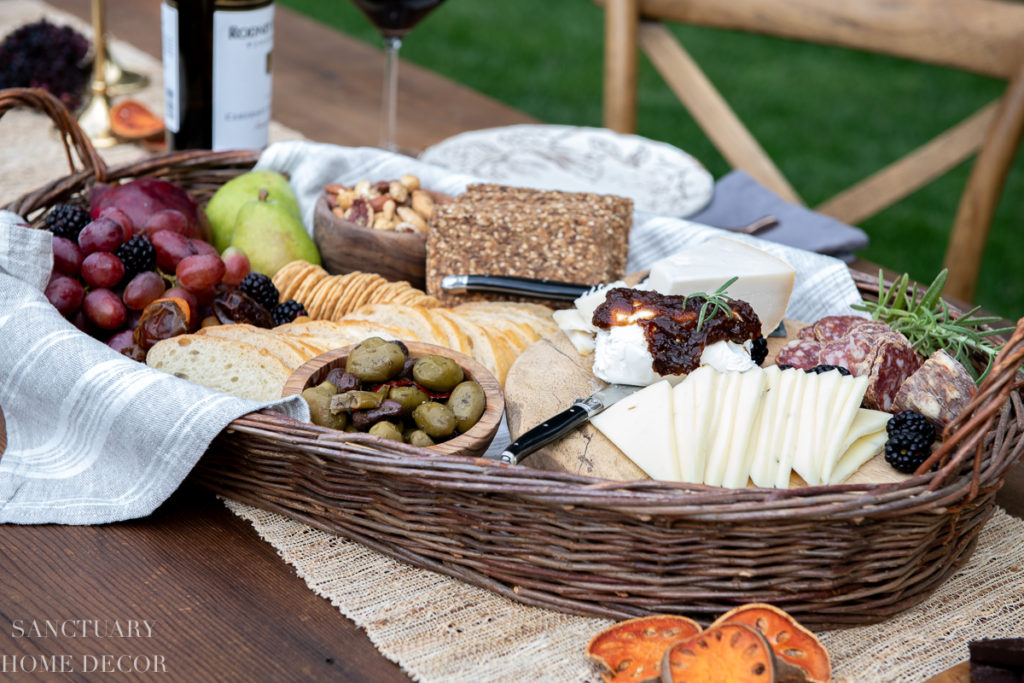 STEP 3: PICK A UNIQUE LOCATION
I have had dozens of get-togethers at our home through the years and there are areas that I know work well to gather with my friends, but for this wine and cheese girl's night, I wanted to do something different and unexpected.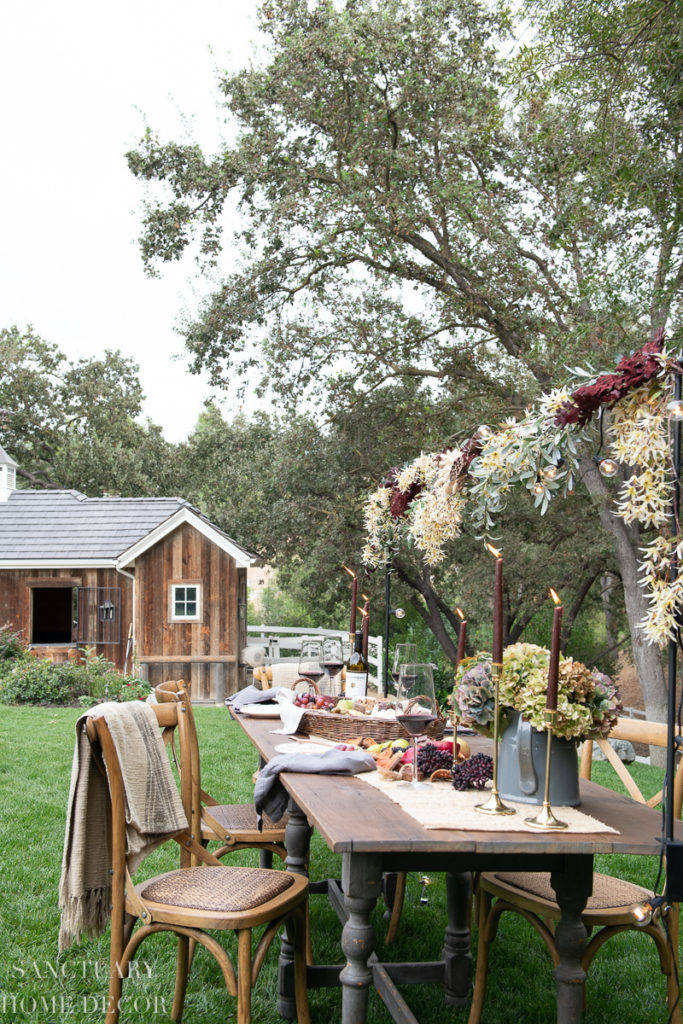 I decided to move a farmhouse table outside on our back lawn in an area that we rarely use. It is tucked back behind the house with the barn in view and feels a bit more rustic than our back patio. It was so much fun to reimagine a new area of our yard and create a beautiful table in an unexpected place.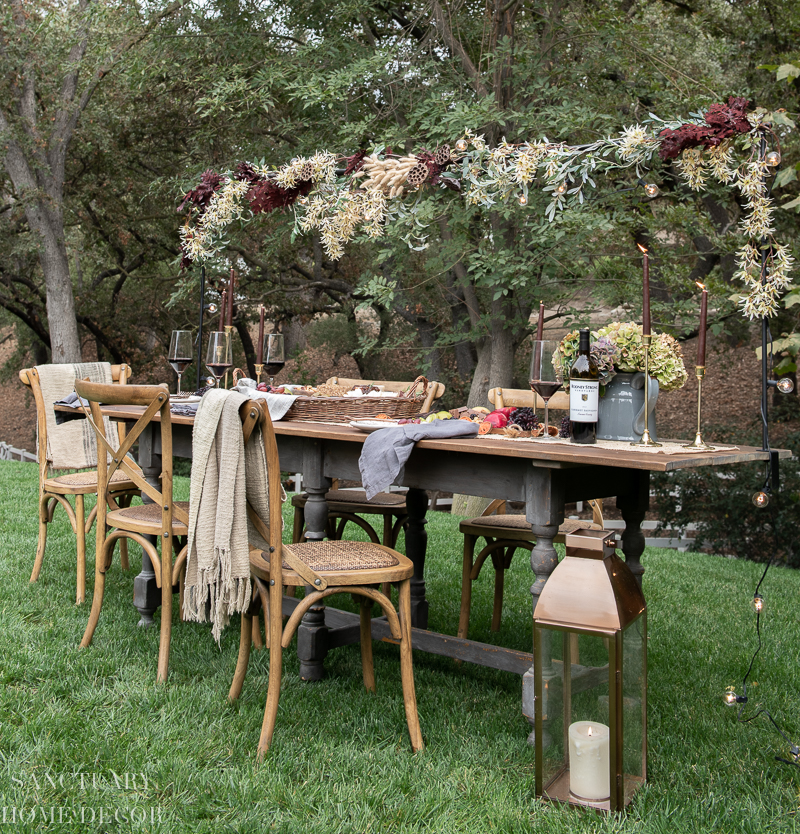 It was super easy to move this table and a few chairs out on the lawn, and it felt completely new and different as a gathering spot. I encourage you to look around your yard or home and perhaps gather somewhere new and different for your girl's night. Whether you move furniture into the yard or simply utilize a different space in your home, pick a unique location for your gathering.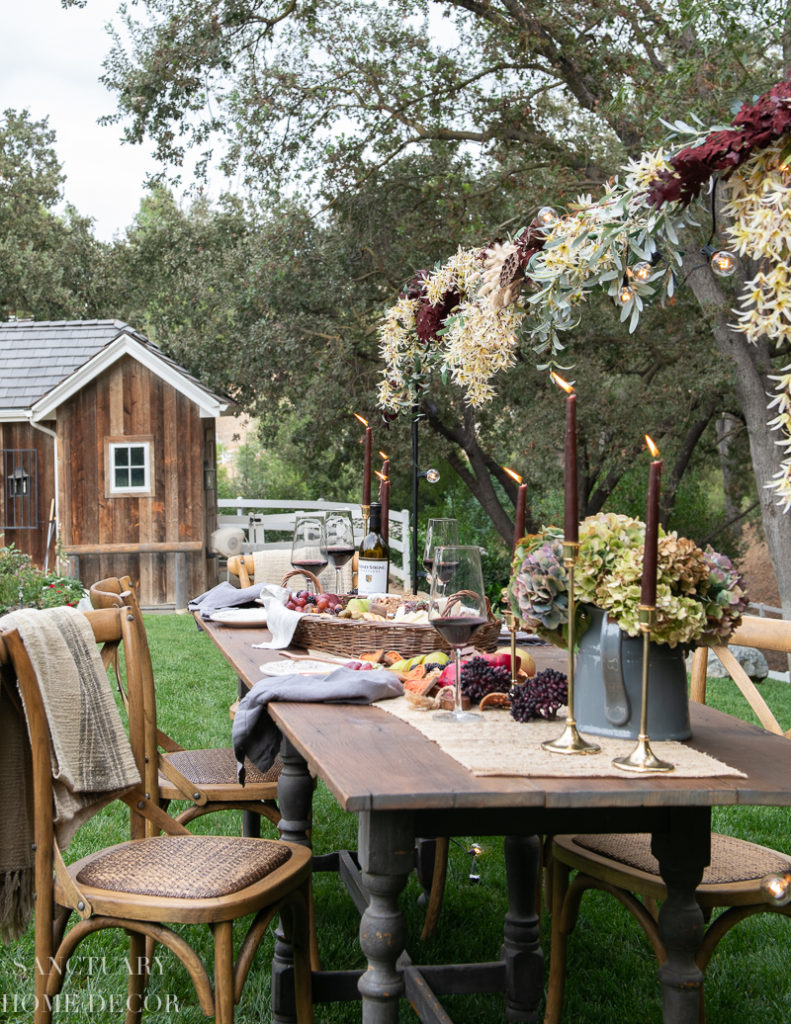 STEP 4: SET A PRETTY TABLE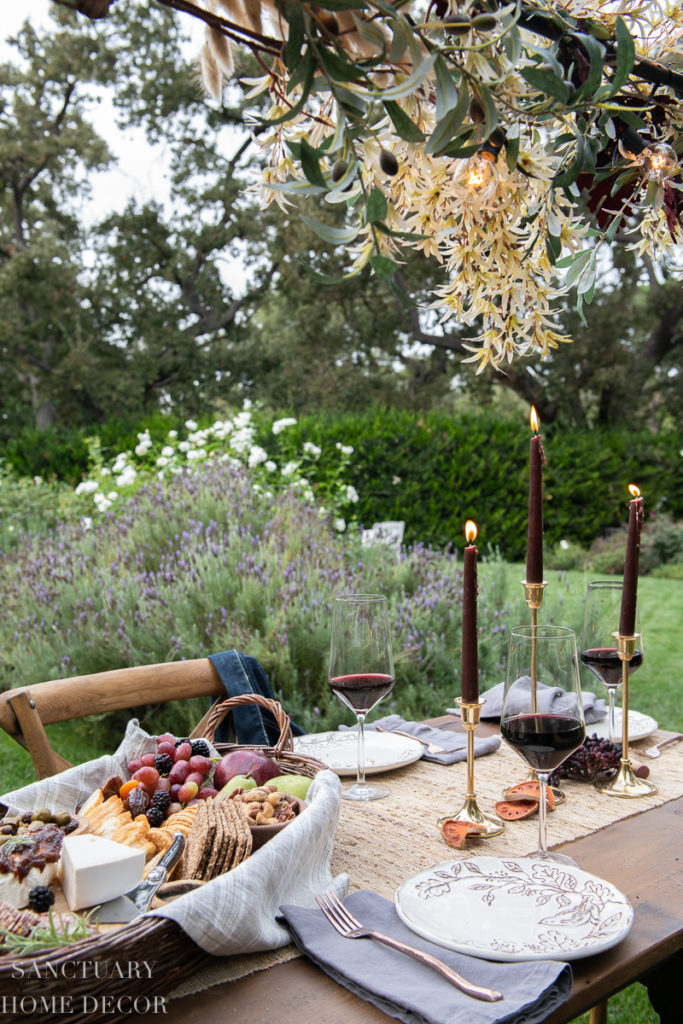 I don't know about your friends, but mine appreciate a beautifully set table, so I'm always happy to go the extra mile to make whatever table we are using pretty.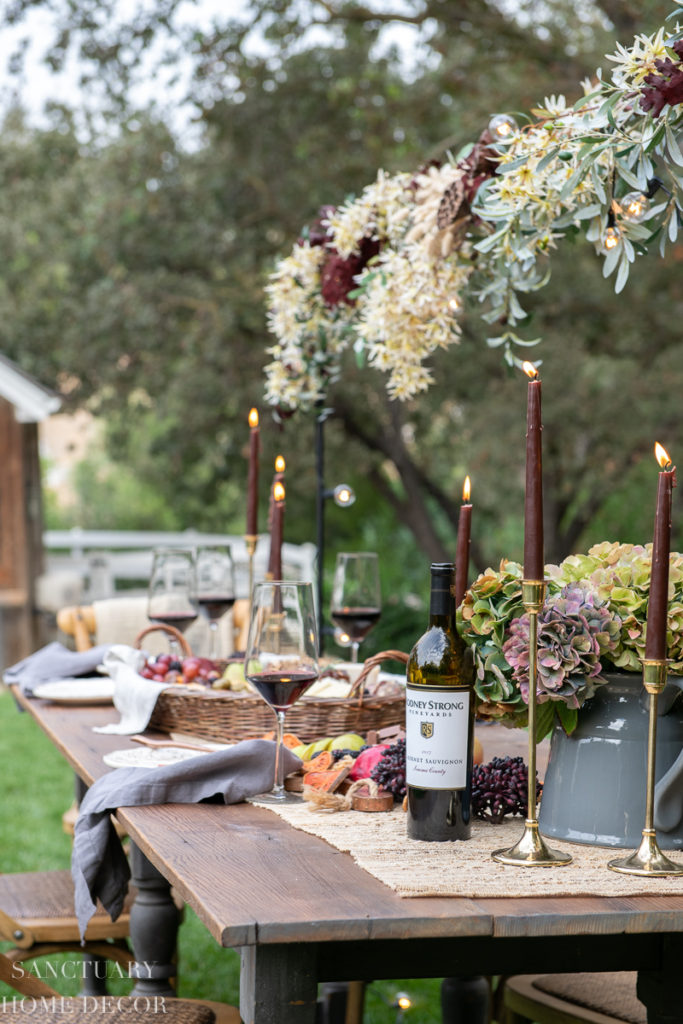 For this get-together, I decided to try something different (because you can do that with good friends!) and used an over the table rod to create a pretty floral element. This is something I had been wanting to experiment with for quite some time, so I jumped in and gave it a go! It ended up looking so beautiful and I added a string of lights that gave the table the perfect warm glow as the evening went on.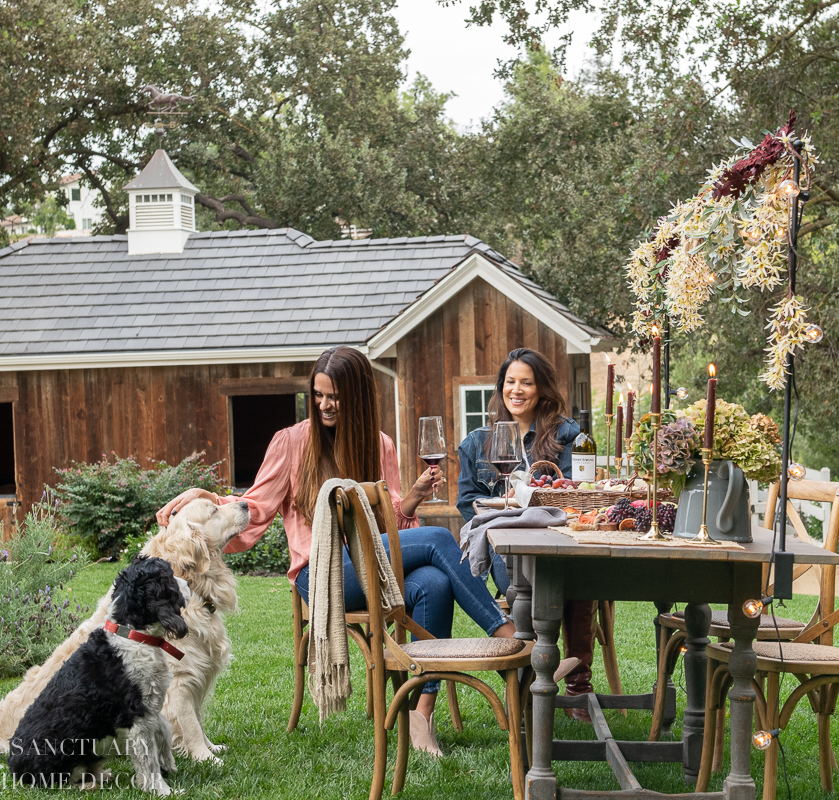 Mixed with some pretty gold candlesticks and a simple woven table runner and I had an exceptionally beautiful table in just a few minutes.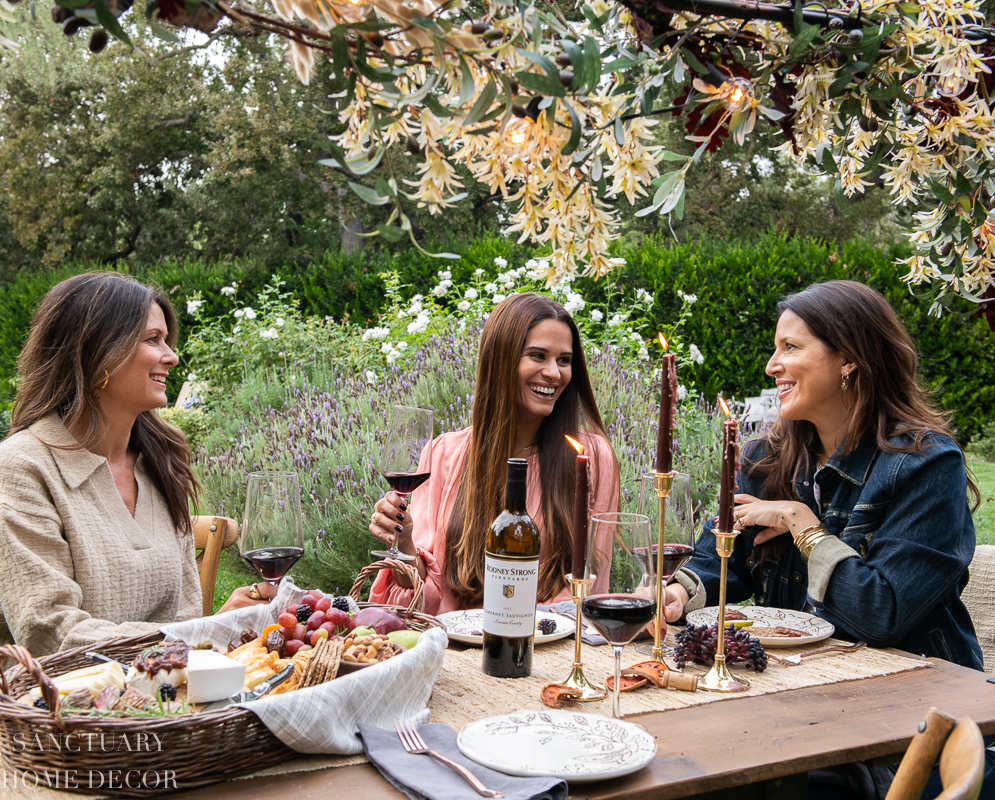 Now don't be intimidated or think you need to start building floral structures to have a great girls night! (You know I'm a bit over-ambitious when it comes to setting tables!😂) Some beautiful candles, linen napkins, and foraged flowers from your yard can create an equally beautiful table with very little effort or fuss. The point is to take a few minutes to add something special or pretty to the table (or coffee table) you are using. Your friends will definitely notice and appreciate it!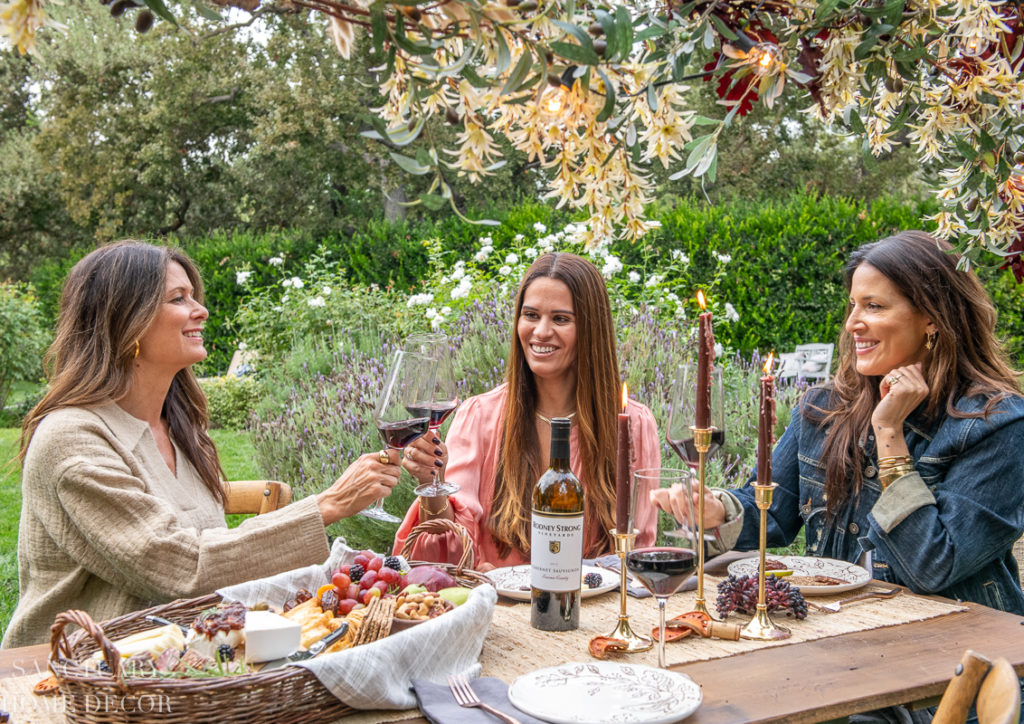 STEP 5: DON'T FORGET THE SWEETS!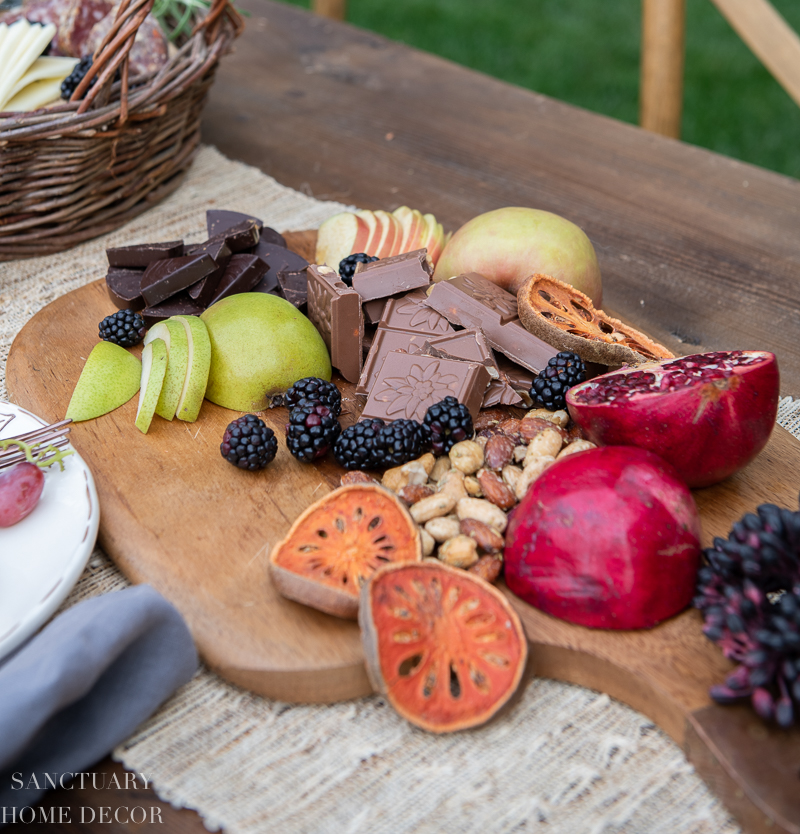 The final step in planning a wine and cheese girl's night is make sure to add a few sweets to the table. After an evening of delicious wine and cheese a piece of chocolate or fruit is the perfect ending. It doesn't have to be a huge dessert, unless you are a baker (which I'm not!),and then you definitely should go all out!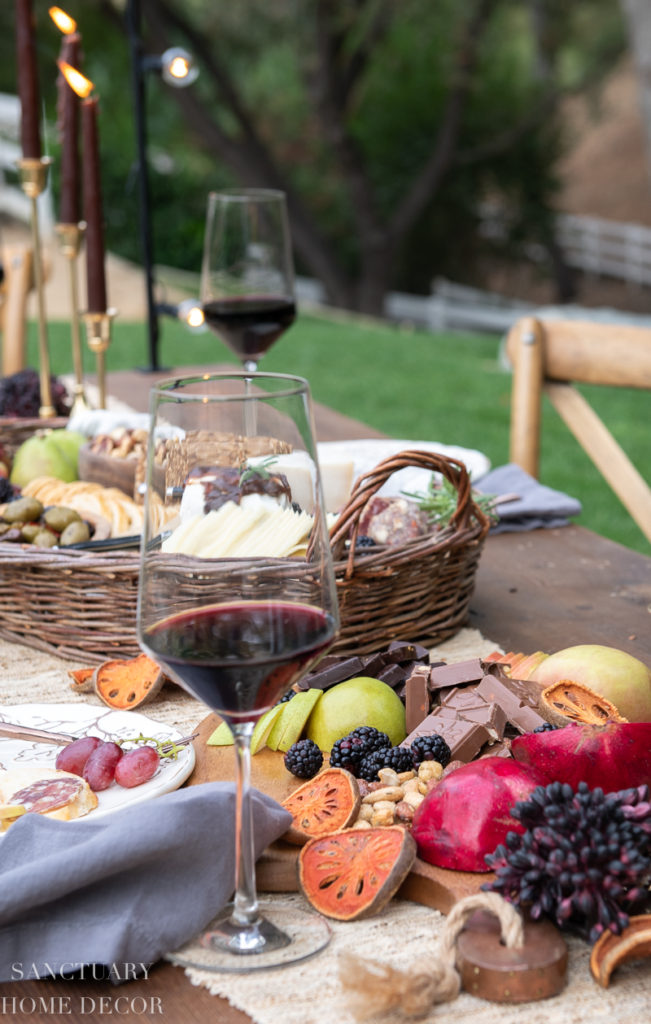 A few sweet treats to end the night are always a good idea, so do what is easy and keep it simple.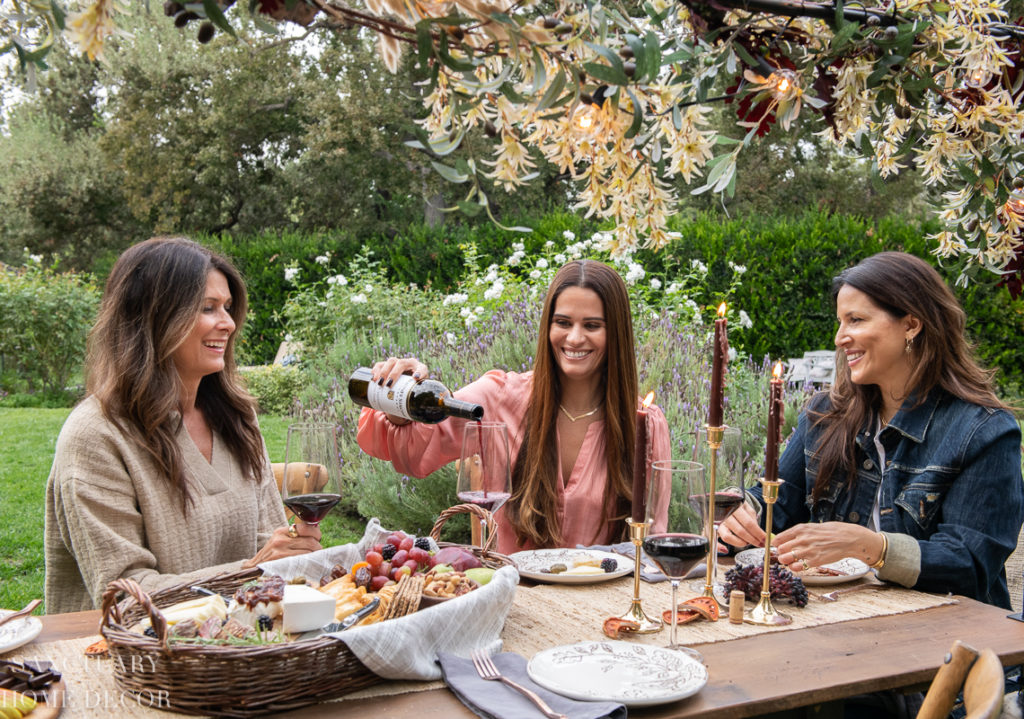 Most of all, cherish the time you have with friends. Evenings together, laughing and supporting each other are vital to our overall well being, so don't get too hung up on the details and know that whatever you plan will be beautiful. And remember, we are STRONGER TOGETHER!