How to Decorate a Bedroom With Neutral Colors
Soft grays, linen tones, and a few blue accents come together to create a beautiful sanctuary for our friends and family to enjoy when they visit. Today I'm sharing how to decorate a bedroom with neutral colors, and stay on budget, with the help of my friends at Lamps Plus.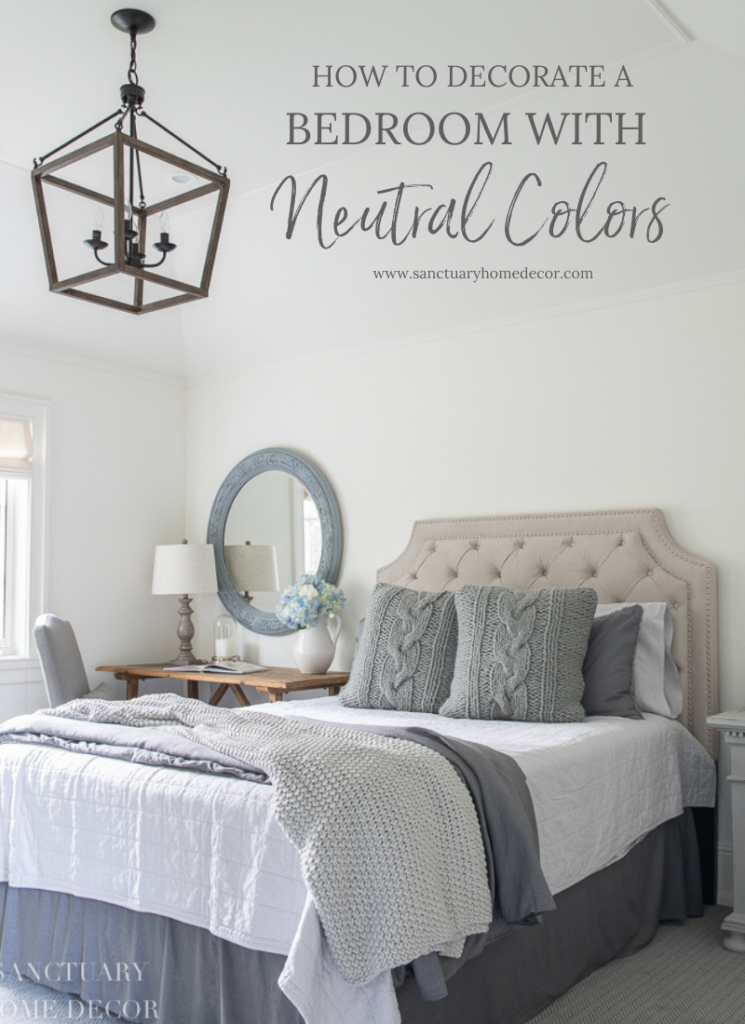 Two months ago, our middle daughter moved into her own home It was a bittersweet moment in our family, filled with pride for her accomplishments and independence and sadness that she would no longer be a daily fixture in our family home. When she moved, she took her bedroom furniture, leaving me with an empty room to decorate. I decided to create a guest bedroom that would be comfortable and beautiful for our friends and family when they came to stay.
I partnered with Lamps Plus to create this look but all opinions, ideas, and reviews are my own. This post contains affiliate links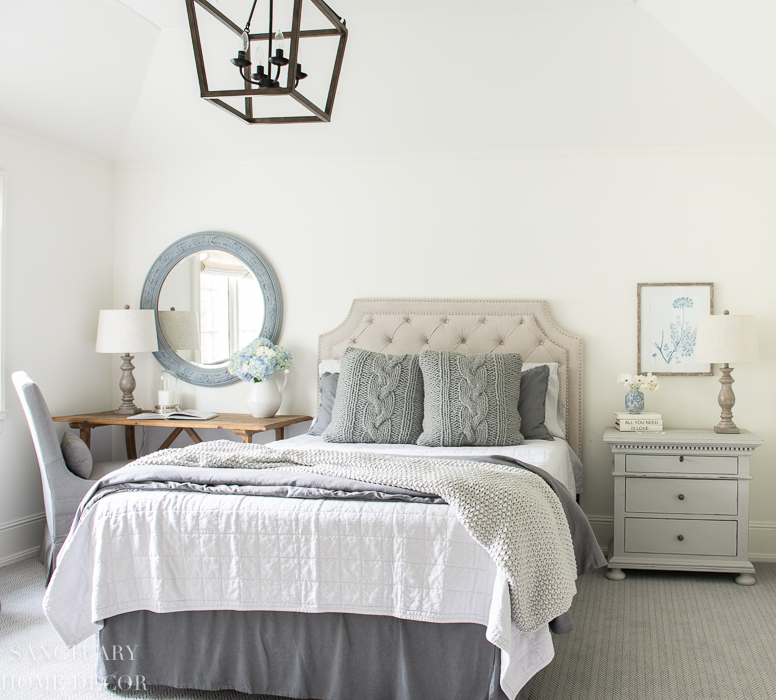 STEP 1: START WITH A NEUTRAL BASE
Wall and floor colors create the base color in any room, so in order to create a neutral bedroom, it helps to have the walls and floor be neutral tone.
I consider neutral tones to be anything from soft beige and linen to the whole spectrum of gray as well as varying wood tones in furniture.
The walls in my daughter's bedroom were already painted Benjamin Moore Swiss Coffee, so repainting was not a priority, but new carpeting was definitely on my list! The previous carpet was a very light color and honestly did not wear well, so I wanted to replace it with something that would not only wear better but would create a pretty base color for the neutral bedroom decor.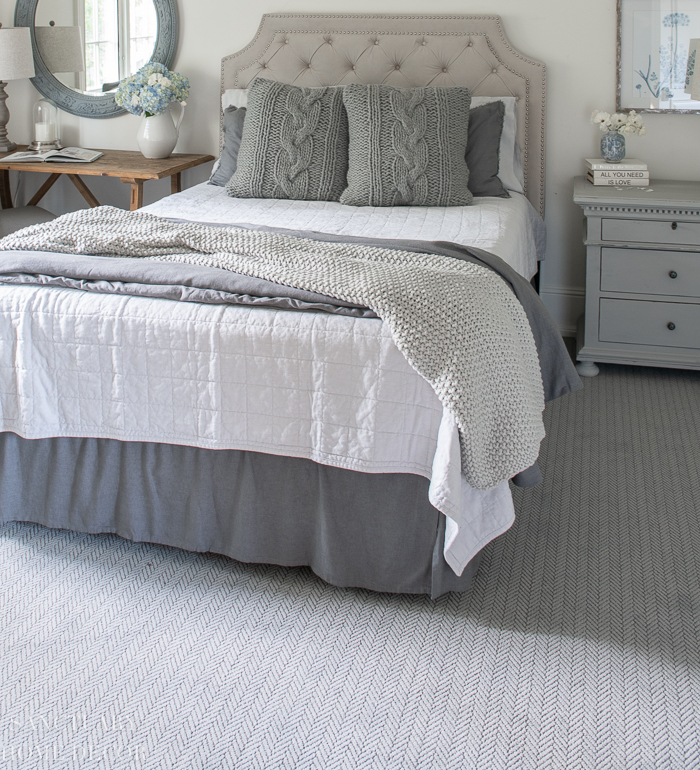 I always prefer area rugs to wall-to-wall carpet, but none of our secondary bedrooms have wood floors, so I set out to find a carpet that looked like a throw rug. I decided on a light gray carpet with a chevron pattern that I absolutely adore. This is not only the perfect base color for a neutral bedroom but also has the feel and look of a throw rug.
If changing the carpet in a room you are decorating is not an option, consider using a neutral-colored throw rug, over the existing flooring to create a large neutral base.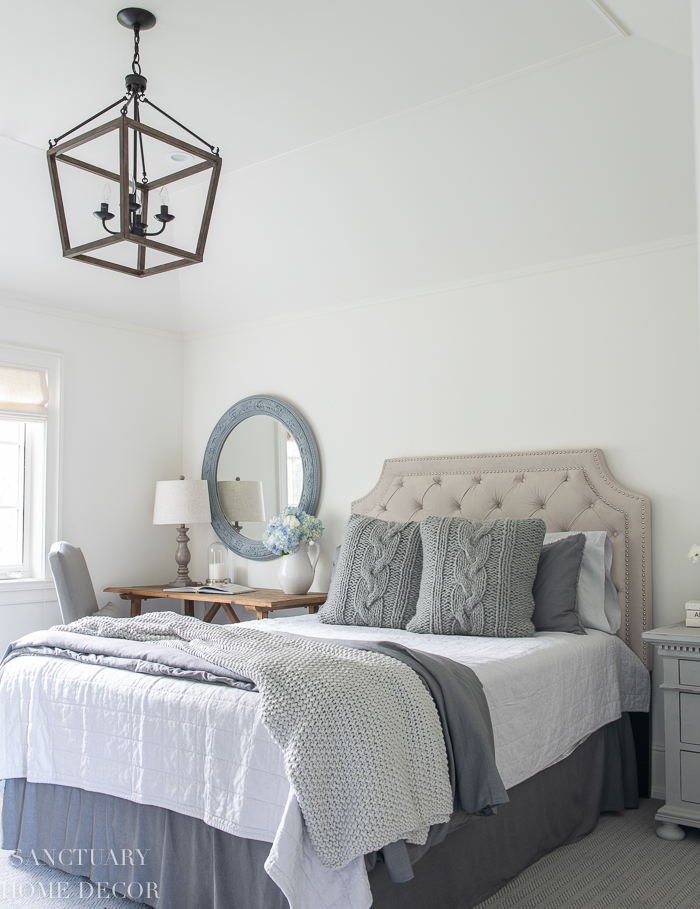 STEP 2: CHOOSE A NEUTRAL BED AND BEDDING
I have to be honest, I didn't know that Lamps Plus sold furniture, which is why I was so excited to find such a beautiful selection of furniture on their website! While searching the Lamps Plus website for lighting, I discovered so many gorgeous, budget-friendly furniture options to choose from.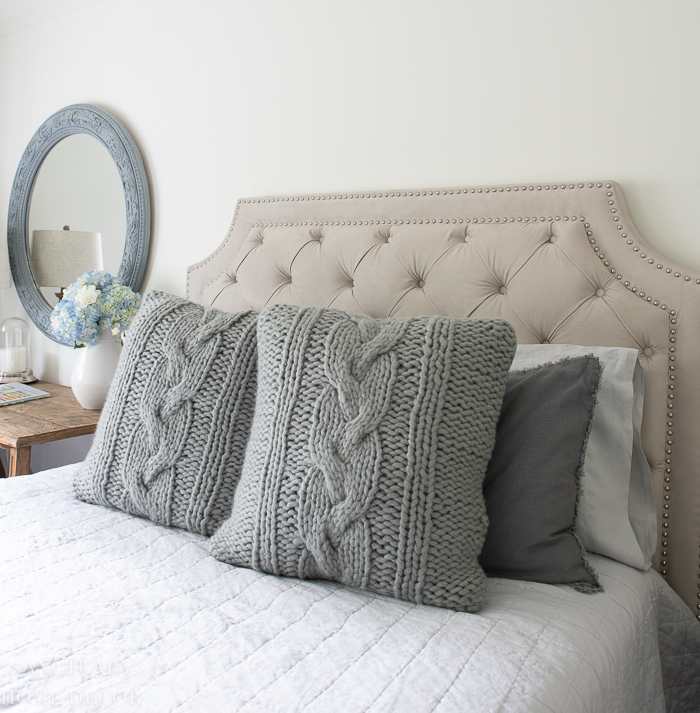 This upholstered headboard immediately caught my attention, not just because of the soft neutral color but because of the details and the affordable price. I love the tufted center surrounded by the silver, nailhead detail. It was exactly what I was looking for in a bed and set the perfect stage for the layered gray bedding I had already chosen.
You can shop this headboard HERE.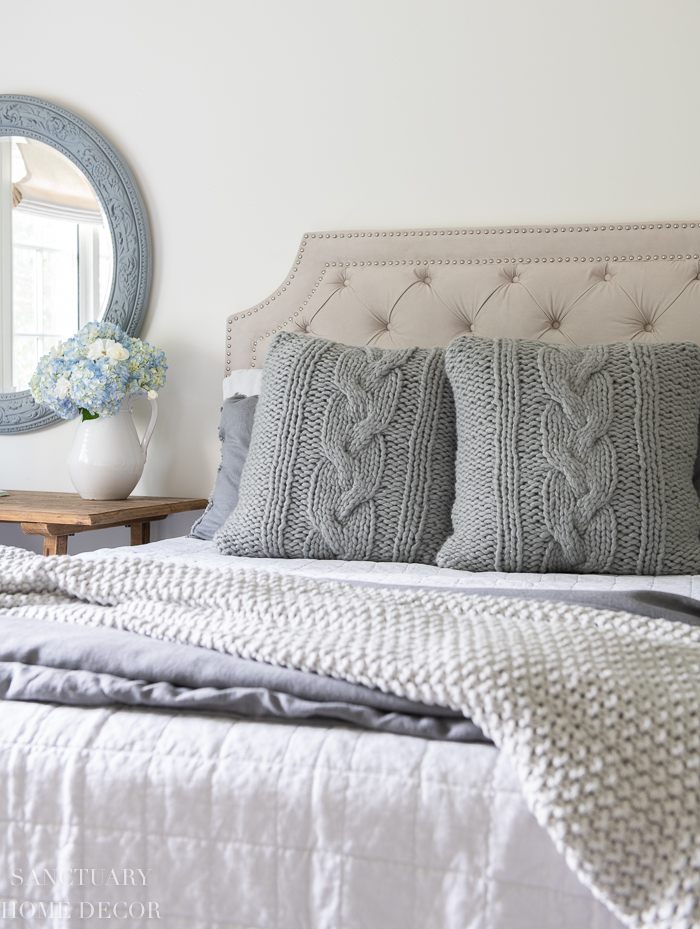 The gorgeous headboard turned out to be the perfect backdrop for layers of bedding in shades of gray from the lightest tone to the deepest charcoal. This bedding was also incredibly affordable and of great quality.
I shared all of the details about my new favorite bedding on a recent blog post that you can see HERE.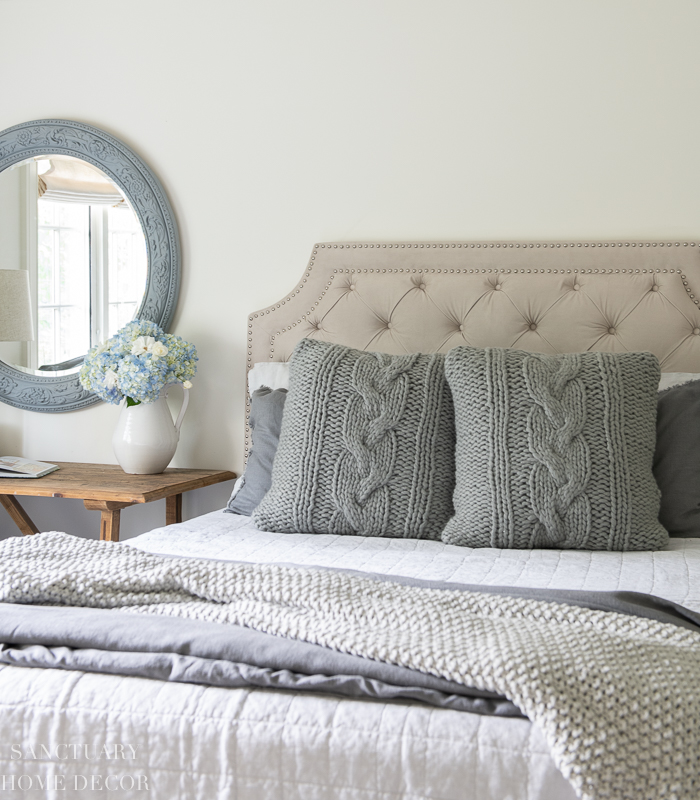 You can also shop this bedding by tapping the photos below.


STEP 3: ADD NEUTRAL FURNITURE PIECES
As I said, I believe a neutral color palette can include shades of white, beige, gray and wood tones, so in our guest room, I mixed all of these shades and was able to create a neutral bedroom without it being completely monochromatic.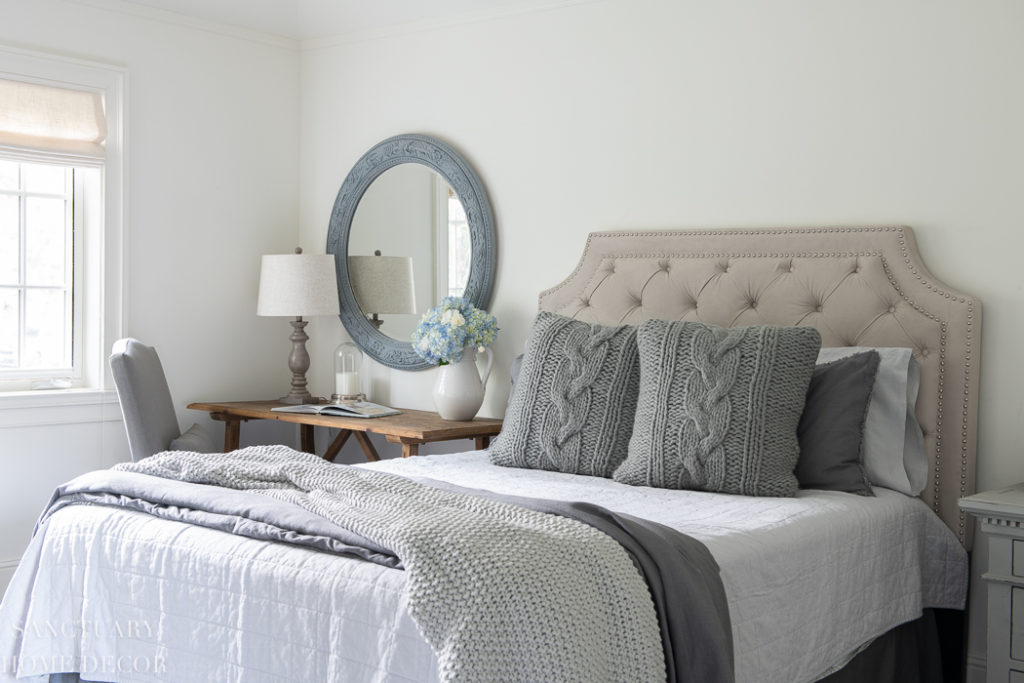 Keeping in mind the limited budget I had for this bedroom makeover, I decided to "shop my house" for furniture that might work to create the neutral look I wanted. I often move furniture from room to room to reinvent spaces, and I knew I wanted a desk in this room, so I decided to use a table that has had many previous uses in our home.While this piece had most recently been in my studio as an extra work table, it was the perfect size to tuck in next to the bed and double as a desk.
What I did not have, was a great chair for this desk, so I again searched Lamps Plus and found a fantastic upholstered chair in the perfect slate gray color! This is described as a dining chair on their site, but I think it works perfectly as a desk chair. It even has wheels so it easily rolls under the desk.
You can shop this chair HERE.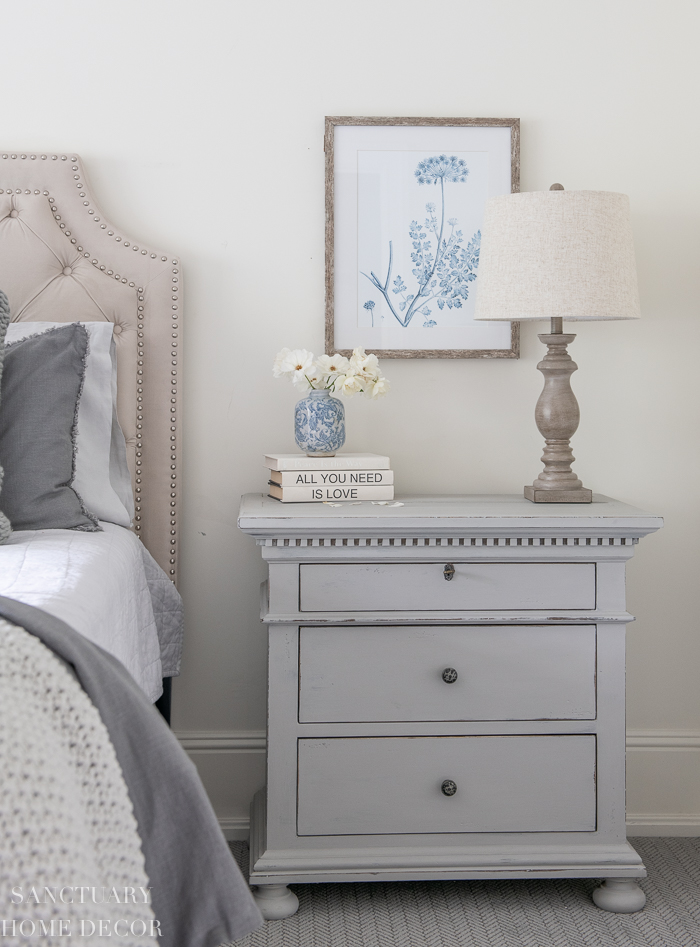 On the opposite side of the bed, I decided to use a nightstand that I had recently replaced in our master bedroom. The problem was that it was a very deep brown color. My solution was to paint it with my favorite chalk paint. I used Annie Sloan-Paris Gray and in just a couple of hours had a completely refinished nightstand!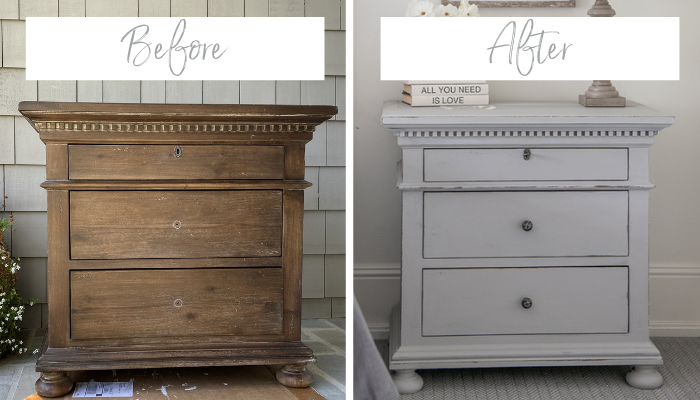 The final piece of furniture I added was a dresser that had been on our staircase landing since we moved into the house. I love this dresser and had wanted to use it in a bedroom for quite some time.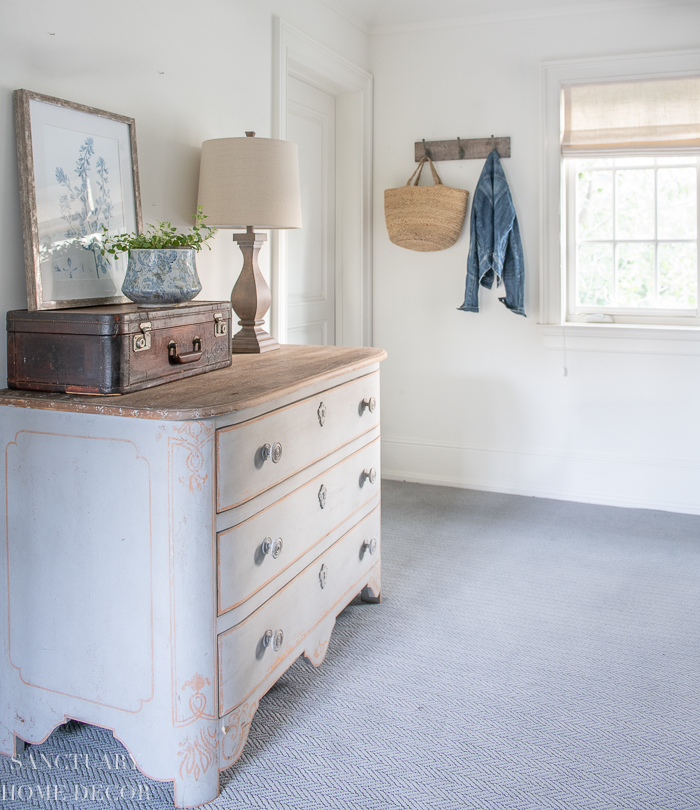 The color is the perfect combination of the wood tone on the desk and the newly painted nightstand.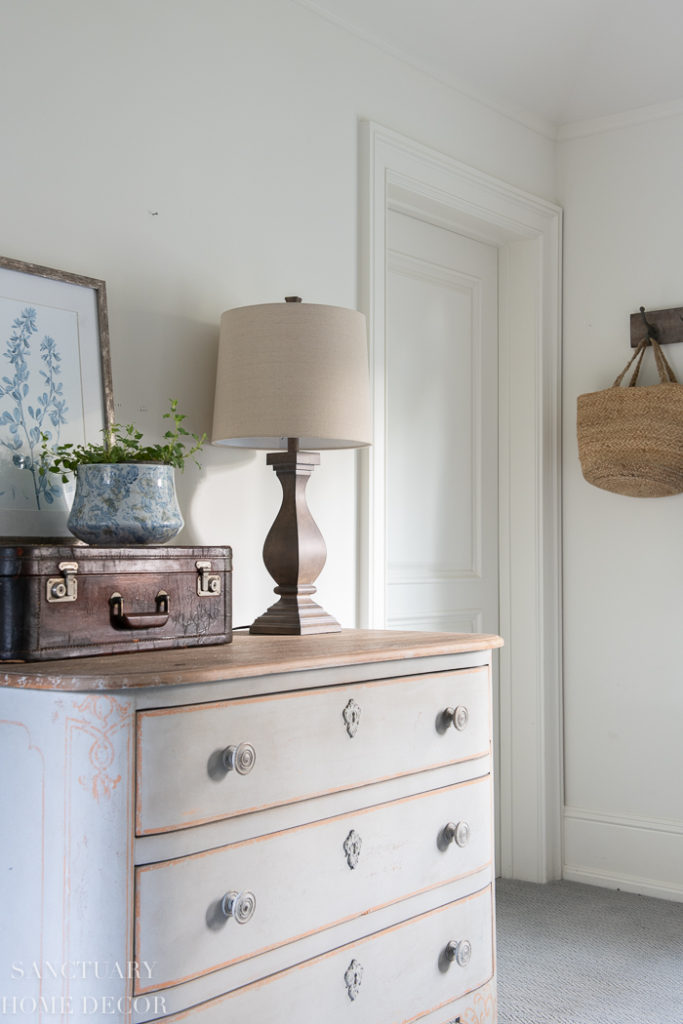 STEP 4: ADD LIGHTING AND ACCESSORIES
While I was thrilled with the way my bedroom with neutral colors was progressing, I was most excited to add the beautiful lighting and accessories I had chosen!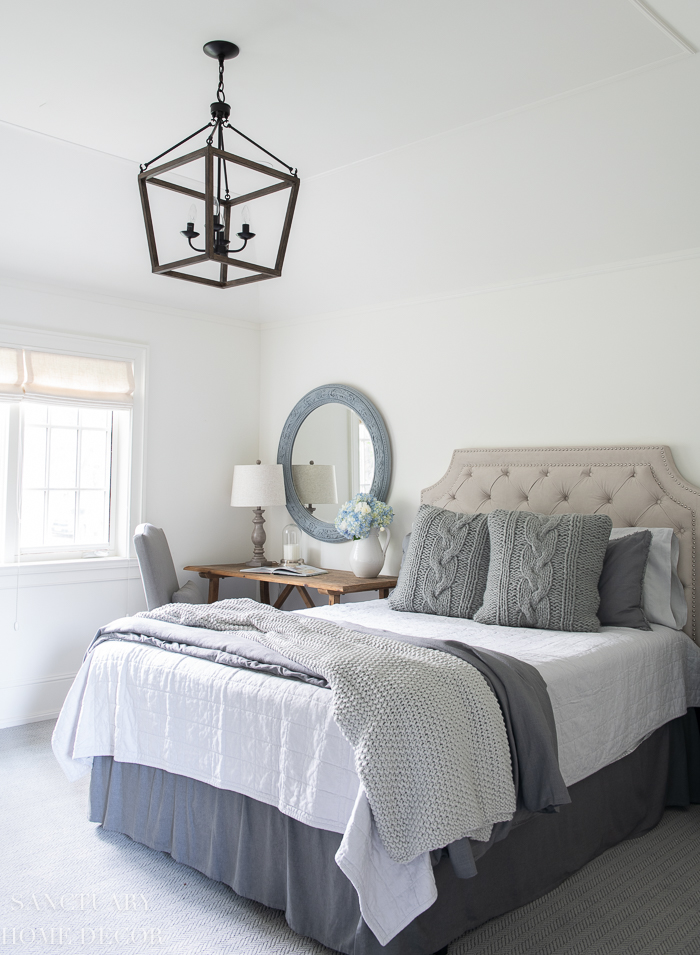 I love a pendant fixture in a bedroom but felt that the one that had been in my daughter's bedroom was too feminine for a guest bedroom, so I began looking for something with a modern farmhouse feel.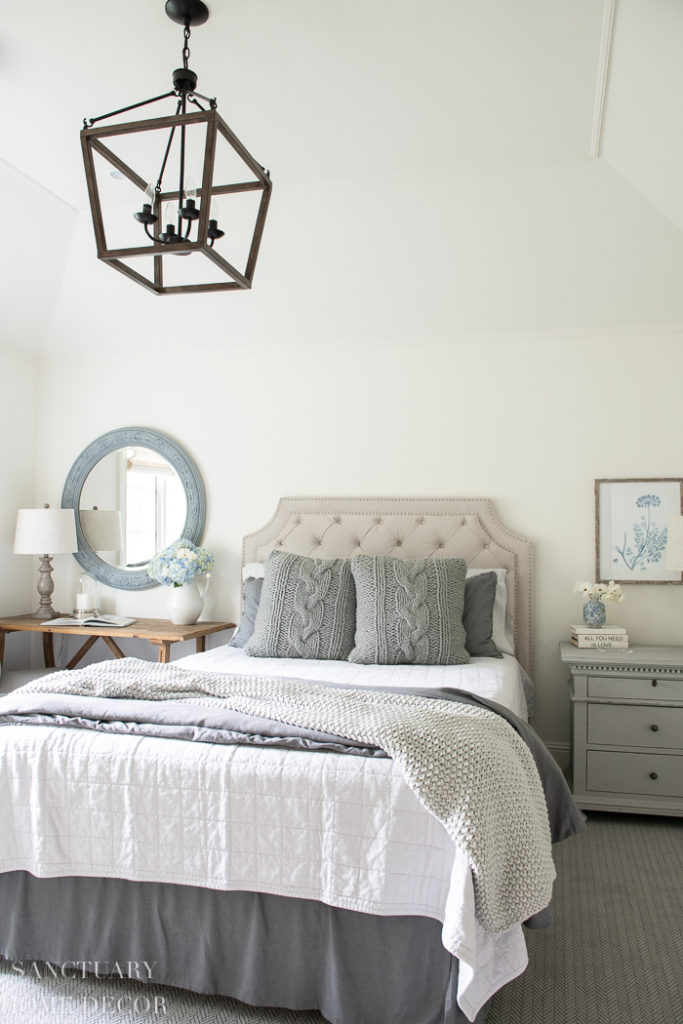 I knew Lamps Plus had a great selection of light fixtures and lamps so I was not surprised to find the perfect pendant fixture as the centerpiece for this neutral bedroom. I love the warmth this adds to the room while not being too busy or feminine.
You can shop this pendant fixture HERE.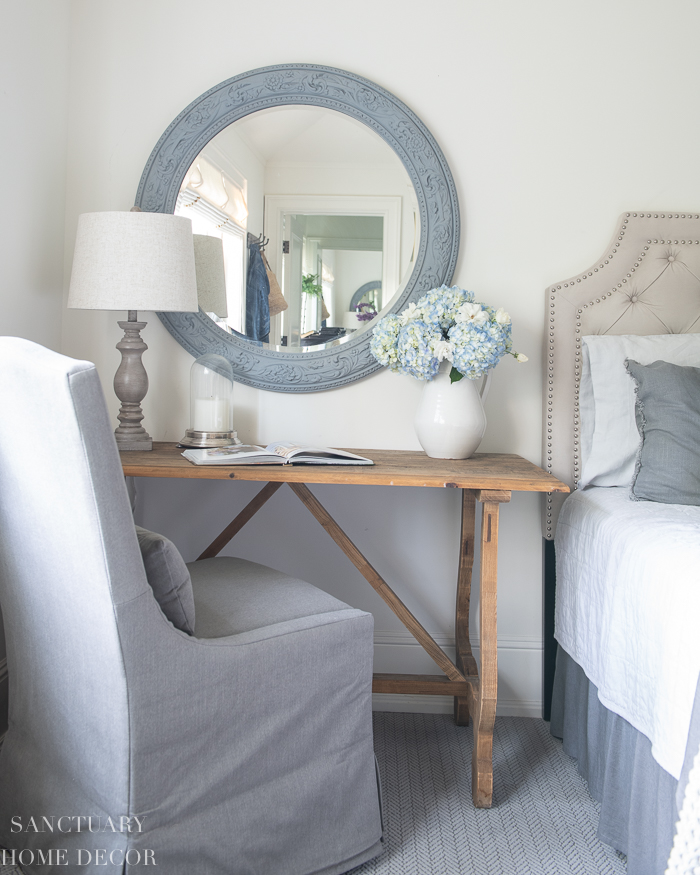 I also added a set of table lamps from Lamps Plus on the desk and nightstand. The wood tone on the base of these lamps coordinates perfectly with the headboard and helps to carry the neutral color throughout the bedroom and the bonus is they were SUPER affordable!.
You can shop these table lamps HERE.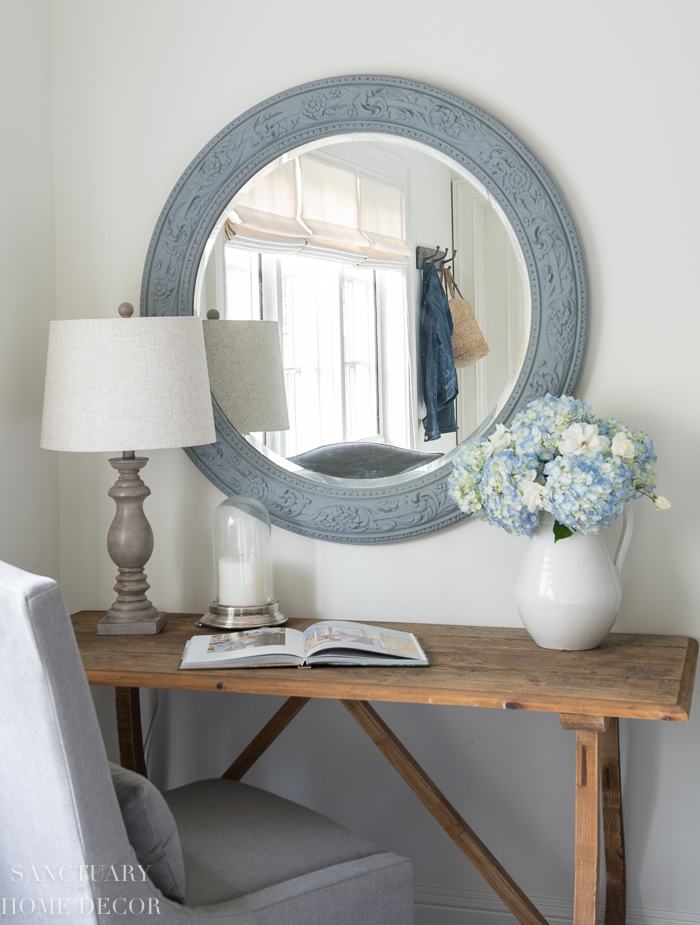 The final touches were a round mirror, that I found at a local vintage shop, and hung above the desk, and some smaller accessories and artwork with just a touch of blue and white to add a slight pop of color.
And there you have it! My 4 steps for how to decorate a bedroom with neutral colors. I hope this gives you some ideas about how you can achieve a similar look that is both affordable and beautiful. I encourage you to look around your house for pieces of furniture you can repurpose or paint, take a look at my guide to affordable bedding and visit Lamps Plus for beautiful lighting and furniture options.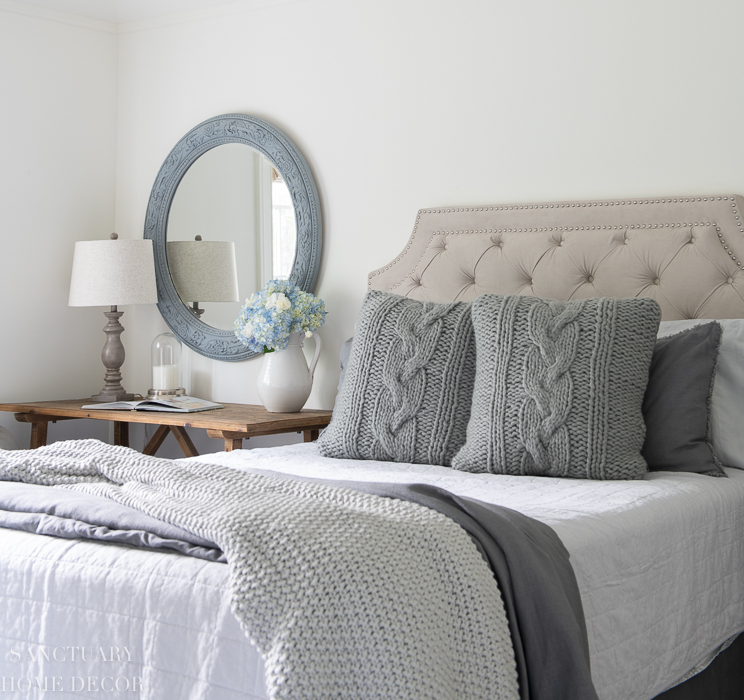 A neutral and beautiful bedroom is easy to achieve in just a few simple steps!
Have a great day!