An Easy and Budget-Friendly Outdoor Room Makeover
Hi Friends! We are in full outdoor mode around here as we freshen up for the upcoming season and begin to enjoy the yard and garden in the warmer temperatures. As I was sweeping off the porches and freshening up the garden, I realized that our patio furniture was looking terribly tattered and worn and truly needed to be replaced. You can see my previous patio furniture by clicking HERE. The problem was, spending thousands on new patio furniture simply wasn't in the budget. My hope was to find an easy and budget-friendly way to makeover our outdoor room and create the space I had dreamed about without breaking the bank!
The solution to my outdoor room woes came when I went to Ikea one day and found the most beautiful couches at seriously budget-friendly prices. I loved the traditional style (which suits my overall vibe) and yet the slipcover fabric was incredibly durable and washable which is a requirement with our three dogs roaming the yard and occasionally using the sofas as beds. The color was also a perfect compliment to the color palette we have inside the house. The best part was they were delivered in less than a week and I used a local service to put them together. Yay!!
Here is a link to my new budget-friendly couches.
Note: These couches come in a box and need to be assembled.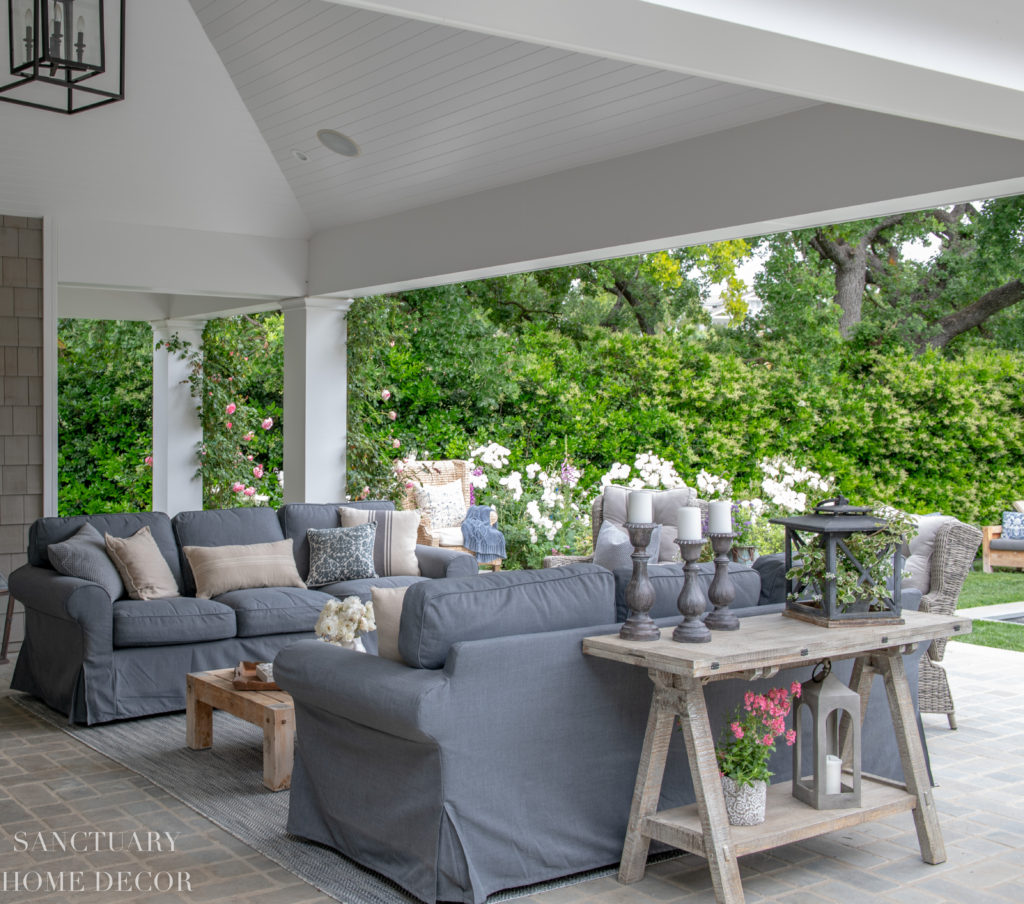 Since my goal was to create an outdoor room that felt like an extension of our home, rather than a patio, I decided to add a rug to this space. I had gotten an outdoor rug once before and was disappointed with how it wore, so I was hesitant to try again, but I found a great solution this time.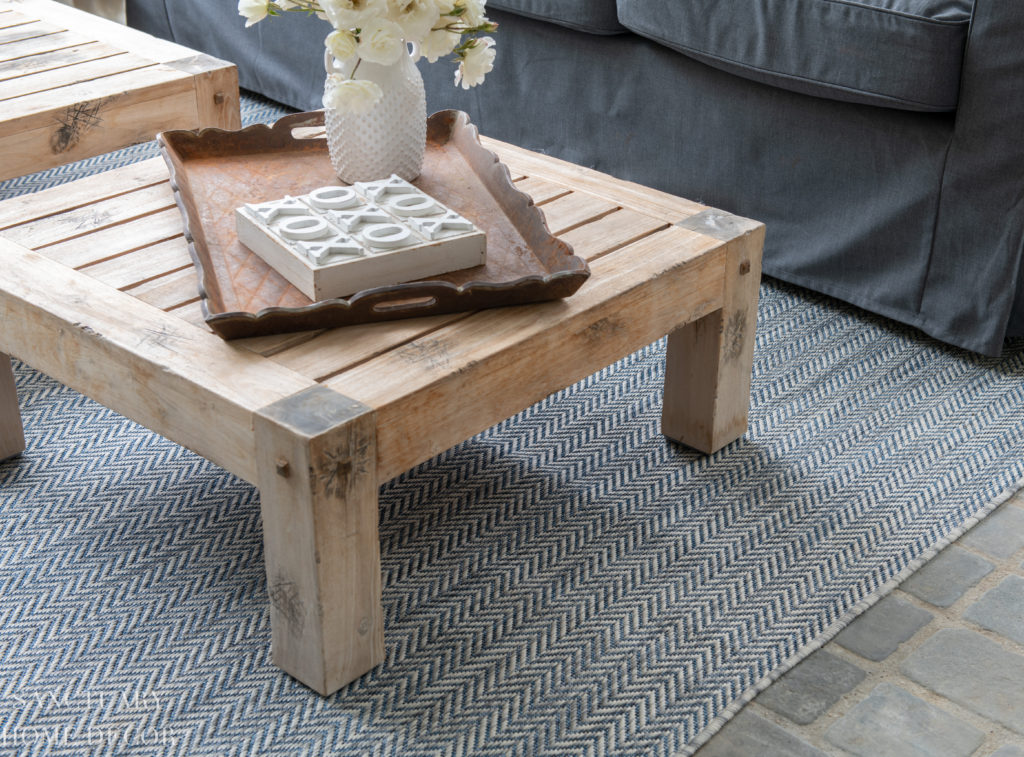 While the rug I got looks like an indoor rug it is truly designed for outdoor spaces and can be hosed off or easily cleaned when it gets dirty. Yay! And the best part is it is an absolute bargain! I used a 9×12 size for this space and the price of this rug beat anything else I had seen.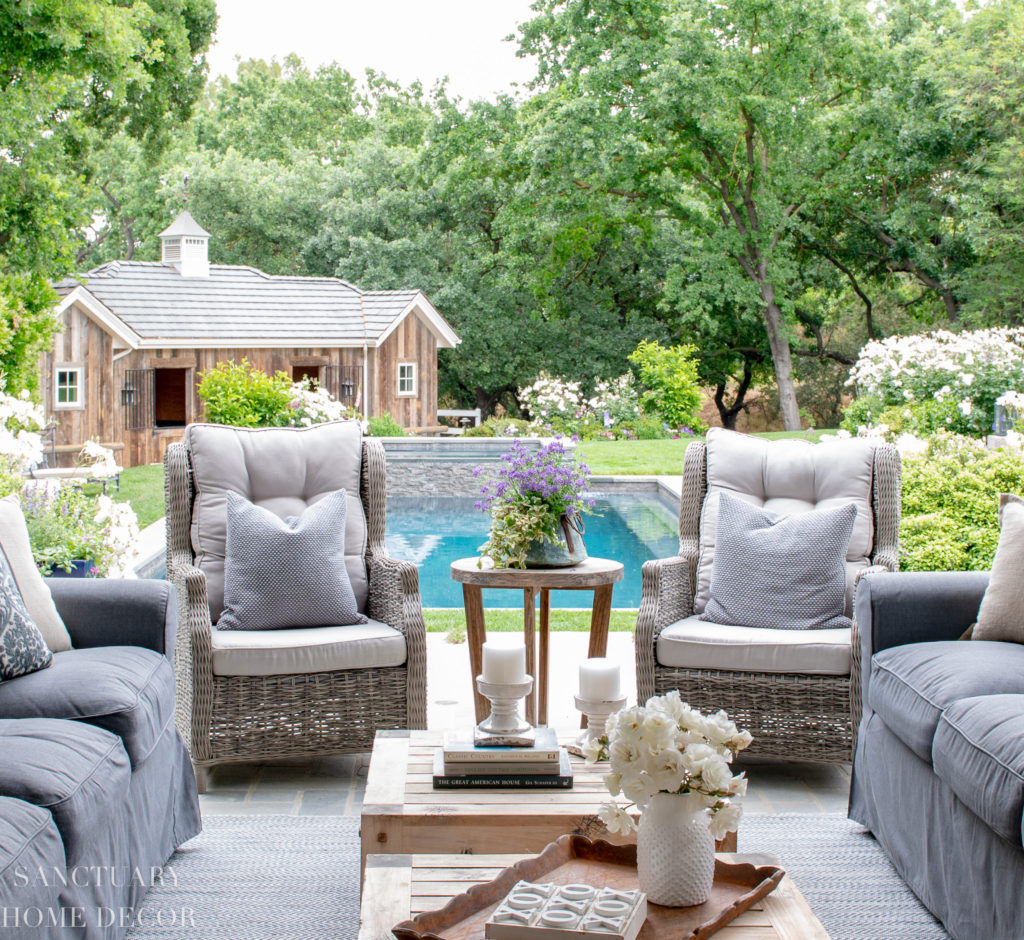 With my budget-friendly goal in mind, I decided to use some additional outdoor furniture pieces we already owned to finish off this space. I had gotten two reclining wicker chairs from my neighbor last year that had never really found a home among our other furniture, so I was excited when I tried them with my new couches and rug and they fit in perfectly! I added a couple of throw pillows that I already owned and they fit right in. (I actually own FAR too many throw pillows, so I am happy to use them everywhere!)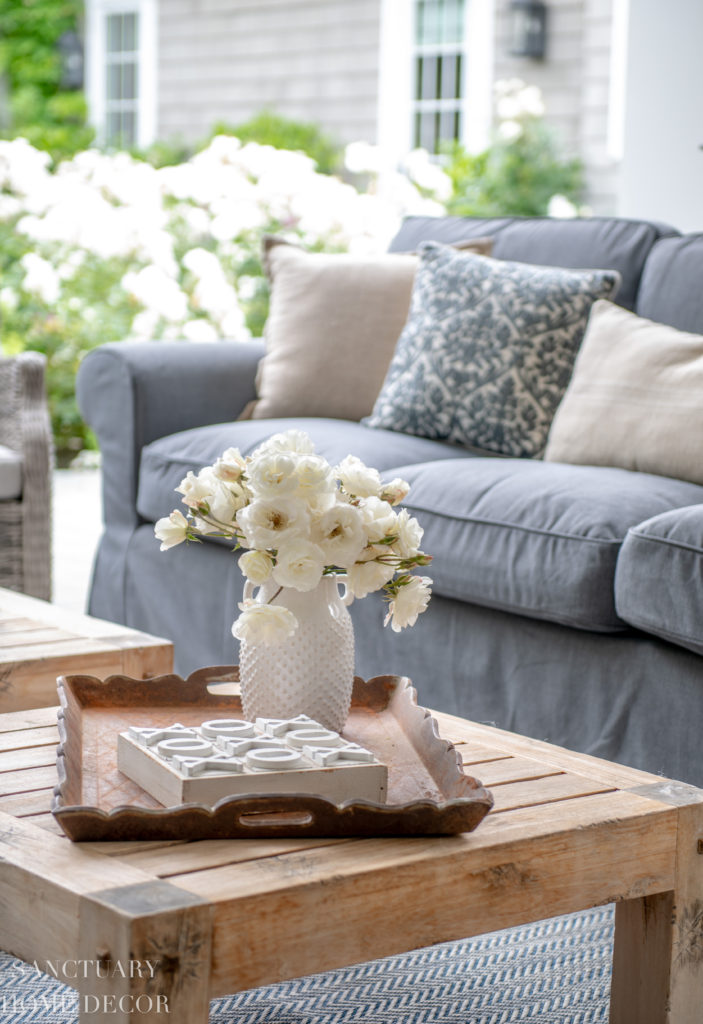 I also reused the coffee tables from my previous furniture set, because they are neutral in color and blend well with my outdoor dining chairs.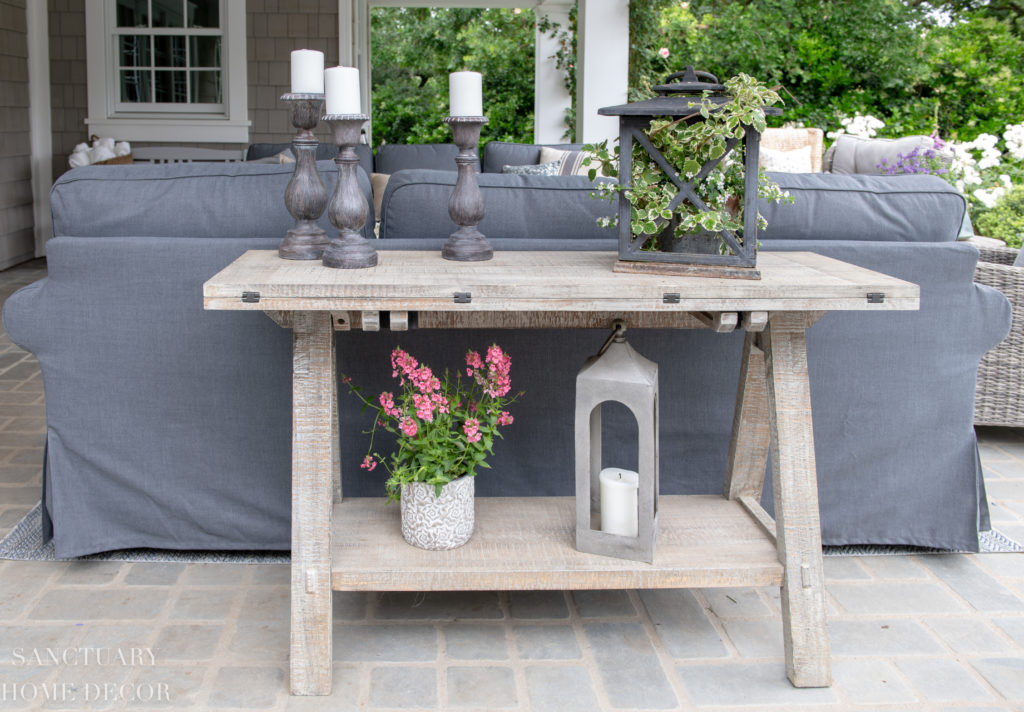 And luckily, the table that sat behind my previous sofa still worked with this furniture. I love this table because it opens up and can become a second dining table if needed.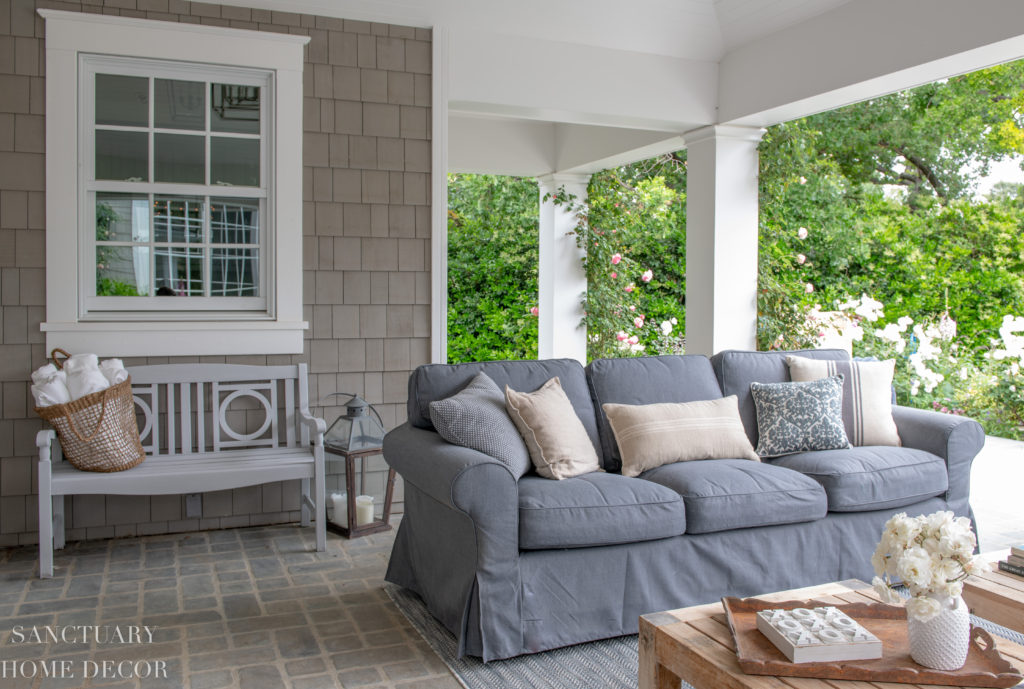 The final element that I added was a simple wooden bench that I painted gray with my favorite chalk paint. This bench had been knocking around our yard for years and was a very worn black. Since I wanted a fresh new look, I gave it a quick coat of paint and it suddenly fit right in on my new outdoor room!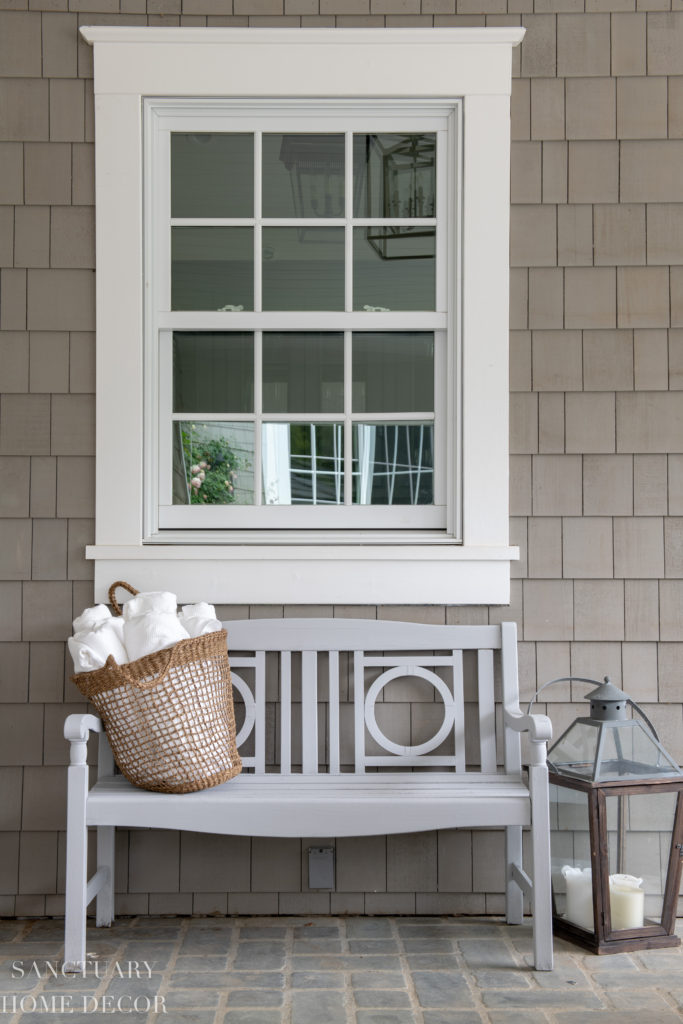 And of course, those lanterns that I use EVERYWHERE found a place on the patio!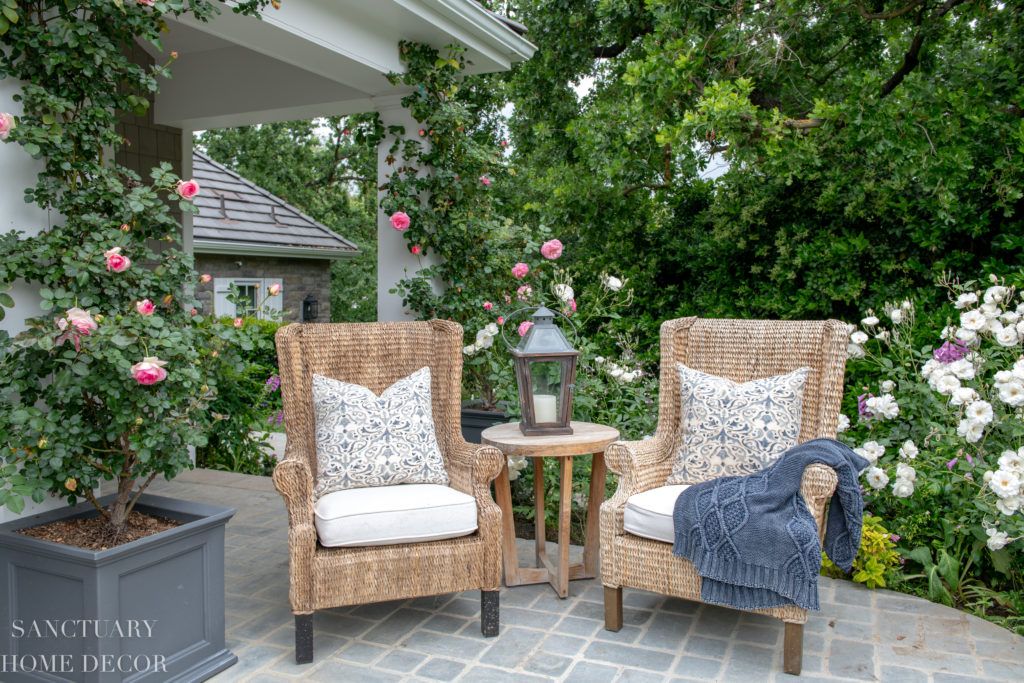 My favorite seagrass chairs found a new home in a pretty little nook near the climbing roses, and I can easily pull them under the patio cover if it rains.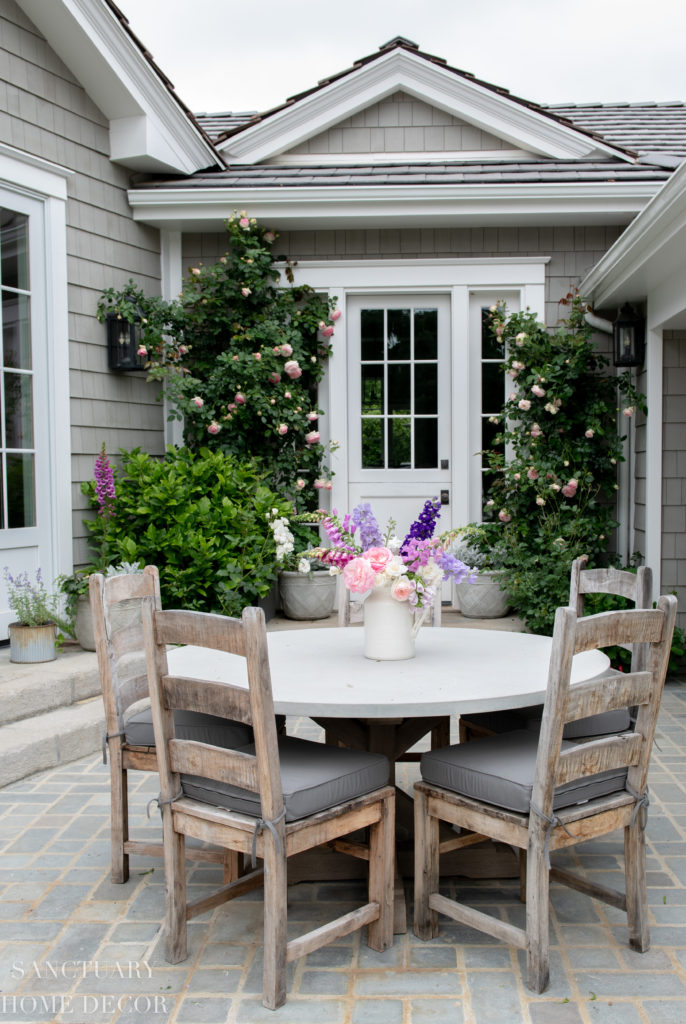 Our outdoor dining table sits just outside the undercover patio and blends really well with my new furniture.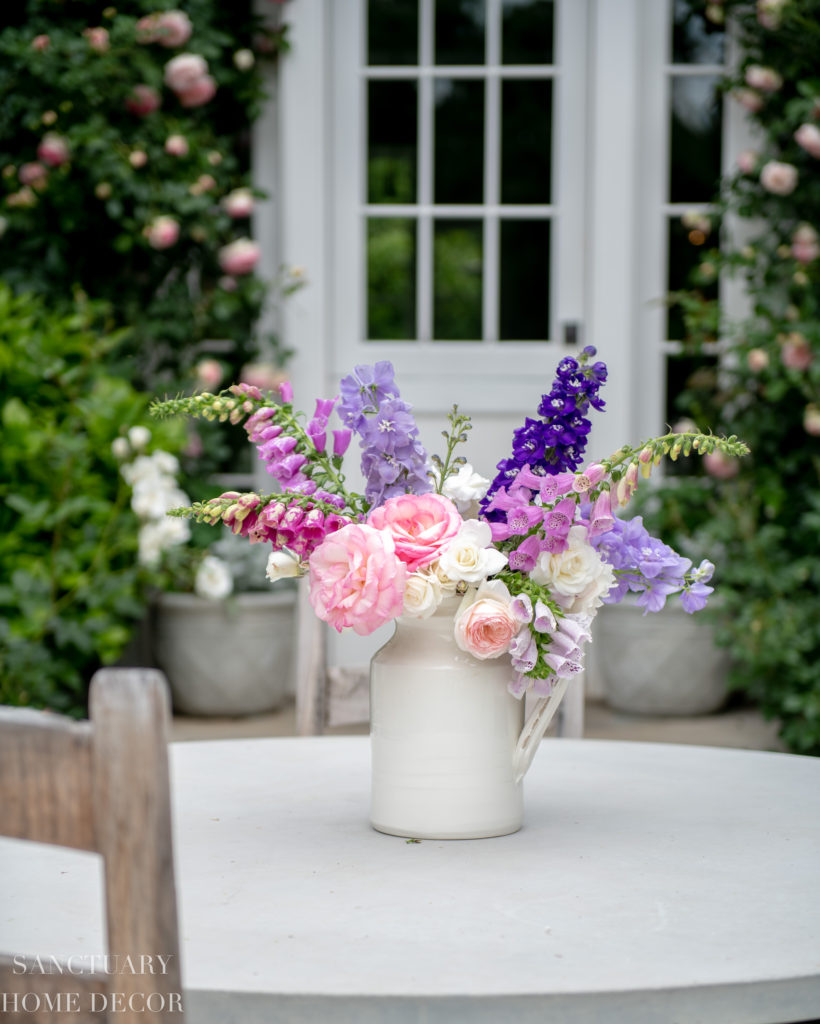 Maybe best of all, my garden is in full bloom right now, so I have plenty of flowers to use throughout the house and yard!
I am really thrilled with how my outdoor room makeover turned out. It was great to add just a couple of new pieces and blend them with my existing furniture to create a whole new look, It reminded me that a lot can be done with a small budget and a little creativity! I hope this inspires you to consider an easy and budget-friendly makeover in your home!