How to Set a Rustic Fall Table
It has been an idyllic week at our ranch in Montana with the fall colors on full display and the weather remaining mild, at least for the moment. All of this beauty has inspired me to use what I could find in the woods surrounding the ranch to decorate both indoors and out. I found it so easy to create a beautiful fall look in just minutes using what was available in nature, so today I wanted to show you how to set a rustic fall table in just minutes.
The base I used for this table setting was a basic light gray table runner flanked by willow placemats topped with galvanized metal chargers. I had all of these pieces on hand and, in fact, I often use this exact base for spring and summer tablescapes and just use a different centerpiece.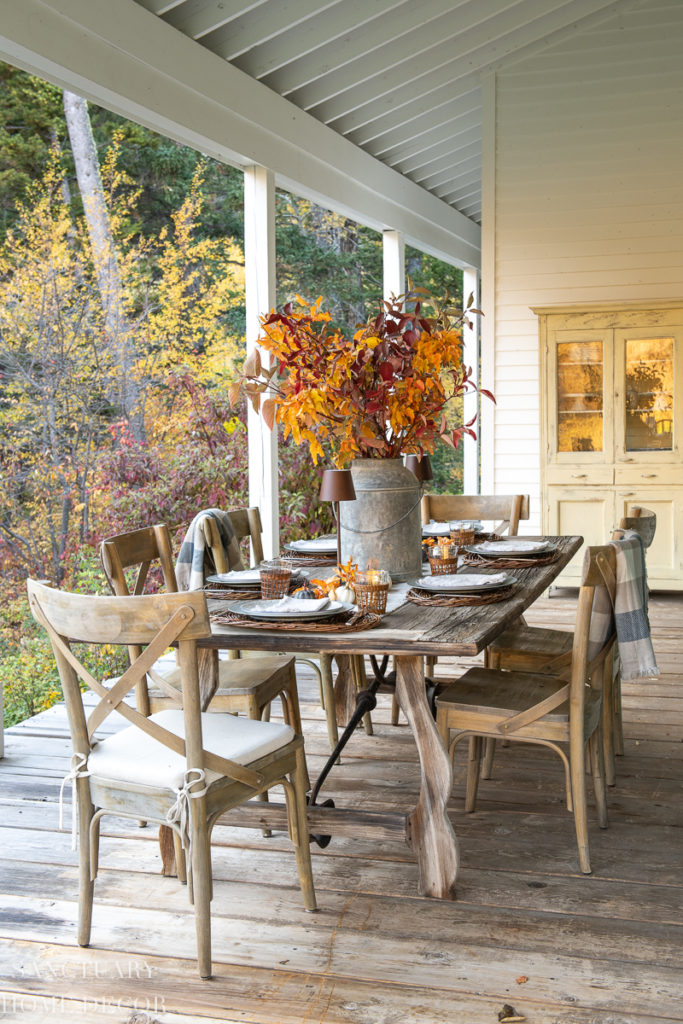 I topped the chargers with a pretty gray and white patterned plate and added a simple, natural linen napkin.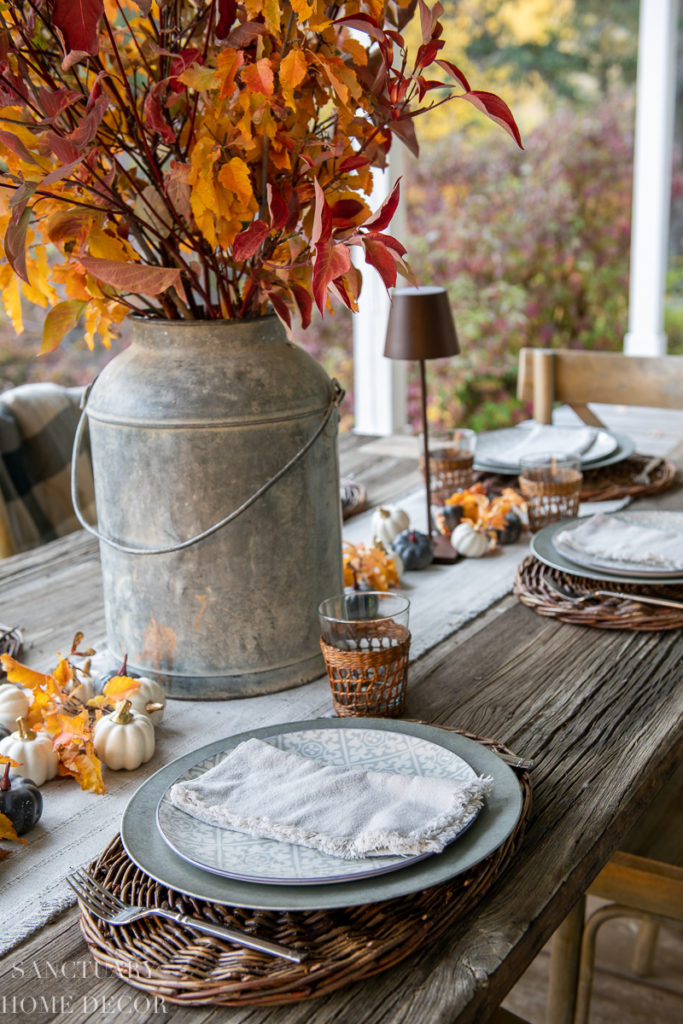 To finish the look, I chose a rattan wrapped glass that looks equally at home in a summer or fall table setting.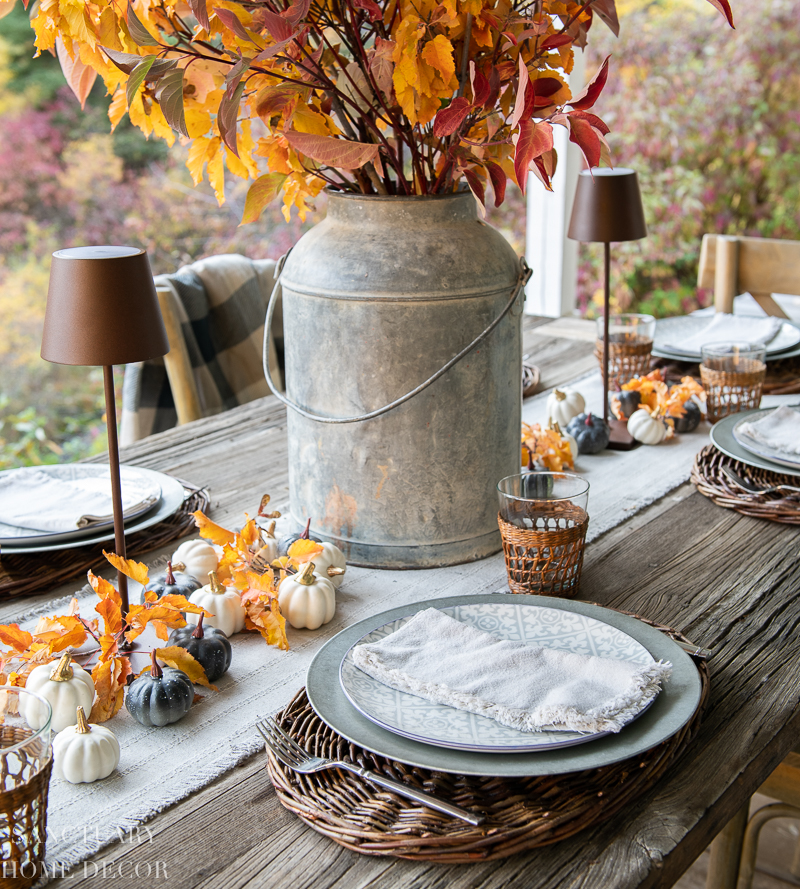 For the centerpiece, I foraged in the woods around the ranch and chose some of the brightest yellow and dark red branches that were on display everywhere. If you don't have live branches nearby, there are some wonderful and realistic faux branches available that look equally beautiful!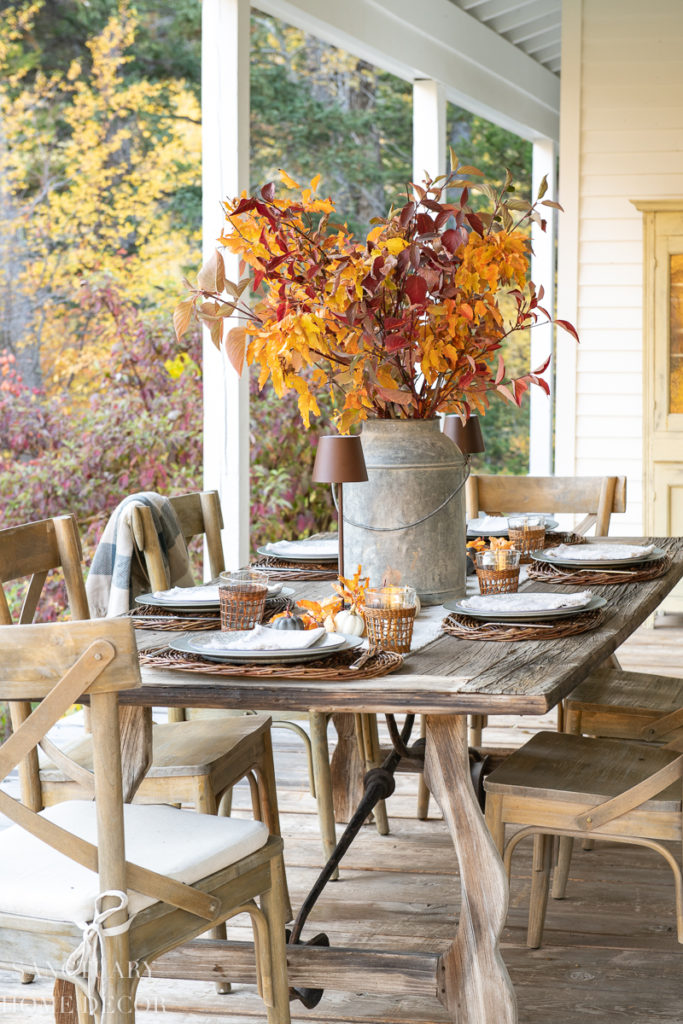 I arranged them in a vintage milk bucket with a water-tight vase placed inside to hold the water. This is a technique I use often when I have a container I love that is not water-tight.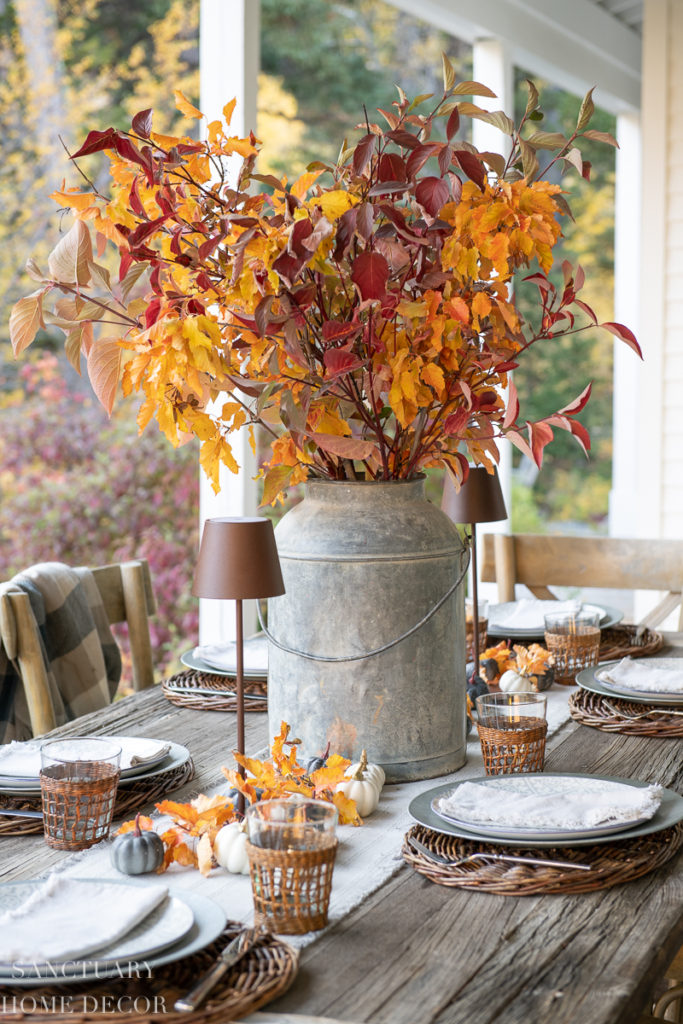 I flanked the milk bucket with my favorite Poldina Pro rechargeable, cordless lamps. I discovered these last summer and don't know how I lived without them before. They add the perfect amount of light to an outdoor table!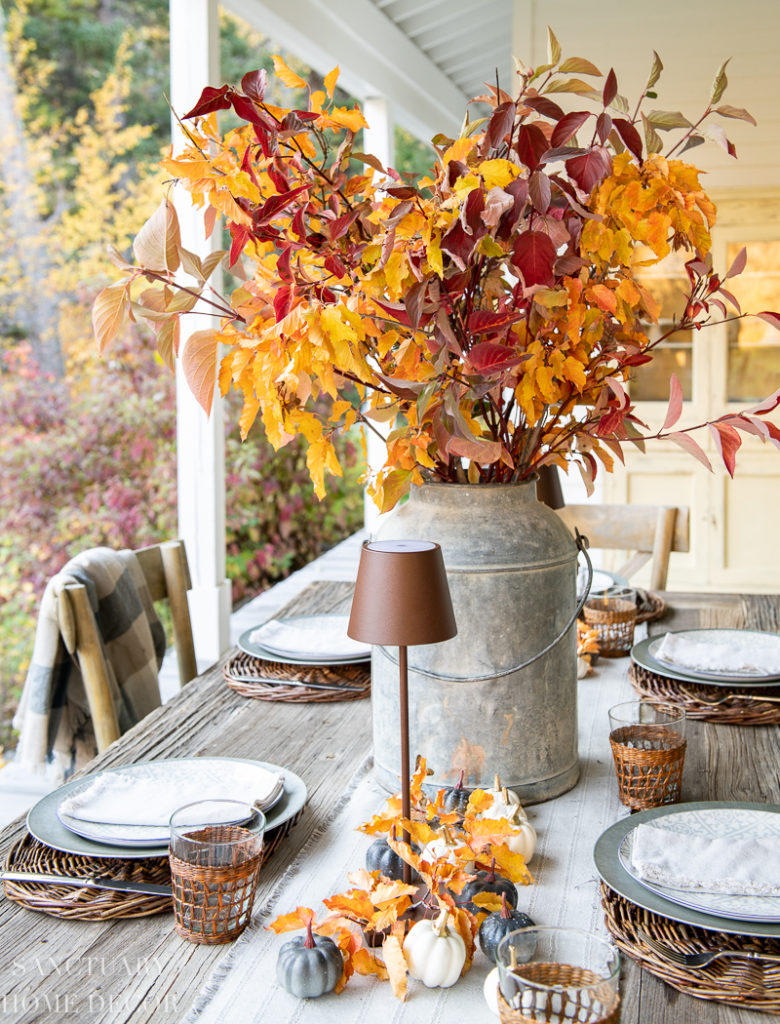 I also added a few stray fall leaves and some mini faux pumpkins along the runner for an extra pop of fall color.
This table only took me 5 minutes to put together, using only pieces I already own.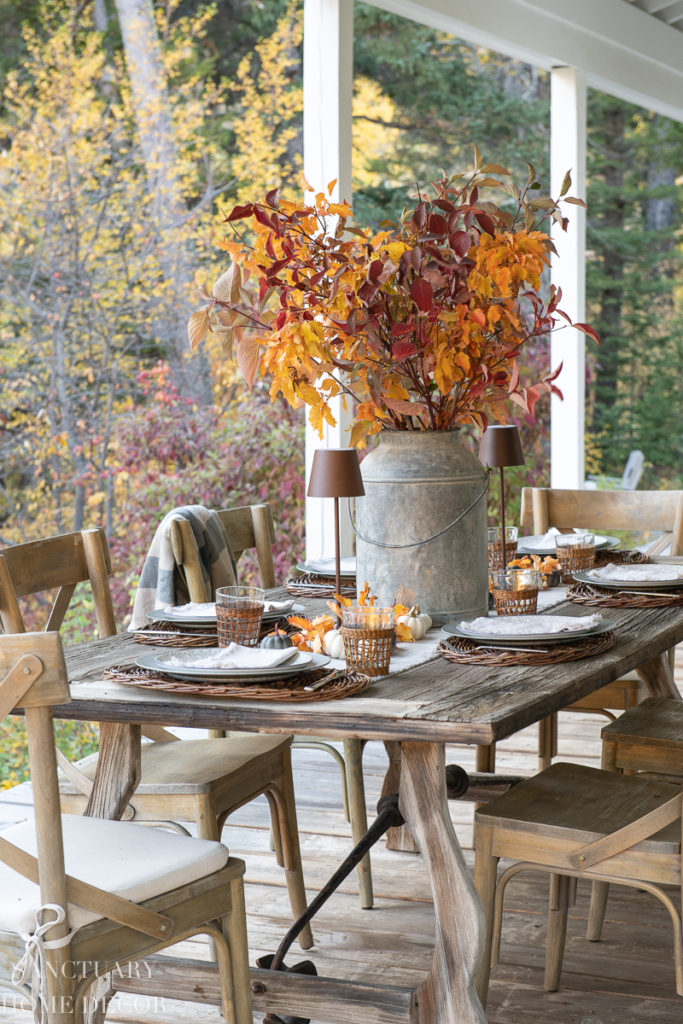 I love the simplicity of this table and the warm rustic feel it evokes in this season.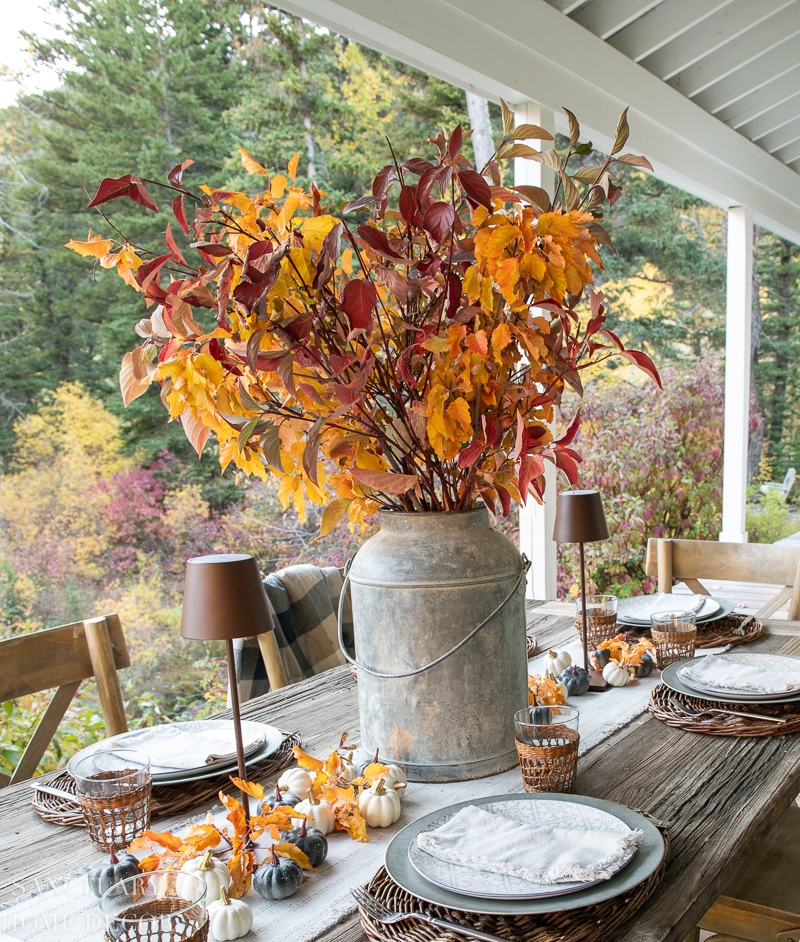 I hope this gives you some ideas about how to set a simple fall table using foraged fall branches and basic table settings.
Check back for more fall inspiration coming over the next couple weeks. Thanks for stopping by and have a beautiful day!