How to Decorate With Topiaries
Hi Friends! I was scrolling through Pinterest recently and came across a photo that stopped me in my tracks. Have you guys ever experienced that? Something about it just speaks to you, so you stop and study every detail. It may not look anything like your home or even have relevance to you current style, but you LOVE it!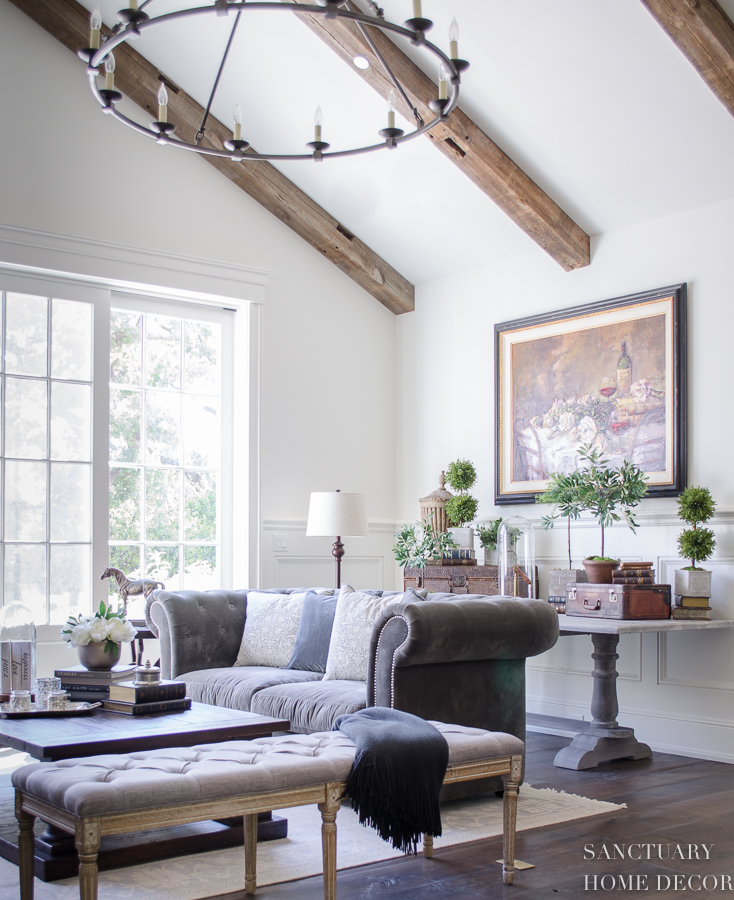 That's what happened when I saw this photo of Tory Burch's South Hampton home. I was so taken with the collection of topiaries in her entry, that even after I had moved on, I was still thinking about it. I have always loved topiaries, but as I've shared in the past, I have a bit of a black thumb, so I have never had much luck with live plants.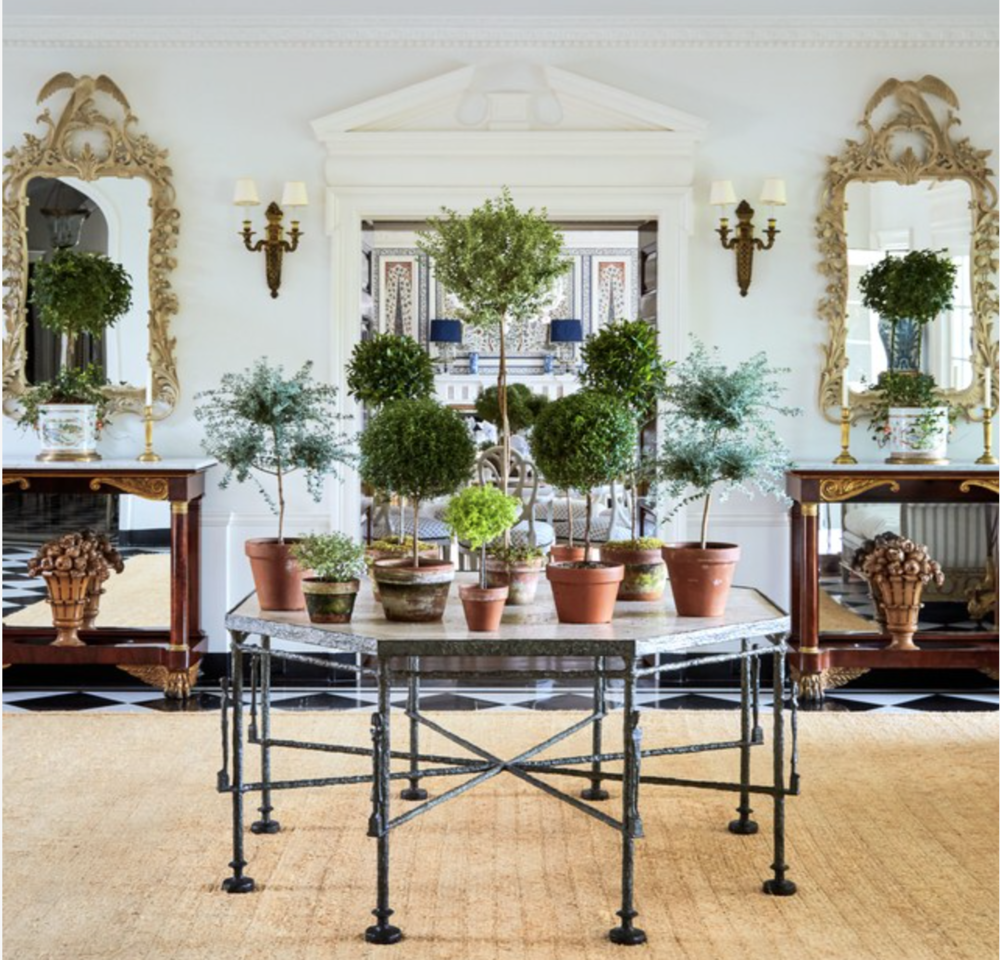 See the rest of this home by clicking [HERE]
I have a large table behind the couch in my living room that seemed like the perfect place to add topiaries for Spring, so I decided I wanted to try to recreate this look in my own style. I set about looking for some faux plants (remember the black thumb thing!) to get the look I wanted.
It turns out, finding good topiaries is not all that easy. After a few online orders and a trip to two to my favorite home decor shops, I finally had a small collection.
I had two tea leaves, two olives, one myrtle and another non topiary plant.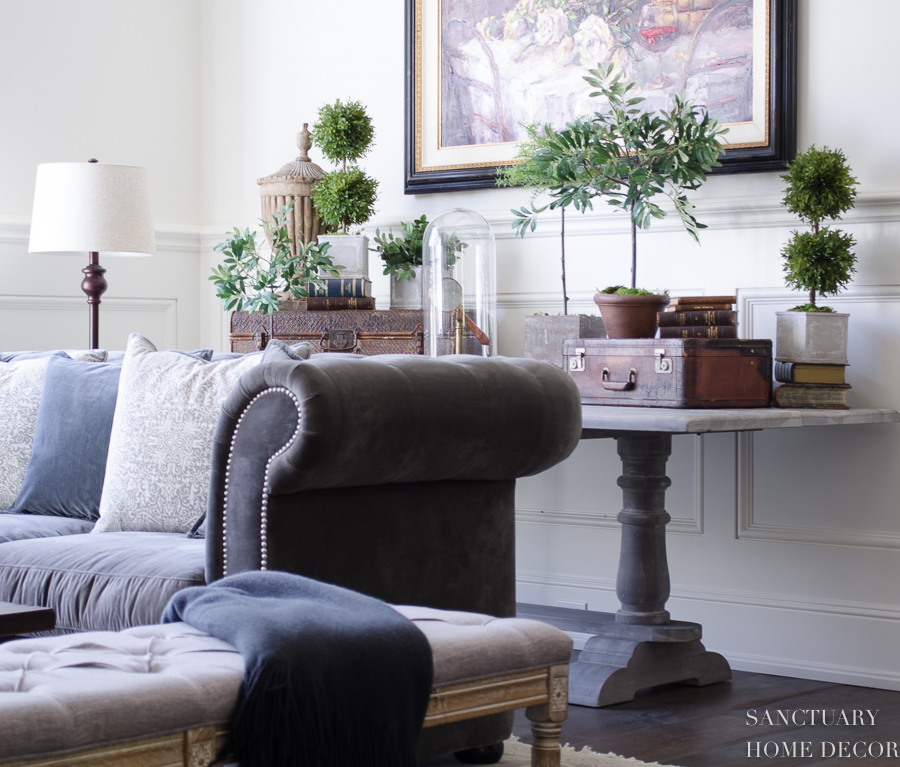 Here are the 3 simple steps I used to decorate this table.

While I really liked the simplicity of several clay pots arranged symmetrically on a flat surface, that would not have looked right in our living room. I wanted to create a layered look using a couple of different elements, so I grabbed a couple of my favorite vintage suitcases and a collection of vintage books.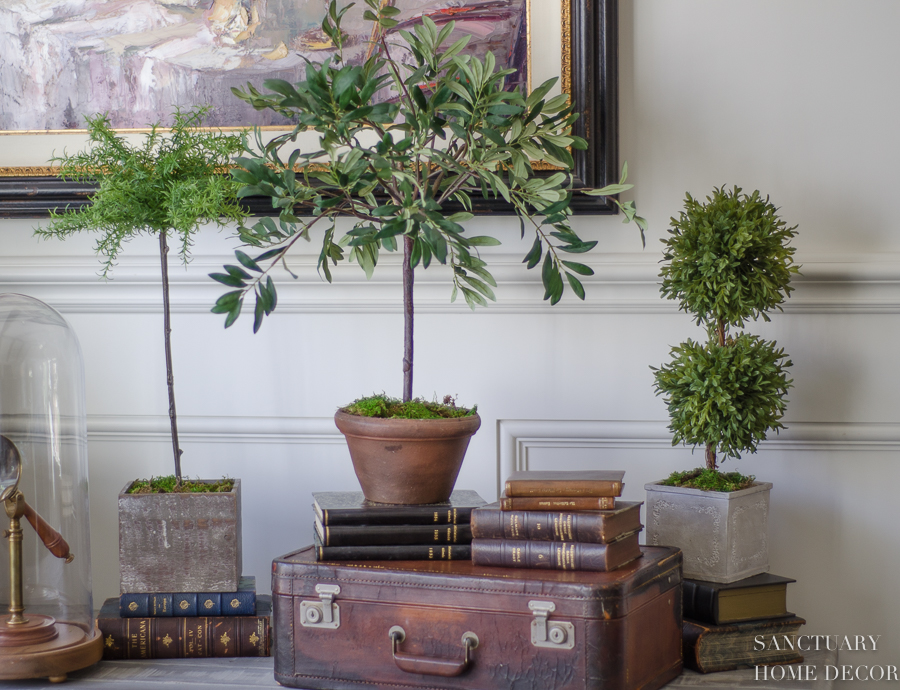 These became my base for the overall look. It is important that whatever you use as your base, you have the flexibility to stack and layer those items. This will allow you to play with different configurations and heights. Books are ALWAYS a great go to item for accent tables, because they allow you tons of flexibility,
Over the years, I have collected many books with different colored spines, simply to use for this purpose. Yard sales and flea markets are great places to start a collection.

Topiaries come in many different sizes and heights and it is important to have a variety on your table.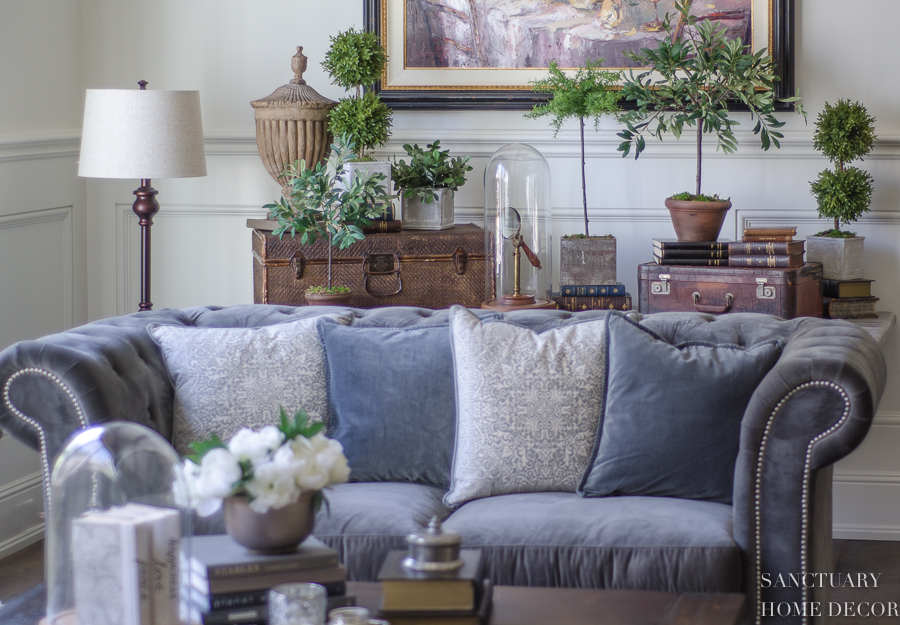 You can vary the height by adding layers to your base. In this instance, I had three topiaries that were identical height, but by placing them on a suitcase or stack of books, they appear to be varied in size.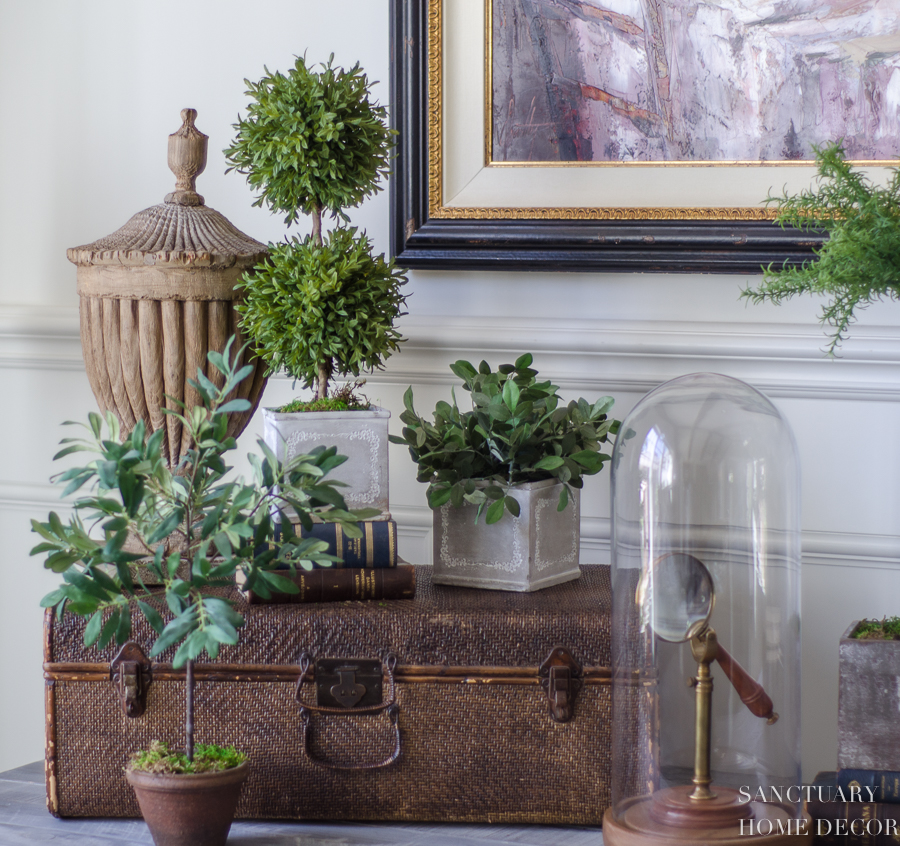 It took me a few tries to get the balance just right, so don't be afraid to play around and step back to look at the symmetry from different angles. In this case, I was also able to create a layered look by placing some of the plants in front or back of the suitcases.

One of the easiest ways to make an accent table look great is to use a cohesive color palette. This can be accomplished by choosing two to three tones that work well in your room and using them throughout the table scape. This includes metals such as silver or brass.
Luckily the topiaries provide one consistent color so choosing two or three others will give you a pulled together look.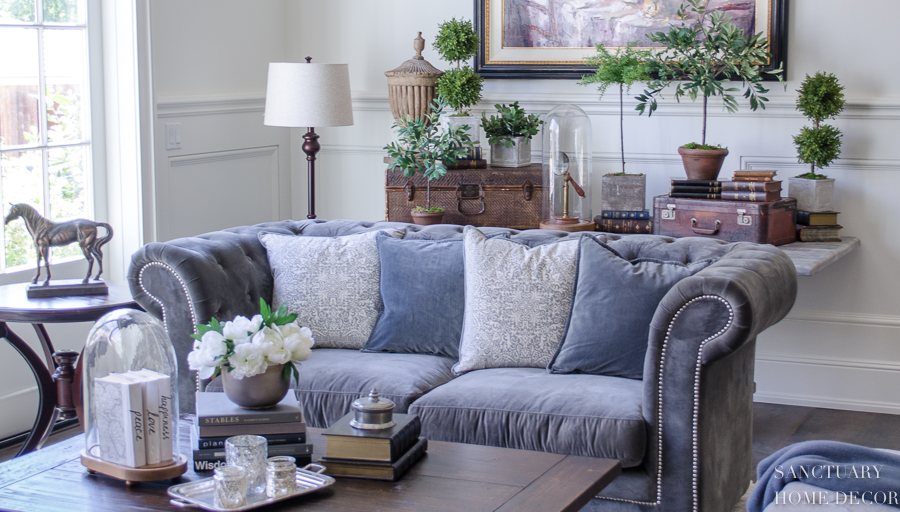 In this case, I placed a couple of the topiaries into gray cement containers and added some moss to cover the pots. I also repeated the warm browns of the suitcases in the books and added some additional blue and black ones. All of these colors are in my living room already, so it was easy to incorporate this accent table into the whole room.
I layered in a couple of additional decor pieces to break up the look. The wood urn and the cloche with a magnifying glass fit it well with the colors scheme without standing out too much.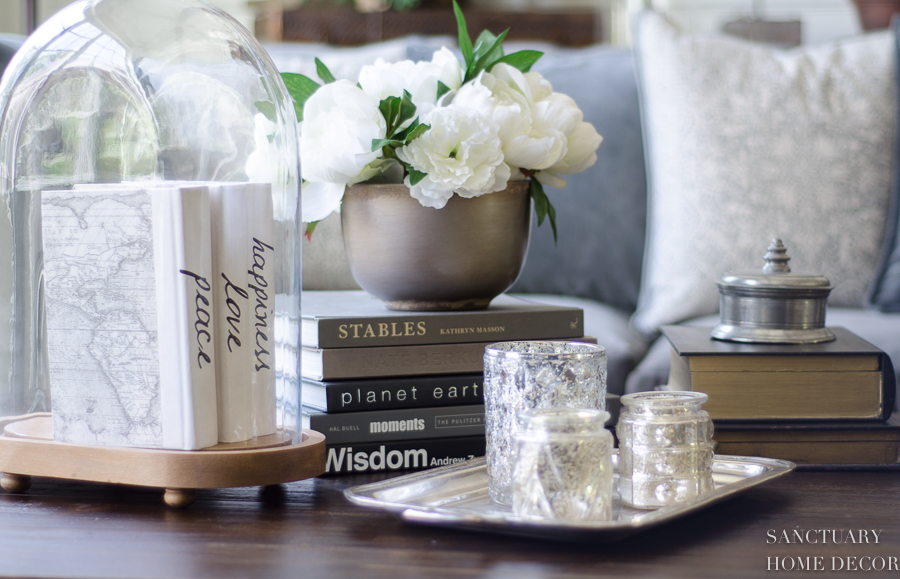 I repeated the theme with a cloche and some books on the coffee table to pull everything in the room together.
I was surprised by how much the pop of fresh green changed the look of this room. I had always added vases of flowers to the coffee table, but the addition of these topiaries gave our living room a fresh new look that I really love.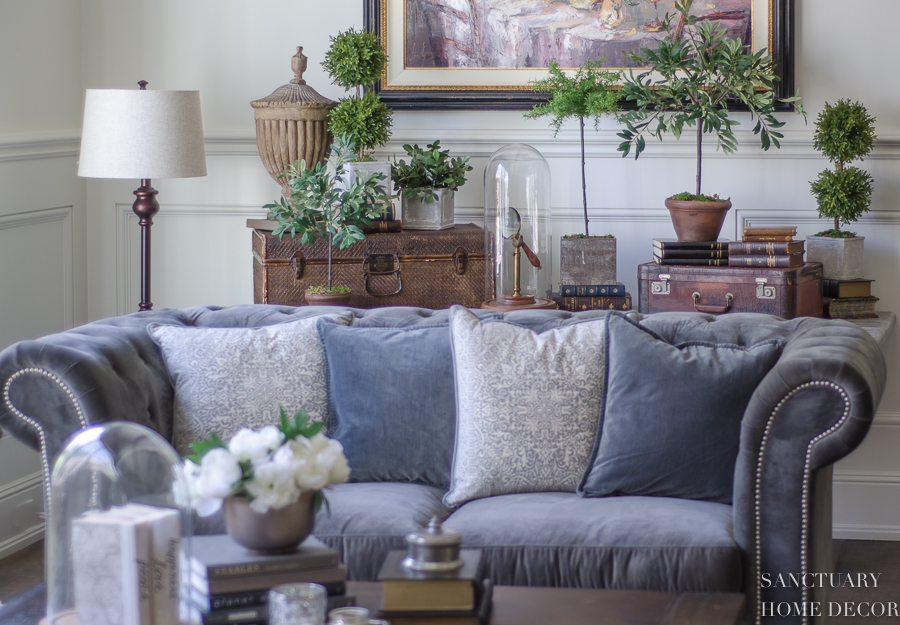 When I look back at my inspiration photo, there are not a lot of similarities in the final look, but I think that really is the point…to see something that sparks and idea and inspires you to find your unique style.
I looked at A LOT of topiaries as inspiration for this look and found that there are many options out there at several different price points. I've put together some sources for you, in case you're interested in creating a similar look in your home. In some cases, I wasn't able to find the exact item, so I've linked similar looks. If you have any questions, please feel free to contact me.