How to Set A Beautiful Table For Any Season + Affordable Tablecloth Sources
For those of you who have been following me for a while, you know I am kind of obsessed with setting a beautiful table. What you may not know is that I do not spend a lot of money on table linens. Instead I have developed some simple tricks to make the most of my budget-friendly, basic linens and add in some seasonal color as needed. Today I thought I would share a quick rundown of the table linens I rely on year after year and show you how to set a beautiful table for any season.
I've provided affiliate links for all of my basic linens at the end of this post.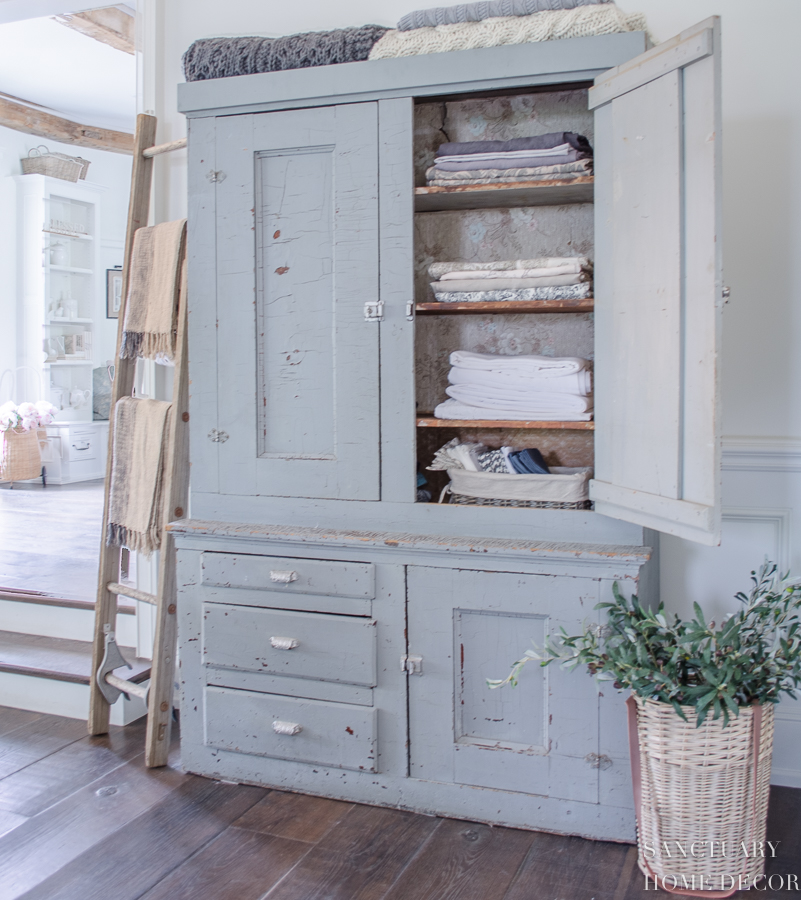 KEEP IT NEUTRAL
This is probably the most important tip I can give you, in terms of how to build your table linen cupboard. I have purchased tons of "specialty" linens over the years for an occasion or event and have found that I only use them once or maybe twice. (Kind of like that holiday blouse you wear only once!) Several years ago, I had a cabinet filled with these types of tablecloths and I finally got rid of them. I now have about a dozen super affordable cloths and runners I use on a regular basis and have found that I do not need any more specialty linens. (Keep reading to find out why!)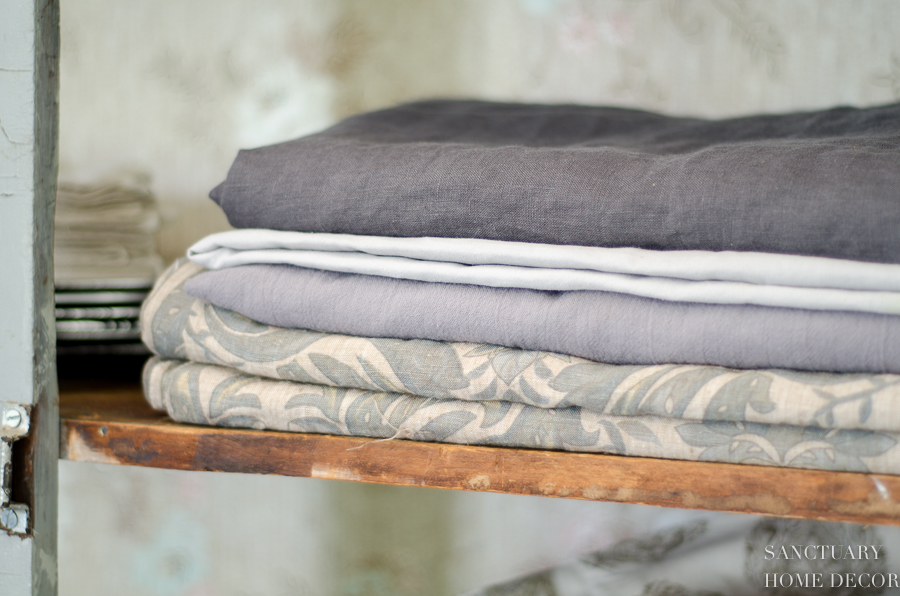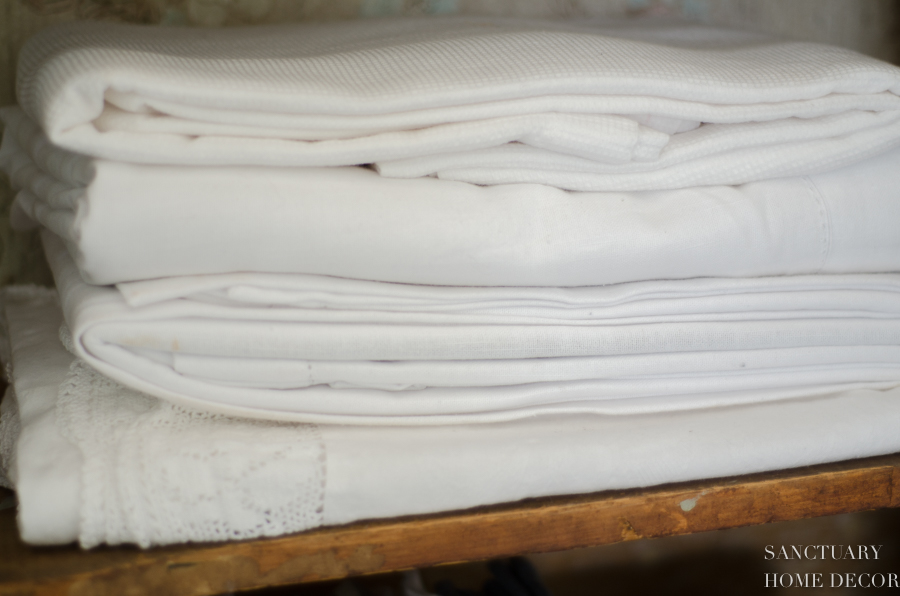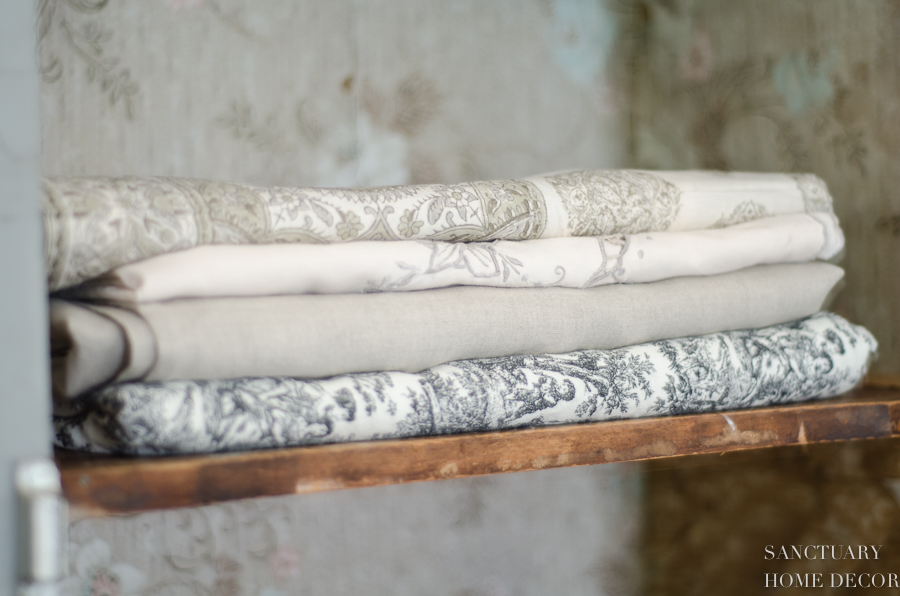 The trick is to keep your basic linens super neutral and in line with the colors in your home. For me that means whites, natural linens and grays. I have a few different sizes in these colors that I use for the base of almost any table I set.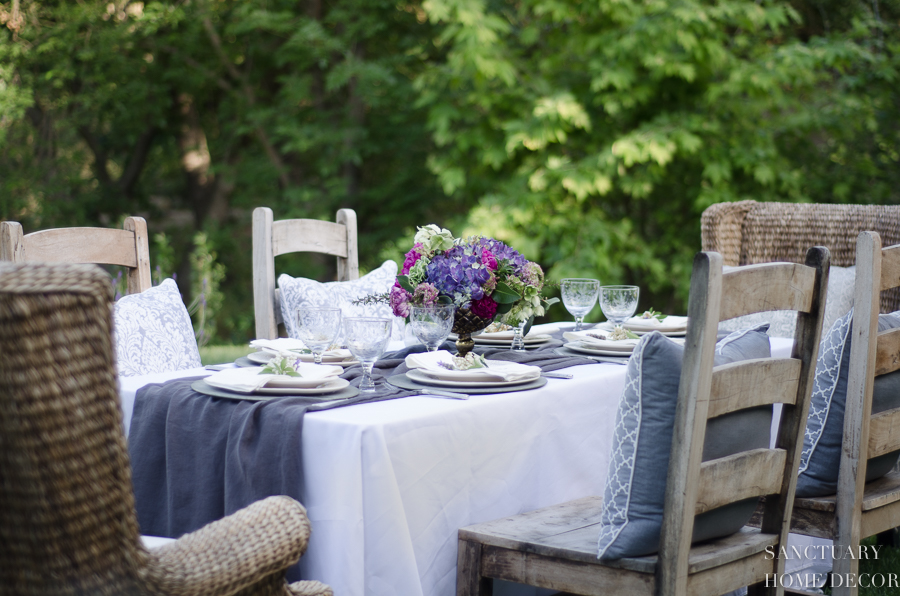 I also have a couple of full length (meaning down to the ground) cloths in white and natural linen, so that I can layer these with runners or shorter cloths. They are really inexpensive and create tons of options.
I got mine HERE, and it comes in many colors depending on the palette you are using. These work great if you are using a 6′ or 8′ folding table, so you don't see those ugly metal legs.
LAYER, LAYER, LAYER
As with decorating in your home, I believe that layers of texture and patterns are important to create a rich look on a table. Most of the time I chose two cloths to use as layers. One completely open and flat on the table and the other folded as a runner or topper. I don't usually buy pre-made runners because they are too limiting in terms of versatility. I like the option of having a narrower or wider runner and can easily accomplish that by folding a regular size table cloth to any width that works.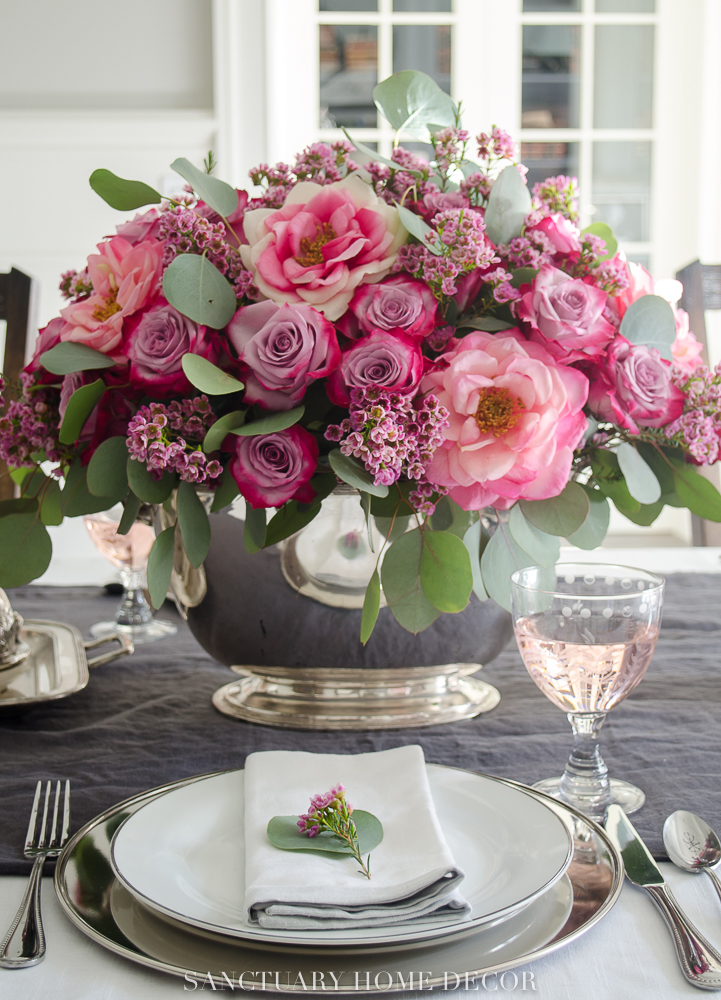 I will often layer two of my basic neutrals, since they coordinate with my overall decor and home.
A white base with a neutral color runner is great for the warmer months and a darker base with a natural linen runner works well in the colder months.
SIDE NOTE: I don't worry too much about having perfectly pressed linens. There is something authentic and real about an unpressed freshly washed linen that I believe creates a comfortable atmosphere. (This only works well with actual linen fabric, not cotton) I often don't even lay my runner flat, but purposely "toss it" down the length of the table to create some interest and texture. Of course, if it is a more formal occasion, I get out the ironing board!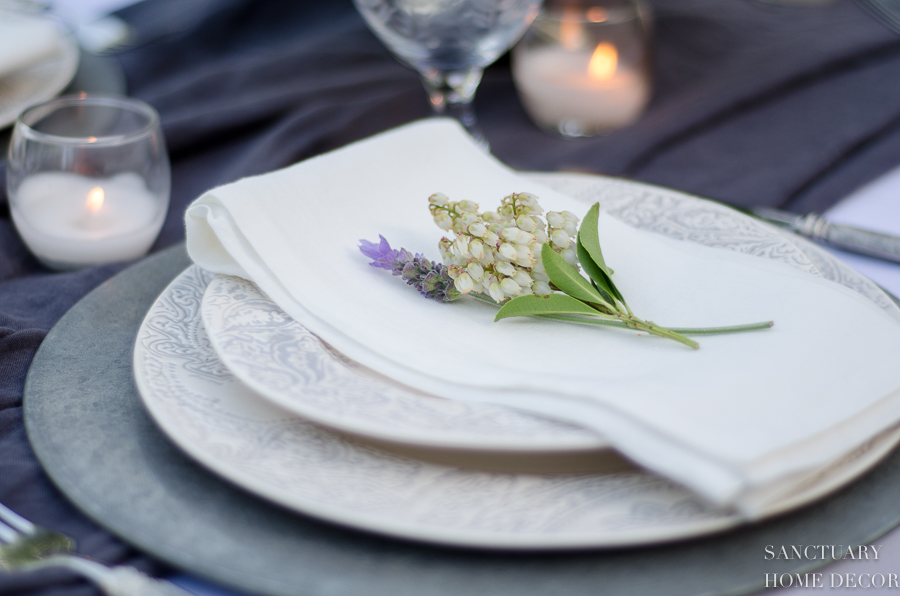 USE FABRIC INSTEAD OF PRE-MADE TABLE LINENS
As I said, I believe in layering table linens. Whether it is a full length cloth with a runner or layers of runners, I like the look of different colors, textures and patterns on a table. One of the best ways I have found to get different colors and textures on my tables is to buy raw fabric, rather than pre-made table linens.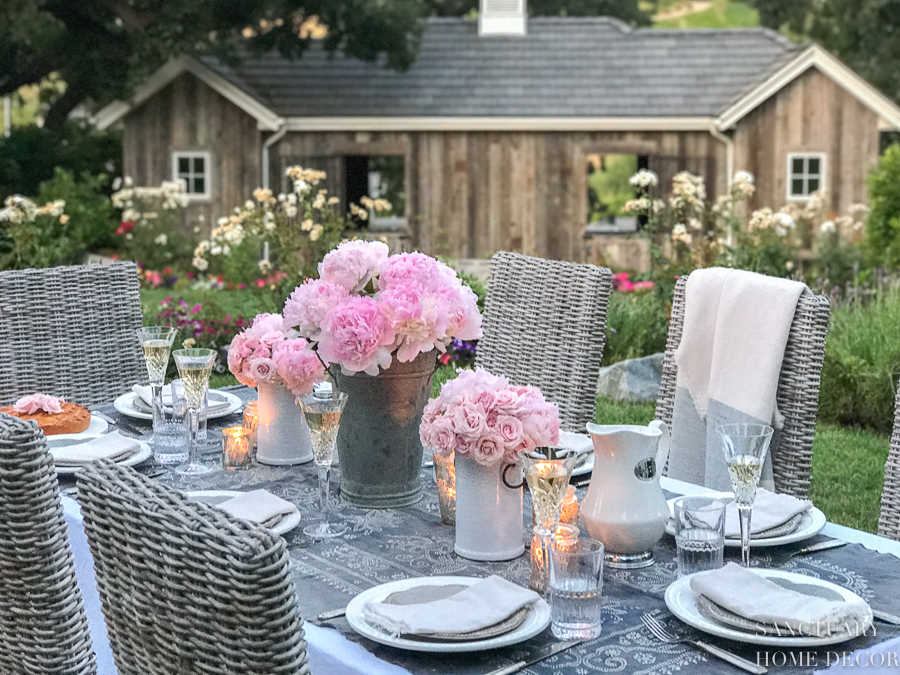 I began using fabric to layer on top of my basic linens because I was frustrated by the lack of great table linens available and was always looking for something different. I noticed that my local fabric store had a ton of different patterns and textures I loved, so I began buying long lengths of raw fabric and simply folding the long edges under and making sure there was a straight cut on the ends. This allowed me to have any width runner on top of my basic cloths at a fraction of the price. Two to three yards of fabric is often much less expensive than a finished tablecloth or runner.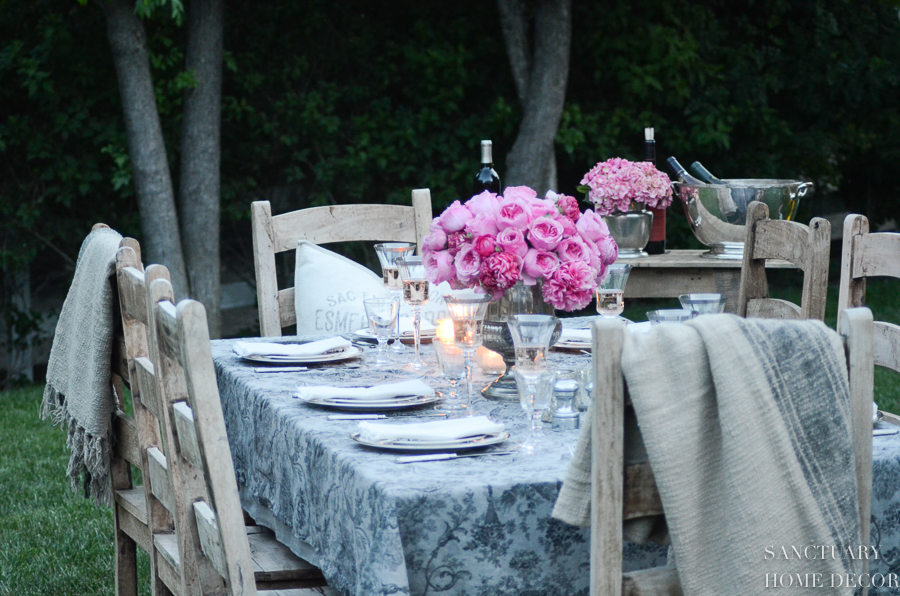 Buying fabric also allows me to keep up with seasonal colors without the expense of buying completely different table cloths. By using a basic color as a base and adding raw fabric runners, I can change the look of my table easily, without a lot of extra expense.
MIX COLORS AND PATTERNS FREELY
If you're layering, don't be afraid to mix colors and patterns freely. I have some indigo blue, PINTUCK CLOTHS that I use regularly and I often layer them with patterned linen fabric or textured runners.
Layering colors, textures and patterns adds interest to the whole look of your table.
I also mix patterns freely, as long as the colors coordinate. I recently got a pretty neutral cloth that I will be able to use with most of my basics to add a little interest to the look of my table.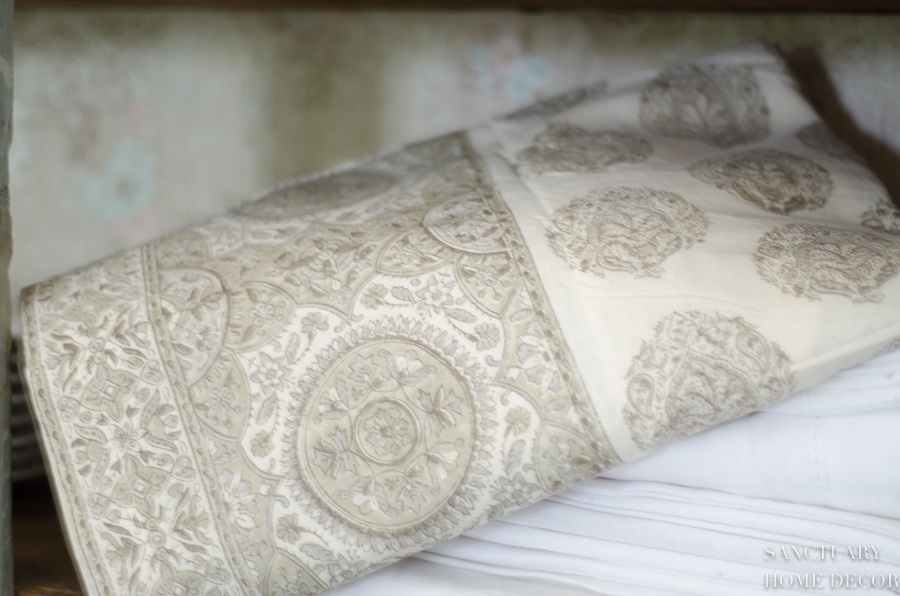 I also mix patterns by adding pillows to the chairs. For this fall tablescape, I used a neutral printed cloth as a runner and then added coordinating pillows in similar tones.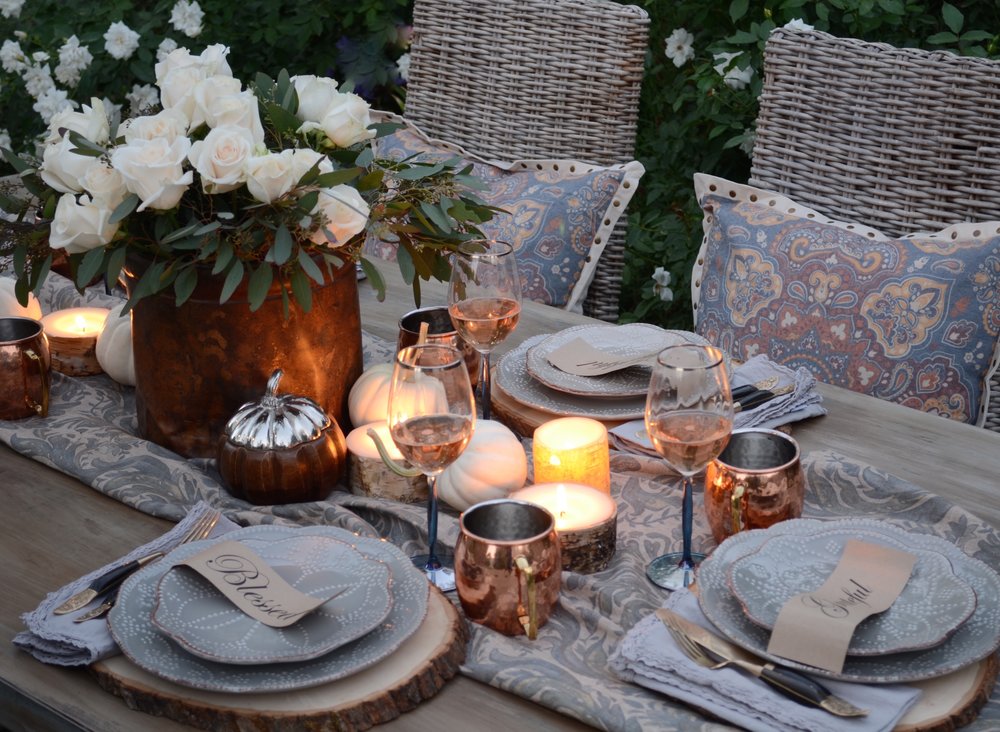 USE FLOWERS AND NAPKINS AS YOUR ACCENT COLORS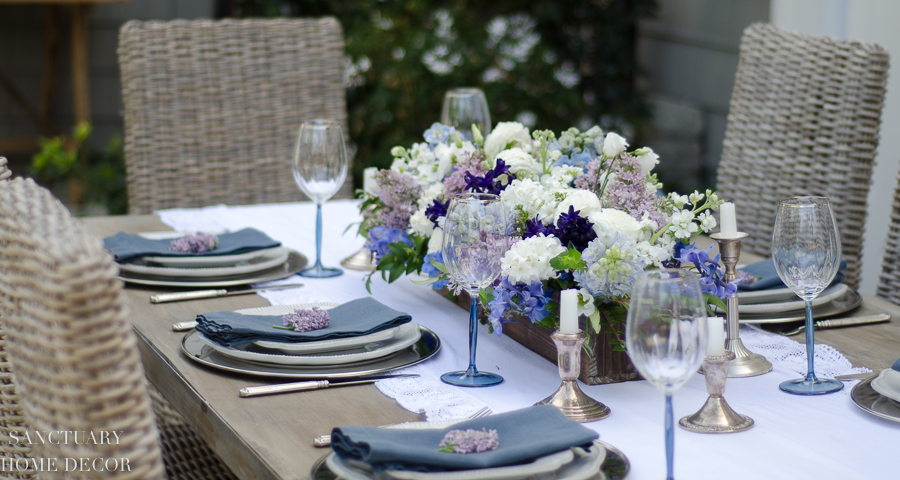 If I'm going to depart from my neutral basics, it will always be with my napkin and flower choices. I have far more napkins in a variety of colors and patterns than I have cloths. From my years working in event design, I learned that a colored napkin is often just enough to make a statement without being too bold or overpowering.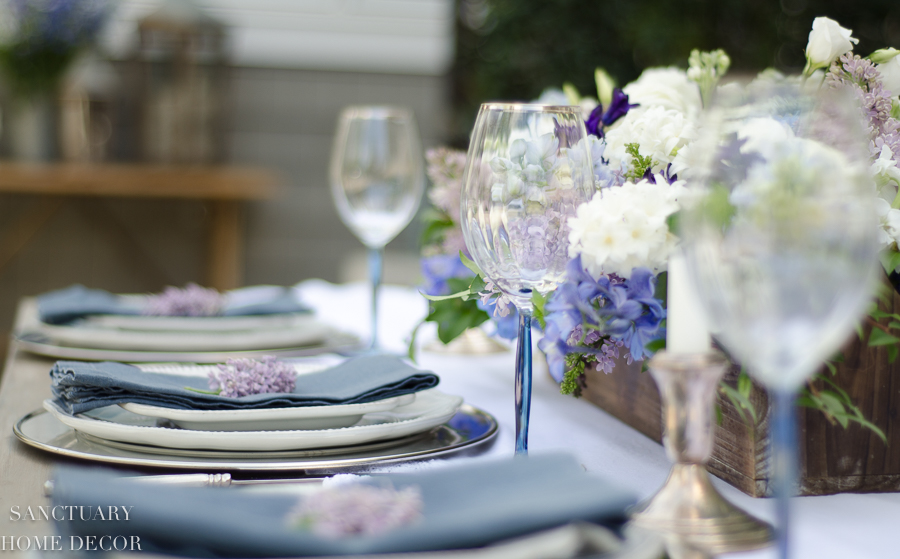 If I know I will be putting flowers on the table, I try to pull out one of those colors for my napkins, especially if I am using a neutral base cloth. I also have napkins in my neutral basic colors that mix and match with any table setting. Sometimes all that is necessary for that seasonal color is the addition of a pretty flower on top of each place setting.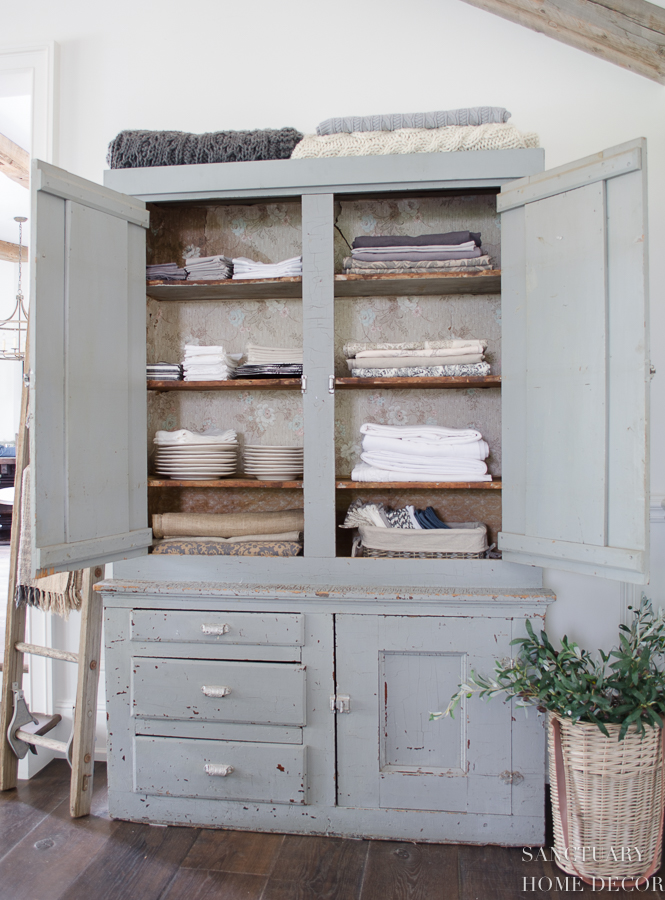 So there are my tips for how to use your basic linens for any seasonal table. I hope this helps you to imagine new ways to set a beautiful table for your next get together!
I always prefer linen fabrics when I can find them, so I have sourced some of those basics below as well as a few of my current colors and patterned favorites. Just click on the picture to shop! Have a great week!



                
                


                    
                    
                


            

                
                


                    
                    
                


            
Just so you know: The above links are from affiliates and while I receive a small commission from any of your purchases, your cost does not change in any way. I appreciate your support!