An Early Summer Backyard Dinner Party
I absolutely love warm summer evenings spent outdoors. Whether sitting on the porch at our ranch in Montana or in the yard at our California home, I am in my element when I can create a beautiful outdoor environment to share a great meal with friends and family. So as we inch closer to summer and the weather starts to warm up, I thought I would share some of my favorite ways to create a memorable and beautiful backyard dinner party.
This is one of my favorite spots in our backyard to set up a table and eat outdoors.
Even though we have a dedicated patio space, I often set up my 6′ folding table in different areas of my yard. It is refreshing to change it up and experience a different view. Out here we get to see the horses when they peek their heads out of their stalls!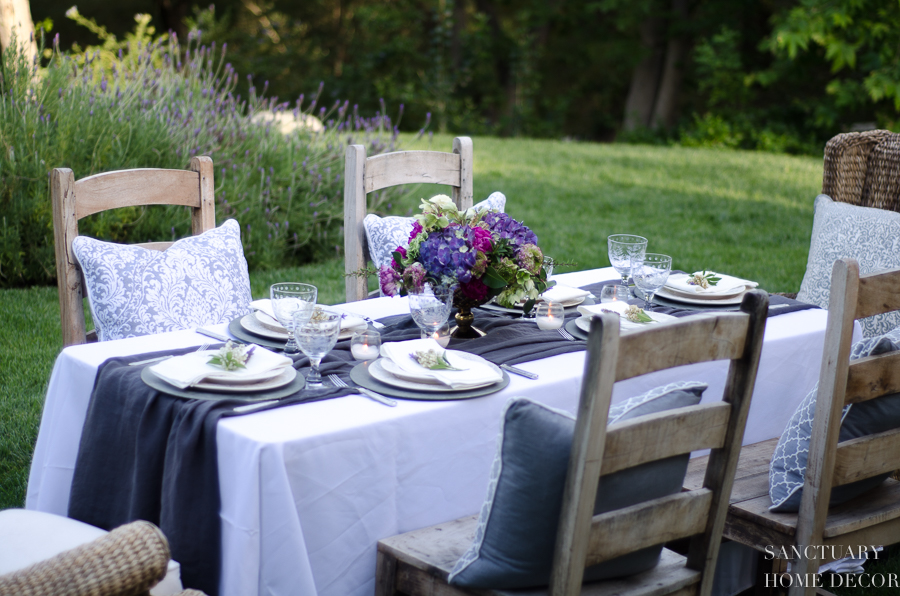 With a folding table, you can seat six comfortably with full size chairs, or eight with smaller chairs. The key here is the full length tablecloth so you don't see those metal table legs. I have a few of these types of cloths that I got from a wholesale seller. I shared all of my favorite table cloths and sources on my blog post about THE BEST BUDGET FRIENDLY TABLECLOTHS.
It only took me about 15 minutes to move the furniture out to this area of the yard. I originally used just the wood chair around the table, but, I love when the chairs at the head of a table are different than the side chairs. When I swapped out the teak chairs for these seagrass chairs at the head of the table, it changed the whole look. The table no longer looked like a folding table and the whole area was filled in. If you don't have enough of the same chair, mix and match. Two or three coordinating styles looks great in this type of setting.
I often bring my dining room chairs or other furniture outside when I'm setting a table.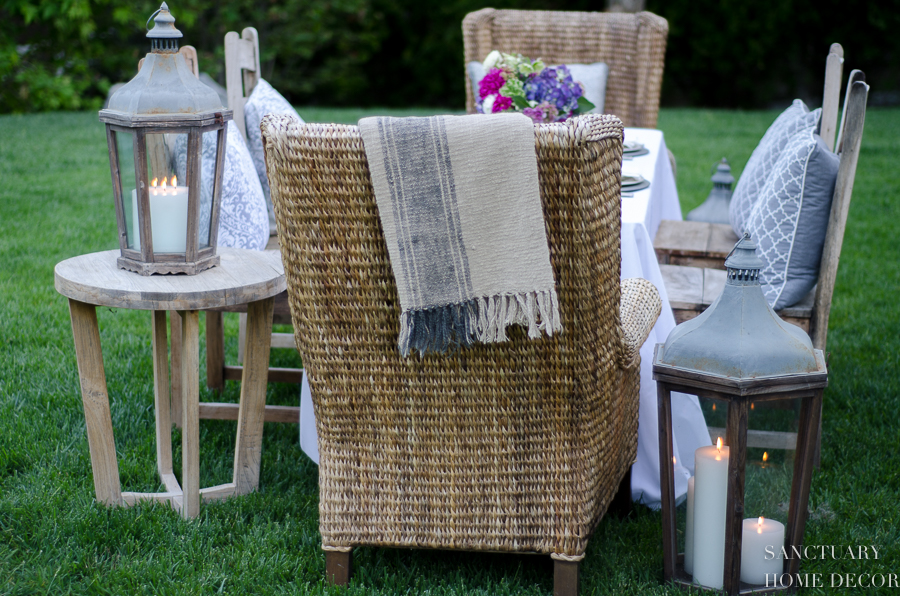 I also brought out some blankets and pillows from indoors to make our guests more comfortable. It definitely cools off in the early summer as the sun sets so I wanted to be prepared in case my friends needed to bundle up.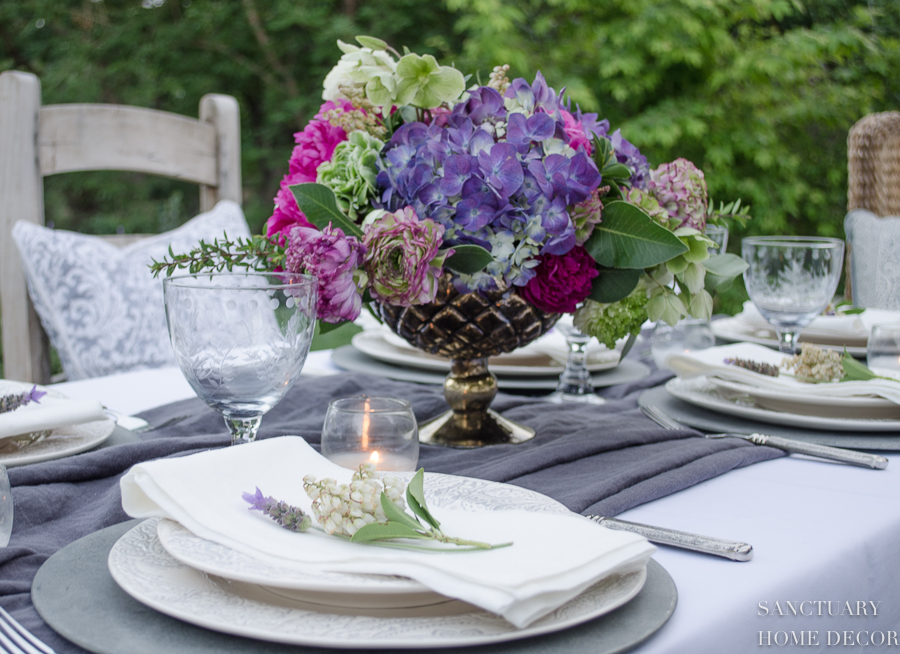 I have to admit these were not the flowers I had planned to use on this table. I made this arrangement because I originally planned to set this up in our dining room, but when the weather warmed up, I decided to move it all outside.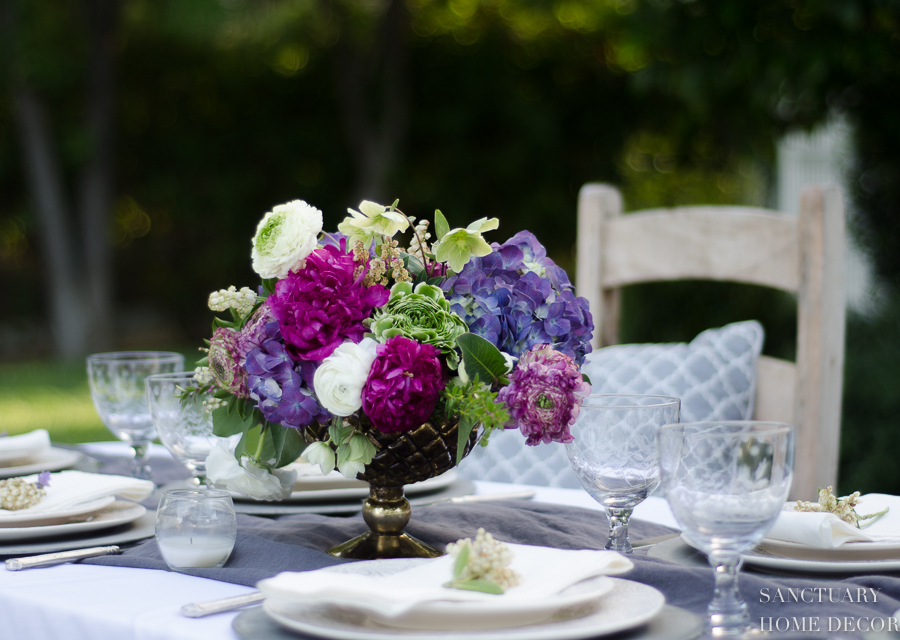 This arrangement is a little more formal than I would normally do outside, but I think there's something nice about the juxtaposition of a formal arrangement in a casual setting. If you want something super simple, you could check out my post about MY FAVORITE 5 MINUTE FLOWER ARRANGEMENTS.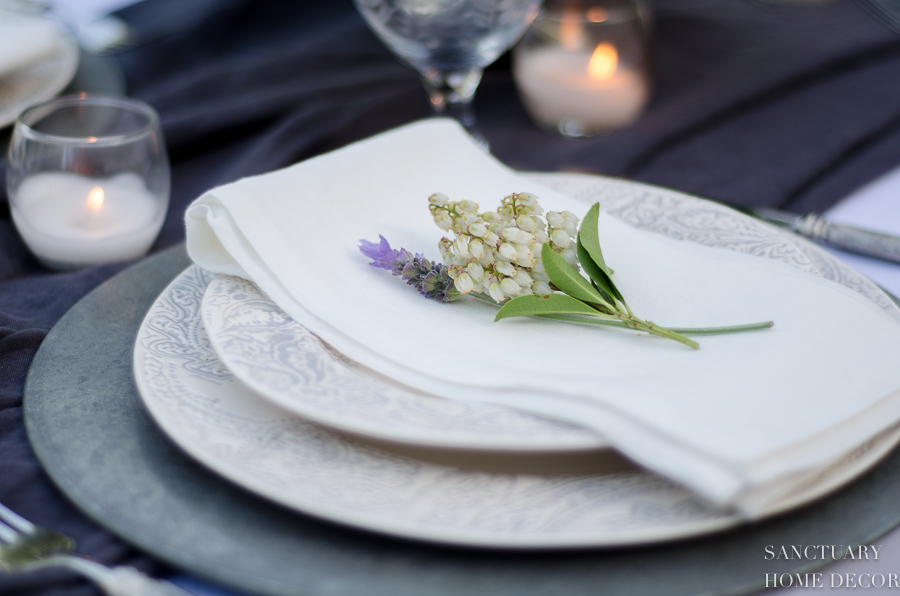 I did pick a sprig of lavender from the yard to place on each napkin alongside a sprig of pieris.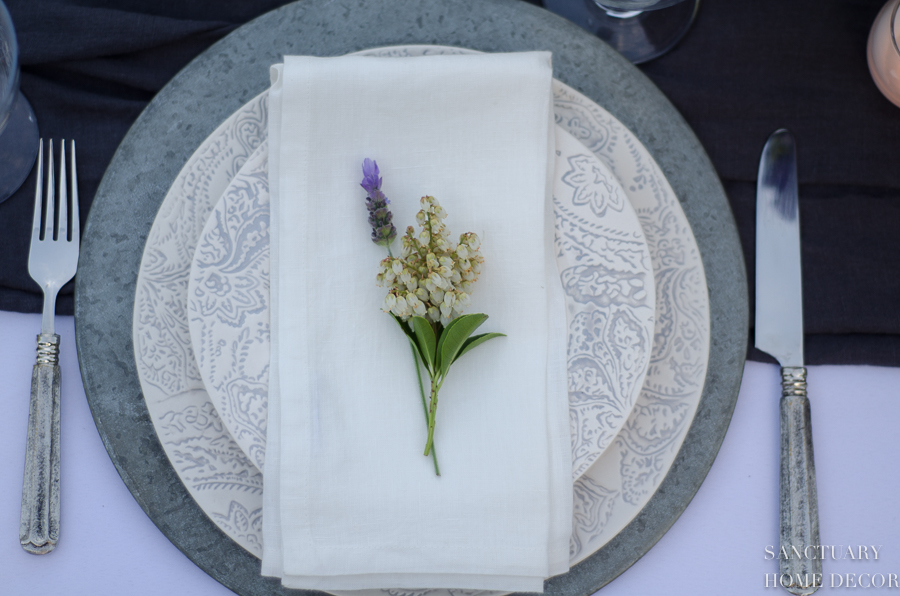 I was excited to use my new favorite plates on this table. These have the exact look I love, because they can go from the dining room to the outdoors easily. I used a simple tin charger underneath to take away some of the formality.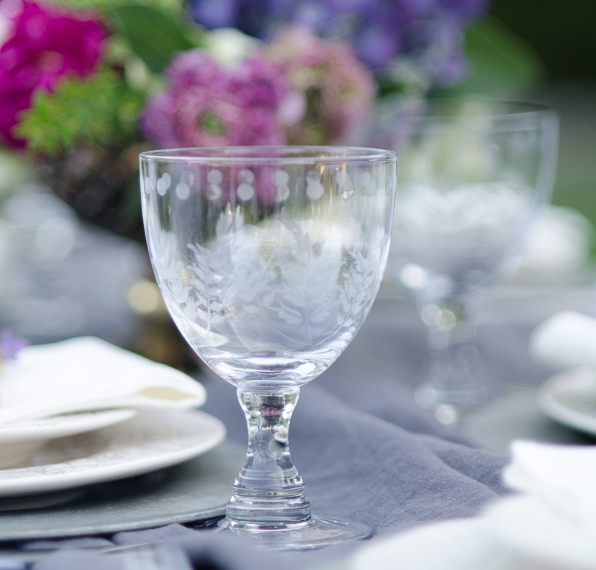 I did bring out my all time favorite etched glass goblets. What I love about these is that they work for any drink…water, wine…whatever I'm serving, this size glass is perfect and looks great on any table.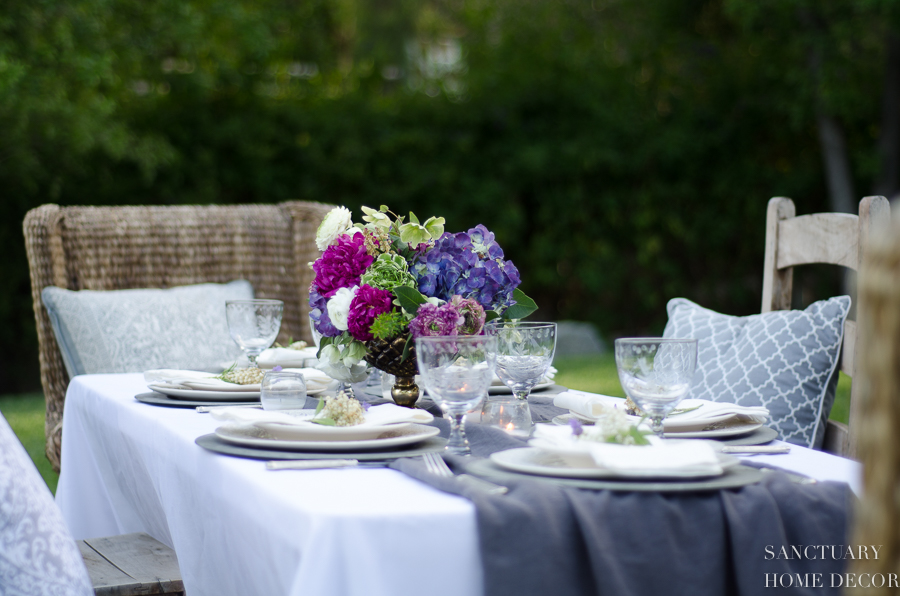 The final touch was the addition of these lanterns. There are a few lights in this area of our yard, but as the sun set, it got a bit dark. I wanted our guests to feel like they could linger, so I put plenty of candles on the table and brought over several of my patio lanterns to light up this area of the back yard.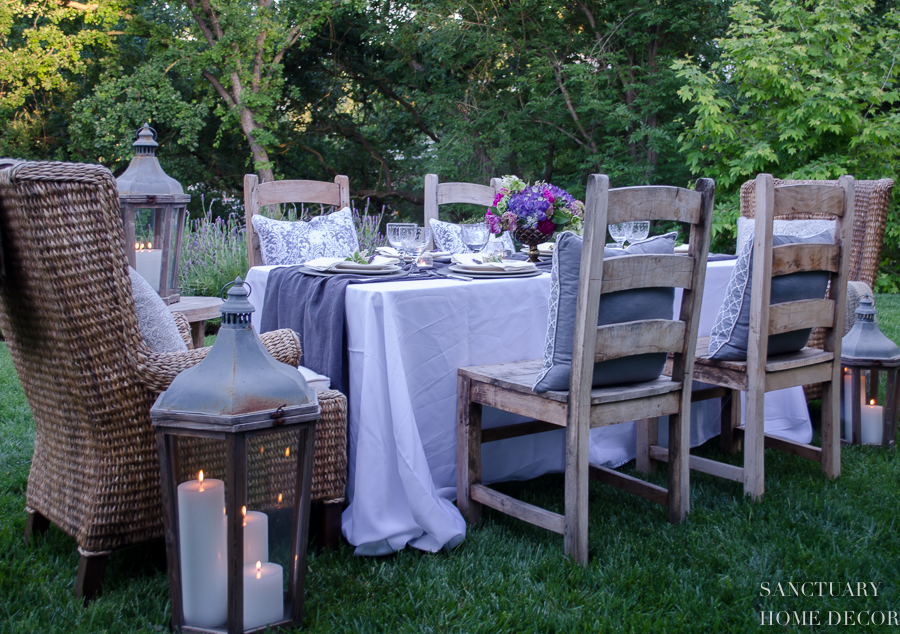 It created a beautiful glow and set just the right mood as we enjoyed an early summer backyard dinner.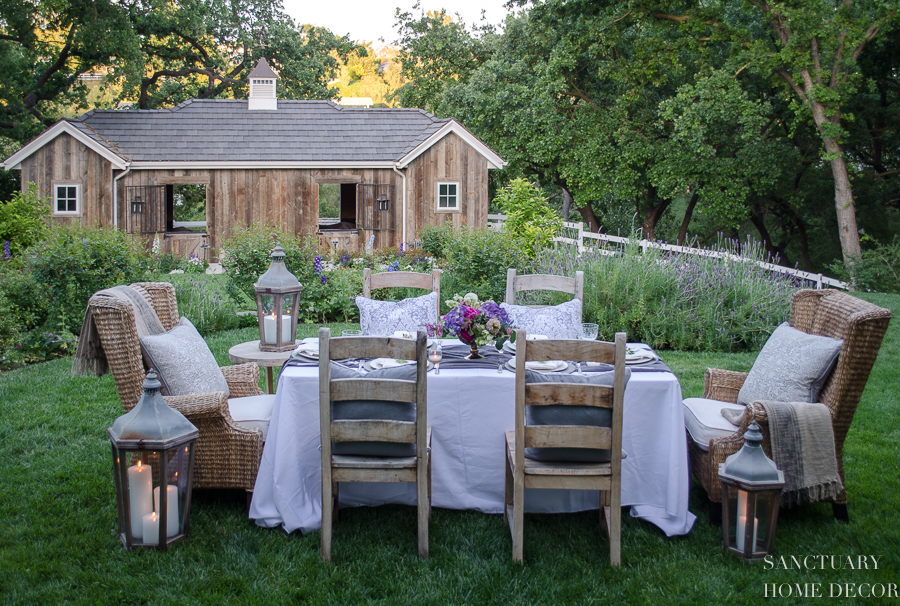 We are preparing to leave for our ranch in just a few weeks, so I am going to enjoy as many evenings as I can out here until then.  If you're thinking of having an outdoor dinner party, I wrote a post last year with my 5 TIPS FOR CREATING AN EXTRAORDINARY OUTDOOR PARTY that you might like as well. 
I would love to hear from you guys if you have any great tips for entertaining outdoors. Enjoy the warmer weather!
PS: Below are links to most of the things I used for this party. For those items that are one of a kind or no longer available, I've sources similar options for you guys. If you have any questions about anything you see here, please don't hesitate to reach out.

[show_shopthepost_widget id="3425035"]
[show_shopthepost_widget id="3425036"]
Just so you know: The above are affiliate links and while I receive a small commission from anything you purchase, you do not pay a penny more. I appreciate your support!