How to Plan an Extraordinary Outdoor Party
I used to really stress out over having an outdoor party at our home. I would spend days focusing on every detail and then on the day of the party would spend hours getting everything prepared. Unfortunately by the time our guests arrived, I was usually a frazzled mess. Eventually, I realized that the most successful parties we had included just a few key elements, so I developed a formula for putting together a beautiful outdoor event, without the stress. Whether you are having barbecue and beer or serving a multi-course meal, these five tips for creating an extraordinary outdoor party will create an atmosphere that will make your guests want to linger long after the sun goes down…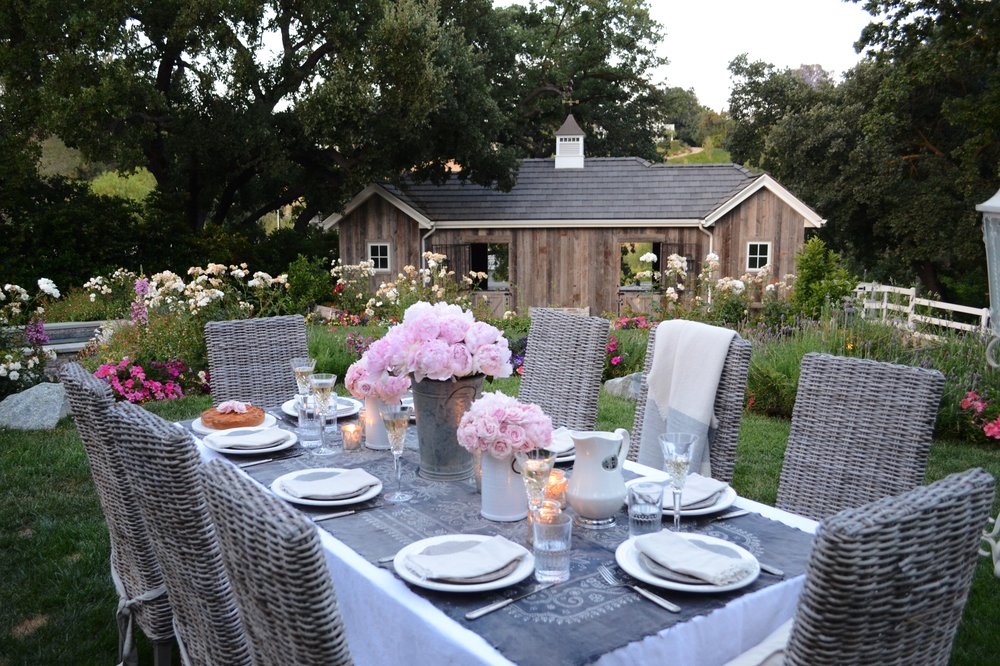 1. Treat your outdoor table as if it was in your dining room
I am a firm believer that anything you would use in your dining room, can and should be used for an outdoor table setting. This includes chairs, linens, decor, dishes and glassware. Using a beautiful linen or adding "indoor" chairs to your outdoor space is an easy way to set the stage for your party. Don't be afraid to bring out the silver candelabras or the fine china either, anything goes! The beauty of using "indoor" items in an outdoor space is that it is almost impossible to make t feel overly formal, simply by virtue of the setting.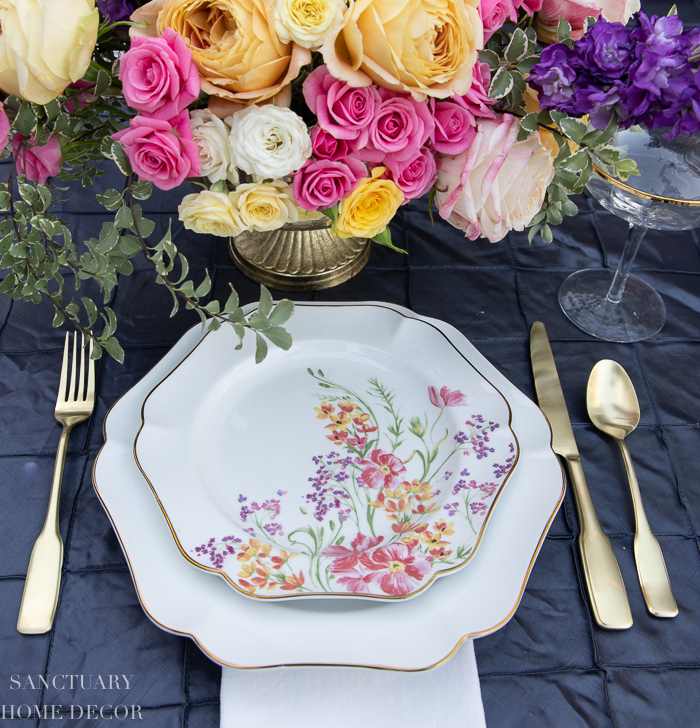 Gold rimmed china and champagne flatware look beautiful on an outdoor patio table.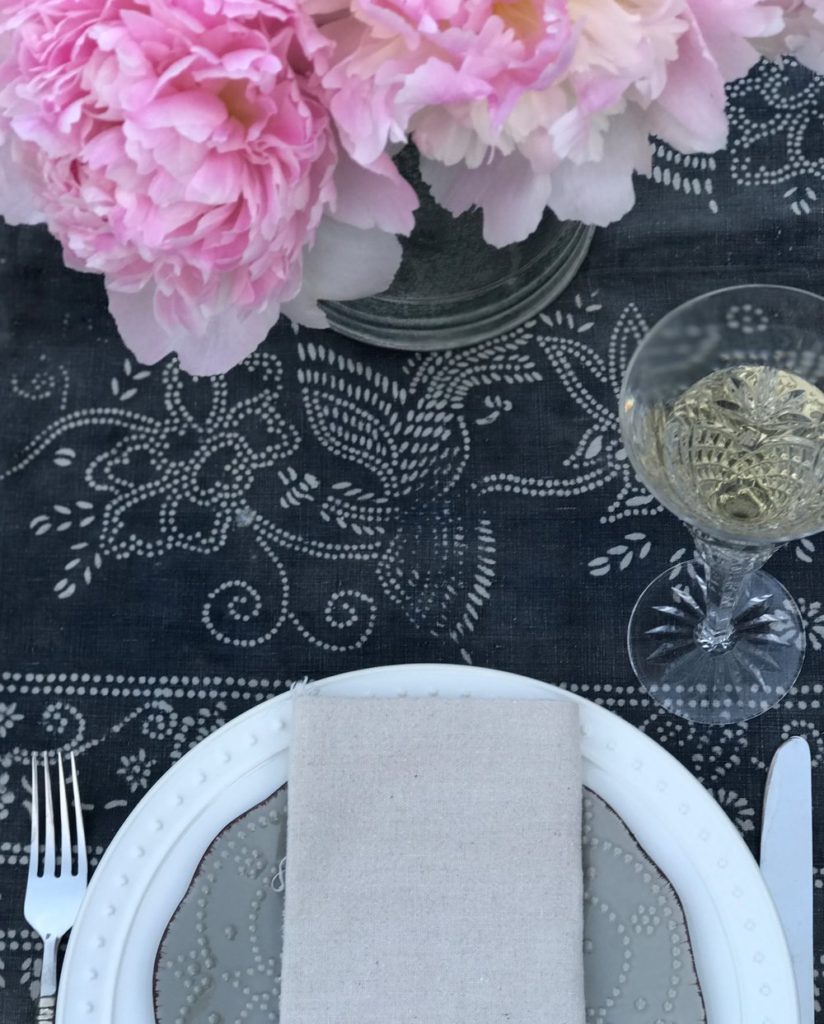 Linen napkins mixed with everyday dishes and crystal champagne flutes all work outdoors!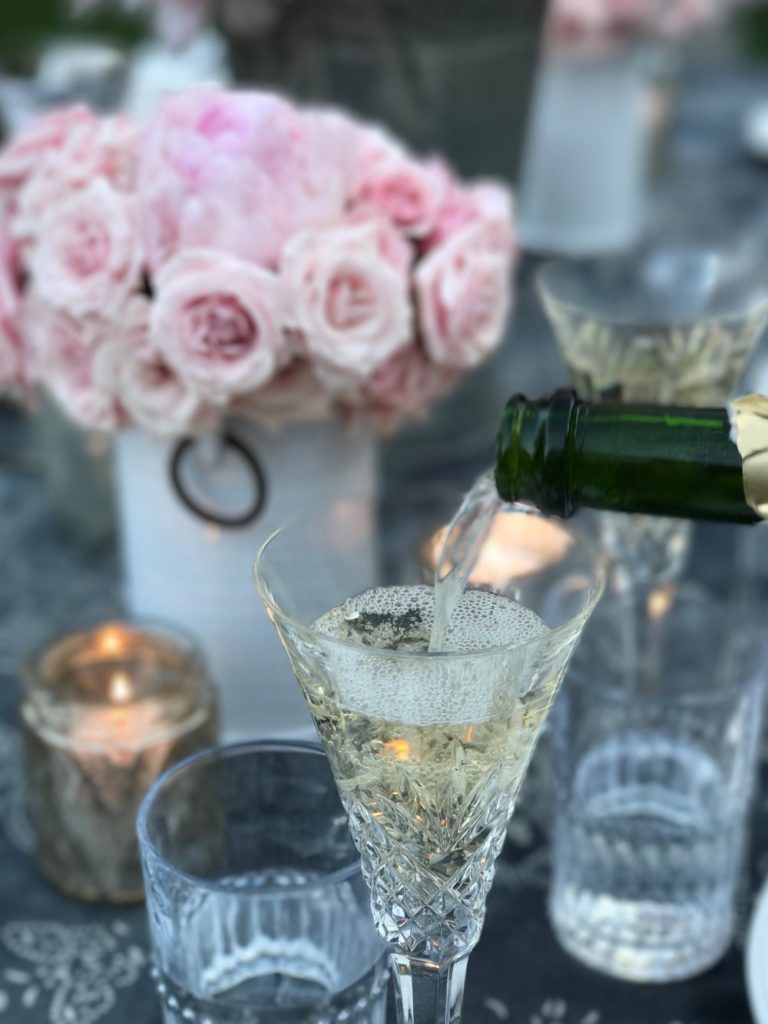 2. Add fresh flowers
I cannot stress enough the impact that fresh flowers have on any space, including an outdoor party setting. You don't need to get a professional florist involved to be able to add this element, a simple trip to your local market or nursery will often be enough.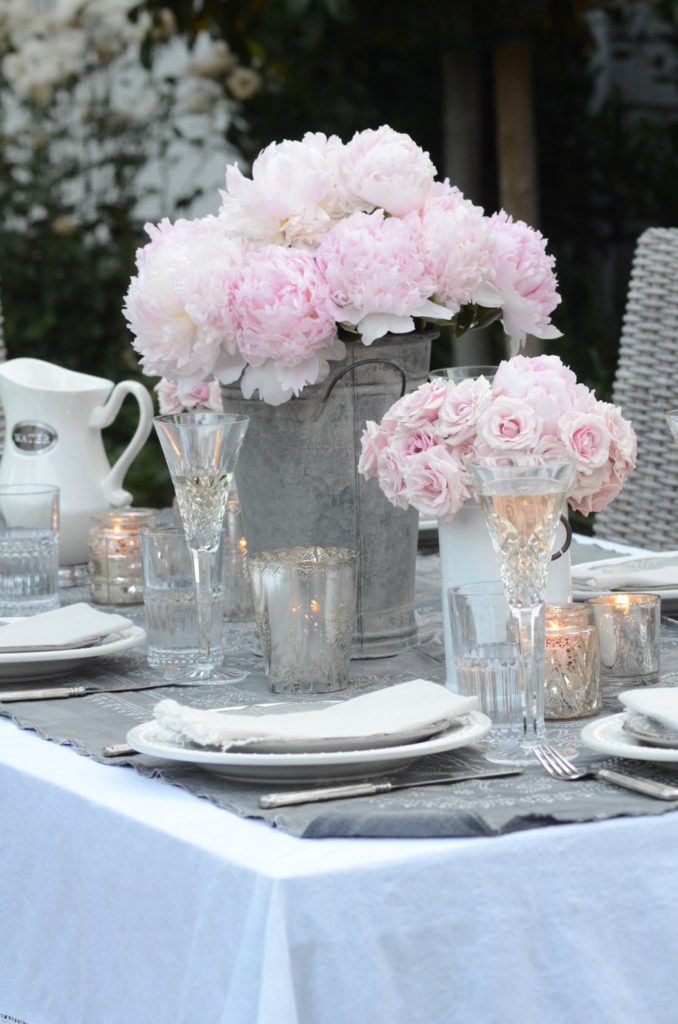 A few tricks I have learned when it comes to flowers…
Stick to one or two colors. This makes it so much easier to put together a beautiful arrangement and have it look effortless.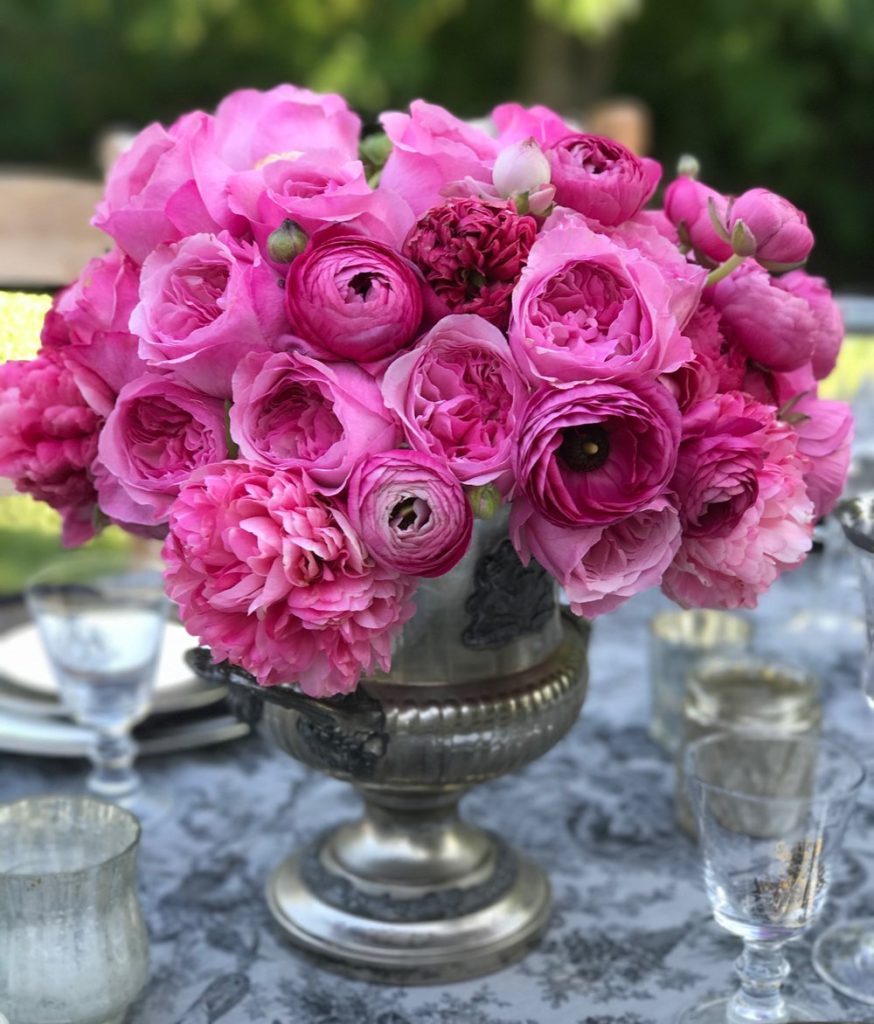 Be creative in your choice of container. If you have a favorite water pitcher or another container that may not be a traditional glass vase, don't be afraid to use it. Here I used a zinc flower bucket for the peonies alongside a couple of ceramic wine coolers for the garden roses and on a different table, I used a champagne bucket filled with ranunculus and peonies. I got all of these flowers at my local market!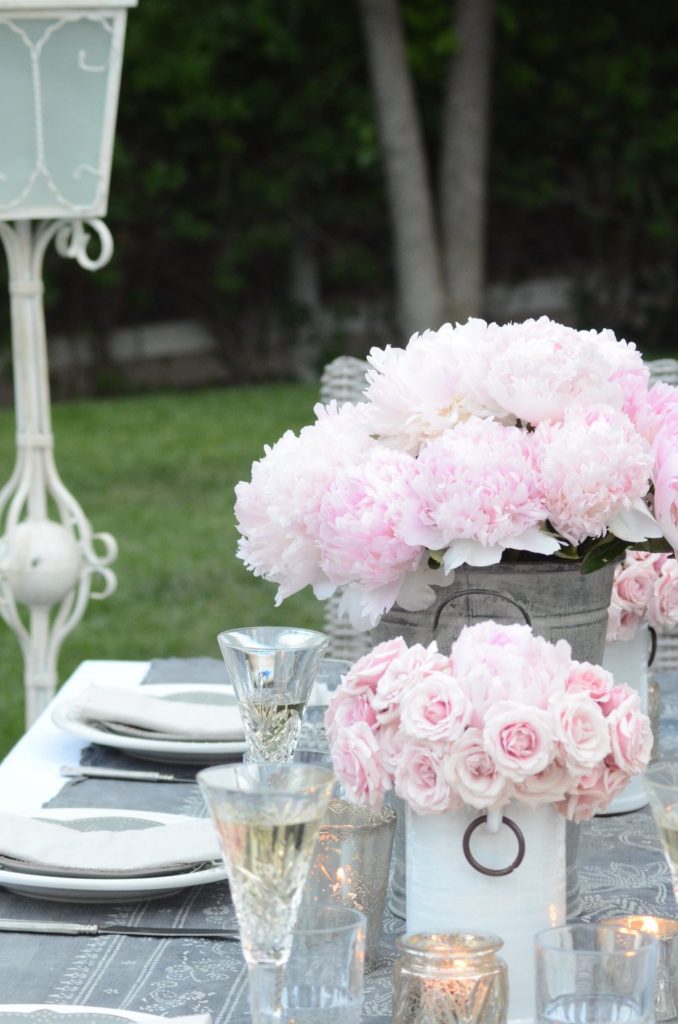 Keep it small. If you are feeling intimidated by the idea of putting together a "centerpiece", consider using 3-5 smaller containers grouped together. This creates a lovely look, especially with the addition of votive candles.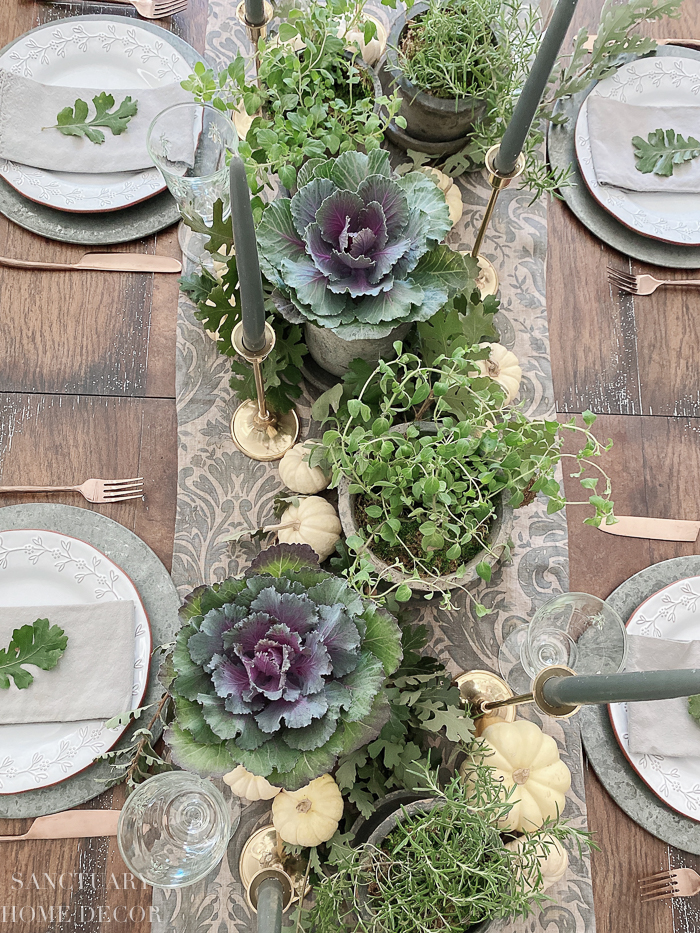 Potted flowers and herbs are a great alternative to cut flowers. I have often used potted flowers and even herbs on my tablescapes. They are a beautiful way to keep a garden feel while still adding color (or in the case of herbs, fragrance).
3. Lighting, Lighting, Lighting!
Assuming you are having an evening party, lighting is incredibly important to creating the ambiance and feel you are looking for. There is nothing worse than sitting outside under bright spotlights and, by the same token, it is terrible to try to navigate eating a meal in the dark. I think the best remedy is candlelight…and lots of it!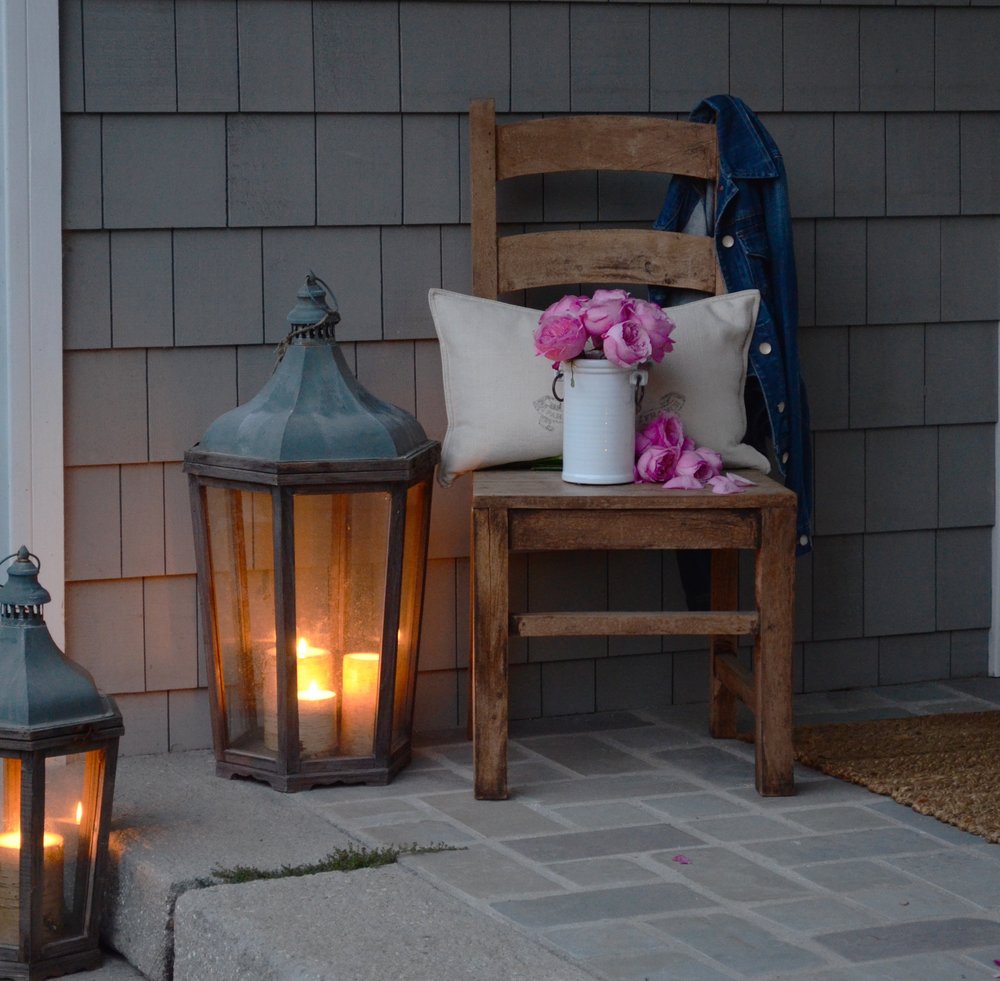 There is something so magical about having the sun set and sitting at a table with the glow of candlelight flickering everywhere. It does not just have to be at the table. Use lanterns or hurricane vases to light a pathway to the door or highlight a special area. You can also use LED candles or battery operated wire lights in glass containers to achieve a warm glow. I have even brought my indoor floor lamps outside to light a dessert table or bar. Be creative and think outside the box when it comes to lighting!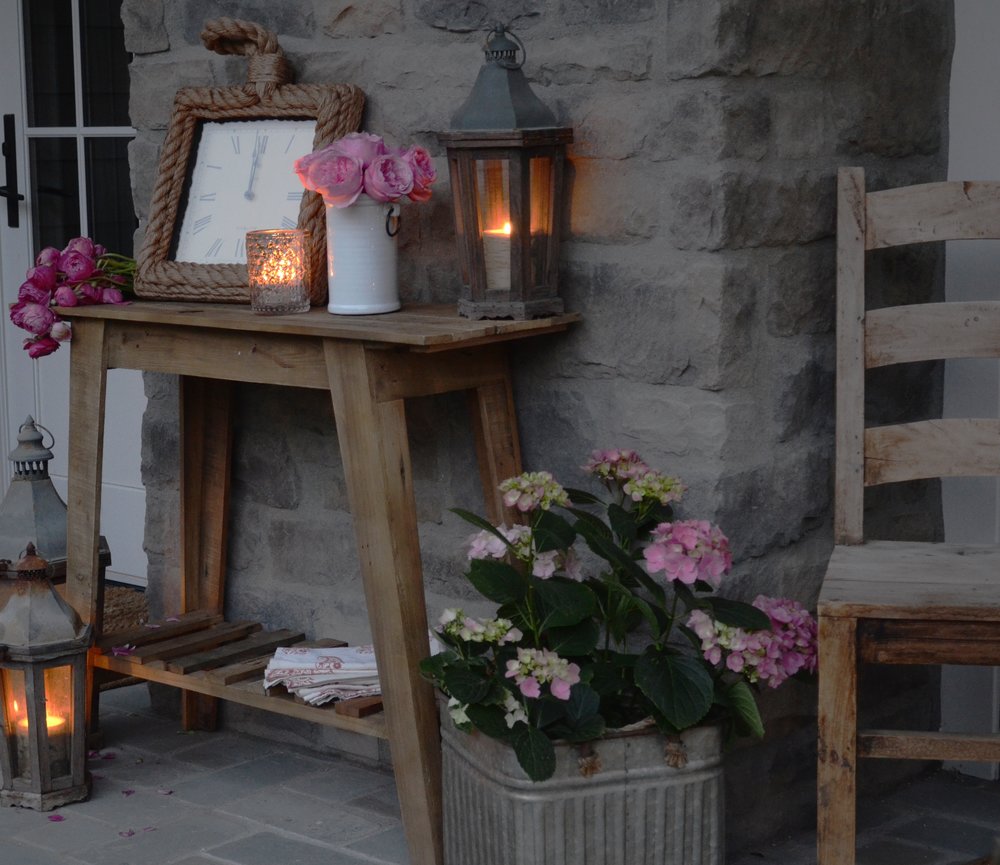 If you do have electricity nearby, I also love this over-the-table rod that easily attaches to a table and is the perfect way to add string lights or a hanging centerpiece to a table setting!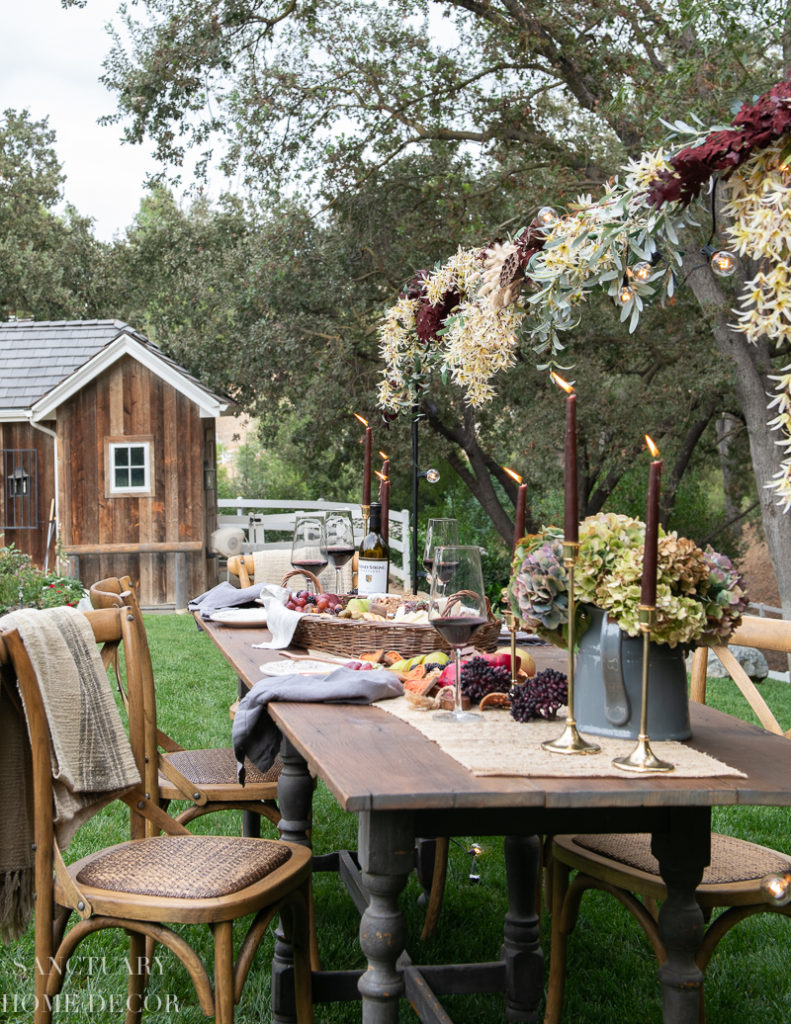 4. Don't forget the music
Adding background music to your party is the perfect way to set the mood. You don't need an outdoor sound system, just a small speaker, strategically placed with your favorite playlist on repeat will do the trick. When considering what type of music to play, think about the guests who are attending and the atmosphere you want create.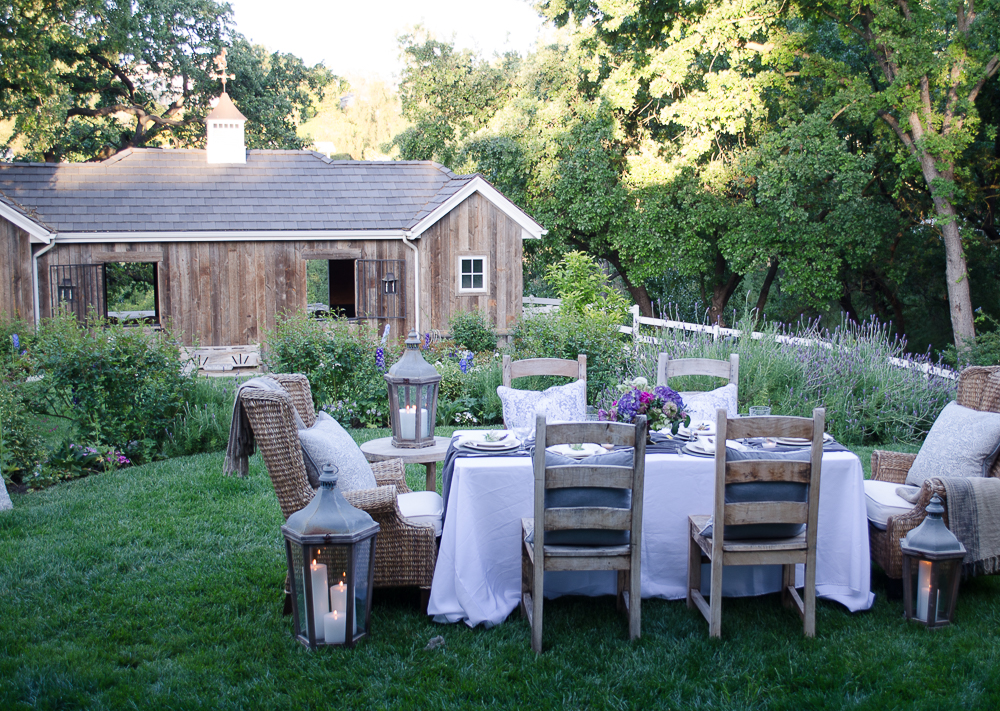 Match the music to the vibe you want…upbeat, relaxed, romantic. The key is to keep it low enough that it does not interfere with conversation, but loud enough that it still has an impact.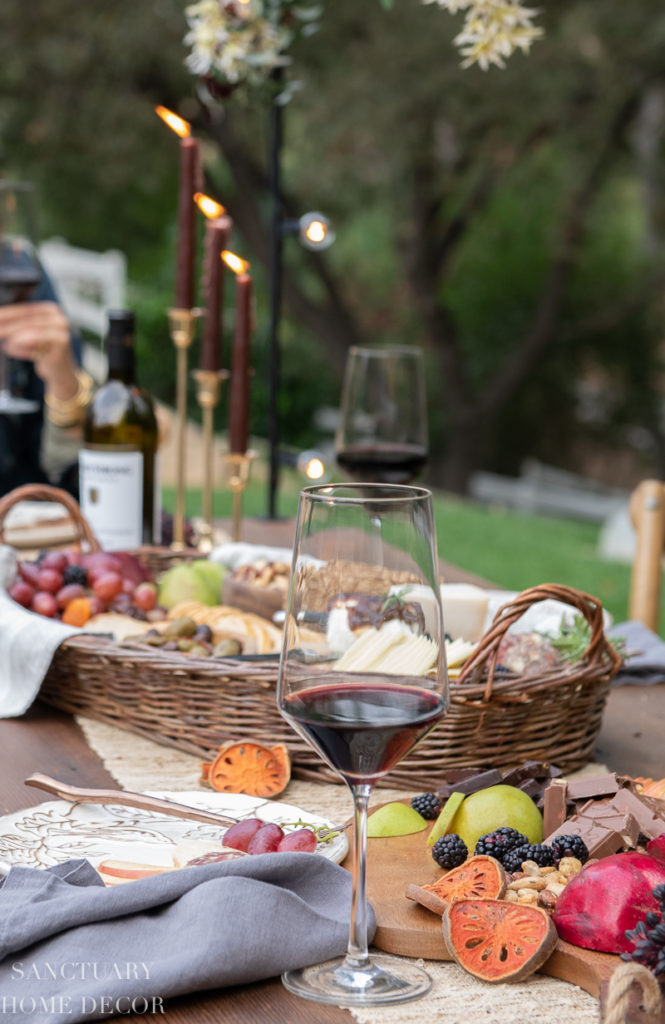 5. Add special touches for your guests
Don't you love when you attend a party and there are special touches that let you know the host thought of you? Maybe they have your favorite drink available or got that dessert that you love. Whatever it is, if you can take a moment to add simple touches for your guests, it will not go unnoticed.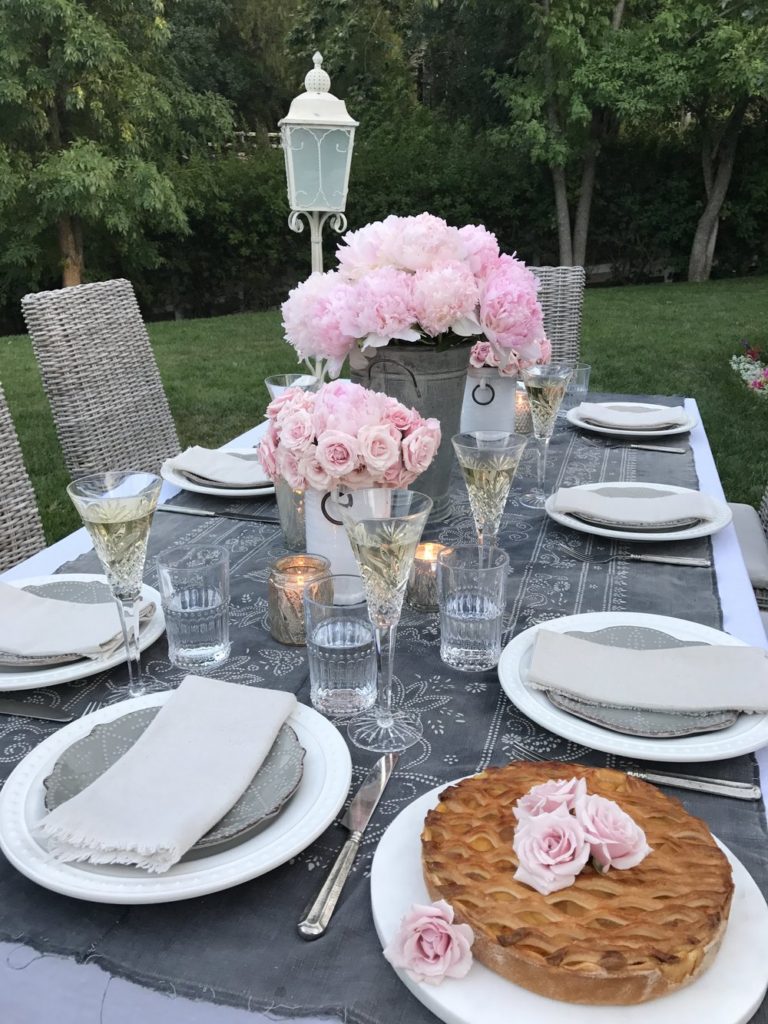 Finally, nothing will break up an outdoor party faster than uncomfortable weather. If it tends to cool off in the evenings, be sure to have a variety of blankets, wraps or jackets readily available for your guests. Some strategically placed pillows can also add that touch of comfort that will make your guests more likely to linger.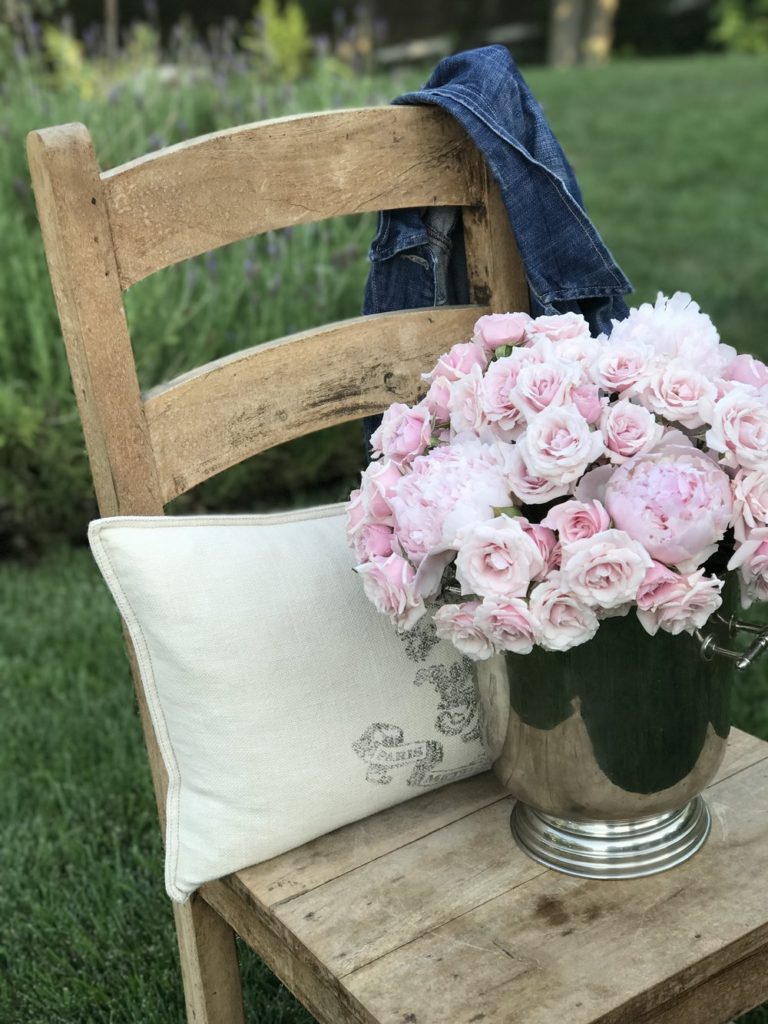 So that's it…five simple ways to make your next outdoor party a success! I hope this gives you some inspiration to add those few special touches that take your next get together from ordinary to extraordinary!