Using Solar Lighting for an Outdoor Picnic
Hi Friends! I hope you are enjoying the lazy days of summer and having some fun warm weather adventures with friends and family! Up here at the ranch it is all about outdoor activities like fishing in the pond, long beautiful rides through Yellowstone National Park and quite often a picnic lunch or dinner somewhere along the way.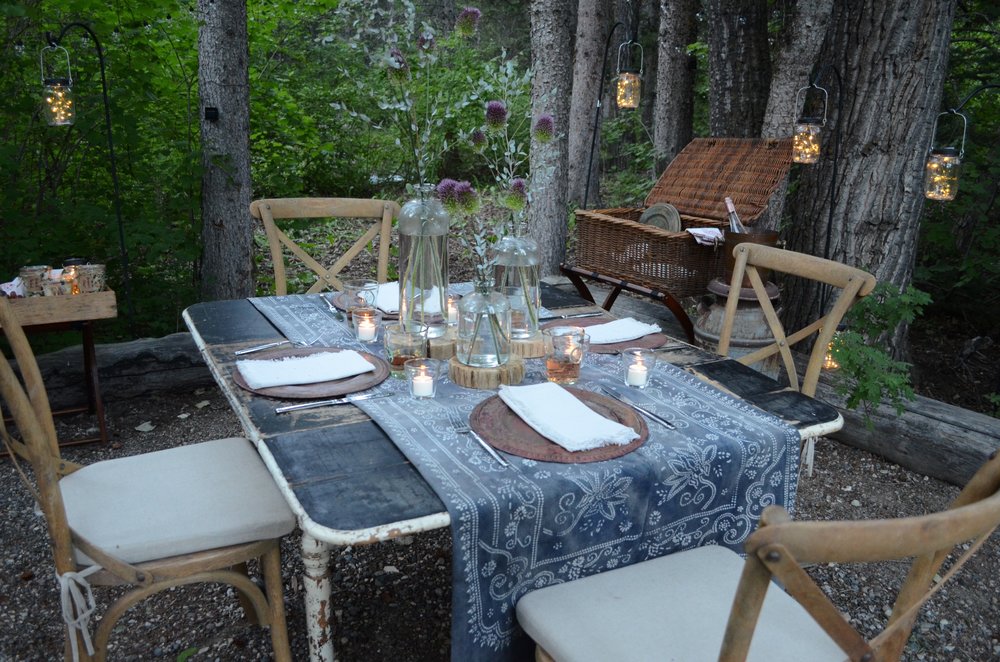 I love having a meal in a magical outdoor setting whether it is on a picnic blanket in a grassy meadow or a picnic table beside a creek, there is something about bringing your food out into nature that makes everything taste better and the whole experience more memorable.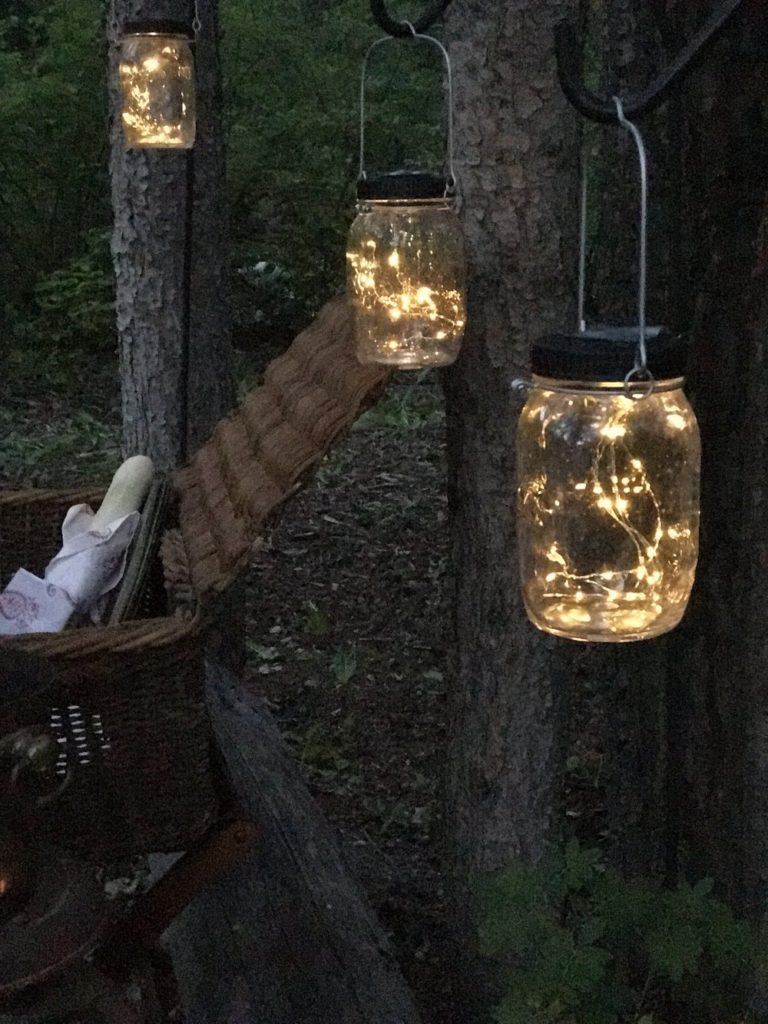 Here at our ranch, we eat most meals on the porch with a view of the mountains in the distance and the sound of the creek nearby. There are also several other locations on the ranch that I have been scoping out as great dinner spots, but I always encounter the same dilemma…how do I get lighting to this remote area. So I started researching solar lighting options and came up with some great solutions I wanted to share with you.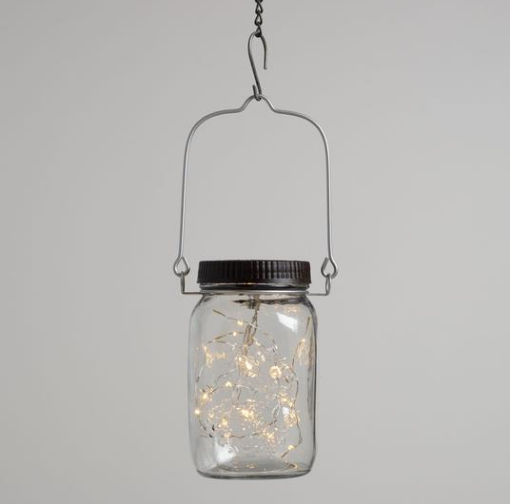 The first is this mason jar "firefly" lantern. I started using these last year as decorative lighting on our porch. They were incredibly popular with our house guests and neighbors, and I think I gave about twenty people the info on where to purchase them. I found them again this year and added a few more to my collection. I began hanging them on large hooks that could be easily moved and found that they were a great addition to any evening gathering. They give a beautiful glow and enough light to be practical as well.
Solar+Mason+Jar+Lights+on+HooksYou can purchase them by clicking HERE.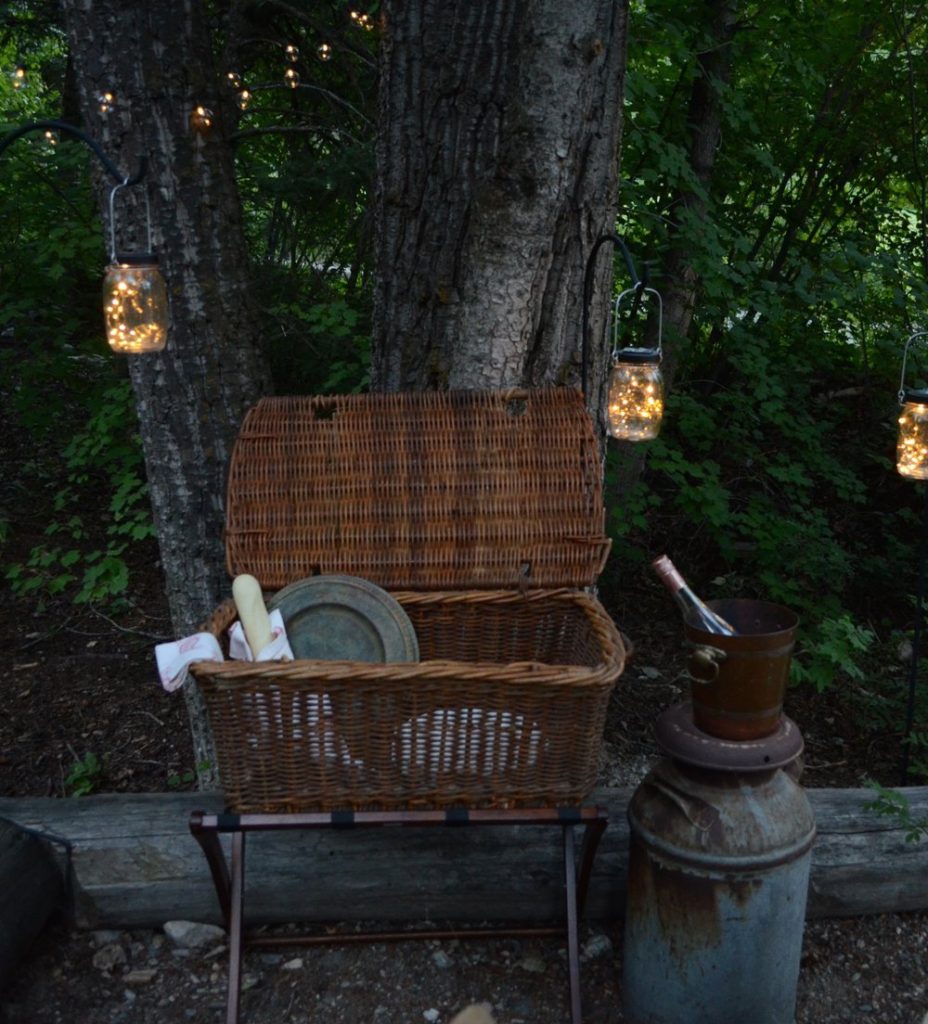 This post contains affiliate links.
Solar+String+LightsThe best solution I found for moving the mason jars to any location are in-ground shepherd's hooks. This makes it super simple to place them wherever I need additional light. The one's I use are 48″ tall and you can find them by clicking HERE.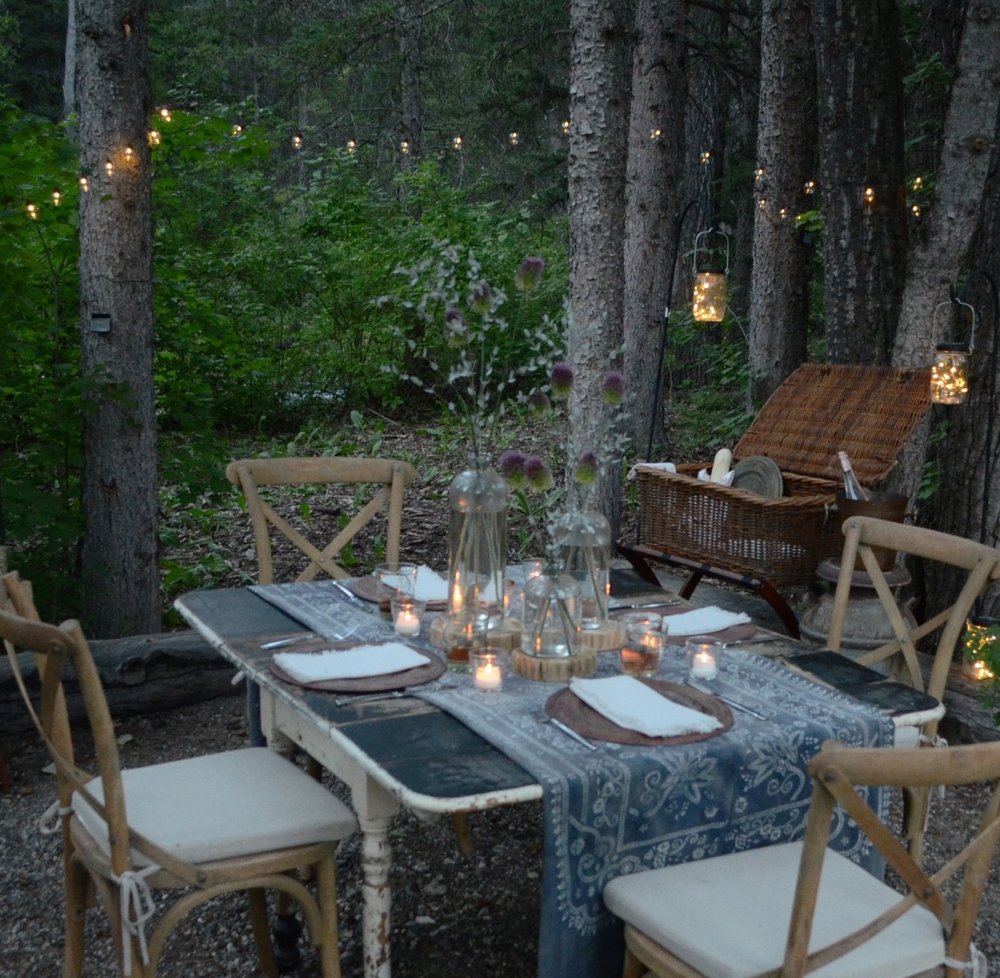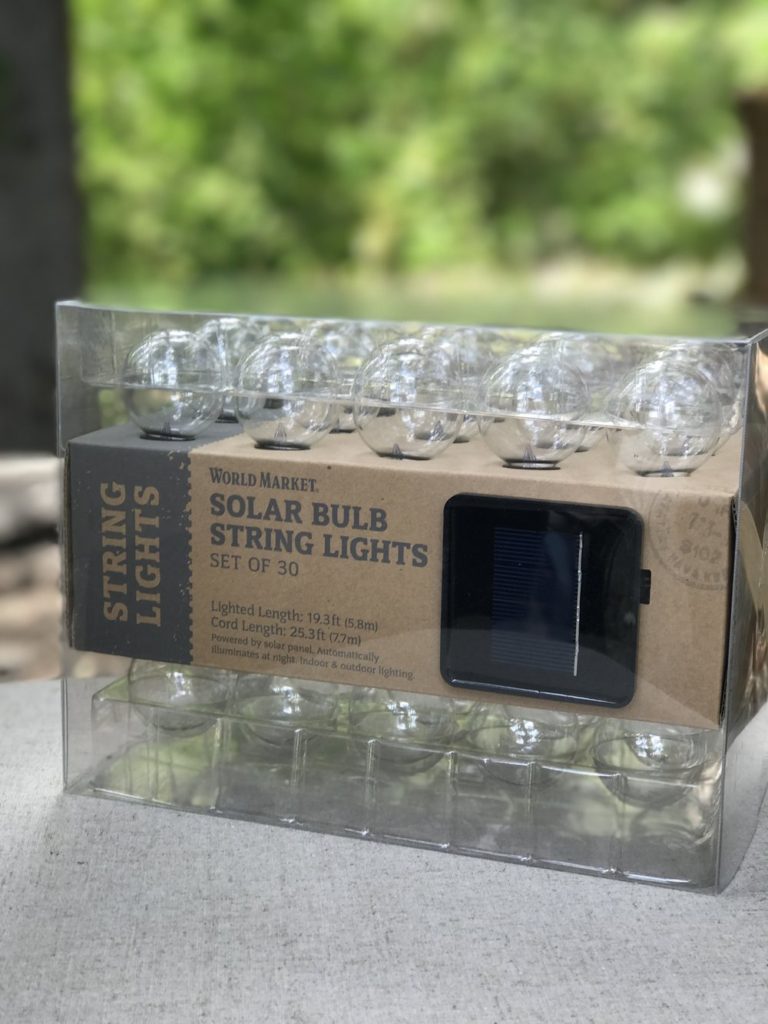 I wanted to add some additional lights in the trees, so I found some solar string lights to try out. These were really easy to install. I just loosely hung them from some lower branches to make sure they added ambient light to the table. The solar component just needs to get a good amount of sun each day and the lights will automatically come on when it gets dark. These are not as bright as electric string lights, but they added just enough light to this small area that they worked perfectly!
The ones that I used are from World Market, but there are several styles and options available. You can see the World Market ones by clicking HERE.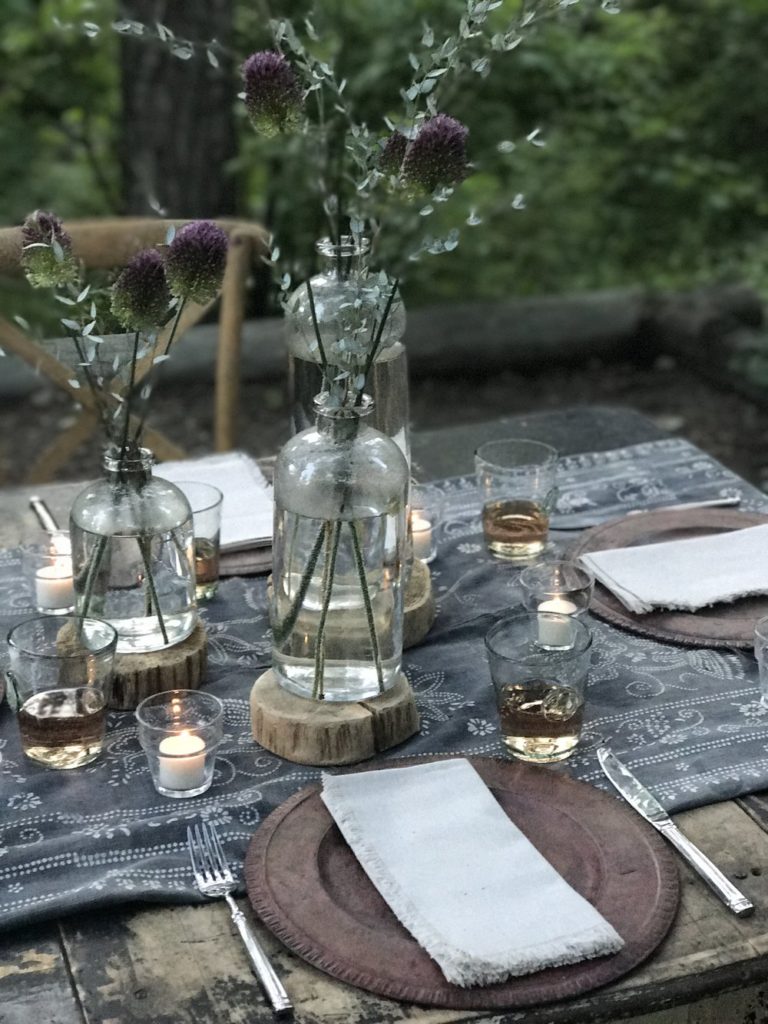 Once I was sure I could get enough light to my little wooded area, I brought out my favorite portable table. This chippy treasure was a find at a local second hand store, and it has become my go to table for mobile picnics and dinners. I decided to use a faded cloth as a table runner to keep it rustic and not too formal, and these tin plates worked perfectly to add a little pop of color. Some votive candles placed on the table added that extra glow and just a bit more light.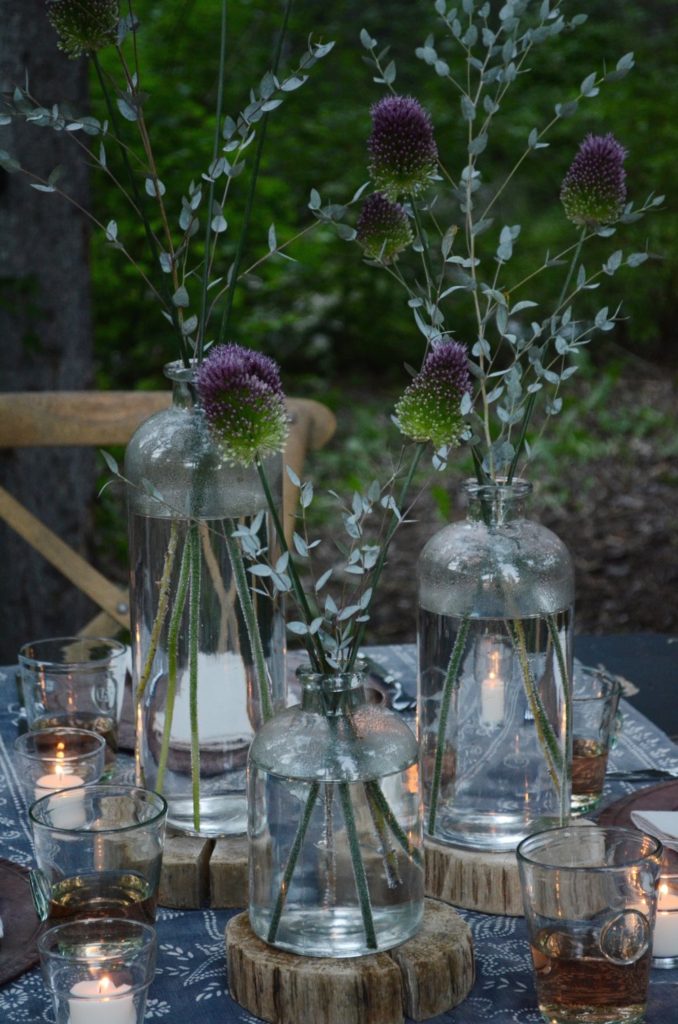 To me, no table is complete without some sort of floral centerpiece, but again, I did not want anything formal, so I chose these glass bottles and used a wood disc for the base. I added some bonsai eucalyptus and these amazing drumstick allium for a super easy but dramatic look.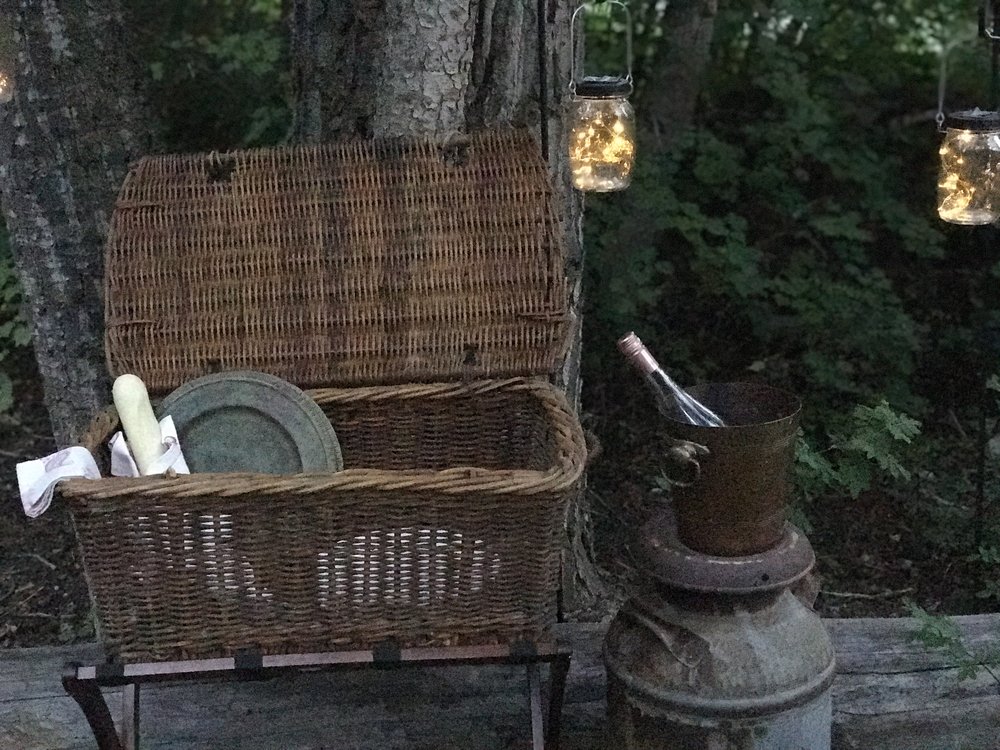 Getting your picnic to a remote location is not always easy, so I am forever on the hunt for great picnic baskets. One of my all time favorite finds is this extra large vintage basket that carries an entire dinner, plus extras, with no problem. It is easy for two people to carry, and I will often grab a luggage rack from one of the guest bedrooms to use as a base for the basket. Once it is emptied out, it serves as a great makeshift table top for a cheese display or for dessert!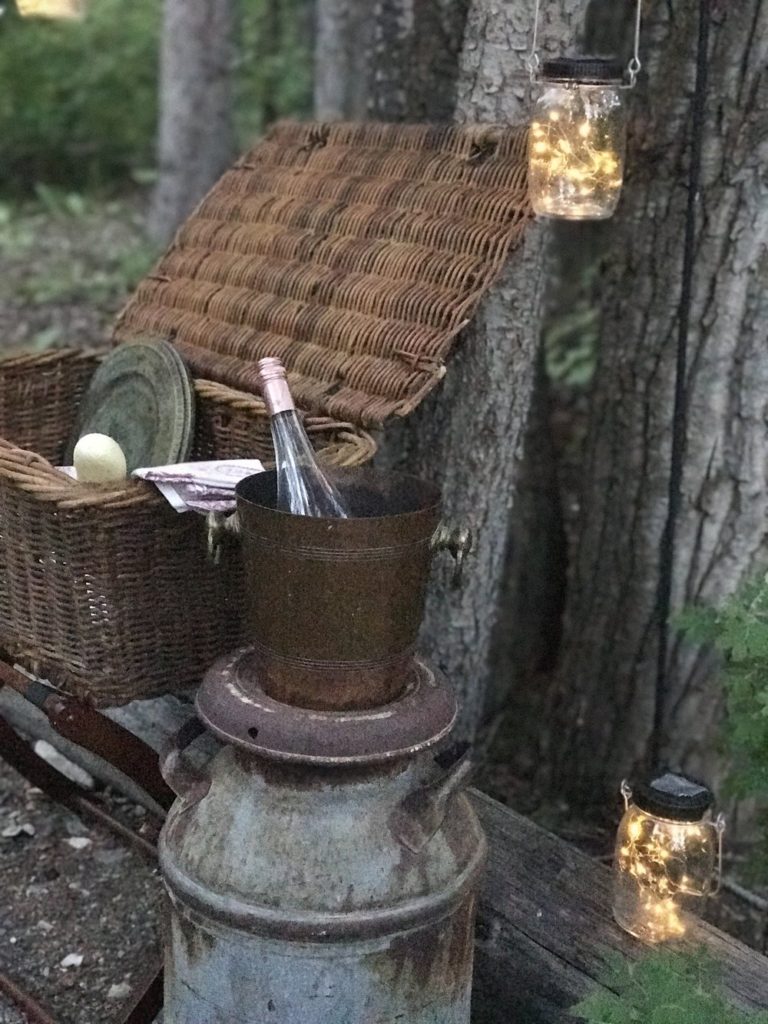 I know it may seem unnecessary, but if I am serving white or rose wine, I always pack an ice bucket and a ziplock bag filled with ice. To me there is something so beautiful about having wine chilling next to you while enjoying a meal in nature…kind of decadent too!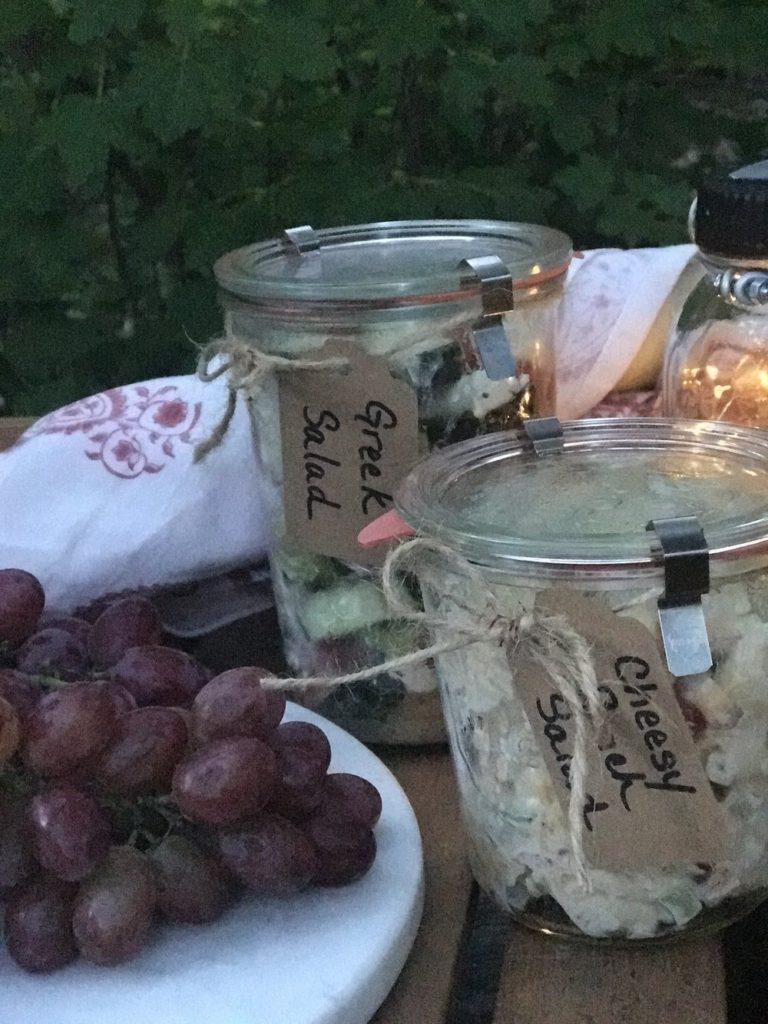 In terms of picnic food, my basic rule of thumb is KEEP IT SIMPLE and serve food that tastes great room temperature. I often pick up rotisserie chicken and transfer it to a disposable container and then add in some deli salads and fresh fruit. A cheese and meat board also works great with some fresh bread and deli salads. I find that often the atmosphere makes up for any lack of "fanciness" in the food.
Here is my list of things to always keep in your basket…just in case: A trash bag, a good knife, a small bread board, a wine /bottle opener, an extra table cloth, extra forks and knives (to replace the inevitable dropped ones), bug spray, hand sanitizer and a few ziplock bags (for leftovers).
With all of this in tow, plus the beautiful ambience of your solar lights, you're sure to have an wonderful outdoor meal.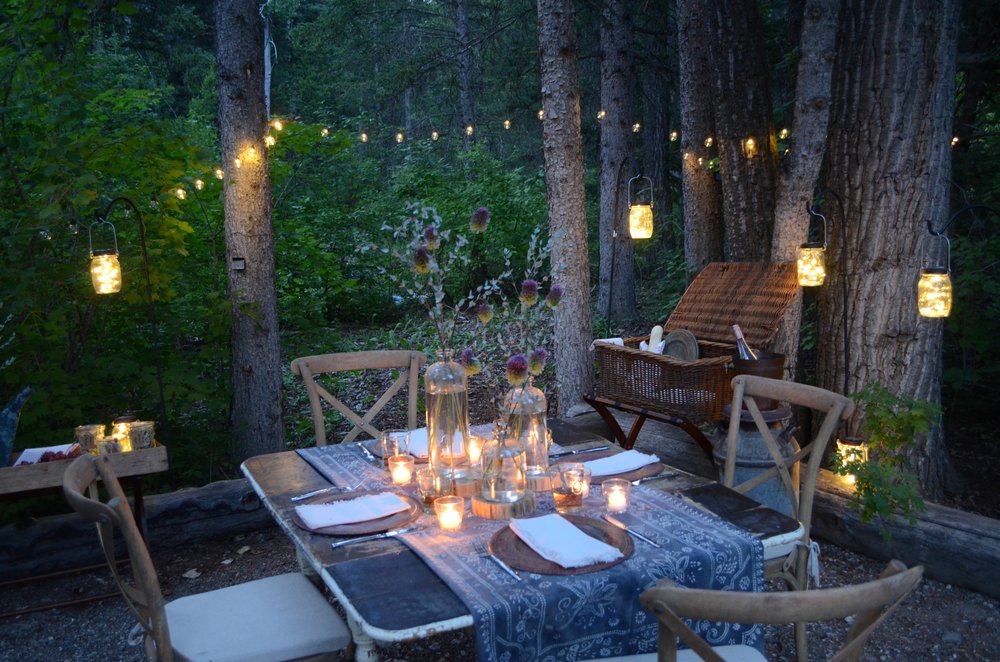 As the sun set in my little wooded picnic area, the lights became brighter and a glow settled in. It was a lovely, warm evening and the mixture of good wine, yummy food and a beautiful environment were the perfect way to end the day!