How to Decorate With Silver & White for Christmas
This is our family room, which I don't share too often because it is the main gathering space for my family and is rarely clean or perfectly decorated. 🤷🏻‍♀️ One morning last week, I walked into this room and no one was watching tv or reading or playing with the dogs, so I grabbed my camera and snapped as many pictures as I could, knowing what a rare event this was! 😂 The result is a series of photos showing all of the little details that make this room the cozy space where my family makes memories, especially during the Christmas season. I realized that I used a simple color palette here so today I wanted to share some ideas for how to decorate with silver and white for Christmas in a soft and subtle way.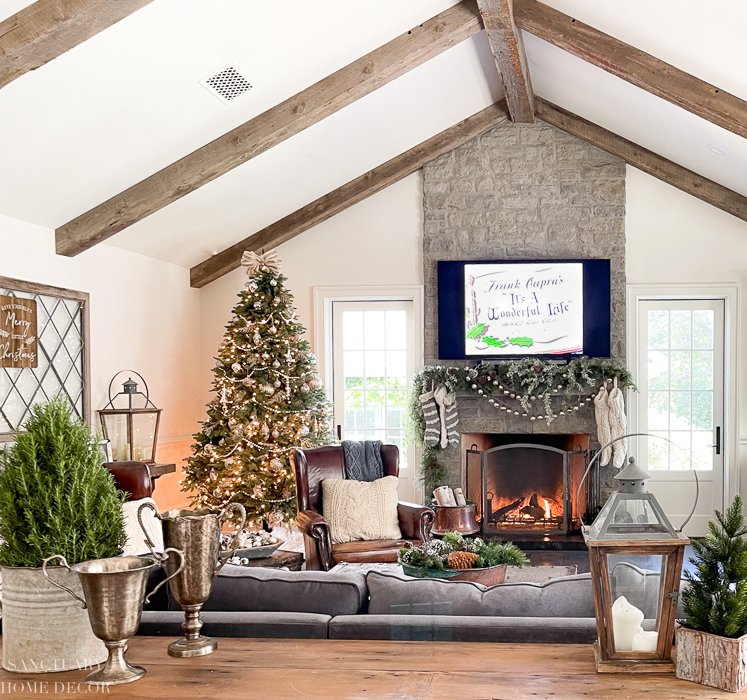 As you enter this room there is a long table behind the couch that is a great surface to add seasonal decor pieces. I find that simple greenery mixed with some metallic touches works well for Christmas and beyond, so I used a rosemary topiary in a French zinc bucket and added a couple of reproduction trophy cups beside it. On the opposite side sits two large lanterns with a small pine tree in between. (I like things in threes!)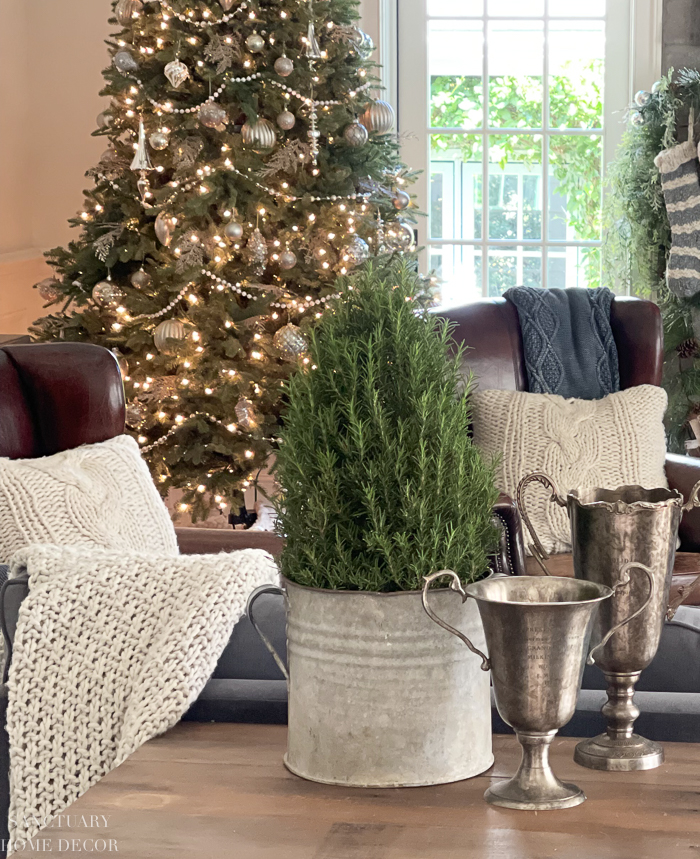 Looking further into the room, the stone fireplace is the centerpiece of the room (with an enormous TV above it 🤦🏻‍♀️). As someone who wants every view to be aesthetically pleasing this TV is a bit hard for me to tolerate, but I am also practical and understand that a home needs to be functional as well as beautiful, so I just decorate around it!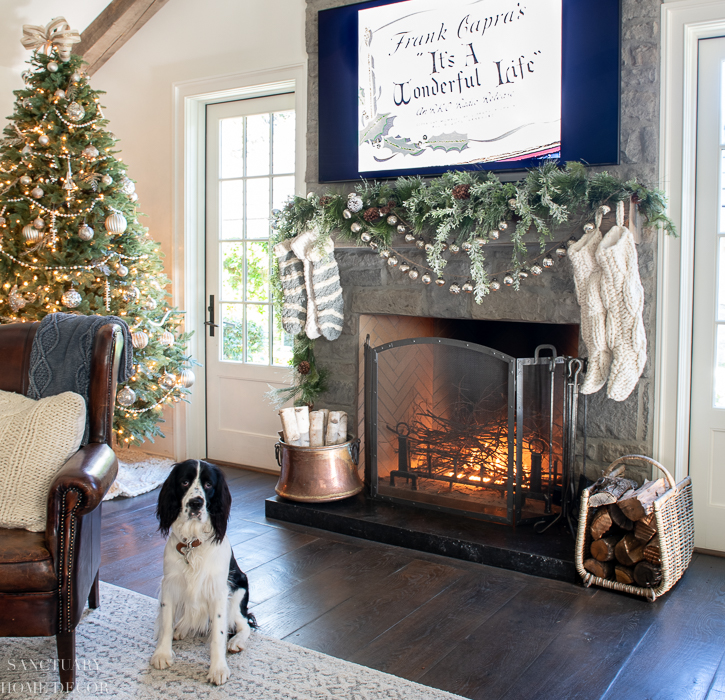 I add a very full layered garland on top of the mantle and then string either bells or other metallic elements beneath the greenery. This year I discovered a beautiful mercury glass garland that became the inspiration for the theme throughout this room.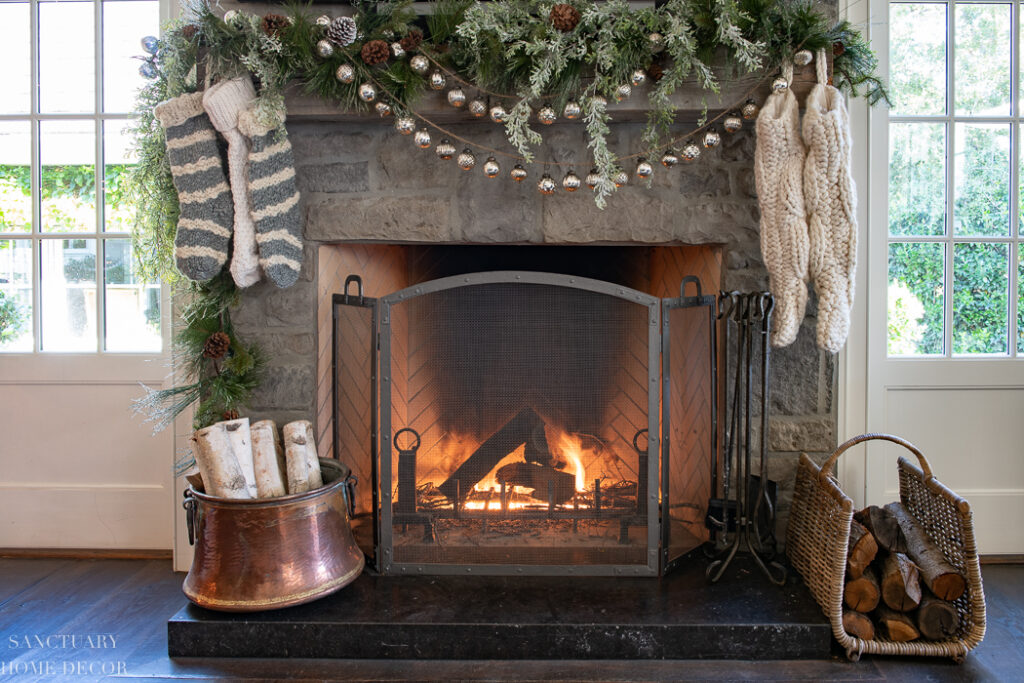 Two strings of garland hung asymmetrically add a pretty shimmer to the fireplace and set the stage for the remaining decor elements. On the hearth, I used my favorite copper pot filled with birch logs and a rattan log holder for additional firewood.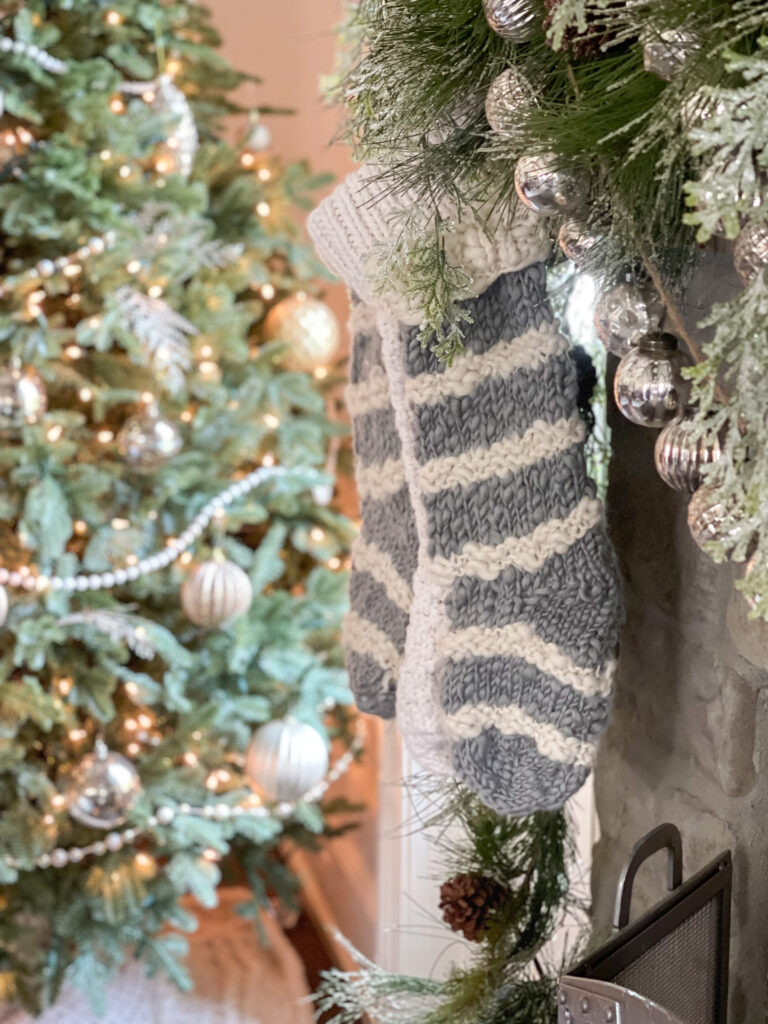 Not wanting the look to be too formal, I chose to use knit stockings hung on either side of the mantle.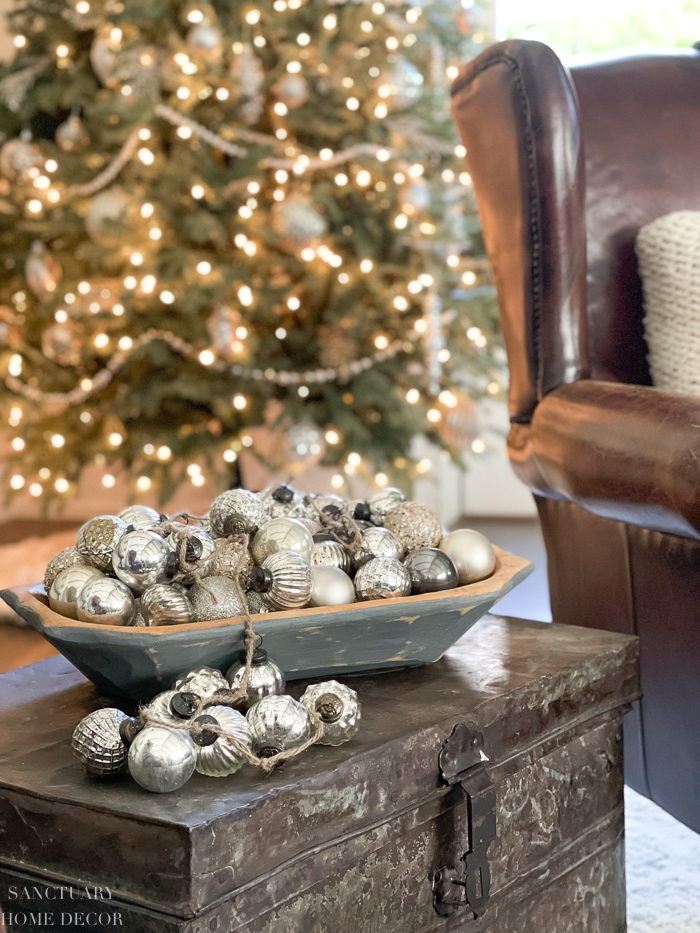 Continuing the shiny silver theme, I filled a gray painted dough bowl with silver ornaments in various sizes and textures and placed it on a chest between two leather wing back chairs.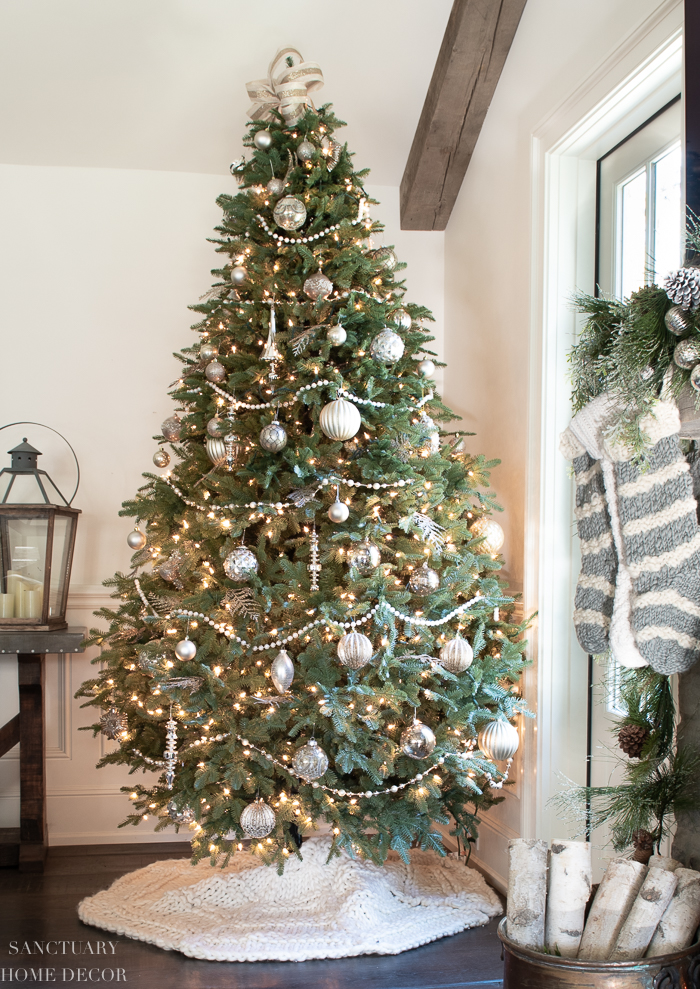 I draped the Christmas tree with white and silver garland and then silver ornaments in different sizes and textures were added. So simple but so pretty!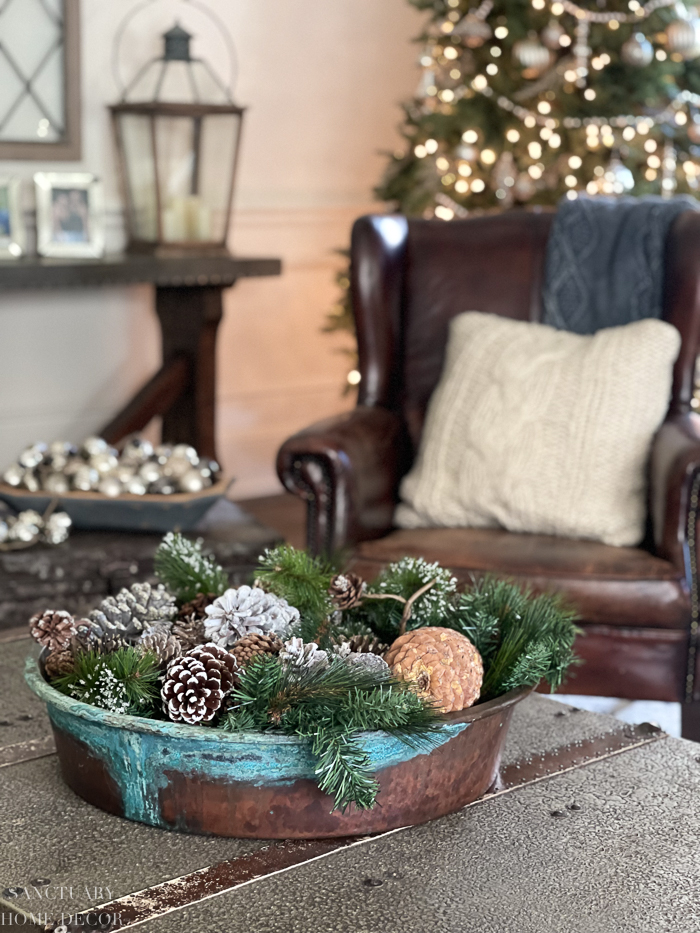 On the coffee table, I filled an oversized copper bowl with faux pine greenery and white-tipped pine cones.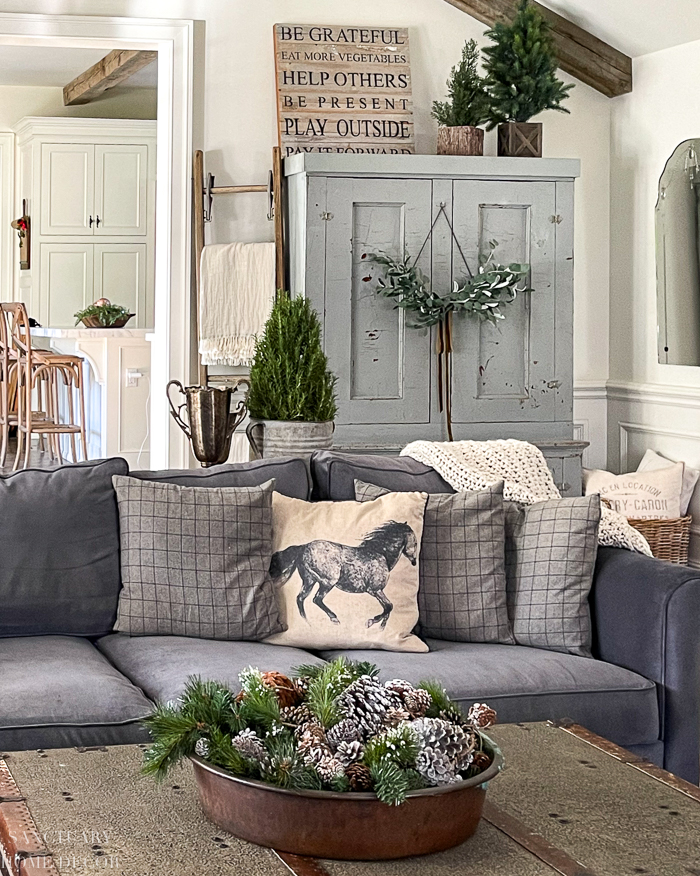 And on the cabinet behind the couch, a put a couple of small pine trees and a pretty eucalyptus wreath.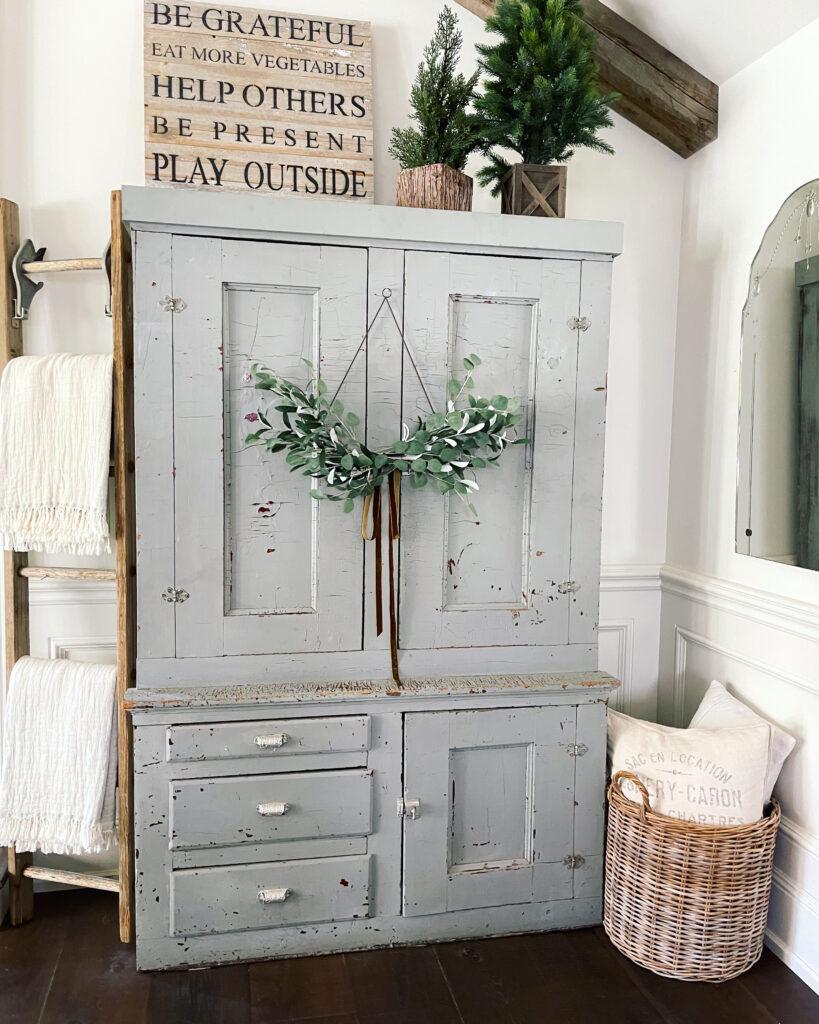 Overall I love how this room turned out. It's always a surprise in the end because I rarely plan ahead. I hope this gives you a few ideas about how to decorate with silver and white for Christmas in a soft and subtle way.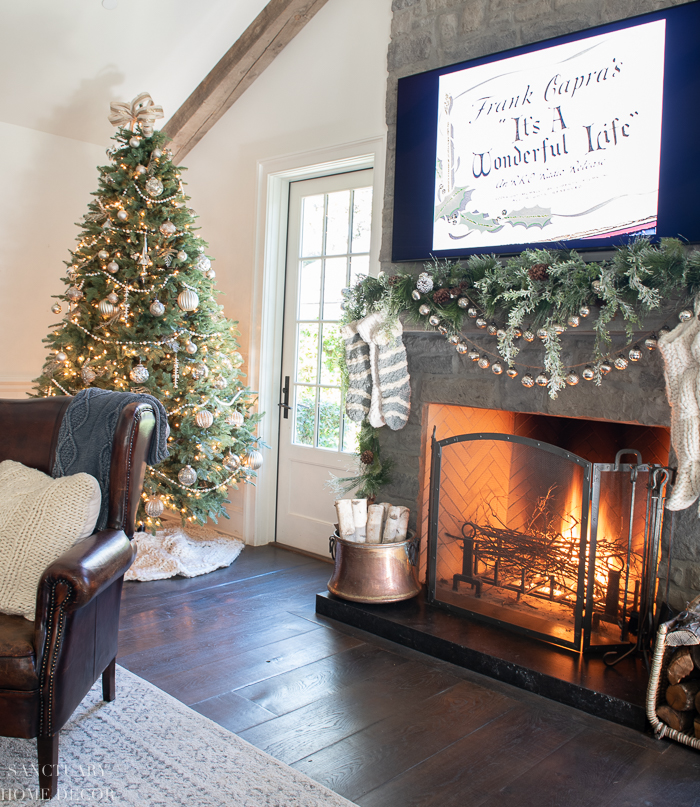 Thanks for stopping by the blog and have a beautiful day!