Soft and Subtle Fall Decorating Ideas
I have never been known for my subtle decorating style. When a new season is approaching, I generally jump in with both feet and completely shift the decor throughout our house. But this year feels different in so many ways, so an explosion of fall decor just didn't feel right to me. With that in mind, I decided to keep my fall decor to a minimum and am loving the way it looks throughout the house. Today I'm sharing some soft and subtle fall decorating ideas that welcome in a new season in a quiet and minimal way.
Be sure to scroll down to the end of this post to meet my talented friend Sheila from Maison de Cinq and see how she is decorating for fall!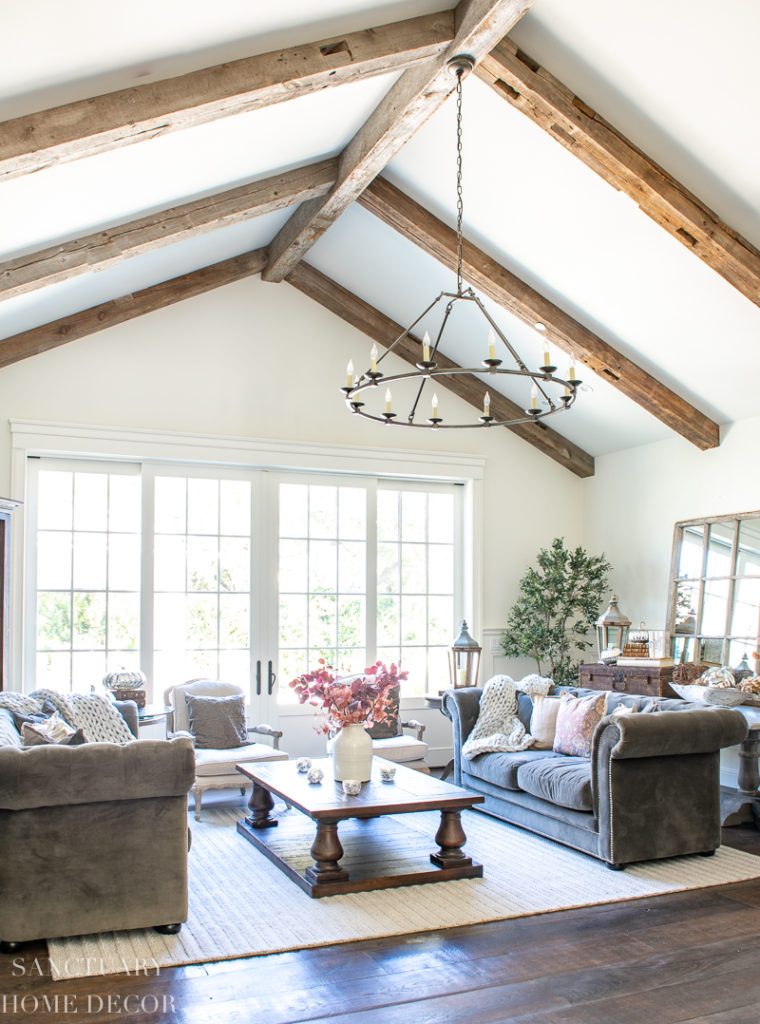 Our living room is the first space that is visible from the front entry. It has high ceilings and usually requires maximal decor to make a statement.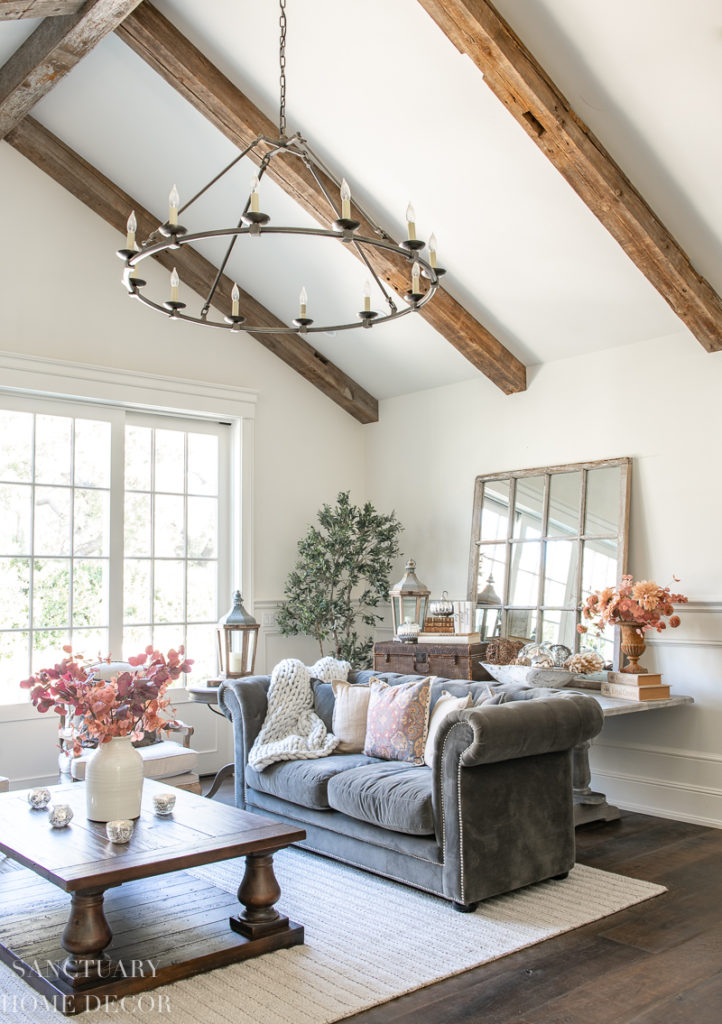 Since my goal this year was to keep my fall decor soft and subtle, I chose to use just a couple of elements including faded fall branches and faux florals alongside some mercury glass and neutral accent pieces.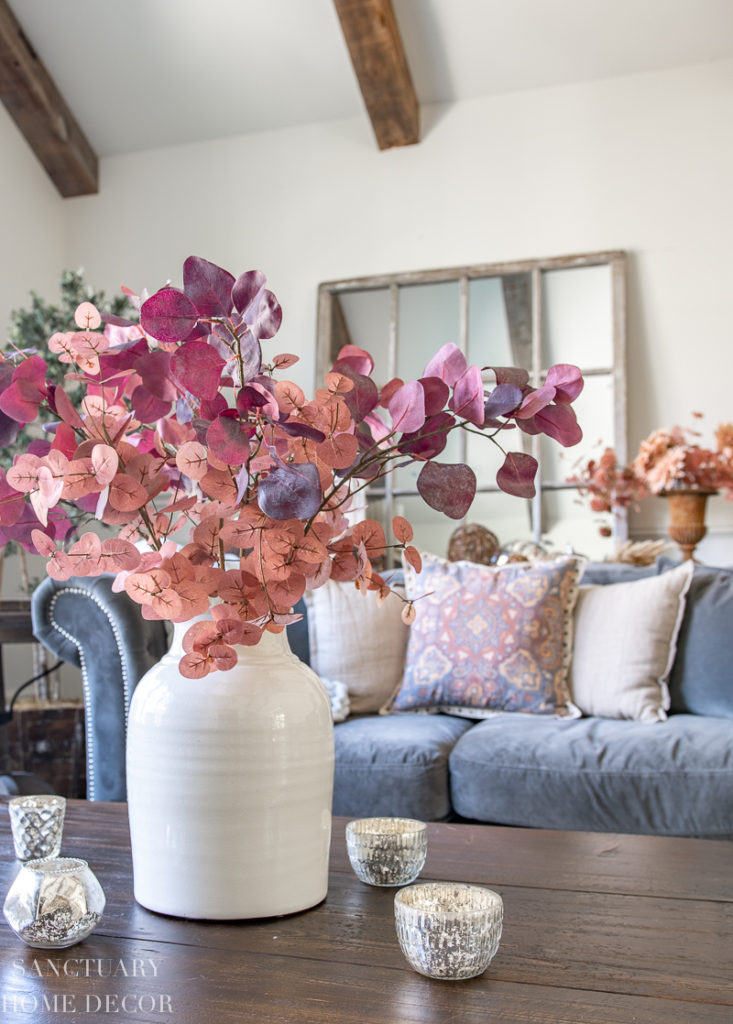 I started with a large white jar filled with beautiful faded coral and burgundy eucalyptus branches which I placed in the center of the coffee table. I sprinkled several mercury glass votive holders around the table to add a pretty glow both day and evening.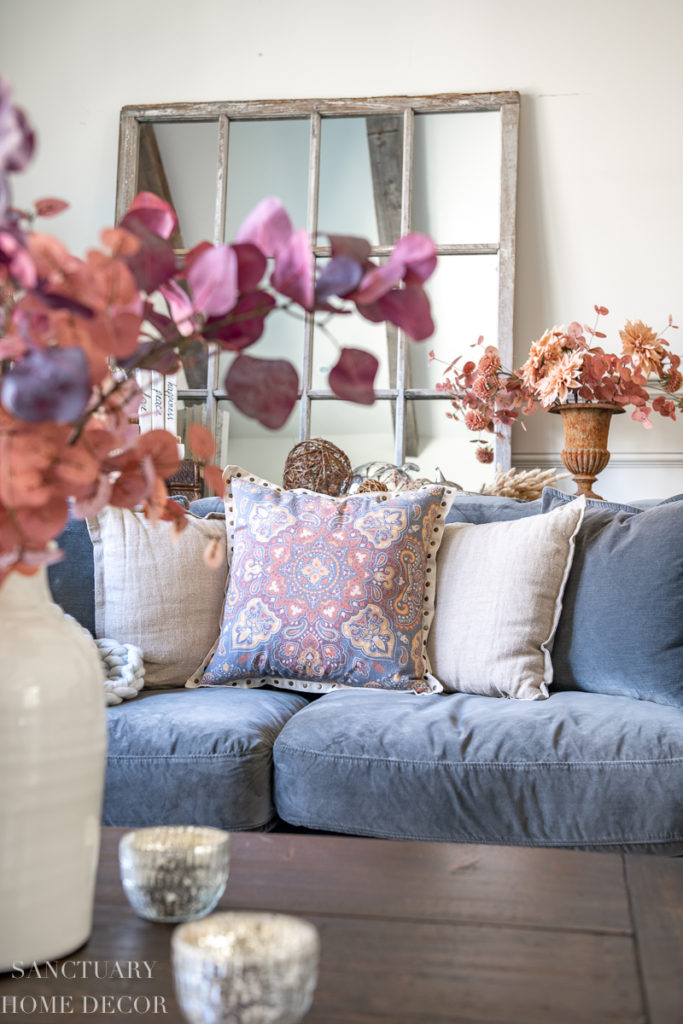 On both sofas, I placed my all-time favorite fall pillows. I have had these pillows for several years and always find a new place for them each year.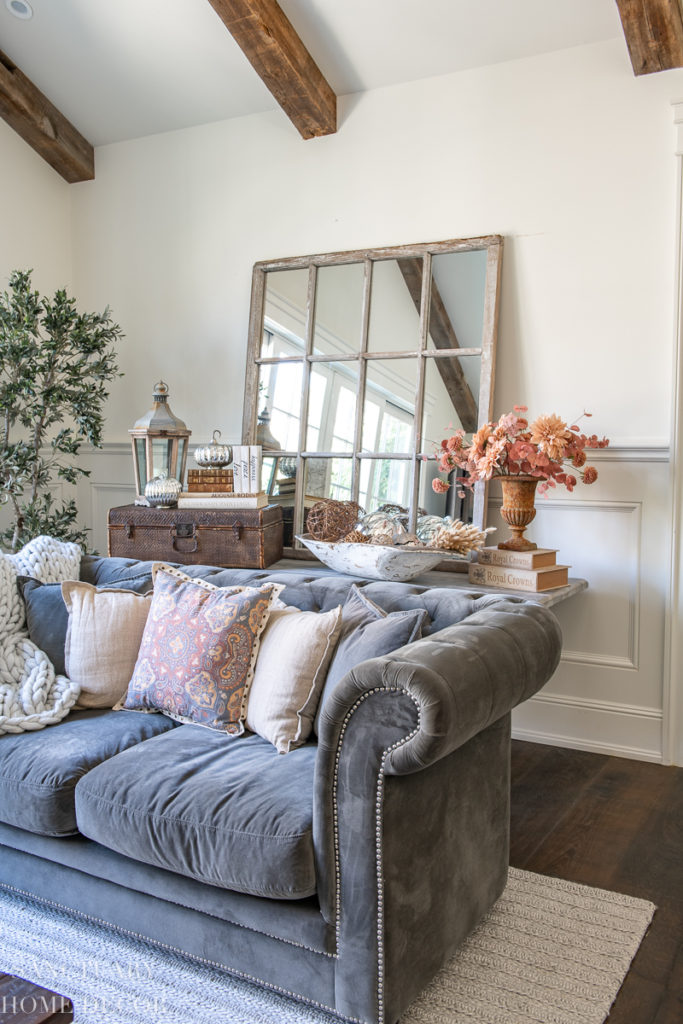 On the large table behind the sofa, I created a soft and subtle fall vignette using a few of my favorite decor elements. This included a vintage French urn, stacked on linen books, and filled with monochromatic faux flowers in a soft coral tone.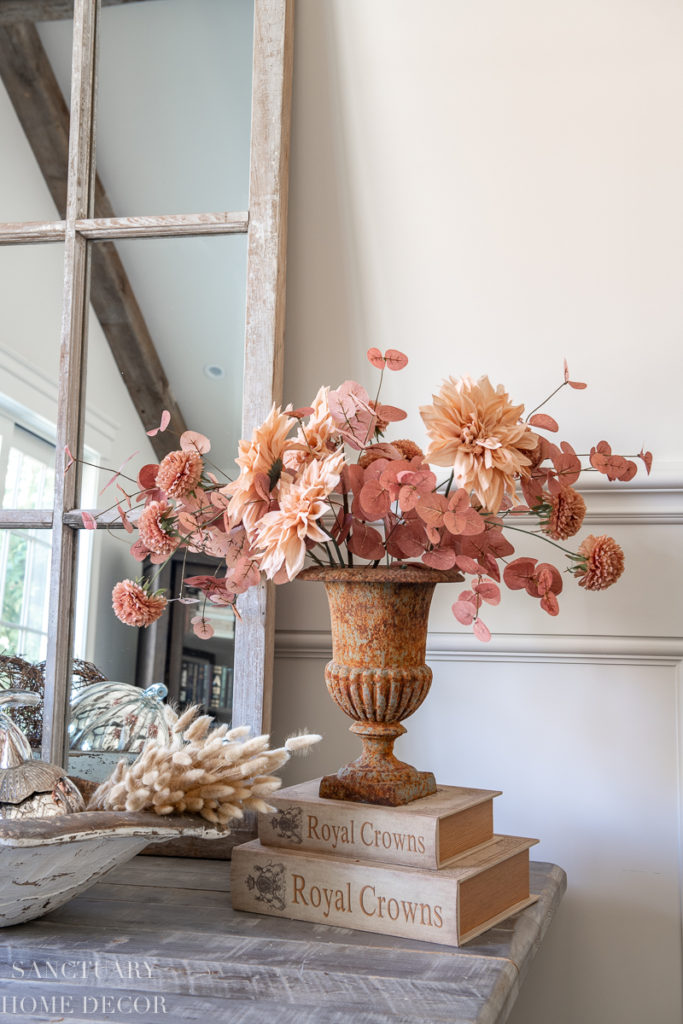 I also filled an oversized dough bowl with some natural vine spheres, a bunch of dried bunny tail stems, and two mercury glass pumpkins.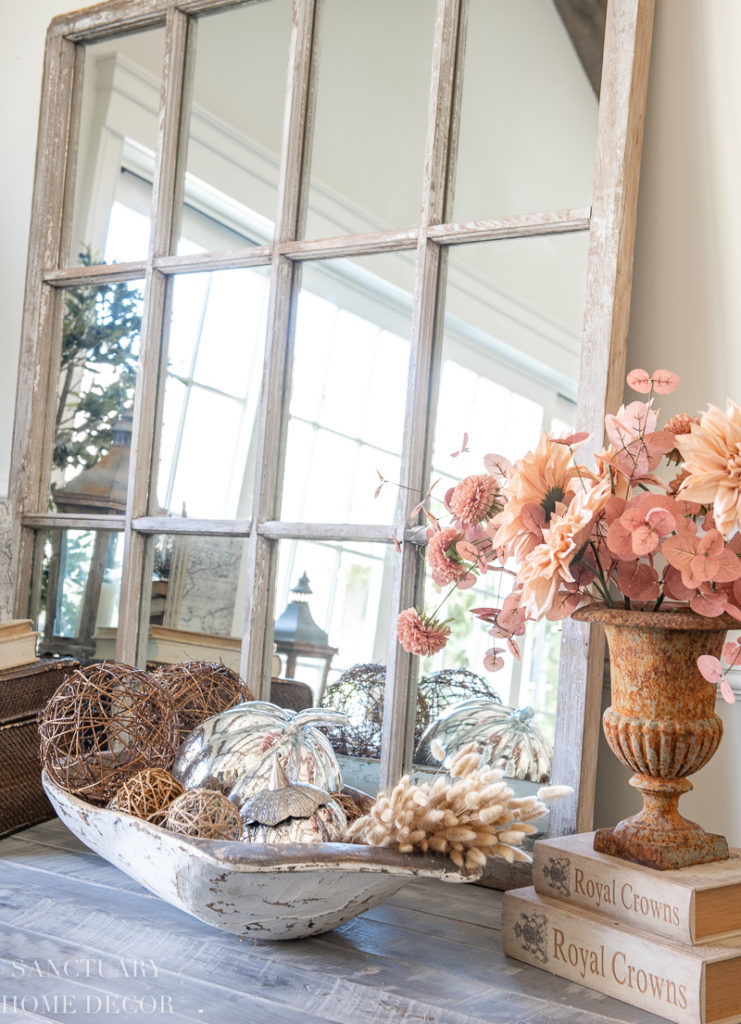 This is a look that I love and that will last until the holiday season arrives.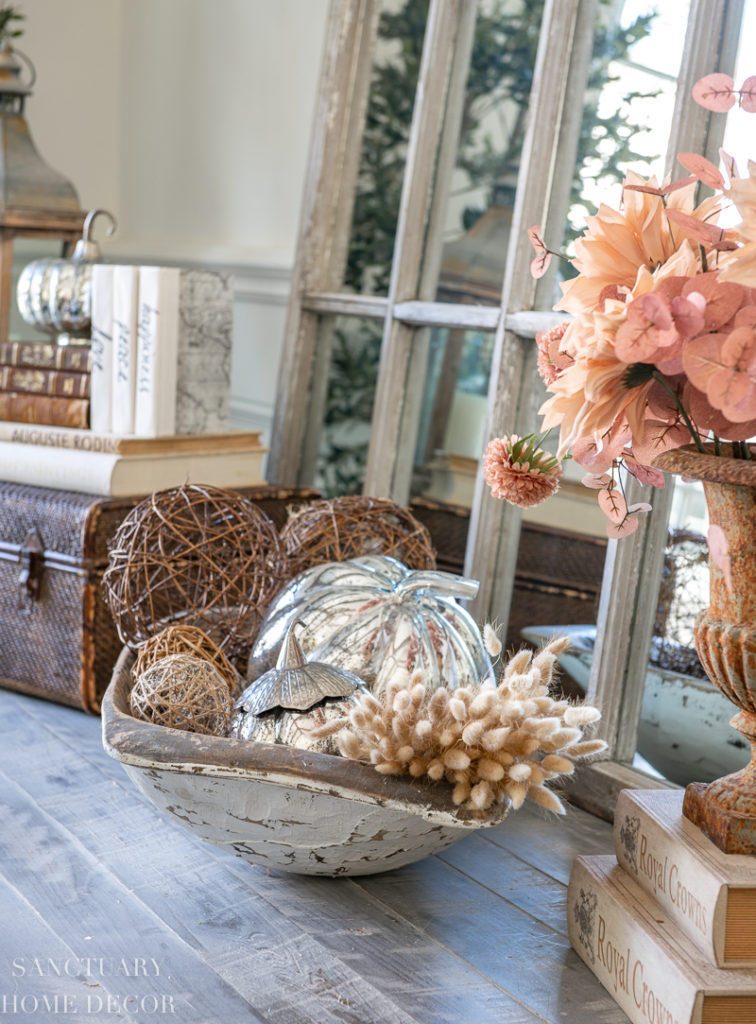 I finished the vignette with several books stacked on a vintage wicker suitcase and topped with an aged lantern and two additional mercury glass pumpkins.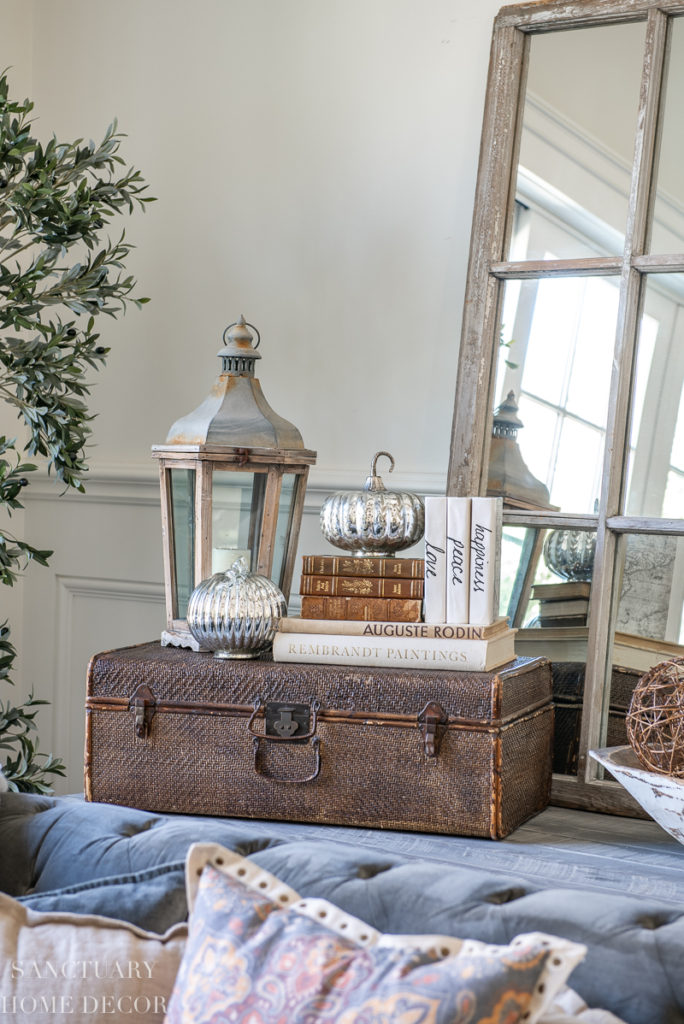 The look is not so very different than in other seasons, but the addition of a few fall elements and colors gives the soft, subtle look I wanted to achieve.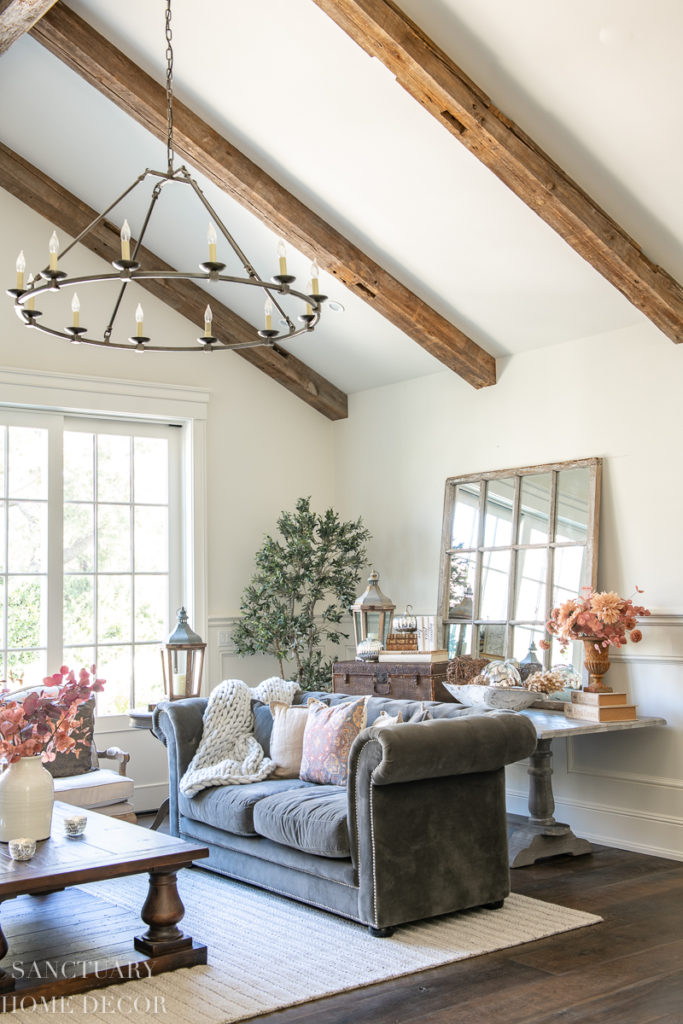 One element that I like to include as we transition to fall is chunky knit blankets, and this year I found some that I just adore. I draped one on each of the sofas to give the room a soft and warm look without too much fuss.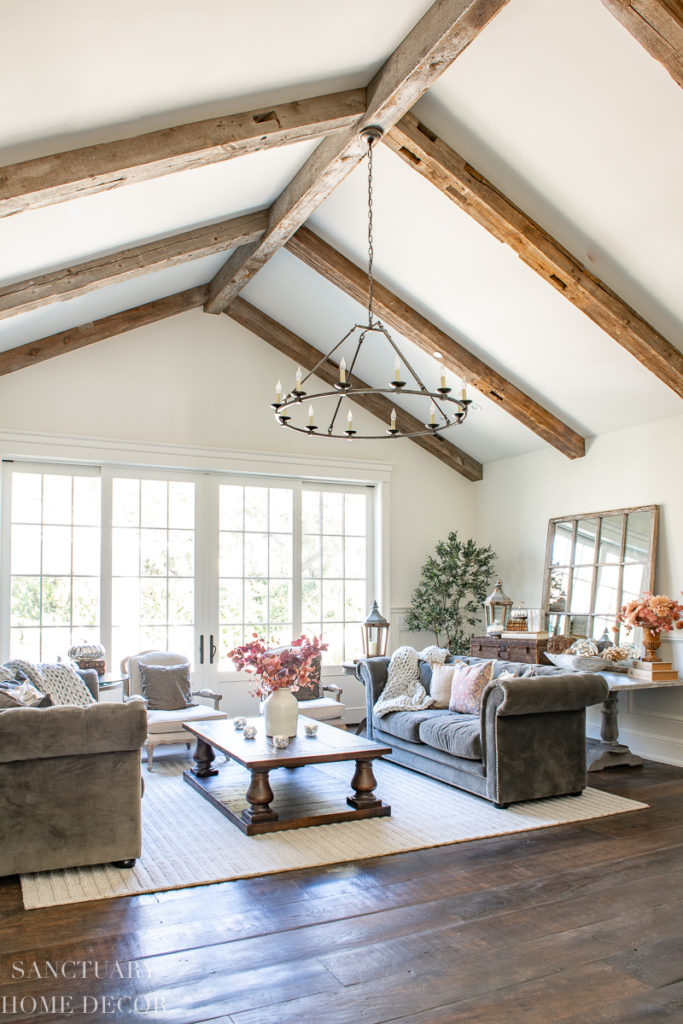 I hope this gives you some soft and subtle fall decorating ideas that you can incorporate into your home this season!
You can see more of my simple fall decor HERE and HERE.
Have a beautiful day!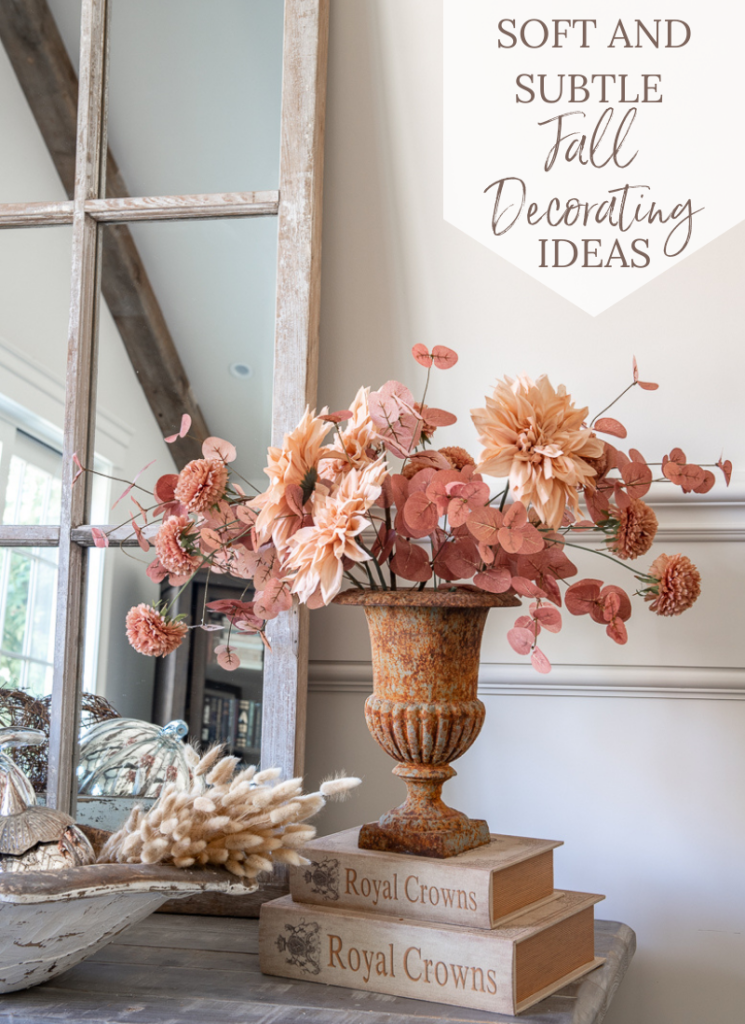 MEET MY FRIEND SHEILA FROM MAISON DE CINQ
I am so happy to introduce you to my great friend Sheila from Maison de Cinq. She is an incredibly talented designer, photographer and blogger who is sharing her fall family room today as well! Her style is French country with a casual and soft vibe that I know you will love! Be sure to head over and see her tips for SIMPLE FALL DECORATING!
Maison de Cinq|Simple Fall Decor Ideas