Space-Saving Solutions for Storing Your Christmas Decor
Hi Friends! Have you recovered from the holiday festivities yet!? It was a whirlwind of parties, eating and gifts around our house and my heart (and tummy) is full from time spent with friends and family. I am planning to keep our decor up through the new year, but am already thinking about the best way to store our Christmas decorations once the transition begins. In fact, I did a bit of online shopping last week and found a few great space-saving solutions for storing my Christmas decor, so I thought I would share my finds with you! The best part is, most of them are on sale this week! Yay!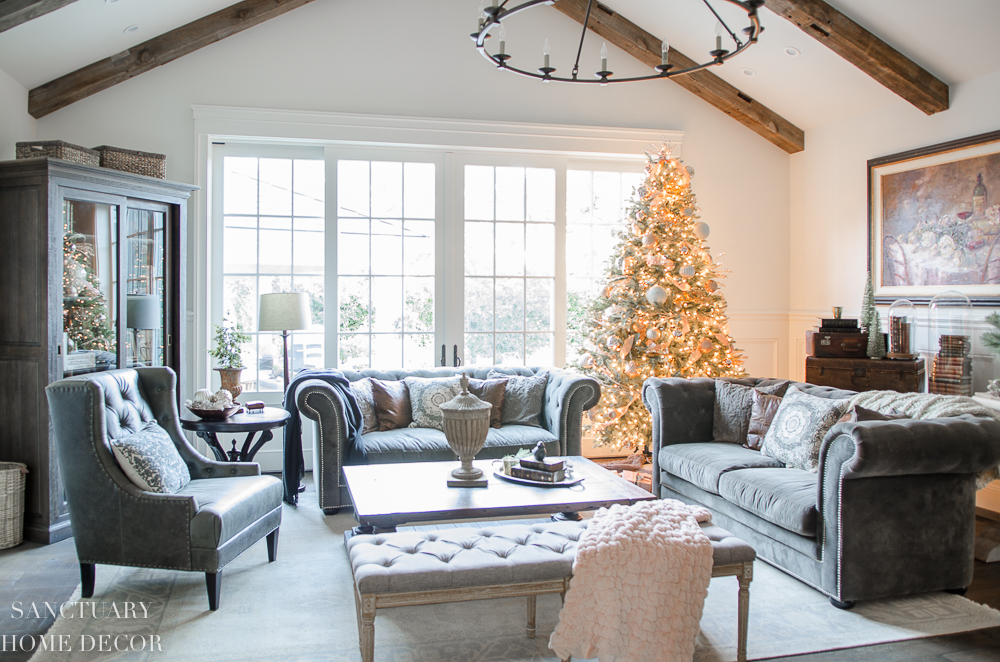 ORNAMENT STORAGE
It seems like my collection of ornaments grows every year…do you have that problem? I used to use plastic bins and tissue paper to store my ornaments, but I found them to be too large and cumbersome. Plus, I like to organize my ornaments by color (don't judge!) and the large bins were too big and difficult to manage.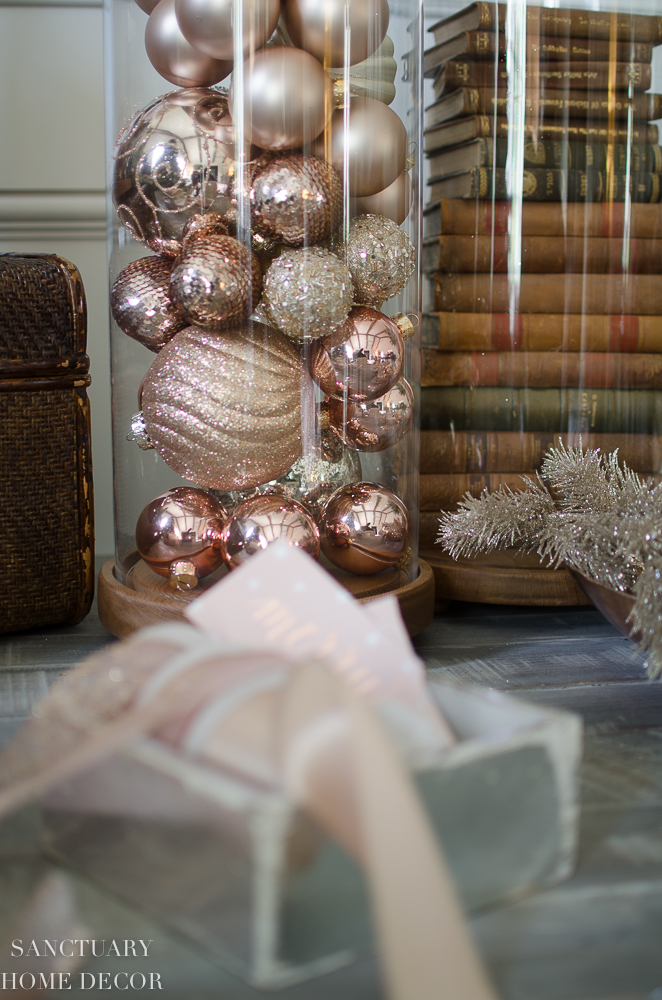 Last year I got some great ornament storage boxes from TARGET and I have to say, I LOVE them!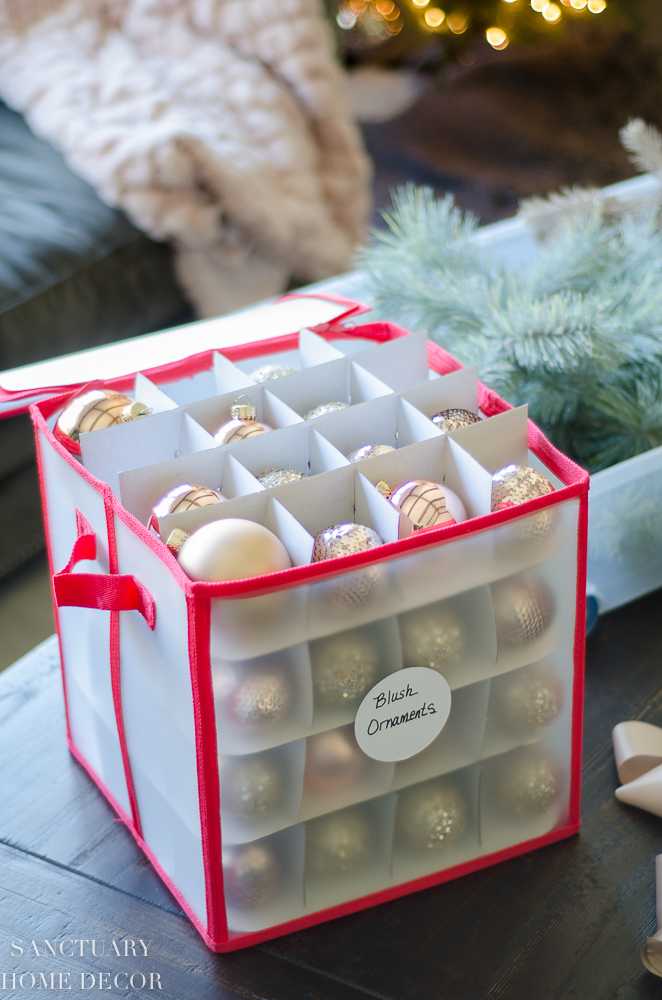 These boxes hold 64 ornaments (small to medium size) and the dividers keep them from breaking. I also love that they are partly transparent, so I can easily see whats inside. I do add a label to my boxes to identify the color, but that's just me. : )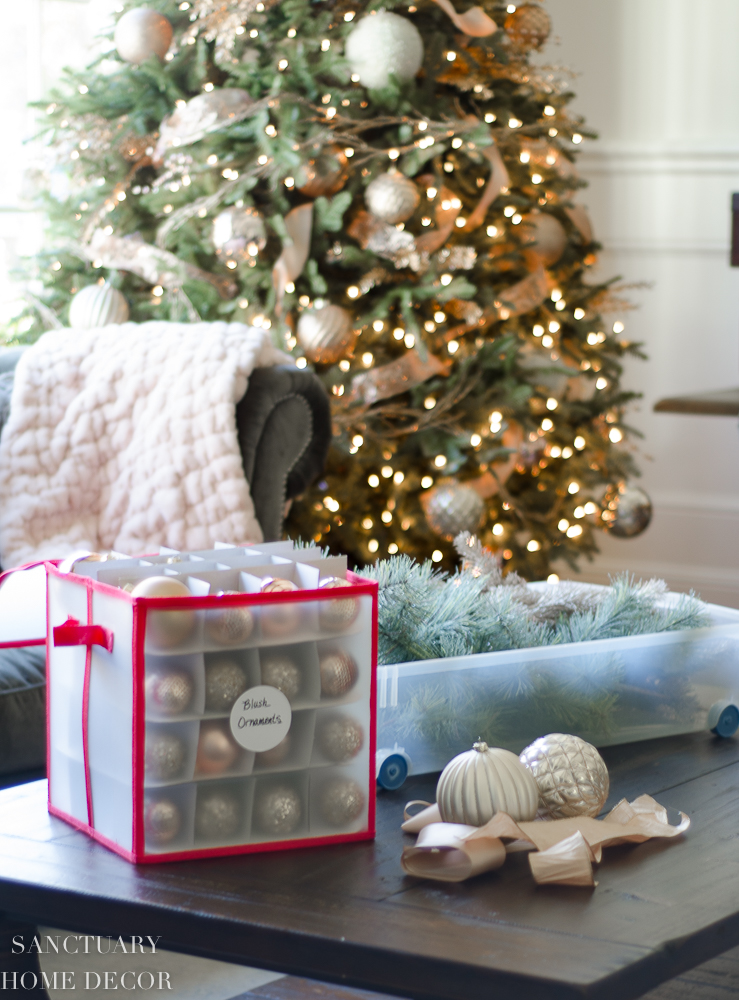 This year I am getting a couple of bins that will safely hold my larger ornaments. I love how easily these stack on my garage shelves and save tons of space.
Below are some affiliate links for ornament storage that I love.


                
                


                    
                    
                


            

                
                


                    
                    
                


            
GARLAND AND WREATH STORAGE
I am a fan of faux garland and wreaths, mostly because they last through the holiday season without drying out. The problem is I have loads of faux greenery in all shapes and sizes and that means figuring out how to store them in a way that makes sense and doesn't take up too much space!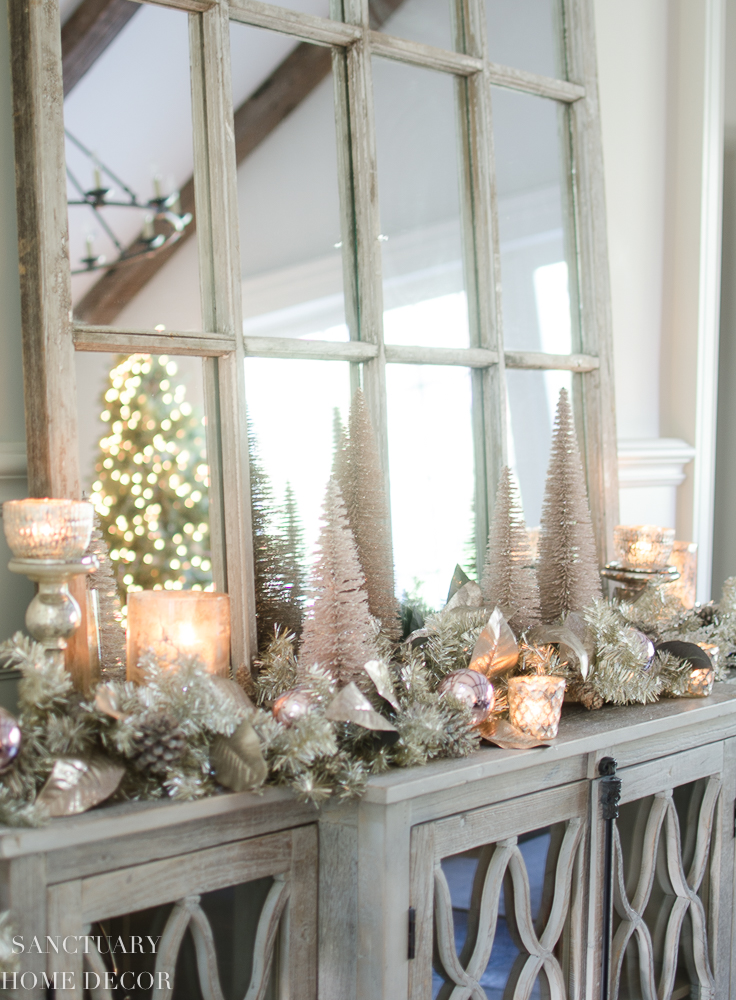 One solution that I find works well are under-bed rolling plastic bins.
I put these under the bed in our guest room to keep my more delicate garland in good shape for next year.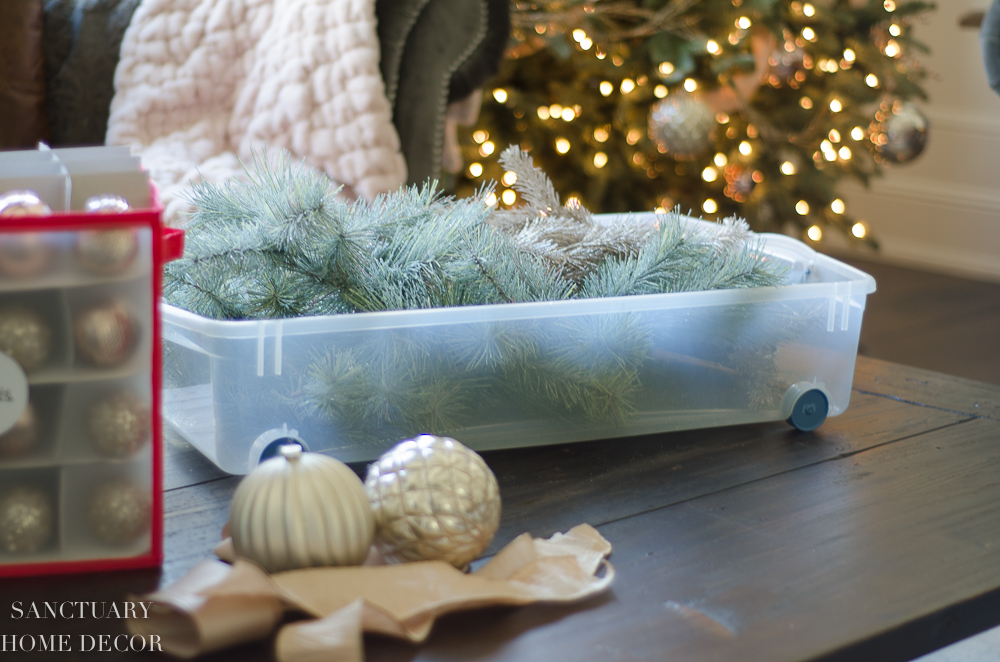 I also use larger plastic bins for my longer and fuller garland. I roll the pieces into rounds, like a wreath and tie them with twine. This makes them easy to stack up inside the bins.
This year I'm also getting a couple of WREATH STORAGE BAGS. I have several wreaths that always seem to come out of storage, flattened and smashed, so these should solve that problem and also save some space in my storage cabinet-Win -Win!
Below are some affiliate links for garland and wreath storage that I love.


                
                


                    
                    
                


            

                
                


                    
                    
                


            
TREE STORAGE
Storing a christmas tree (or trees in this case!) is a new problem for me. Until last year, we always had a fresh tree, but since the transition to artificial trees I have had to figure out space-saving storage solutions that are affordable and practical.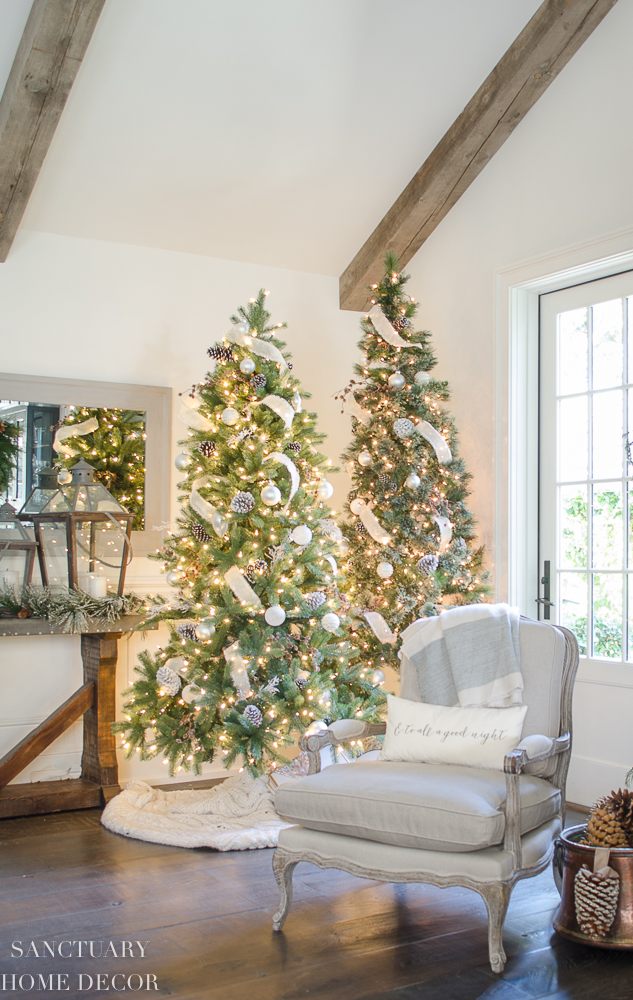 The cardboard boxes that my TARGET trees came in have gotten pretty tattered already, so I am investing in a couple of canvas storage bags that will be durable and save space. I have a plan to use a corner of my garage to store these trees and hopefully my new bags will be the space-saving solution I need.. Below are a few affiliate links for tree storage solutions.


                
                


                    
                    
                


            
GIFT WRAP STORAGE
No matter how hard I try to get just the right amount of holiday wrapping paper each year, I somehow end up with extra rolls. This, in addition to my year round wrapping paper collection adds up to too much paper to store in my office, so I found some great solutions for storing my holiday paper, ribbon and tags!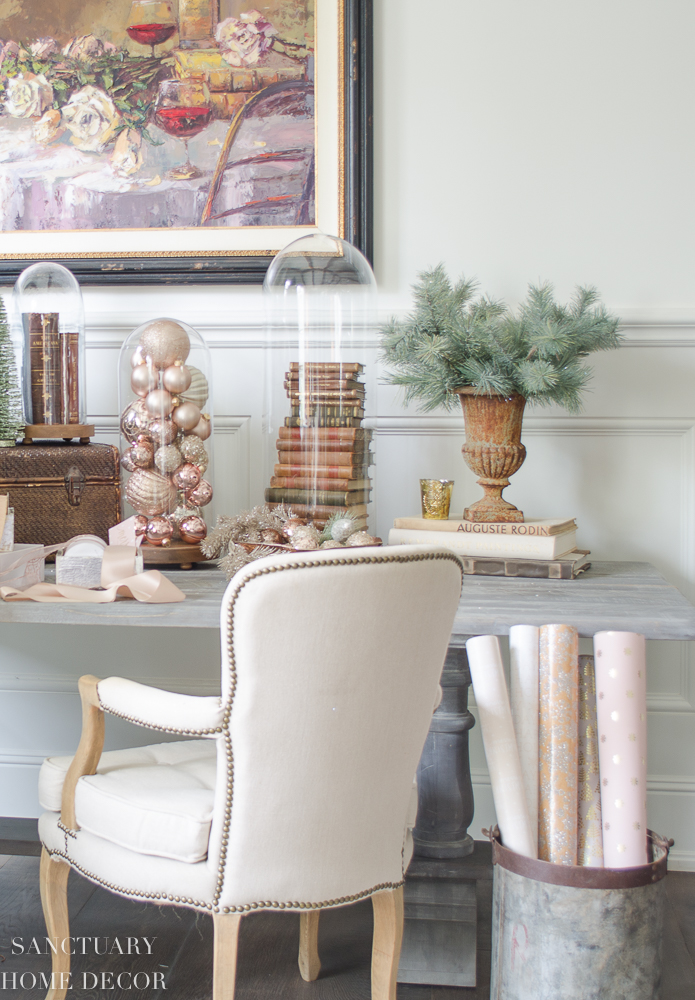 For the last couple of years,I have been using a canvas bag that holds wrapping paper on the bottom and ribbon and tags on the top. This year, as I was looking for something that was a better space saver, I found some really cleaver options!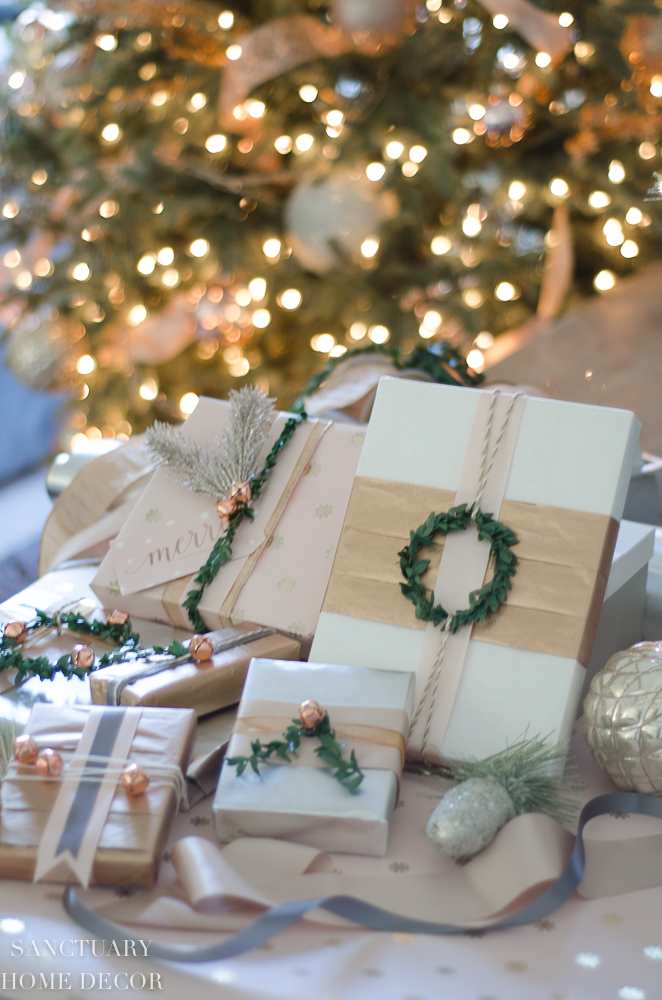 I ordered the long closet hanging bag and plan to keep it in my guest bedroom closet. I like that it has so many side pockets to store my holiday wrapping bits and pieces.
Below are some gift wrapping storage options that work great!


                
                


                    
                    
                


            
I am determined to reduce my Christmas decor "footprint" in my garage and guest room and I'm excited to use some of these storage solutions this year! I hope this gives you some ideas for space-saving Christmas decor storage in your home!



Pin this image to come back to this blog post later.