How To Set Goals and Create a Vision Board
Happy New Year! Don't those three words sound fresh and exciting!? They are filled with possibilities, new beginnings, letting go and moving ahead. I love this time of year because it is the time that I clarify my intentions and goals for the coming year. I don't make new year resolutions, instead I focus on WHAT I WANT MORE OF IN MY LIFE and part of that process is setting clear goals and creating a vision board.
Studies show that, if you take the time to create a clear intention for your future and write down your goals, you are 42% more likely to achieve those goals!
Isn't that an amazing statistic?! I have been setting goals and writing down affirmations since I was thirteen years old. I vividly remember the first time I wrote my goals down, in fact I still have that journal. What I remember most is how quickly the affirmations that I wrote down that day became a reality in my life. It was like…magic, at least that's how if felt to my teenage self.
DO NOT UNDER ESTIMATE THE POWER OF SETTING CLEAR INTENTIONS FOR YOUR FUTURE
That experience made me realize that setting clear intentions and having a vision for my future were vital to directing the path of my life. One of my favorite quotes is from Alice in Wonderland, because it sums up perfectly the importance of knowing where you are going.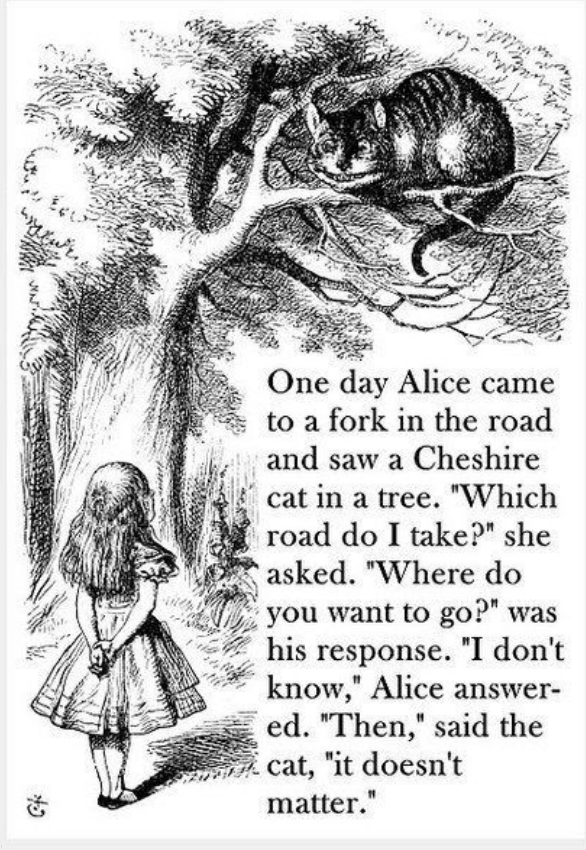 HOW TO SET GOALS WITH SOUL
The first step is to clarify what you want to achieve and the key here is to DREAM BIG!! I have always had aspirations far beyond what my mind believed was possible. What I learned, when I was thirteen, was that clear focus and clarity of vision were the keys to getting where I wanted to go. Having goals and taking specific action to achieve them, made the impossible, possible.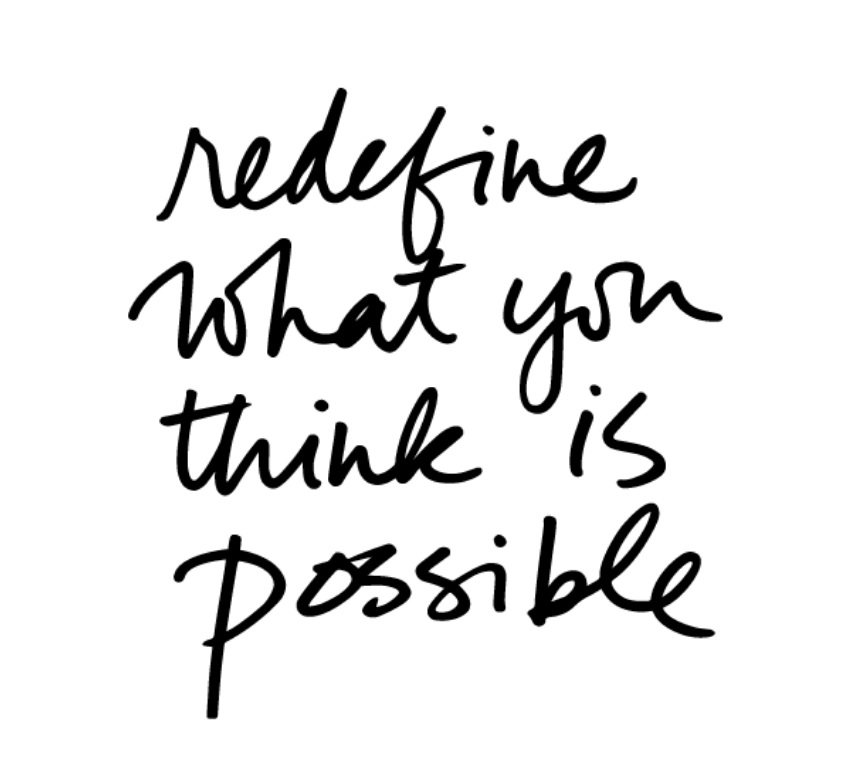 Through the years I have also discovered that CREATING GOALS WITH SOUL amplified the power of my vision and helped to propel me forward much more quickly. You can read the details of how my goal setting process shifted by clicking HERE.
So here's how I set my goals…
I'm going to ask you to suspend doubt for just a moment here and trust me:
CLOSE YOUR EYES AND VISUALIZE ALL OF THE AREAS OF YOUR LIFE AS YOU WANT THEM TO BE – SEE IT ALL CLEARLY IN YOUR MINDS EYE – FEEL WHAT IT IS LIKE TO BE THERE AND KNOW IT HAS ALREADY HAPPENED…
ARE YOU THERE YET?
Once you have fully visualized your ideal future, write down what it FEELS like to be there. Don't focus on the THING you want to achieve but rather the FEELING you have when you get "there. THAT FEELING IS YOUR TRUE GOAL!!
We are not looking for things in our lives, we are looking for the feelings we believe those things will give us.
Security, Joy, Peace, Love, Happiness, Vitality, Strength, Accomplishment, Creativity…
Goals with soul are not about arriving at a destination, but rather at making day to day choices that move you closer to achieving the FEELINGS that you desire in your life.
The key to powerful goal setting is to write down how you want to FEEL in every area of your life and then determine the actions that will get you there.
If you are looking for more JOY in you're life (This is always on my list!) Then everyday should be about doing things that bring you closer to JOY and noticing the things that already exist in your life that are joyful. The small moments of laughter or the milestone events and successes. Move closer to joy in whatever form that takes. There is no ONE THING that will get you there.
Search for it. Focus on it. Feel it. Claim it!
This is the key to creating goals with soul and putting emotion behind your desires.
---
WHY YOU SHOULD CREATE A VISION BOARD
So you have now dramatically improved your chances of achieving your goals simply by writing them down! Congratulations! If you want to make an even greater impact on the possibility of succeeding, create a vision board.
Think of a vision board as a visual representation of your ultimate goals – much in the same way that you might create a design board for your kitchen remodel or a Pinterest board for a party or project. A vision board is a visual roadmap to your dreams, aspirations and desires. Why is this important?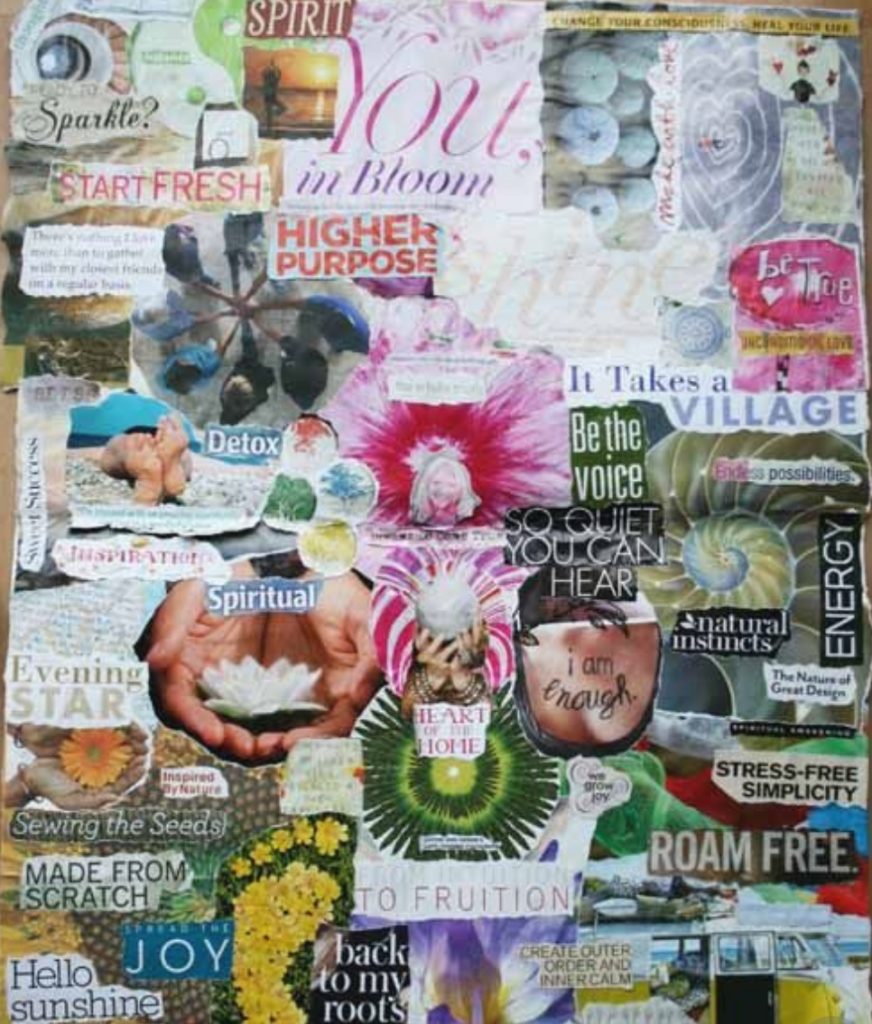 By representing your goals with pictures and images you will actually strengthen and stimulate your emotions because your mind responds strongly to visual stimulation- (Jack Canfield, Author)
Equally as important, is that the vision board is a daily reminder of your intentions. When you see your goals everyday, you are inevitably inspired and more likely to take action. You can create a specific vision board for your business or a project or a more broad vision board that encompasses the direction you are headed in your life in many areas.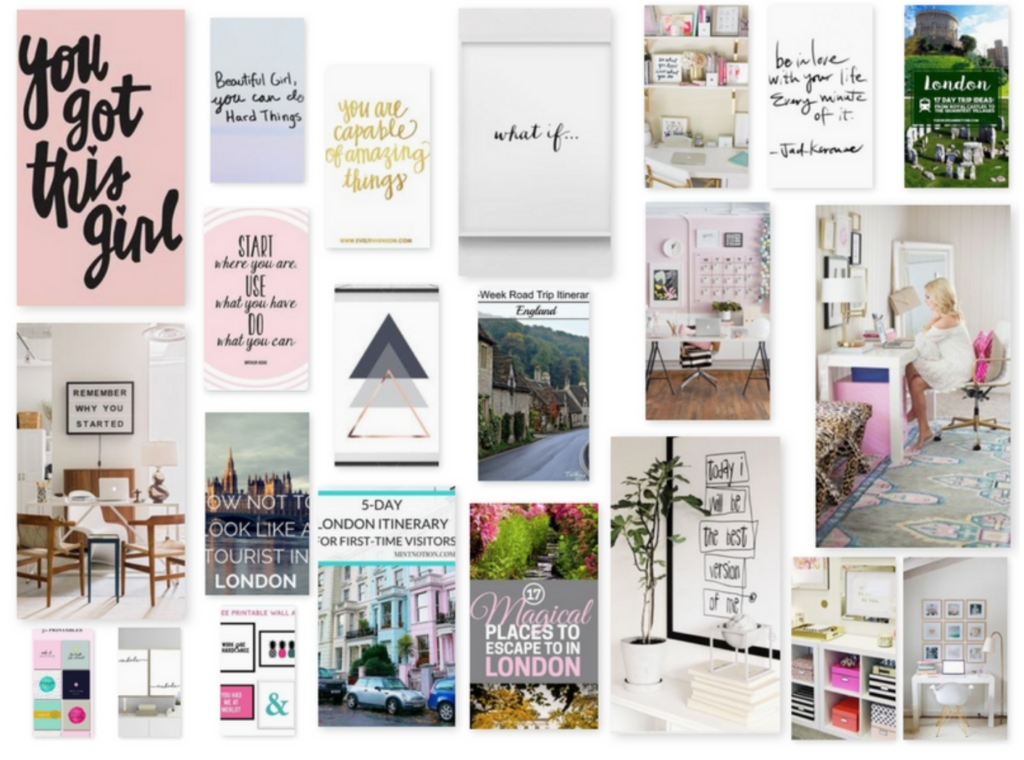 I have always chosen the traditional poster board, scissors and glue method to create my vision boards. Using magazines, I cut out words and images that inspire me and reflect my vision for the future. You could also create a Pinterest board (see above) and print it out if you are more digitally inclined.
There are no rules except that it should evoke great emotion and feel deeply personal when you are done.
Place your vision board somewhere that you will see it daily. It will be a constant reminder of how you want to feel, where you are going and what you need to do to get there!
At this time of year there is always a focus on goal setting and intentions for the coming year, but the truth is there is no time like RIGHT NOW to determine the roadmap for your future.
DREAM BIG MY FRIEND!
XOXO





[show_shopthepost_widget id="3428756"]