How to Make The Perfect Bed
I have to admit that I am slightly obsessed with having a comfortable bed.  The softest sheets, the coziest blankets, the right pillows…the perfect combination of elements  to ensure a good nights rest.  When we bought our ranch in Montana and started having dozens of friends and family visit us each summer my obsession with the perfect bed extended to our guest beds. I wanted to make sure whoever was visiting had the same opportunity to be rejuvenated, not only by our beautiful surroundings but by having a well appointed sleeping space.   We have several guest bedrooms, but have also used air mattresses when we have a full house for a week. Below is my formula for making the perfect bed.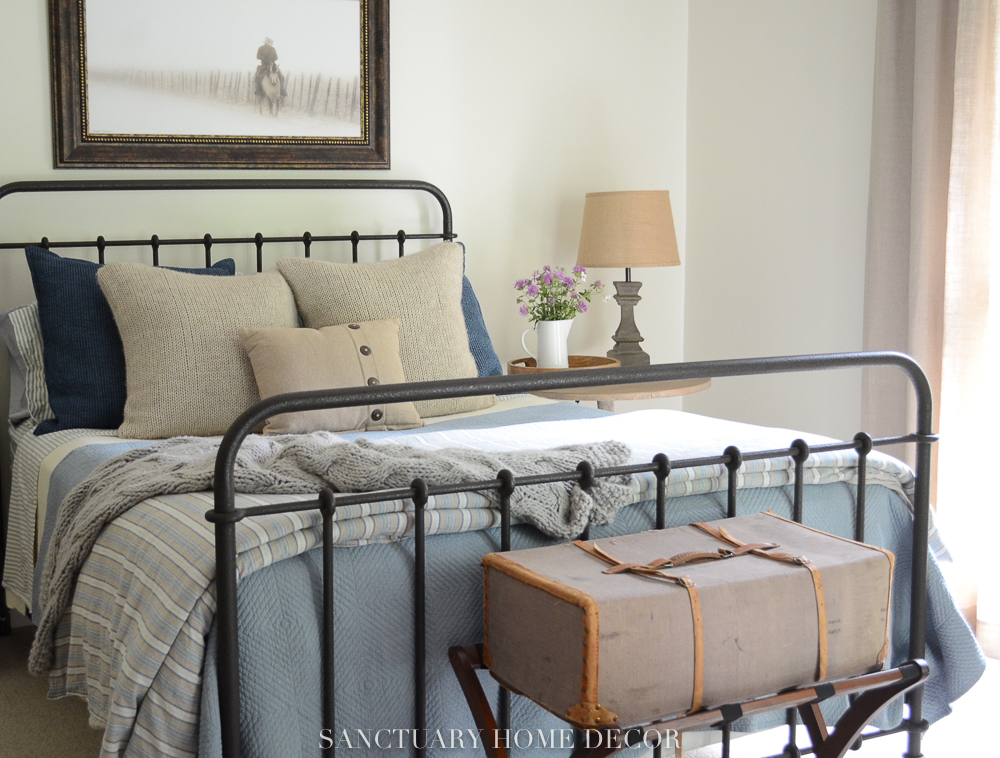 Whether in a dedicated guest bedroom or on an air mattress in a sleeping loft, I have a formula for putting together a bed that has all of the elements that ensure a good nights rest.
This post contains affiliate links.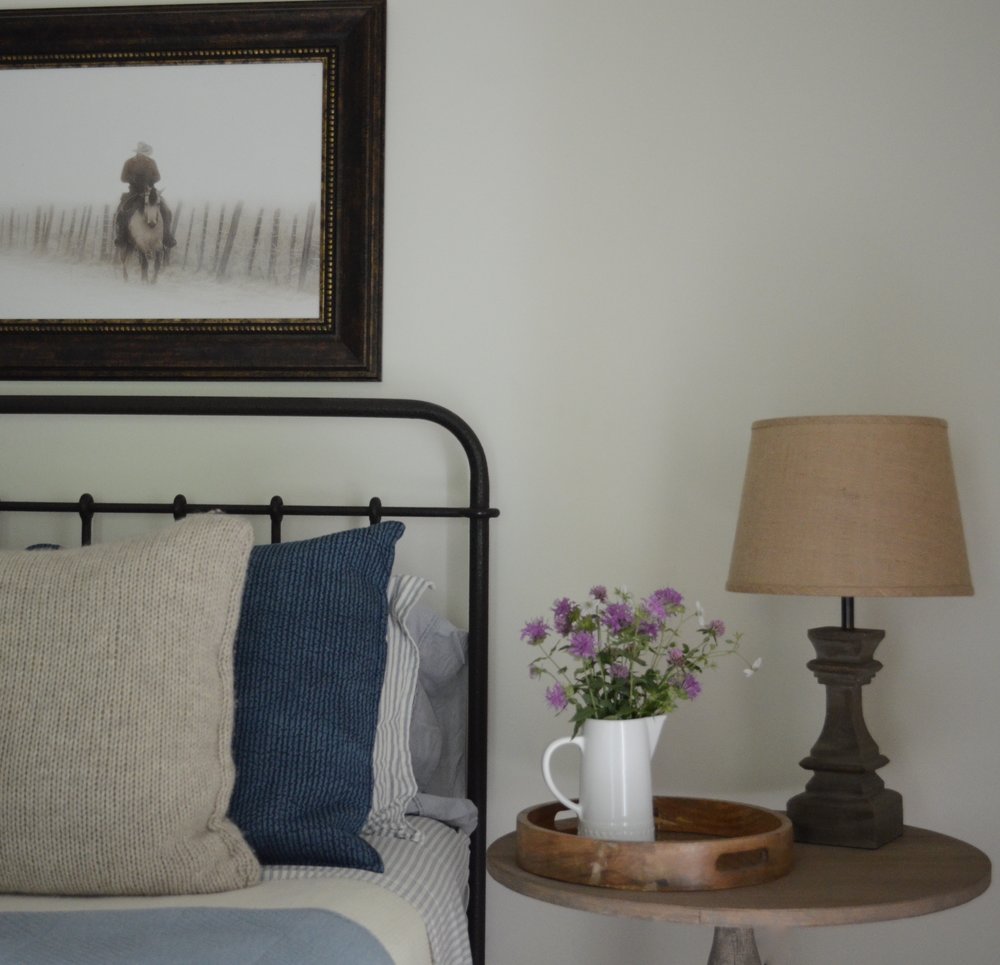 THE SHEETS
This is obviously the first layer of bedding and probably the most important in terms of your guest's initial experience. I am not one to spend a fortune on sheets, in fact I generally buy my sheets from Target or HomeGoods. I know everyone says the higher the thread count the better the sheets, but I have found that sheets with a sateen finish, even if they are a lower thread count, are generally as soft as the higher thread count sets. One of my favorite go to sheet sets is from Target. You can see them by clicking HERE .
I also look for microfiber or natural fiber sheets such as bamboo. These too are incredibly soft and durable.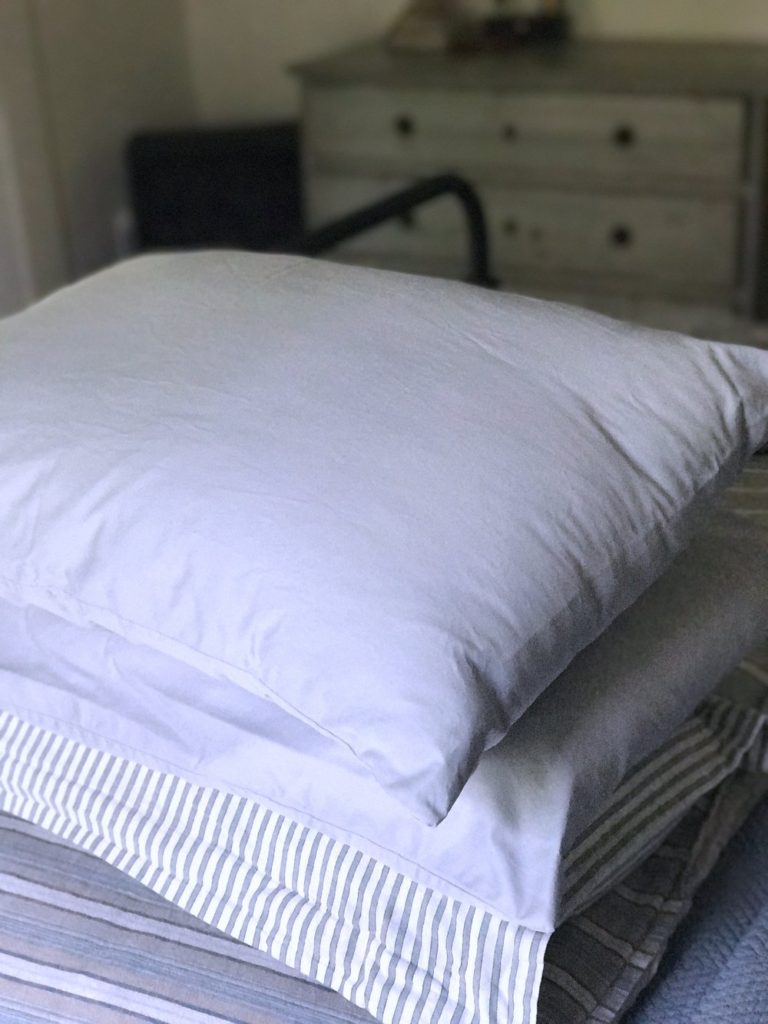 THE PILLOWS
Once you have chosen the sheets, I think the next most important element is the pillows. Have you ever stayed at a hotel or a friends house and not slept well because you don't have "the right" pillow. I know this makes me crazy and can make the difference between a good nights rest and a restless night.
My solution for our guests is to have four sleeping pillows on each double bed. (Or two on a single) Two foam or synthetic filled pillows and two down or feather filled. (I always check with our guests ahead of time to make sure they are not allergic to down.) This gives our guests the option to mix and match pillows the way they like and ensures they will not be fighting with uncomfortable pillows all night. Again, it is not necessary to spend a fortune of pillows. Costco or other large discount retailers often have two packs of down or synthetic pillows at bargain prices and they work just fine.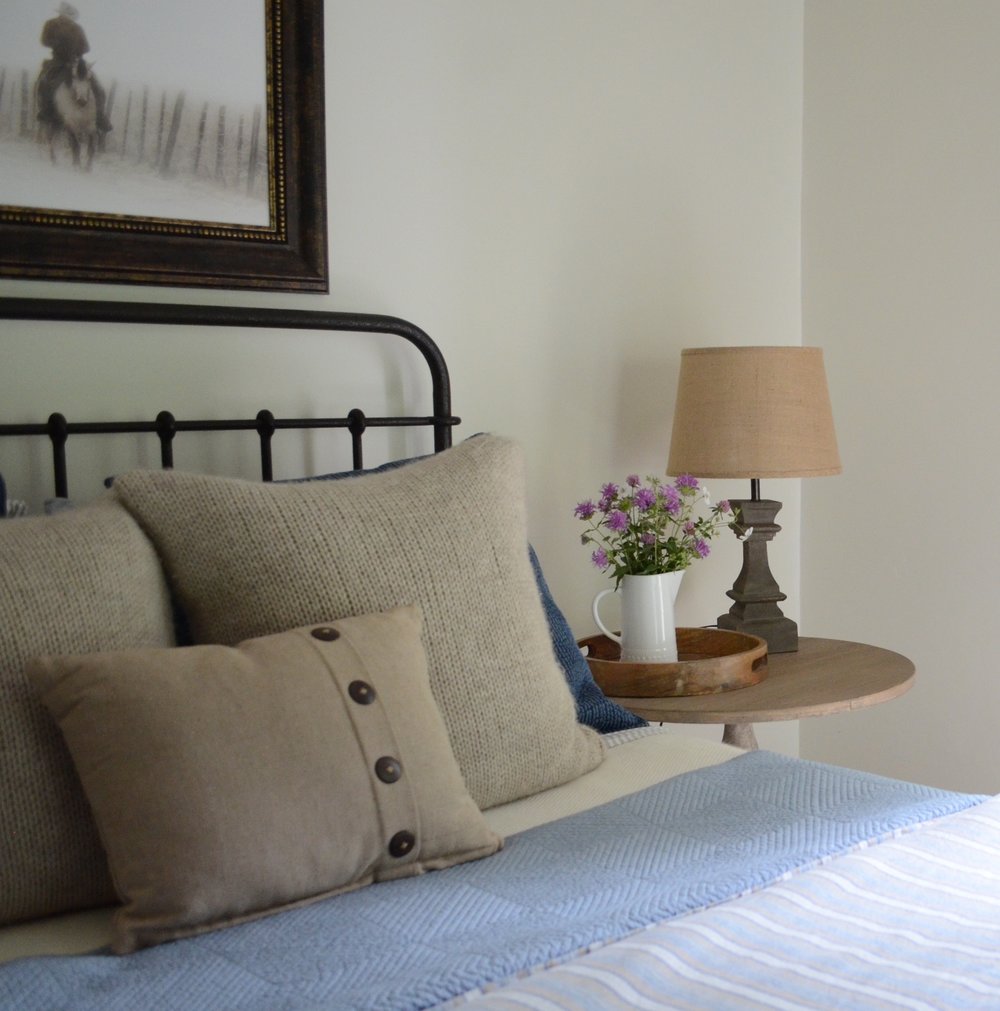 THE "OTHER" PILLOWS
My husband laughs at the number of pillows I put on each bed, because he says they just end up on the floor, but I have a method to my pillow madness. Just as I hate having uncomfortable sleeping pillows, I also get frustrated when I want to read in bed and don't have the right pillows to support my back. (I know that I sound like some crazed pillow lady, but I take my bed comfort VERY seriously!) So my solution to the reading dilemma is Euro squares. They are the 24'- 28" square pillows that are usually covered with a sham of some sort. These are the perfect back supporters and they also look super pretty placed in front of the sleeping pillows.
I usually find covers or shams for these squares in a color that coordinates with the quilt or duvet cover. I rarely use a set of bedding, instead I mix and match different textures colors and patterns to bring the whole look together.
THE BLANKETS
Okay, here's where the layers come in…On top of the sheets I add a lightweight knit blanket.  These are perfect for those warm nights where you need more than a sheet but less than a quilt or duvet.  My favorites are from Target and you can find them by clicking HERE.   The second blanket is always a thin quilt or coverlet.  This provides a second layer for slightly cooler nights.  I usually layer these two right on top of each other.  The quilt layer is more visible on the bed, so I look for a color that coordinates with the Euro squares and the duvet.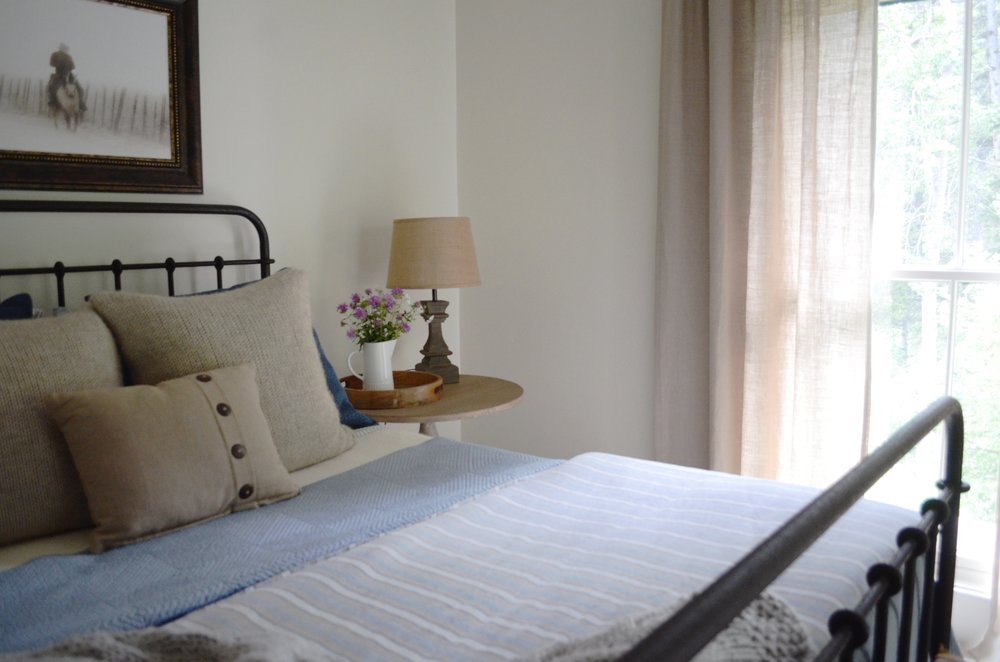 THE DUVET
The final layer is always a duvet cover filled with either a lightweight down or down alternative comforter. I fold this at the bottom of the bed to make it easy to remove or use as needed. This layer is obviously for cooler temperatures, so in the heat of summer, I will often take the insert out of the duvet cover and just fold the cover on the end of the bed. This keeps all of the pretty bedding in place without having unnecessary warm layers. I have found great prices on both down and alternative down online, so make sure to shop around before you buy!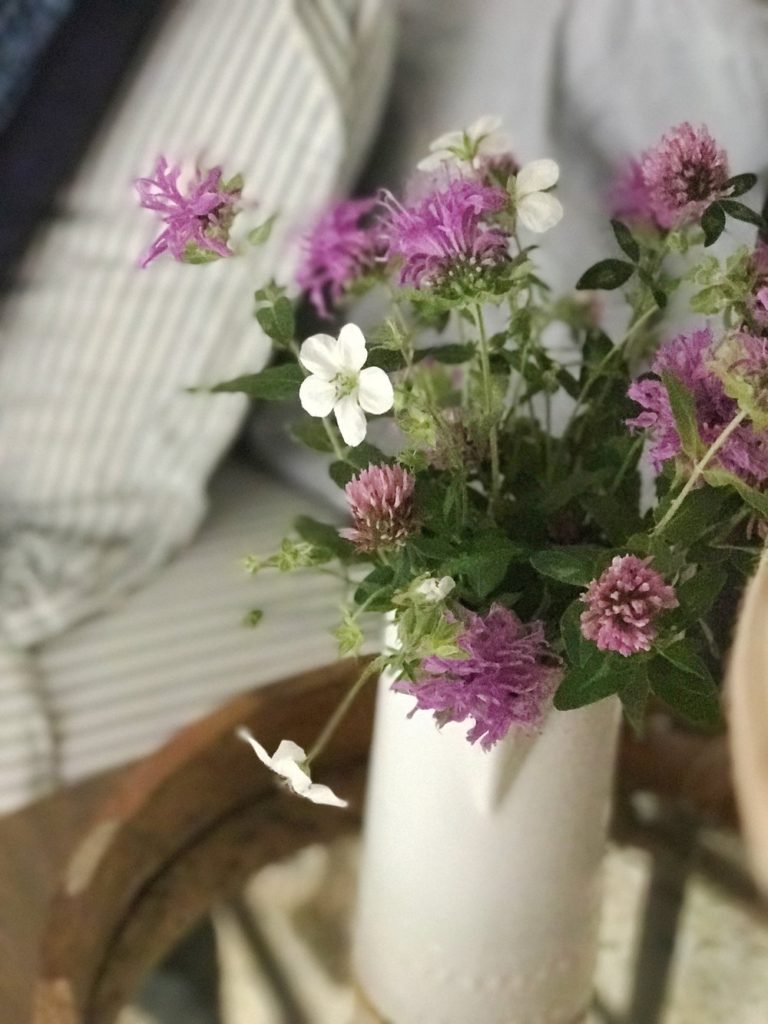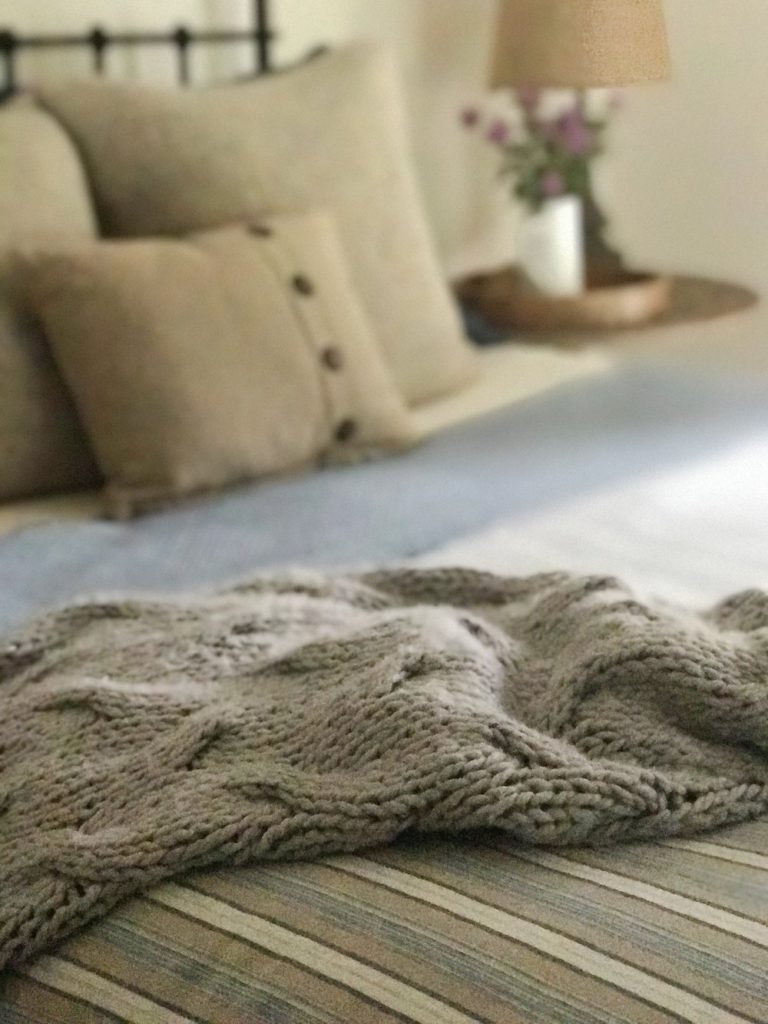 THE EXTRAS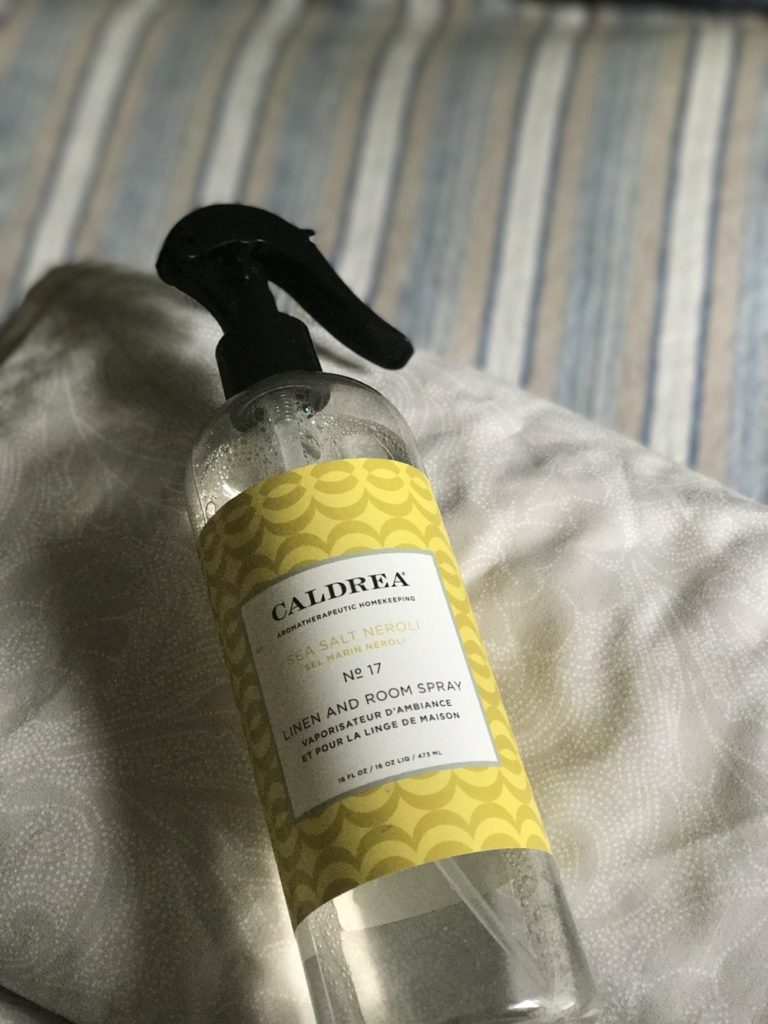 When I have time, I like to add some special touches to our guest rooms. A small vase of fresh flowers next to the bed or a bowl of fresh fruit is always appreciated. A cozy throw blanket laid on the bed is often used for an afternoon nap, and I also love a fresh spritz of linen spray, on the bed sheets. It adds a lovely, light fragrance.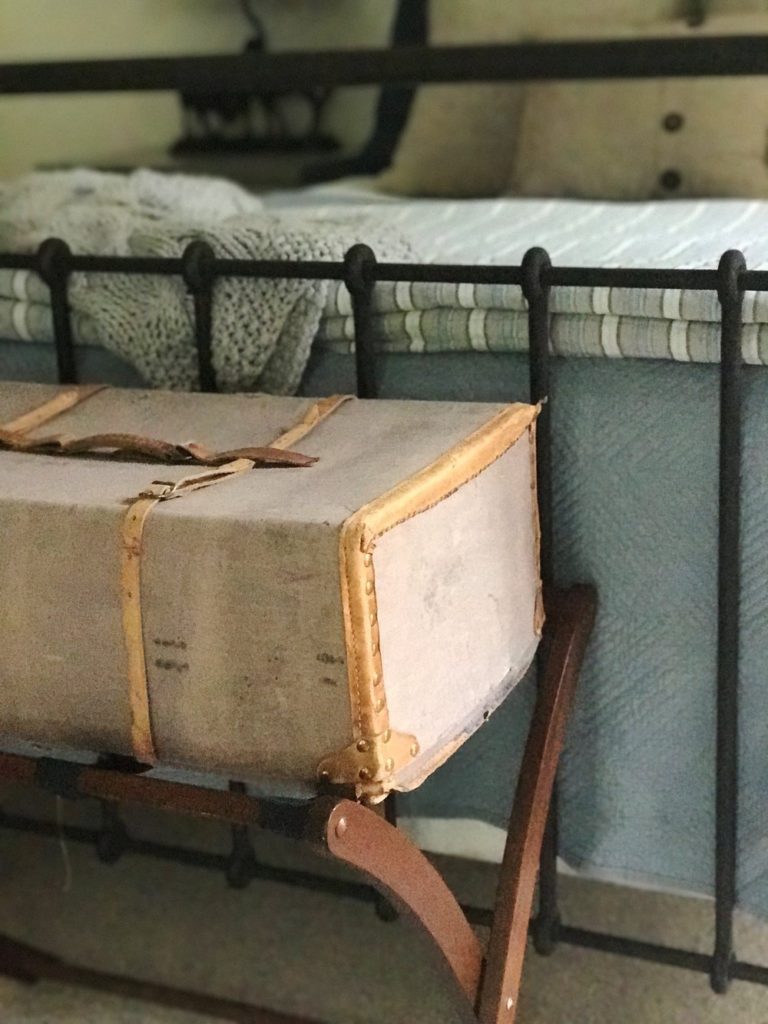 Finally, I put at least one luggage rack in each guest room.  This is such a simple and inexpensive way to make unpacking easy for our visitors.  My favorite is this one from Bed, Bath and Beyond.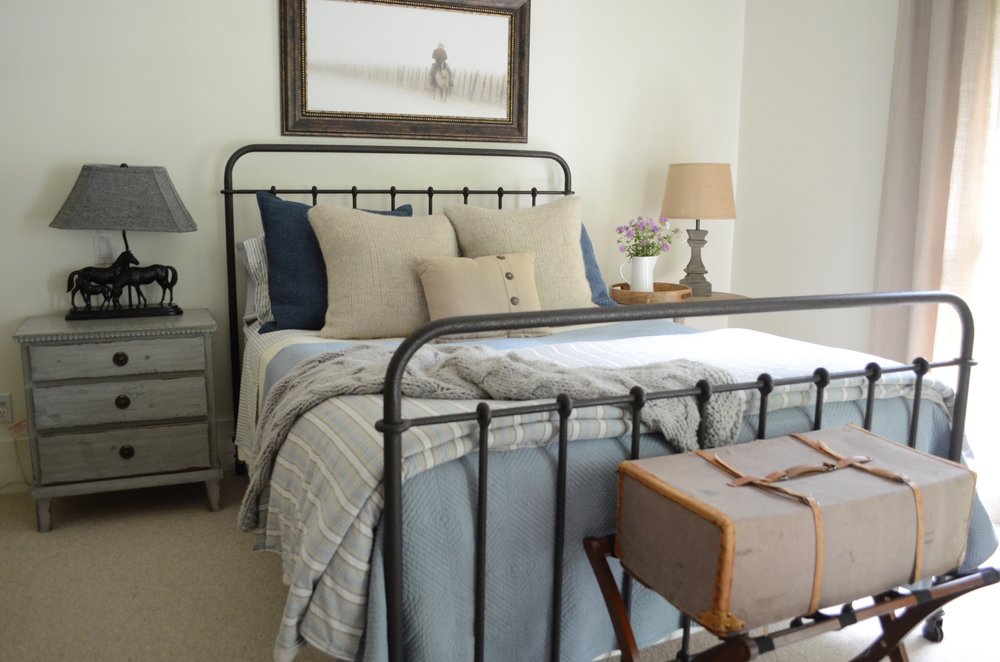 All of these details add up to a guest room that is not only inviting, but also let's our guests know that we took the time to create a comfortable space for them in our home.
For me there is no greater compliment than to hear that our friends and family feel at ease in our home, that they have gotten a good night's sleep and wake up refreshed and ready to enjoy the day.