An Easy Backyard Movie Night
As I write this I am sitting in the car, with two kids and three dogs in the back, on a very long drive to our ranch in Montana.  Along with the suitcases, pieces of furniture and a bunch of great decor I've packed in the trailer we are towing behind us, is my new favorite thing…our outdoor movie screen and projector!
(This post was originally written in 2018 – Since that time, I have upgraded our equipment and found more affordable, compact options. All of the details are below)
We are HUGE movie fans in our family. On most nights we gather together in our family room after dinner and put on a movie we have already seen a dozen times or if we're lucky there will be a new release we have all been waiting to see. It's our way of winding down and reconnecting, even if that connection means we are all lined up on the couch, sharing a bowl of popcorn and staring at the tv.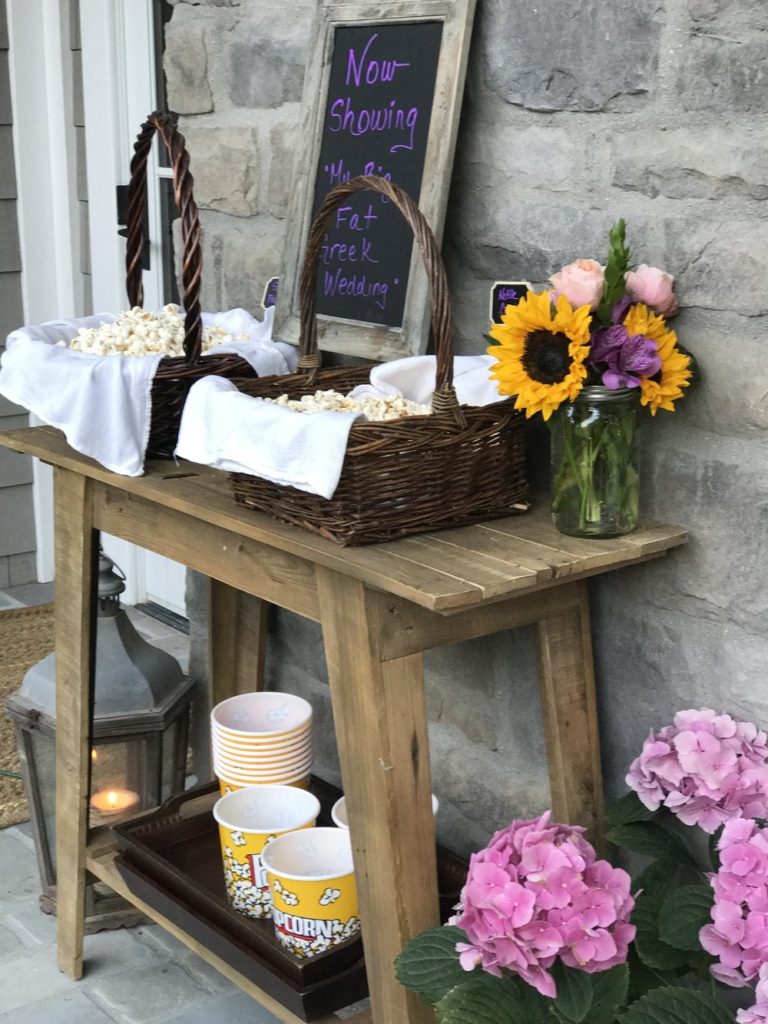 Watching a movie anywhere other than inside our house really didn't occur to me until my daughter asked if she could have a summer party with her friends that would include swimming, dinner and a movie.
This all sounded great, other than the concept of twelve teenage girls in wet bathing suits eating popcorn and movie candy on my family room couch.
So I got to thinking about how to keep the whole party outside and came up with idea of a backyard movie…the only problem was we didn't have any backyard movie equipment. So, I did a bit of research and discovered it was not only relatively affordable, but quite simple to get everything we would need to create a fun outdoor movie theater!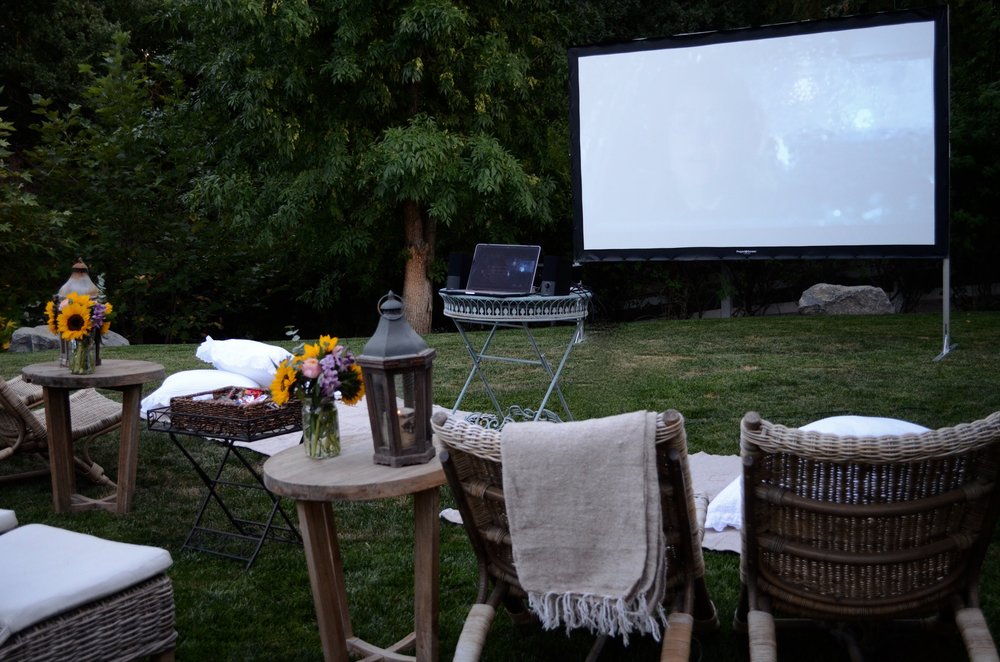 If you're interested in the specifics of the equipment I ended up getting, I have detailed it below.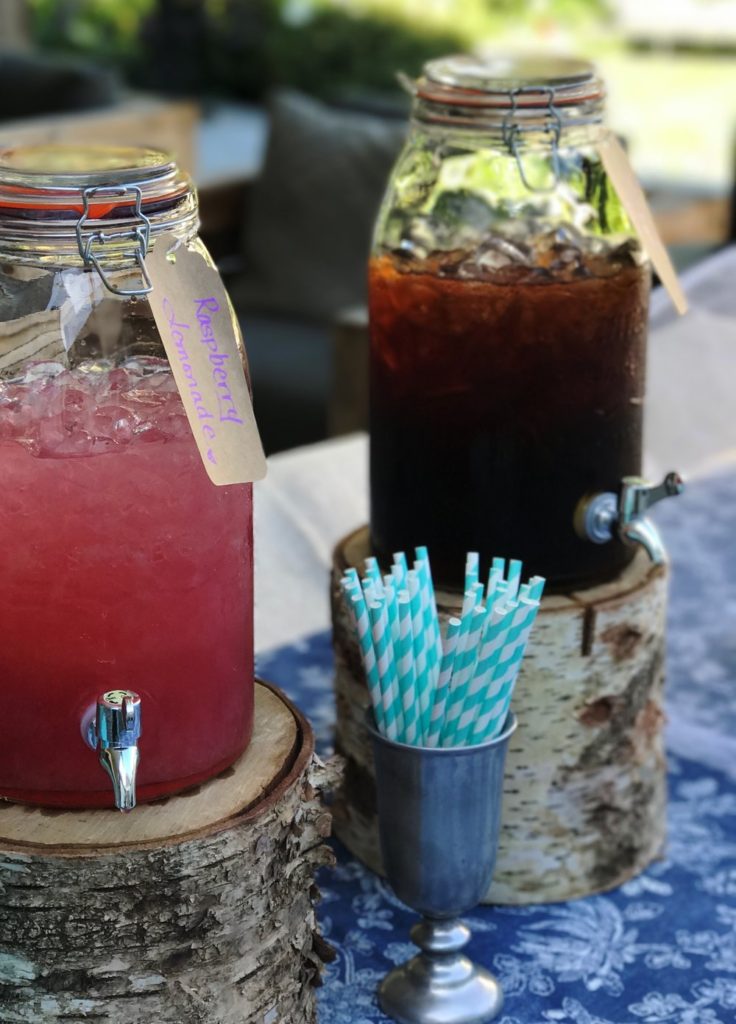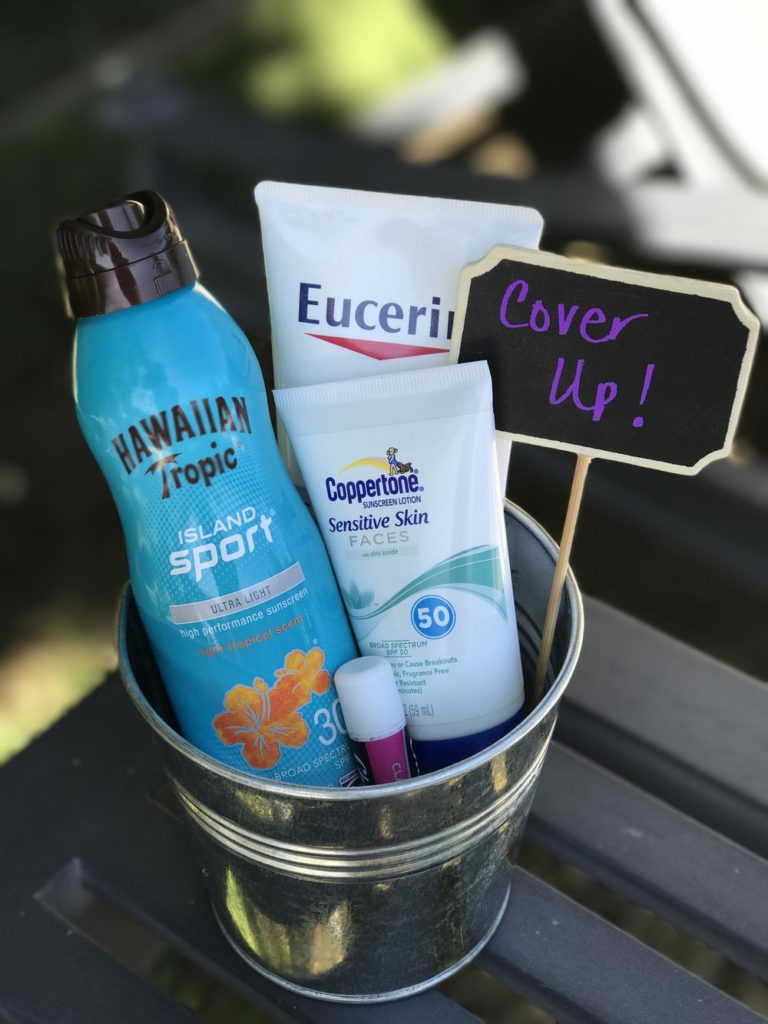 Once I got the technical stuff figured out, we did some super simple preparations for the party, including making sure we had enough cold drinks and sunscreen on hand since the weather forecast was HOT! I wanted to keep this EASY so I grabbed two bonfire starter logs at the grocery store to use as stands for the drink dispensers and also got a couple of flower bunches and put them in mason jars.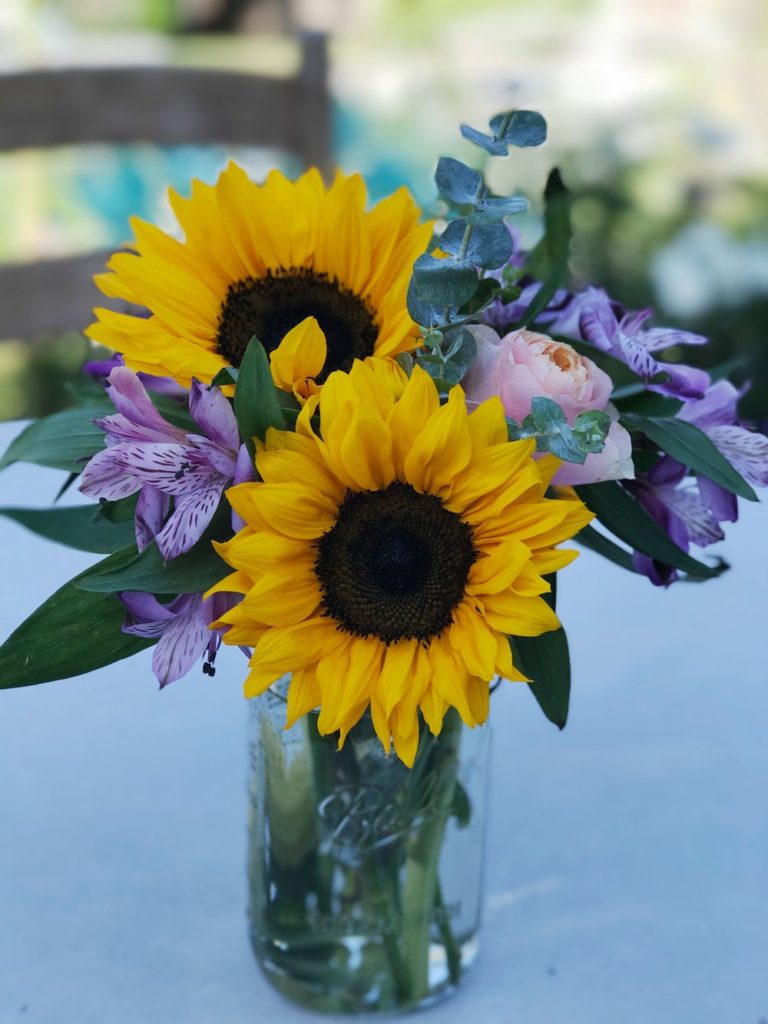 If you've read my prior blog posts or follow me on social media, you know that I'm a bit obsessed with having fresh flowers around!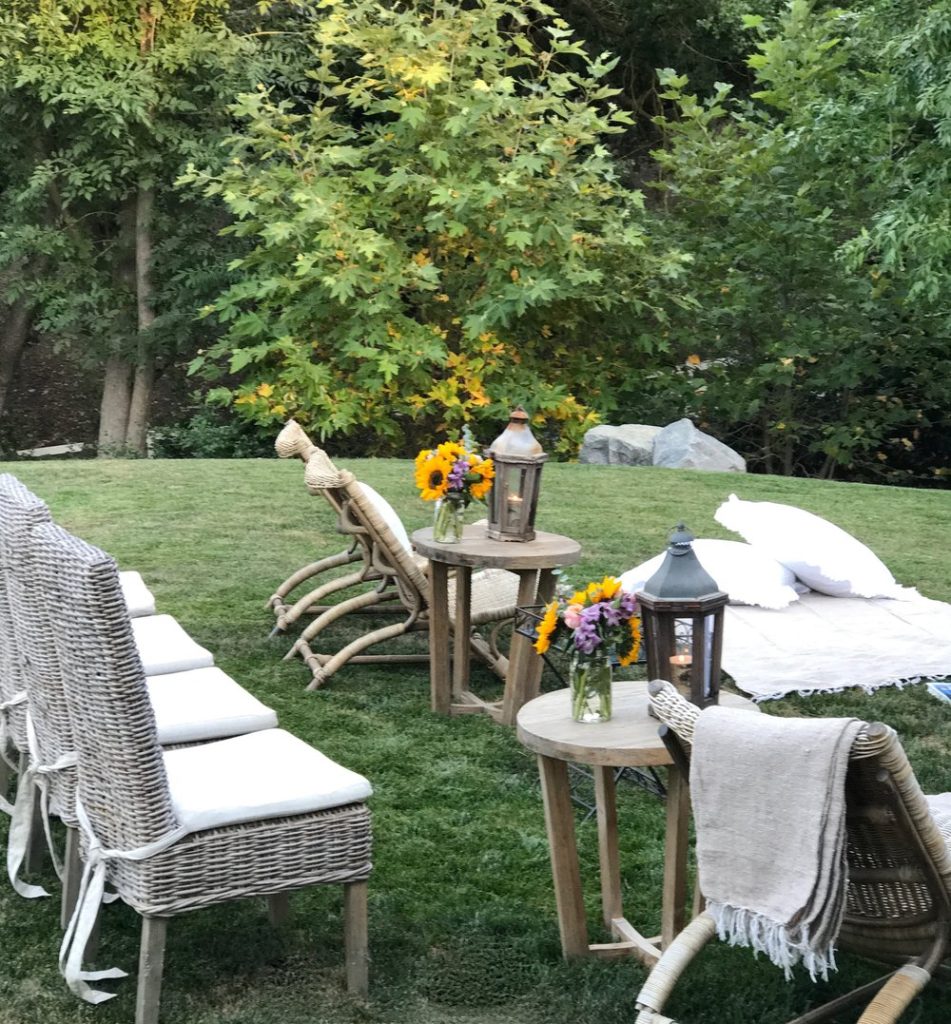 On party day, while the girls were eating dinner, I set up the screen and projector on the grass along with some chairs, blankets and pillows. I added our patio side tables and my favorite outdoor lanterns, not because I thought the teenagers would notice how cute they looked, but because I can't help but add those little touches that make a space feel extra special.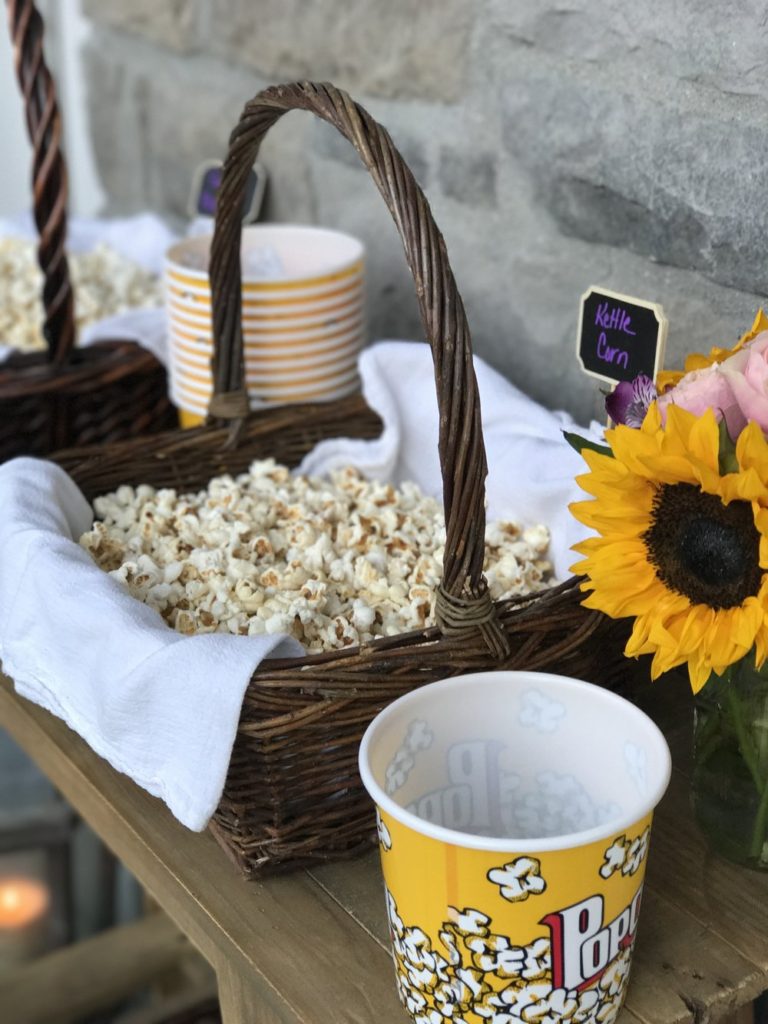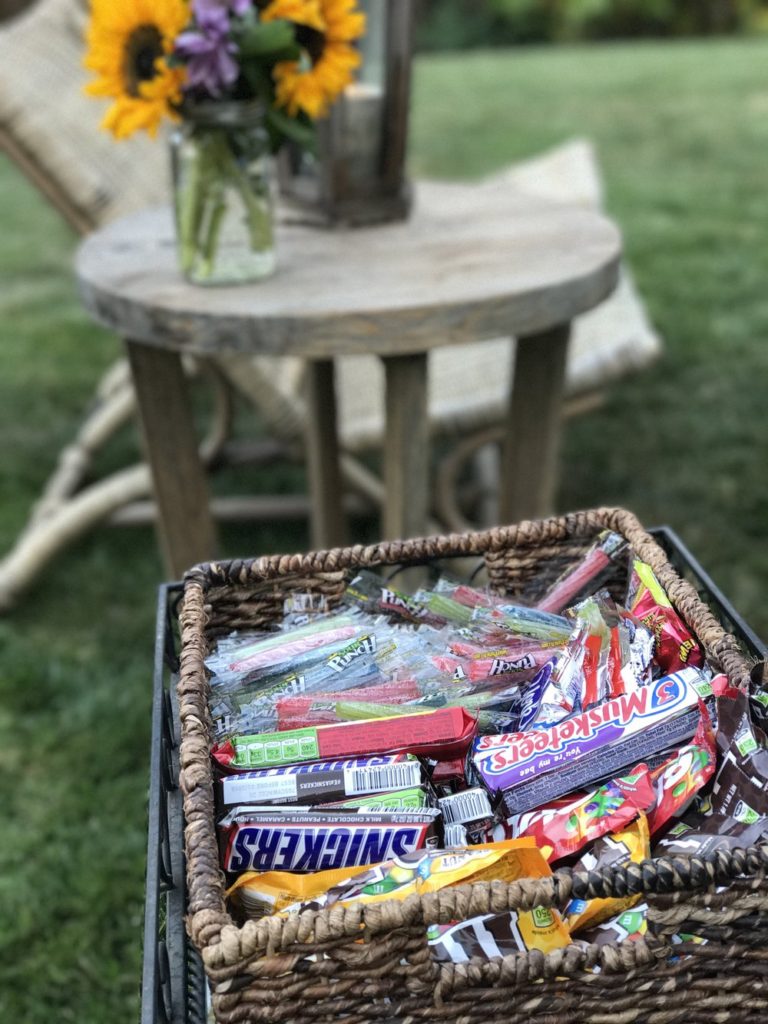 I brought out the popcorn and an oversized basket of candy (which the teenagers definitely noticed!) and as the sun was setting they all gathered around to watch My Big Fat Greek Wedding.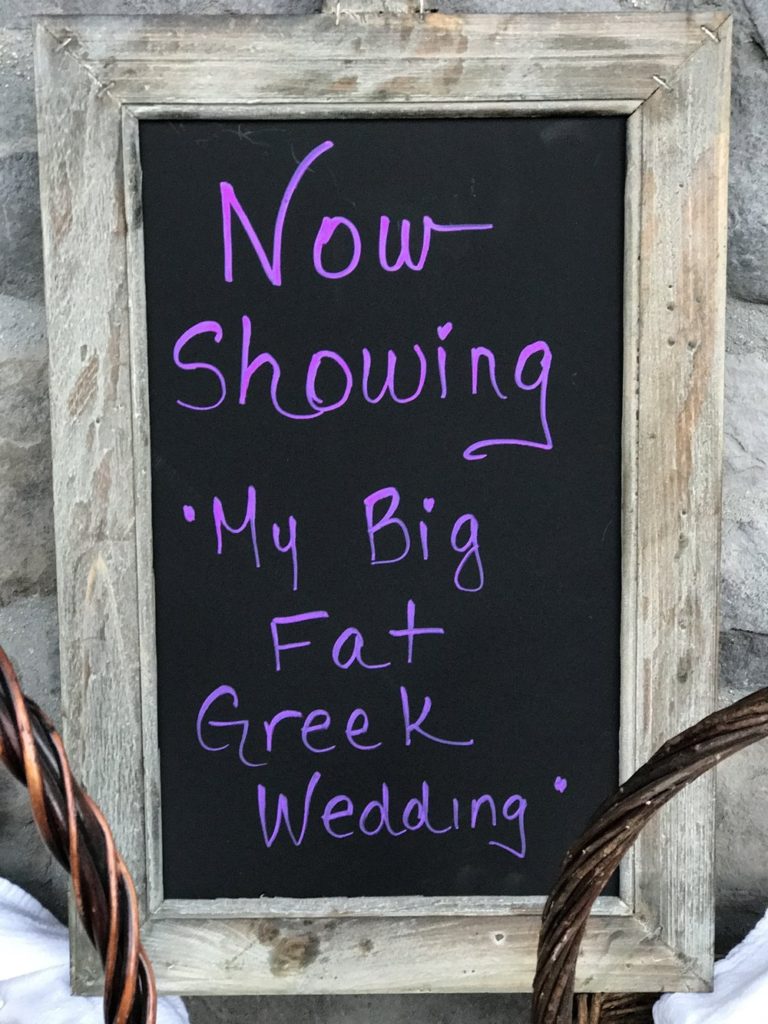 It was a truly adorable to hear them giggling at the move and watch them just hang out together, and an experience I'm sure they will not soon forget. The whole thing gave me visions of weekly movie nights at our ranch in Montana, out in the meadow, with our family, friends and neighbors which is why that new movie equipment was one of the first things I packed in the trailer.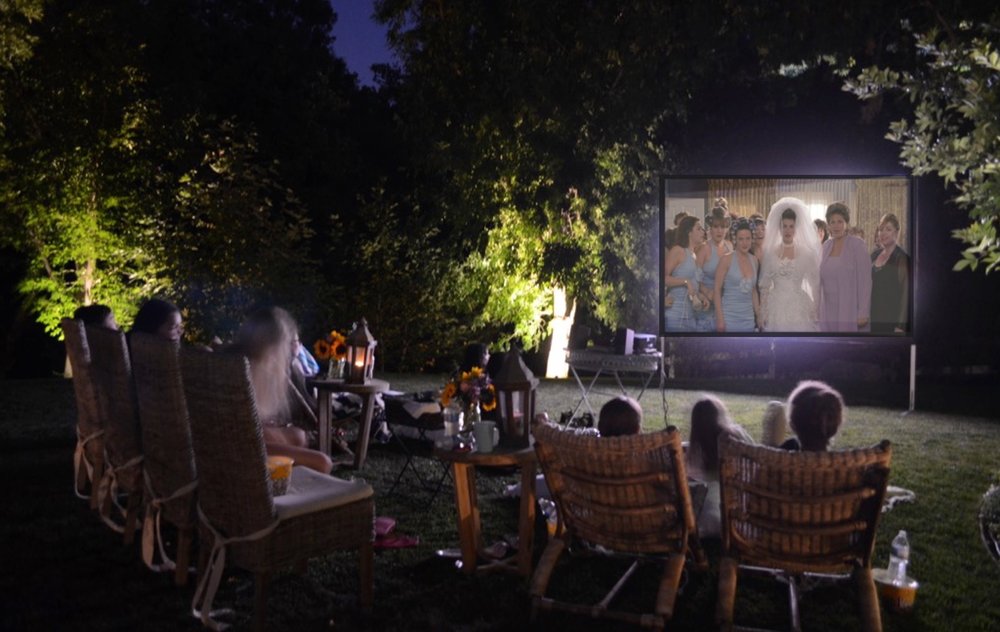 So while I am sitting in the car today, I'm wondering what movie we should watch first…oh and thinking maybe I should get a popcorn machine!
Details About Our Backyard Movie Equipment
I had no idea there were so many truly affordable options available for outdoor movie viewing! A quick Amazon search brought up projectors and screens in all sizes and price ranges, so of course I spent a ridiculous amount of time reading reviews and researching the most affordable, easy to use system that would meet our needs.
I wanted a screen that was highly portable and easy to assemble (and a bit nicer than the white sheet, I was considering) and a projector that was powerful enough to start the movie before it got completely dark since it didn't seem realistic to begin a movie at 10pm.
Two days later the whole thing arrived on my doorstep (Don't you love Amazon Prime!) and my daughter and I quickly opened them up and began assembling the screen. It was SO EASY! Only took us about ten minutes! The projector was also super simple. An HDMI cable connected to the projector and my laptop and anything that was on my computer screen was projected on the big screen. I did add a sound bar for improved audio, since the sound from the projector was not quite loud enough.
We still have the system that I took to Montana that summer and just recently, I got a new system for our home in Los Angeles. The size and cost of the projectors have come way down since my original purchase and there are great inflatable screens that are easy to use and store.
Below are links to the equipment I purchased in case you're interested:




Just a quick disclaimer: I am not an A/V professional. These are just my opinions based on my very limited experience. The links above are affiliate links.