How to Set a Gorgeous Table for Any Party
This week, as I was preparing for a dinner party with friends, I came across the stack of fine china my husband and I received when we were married.  Those beautiful plates that we so carefully chose fifteen years ago and that have only been used a handful of times in as many years.  As I was lamenting this fact, it occurred to me that the rules about fine china might need to be re-examined and I decided to add them to my table setting. I just loved the mix of formal and casual and wanted to share with you how to set a gorgeous table for any party.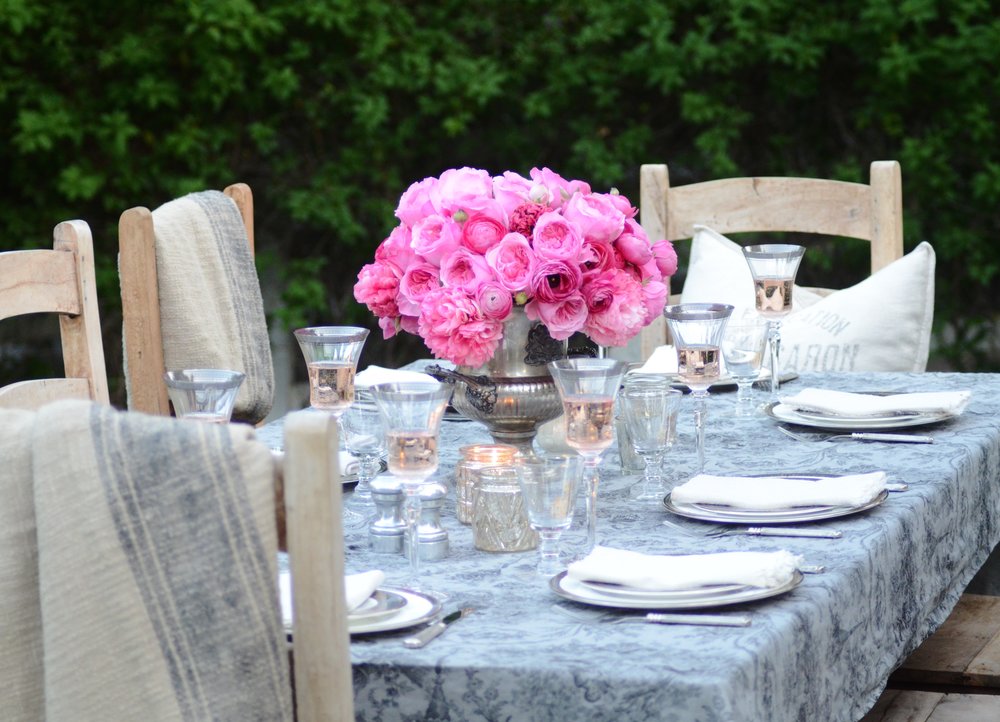 So here's a question for you…Why are these dishes reserved for "special occasions" or holidays?  Granted, there is a certain formality to the look of our china that might be a bit over the top for serving my daughter her toast in the morning, but what about everyday dinners or better yet an alfresco dinner with friends!?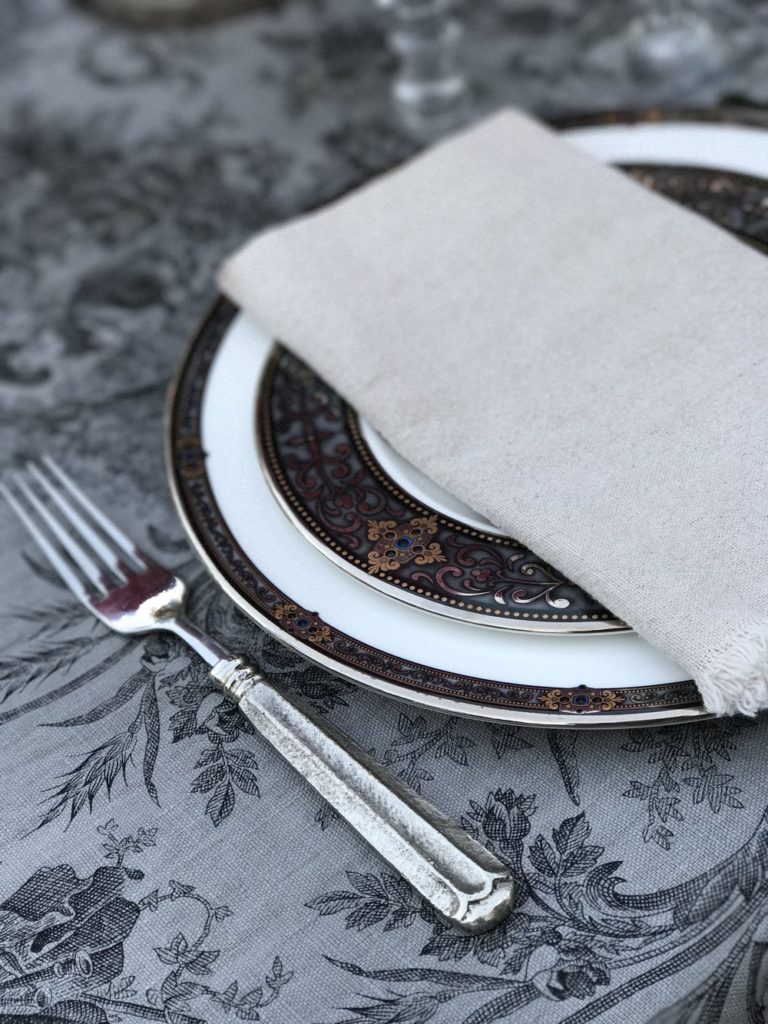 And so with that thought, a small party was born and a beautiful table setting was about to come alive.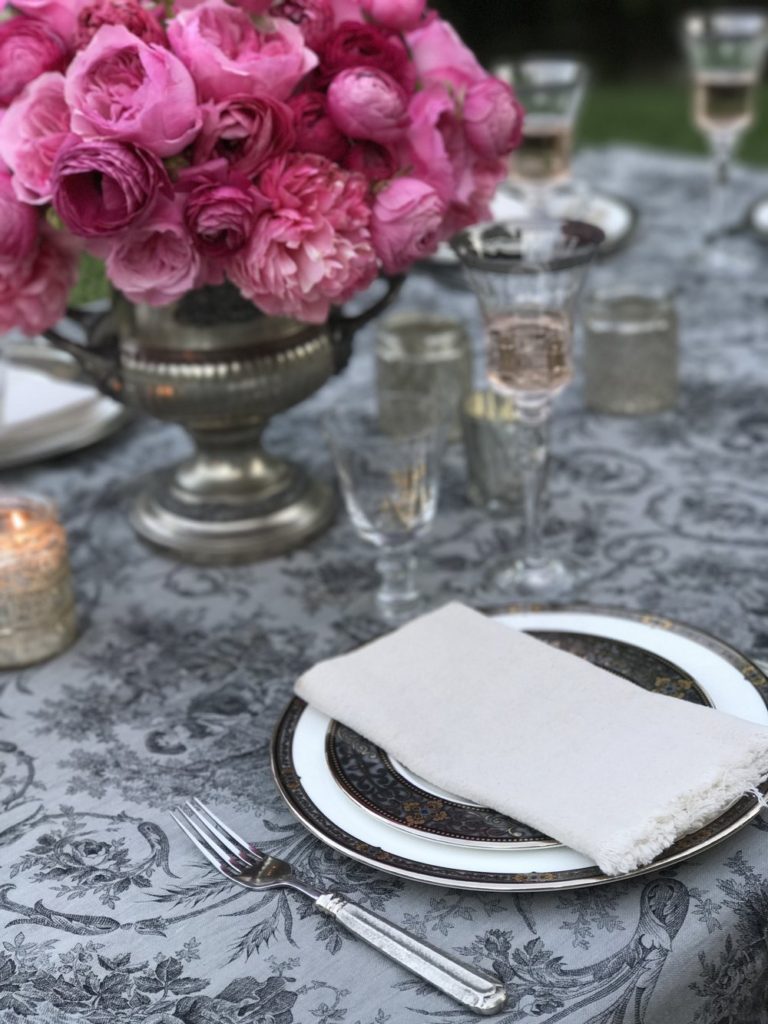 MIX FORMAL AND CASUAL
The first thing I had to decide was where in our garden I wanted to set the table. I knew that bringing the fine china into the yard would create a certain formality, so to balance that, I decided to use a grassy area that is closer to the oak trees and the barn. I wanted to create a juxtaposition between the formal table and a rustic setting.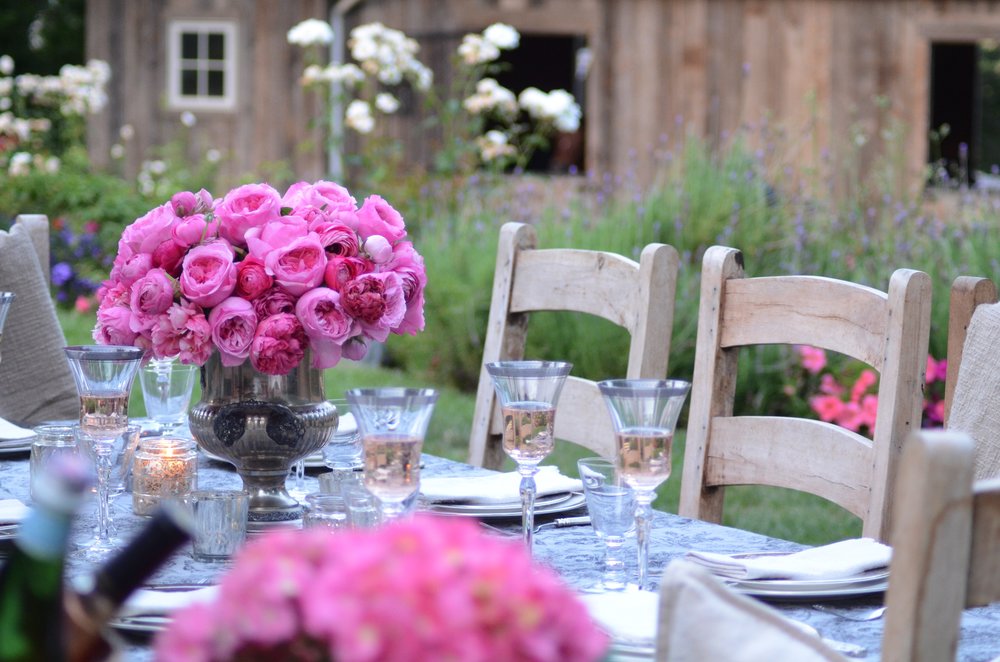 USE FABRIC FOR TABLECLOTHS
I always have a hard time finding table linens that I like, but I often see fabrics that I love, so I use them as table cloths or runners. The bonus is, it is usually much less expensive! In this case, I pulled out a beautiful gray and black linen toile fabric that I knew looked pretty with my china. It doesn't have finished edges, so I just tucked it under at the ends and voilà instant table cloth!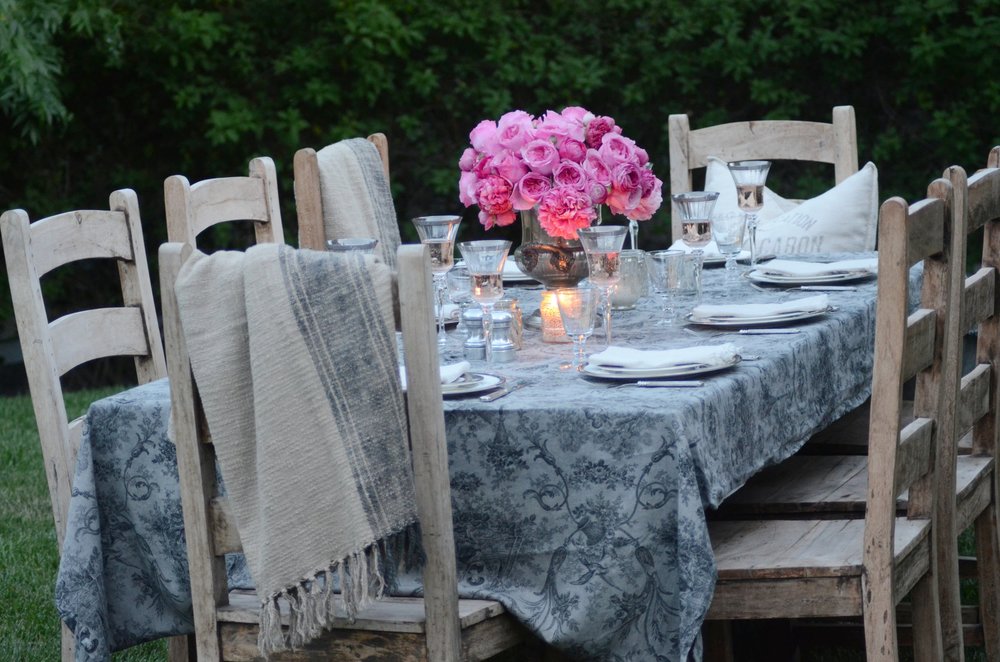 ADD SOME BEAUTIFUL GLASSES
As long as I was using the china, I figured I might as well bring out the crystal that had also been collecting dust in the cabinet. I loved the shape of these glasses when we chose then and still love them today!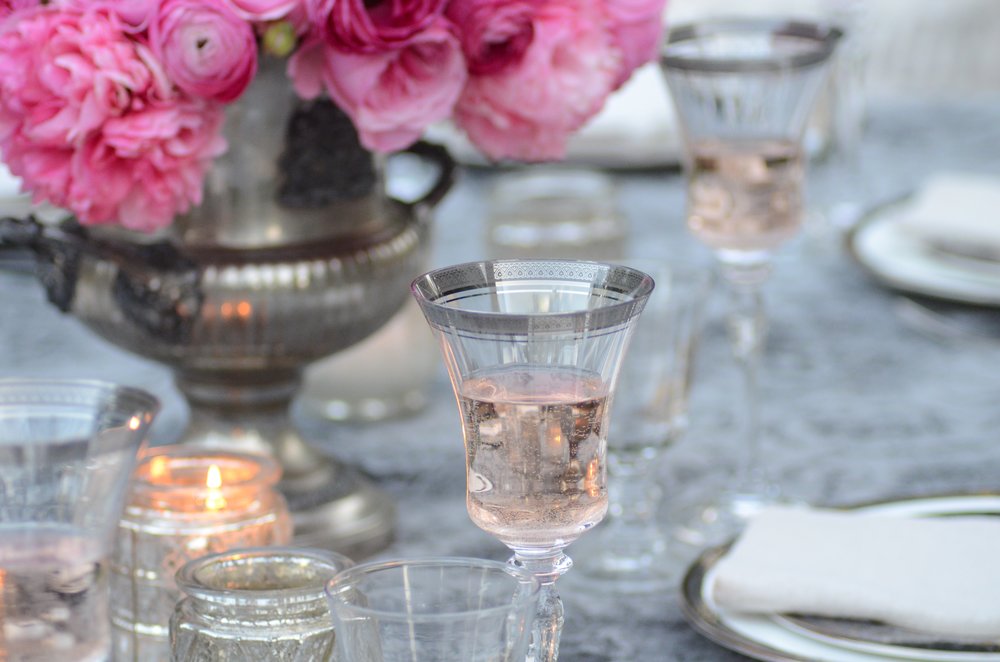 FLOWERS, FLOWERS, FLOWERS!
So this brings me to the flowers. Okay…I know…I went a little crazy on this arrangement, but in my defense, peonies just came into full season AND I found David Austin roses at the flower market all in the same day! Plus I had gotten these gorgeous ranunculus a couple days earlier and…well you get the idea.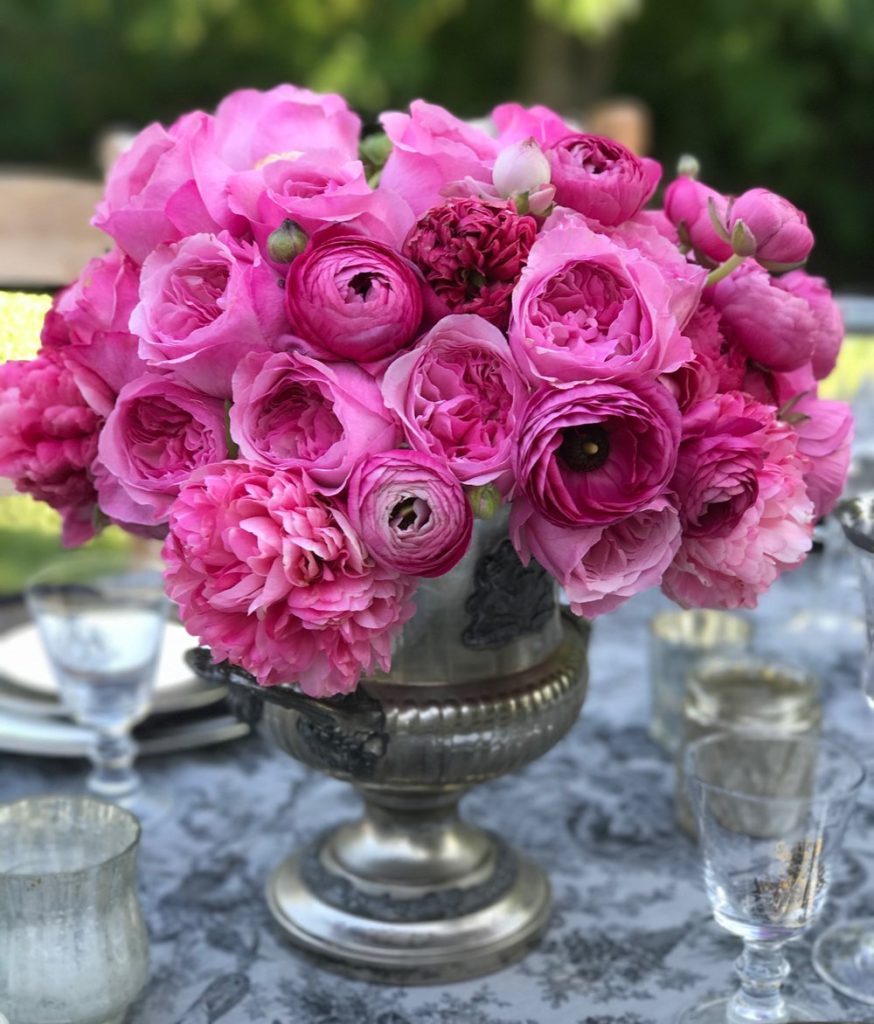 THINK OUTSIDE THE VASE
To top it off, I was in a consignment shop earlier in the week and found this amazing wine bucket. And while it may never actually hold a bottle of wine, it works great as a vase!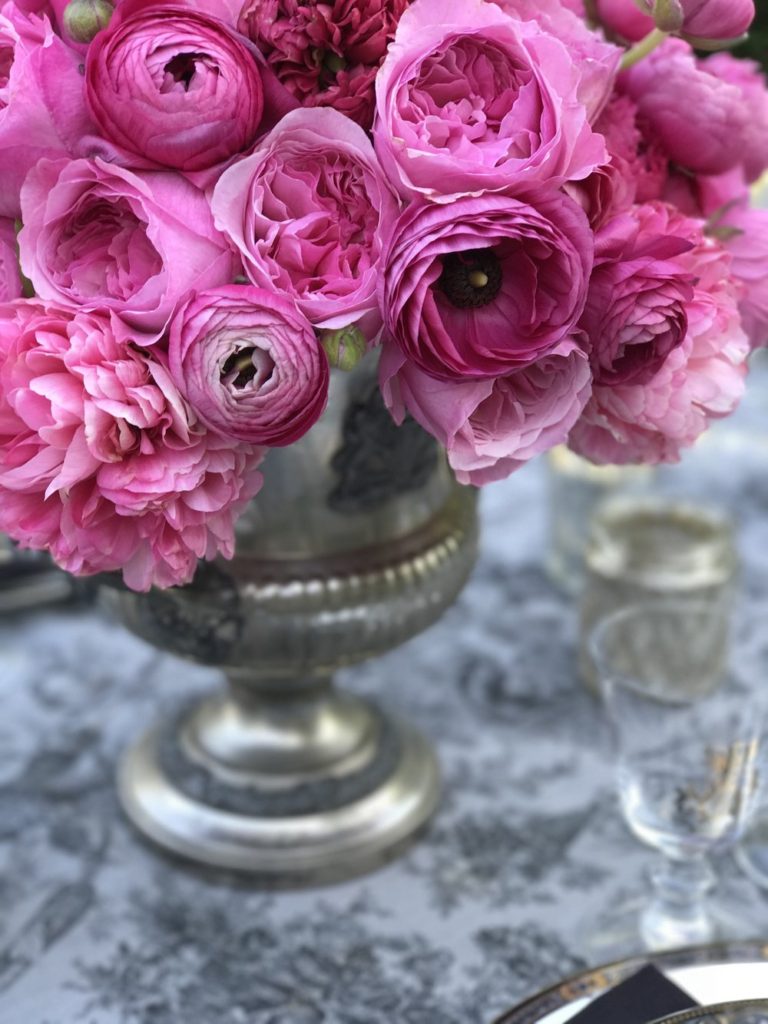 BRING THE INDOORS OUTSIDE
One thing I have learned to do is to bring my indoor furniture out to the yard when we have a party.
I have been known to drag chairs and cabinets outside if I thought it would help create the feeling I wanted to achieve.
In this case, I controlled myself and only carried a small table out to use for wine and a cheese board.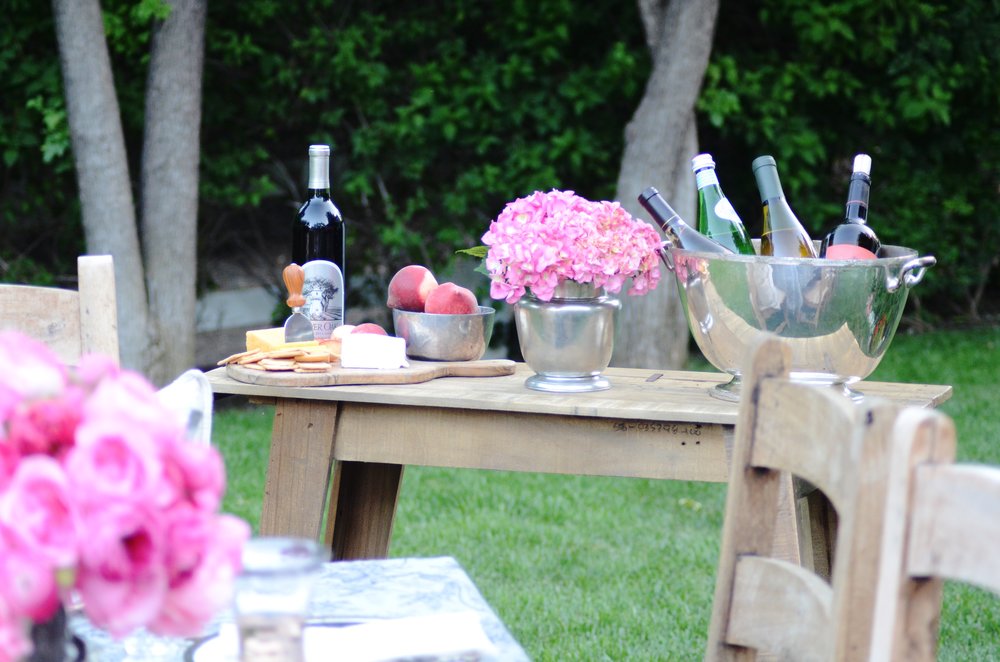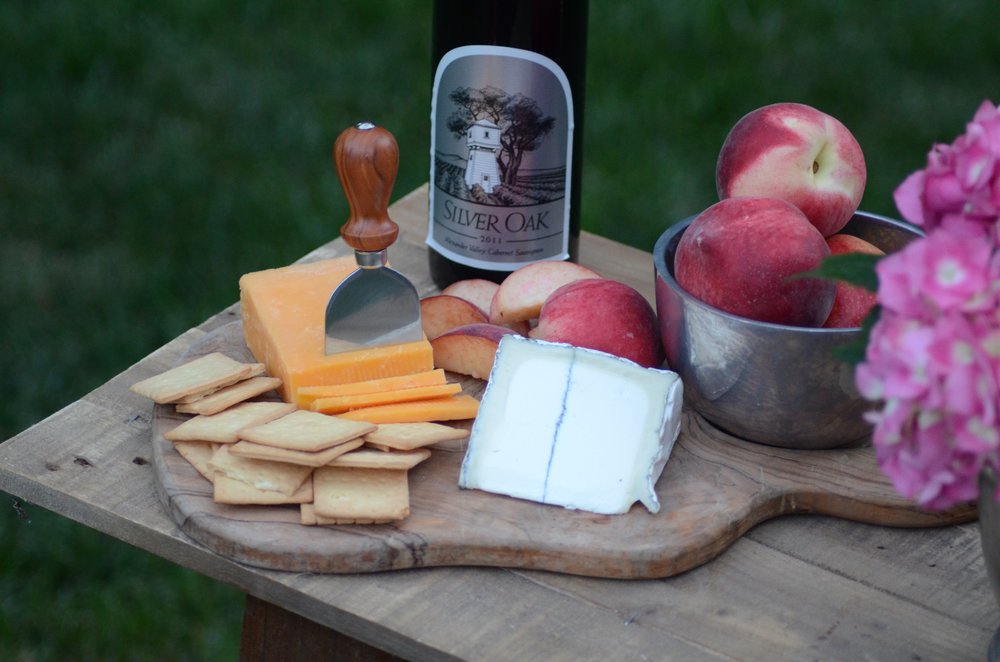 I have to say, when I finally allowed myself to move furniture pieces in the yard, it opened up completely new spaces to entertain and have parties. I was no longer confined to our patio table but could design a specific ambience by simple moving what I needed into a new area. Very liberating!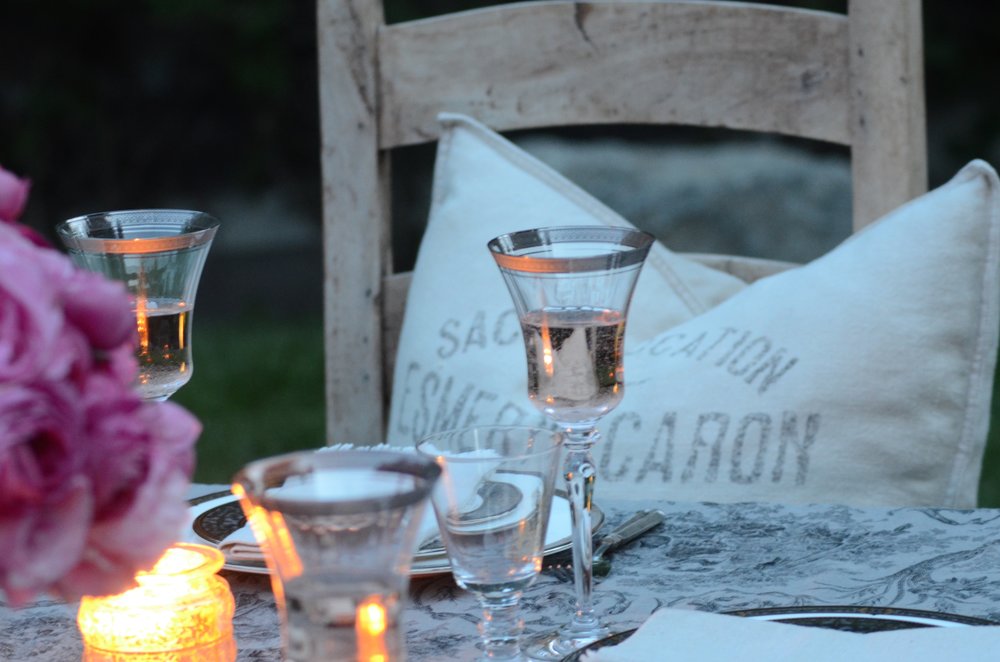 MAKE IT COZY
Once I got the basics set up, I went back inside and brought out a few soft items to make the whole setup feel a bit more cozy and comfortable. A down pillow and a couple of throw blankets were all that were needed to add a little cozy charm…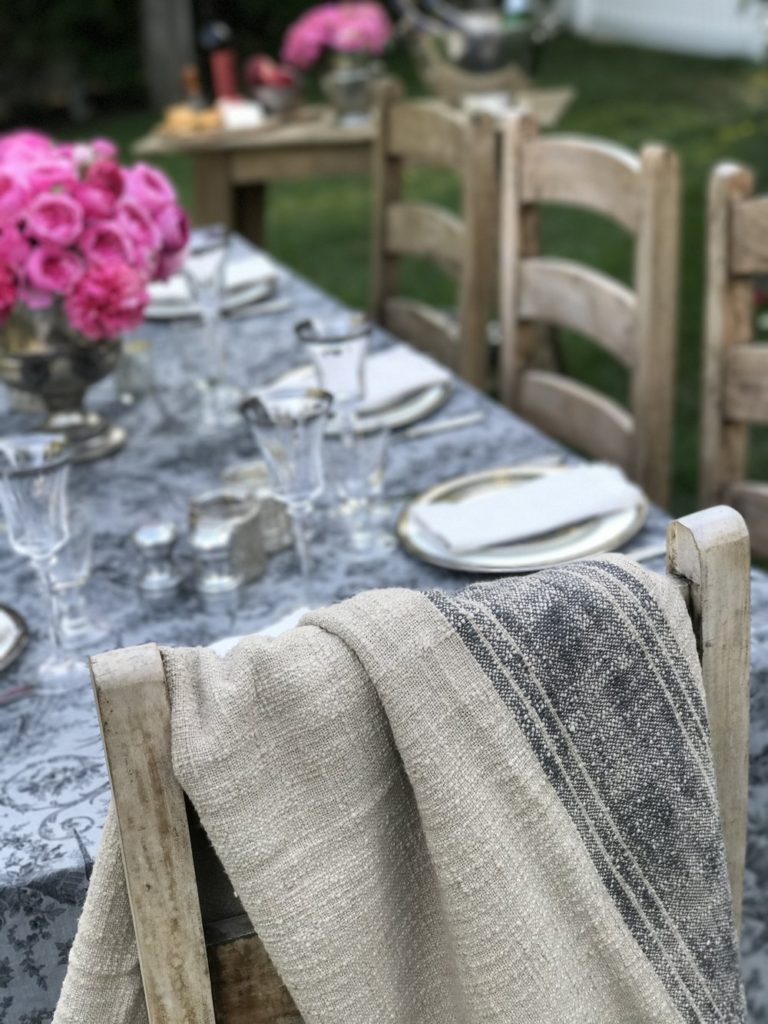 DON'T FORGET THE CANDLES
A few candles in mercury glass jars added the final touch and a beautiful warm glow.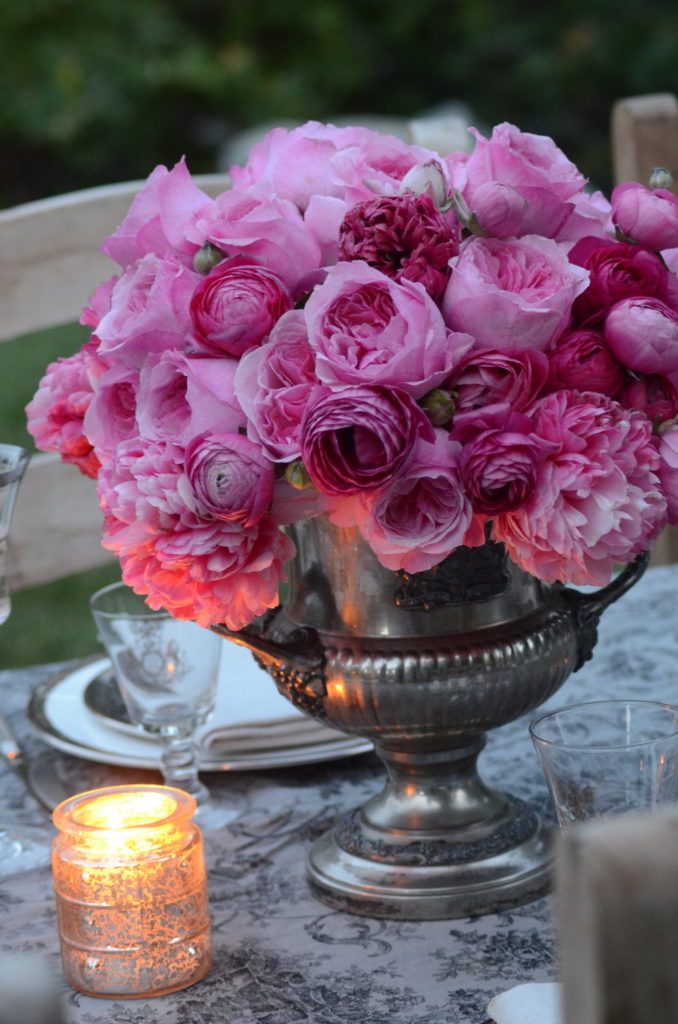 It ended up being a beautiful warm evening and while it was not a formal get together, it did have a special feel, partly because I decided not to save the fine china for that elusive "special occasion".