How to Create A Spa Style Guest Bathroom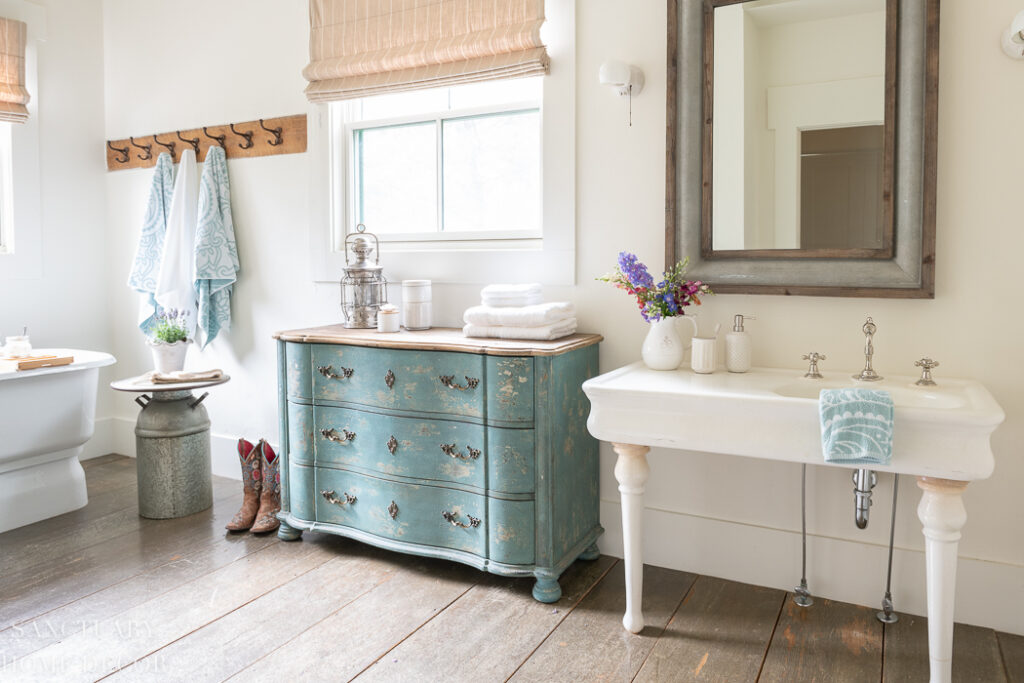 With summer in full swing and an abundance of friends and family visiting us at our Montana ranch, our guest bath is working overtime this year! I want our houseguests to feel comfortable and pampered when they stay with us, so I go the extra mile to make sure they have everything they need. That extends to the amenities in the bathroom, so I have found an affordable and beautiful way to keep the bathroom stocked and looking great all season. Today I'm sharing my tips for how to create a spa-style guest bathroom that your company will love!
This post is sponsored by Walmart and contains affiliate links. I want you to know that I only recommend products that I actually use and love!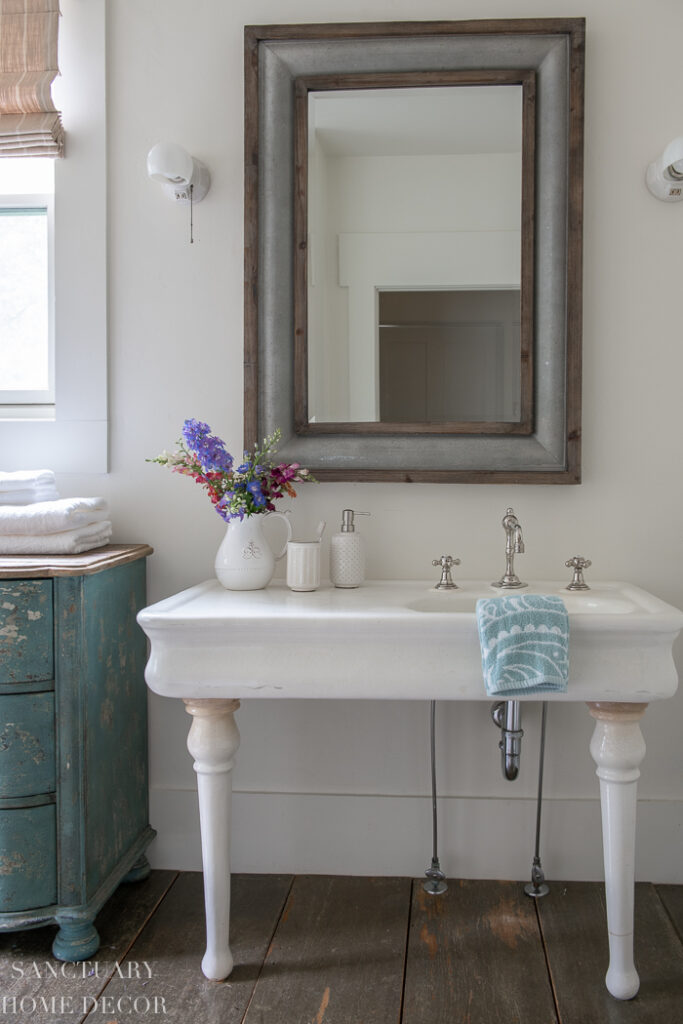 The key to creating a spa-style guest bathroom is to have amenities that are easily reusable by each guest but easy to refill or wash and restock. For example, I use simple white bath accessories in our guest bath mixed with little pops of color to add a bright and beautiful look.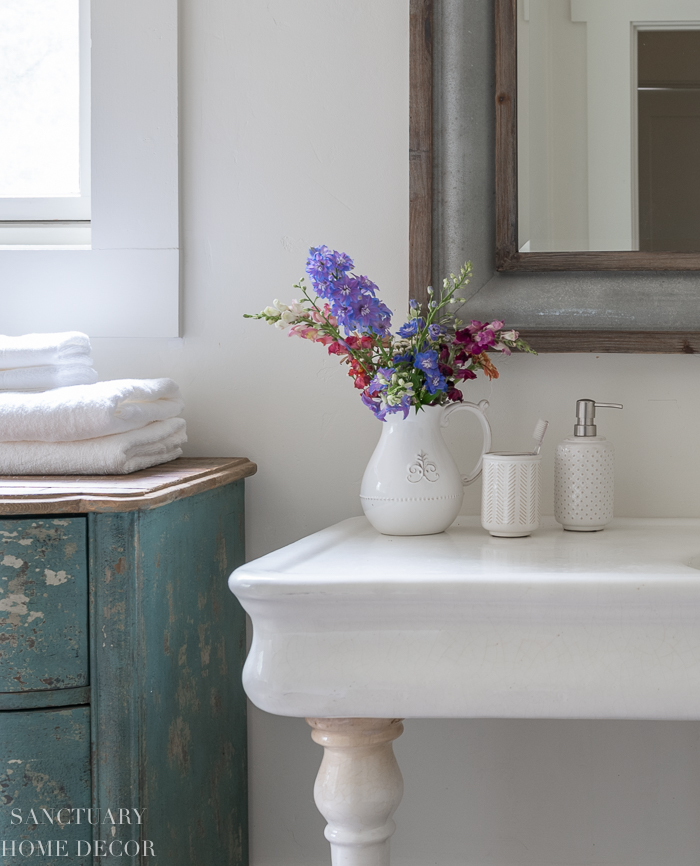 I have found some of my favorite and most affordable bath accessories at Walmart Home in recent years. Their collection of soap dispensers and toothbrush holders is awesome and I love that they have something for every design and style.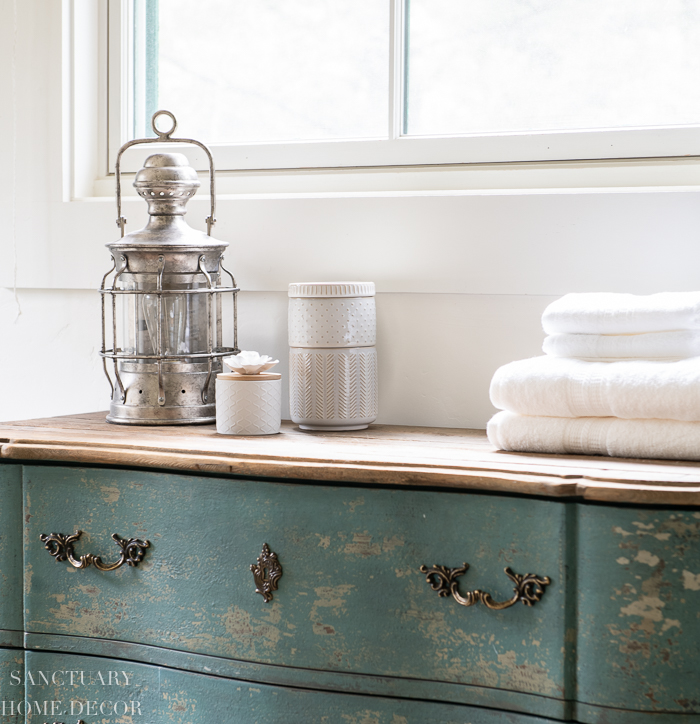 I especially love this charming ceramic collection. I just refill the soap dispenser with my favorite liquid soap and fill the stackable containers with cotton swabs and cotton balls to make sure our guests have what they need. I also adore the Wicking Ceramic Diffuser because I am able to add essential oils in beautiful scents to create that spa scent in the bathroom.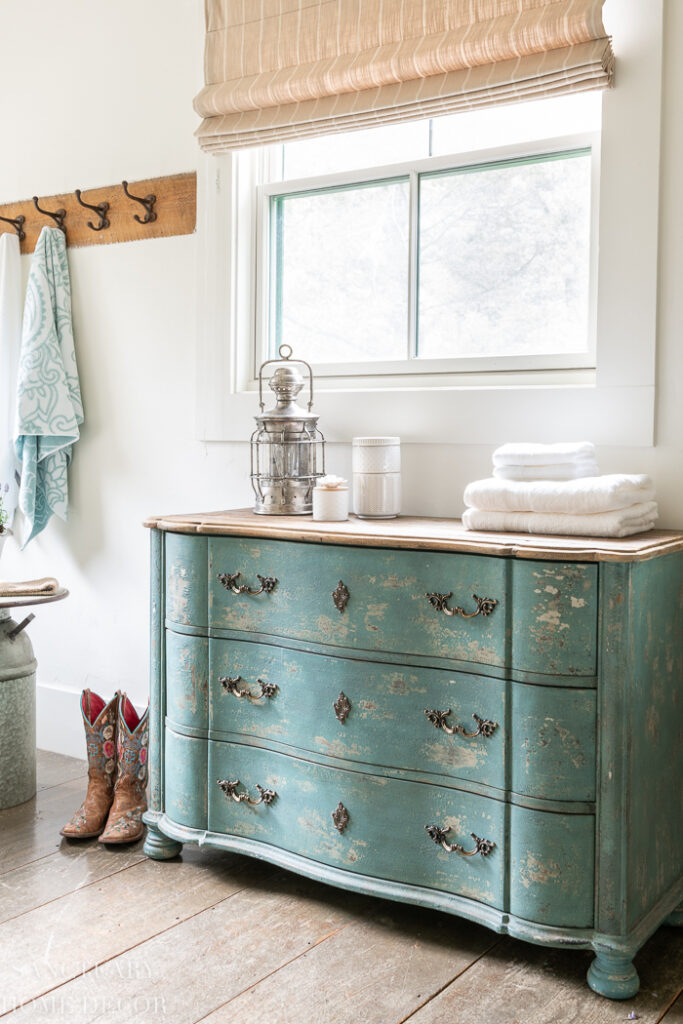 And when it comes to bath towels, I think plush and soft is the best way to go! I also love to mix two different colors or styles in the bath so that guests know which towel is theirs. In this guest bathroom I used a basic white towel set that I got from Walmart Home alongside a beautiful reversible paisley patterned towel set that adds a pretty pop of color.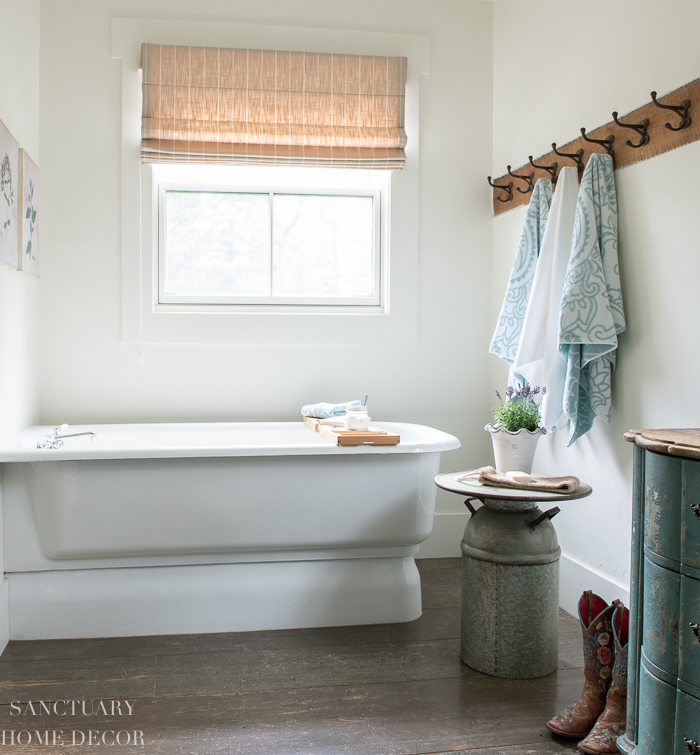 Mixing two differet colored or patterned towels in your guest bathroom allows guests to know which set is theirs.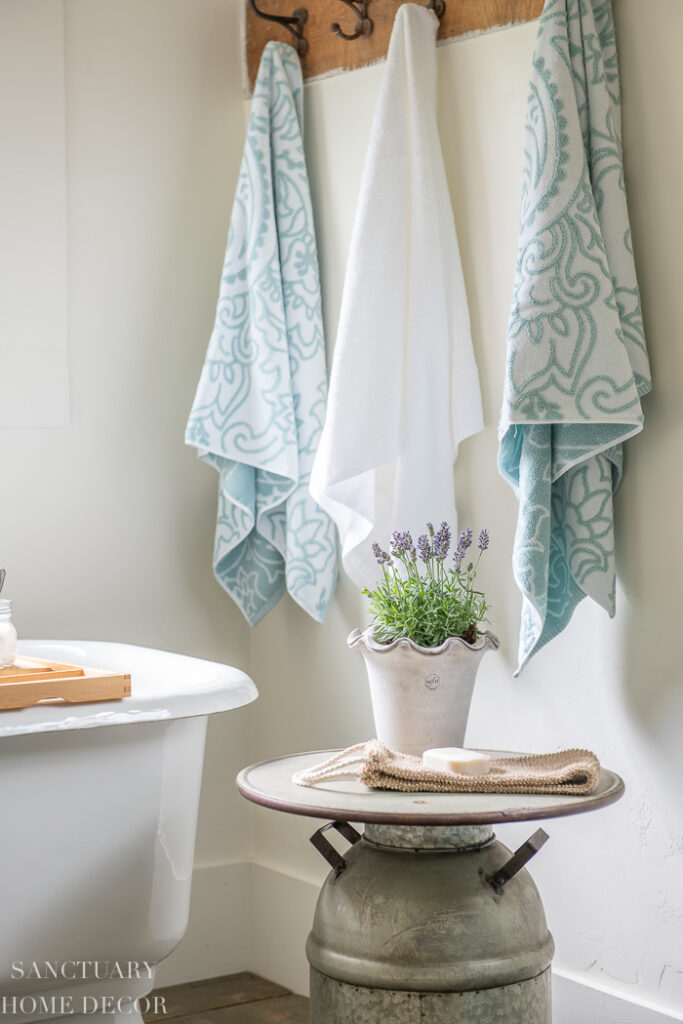 When I'm on vacation, I love to indulge in a nice long soak in the bath, so I want my guests to have the same opportunity. In order to make the idea even more appealing, I added a bamboo tub caddy to the bathtub in our guest bath. I topped it with a jar of lavender bath salts and a copy of a family favorite book to create a spa style experience.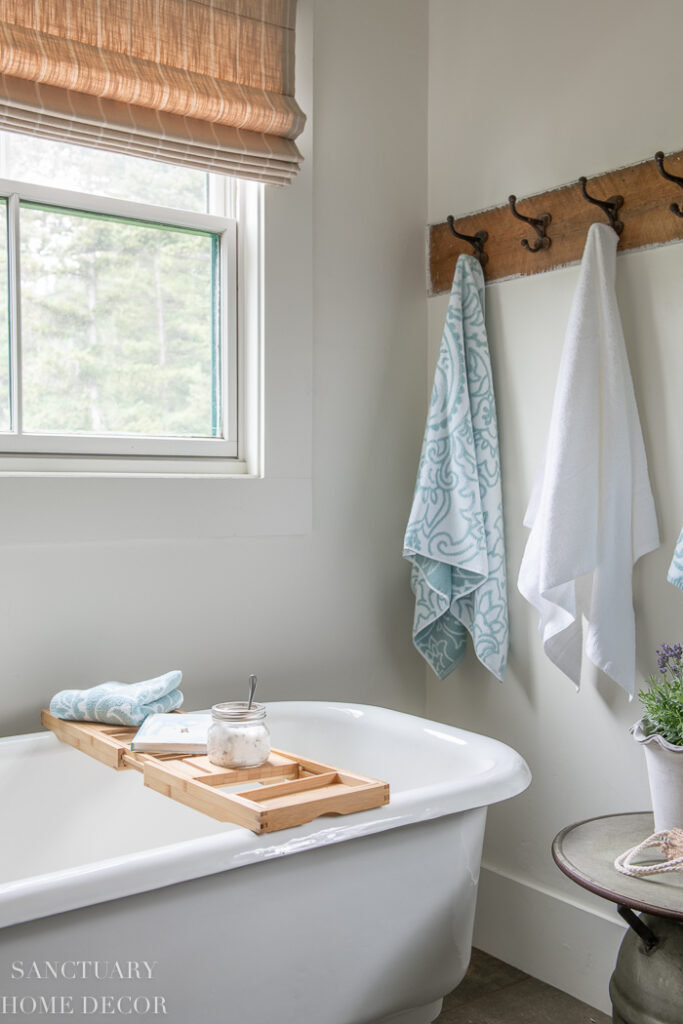 Finally, there is always something that seems to be forgotten when packing, so I stock a drawer in the guest bathroom with extra essentials such as toothbrush sets, deodorant, shavers, bar soap, and sunscreen. Individually wrapped loofa sponges are also a great spa-style addition. I was able to get all of these essentials at my local Walmart in the cosmetics and travel section.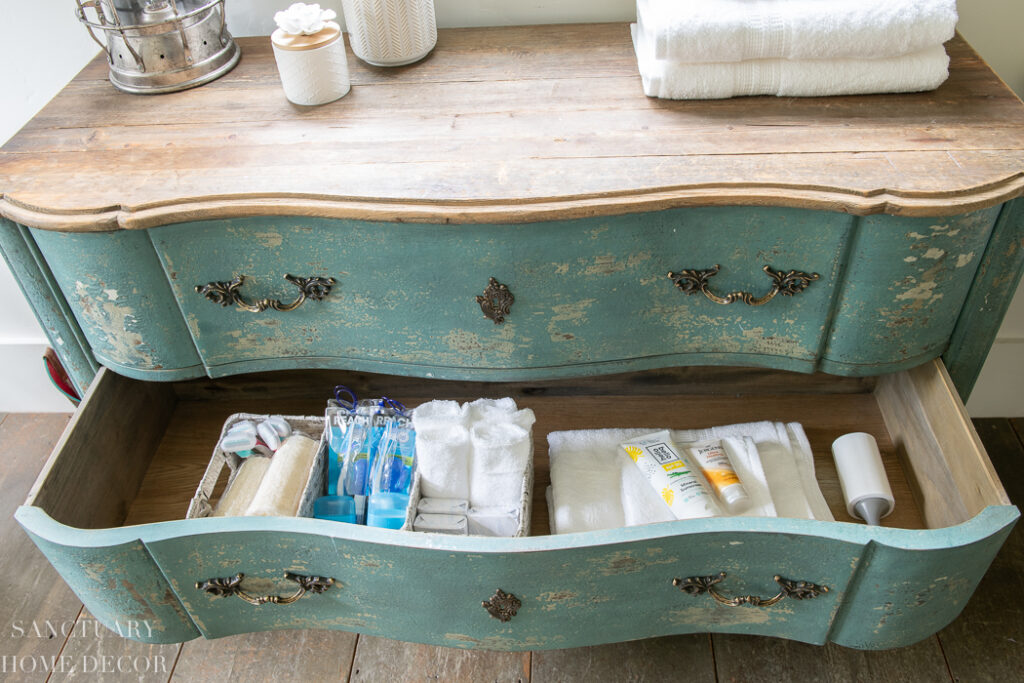 I hope this gives you some ideas about how to create a spa-style guest bathroom in your home. Even if you do not have company arriving this summer, this is a great way to pamper yourself and make your bathroom a beautiful sanctuary all year long!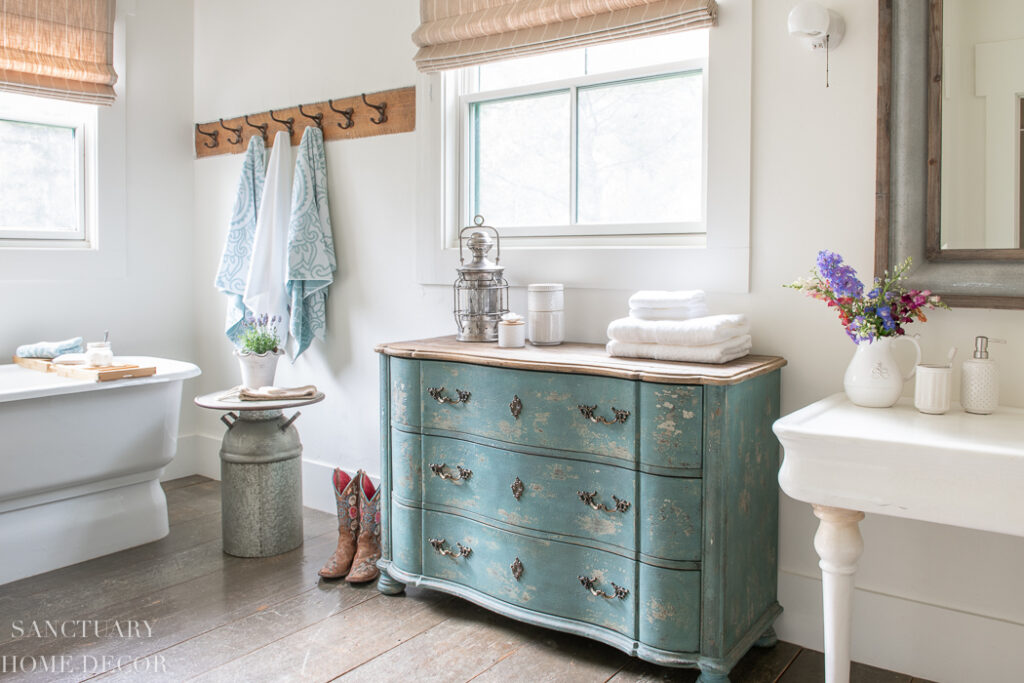 Thanks for stopping by the blog and have a beautiful day!
xo