Our New Rustic Built-In BBQ Area
Well, the summer season has officially begun and I am so excited to show you our new built-in BBQ area! This has been many years in the making because when we built our home 6 years ago, we could not decide where to put a BBQ center in our backyard. We finally made a decision and I am thrilled with the result, so I wanted to share all of the details with you today!
This post contains affiliate links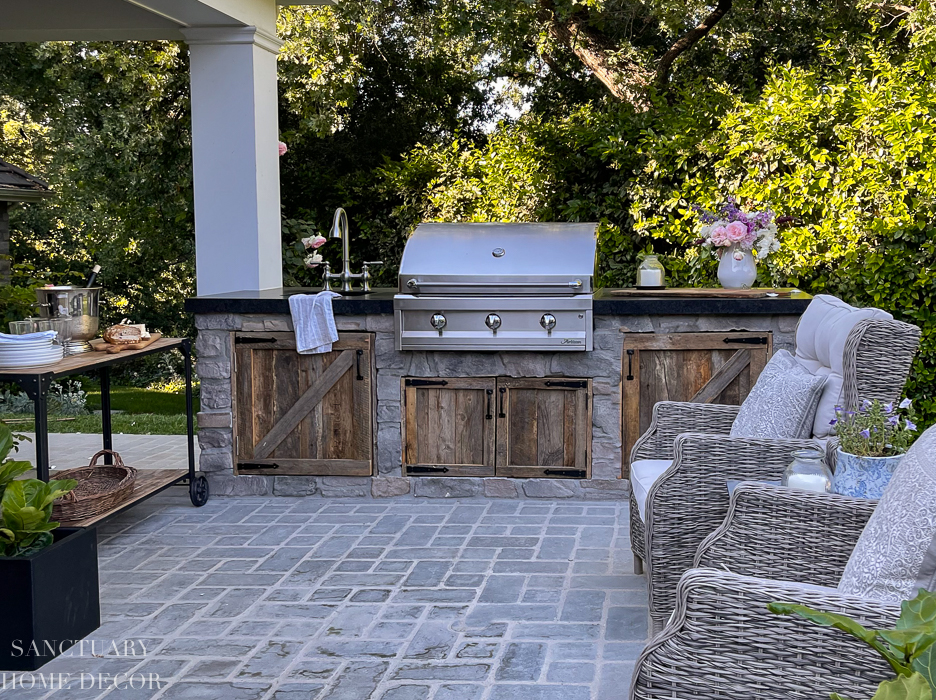 We designed this BBQ area with the idea of incorporating the elements that were already in our backyard into this space. We did not want anything too big or overwhelming, so we chose to create a simple 9′ long and 3′ deep single counter with an 18″ stainless steel sink and a 36″ Al Fresco Artisan BBQ. We covered the exterior in the same stone that we used on our garden cottage and the fireplace chimneys.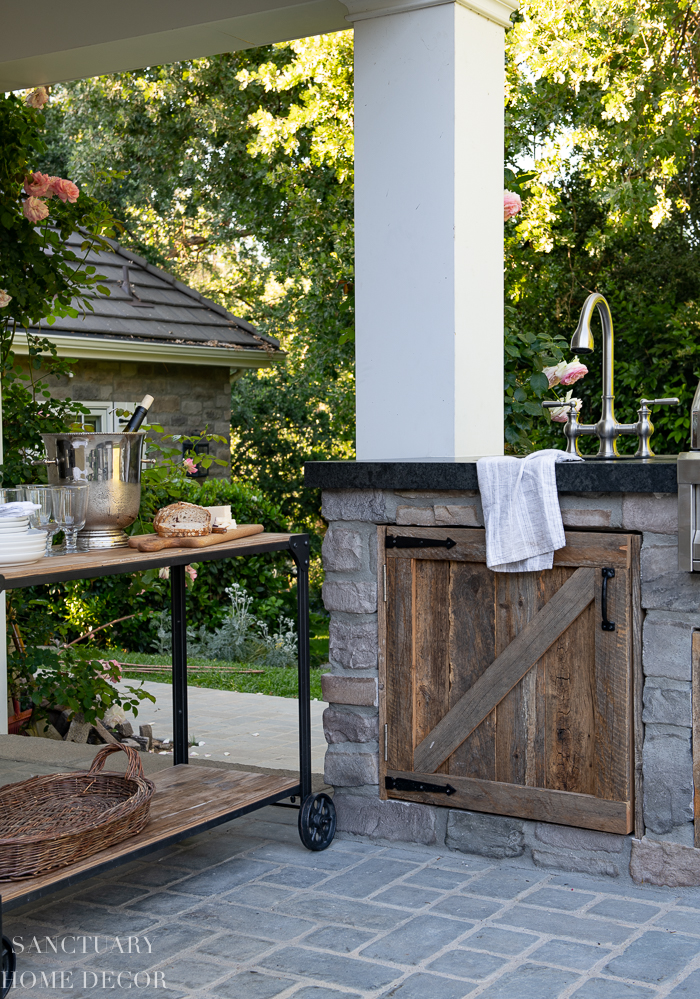 Given the rustic nature of our garden, we also didn't want a ton of stainless steel doors on the front of the BBQ center, so we decided to use some reclaimed barn wood that was leftover from when we built our barn. We had the doors custom made to match the barn stall doors.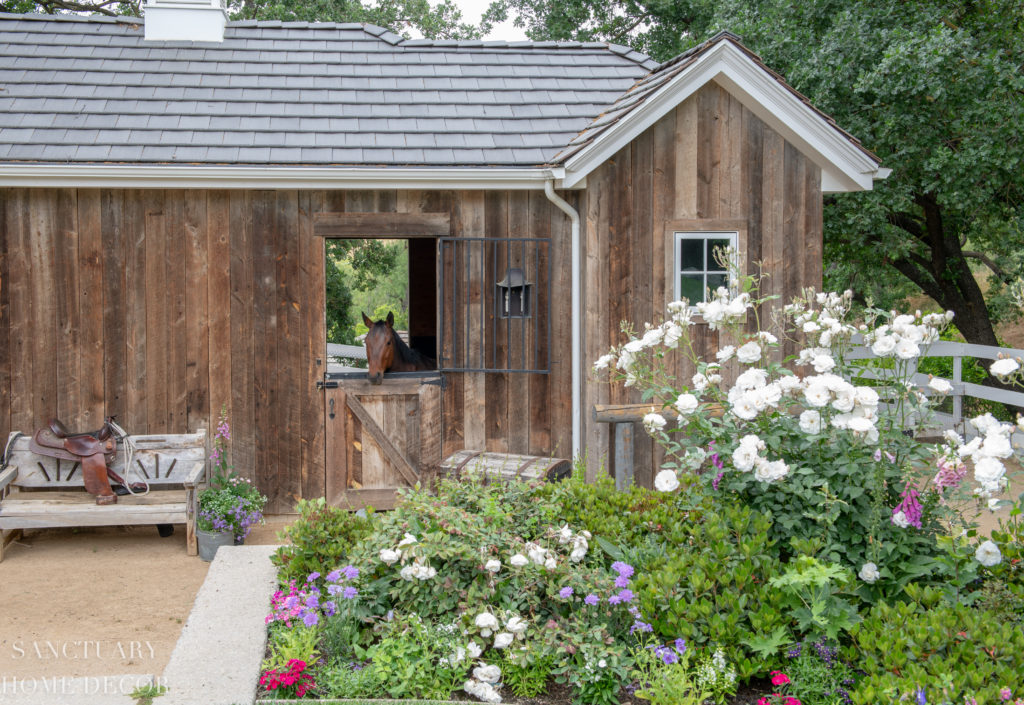 Since both the cottage and the barn are visible from the patio, our new built-in BBQ area ties everything in the garden together, perfectly!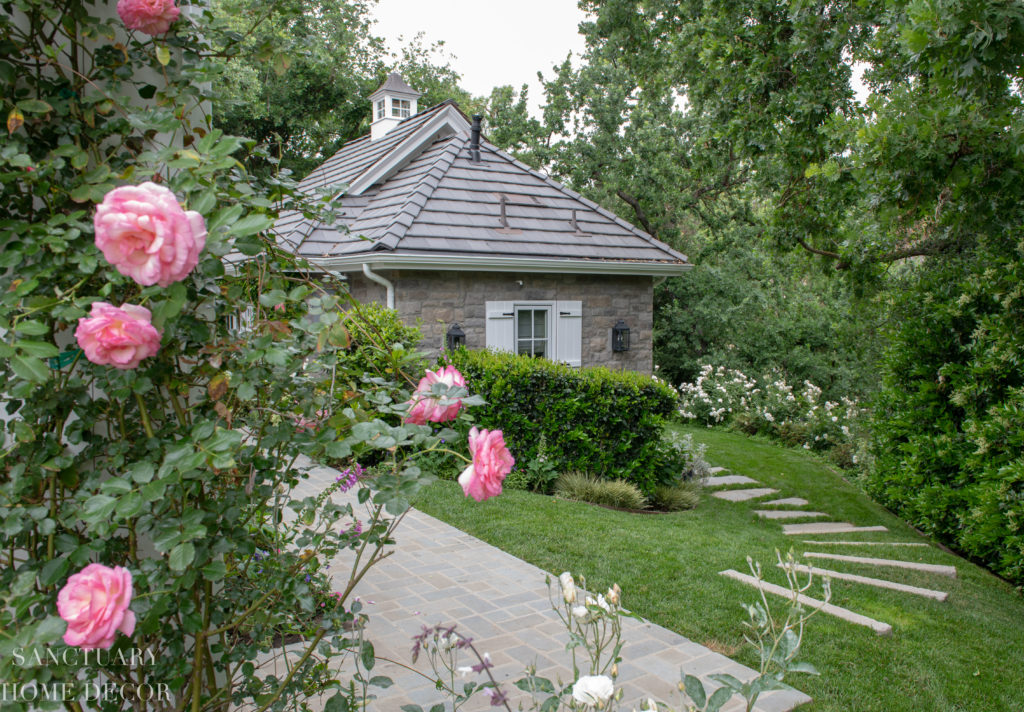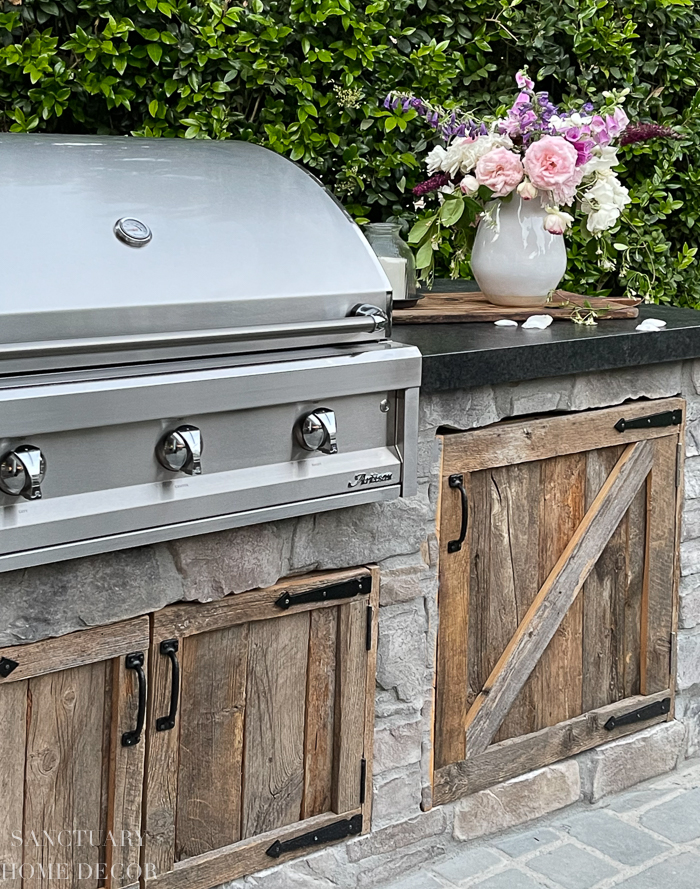 Choosing the countertop was probably the most difficult part of this process. We wanted a natural stone material that would also wear well in the outdoor elements and with the BBQ usage.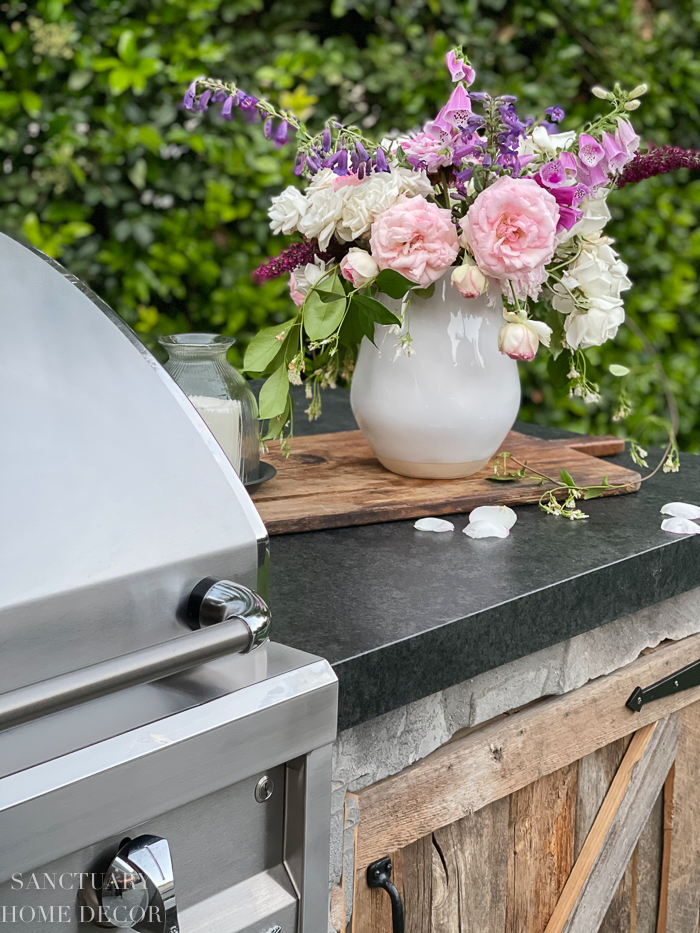 We finally decided on Mystic Gray granite with a honed finish, which I honestly thought might be too dark when it was first installed, but realized looked fantastic once the rustic door handles and false strap hinges were installed! It's amazing what a difference some great door hardware can make in the overall look.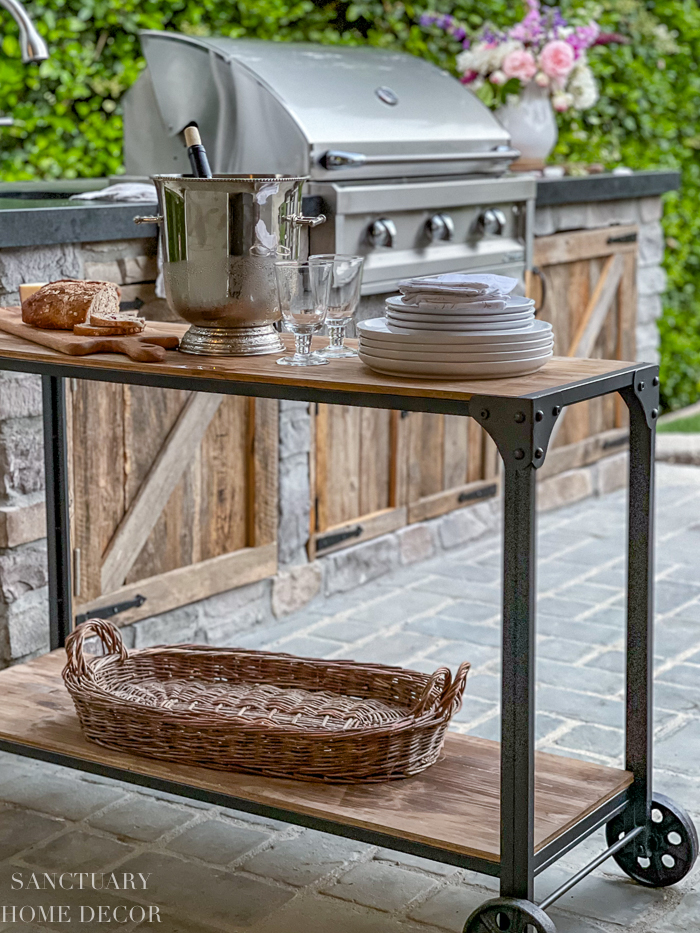 One great surprise was that my favorite rolling cart, that I often use for entertaining, matched perfectly with our new rustic, built in BBQ. It also fits perfectly in the area adjacent to the BBQ, so I have started using is as a mobile bar, snack and buffet table.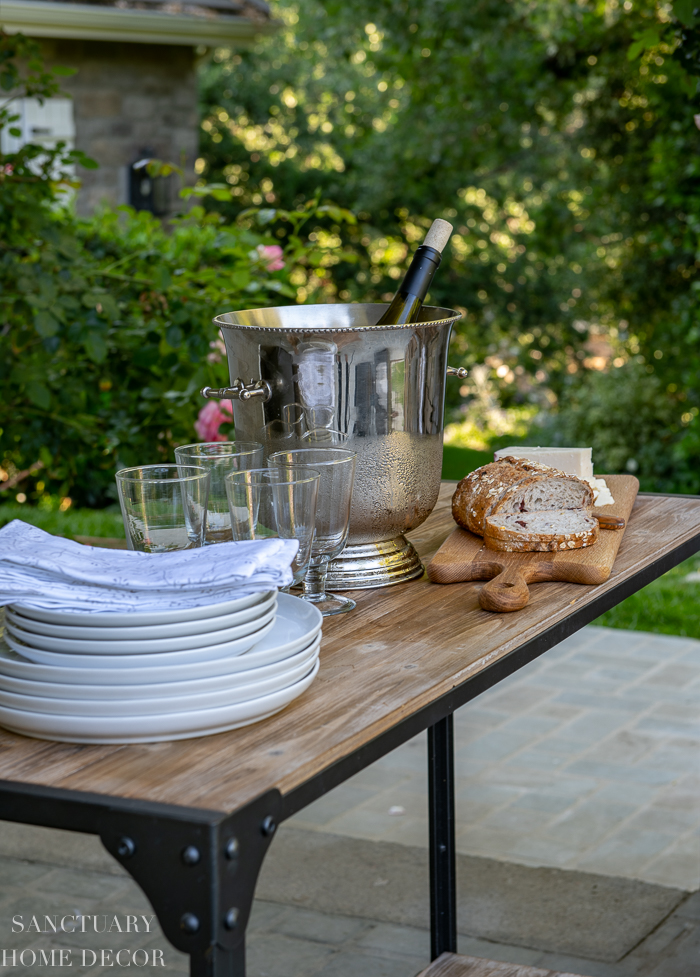 Oh and speaking of buffets, I just have to share my favorite new dinnerware with you! I recently discovered The White Company, a London-based company that carries the most stunning tableware, home decor and even clothing!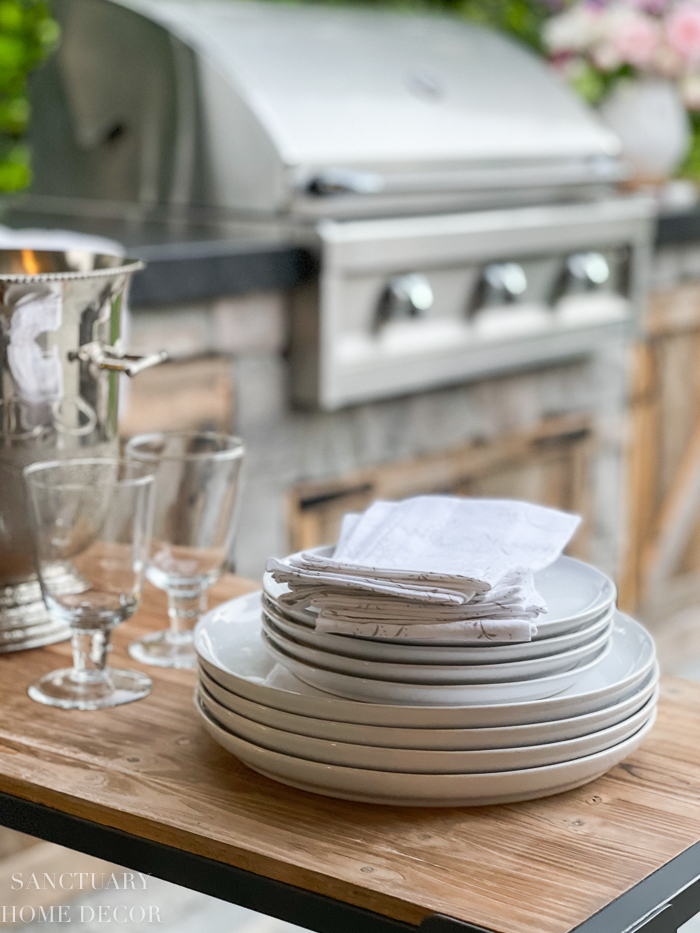 I recently got a set of the Portobello Stoneware Collection plates and I'm a huge fan! I also love the beautiful floral linen napkins and simple bistro style wine glasses. These are all perfect for casual alfresco entertaining!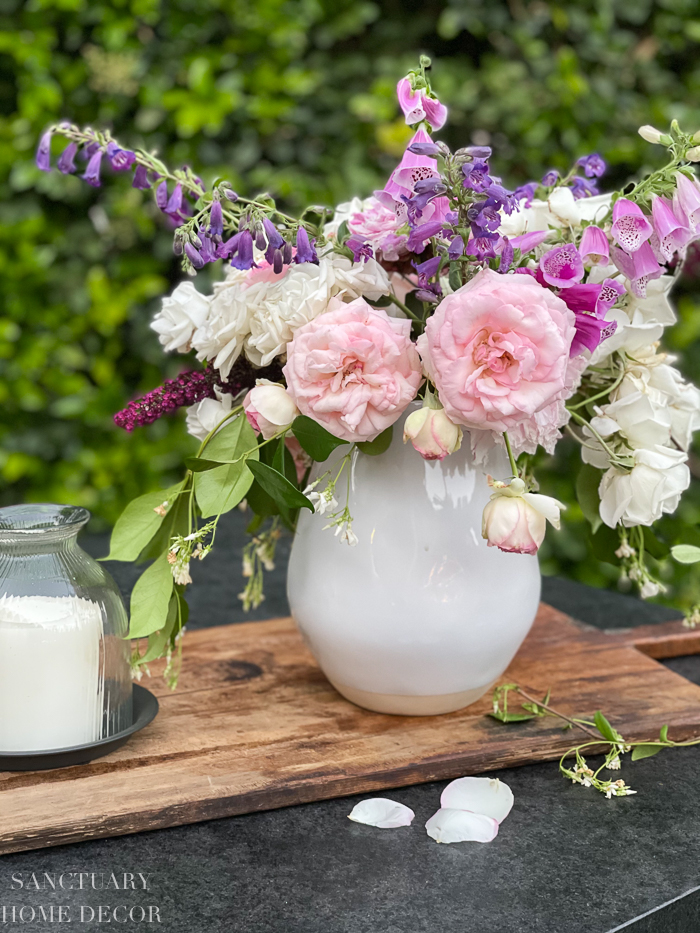 Of course, even my new built-in BBQ area needed some pretty floral accents, so a garden flower filled vase seemed like the perfect addition!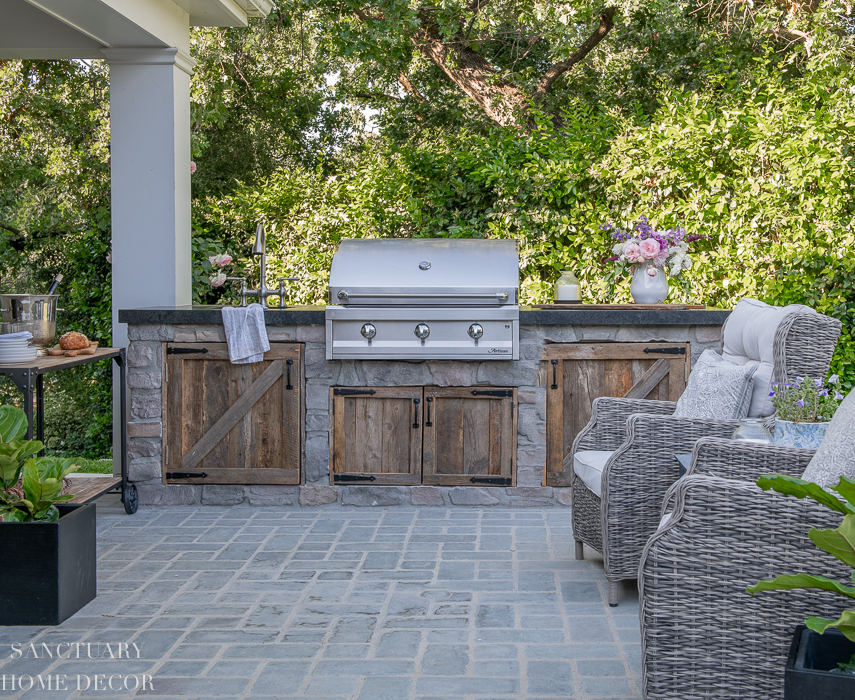 Our first alfresco dinner cooked on the new BBQ was a success and it was made so much easier because of the great new space we created in our yard! I hope this gives you some inspiration if you are considering adding a built in BBQ area to your home!
XO