Holiday Home Tour – Rustic, Elegant, Neutral
Happy Holidays! I hope you all are enjoying the season and taking time to savor the special moments that come your way. Today I wanted to give you a complete tour of my home decorated for the holidays. Some of the rooms I have shared in the past weeks and some I have just finished decorating, but as you tour my house today, you will see that I used mainly neutral tones with a few soft accent colors here and there. I repeated the same elements in almost every room and love the way it all came together for a rustic, elegant, neutral look.
SO WELCOME…COME ON IN!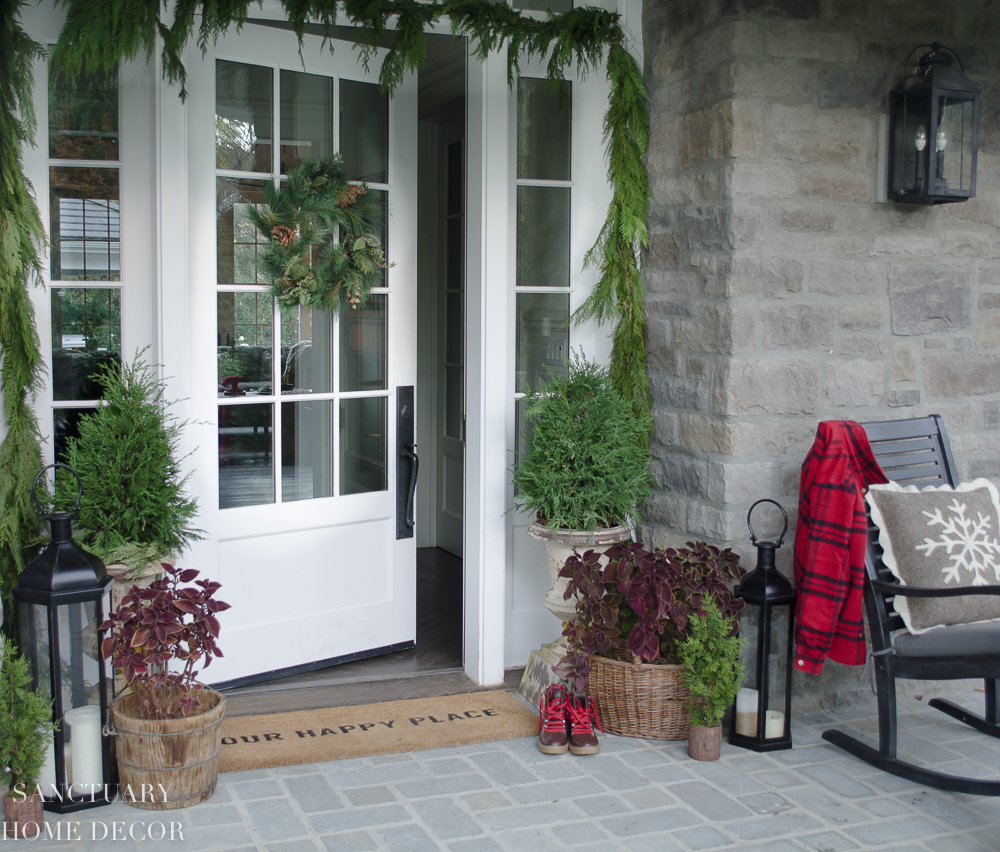 NEUTRAL DECORATING IN THE KITCHEN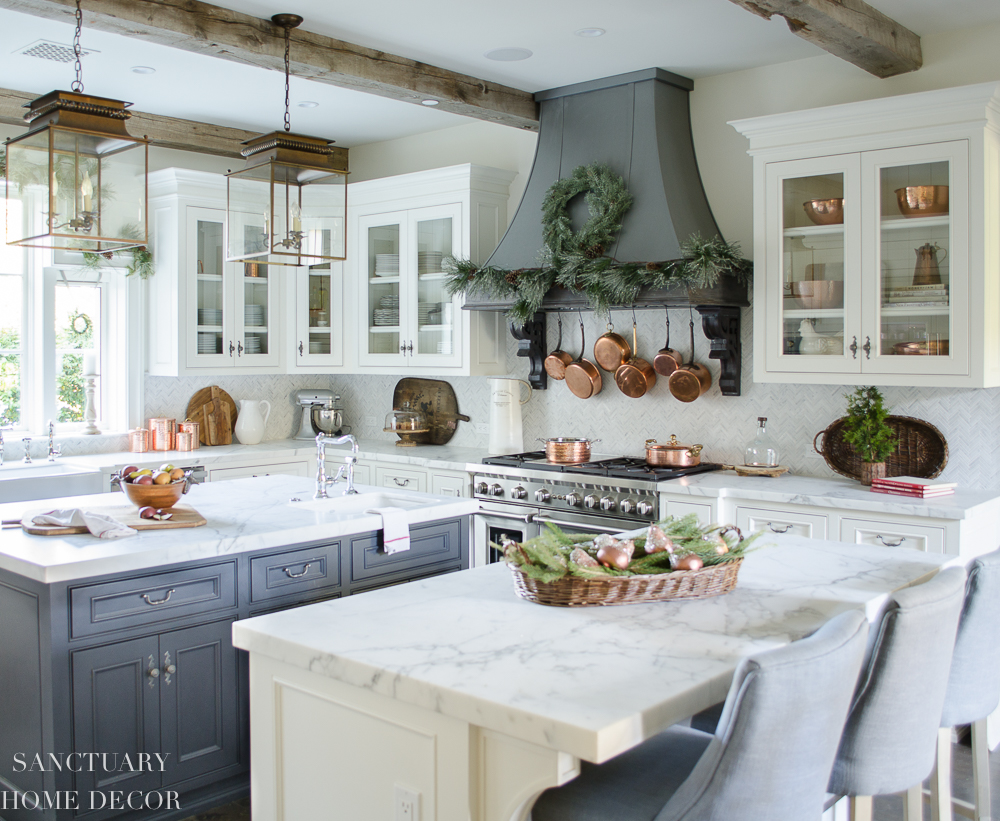 I kept my kitchen very neutral with touches of greenery throughout.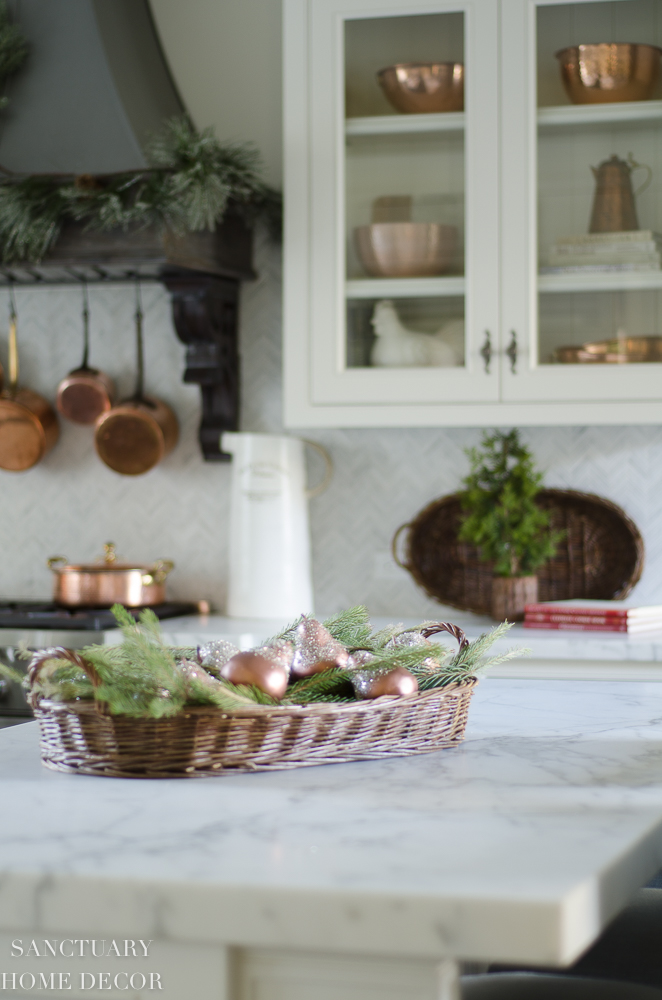 Copper elements define my kitchen these days, so I went with that theme and added some glittered copper pears to a basket of greenery.
Learn HOW TO MAKE GLITTERED PEARS IN 3 EASY STEPS by Clicking HERE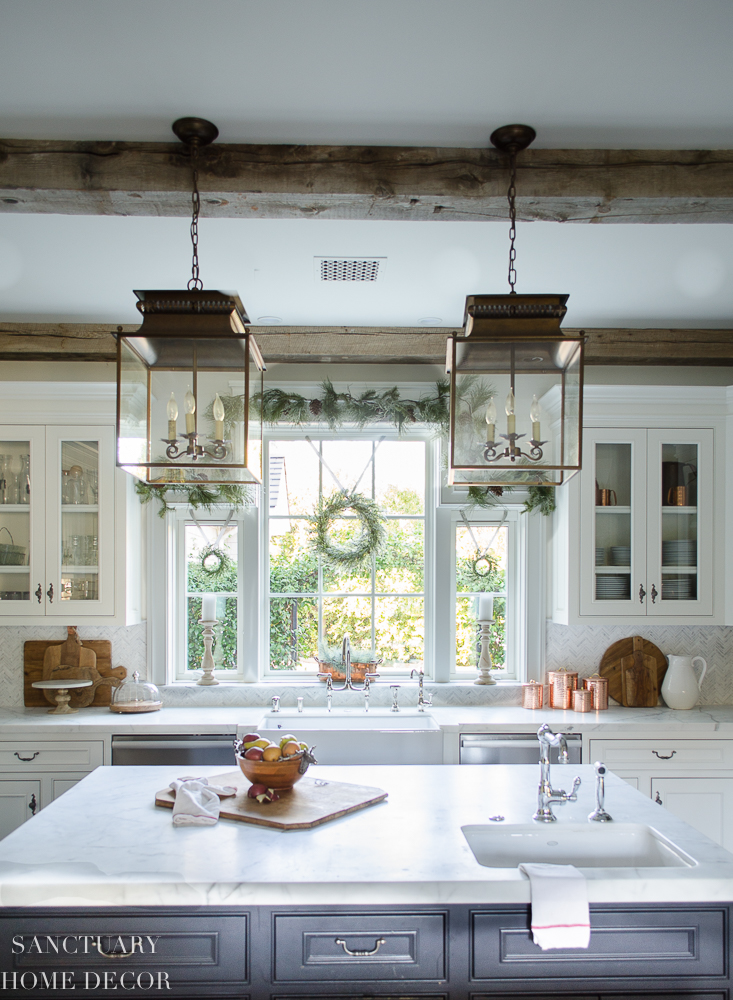 I added some simple pine greenery around the kitchen window and three wreaths hanging from black and white striped ribbon.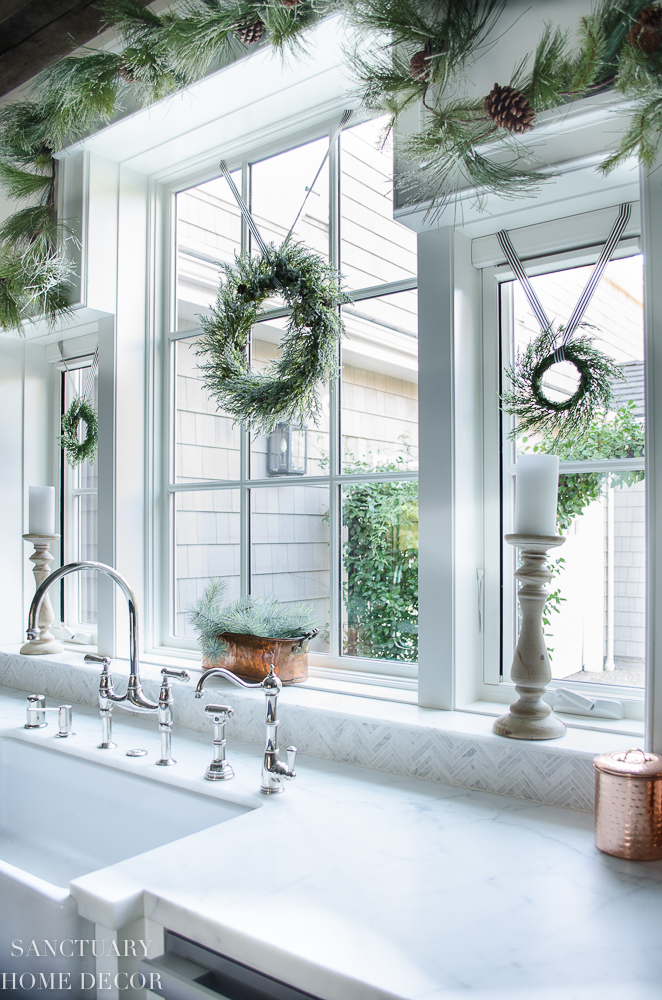 A frosted pine garland and wreath on the range hood are just enough for a rustic, elegant look in the kitchen.
See all of MY FAVORITE SOURCES FOR AFFORDABLE COPPER DECOR by clicking HERE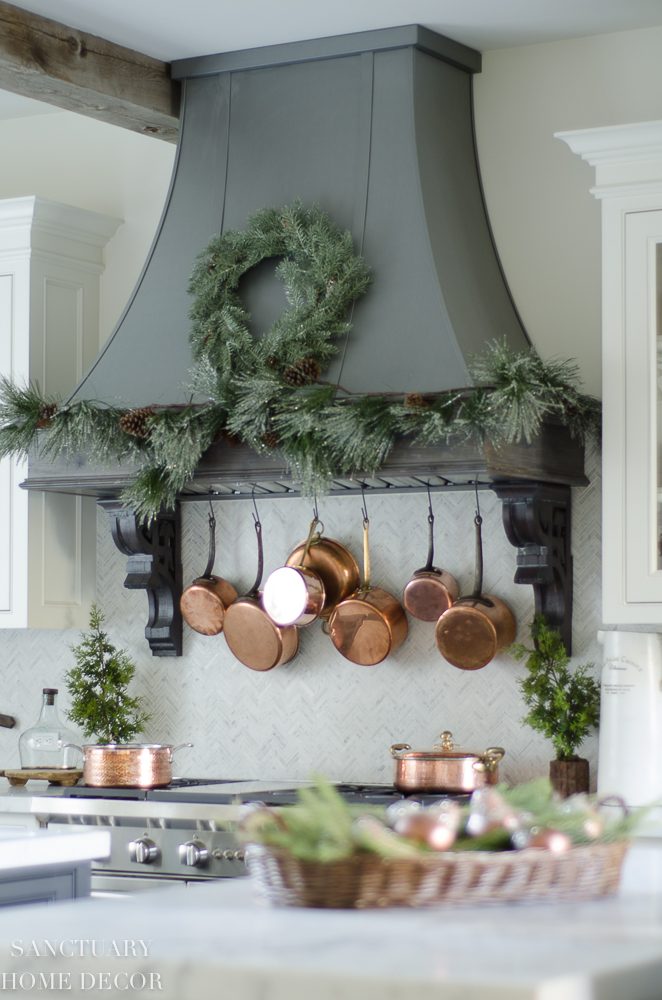 *This post contains affiliate links


                
                


                    
                    
                


            
---
SIMPLE DECORATING IN THE BREAKFAST NOOK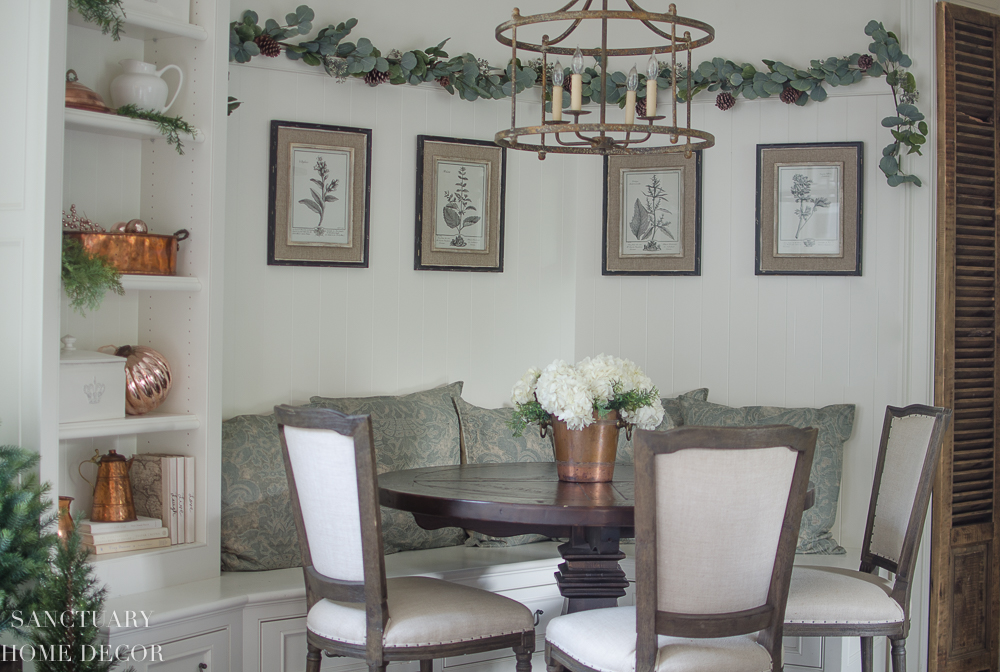 Our breakfast nook is basically in the kitchen, so the decor has to flow together. A neutral eucalyptus and pinecone garland along the rail behind the nook was a perfect way to bring a rustic but elegant look into this space.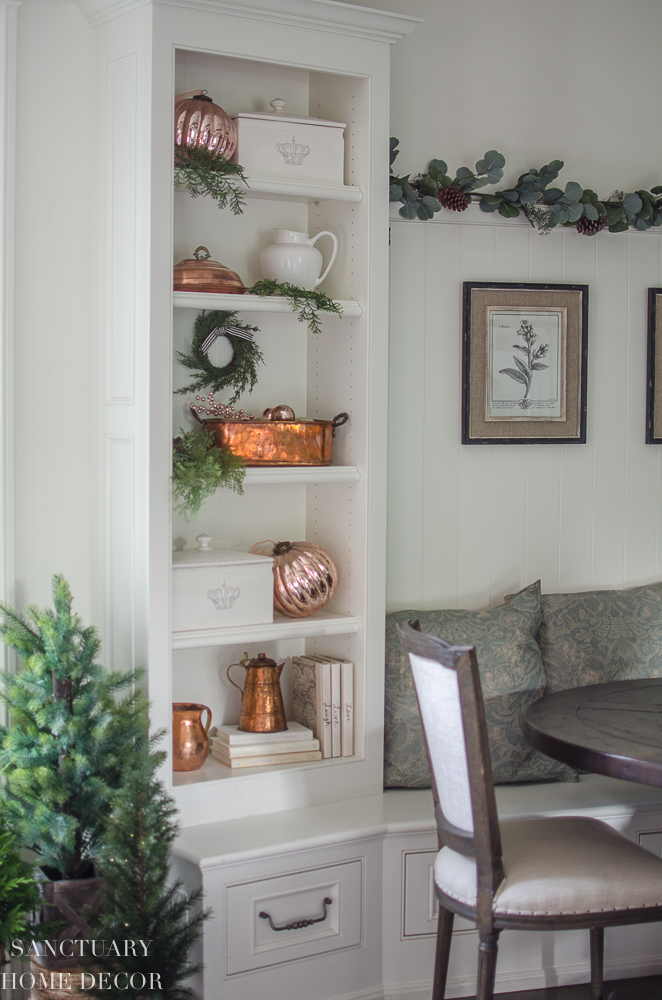 I added a few copper elements in the nook bookshelves with some sprigs of greenery tucked in.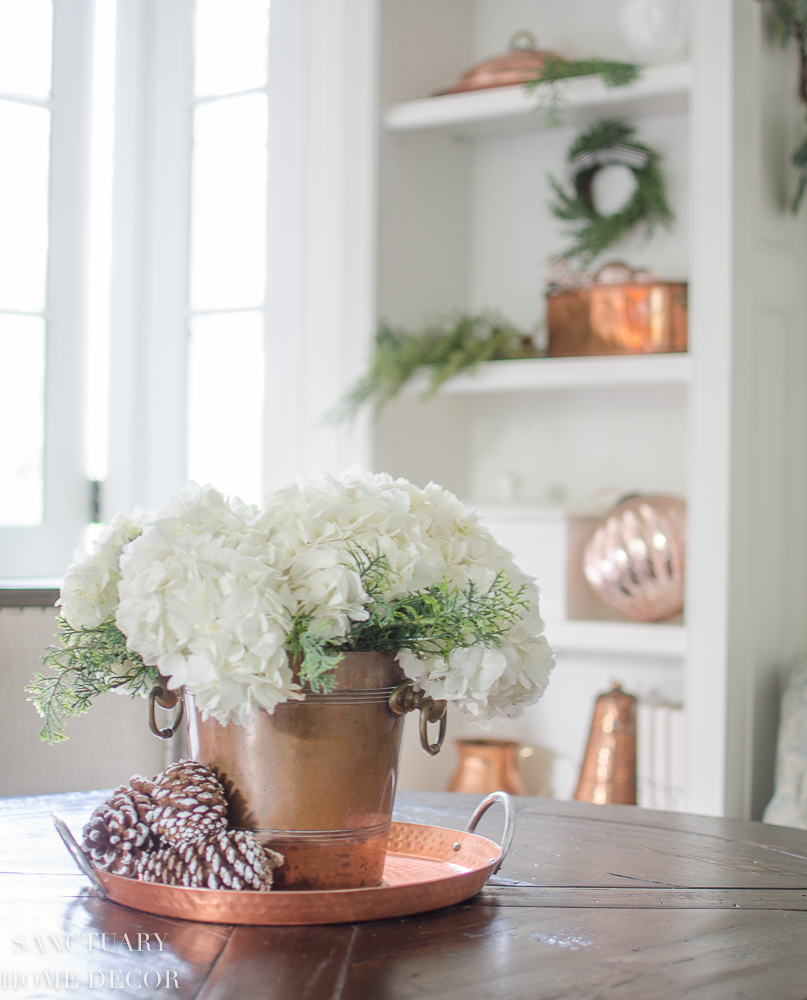 A copper ice bucket filled with white hydrangea and a few pinecones complete the look.
To see my choices for THE MOST AFFORDABLE RUSTIC ELEGANT HOLIDAY DECOR click HERE.


                
                


                    
                    
                


            
---
A SOFT AND COZY CHRISTMAS FAMILY ROOM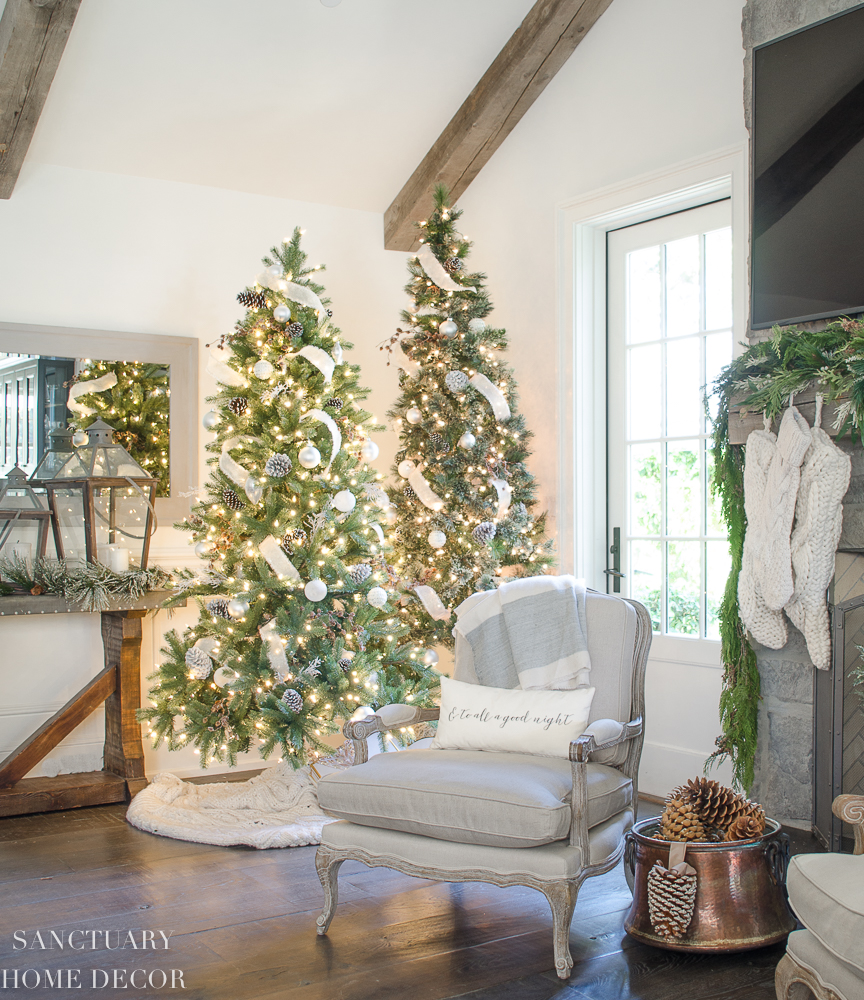 It's all about rustic neutral tones and cozy knit elements in our family room this year.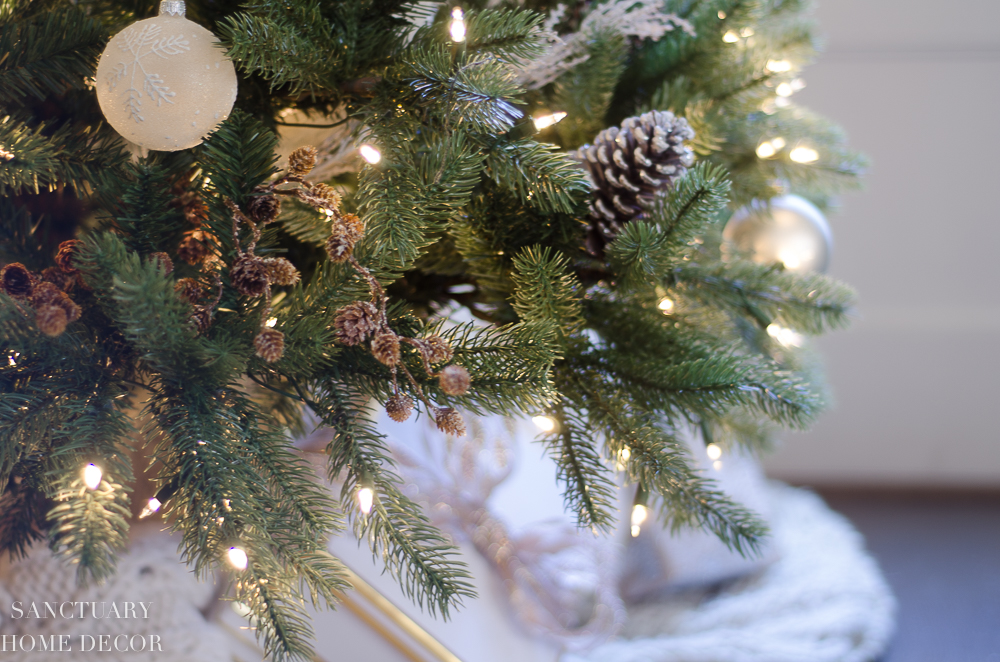 Pinecones, knit stockings, chunky blankets and lots of greenery are all included in this room.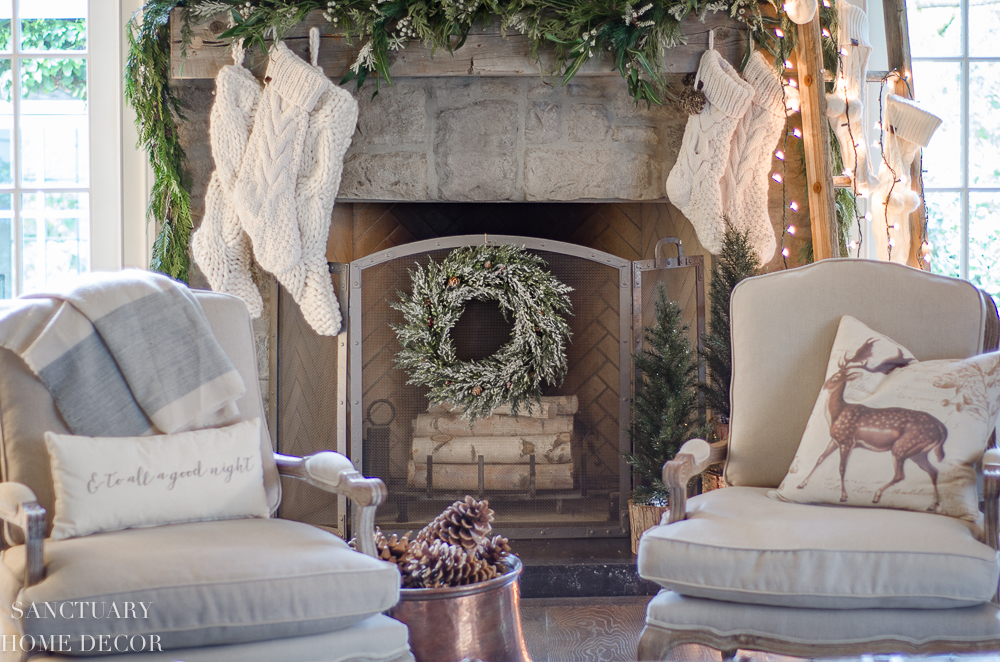 You can see a full tour of our COZY, NEUTRAL CHRISTMAS FAMILY ROOM by clicking HERE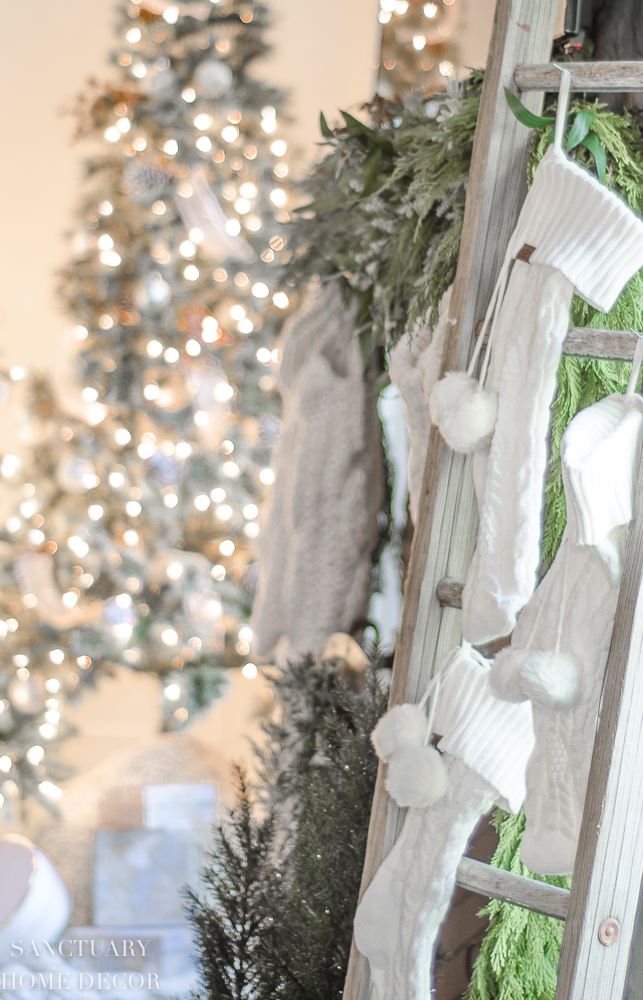 ---
NEUTRAL TONES AND COPPER ACCENTS IN THE DINING ROOM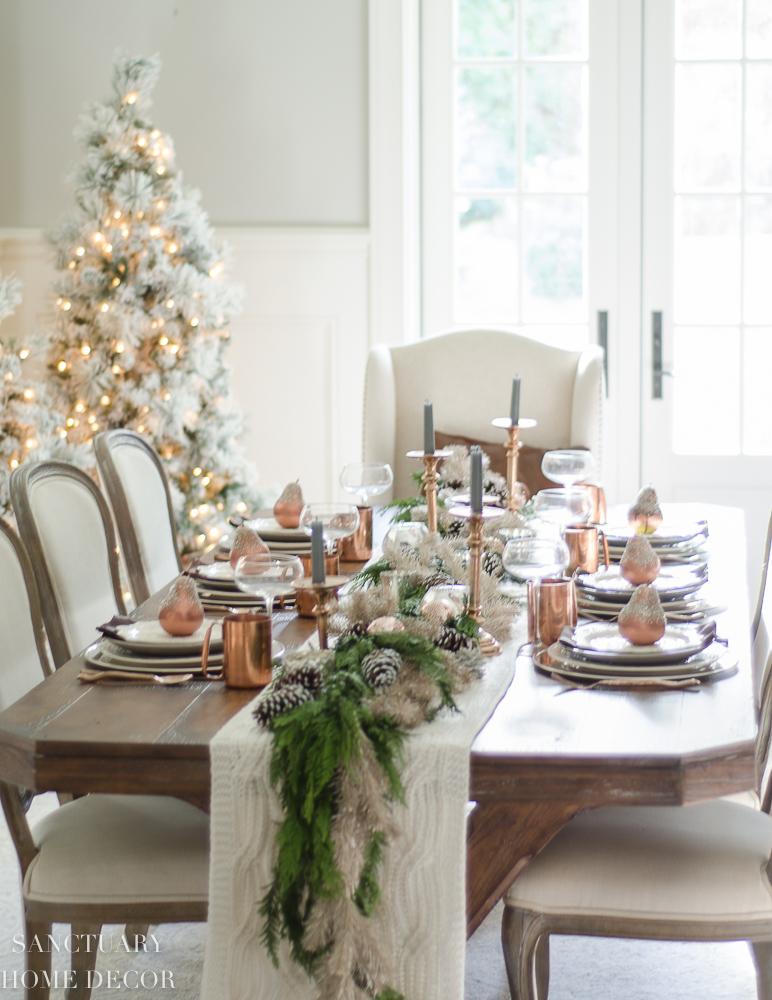 I expanded on the cozy, neutral decor in our family room and brought it into the dining room this year.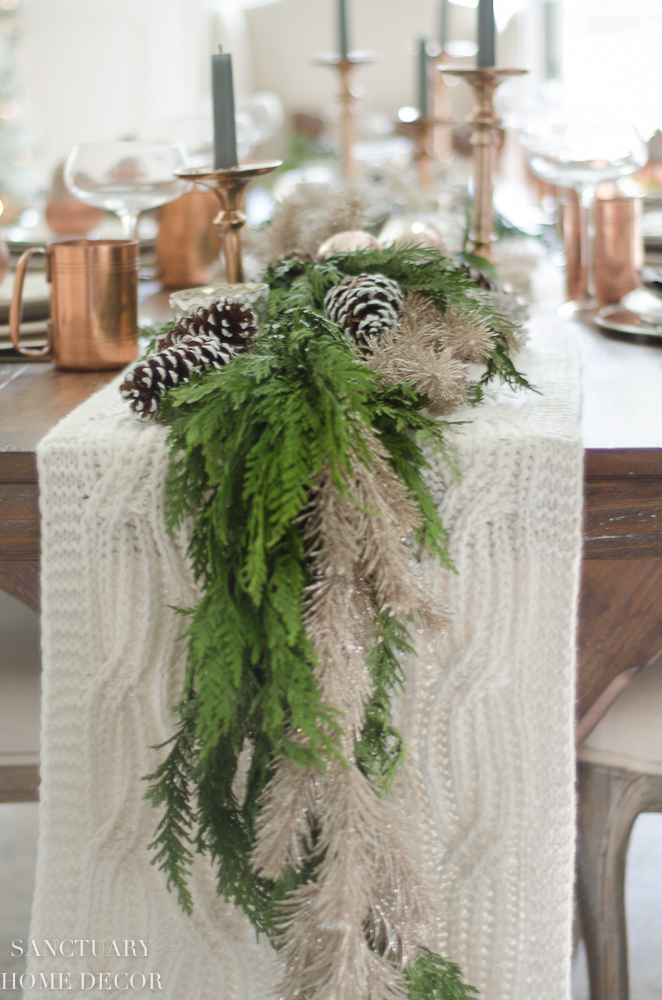 With a knit table runner, cedar garland and some pinecone accents, I used the same elements in our dining room as in the rest of the house.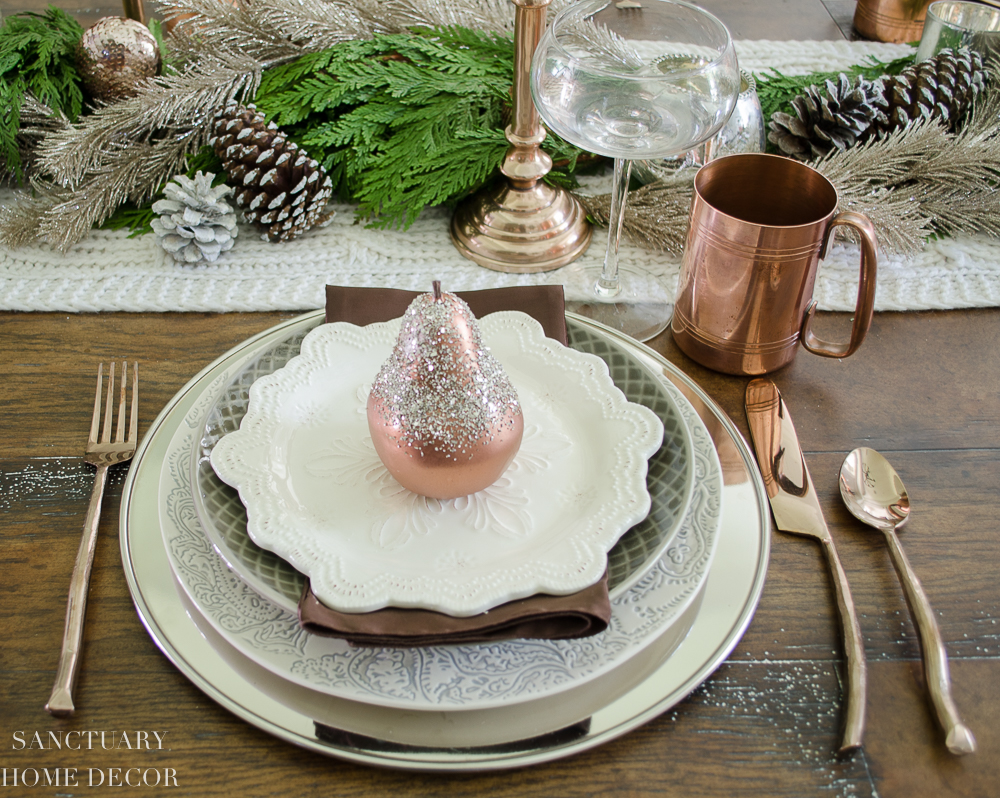 Some touches of platinum pine garland and glittered copper pears add an elegant, holiday touch to this table without being too fussy.
You can see all of the details of this NEUTRAL CHRISTMAS TABLESCAPE with shopping links by clicking HERE.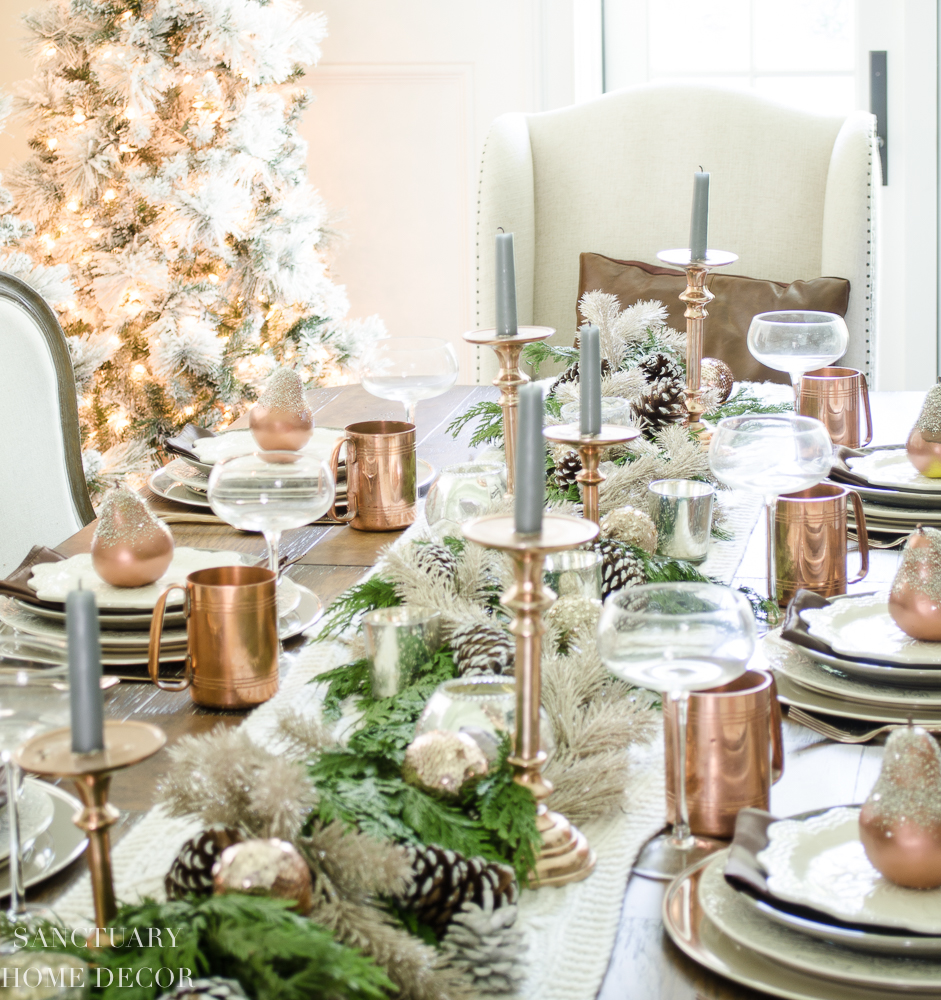 ---
RUSTIC ELEGANCE IN THE LIVING ROOM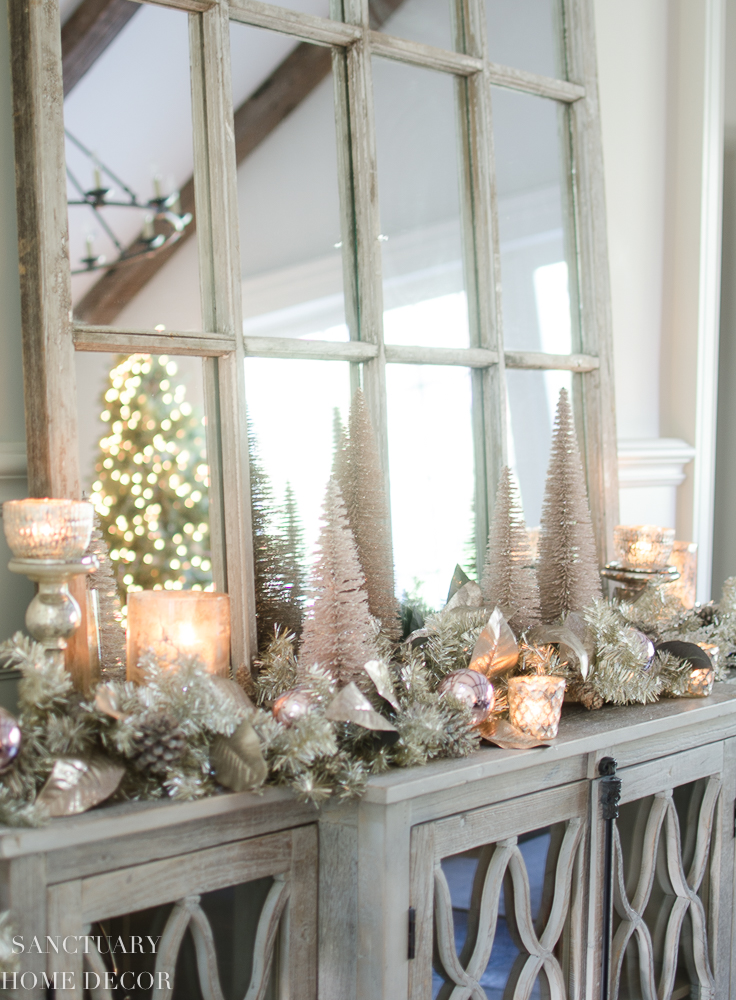 Our living room is not an often used space but is central in our house and sets the tone for all of my decorating.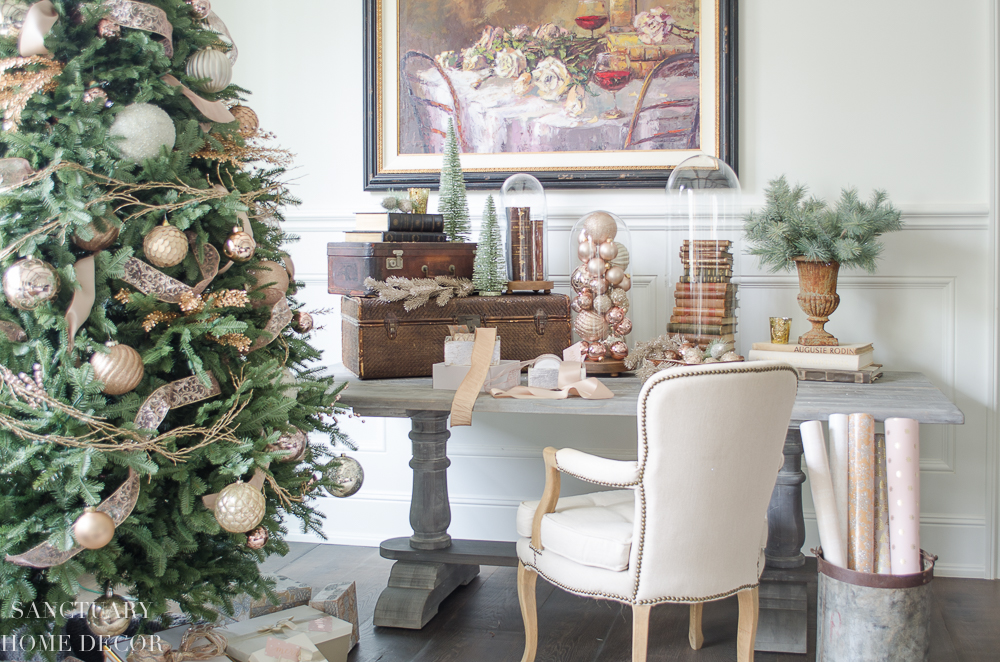 I added soft blush, rose gold and copper accents to the tree in our living room for an elegant but rustic look.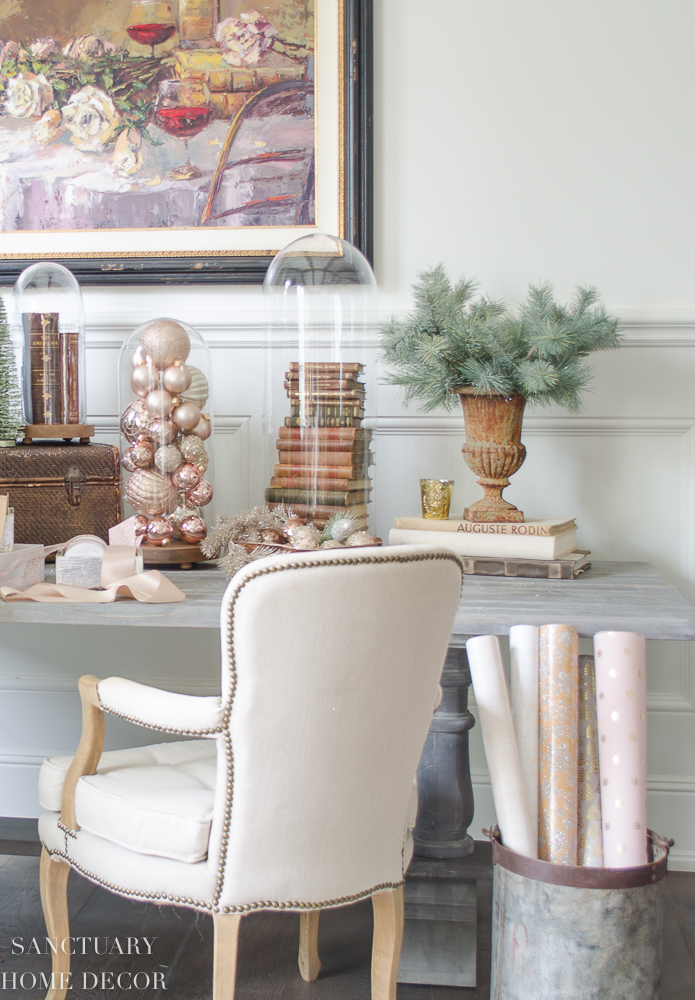 I kept many of the same decor pieces that I use year round and layered in neutral holiday decor pieces for a festive look.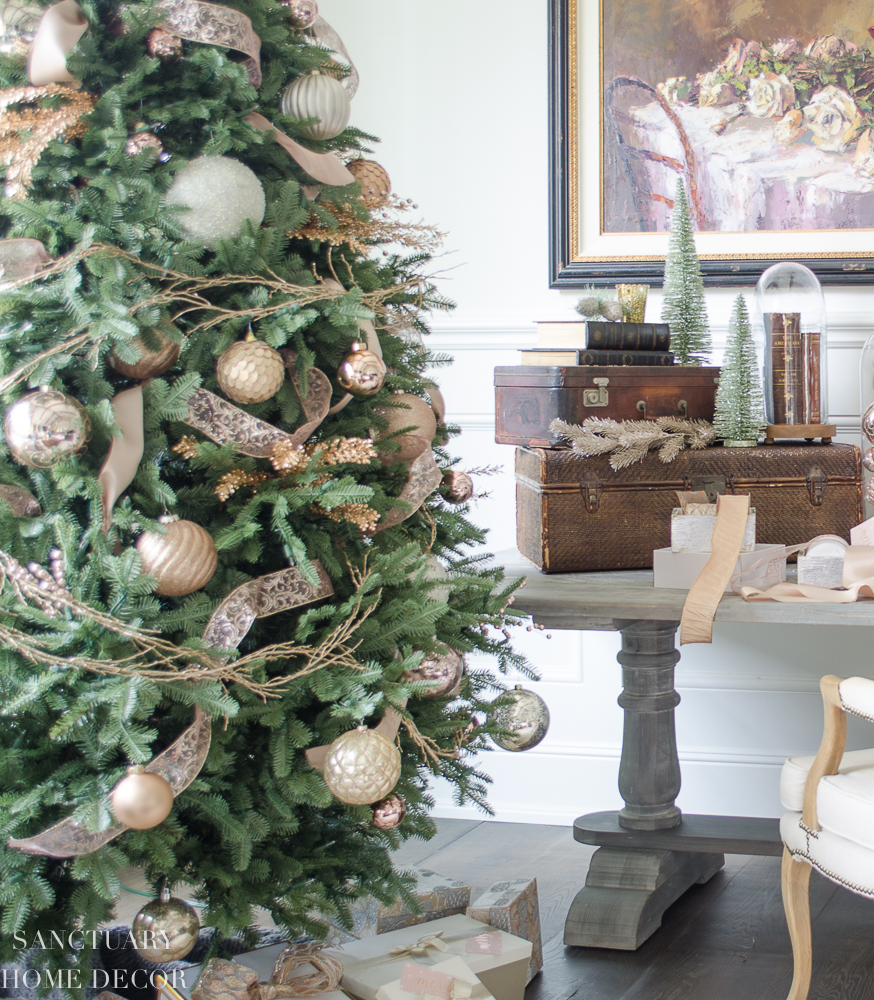 Soft blush, copper and rose gold mixed with worn leather accents create a rustic but elegant look.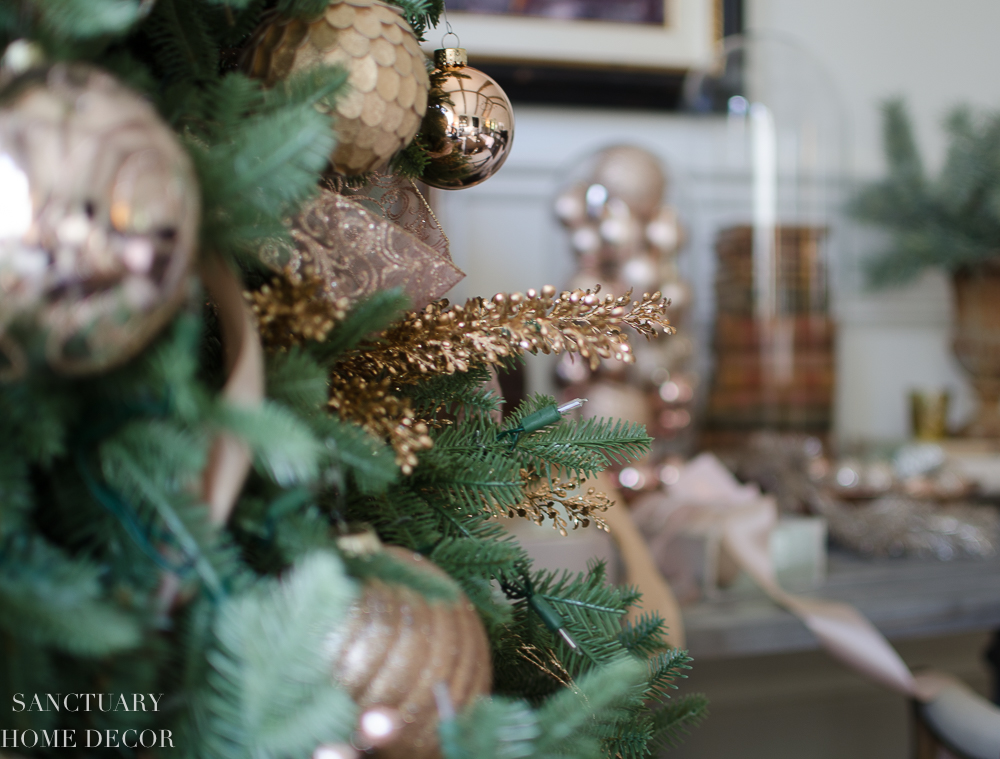 You can see all of the details of my RUSTIC ELEGANT CHRISTMAS LIVING ROOM by clicking HERE.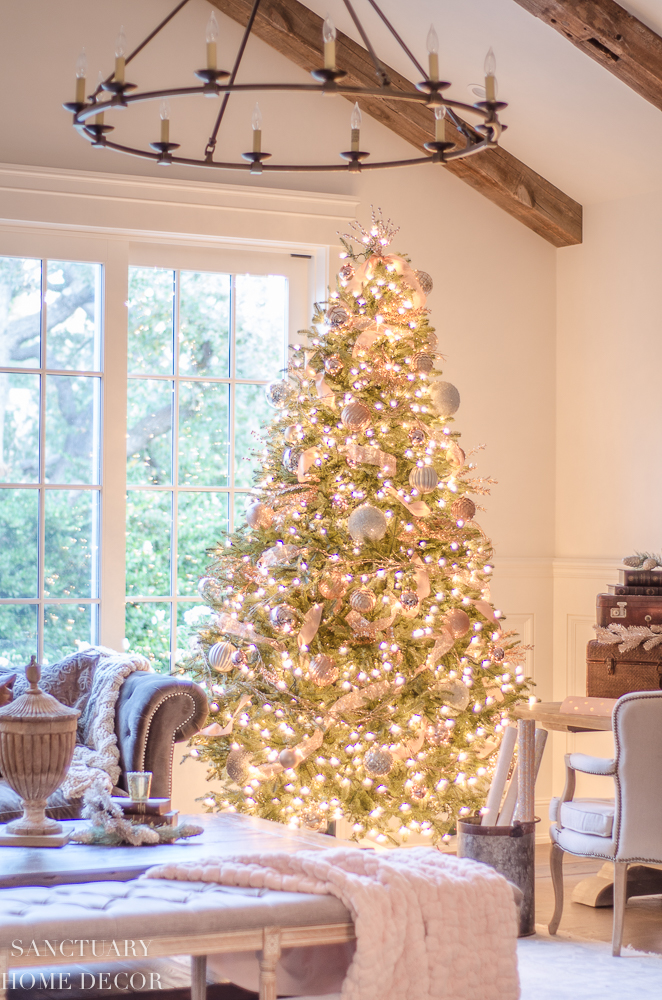 So there you have it…my rustic, elegant, neutral home for the holidays. We have many get togethers and parties coming up in the next two weeks and I am looking forward to enjoying these festive spaces with family and friends.
I appreciate you taking the time to stop by today and tour our home. I hope you got an idea or two and found a bit of inspiration for your holiday decorating! Have a beautiful day!