Cozy Plaid Christmas Decor in Green and Blue
Cozy plaid Christmas decor in green and blue adds a warm and casual look to our family room for the holiday season. With the addition of chunky knit accents and warm leather, our family is ready to snuggle in for our favorite season.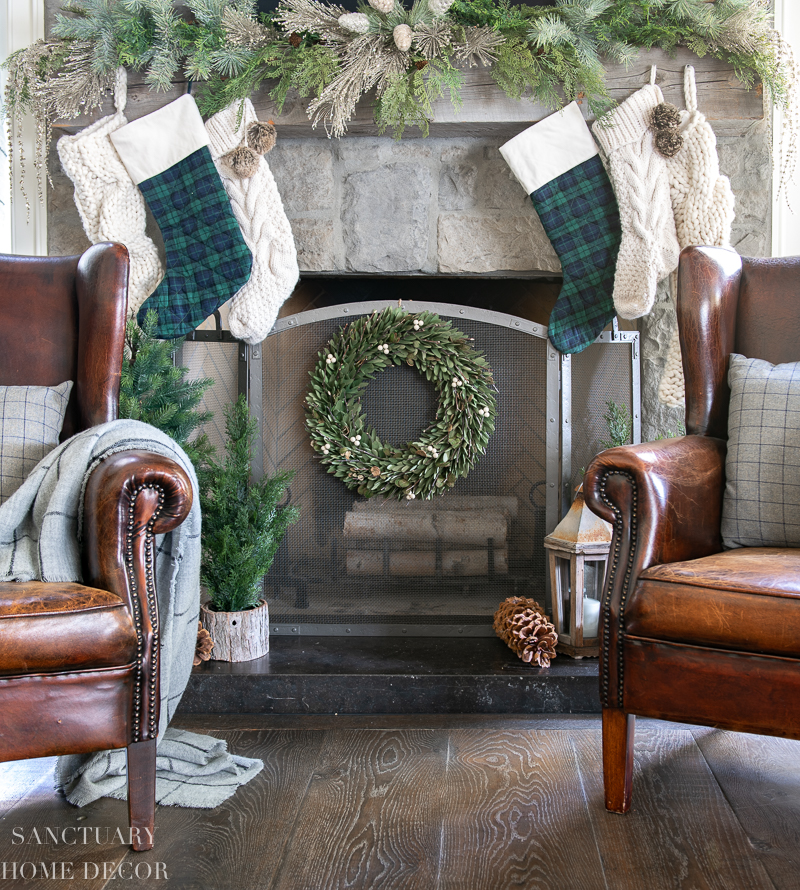 Our family room is casual and the place where we spend the majority of our time. We gather together as a family and it is the coziest room in our home, so I wanted to make sure our Christmas decor reflected that vibe.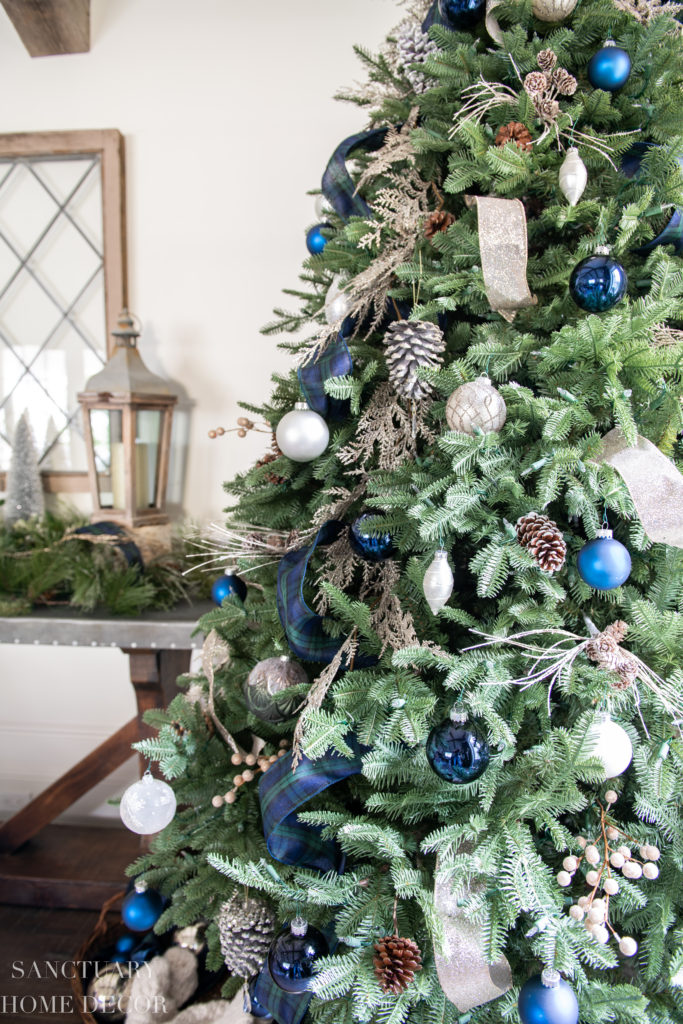 I love a beautiful plaid, so the inspiration for this year's Christmas decor started when I fell in love with a beautiful green and blue plaid ribbon I found at Michael's. While I did not think that a traditional red and green Christmas plaid would work in my home, I knew that I could incorporate this subtle plaid perfectly! (I've learned that this is called Blackwatch and is considered a tartan.)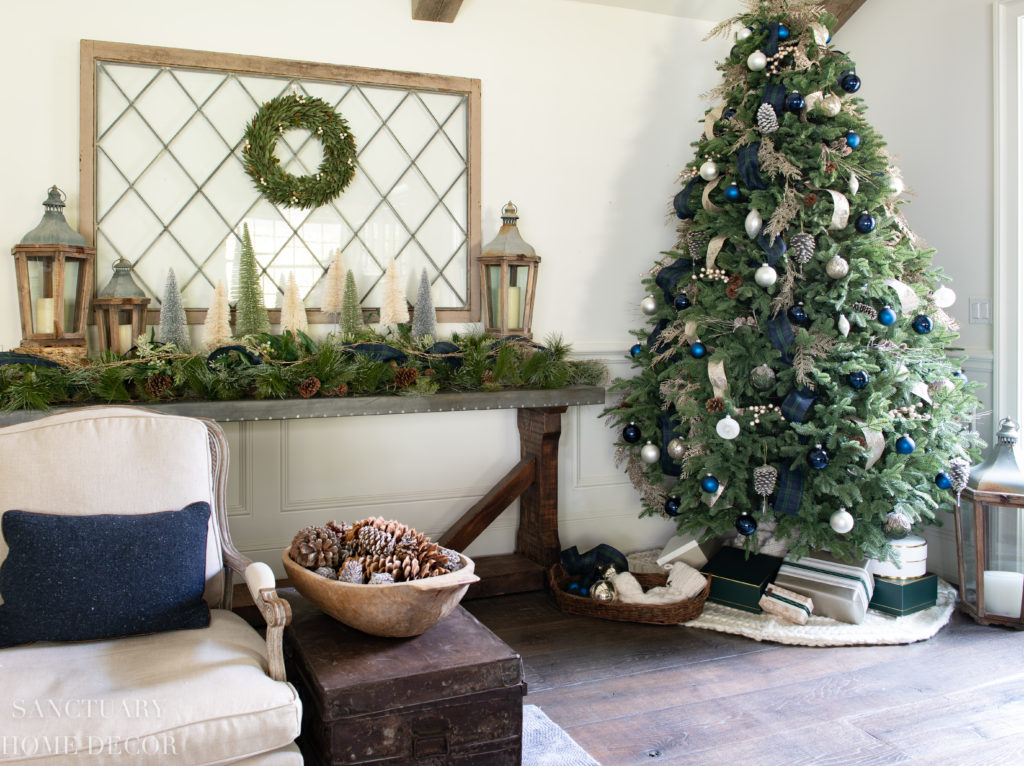 I prefer a lot of greenery and neutral tones in my Christmas decor, so when I decided to add a pretty plaid into the mix, I needed to find a way to keep the colors neutral yet still highlight my new favorite ribbon. My solution was to bring in a few blue ornaments to add to our family room Christmas tree, sprinkled in with contrasting white and platinum accents.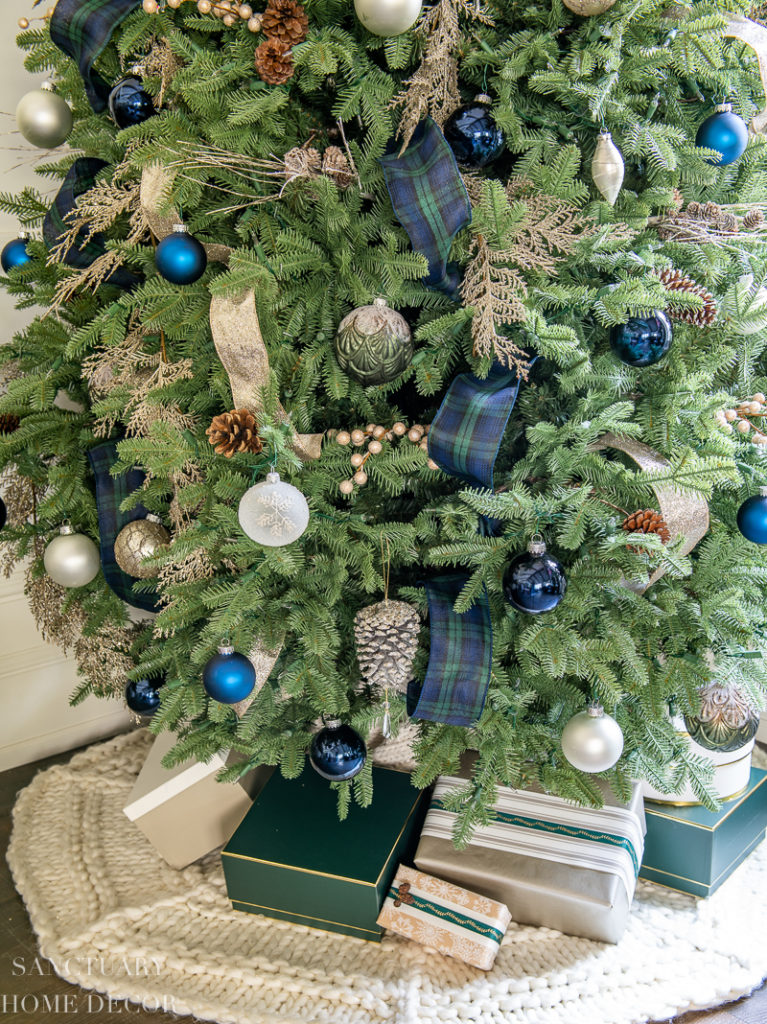 I put the plaid ribbon on the tree first and then decided to also include a striking platinum ribbon. I used two different colored blue ornaments and then added some of the white and silver ornaments I had used in prior years. I also incorporated some platinum, cedar garland throughout the tree to break up the solid green tone as well as a few pine cones and metallic berry picks.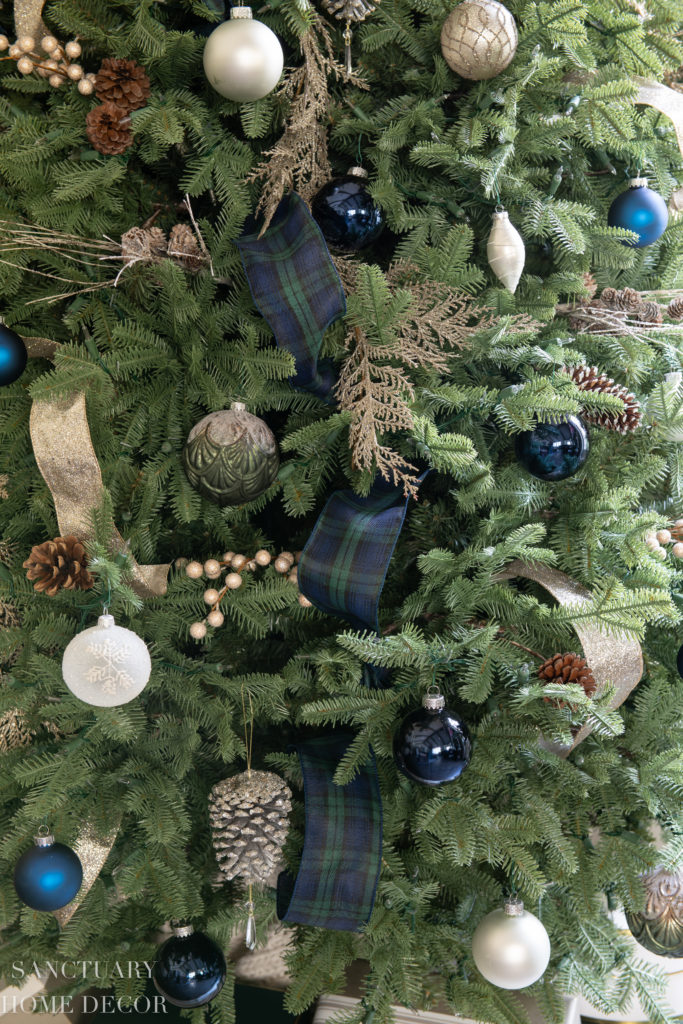 And on the console table beside the tree, I layered garland woven with the same plaid ribbon. I sprinkled various sizes and colors of bottle brush trees along the garland and flanked this with two rustic lanterns.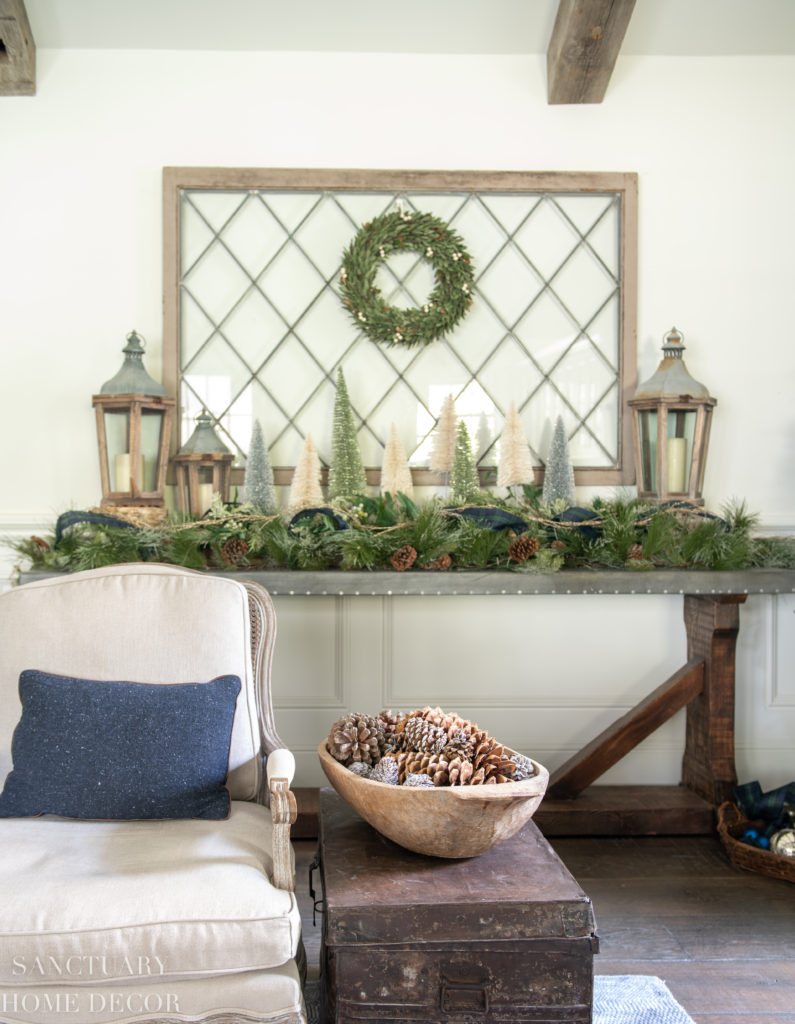 On the leaded glass window above the console table, I hung a bay leaf wreath.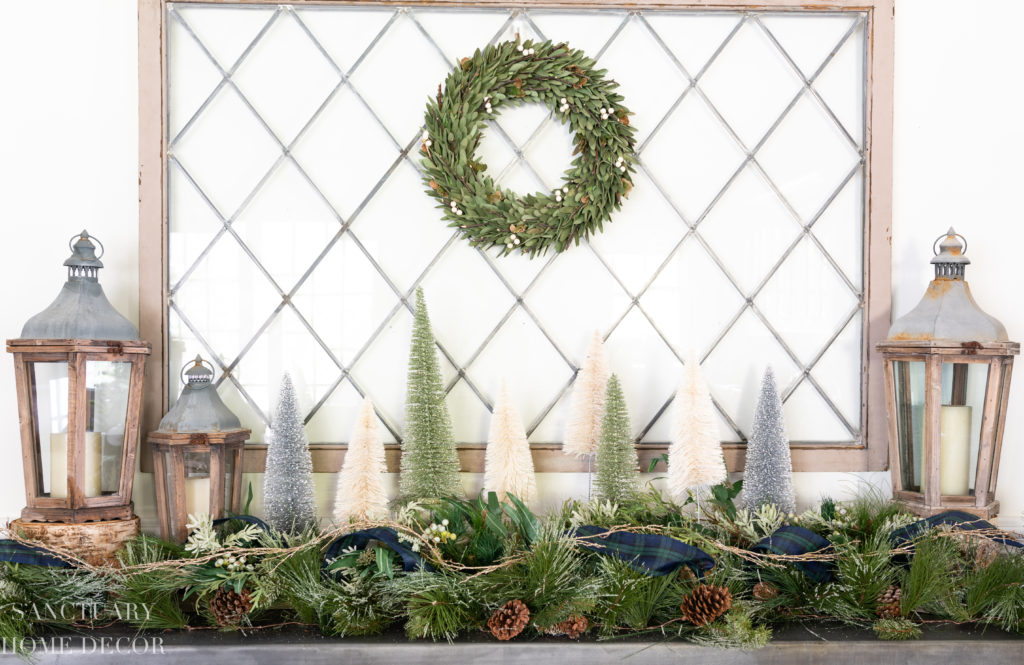 I continued the plaid theme around our fireplace with the addition of two darling plaid stockings beside my favorite knit stockings.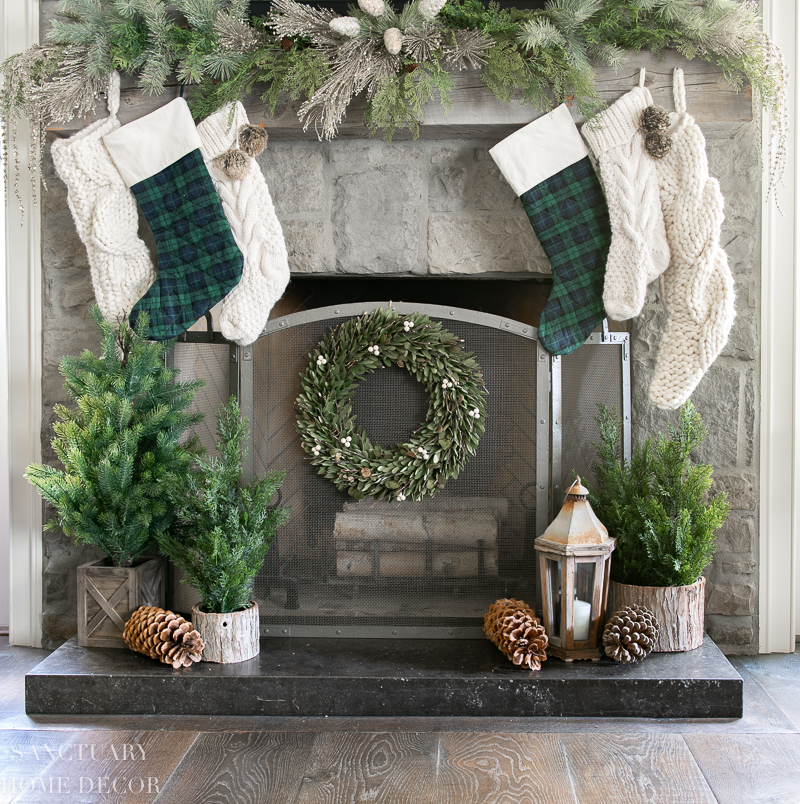 Above the stockings, I layered garland with some platinum accents and pinecones to mimic the colors in the tree.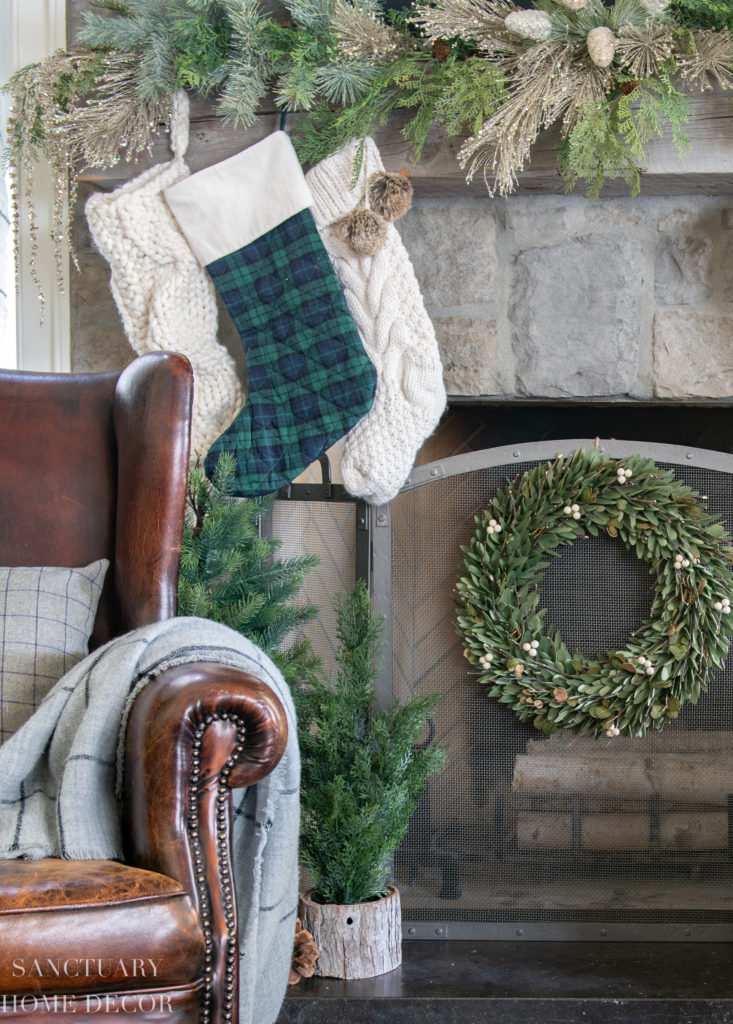 I also placed an identical wreath on the fireplace screen and layered a few small faux trees on the hearth.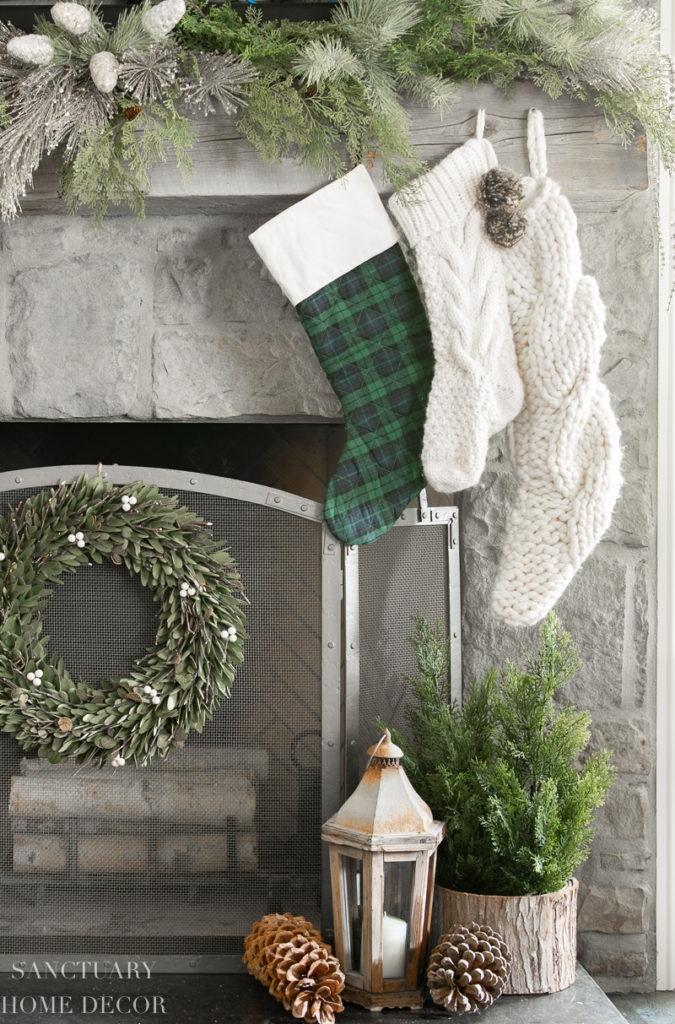 The result was a warm and cozy feel in our family room with a touch of seasonal plaid and soft knit accents.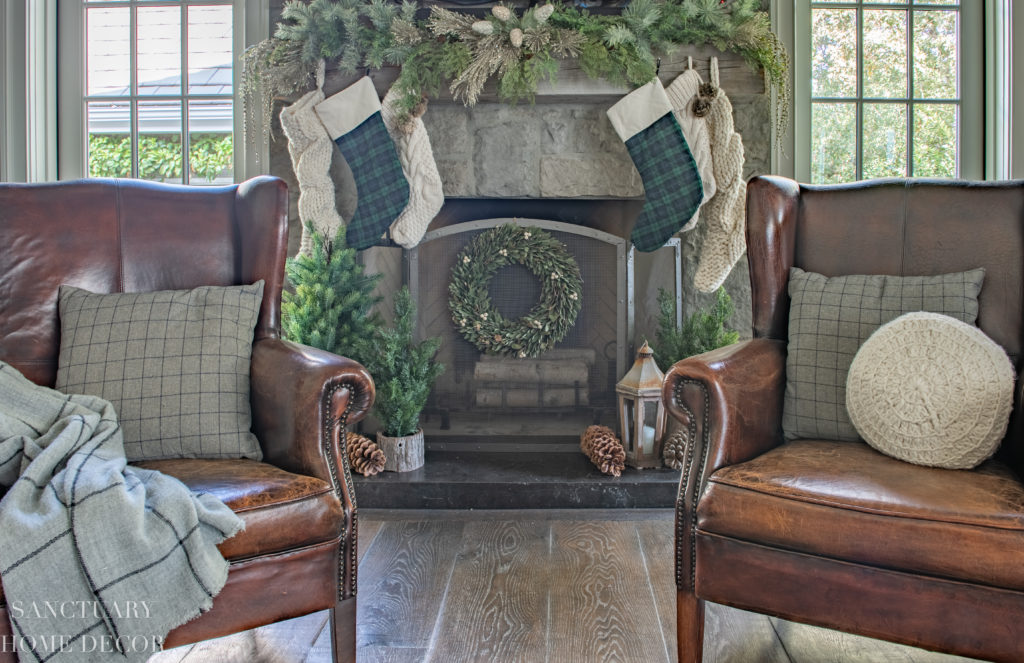 I love how this tree looks in our family room and the neutral winter feel it adds to our Christmas decor. While it is different from last year's trees it is warm and cozy which is exactly how we like our holiday decor.
You can see last year's Christmas Christmas decor in our family room by clicking HERE.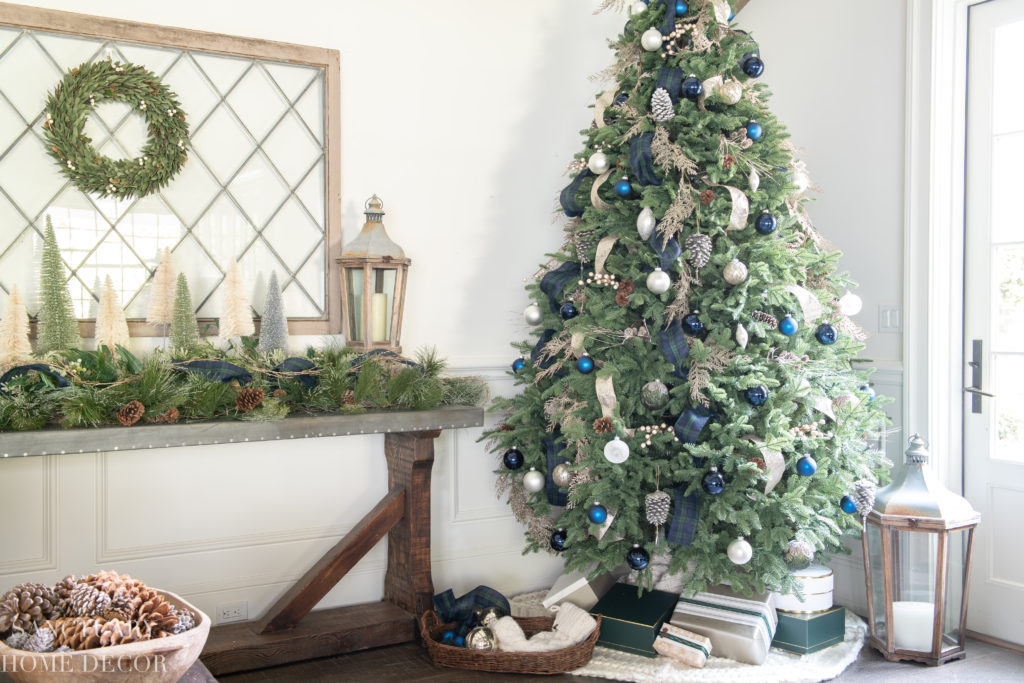 I hope this gives you some ideas about how to decorate for Christmas using a subtle plaid with green, blue and platinum accents. We will be cozied up here for the next several weeks enjoying the season!
Have a beautiful day!